Spain has a rich tradition of art. The country played a big role in the history of western painting. From the early 16th century to the late 17th century, the nation flourished in arts and literature. Nowadays, we call that period the Spanish Golden Age. Among other things, that period contributed to the European art world. Famous Spanish artists from that period include El Greco, Zurbaran, Francisco Goya, and many more.
With that in mind, Spain also has artists like Joan Miró, Pablo Picasso, and Salvador Dali. It is really hard to pick just 10 famous Spanish artists. But we hope we did a good job. Let's take at all the famous Spanish artists and masterpieces.
Pablo Picasso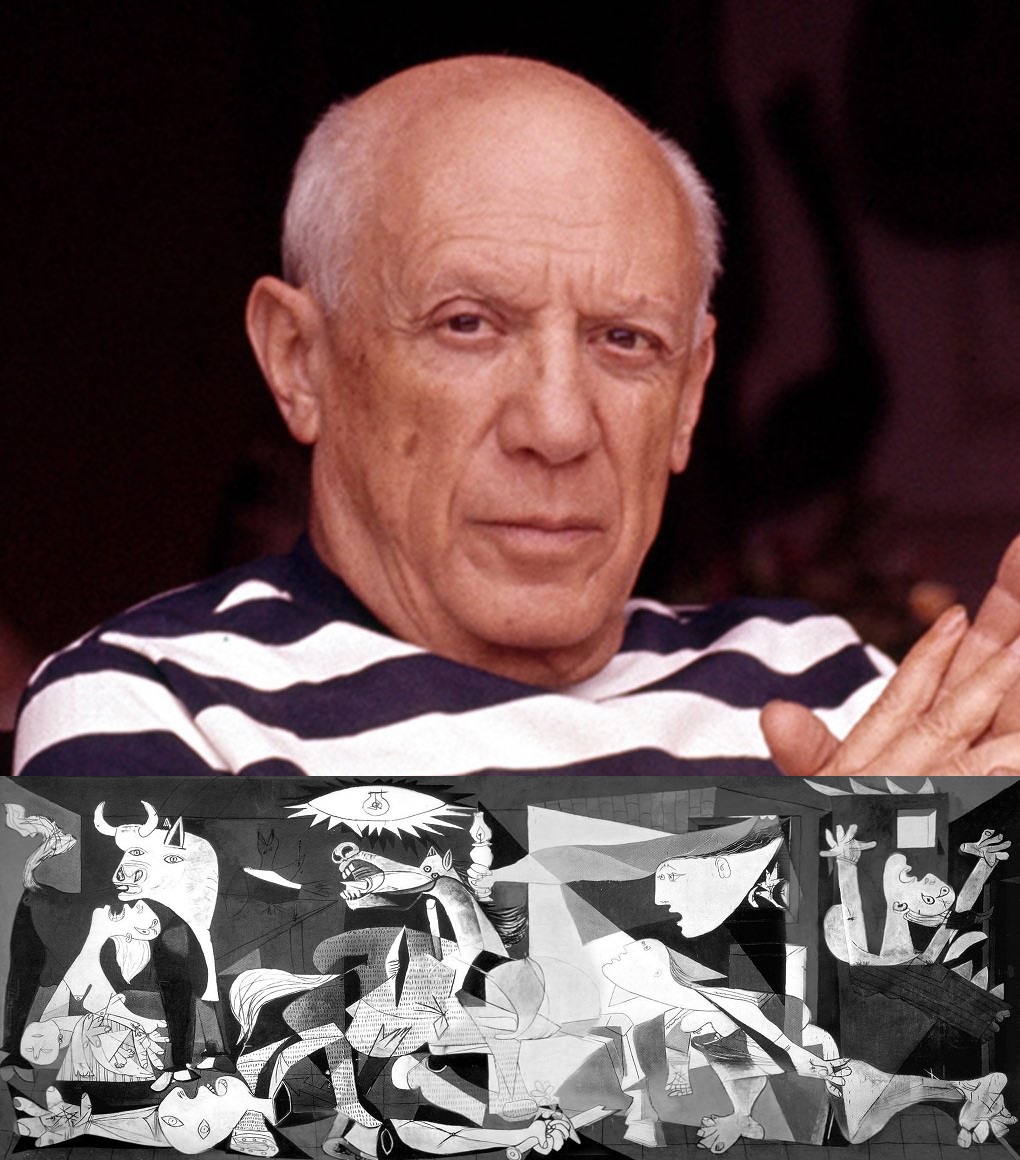 We start off with the man who needs no introduction. Born in 1881, and living and creating up until 1973, Picasso broke the practices of the past and co-pioneered the new movement in art. Many consider him the most influential artist of the 20th century.
We cannot talk about famous Spanish artists and masterpieces without mentioning Picasso.
Picasso introduced Cubism, a style that revolutionized European art culture, including painting and sculpture. His style changed over the course of his career, going from analytical Cubism to more evolved Cubism.
The famous Spanish painter experimented with different looks, theories, ideas, techniques, and much more. As one of the more prolific artists, he made more than 1900 paintings in his career. No other painter reached as much popularity as Picasso during his lifetime. While his originals reach millions at auctions, you can find most of his notable work in museums.
There is no doubt, he is the most famous Spanish artist.
Masterpiece: Guernica
The large oil painting by Pablo Picasso is among the most famous paintings in the world. Critics praise it as the most moving and powerful anti-war painting in the history of mankind.
Unlike other works, this one never went on auction for sale. There is no listed price. Some experts value it at a minimum of $200 million. Guernica is a marker of humanity, with a simple message that all people can understand.
Some people say Picasso got lucky. After all, the circumstances helped him paint this famous painting. The Nazis tested their new air force on the Basque town on Guernica during the Spanish Civil War. Picasso witnessed it and exposed the horror of the bombing in his painting.
Salvador Dali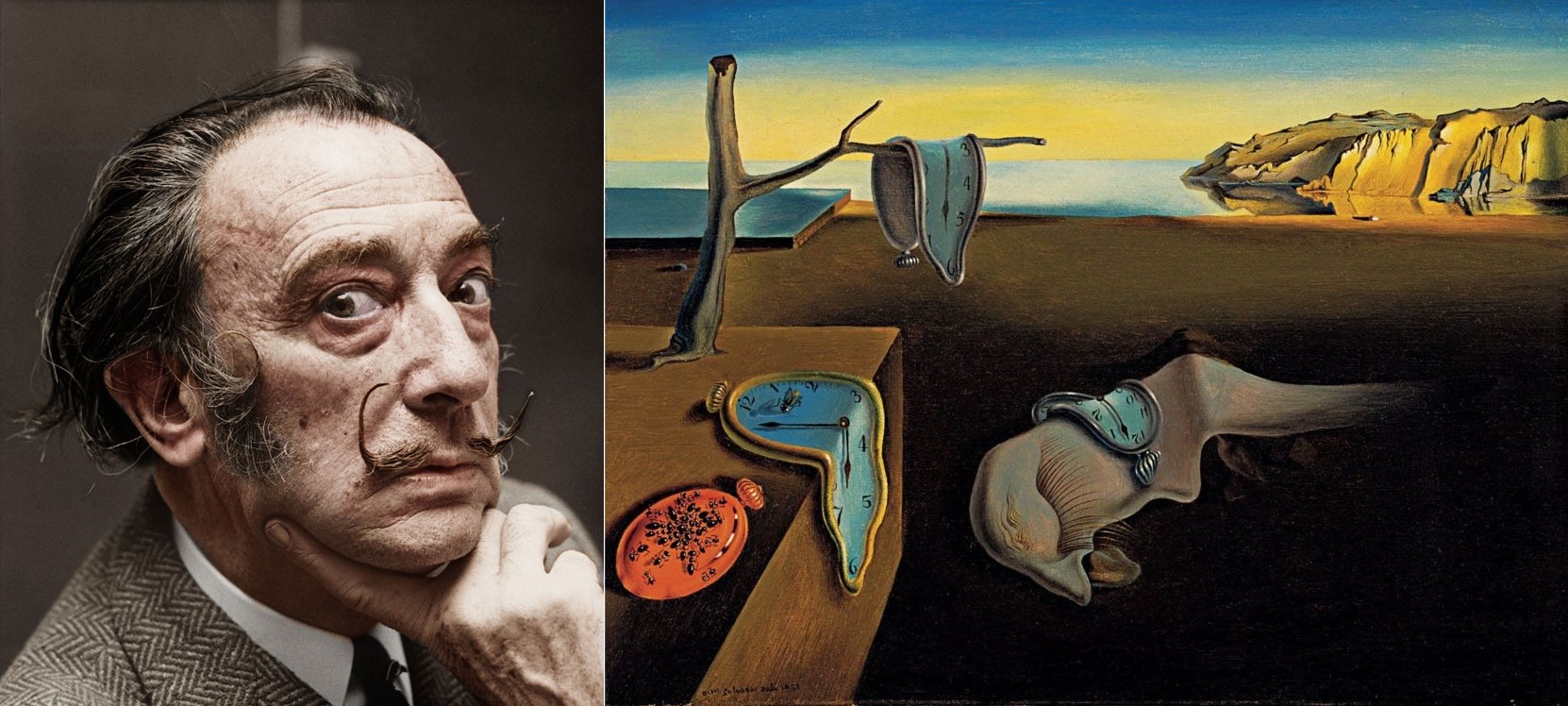 Salvador Dalí is another Spanish artist that doesn't need an introduction. The preeminent artist of the Surrealism movement, he created the most famous pieces of Surrealist art. Dali single-handedly paved the way for Surrealism into the mainstream art movement. His biggest contribution is the paranoiac-critical method.
Using this method, the artist attempts to tap into the subconscious through systematic irrational thought and a self-induced paranoid state.
Many fans instantly recognize Salvador for his striking and bizarre images. But look deeper, and you will find a lot of symbolism in his work. Recurring images in his work include elephants, ants, melting watches, and of course, his signature mustaches.
For Salvador Dalí, elephants evoke weightlessness, ants symbolize decay and death, and melting watches symbolize human perception of time.
Masterpiece: The Persistence of Memory
You can find all of his recurring images in this painting. And you can look at it for days, and still fail to decipher all the symbols he included in it. The 1931 painting is one of the most recognizable works of Surrealism.
The iconography refers to a dream he had experienced, and the clocks symbolize the passing of time. Many critics have tried to decipher all the symbols in the painting. But there are still ongoing debates about what he wanted to achieve with this masterpiece.
The painting also alludes to the influence of scientific advances during his lifetime.
Francisco Goya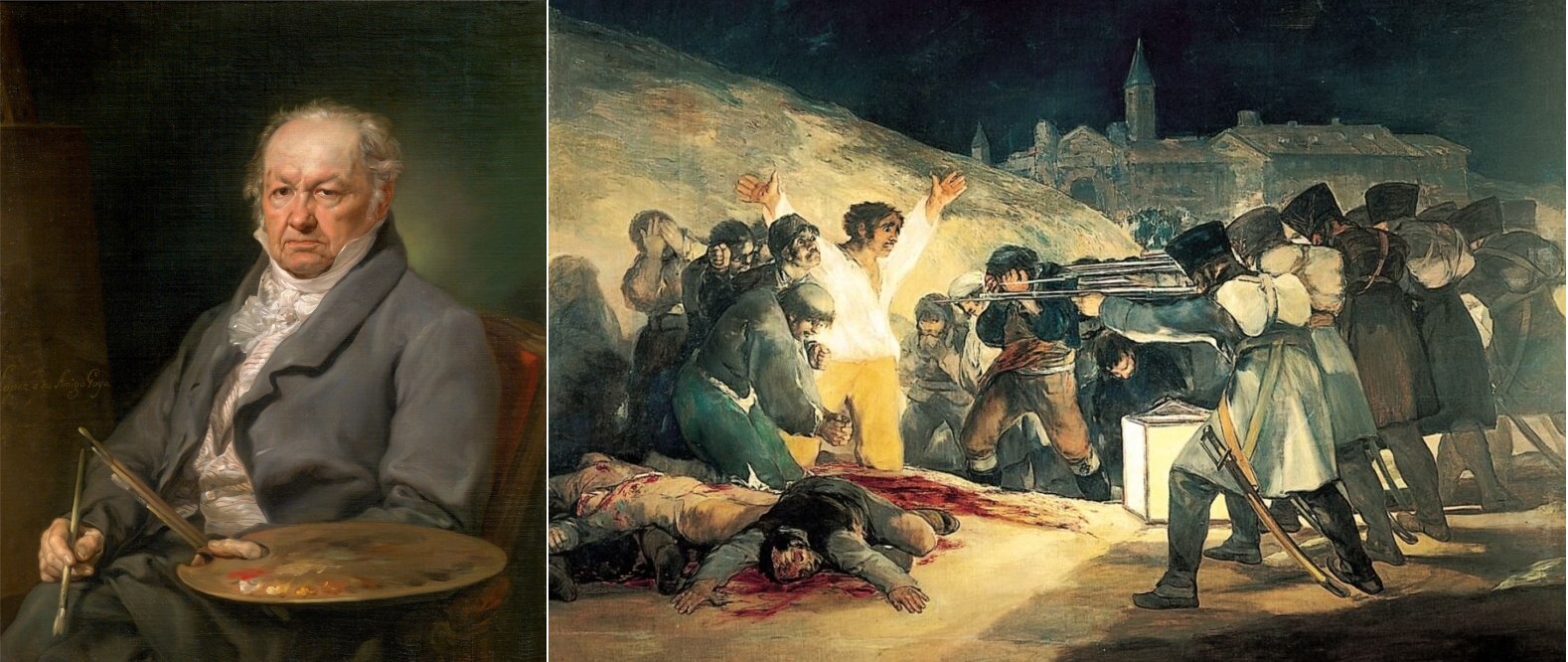 Francisco de Goya rose to prominence in the art scene through his series of tapestry cartoons. Yes, through cartoons, Goya started working as the court painter to the Spanish Crown. Interesting, right?
Later in his life, Francisco developed a penchant for portrayals of a dark nature. Today, many fans recognize him for his later work.
His Black Paintings portray intense and haunting themes. They are a reflection of both his fear and insanity, as well as his bleak outlook on humanity. In other words, Goya was both a painter and a philosopher.
You can find highly imaginative elements in his art. Famous for his bold use of paint, his style served as inspiration for later generations of artists. Goya is one of the most influential famous Spanish artists of the 18th and 19th-century,
Masterpiece: The Third of May 1808
Goya finished this painting in 1814 and it now stays at the Museo del Prado, Madrid. For this painting, he wanted to commemorate Spanish resistance to Napoleon's armies during the occupation in the Peninsular War.
Brief history lesson here: On May 2, 1808, hundreds of Spaniards rebelled. And on May 3, the freedom fighters got massacred by the French. Their blood ran through the streets of Madrid for days. Goya wanted to commemorate that day with his painting. This way, the massacre will never get forgotten.
Diego Velasquez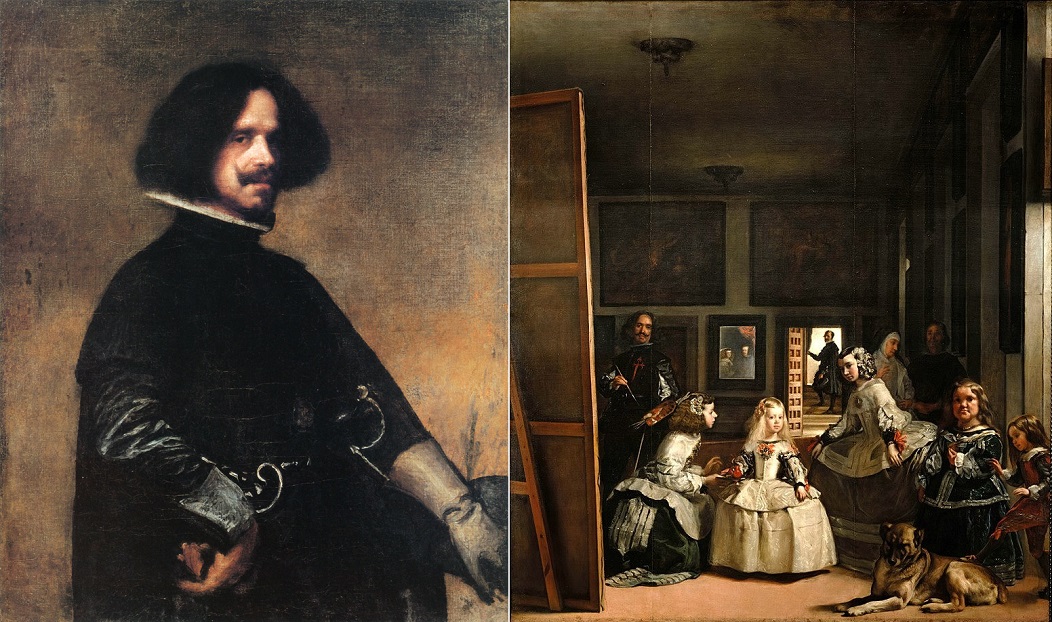 Considered the most important Baroque painter in Spain, Diego Velázquez got truly appreciated after his lifetime. Even before the 19th century, people appreciated him. But in the 19th century, his artistic style and approach in painting made him famous. Diego was ahead of his time.
Unlike traditional styles from his contemporary period, he had an individualistic approach to painting. With his naturalistic style, Diego Velázquez  influenced impressionism and realism. He focused on depicting scenes as authentically and accurately as possible. At the time, other artists didn't try to achieve that level of authenticity.
Despite spending his life painting for royalties like King Philip IV, he showed deep interest in the life of the common man. His paintings include many everyday scenes with common people.
Masterpiece: Las Meninas
Critics describe this painting as the representation of "theology of painting" and the "true philosophy of art". Translating to "Ladies in waiting", the 1656 painting is one of the most famous masterpieces in history. It is an enigmatic composition that raises more questions than it answers.
The painting creates an uncanny relationship between the viewer and the figures on it. Dona Margarita Maria is the central figure in the painting, the first child of Philip IV. Critics categorize the painting as a dialogue between the artist and the viewer. The double mirror imagery and sketchy brushwork bring every figure to life.
Joan Miro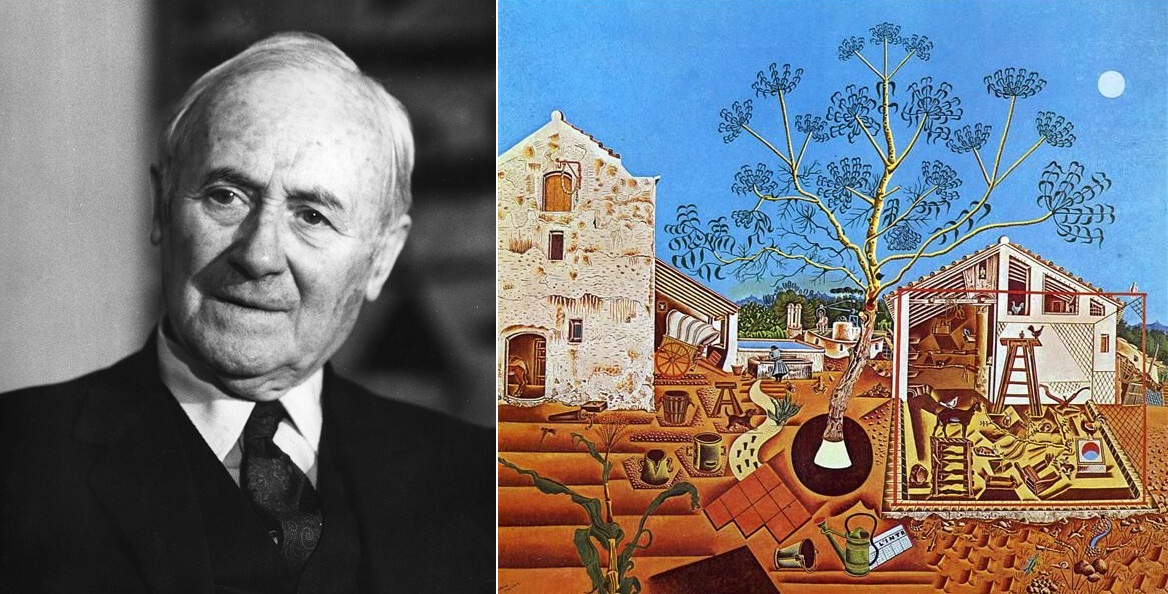 Called the vibrant Surrealist, Miro got exposed to art from an early age. He watched his father, who worked as a watchmaker. Joan made revolutionary changes in painting.
Unlike other artists, Joan Miró developed automatic drawing to undo traditional techniques in painting. Along with Andre Masson, he represents the beginning of Surrealism as an art movement.
Miro studied business at a school in Barcelona but quickly moved into art studies. During his early years, he painted genre scenes, still life, and landscape . But after moving to Paris in 1921, he shifted to contemporary styles, including Surrealism, Fauvism, and Cubism.
His geometric shapes remain some of the most influential in the Spanish art scene.
Masterpiece: The Farm
His masterpiece shows the family's country house in Mont-Roig del Camp, Catalonia. He made the oil painting between the summer of 1921 and the winter of 1921. This painting shows his sense of something almost supernatural in the land.
Fun fact: Ernest Hemingway purchased The Farm, and paid 5,000 francs for it. He then gave it as a gift to his fourth wife, Mary, who donated it to the National Gallery of Art in Washington.
Francisco De Zurbaran

Francisco had a life-long devotion to faith and religion. These motifs served as topics in his art. De Zurbaran popularized the use of chiaroscuro in his paintings. It is one of the greatest artistic techniques developed during the Renaissance period.
Francisco loved Caravaggio and his paintings and studied his art in-depth. That is why you can notice similarities in the techniques and elements between these two.
Despite recognized as one of the most renowned painters in Seville, he received only a few royal commissions. He spent the last years of his life in poverty.
As for his paintings, they show simpler compositions and representations of reality. Zurbaran had an outstanding use of light enhancing the characteristics of his subjects.
Masterpiece: Still Life with Lemons
Many fans recognize him for the religious paintings depicting monks, nuns, and martyrs. For example, like his Crucifixion and St. Francis paintings. But we go with Still-life with Lemons, Oranges, and a Rose. This oil-canvas painting puts the full Baroque style on display.
El Greco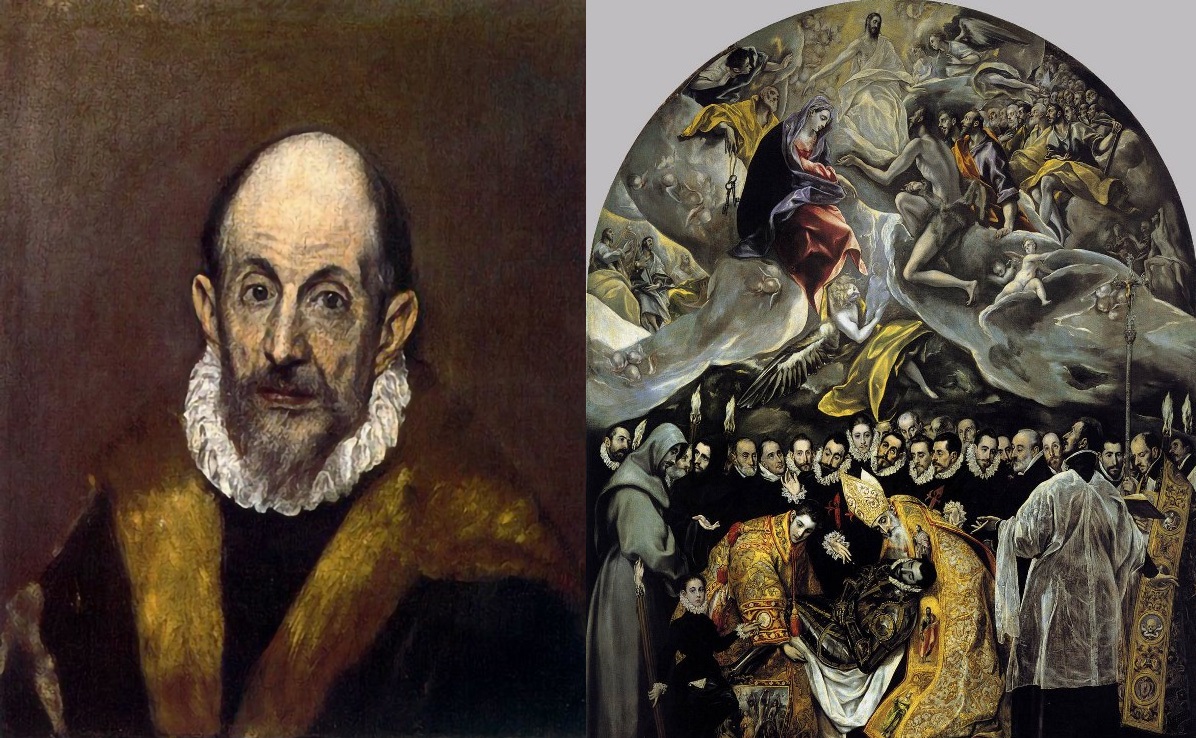 Born on the Greek island Crete, he relocated to Venice in 1567. He was already an established painter of icons at the time. In 1577, he migrated to Spain. And that is where he produced some of his more mature works.
In Italy, he stayed true to the Venetian Renaissance style of Titian and Tintoretto. That helped him transform into an Italianate painter.
But after moving to Spain, he changed his style a bit. Before moving to Spain, he spent six years drawing portraits of different men at the Farnese Palace.
Masterpiece: The Burial of the Count of Orgaz
This Spanish painting represents the miracle that occurred in 1323. Widely considered one of his finest works, it illustrates a popular local legend of his time. And that is where you can see his talent. El Greco managed to bring a local legend to international popularity.
The painting is a typical example of his powerful Catholic Counter-Reformation art.
Bartolome Esteban Murillo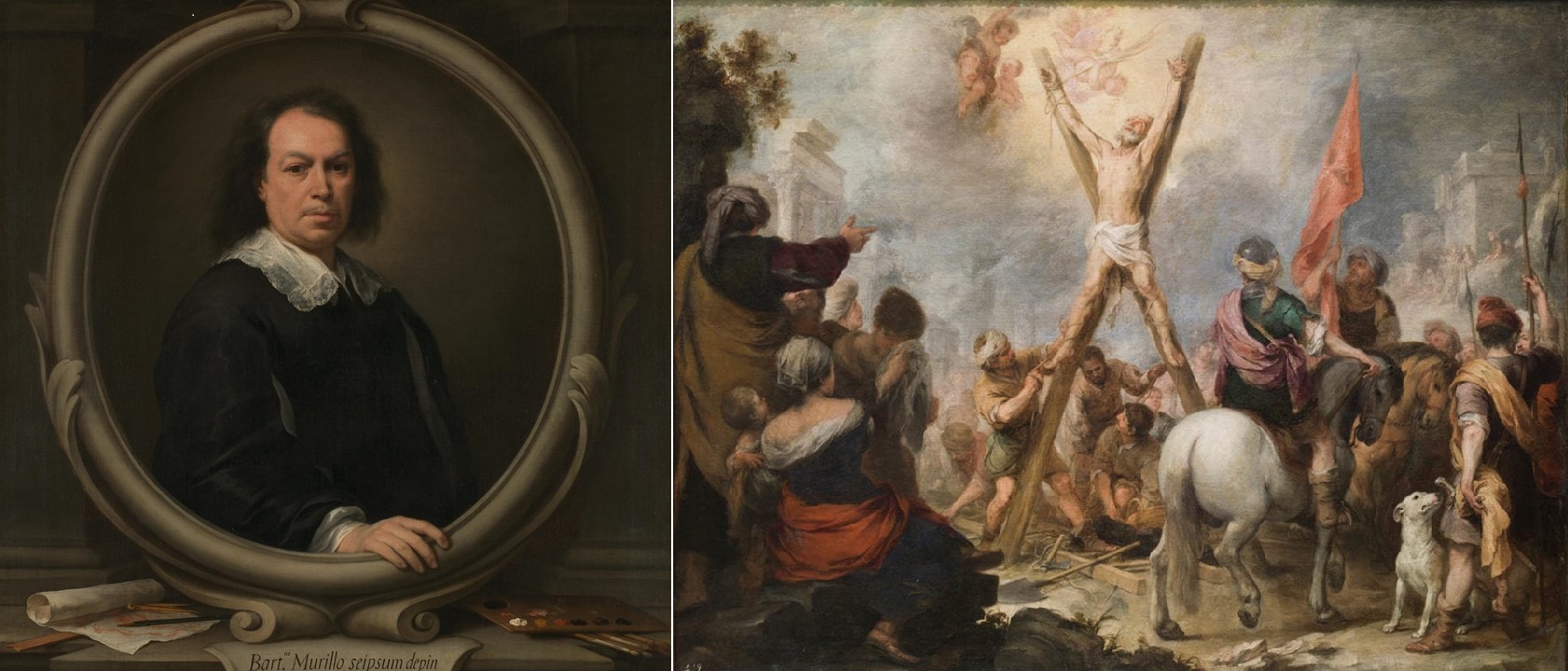 Bartolome Esteban stood out from the Spanish painters during the dark age of art. He brought a much sweeter style of painting. Murillo and El Greco are contemporaries.
Same as El Greco, he got famous for his religious paintings. They remain among the most prized artworks from Spanish painters. Bartolome also painted realistic paintings depicting life in the 17th century.
This Spanish art painter had an amazing ability to represent the extraordinary in a simple, delicate, and harmonious way. For example, he depicted Christ, the Holy Virgin, and other Bible entities as children and adolescents. That gave them a sweeter and humane feeling.
Masterpiece: The Martyrdom of St. Andrew
Many painters used St. Andrew as an inspiration. He was an apostle of Jesus according to the New Testament and brother of Saint Peter.
Bartolome made him in Baroque style, and made him look more humane. He positioned the apostle at the center of the painting, tied to an X-Shaped object.
Juan Gris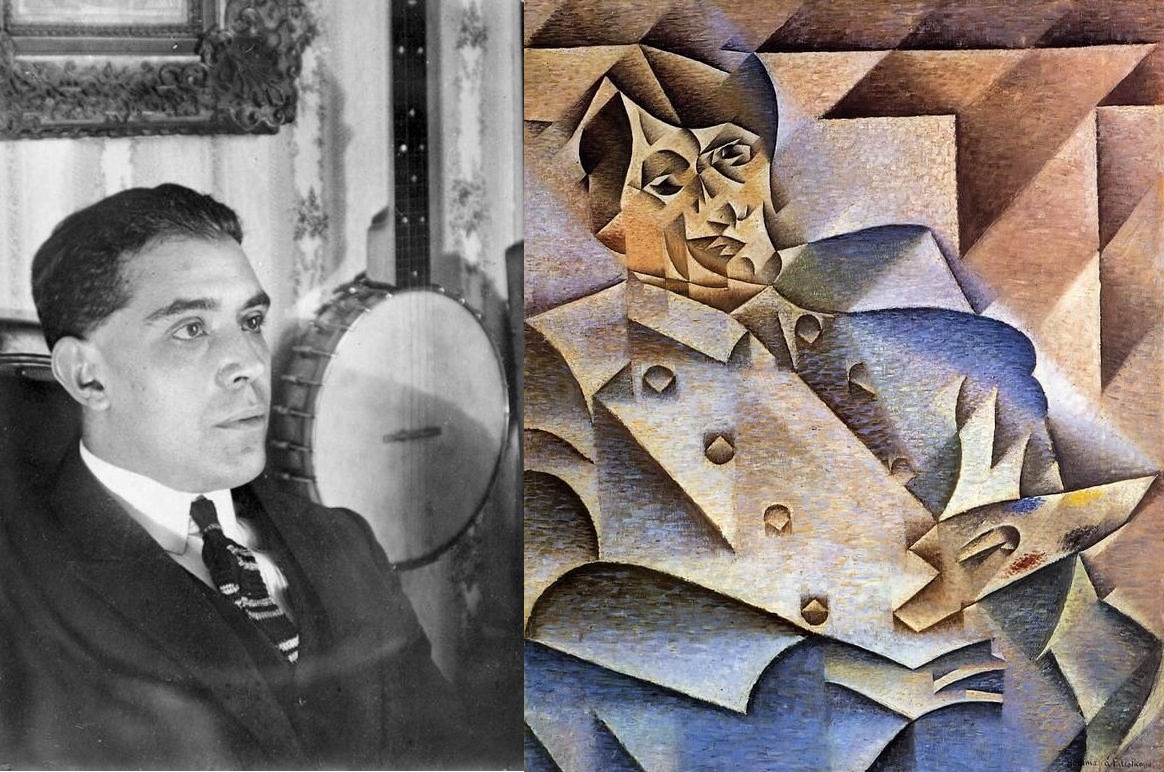 Cubism originated in Spain. It is only logical that the country gave birth to several Cubism painters. Juan Gris is one of the most famous figures of the art movement Cubism.
We put him on this list of famous Spanish artists mostly because of his masterpiece. Unlike Picasso, Gris created his paintings and sculptures with bright harmonious colors. He always tried daring and novel combinations. Later in his life, he turned to Crystal Cubism, emphasizing flat surface activity and large overlapping geometric planes. He is the most famous Spanish Cubist after Picasso.
Masterpiece: Portrait of Pablo Picasso
Gris praised Picasso, and he used him as an inspiration for his masterpiece. He depicted Pablo as a painter, palette in hand. The inscription, "homage a Pablo Picasso" shows his respect for the famous Spanish painter.
Juan traveled to Paris in 1906, and there he met Pablo Picasso and Georges Braque. All of them participated in the development of Cubism.
Joaquin Sorolla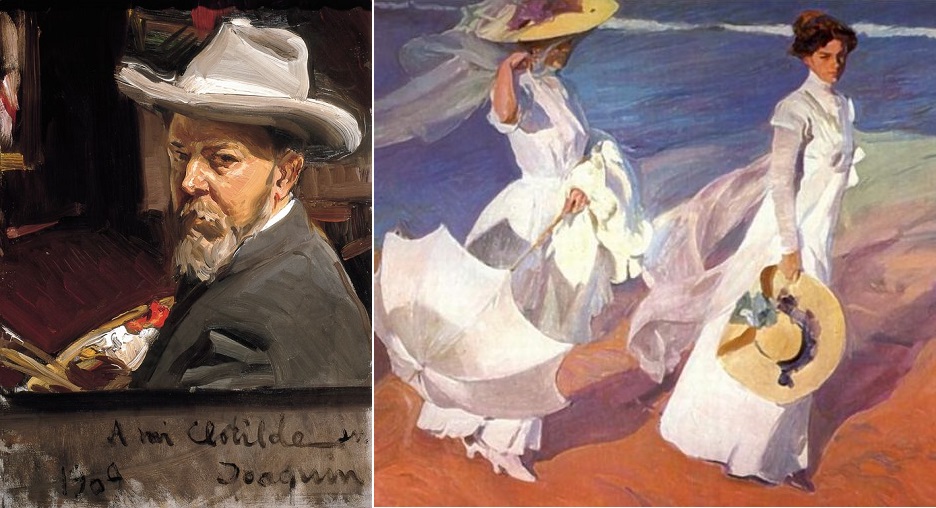 Born on the coast of Valencia in 1863, he got famous for his depictions of water and beach scenes. Joaquin falls into the category of Spanish impressionism painters. He also made a couple of landscape and portrait paintings.
The famous Spanish artist started learning painting at the age of 15. At the age of 18, he moved to Madrid in search of better opportunities. He also studied in Rome, where he learned how to depict the effects of life.
Masterpiece: Walk on the Beach
The seashore served as the main inspiration for Sorolla. This painting is the crowning work of his late period. Walk on the Beach shows his wife Clothilde and his eldest daughter Maria. The use of light in this painting is amazing.