His middle name is Dillon, and he is a boy. It is as simple as that, says the artist known as Dillon Boy. Born as James Dillon Wright, he has been painting for more than 25 years. And no, he doesn't have a favorite piece yet. While many artists are recognizable by that one piece, Dillon says he is still learning, evolving, and discovering.
He sold his first painting when he was just 14 years old. And he says that his artistic vision hasn't changed much since then. He still paints the same objects, but he is getting better at his craft.
He always wanted to draw comics. He even sent a letter to Marvel Comics Group when he was little. And they sent him a packet on how to draw comics.
The big influence on his work is the 80s. He grew up watching Star Wars, skating, buying baseball cards, driving Chevy and fantasizing about being James Dean. He grew up with pop culture, and that is what you will find in his artwork.
1. Monroe and Her Pills Unbottled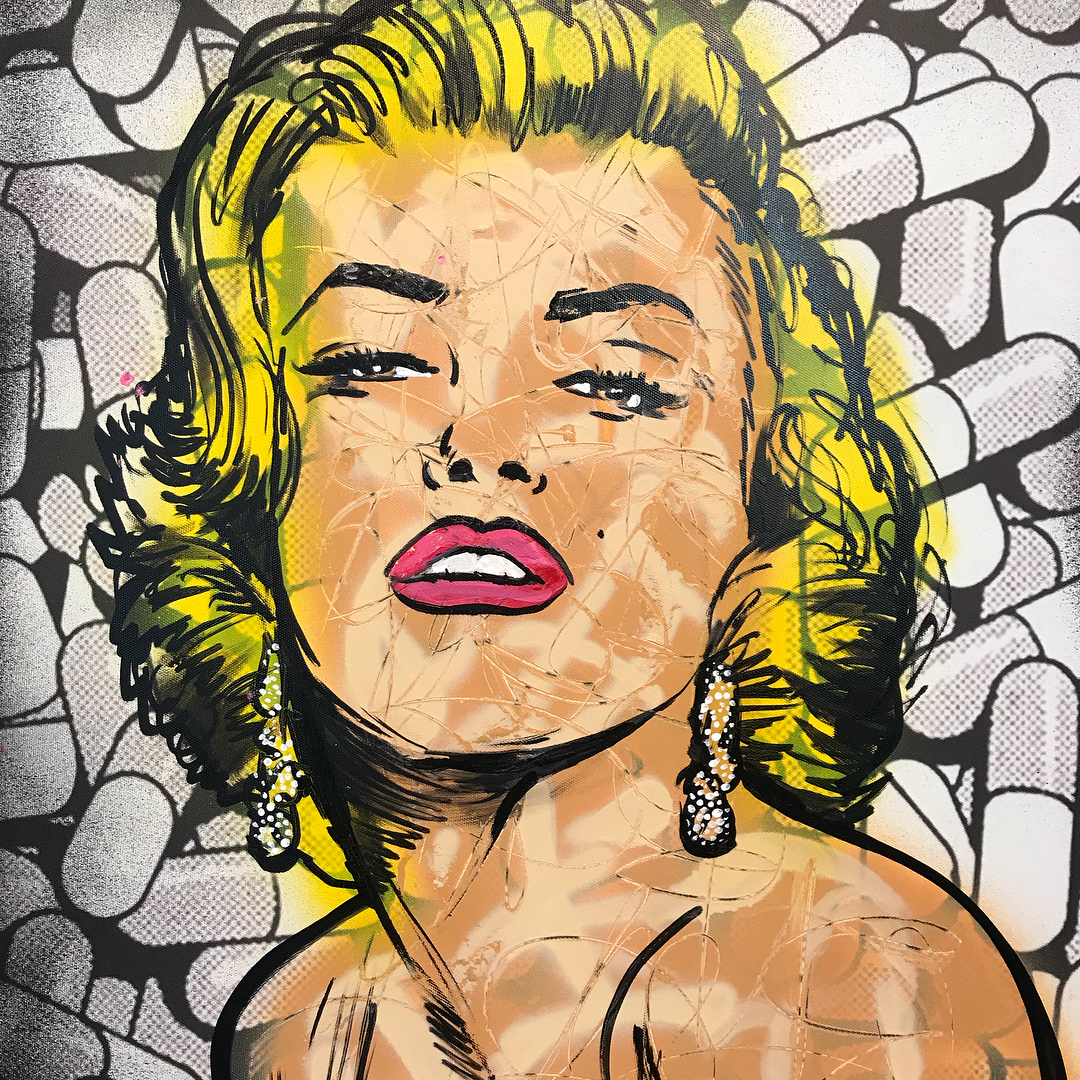 Marilyn Monroe was one of the most popular pop and culture icons in Hollywood. Sadly, she passed away too son. She was just 36 years old. Her death is still a controversy. While some believe she committed suicide by drug/pills overdose, others think it was not a suicide.
2. Basquiat VS Batman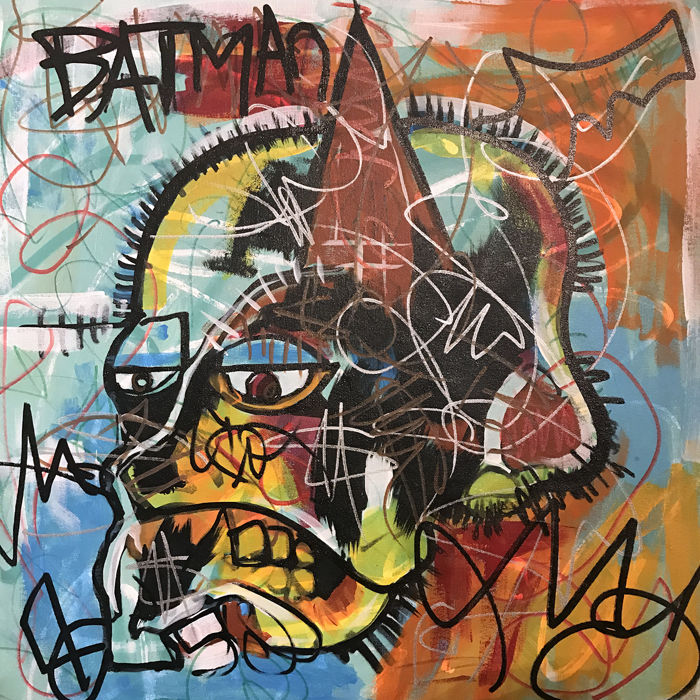 When you think of iconic comic books, you think of Batman. He is still one of the top 5 most popular comic characters. And Dillon grow idolizing comics. In this painting, he makes a mashup with the face of Jean-Michel Basquiat, a famous graffiti artist.
3. Conor McGregor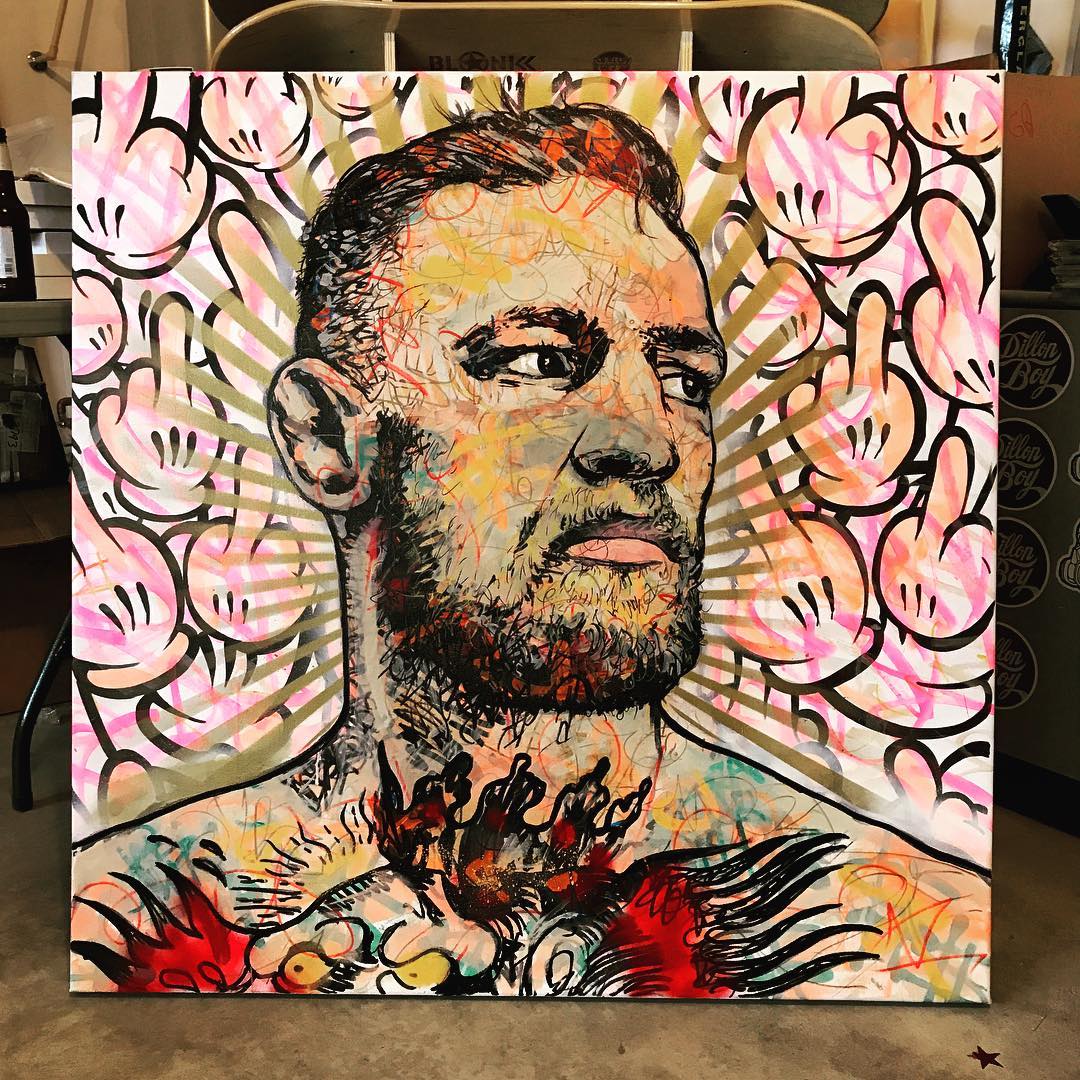 Conor is one of the most popular fighters nowadays. He is a former UFC champion. This painting is one of the "modern" done by Dillon Boy. While many of his arts draw inspiration from the 1980s, he also paints modern and contemporary characters.
4. Superman Batman Wonder Woman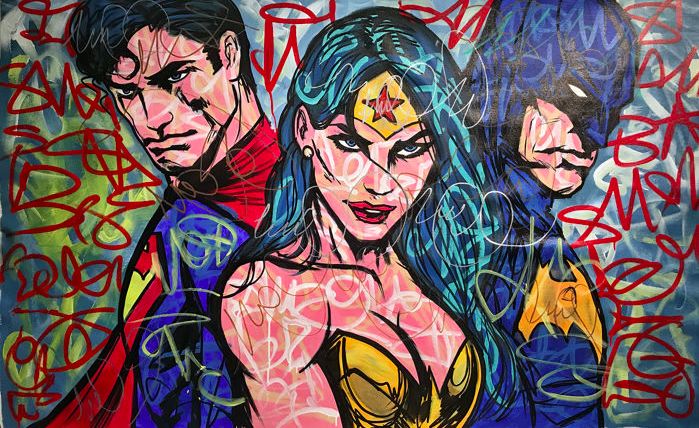 The Justice League done by Dillon Boy. You can be sure this is fitting for a movie poster. Or a comic book cover.
5. Rest in Paint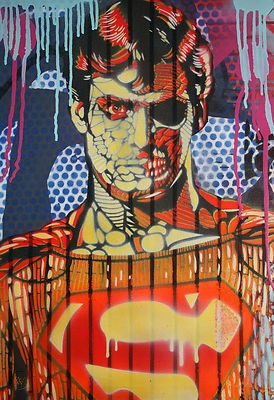 Death of Superman is one of the most famous and iconic comic book stories. Superman is a man of steel, he is indestructible, and basically immortal. So how does he die? Dillon Boy makes sure to send away the iconic comic book character in a RIP piece.
6. Dillon Boy VS Optimus Prime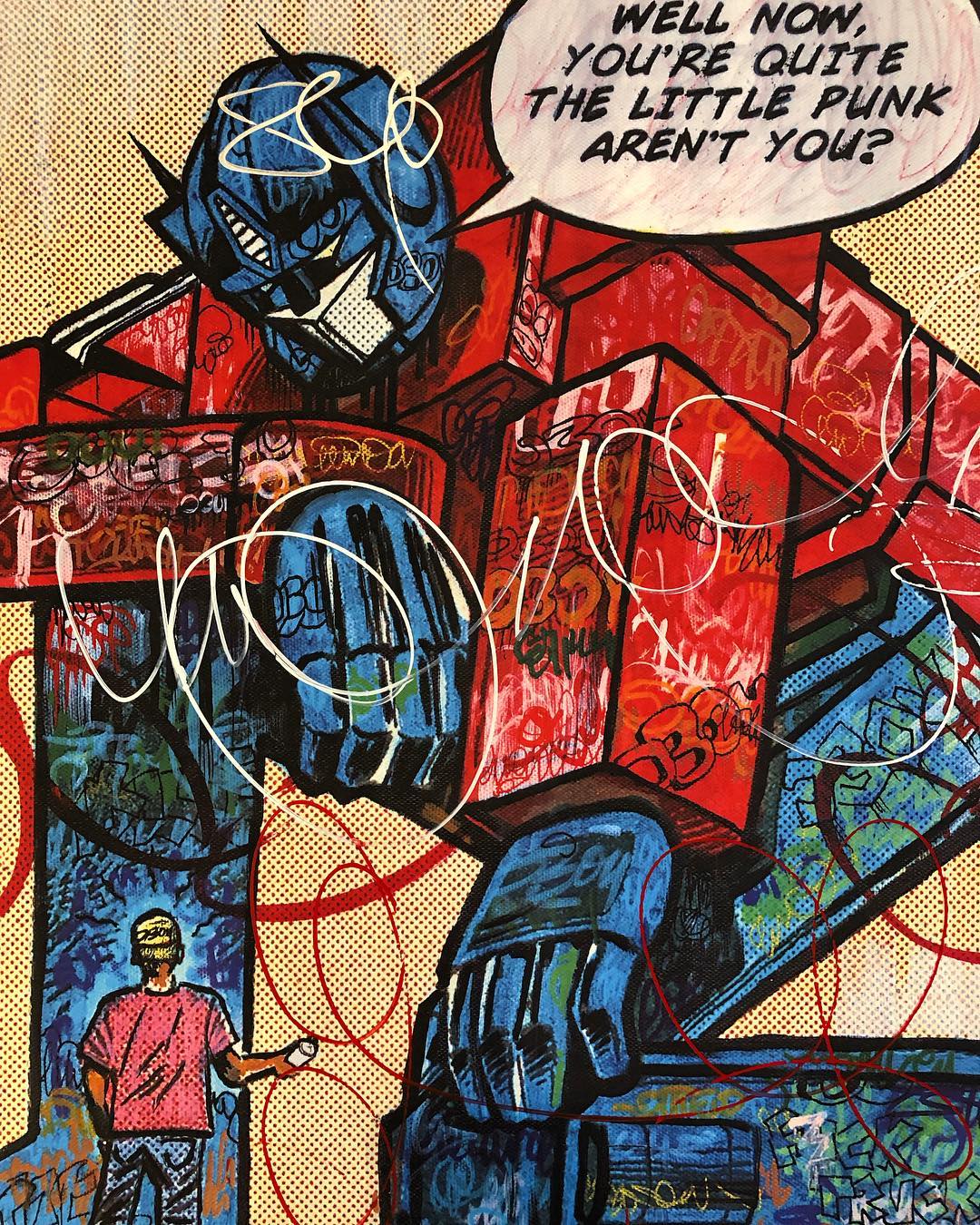 Dillon Boy doesn't do portraits. Instead, he loves inserting himself in a comic, in a way to feel part of it. Transformers were quite popular back in the 1980s, and they still are. And Optimus is a great character, always positive, showing signs of leader like nobody else.
7. Dillon Boy vs. Vincent Van Gogh Starry Night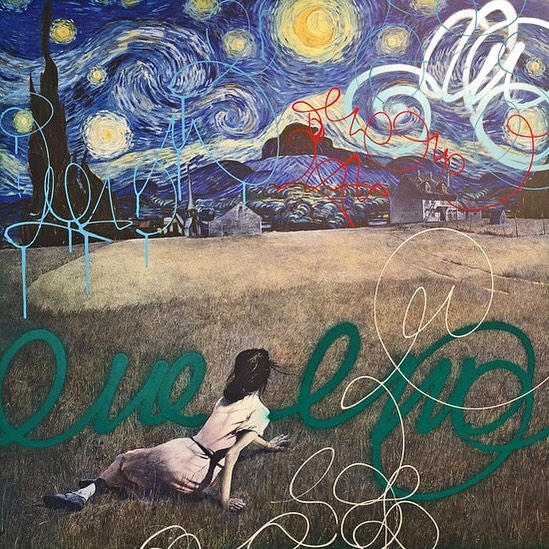 The question here is can you make a masterpiece look even better? Dillon Boy certainly thinks so. This is one of the most iconic paintings by Van Gogh, and whether you like the mashup or not, it depends on your preference.
8. Uncle Sam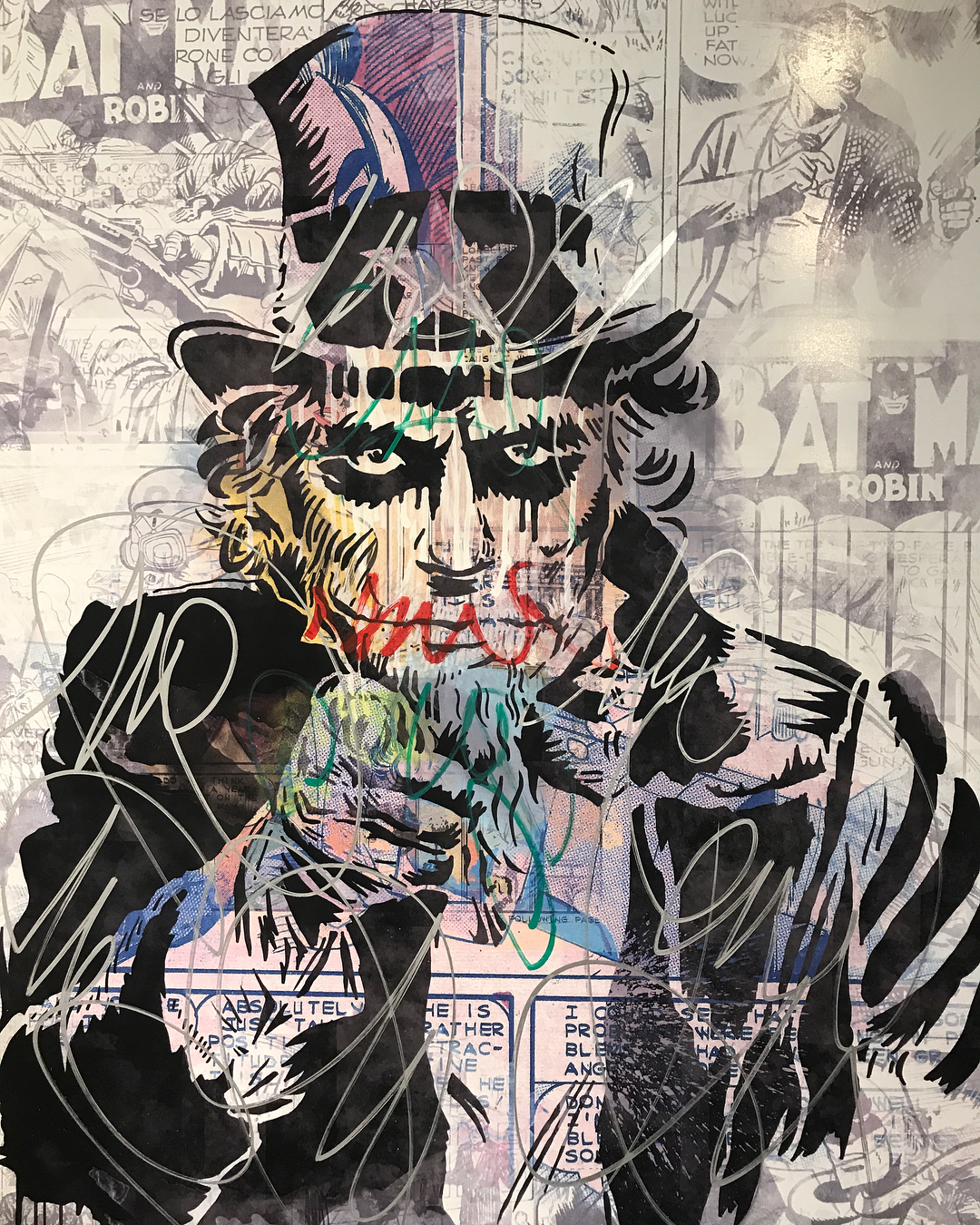 Uncle Sam is the personification of the government of the United States. The actual origin is a legend, and nowadays, many artists use the same poster as a way to protest against the government. Or mock the government.
9. Dancing with Wolverine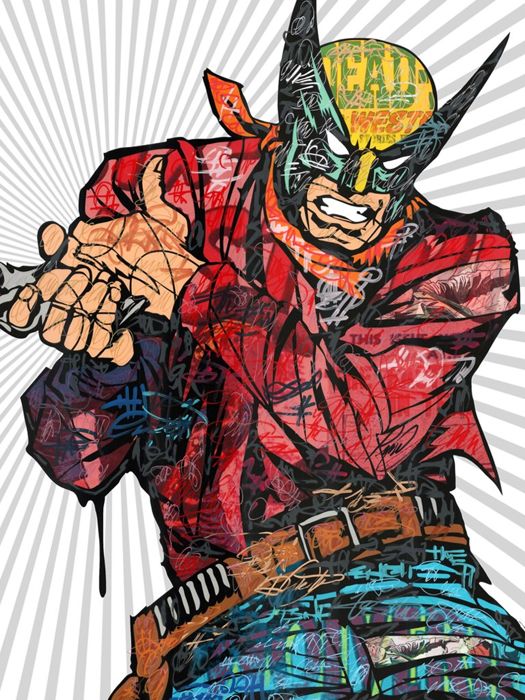 Photo: signarigallery.com
This is one of Dillon's graffiti series. By now, most of the comic book characters we showed were from DC comics. But it is time to go to Marvel.
10. Graffiti Girl Street Art Goodbye  Kiss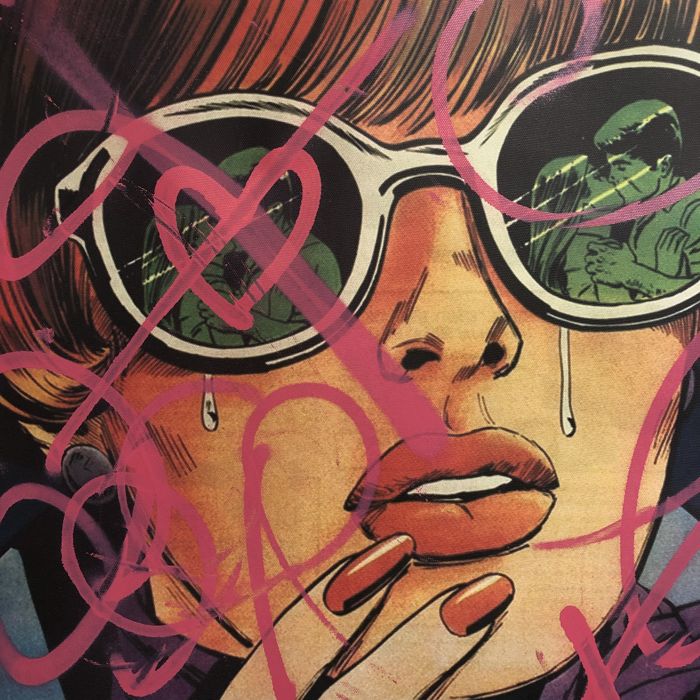 One of the sweetest moments you can feel is saying goodbye to your lover. And Dillon makes sure to show all of the emotions in that moment in this graffiti.
11. Batman the Dark Night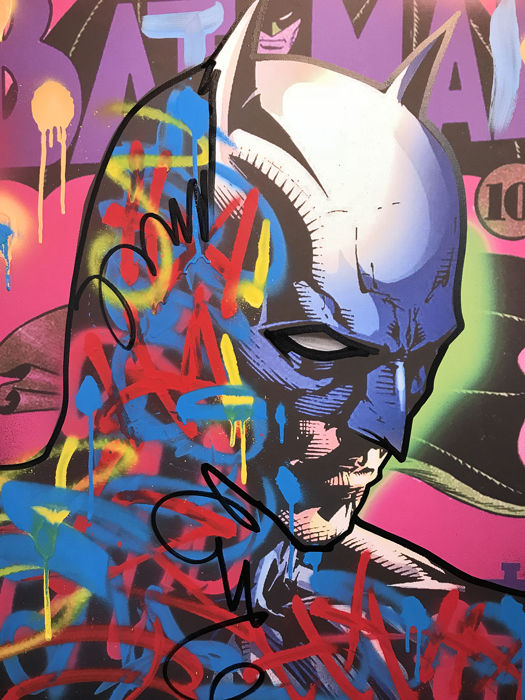 Christian Bale's Batman the Dark Knight is widely considered one of the best comic book movies, and one of the best movies as well. It is the gold standard for dark movies. You can say it opened up the door for more comic book movies. Here is Dillon's vision for that personification of the Batman.
12. Molotov Mickey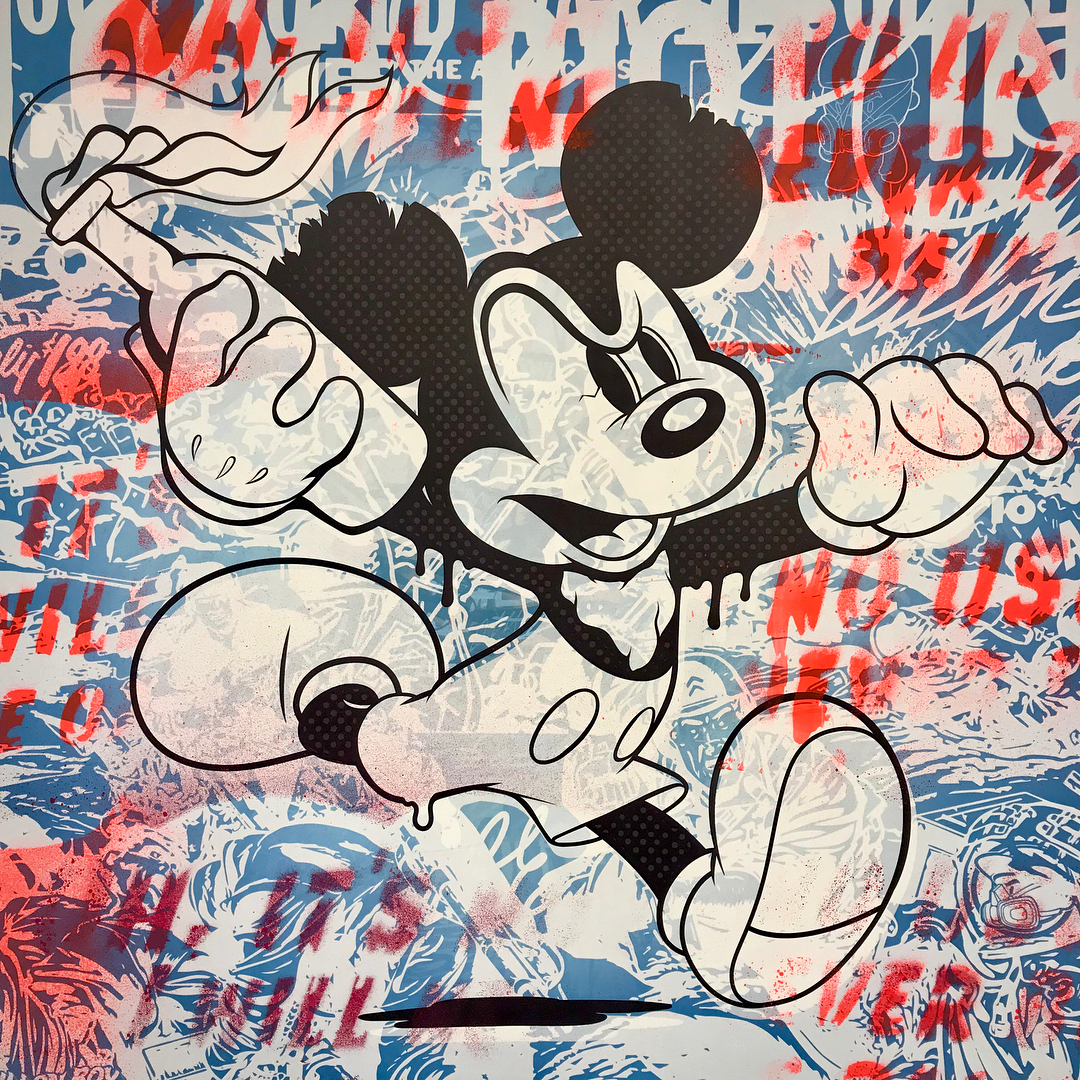 The symbolism and message in Dillon's paintings is just amazing. How he manages to combine two objects, characters, and topics, that are so opposite, is just marvelous. Mickey Mouse is the epitome of cuteness, righteousness, and just no-violence guy. And then you have the Molotov cocktail, a bomb for rebels.
13. Global Conflict Blood Diamonds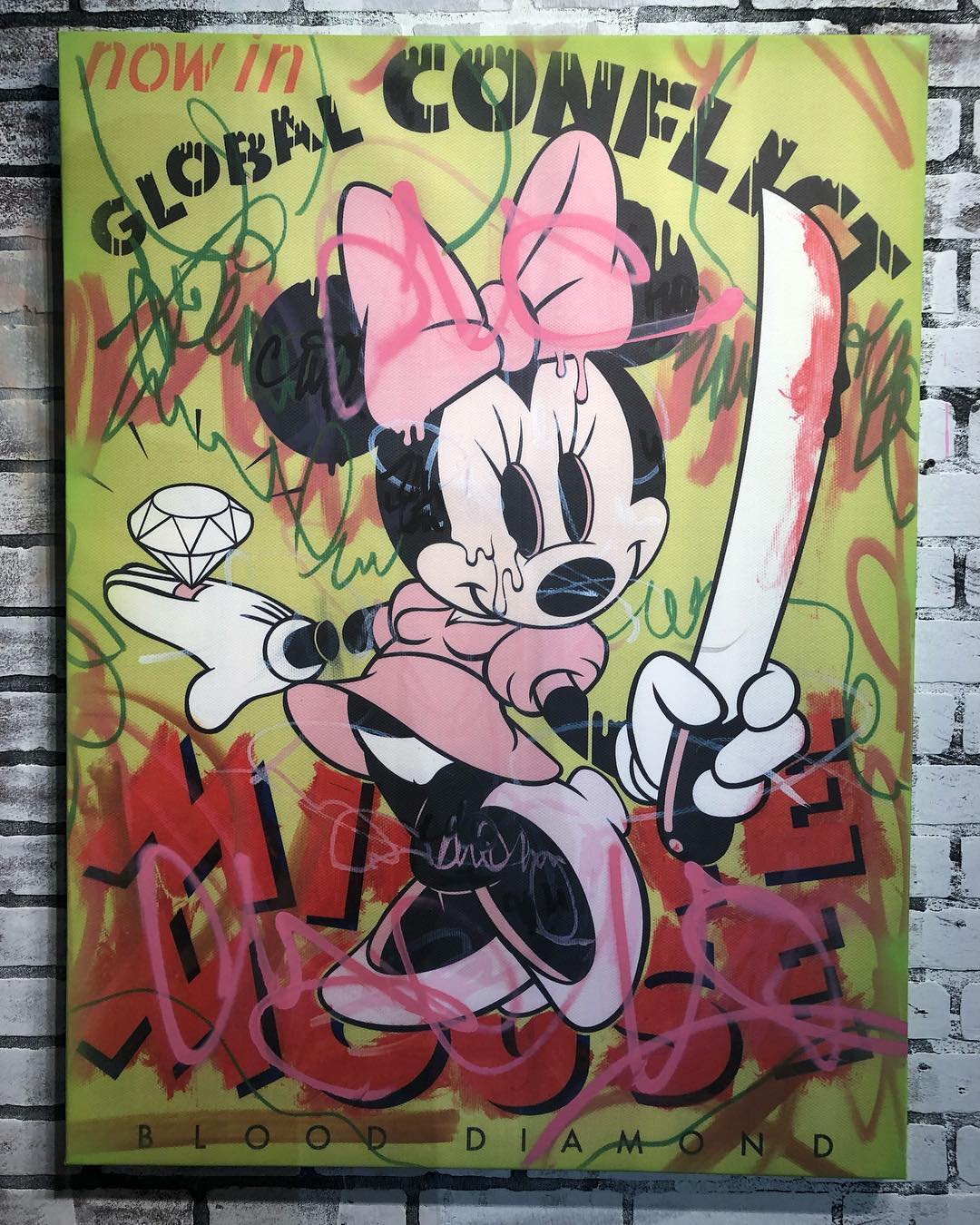 Another painting in which Disney characters are represented as rebels. This time, we have Minnie Mouse, poising as part of the Blood Diamond poster.
14. Corporations Kills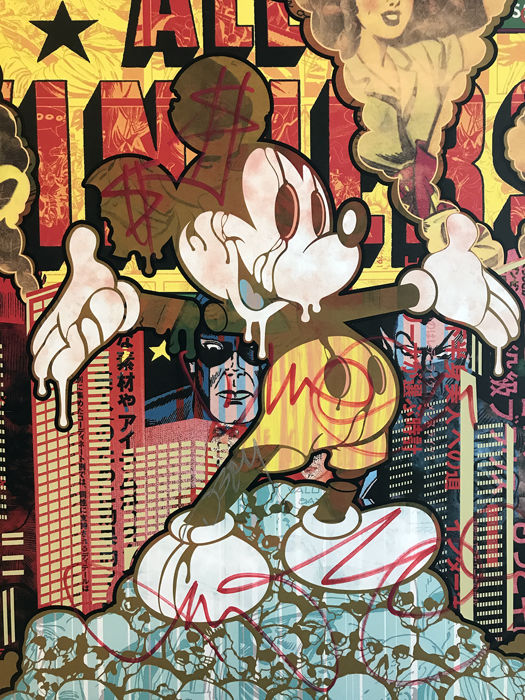 We live in the era of big corporations. Workers everywhere are paying the price. Big corporations get the money, while workers work for minimum wage. The irony is perfectly sublimed in this painting.
15. Oil Tycoon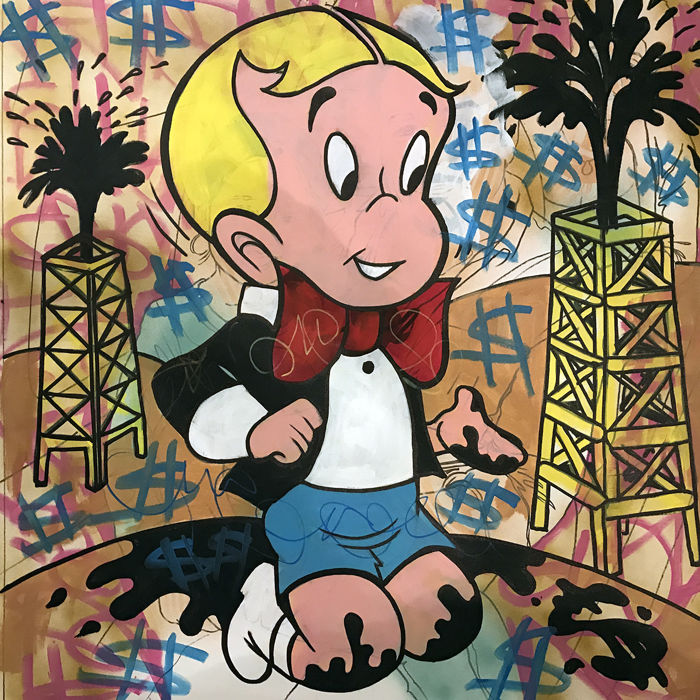 Speaking of the corporate world, the oil industry is one of the best examples. Oil tycoons are some of the wealthiest people in the world. This painting might be emasculating, but it is definitely fun.
16. Western Graffiti The Joker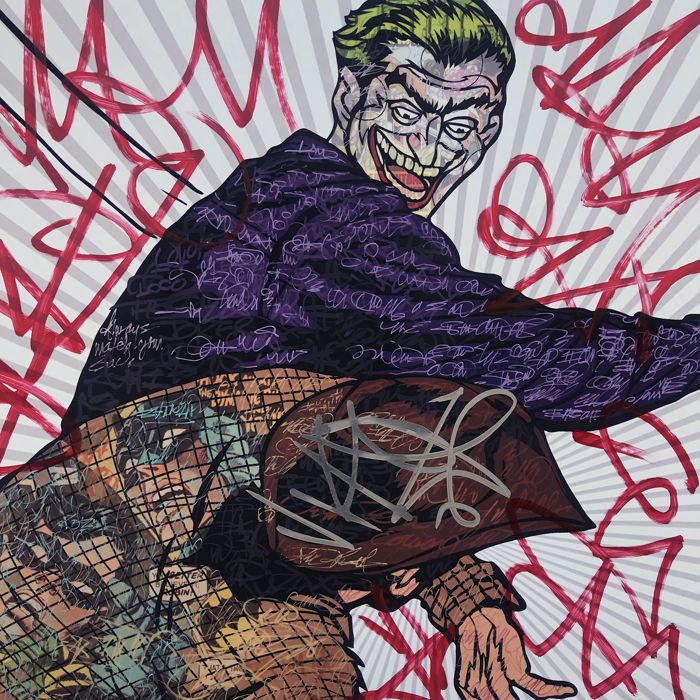 The Joker is one of the most popular villains ever. His character is just too complicated, too deep, and with so many layers, that fans hate him and love him in the same time. Portraying the Joker is an honor, even in a painting.
17. Superman Wonder Woman The Kiss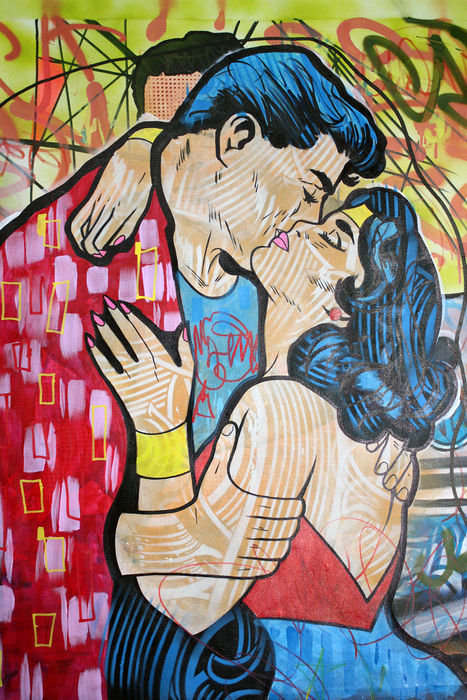 This is one of the iconic moments in DC comic book history. For long time, DC refused to pair their characters in a shared universe. But in the 1940s, they started crossing over characters from one comic book to another. And we had a couple of Batman and Wonder Woman pairings, as well as Superman and Wonder woman. Many fans asked why aren't the two Gods dating, and DC gave them a glimpse with this kiss. Even though it was just a trick.
18. Hammer Of God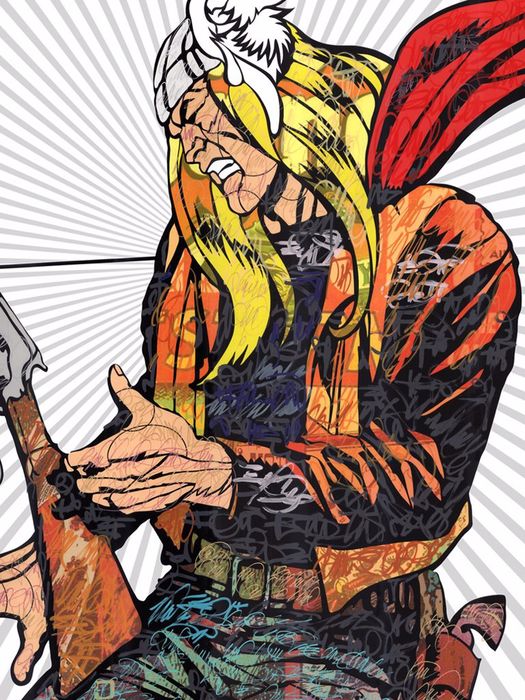 Hammer of God, or the Hammer of Thor. Another iconic character by Marvel Comics, Thor is the God of Thunder. Here is a mashup of him looking like a more regular human.
19. Wanted Woman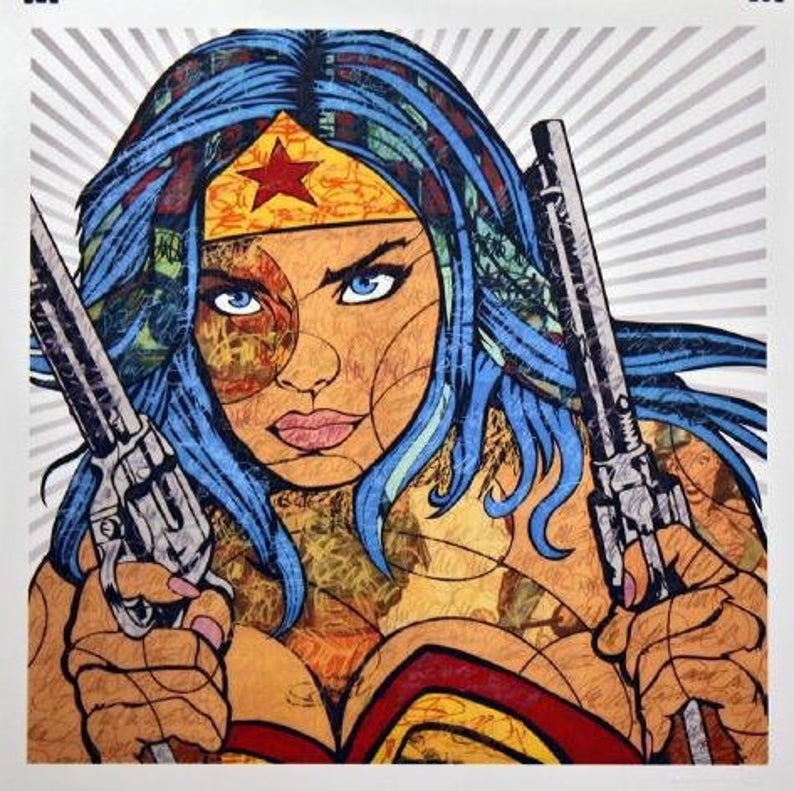 You just have to marvel at this amazing art by Dillon Boy. Showing Wonder Woman like a Wild West villain and wanted person is just too cool.
20. Super Wheelchair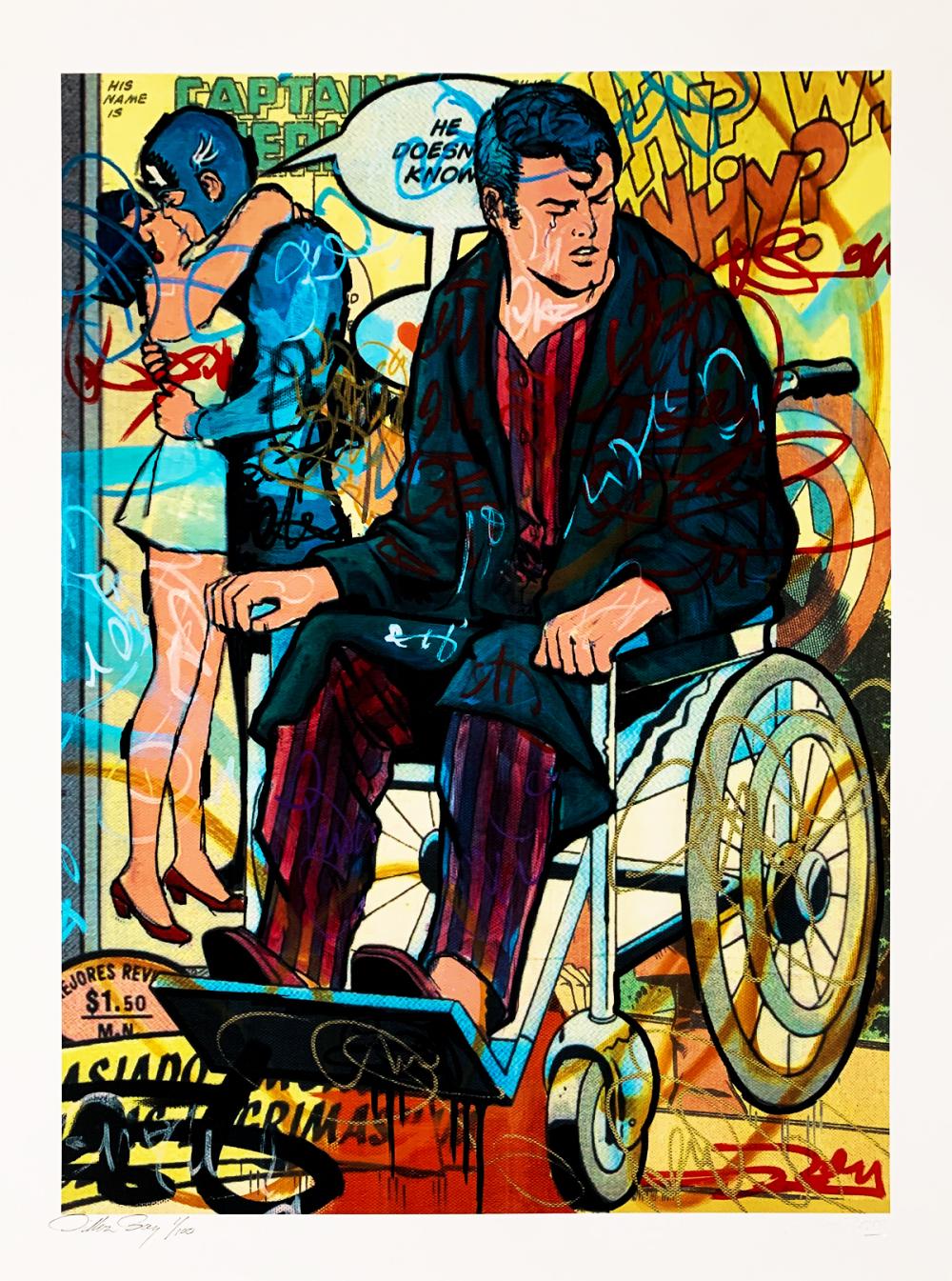 This is more of an Easter Egg painting. Christopher Reeves was the most popular Superman, and he still is. But back in the 1980s, he suffered an injury and had to be put in a wheelchair for the rest of his life. That is the reason he couldn't do anymore Superman movies, despite the popularity.
21. Dillon Boy vs. Warhol vs. Banksy vs. Dali vs. Michelangelo vs. Botticelli vs. your Mom
Dillon Boy is probably one of the rare artists that can do something like this. Putting some of the most recognizable pieces in a single mashup is just a true talent. It speaks to his idea that he has no favorite or best piece, unlike many other authors.
22. American Dream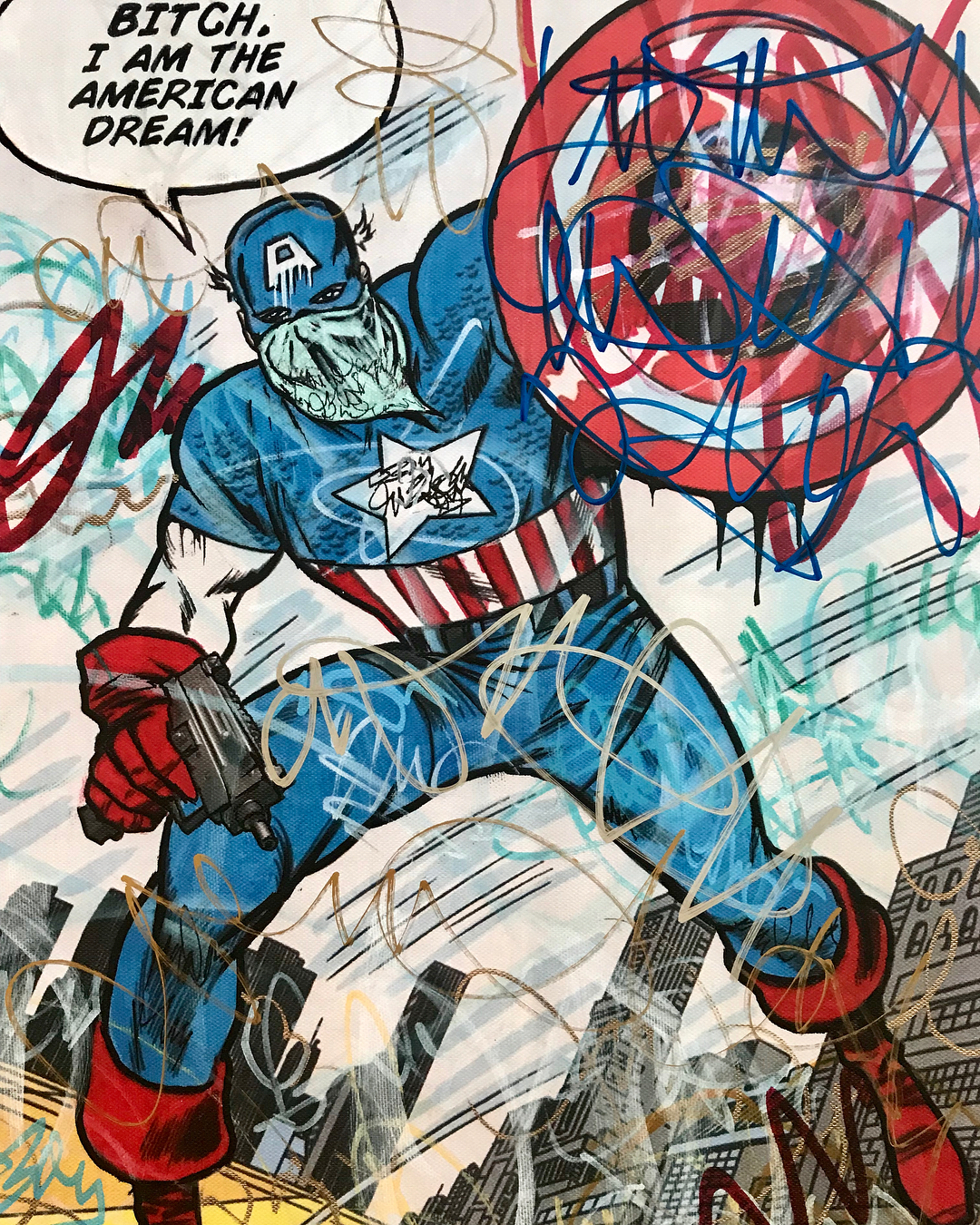 What is the American dream? Why are people coming to America to live out the American Dream? Well, not all agree with the definition. Some just want to play with the irony in it.
23. Along Came a Spider lot-art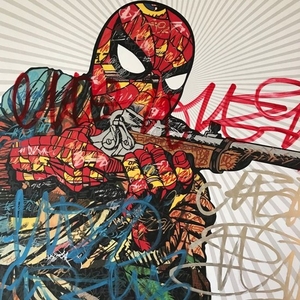 If you haven't watched Along Came Polly, go and watch it. It is a great Jennifer Aniston movie. And this is a mashup inspired only by the title of it.
24. I Couldn't Save Them All -Superman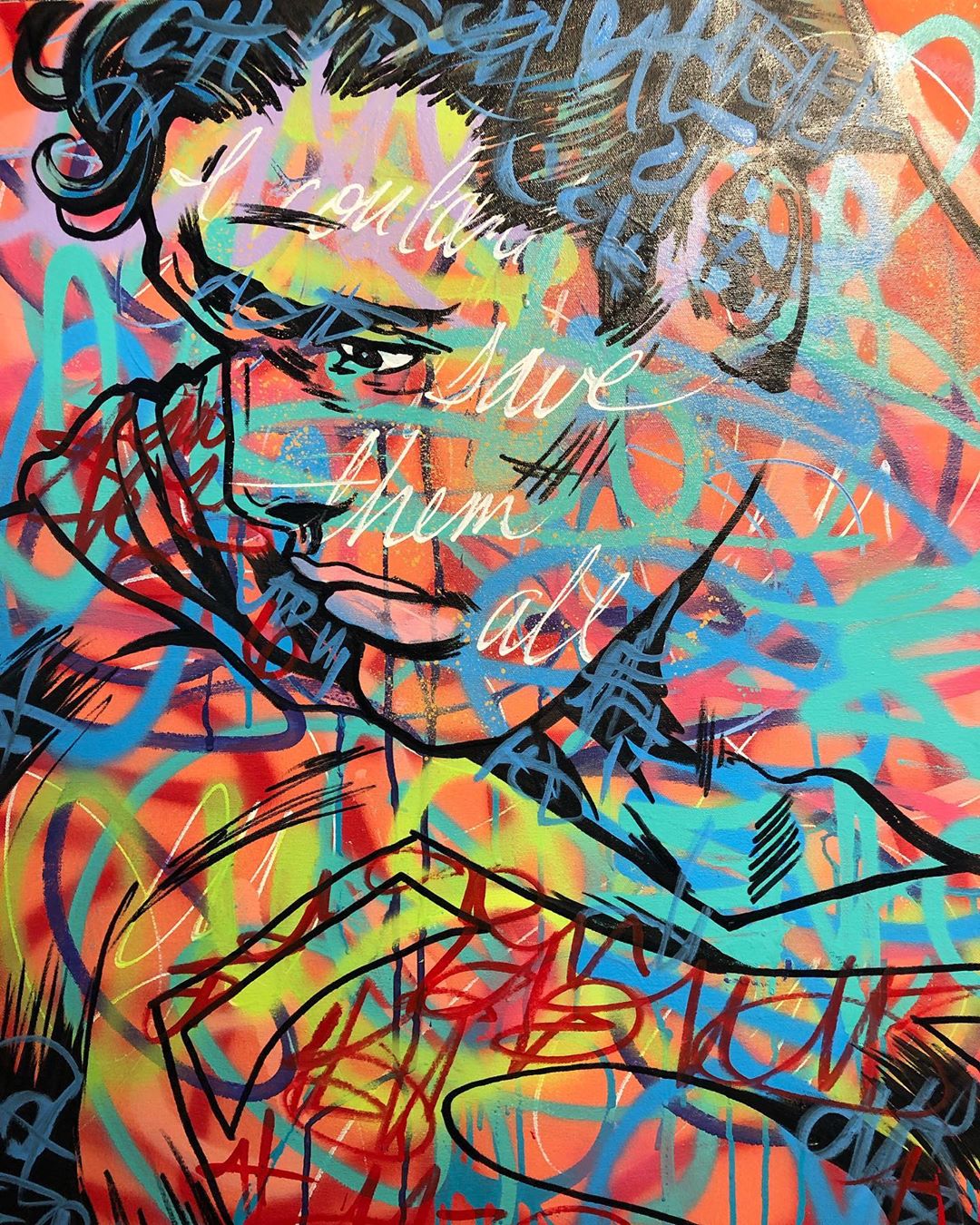 For all the lives he has saved, and all the criminals he has put to justice, even Superman cannot save everybody. And that is his weight. It is the force that drives him, to save humanity, and try to save every human being. But you cannot save everybody.
25. Hello Pussycat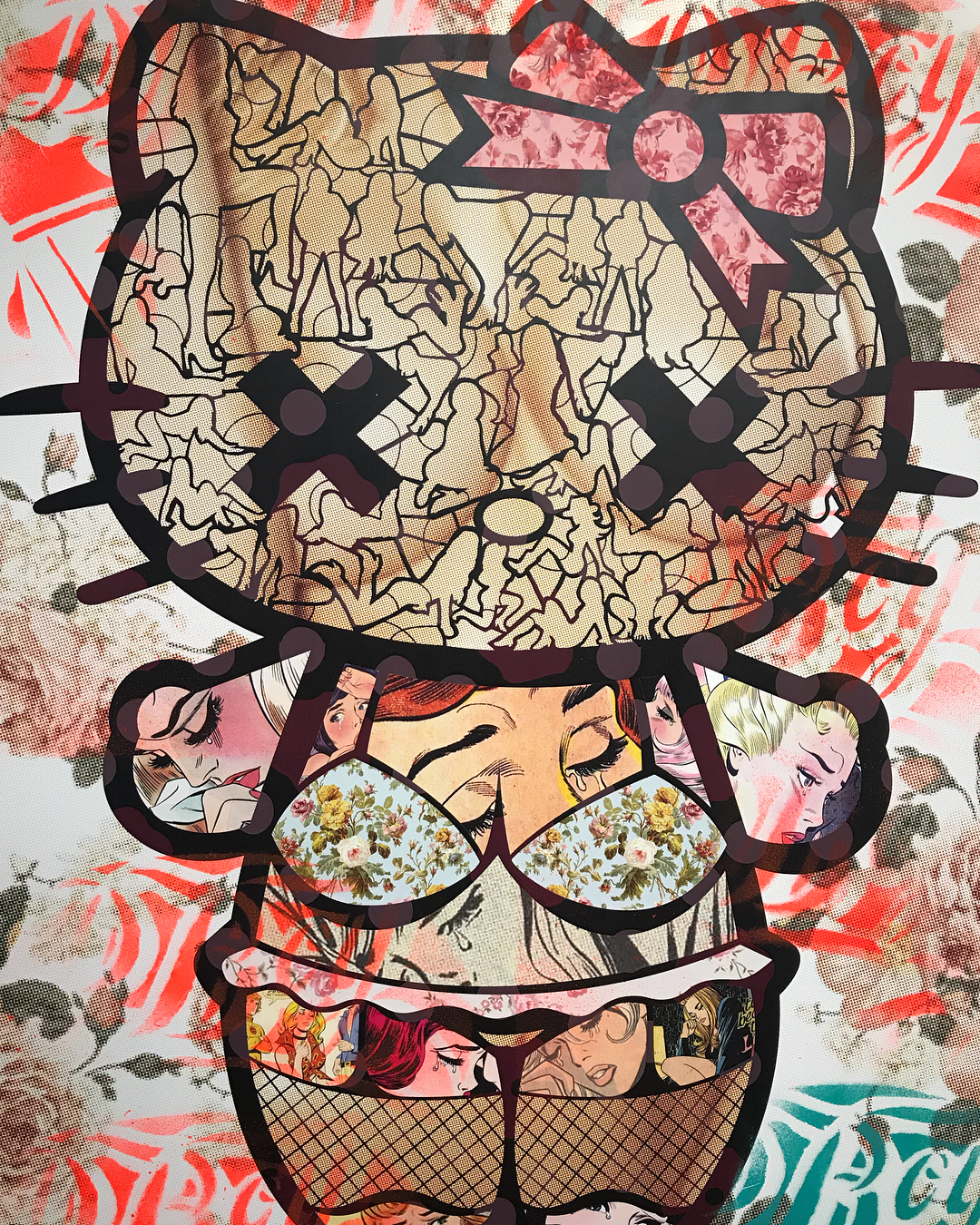 This graffiti is just an absolute masterpiece. Just try to find all of the Easter Eggs, and you might lose a day looking and gazing at the painting.
26. It's My Party And I'll Cty If I Want To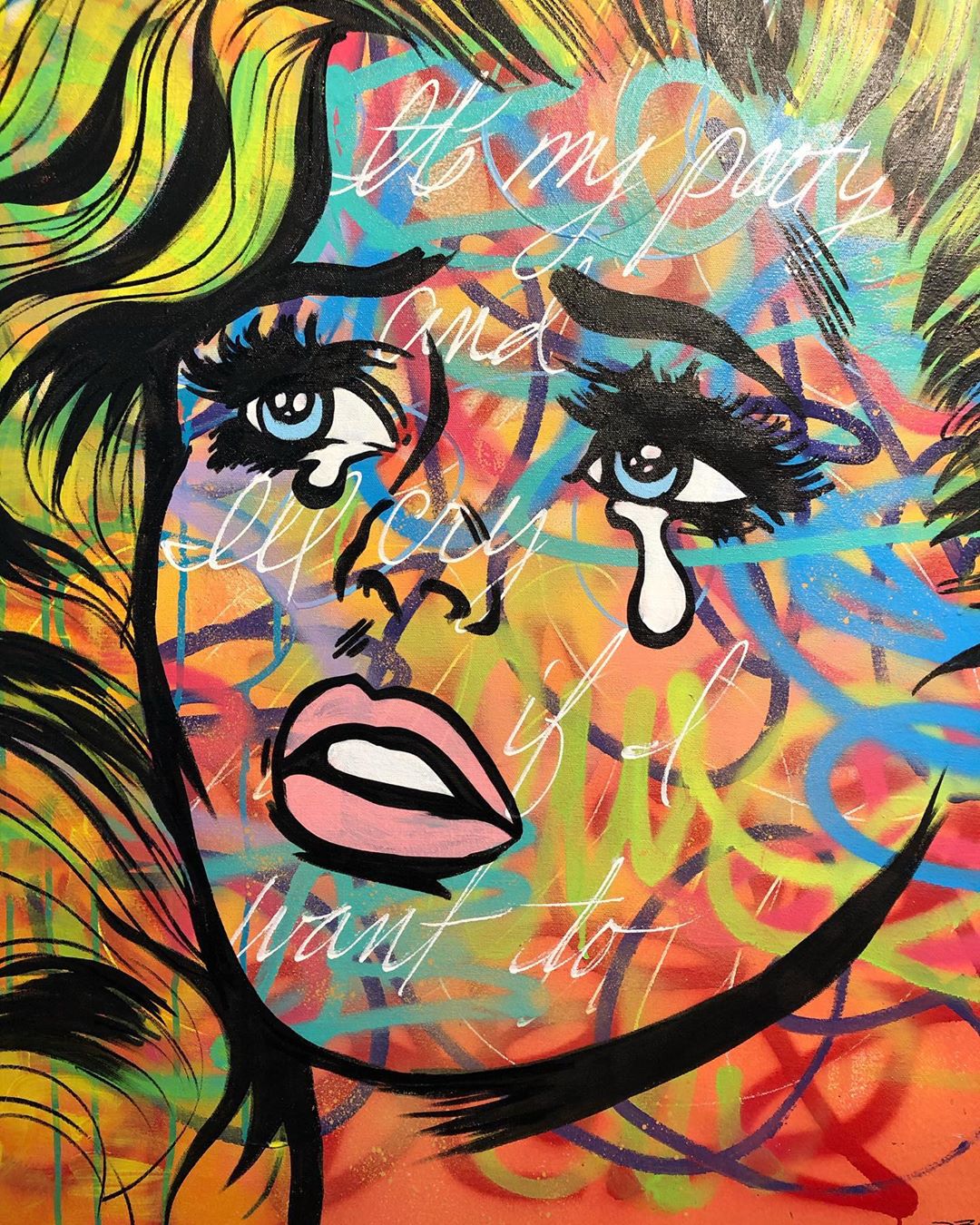 This song was initially released in 1963. Since then, it has inspired countless other songs, as well as graffiti and pop art prints.
27. Mickey Mouse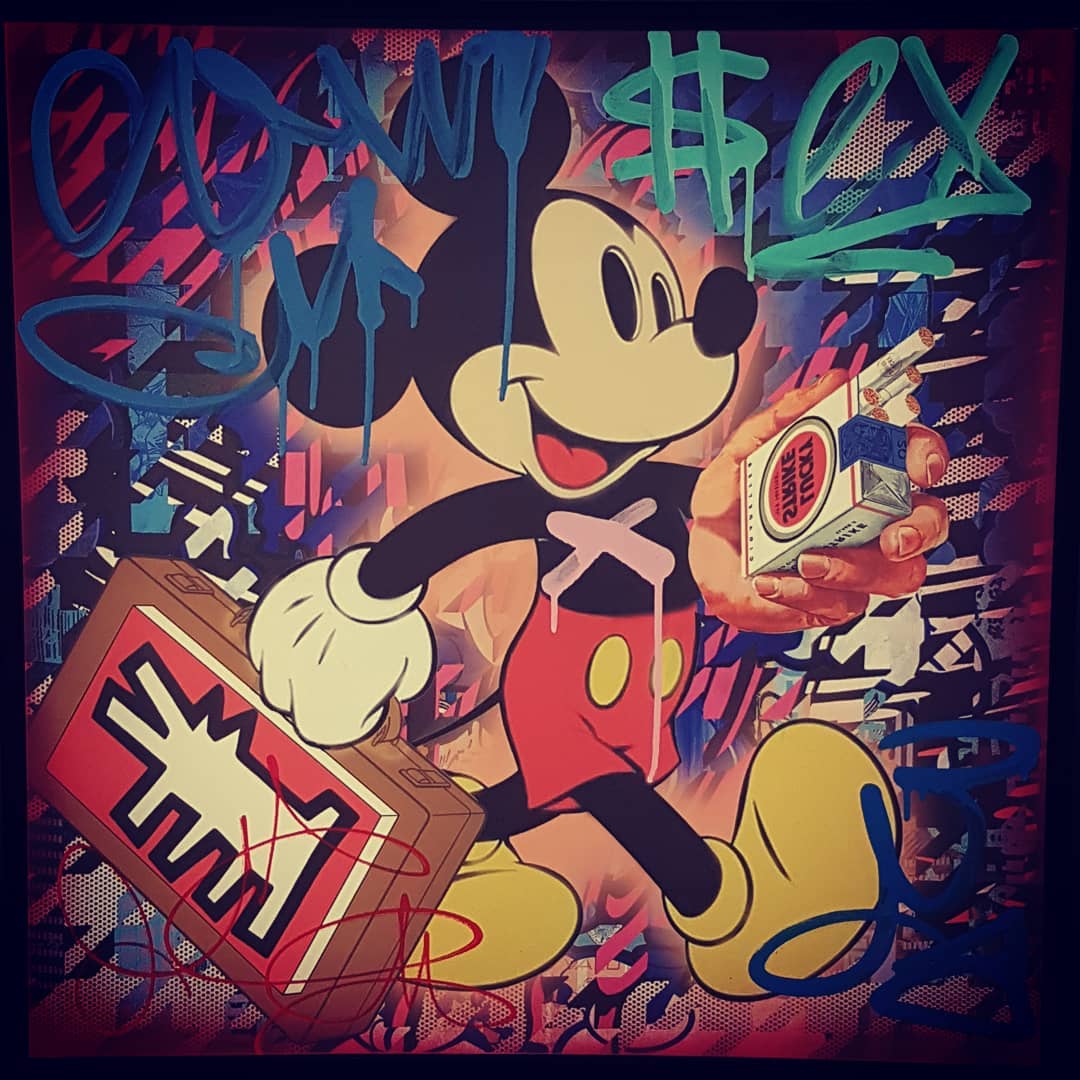 We finish off the Dillon Boy list with one of his favorite inspirations, Mickey Mouse. He loved to use the Disney character as contrast and show him in different aspects. Some of them, you would never link Mickey to, like the corporate evil.