The term "contemporary architecture" refers to a movement in which several modern styles are combined. These styles also rely on fewer traditional construction techniques. It's possible that the term "modern" was misused. This is due to the fact that it may still be used to describe structures that are nearly 80 years old. It's a formal description to characterize the movement because there are so many different styles. A single style or combination of qualities doesn't define contemporary architecture.
Contemporary architecture, unlike Modernism, Art Nouveau, or other forms of architecture, does not refer to a specific movement. Rather, it encompasses a wide range of 21st-century architecture that frequently crosses over into other styles. Even if this phrase is more difficult to define, it doesn't preclude us from discussing modern architecture. A warming globe, technological breakthroughs, new structural systems, and a shifting set of ideals confronting modern designers are all common elements of contemporary architecture.
One thing to keep in mind regarding contemporary architecture is that it's significantly more global than its forerunners. Important contemporary architecture symbols are springing up all over the world. They are frequently championed by a small group of "starchitects," whose fame allows them to continue working on some of the world's most famous projects.
Contemporary Architecture Characteristics
Although contemporary architecture is a free-for-all, there are a few important traits that can help you spot a modern structure in the wild. Curved lines, rounded forms, irregular volumes, asymmetry, open floor plans, wide and abundant windows, green roofs, living walls, integration into the surrounding landscape, integrated smart home technology, or integrated adjustable LED lighting are all examples of such characteristics. Classical concepts thrived in environments with certain design aspects.
They have predictable and recognizable flourishes, whereas contemporary architecture is more adaptable. Modern architects thrive on smart and novel concepts. They go against the grain of society's conventions and customs. To do so, they'll need modern resources to develop these concepts. These structures will not only impress you with their original and creative designs. The unique design of structures will also help you understand the aesthetic feeling. Furthermore, contemporary architecture employs a diverse spectrum of construction materials. Concrete, glass, wood, and aluminum screens are among them.
These materials add contrast and uniformity to the scene. You'll notice, for example, that they feature enormous plate glass windows. This lets in a lot of natural light and creates a lot of open space. As a result, they give off an airy vibe. You can find incredible buildings such as museums, concert halls, skyscrapers, residential buildings, stadiums, government buildings, university buildings, libraries, malls & retail stores, airports, railways, bridges, and eco-architecture.
Famous Buildings In Contemporary Architecture
CCTV Headquarters, Beijing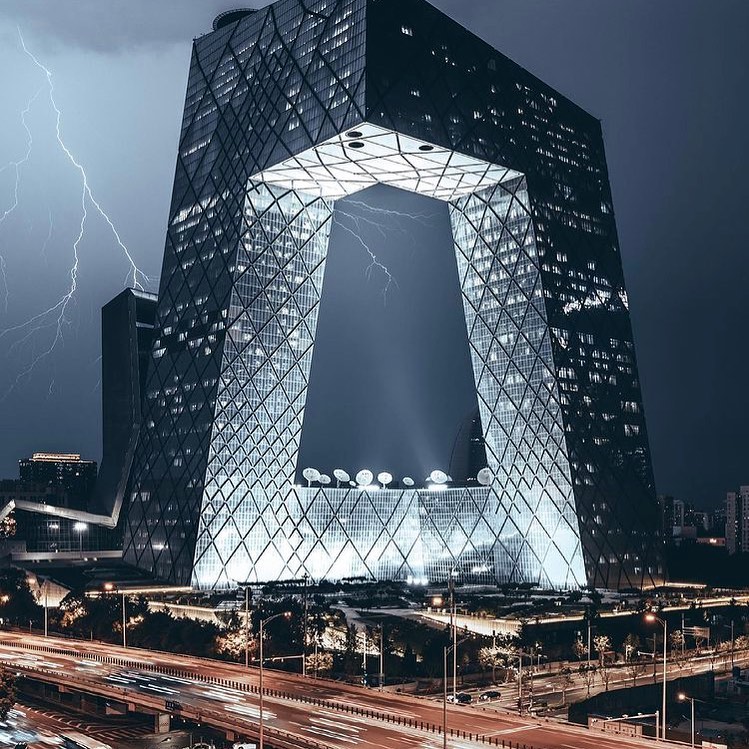 Construction on the project, designed by OMA as a reimagining of the skyscraper as a loop, began in 2004. CCTV, OMA's greatest project to date and its first significant building in China, spans 473, 000m2 and houses TV studios, offices, transmission, and production facilities.
Disney Concert Hall, Los Angeles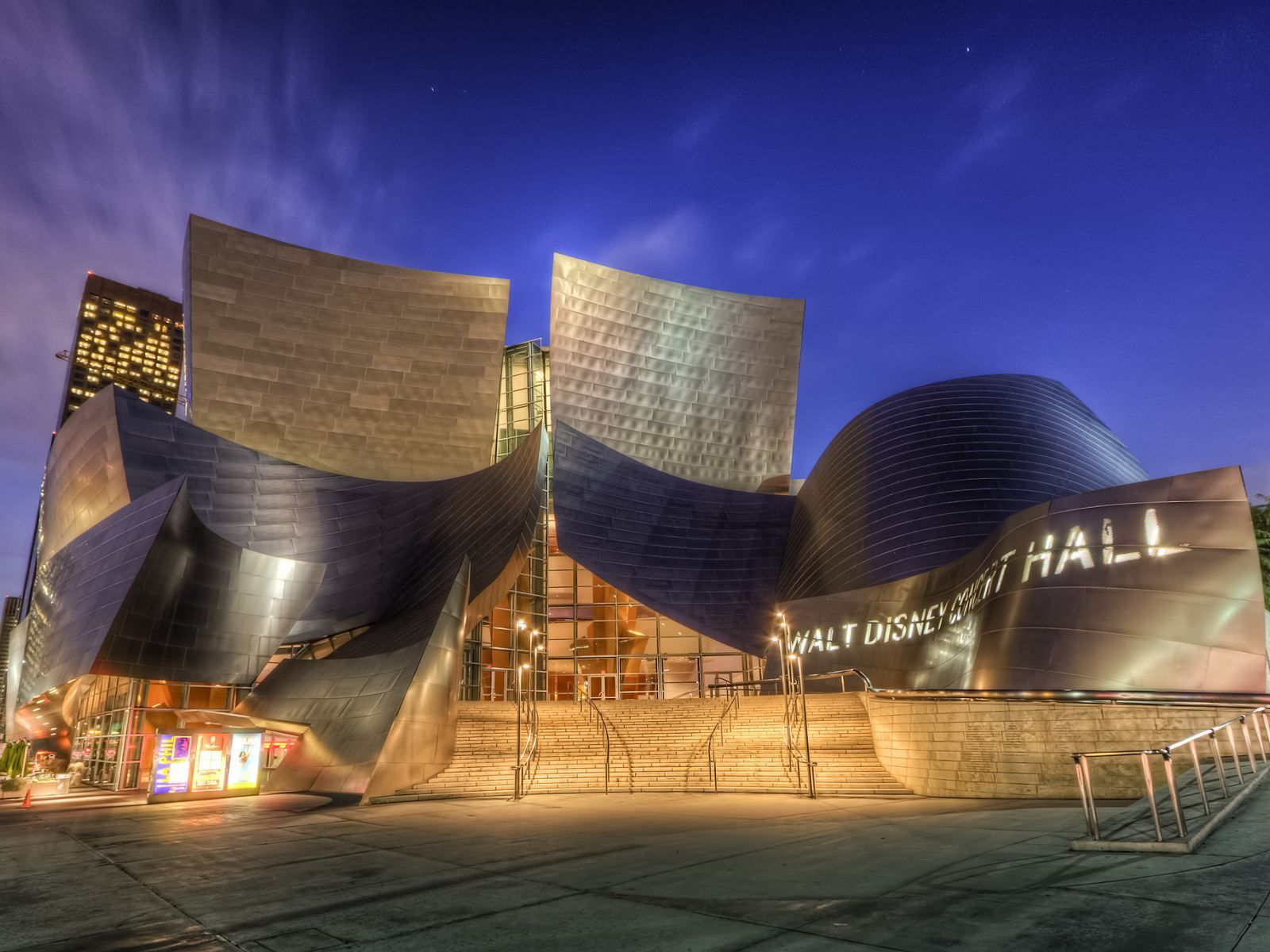 The Walt Disney Concert Hall, designed by architect Frank Gehry, is a globally acclaimed architectural monument and one of the world's most acoustically advanced concert halls. The complex symbolizes the unique vitality and creative spirit of the city of Los Angeles and its orchestra, from the stainless steel curves of its arresting facade to the state-of-the-art acoustics of the hardwood-paneled main auditorium. Los Angeles enjoys the music of the Los Angeles Philharmonic, the Los Angeles Master Chorale, and visiting artists and orchestras from around the world and they have the vision and altruism of Lillian Disney, the Disney family, and many other individuals and corporations to thank for that.
Heydar Aliyev Cultural Center, Baku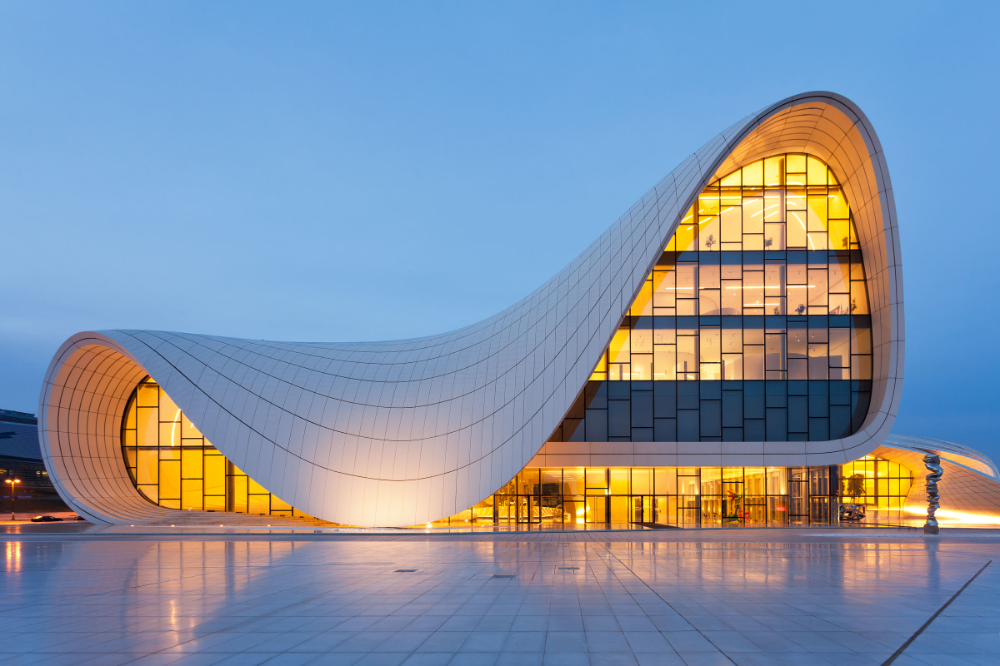 The Heydar Aliyev Center is a massive building complex in Baku, Azerbaijan, designed by Iraqi-British architect Zaha Hadid. It's known for its unusual architecture and flowing, curved style that avoids abrupt edges. Heydar Aliyev, the first secretary of Soviet Azerbaijan from 1969 to 1982 and the president of the Azerbaijan Republic from October 1993 to October 2003, was the inspiration for the development of the complex. A meeting hall, a gallery hall, and a museum are all located within the Center. The project aims to contribute significantly to the city's intellectual life. The property, which is adjacent to the city center, is critical to Baku's revitalization.
The Blue Planet, Copenhagen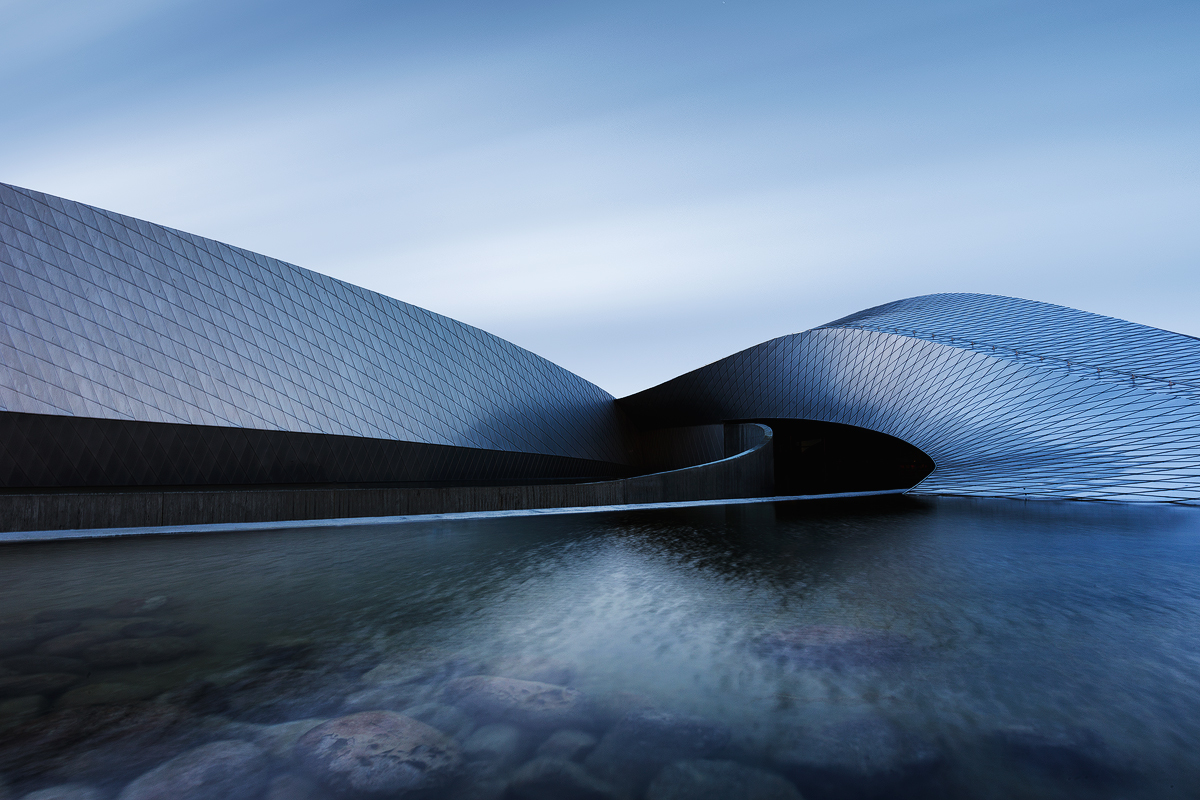 The Blue Planet Aquarium is Europe's largest and most important aquarium, with a spectacular sight on the shoreline, barely eight kilometers from Copenhagen City Hall Square. Furthermore, roads, Copenhagen Airport, the Oresund Bridge, Metro, and international trains are all within a few hundred meters of the aquarium in Taarnby Municipality.
Central Library, Seattle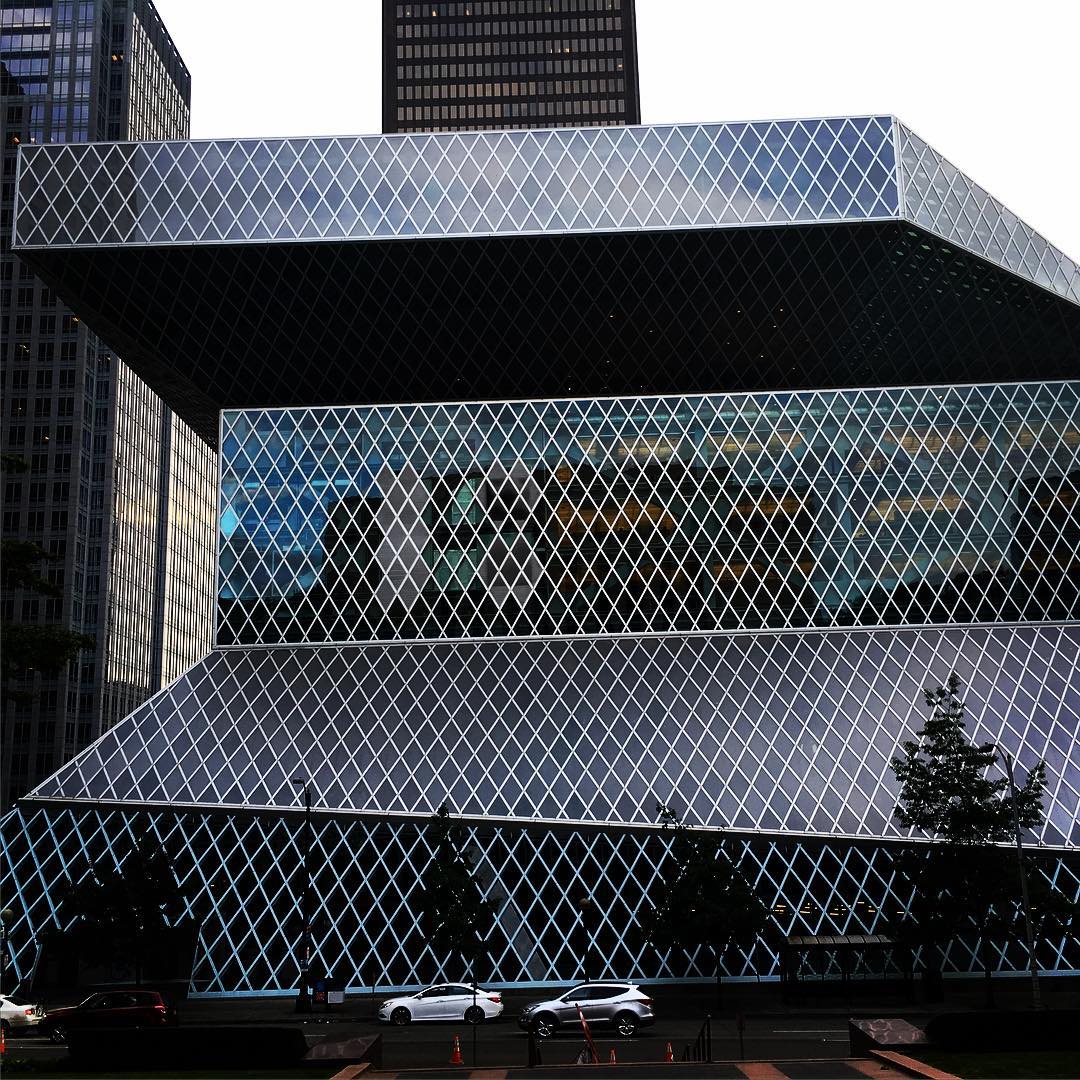 The Seattle Public Library system's flagship library is the Seattle Central Library. In 2004, the public was welcomed into the 11-story glass and steel building in downtown Seattle, Washington. The architects designed the new Central Library as a celebration of books, concluding after extensive research that people still respond to books printed on paper, despite the onset of the twenty-first century and the "digital age." The 11-story Central Library can hold nearly 1.5 million books, compared to only 900,000 in the previous library.
Guggenheim Museum Bilbao, Spain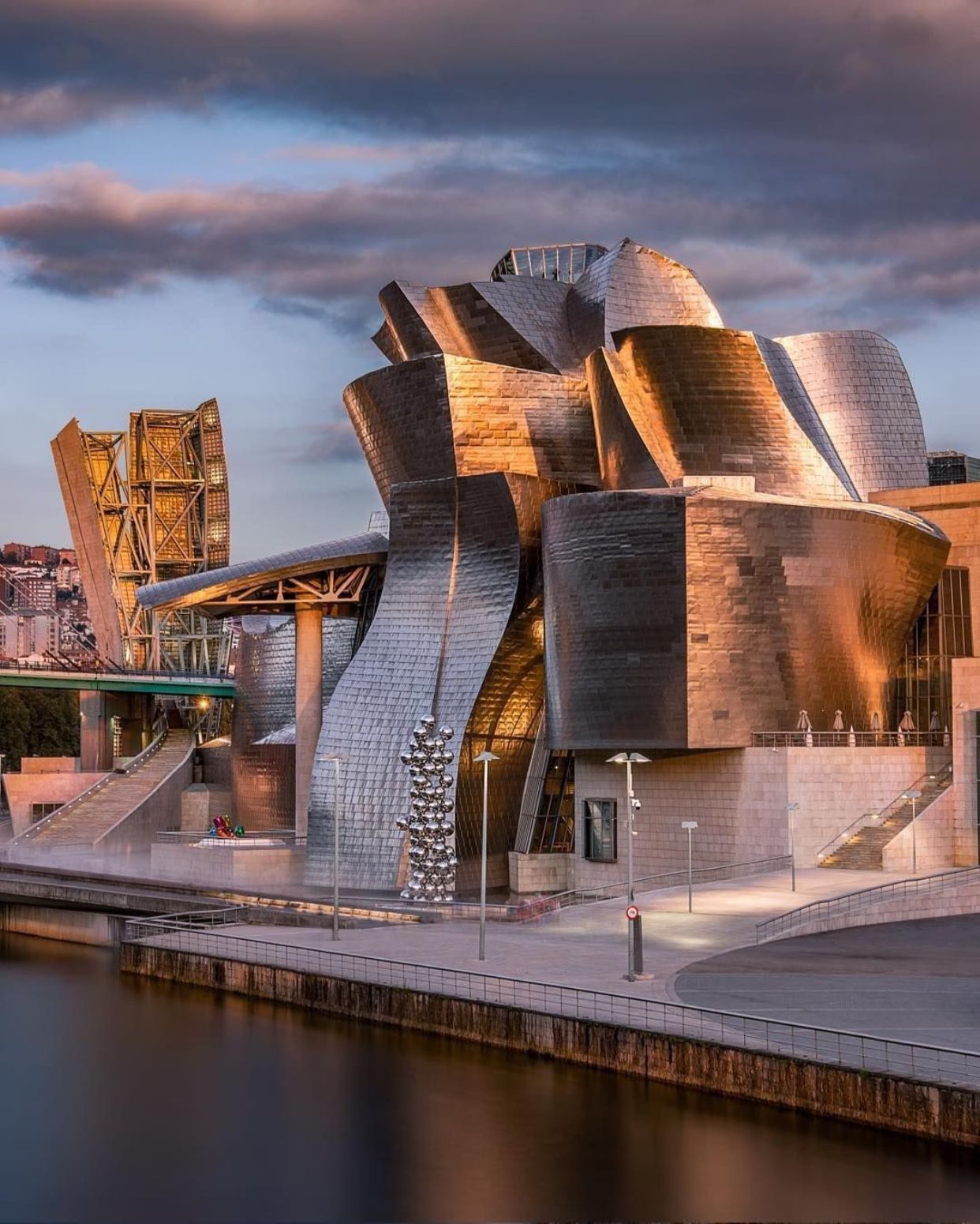 The Guggenheim Museum Bilbao is a modern and contemporary art museum in Bilbao, Basque Country, Spain, created by Canadian-American architect Frank Gehry. King Juan Carlos I of Spain opened the museum on October 18, 1997, with a show of 250 modern pieces of art. It is one of four Solomon R. Guggenheim Foundation museums and is located alongside the Nervion River, which runs through Bilbao and leads to the Cantabrian Sea. It houses permanent and temporary displays of works by Spanish and international artists. It is one of Spain's largest museums. In 2020, it was rated 73rd on the list of most-visited art museums.
Louis Vuitton Foundation, Paris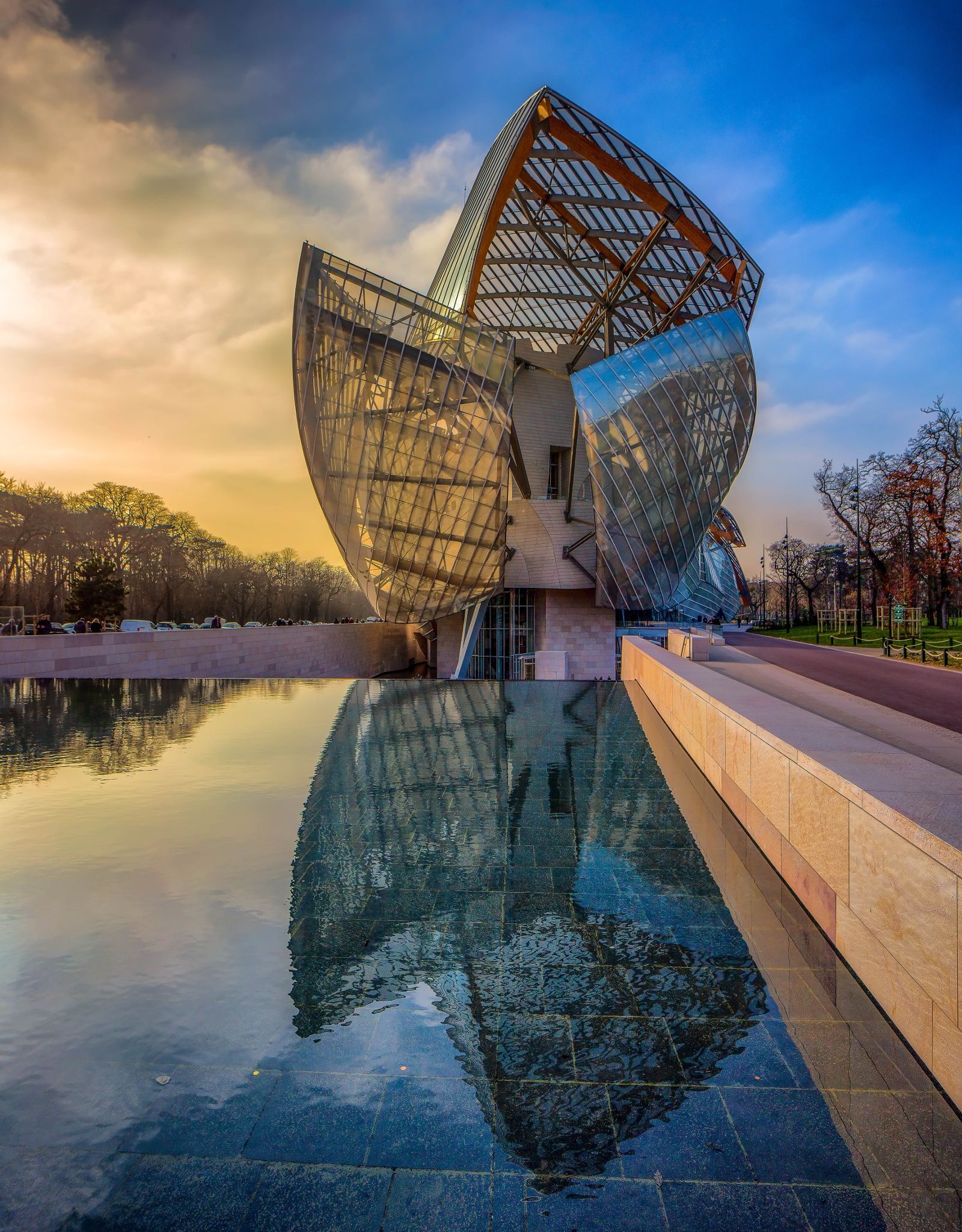 Paris is one of the most difficult cities in the world to create modern architecture because of its tight building standards and architectural history. Leave it to the most poetic of all starchitects, Frank Gehry, and his incredible Fondation Louis Vuitton, to pull it off. The vessel-shaped glass tower, which was completed in 2014, rests among the trees and lawns of Paris's Bois de Boulogne. The 126,000-square-foot, the two-and-a-half-story structure is filled with LVMH's outstanding art collection, which includes works by artists ranging from Kusama and Abramovi'c to Matisse and Giacometti.
Philharmonie de Paris, France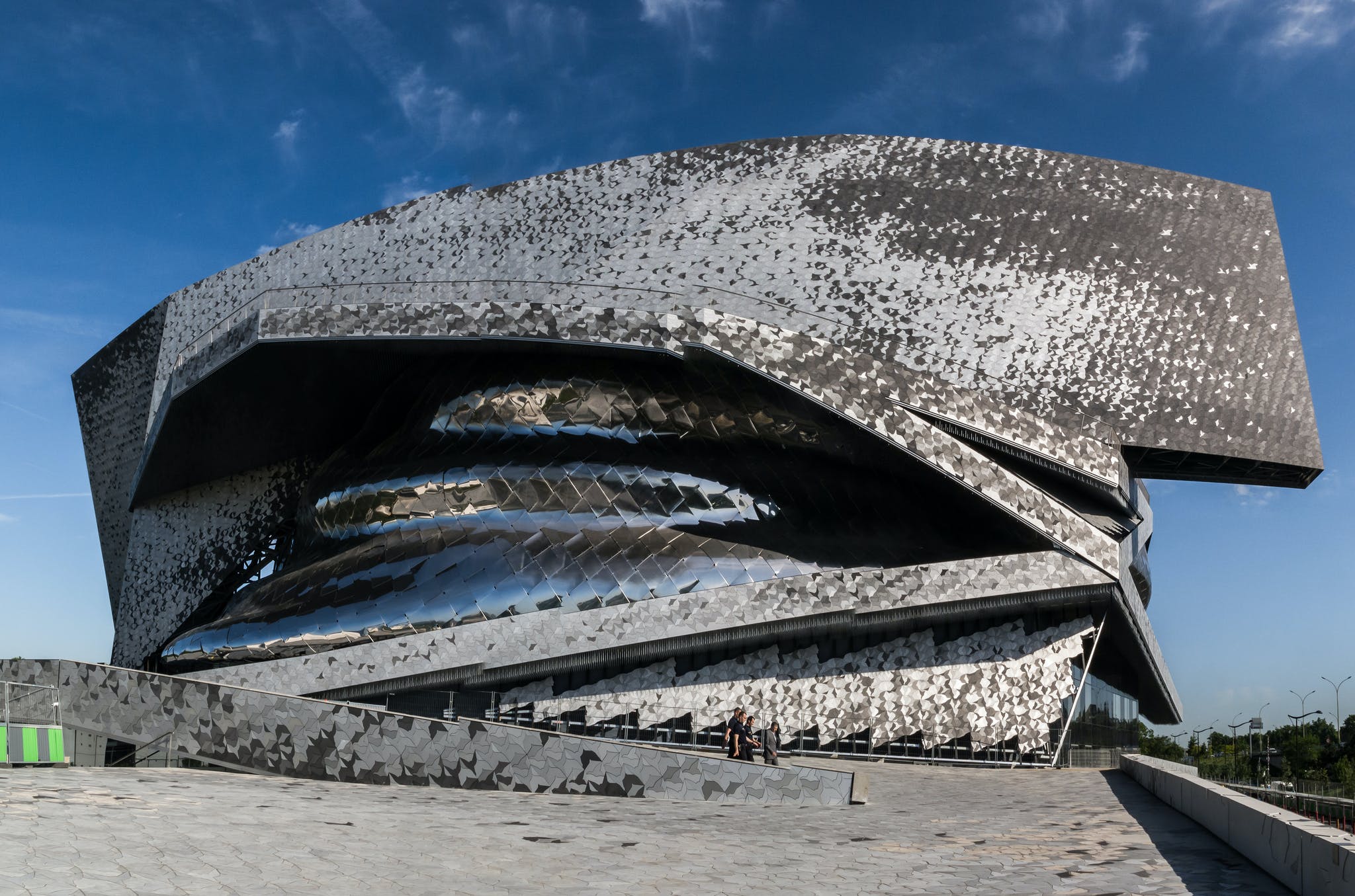 The Philharmonie de Paris is a concert hall complex in Paris, France. Exhibit spaces and rehearsal rooms are also available in the structures. The principal structures are all in the Parc de la Villette, which is located in the 19th arrondissement of Paris in the northeastern part of the city. The 2,400-seat symphonic music hall built by Jean Nouvel and inaugurated in January 2015 is at the heart of this collection of venues. Its development had been delayed for over two decades to finish the current musical institution, the Cité de la Musique, which opened in 1995 and was designed by Christian de Portzamparc. The Philharmonie de Paris is most known for its symphonic concerts, although it also hosts jazz and world music performances.
The Burj Al Arab, Dubai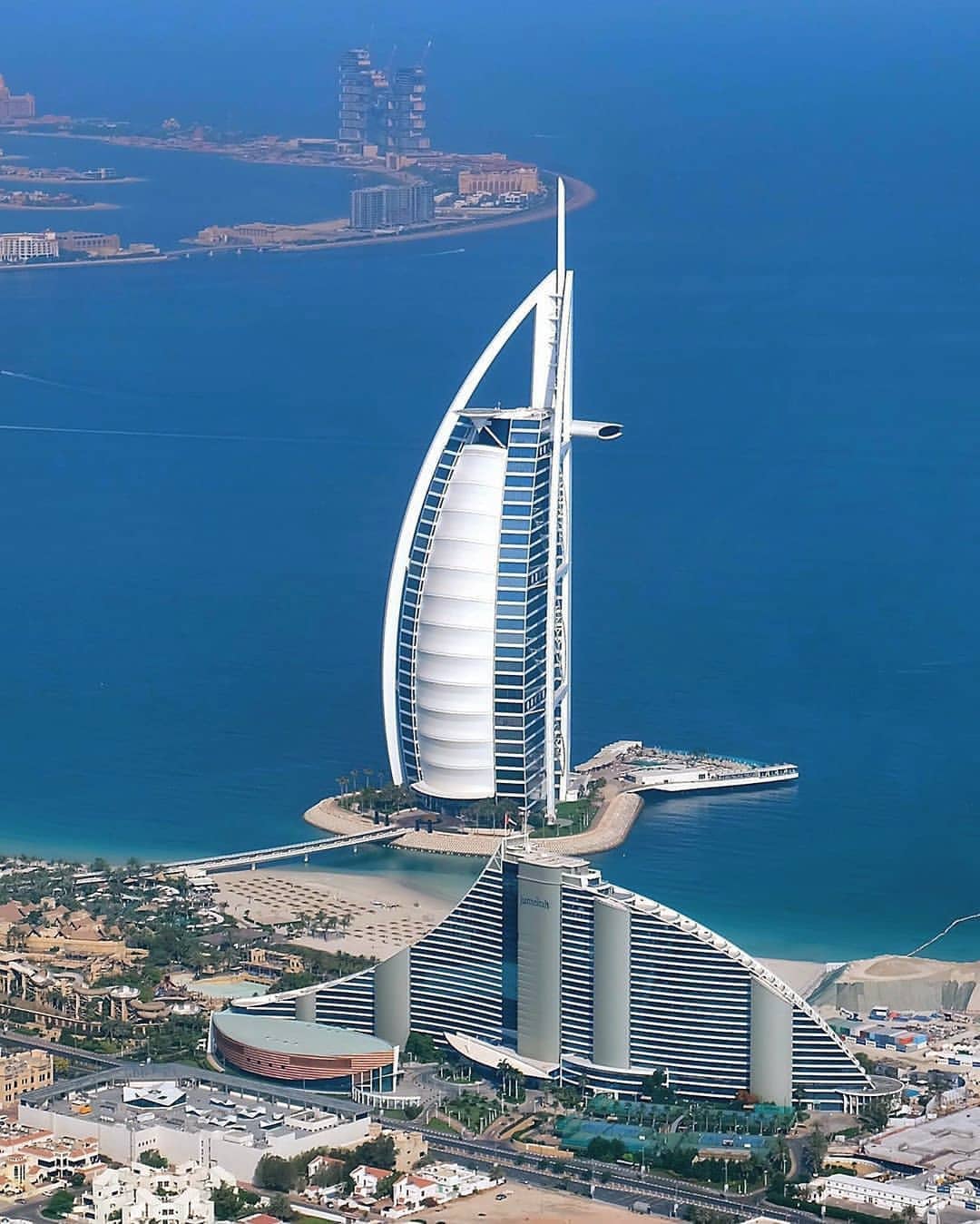 The Burj Al Arab is a five-star hotel in Dubai, UAE. It is one of the world's tallest hotels, even though 39% of its total height is non-occupiable space. The Burj Al Arab is located on an artificial island 920 feet from Jumeirah Beach, with a private curving bridge connecting it to the mainland. The structure's shape is modeled after a ship's sail. At a height of 689 feet above the earth, it has a helipad on the roof.
The Shard, London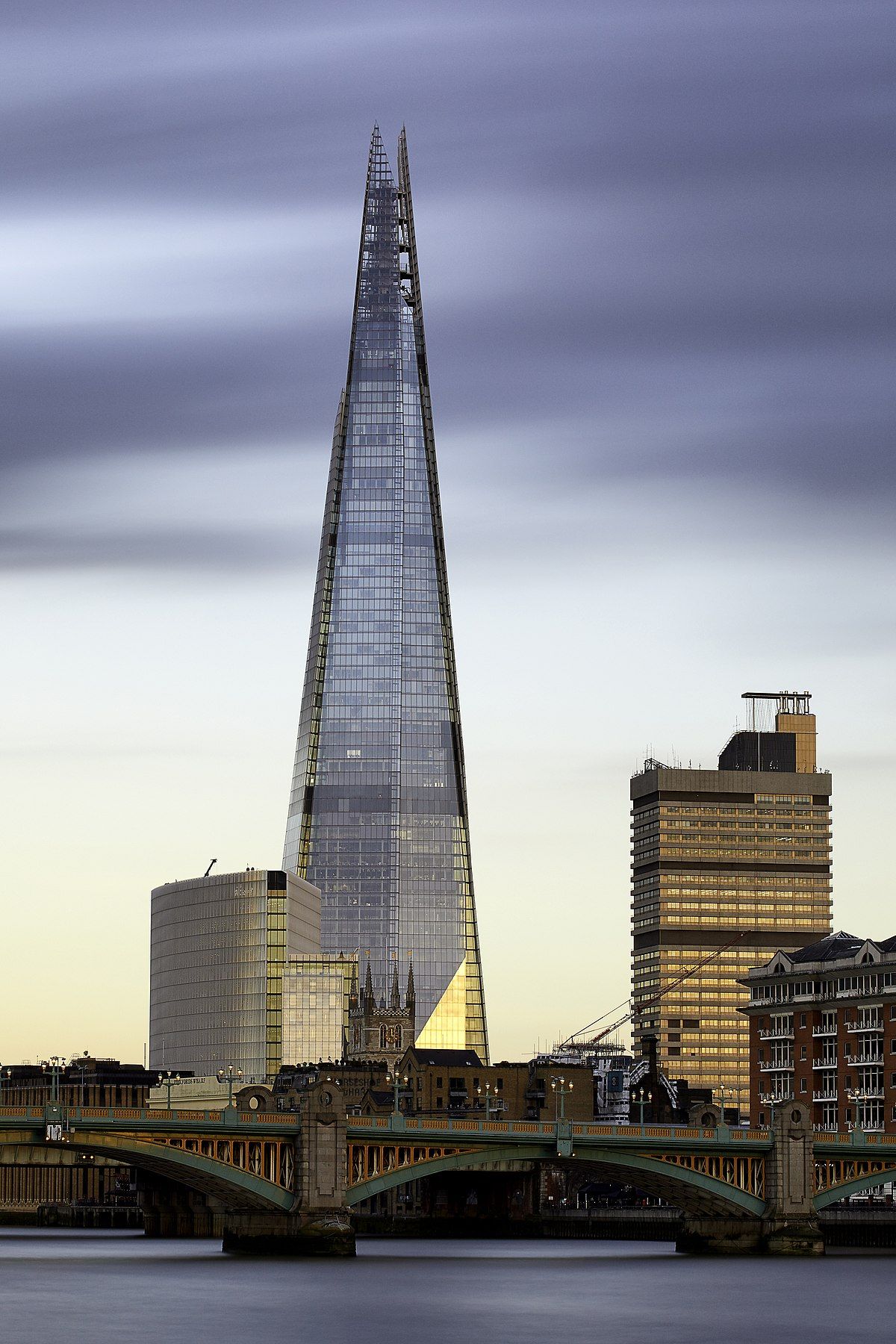 The Shard is more than just an iconic structure; it represents a new way of expanding the urban landscape. Offices, apartments, and public areas are all being raised to new heights. The Shard, formerly known as London Bridge Tower, is a 72-story skyscraper in Southwark, London, created by Italian architect Renzo Piano as part of the Shard Quarter development. The Shard, at 1,016 feet tall, is the tallest structure in the United Kingdom and the ninth tallest structure in Europe.
Parkroyal Hotel, Singapore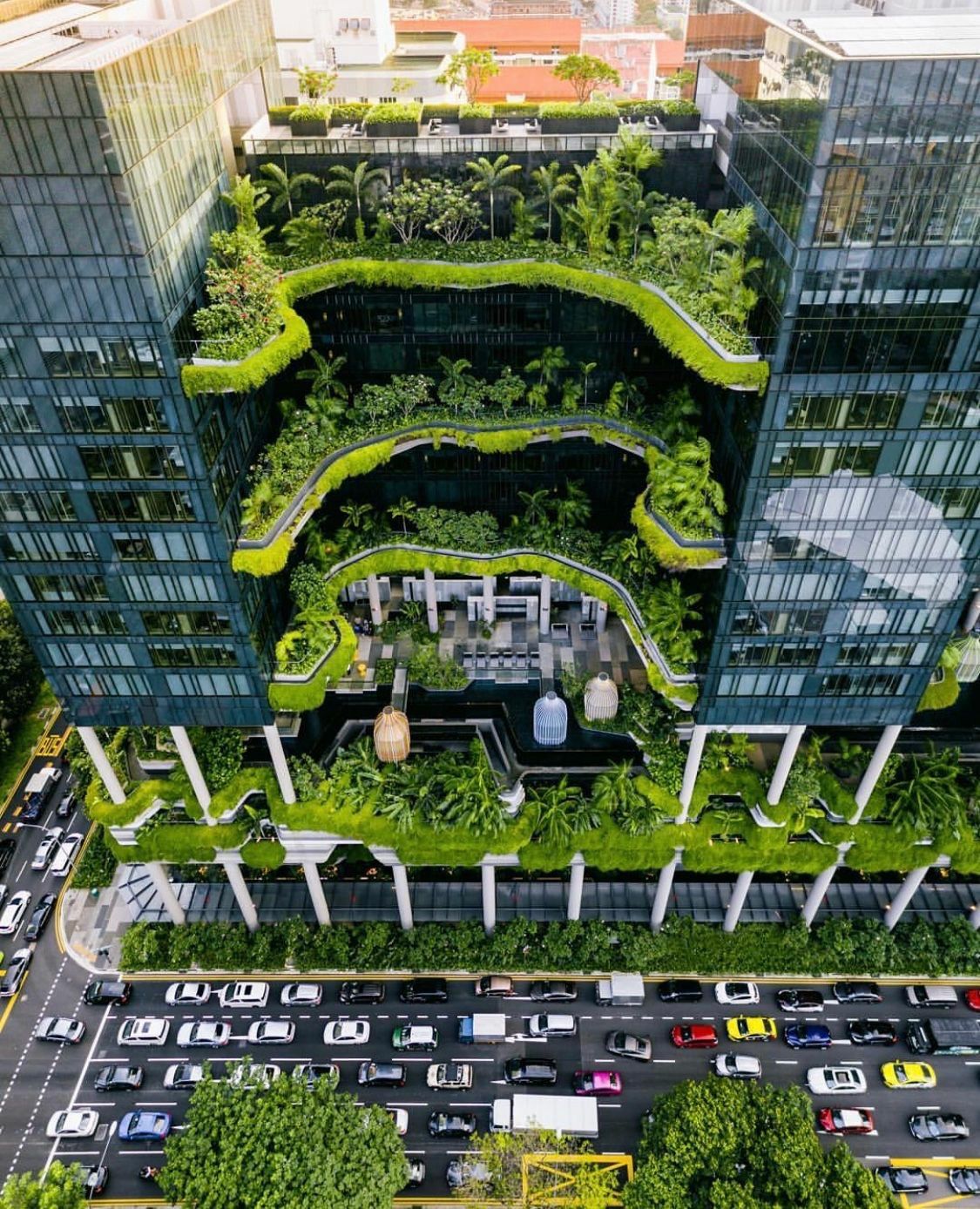 The Parkroyal is a five-star hotel in Singapore's Central Business District. With 160,000 square feet of high terraced gardens, it's a "hotel-in-a-garden." A Singaporean architecture firm noted for infusing vegetation into its structures, created the hotel. Greenery, including green walls, water features, and 15,000 square meters of tiered "sky gardens," is included in the "hotel-in-a-garden" concept of this skyscraper. Through the use of solar cells, motion sensors, rainwater collection, and reused water, the hotel's sky gardens are self-sustaining and use very little electricity.
Two Hulls, Canada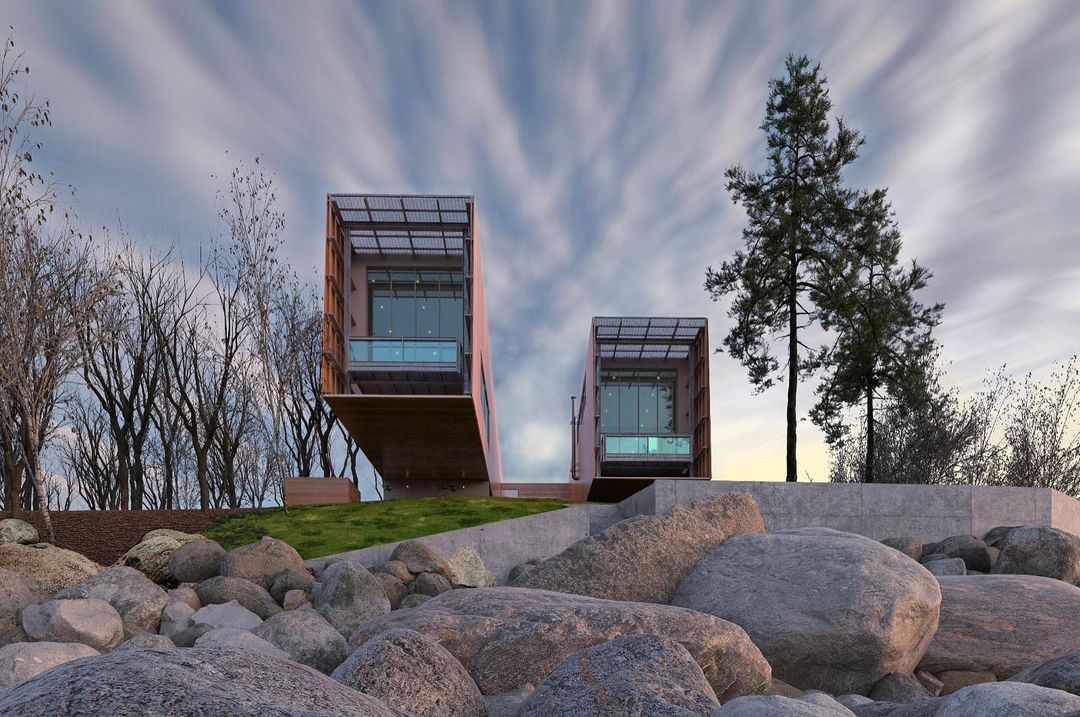 The Two Hulls House, located in a glaciated setting on the coast of Nova Scotia, Canada, blends into the natural environment while also enhancing it with its unique design. The project was finished by MacKay-Lyons Sweetapple Architects in Canada, and the result is a one-of-a-kind living environment with spectacular vistas, light-filled spaces, and an exterior that resembles the hulls of two ships put on cradles at the start of winter.
Jubilee Church, Rome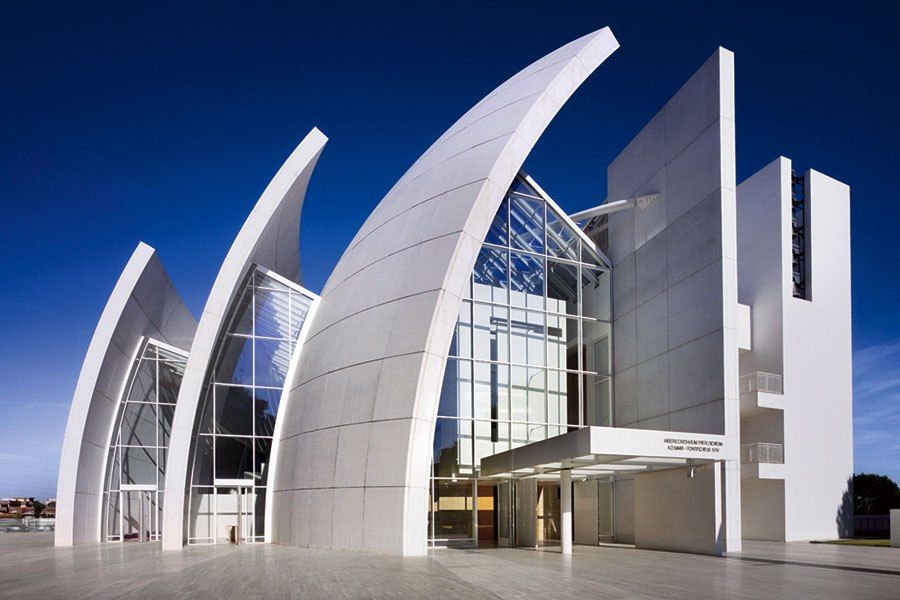 The south side of the chapel has three enormous curved pre-cast concrete walls that are designed to seem like a ship. The walls are shaped like sphere parts. Meier claims to have planned the inside of the chapel to reduce thermal peak loads. Internal heat gain is controlled by the concrete walls' substantial thermal mass, resulting in reduced temperature change and presumably more efficient use of energy.
Luma Arles Tower, France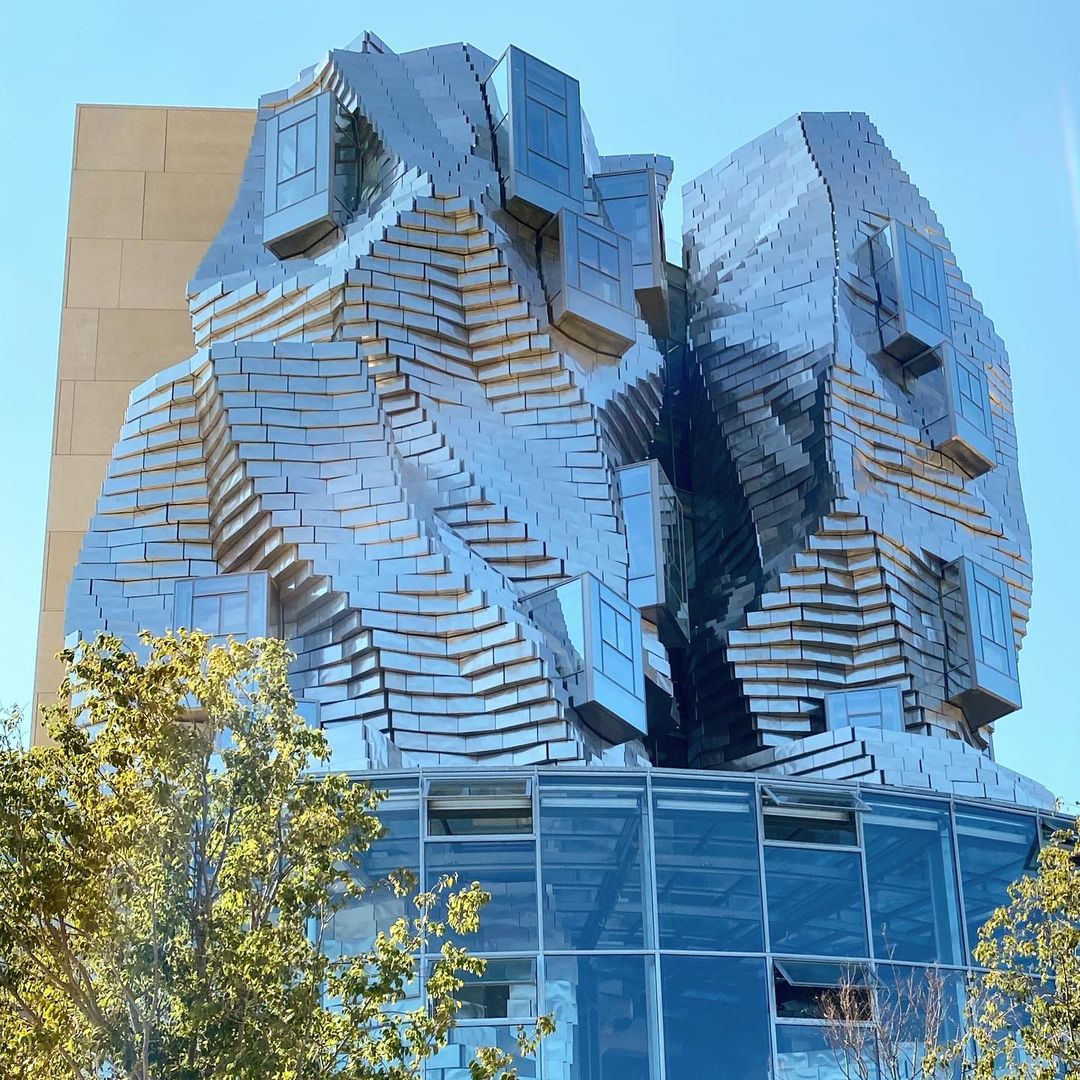 The Tower is located in the middle of the Parc des Ateliers. Luma Arles is a cultural center in Arles, France, with a 15,000-square-meter tower designed for the LUMA Foundation by Canadian-American architect Frank Gehry. Gehry drew inspiration for the structure from post-impressionist painter Vincent van Gogh. His hope was to capture the light the Dutch artist sought in the South of France, specifically in his work Starry Night, painted in Arles in 1889. The building's skin is made up of 11,000 angled reflective stainless steel panels. Exhibition rooms, workshops, a library, a 150-seat auditorium, and a café are all part of the structure.
Heatherwick Studio's Vessel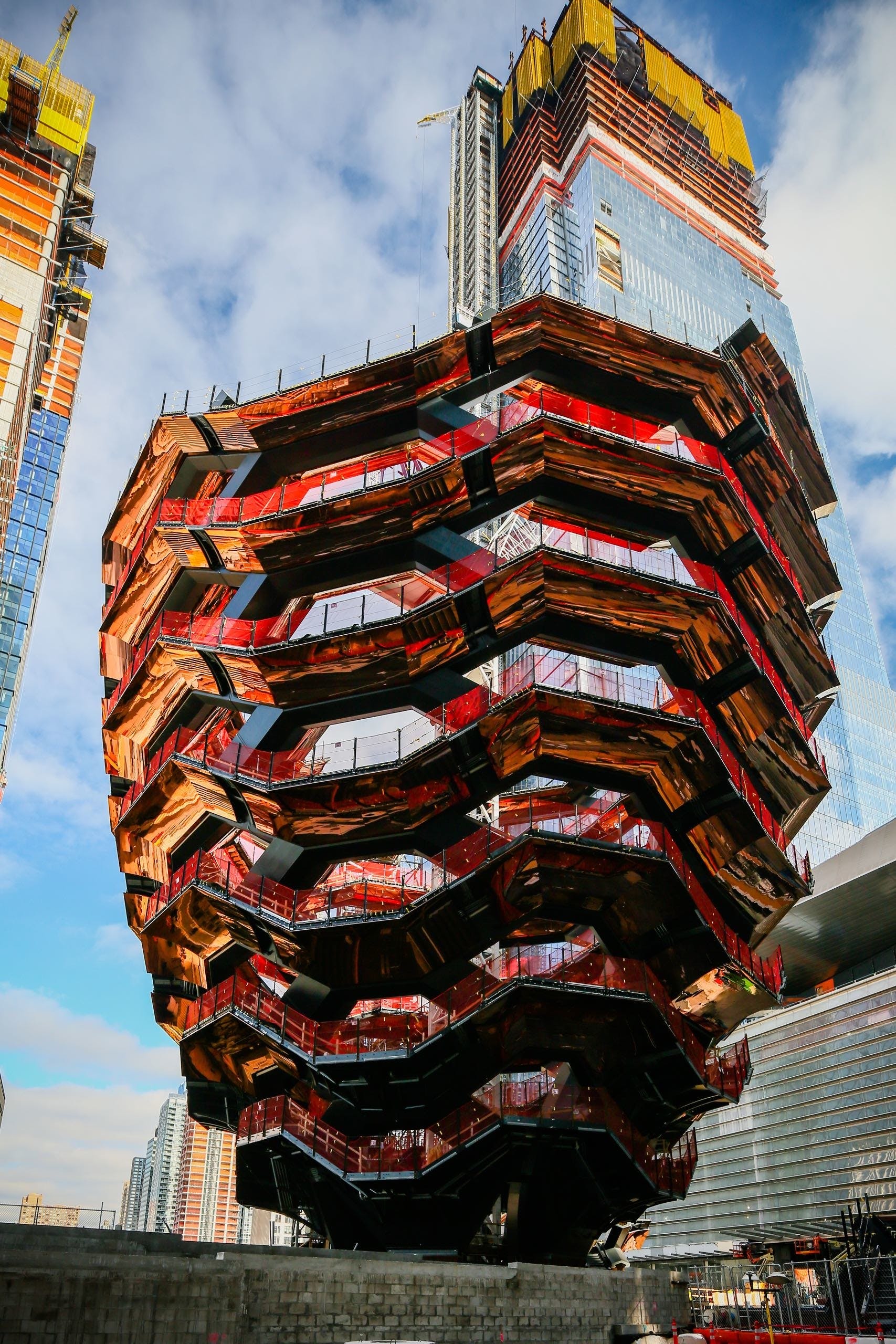 This is a new form of the public landmark: a 16-story circular climbing structure with 2,465 steps, 80 landings, and vistas of Manhattan and the Hudson River. It is the focal point of the Hudson Yards development, one of the country's greatest real estate projects, which is transforming a former rail yard in Manhattan's Upper West Side into a wholly new neighborhood with over five acres of new public spaces and gardens.
Vertical Forest, Milan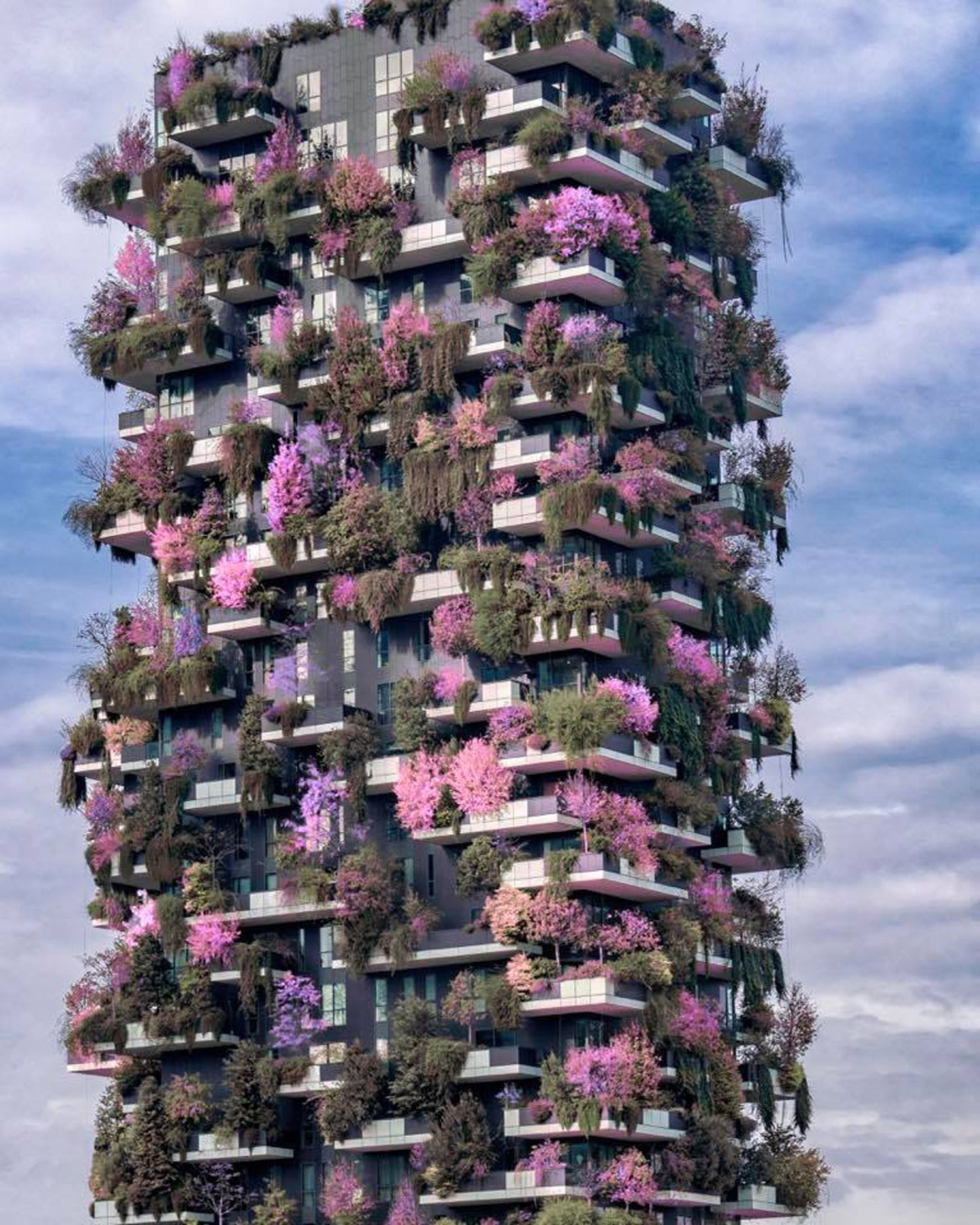 The Vertical Forest is a prototype building for a new sort of architectural biodiversity that focuses on the link between humans and other living species, rather than just humans. The first example, located in Milan's Porta Nuova neighborhood, consists of two 80- and 112-meter-high towers that house a total of 800 trees (480 first and second stage trees, 300 smaller ones, 15,000 perennials and/or ground covering plants, and 5,000 shrubs), providing an amount of vegetation equivalent to 30,000 square meters of woodland and undergrowth on 3,000 square meters of urban surface.
Royal Ontario Museum in Toronto, Canada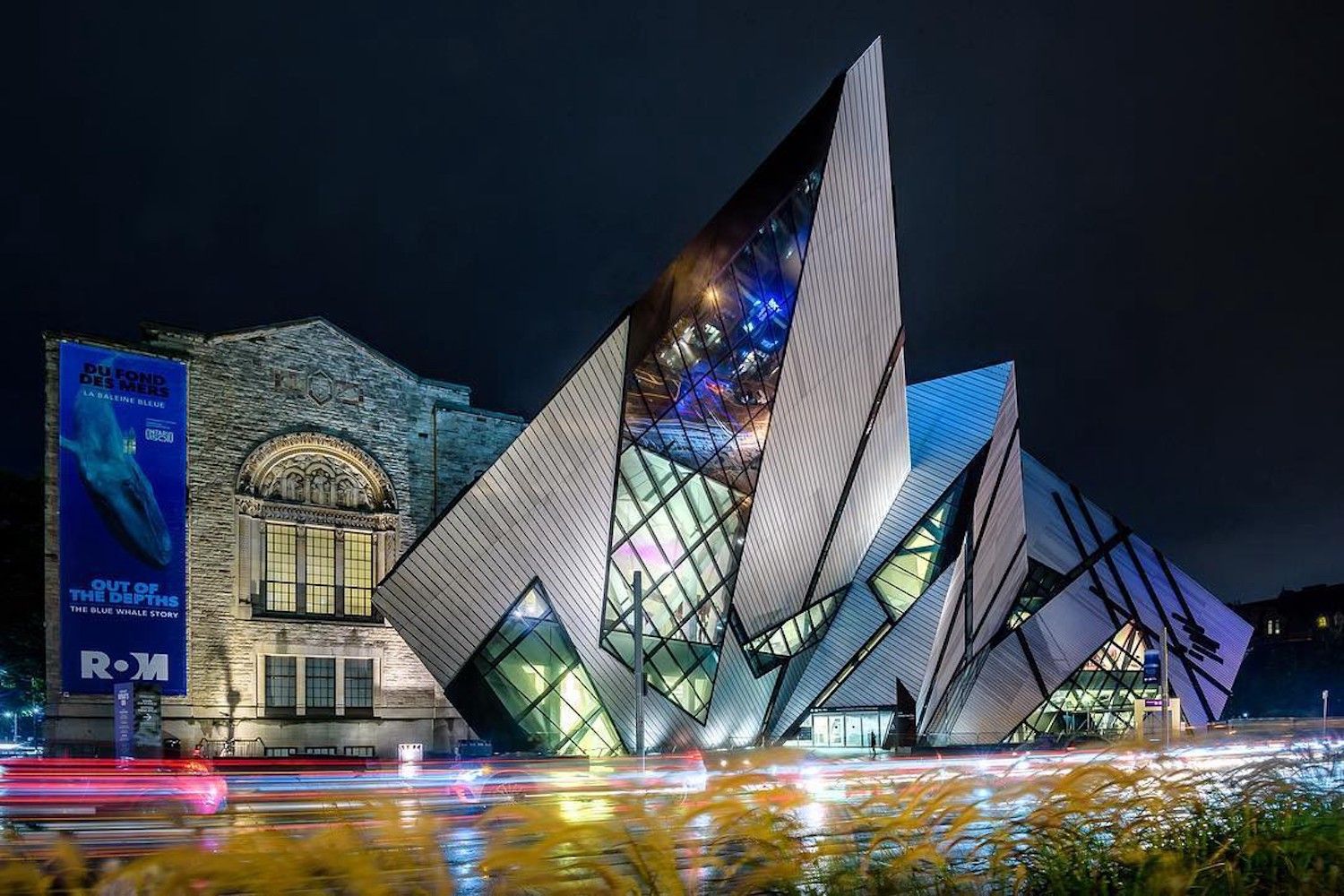 The Royal Ontario Museum is a museum in Toronto, Ontario, Canada, dedicated to art, foreign culture, and natural history. This museum founded in 1912 and inaugurated in 1914, is the largest museum in Canada and one of the largest in USA. It has had close ties with the University of Toronto throughout its history, frequently pooling expertise and resources. The museum's broad collections of world culture and natural history contribute to its international prestige, with over 6,000,000 pieces and 40 galleries. Dinosaurs, minerals, and meteorites, as well as historical artifacts, are on display at the museum. It has the world's largest collection of Burgess Shale fossils, with over 150,000 specimens.
Shanghai Tower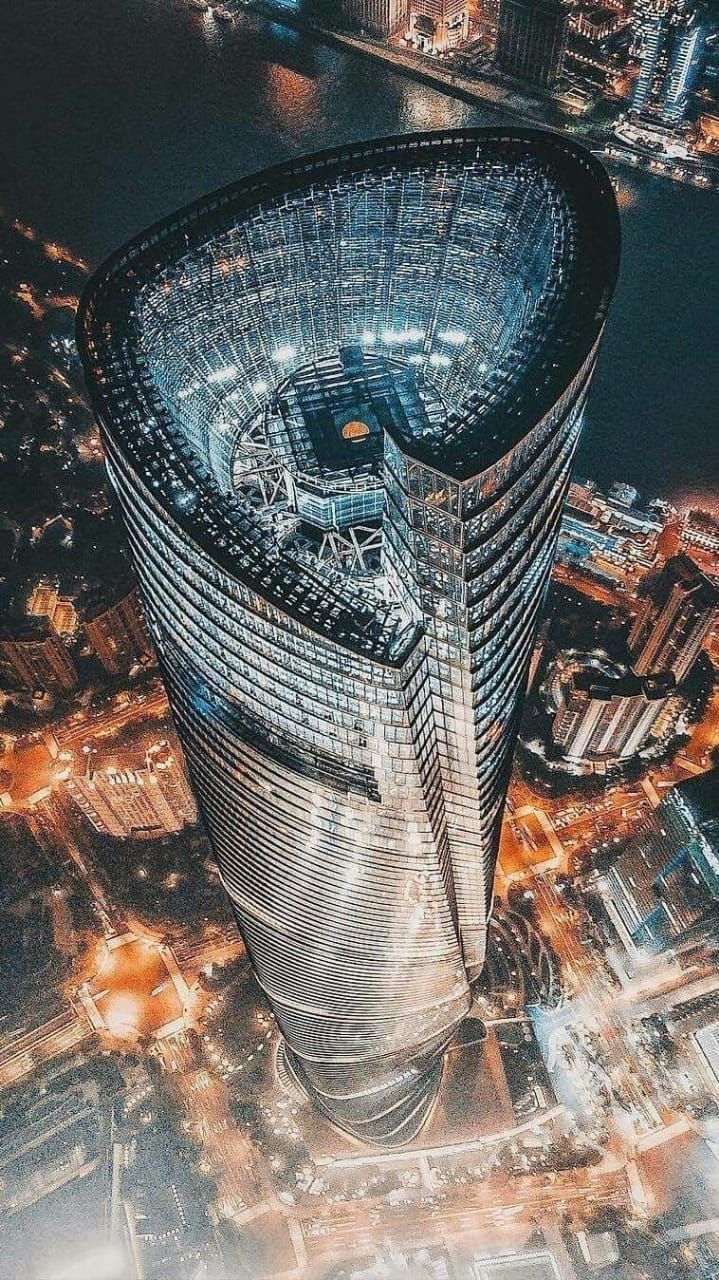 The 2,073-foot-tall Shanghai Tower, designed by Gensler and completed in 2015, holds a seemingly infinite series of records, including the highest building in China, second tallest in the world, world's tallest observation deck, and world's second-fastest elevator system. Surprisingly, that list pales in comparison to the fact that the firm's building design—an asymmetrical structure with rounded corners—saved $58 million in material costs when compared to a standard angular build of the same size.