Born as Sandra Fabara in 1964, Queen Lady Pink is an Ecuadorian-American graffiti and mural artist. Over her career, she has used graffiti and murals as acts of rebellion and self-expression. But most importantly, she wants to empower women through her art.
In one interview, she said, "It's not just a boys club. We have a sisterhood thing going". Nicknamed the first lady of graffiti, Sandra began her career in the 1980. At the time, she created the all female graffiti crew Ladies of the Arts.
Within a few years, they started going with other graffiti crews, including TC5 or The Cool 5 and TPA, The Public Animals.
Seen TC5 gave her the name Lady Pink because the name is feminine and she wanted other writers to know that she was a girl. Sandra, on the other hand, called herself Lady Pink because of her love of historical romances. And then she added the title Queen because she loves the Victorian period in England and aristocracy.
Her exhibits are full of magic, supernatural women, and classic New York grit. Through her portrays of women as provocative street warriors in the concrete jungle, or as mythical goddesses, she has captured the attention of people in the world.
Some of her most famous murals include Brick Woman in Braddock, Pennsylvania, 9/11 tribute in Queens, New York, and Lady Liberty in Queens, New York.
Here is some of her best artwork.
1. Jack Pink On Train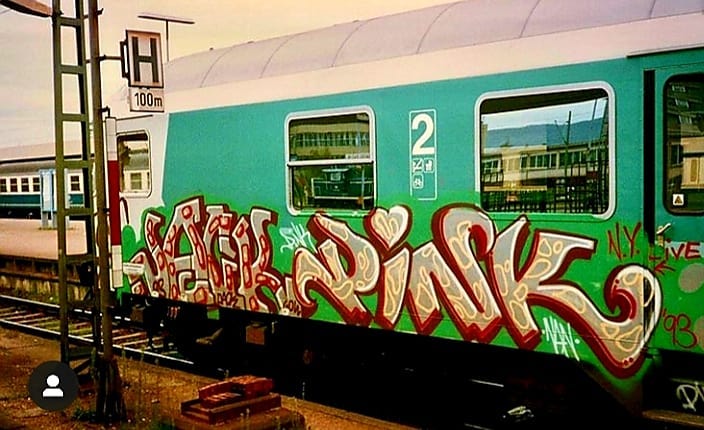 Lady Pink loves to add her name to unusual places. And she often uses feminine colors for her graffiti. It is just fascinating how she manages to paint on some of the best and marquee places.
2. Lady Heart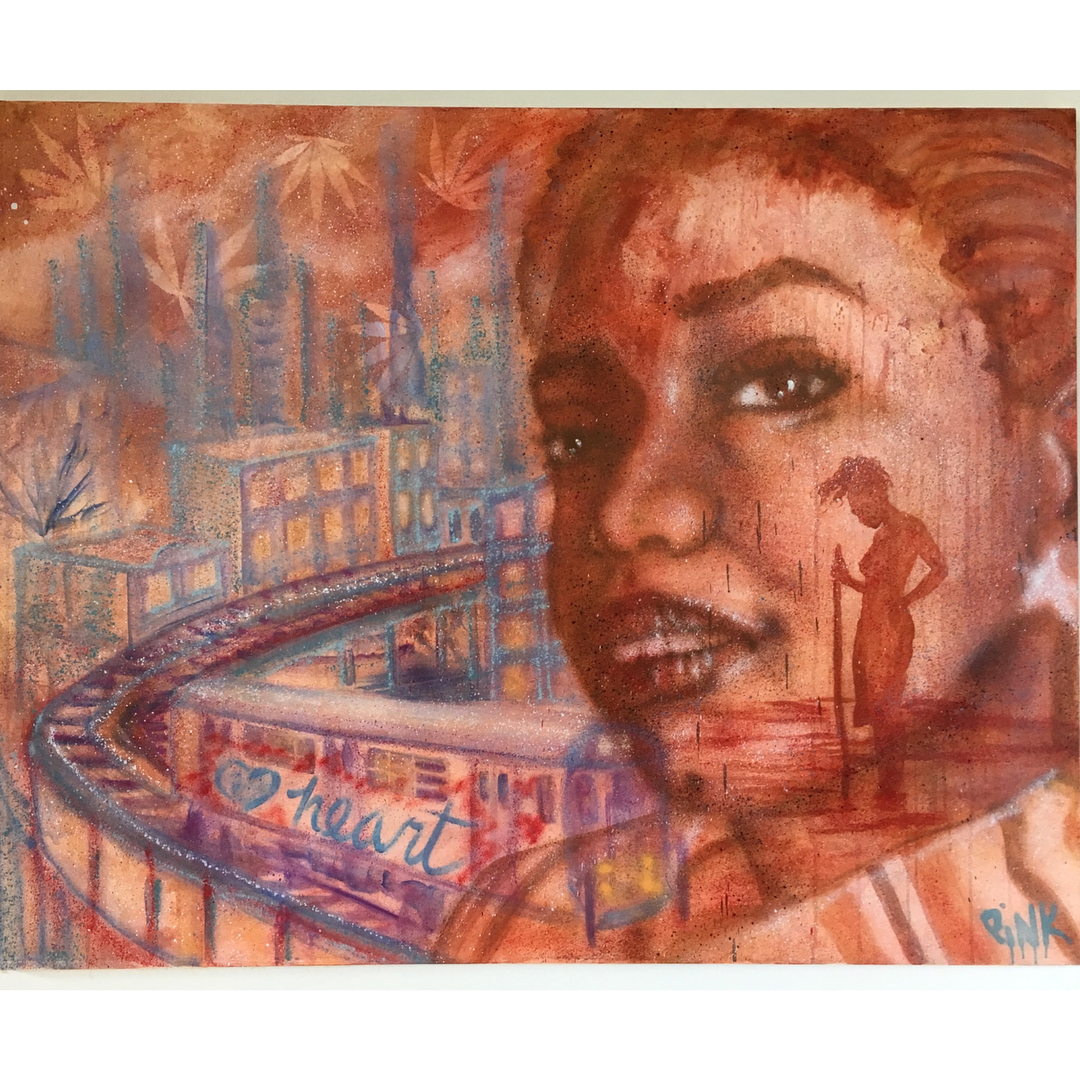 You can consider this a self-portrait. After all, artists from all over the world throughout history have painted self-portraits. And modern artists, even graffiti artists have accepted the technique.
3. Home Sweet Home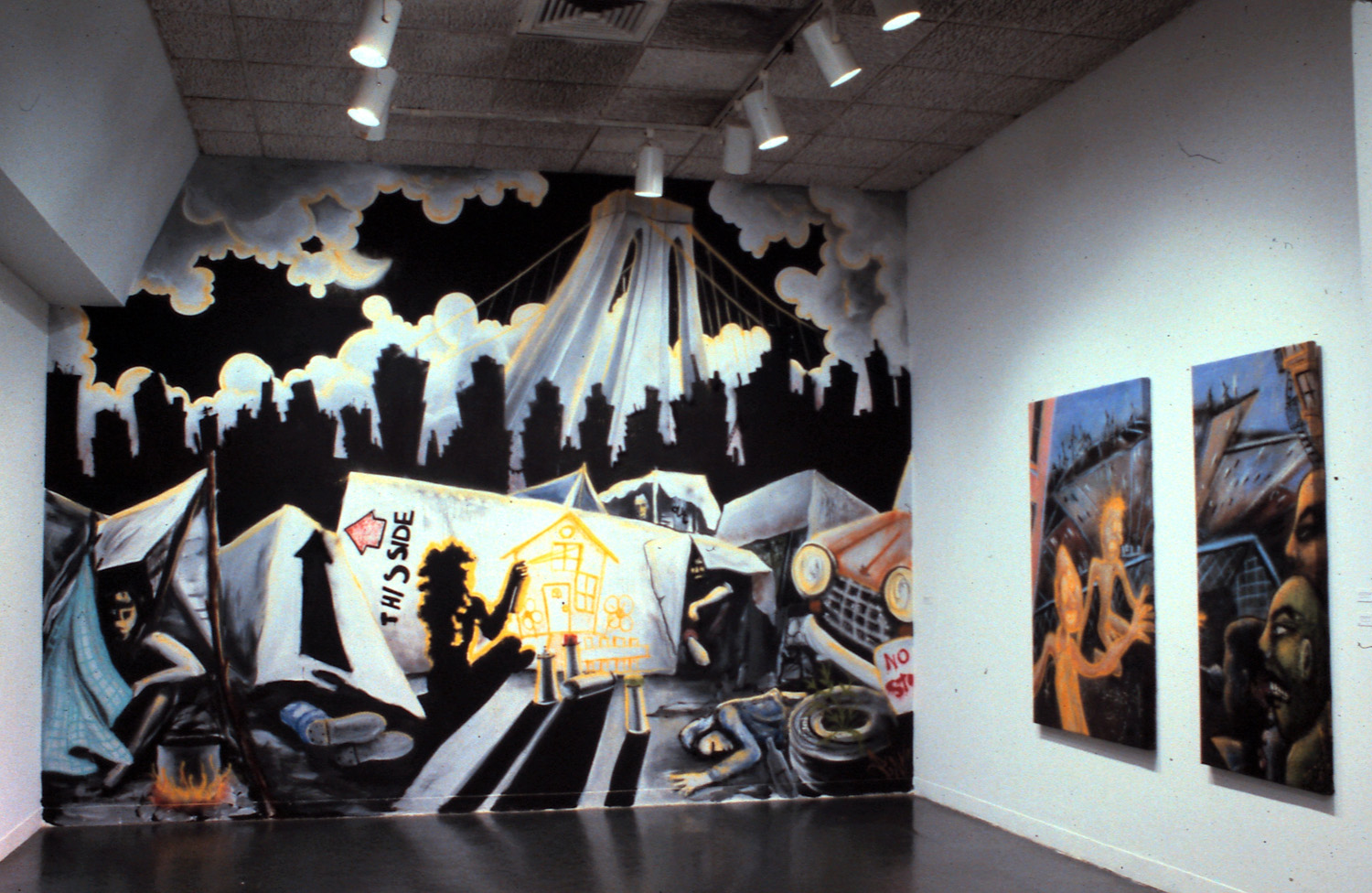 This is probably how the famous graffiti artist imagines her home. For some might be delusional and psychotic, but Queen Lady finds her peace there. And we cannot judge taste.
4. Pink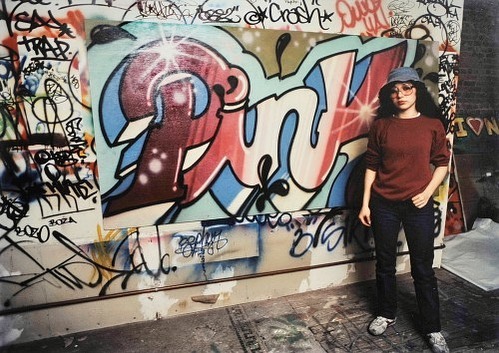 Sometimes, just a single word is more than enough to express your creativity and artistic talent. Lady Pink loves to add the word pink all over New York. You can find it in the most unusual places.
5. Wild Style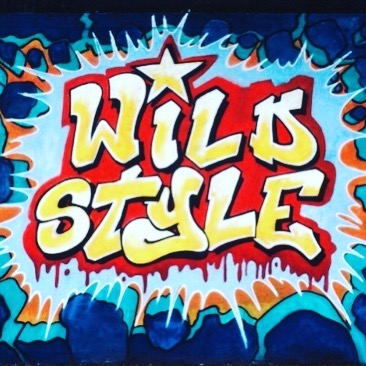 Fans all over the world love how Lady Pink graffiti just pop. They have some of the most expressing shape and form. You just cannot miss them. Even if you try to.
6. Rusto Tower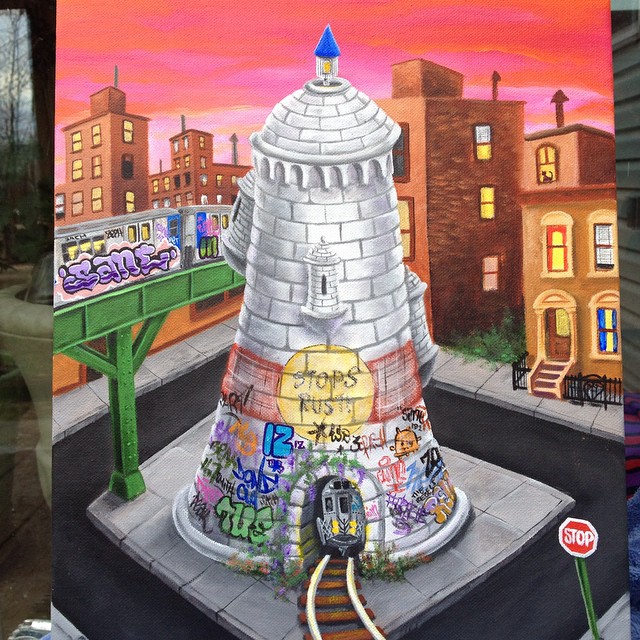 We said before that Pink loves to express her attitude and opinion through her art. And this is probably how she imagines some of the towers should look. She can definitely find inspiration in the most strangest ways.
7. Five Toes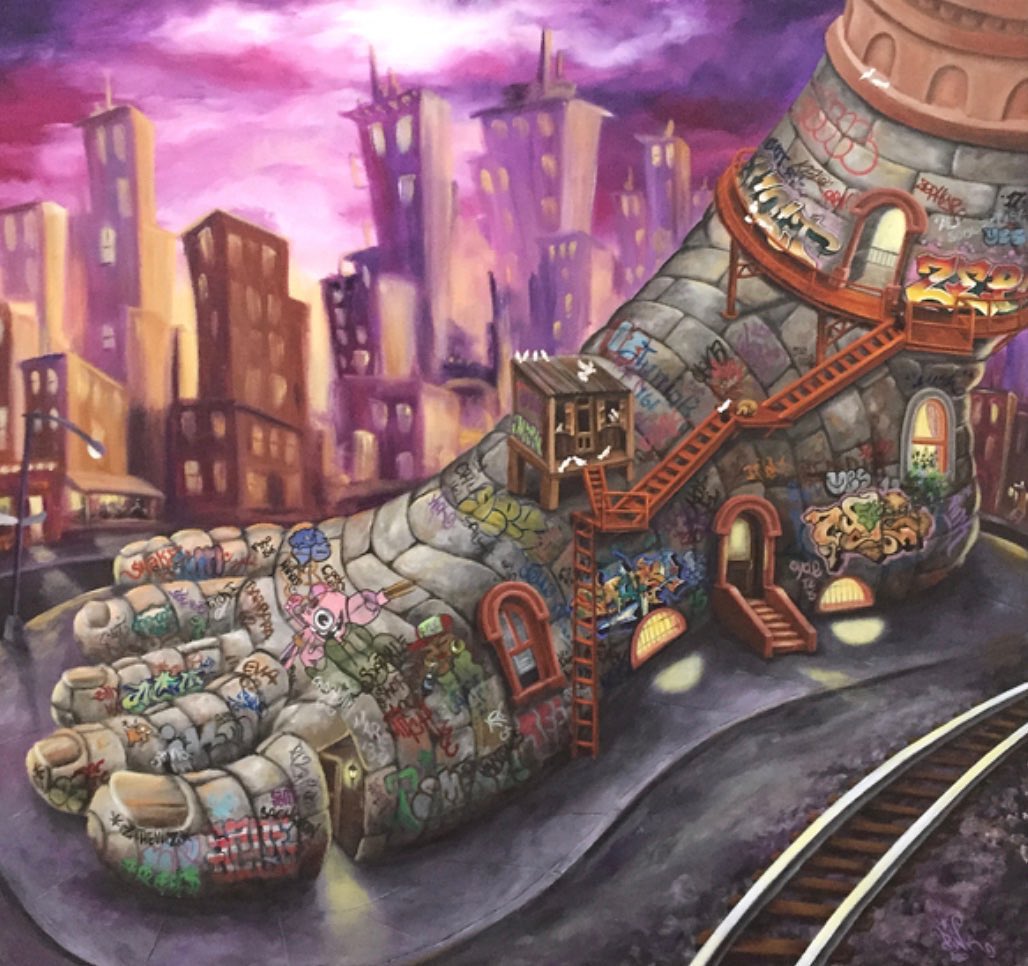 One thing that the New York artist is famous for her is references to pop culture. You can find hundreds of references in this graffiti. Think of it as graffiti within graffiti. She is just amazing at capturing details.
8. Pink Ghetto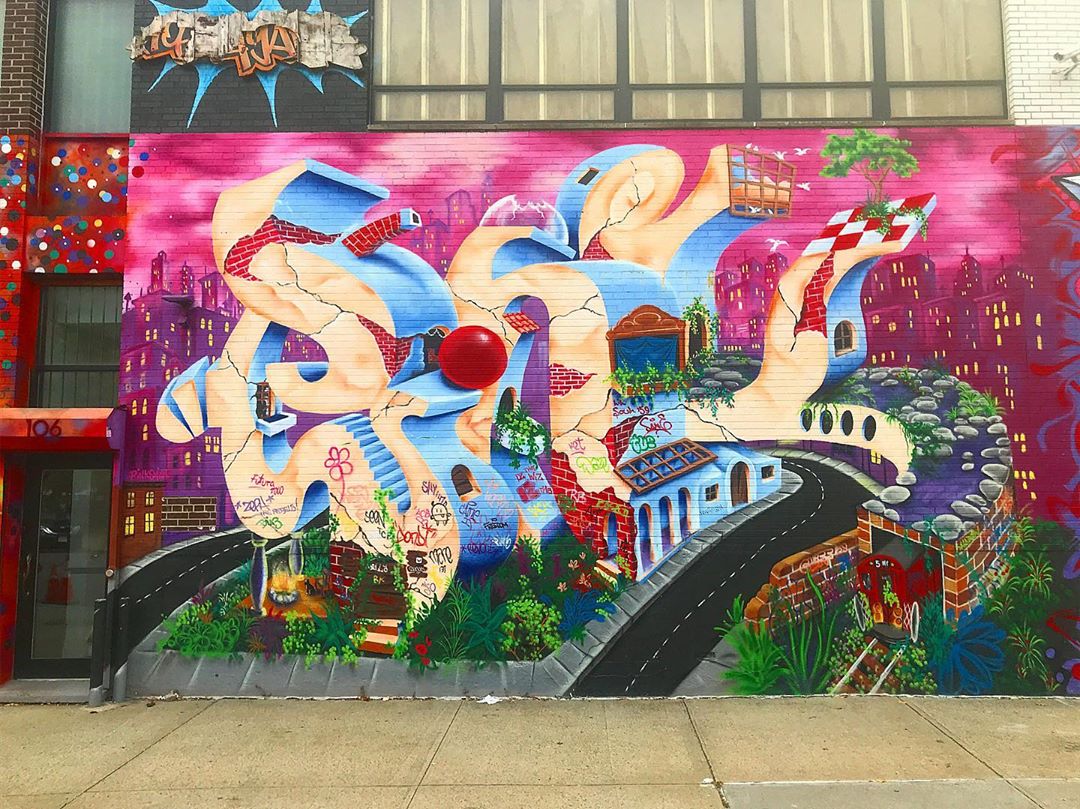 As many African American in the United States, Pink also grew up in a ghetto. And she tries to empower women to stand up and get more out of their life. That is probably the reason why she paints the ghetto as a beautiful and pink looking place.
9. Teamwork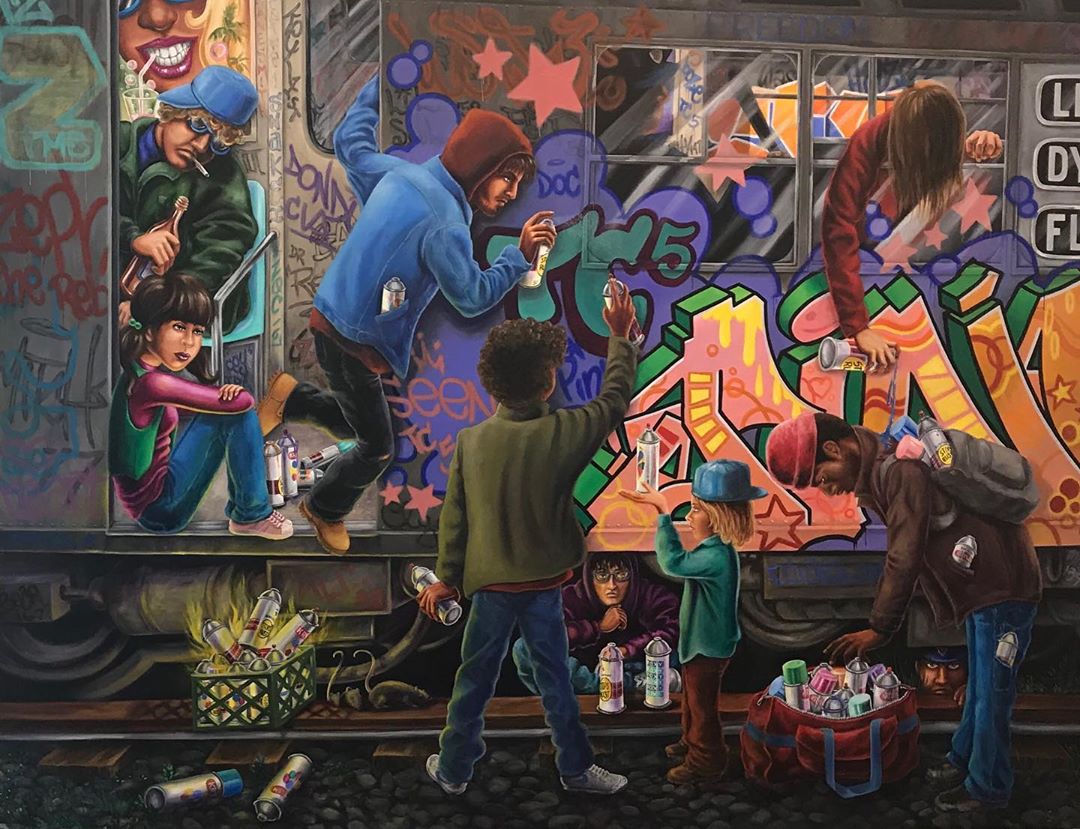 One of the reason fans relate to her art is Queen Lady can definitely deliver a message. And she does it in the most obvious way possible. Just look at this graffiti. At first glance, you think is her team painting a mural on the train. But the painting also carries a metaphorical message.
10. Faith In Women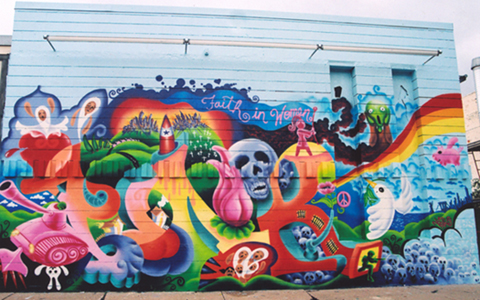 It is time that we move onto some of the most famous of her murals. And that includes the category empowering women. How many pop culture references can you find in this picture? Exactly, that is her way of making fiction women part of the real world.
Titled Faith in Women, this piece not only includes strong anti-war symbolism but also takes a stance on women's issues.
11. Gardiner/Sunflower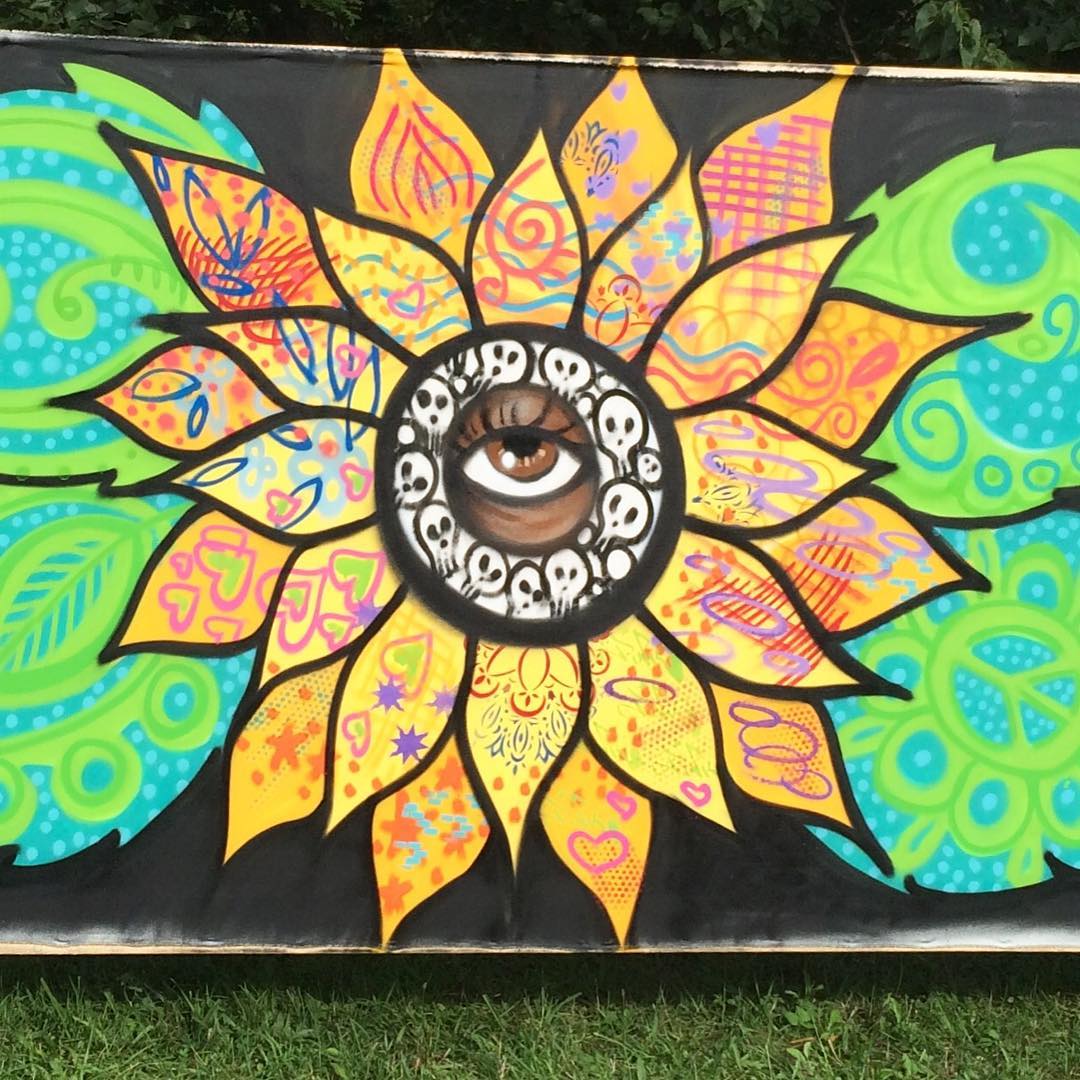 Did you notice the woman's eye in the middle? It is subtle, but that is the trick with Fabara. She loves to keep things hidden in the little details.
12. Brick Lady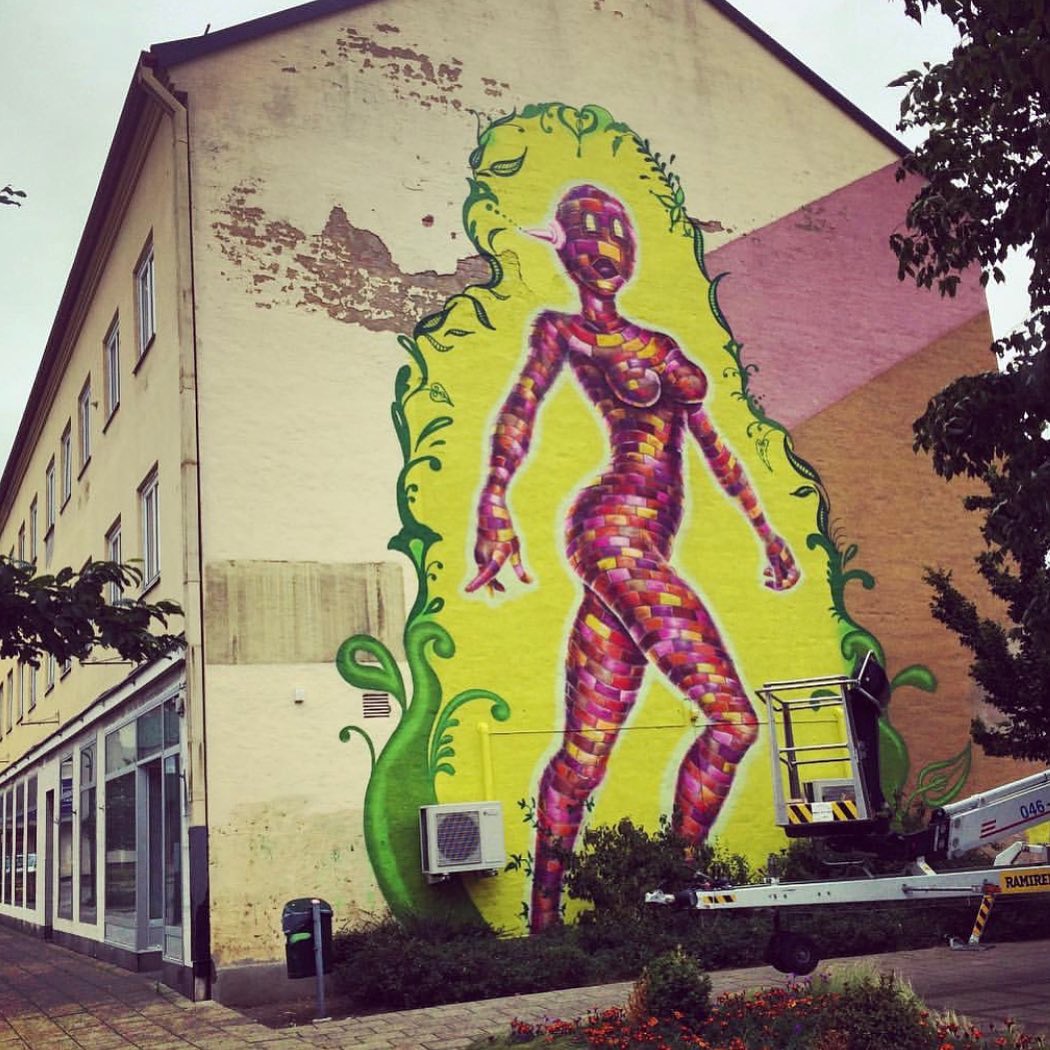 Sandra has a couple of "brick ladies" painted over the street of New York. Why does she use bricks? Well, by representing strong women her pieces, she often paints women made out of bricks to represent the strength and courage women have.
13. Hoot Owl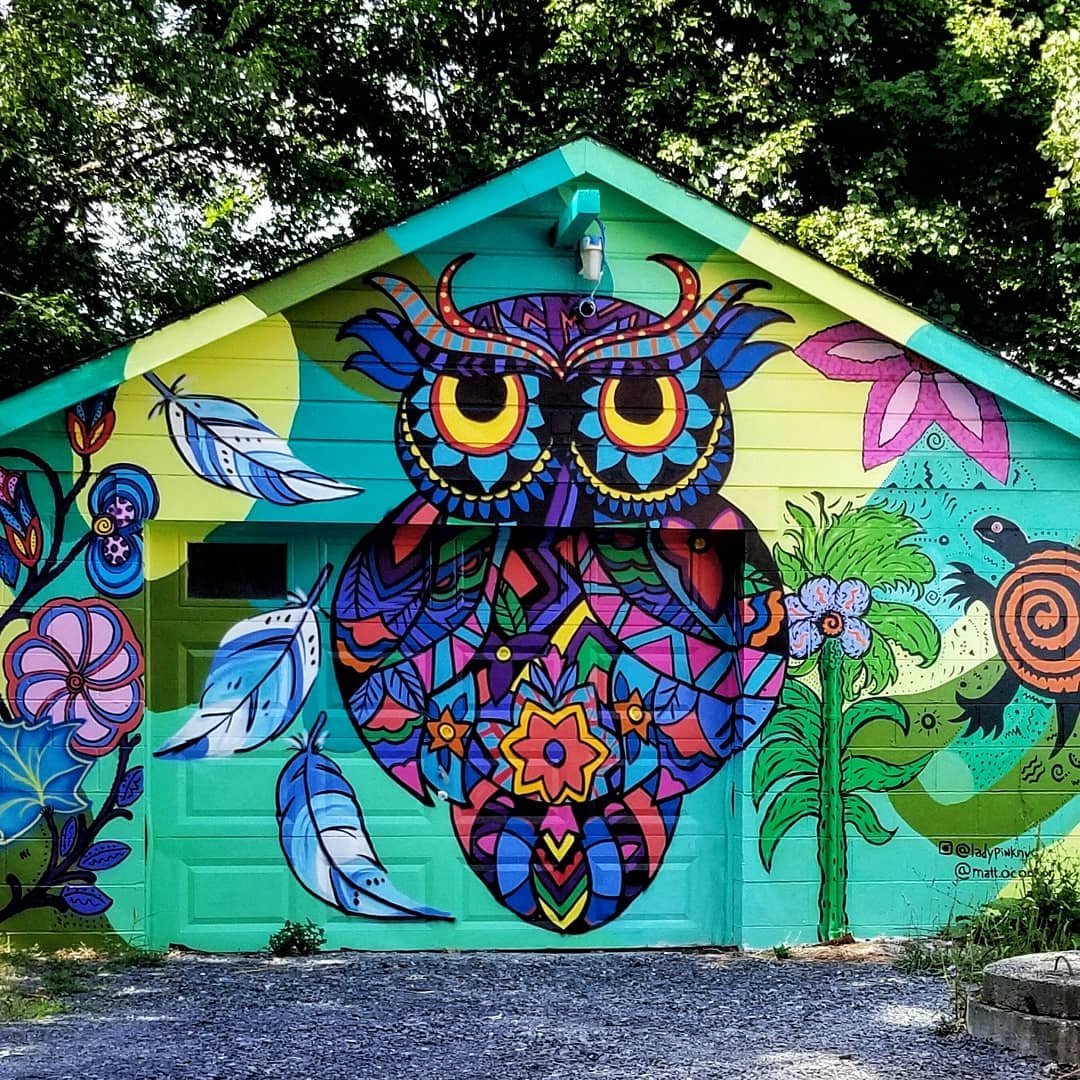 A few years ago, the owl symbol was one of the most popular symbols. We saw it on everything. From accessories to fashion outfits. And of course, Sandra jumped on the opportunity to use it for her mural.
14. The Death Of Graffiti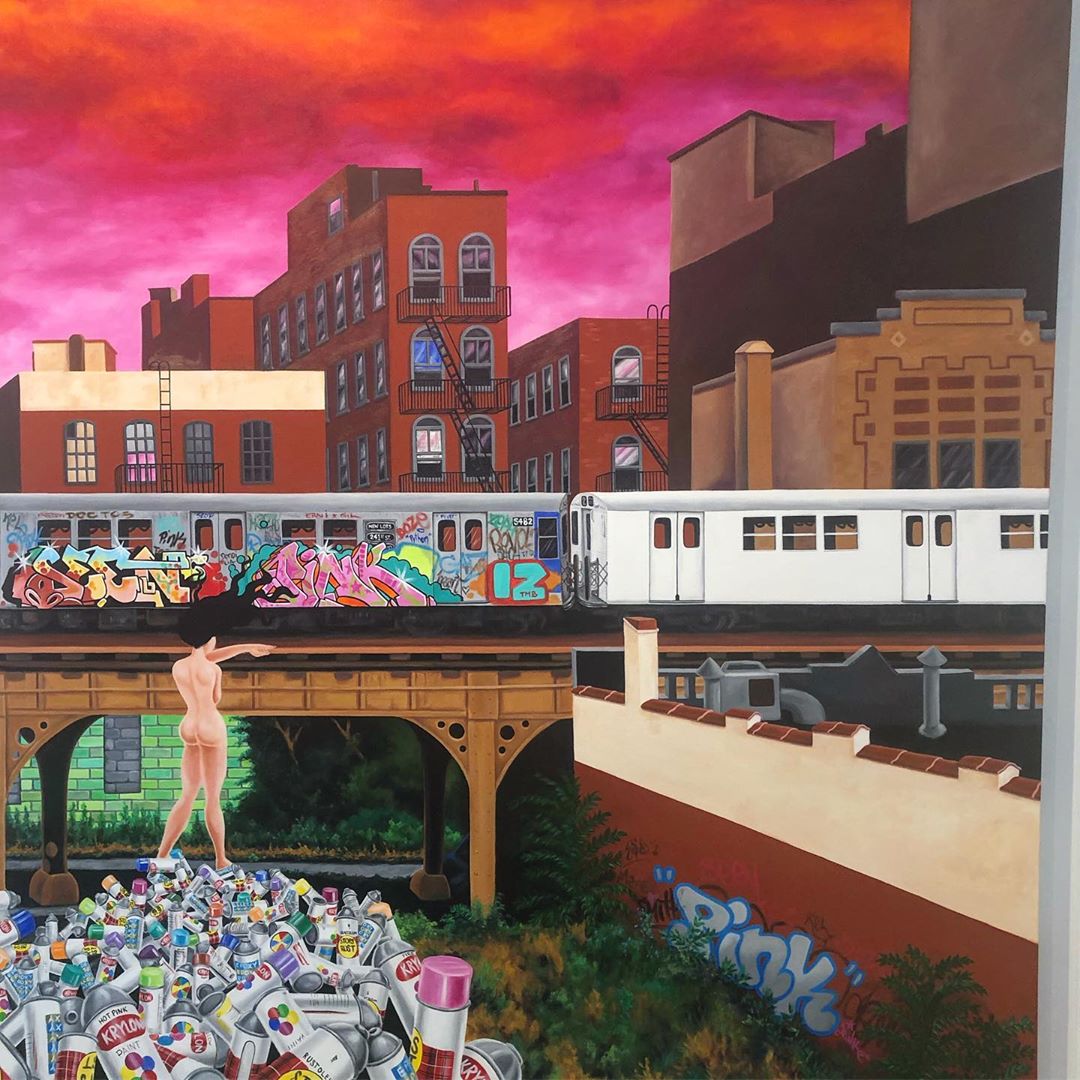 Some would say graffiti is not as popular as it used to be. Others would say that some new and modern artists have taken the art technique to a whole new level. This painting shows Sandra's opinion on the matter.
15. Lady Liberty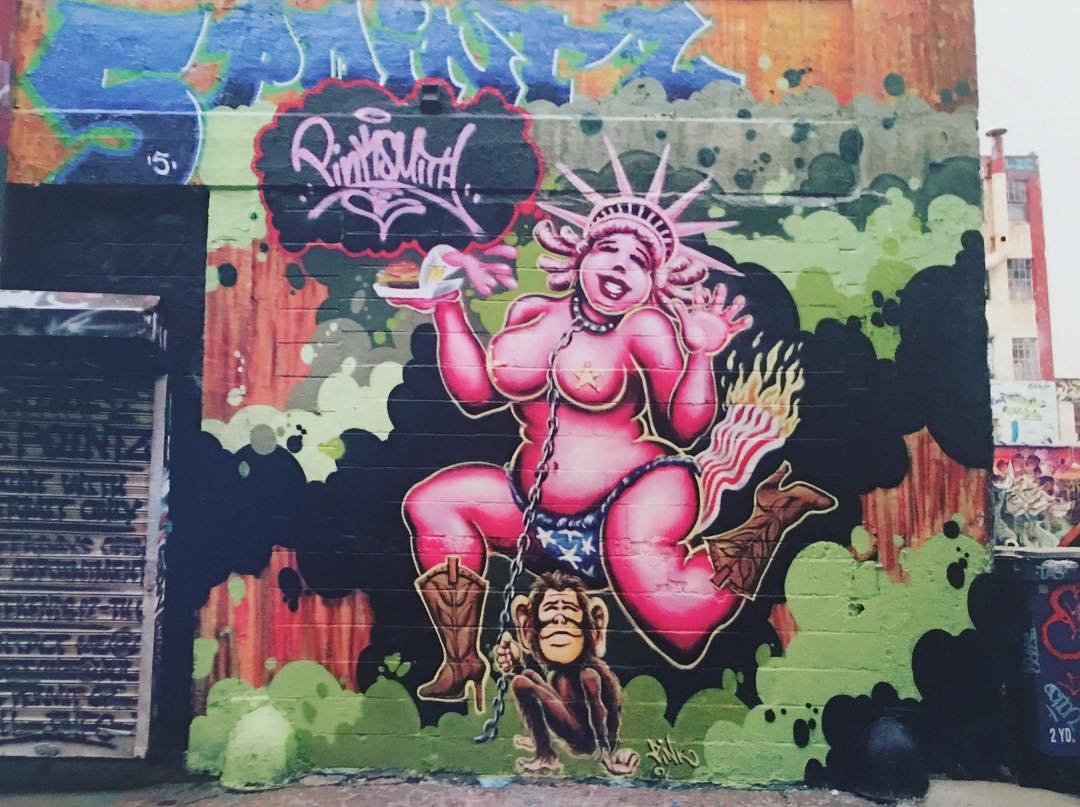 You have to look deep and behind the painting to understand its true meaning. This graffiti depicts a pink lady liberty holding a tray of fast food, wearing a burning American flag and lead by a monkey with a chain.
Literally every piece has its own symbolism. For example, the monkey is representative of George Bush as he guides lady liberty with a chain.
The painting is a true expression of her negative feelings and reaction to Bush and how American civil liberties are being eroded. That is why the monkey is pulling lady liberty by a chain.
16. New Pride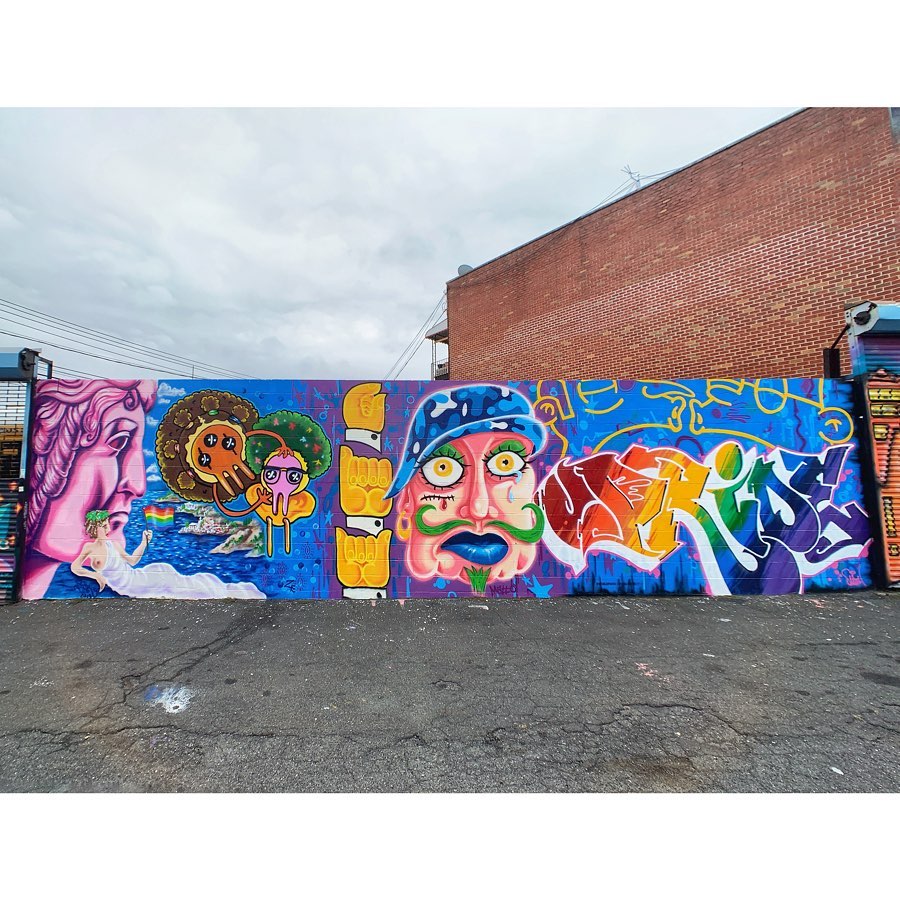 Lady Pink supports different groups and their human rights. And she finds ways to support groups like LGBT with her art. Pride is often a word we associate with the LGBTQ community.
17. Brick Lady Mural on Wynwood Walls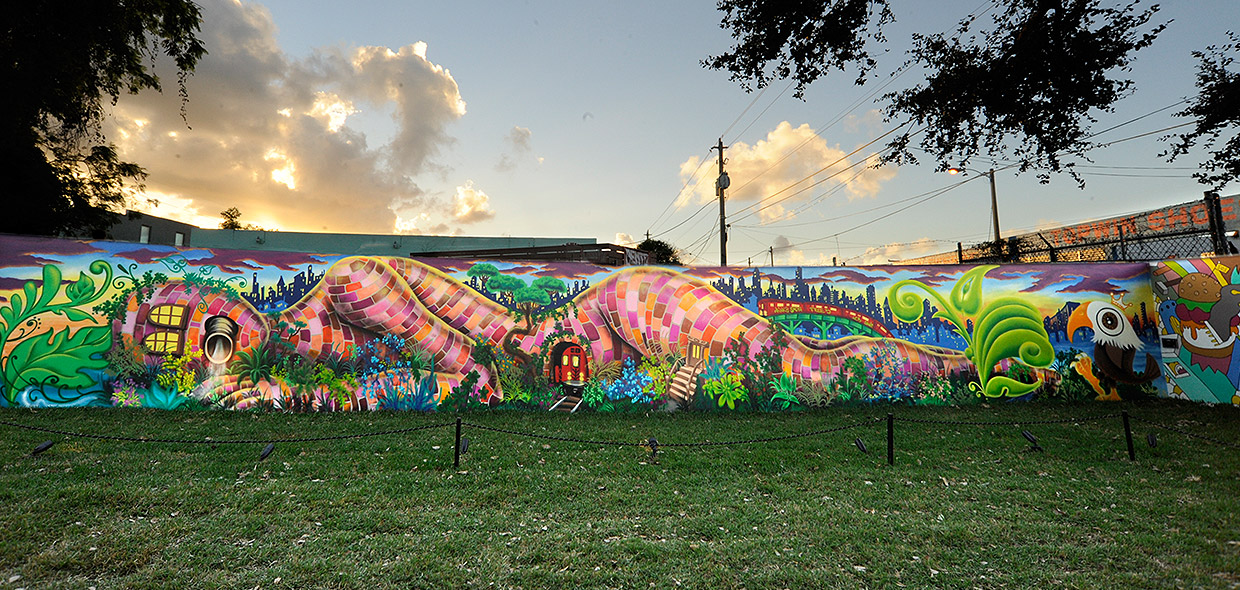 Bricks are Lady Pink's favorite element. We said before she uses bricks to show how strong women are. And even if you do not consider yourself a strong woman, start finding your inner strength.
18.  Wellington Court Project Mural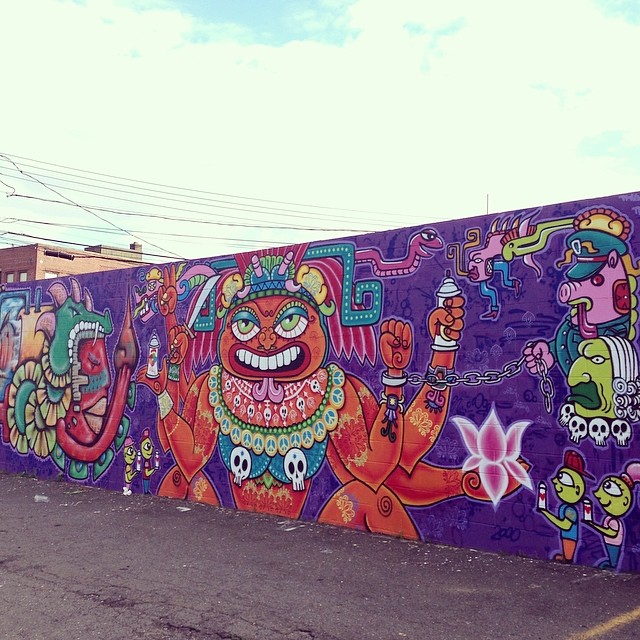 Another element we often find in Lady Pink's art is chain. You can often see subjects pulling someone on chain. And you have to associate them with things in real life.
19. Resist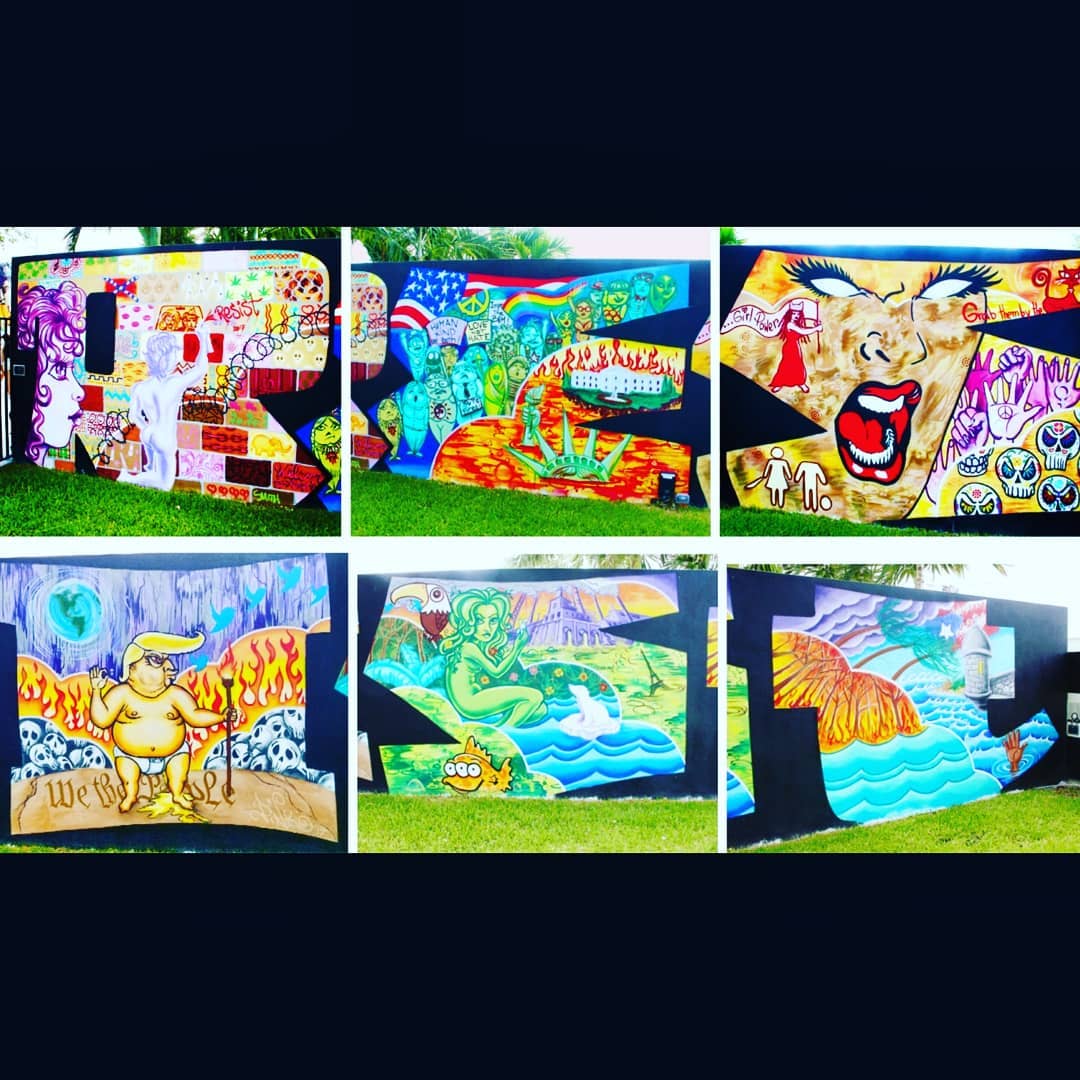 You can easily this is a modern graffiti painted in the last several years. After all, even Donald Trump makes an appearance.
20.  Lady of The Leaf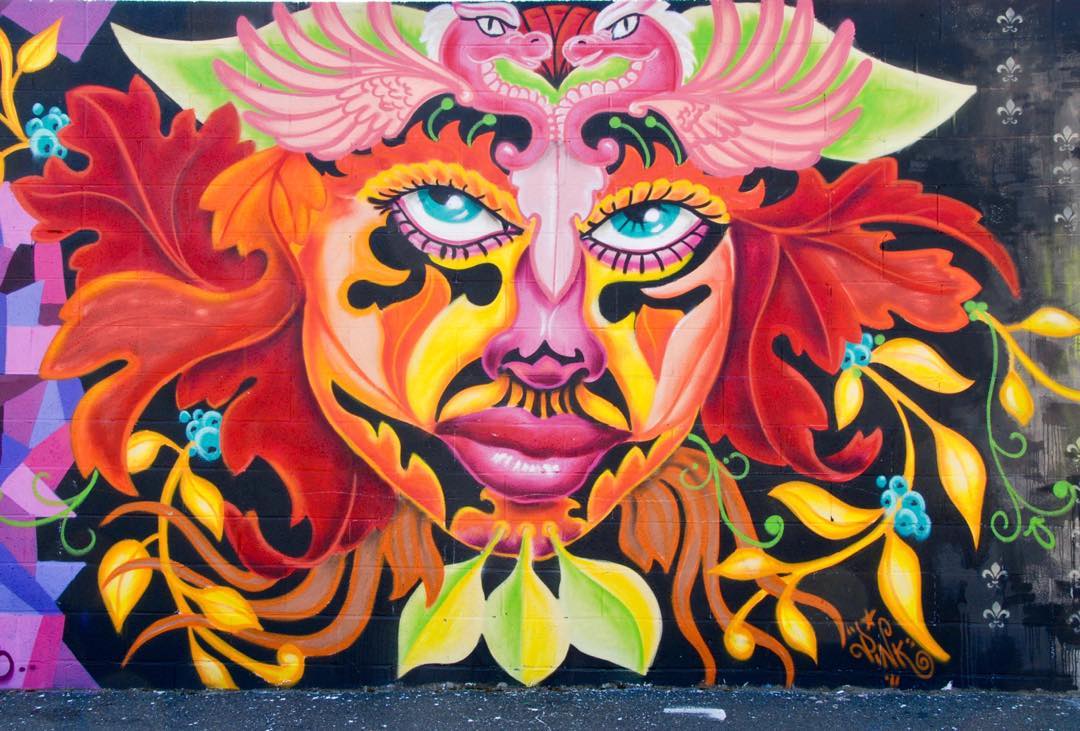 Growing up, the American artist had lots of girls looking up to her. She was the bravest one. And she was inspired by pop culture, similar to how Marcia Brady stood up for herself. Today, she wants to show girls all over the world that same courage.
21. Vote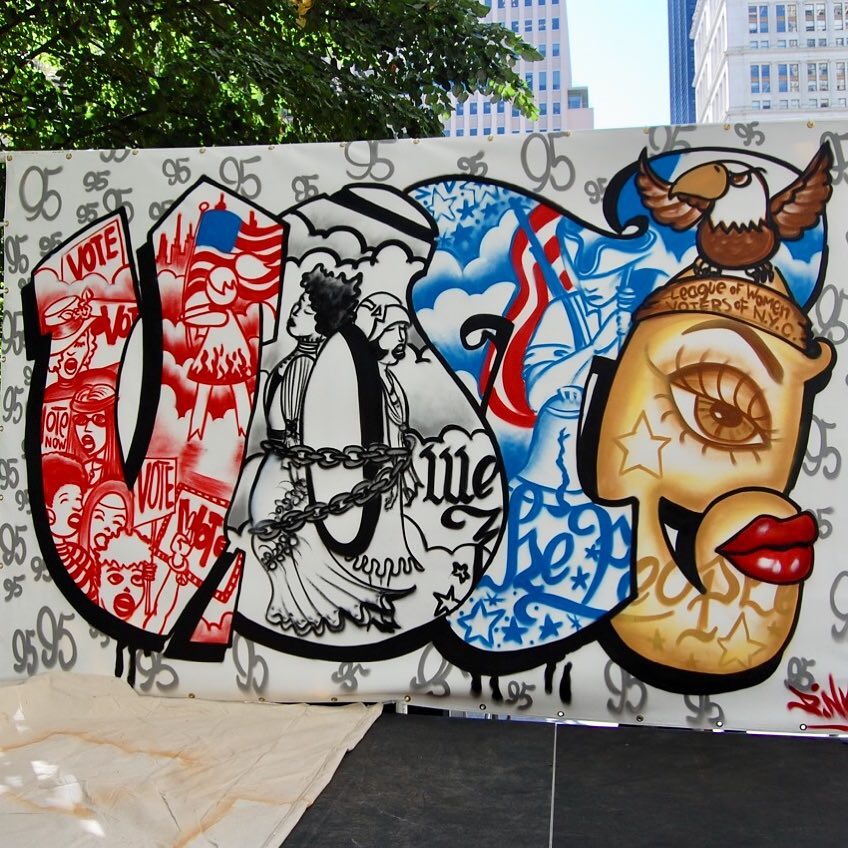 For the past American elections, a lot of celebrities got into inspiring and motivating people to go vote. And each of them did on their own field. For Sandra, that field is the streets of New York where she could support and encourage people to get out.
22. Stickers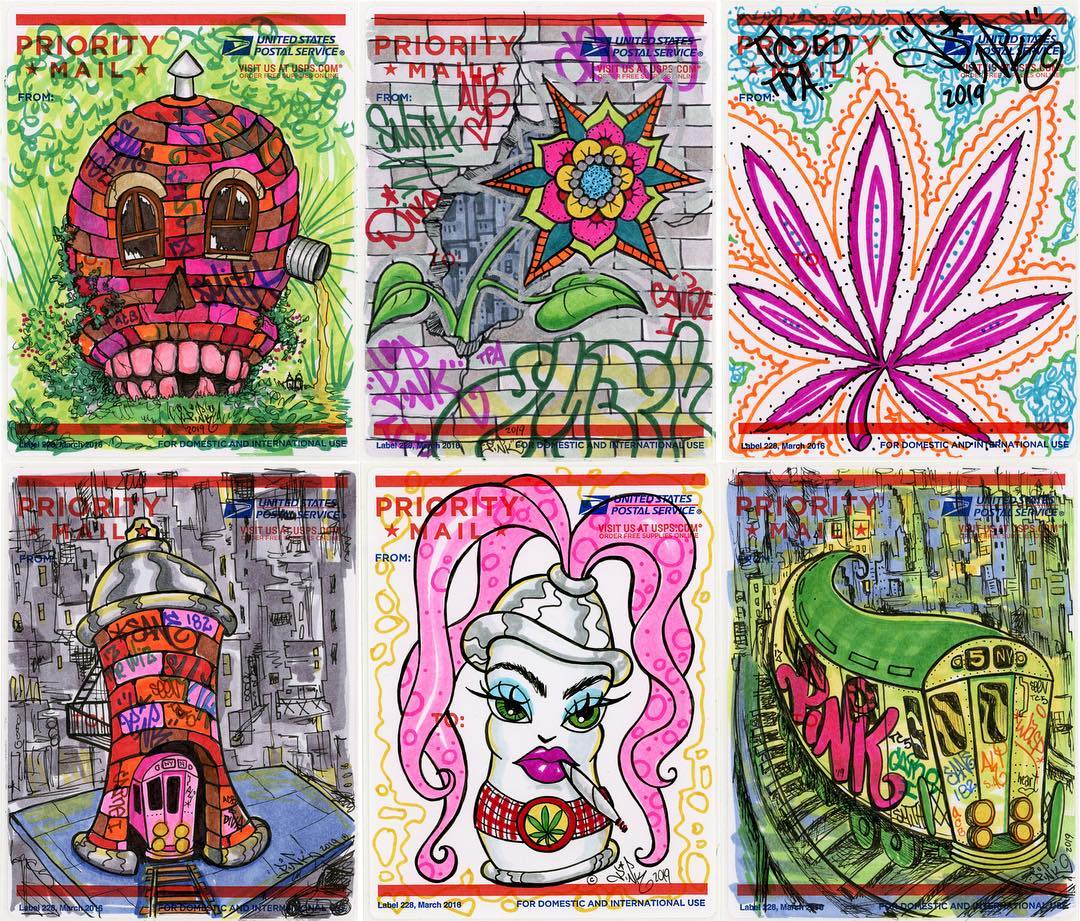 If you want to see some interesting stickers, Lady Pink definitely has some of them. Trains often make an appearance here.
She painted subway trains from 1979 to 1985. And nowadays, trains make an appearance as stickers and elements in her artwork.
23. Butterfly Queen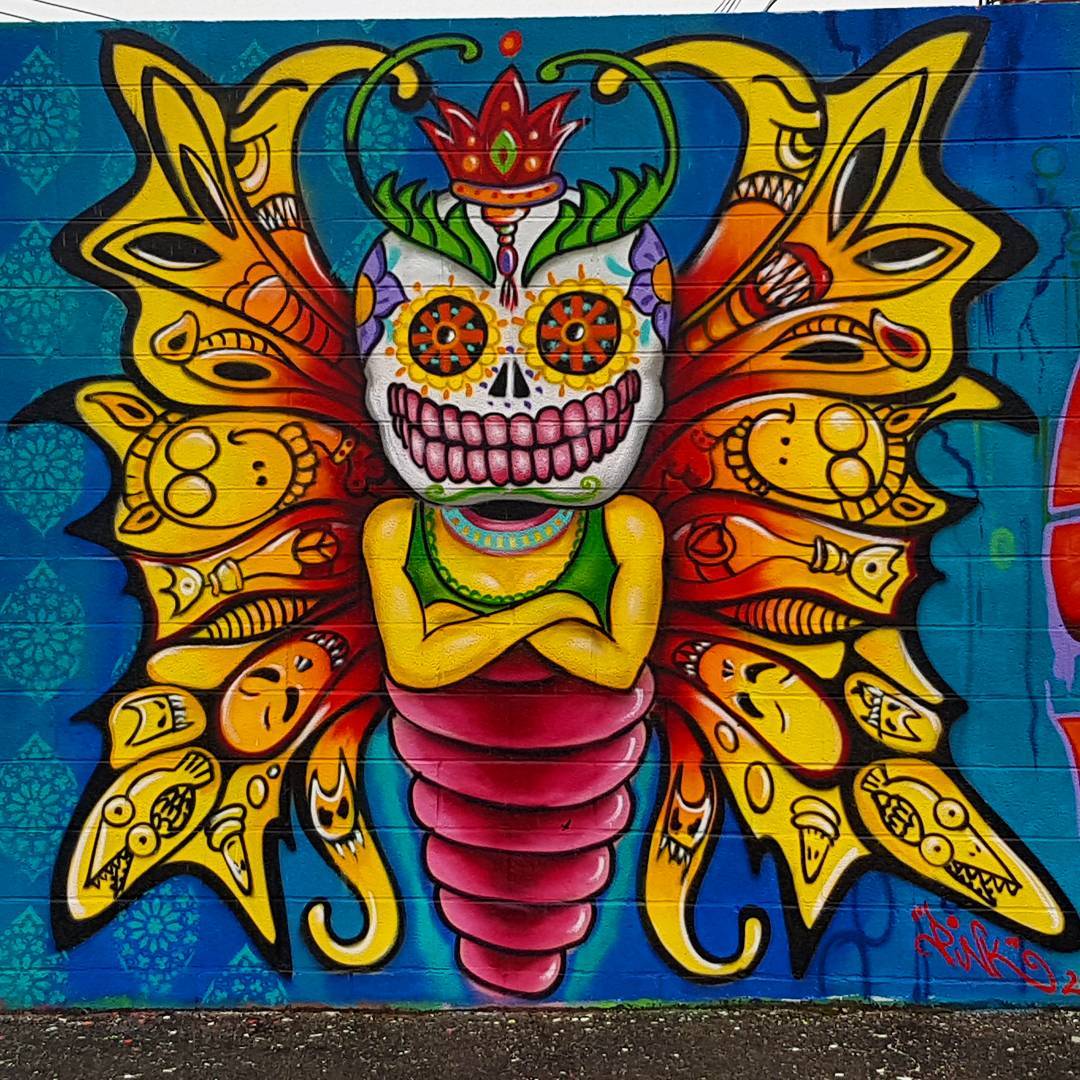 At first glance this painting might look scary to some people. But you can definitely say it attracts attention. And once you are hooked, you start looking deeper into the painting.
24. Day Of The Dead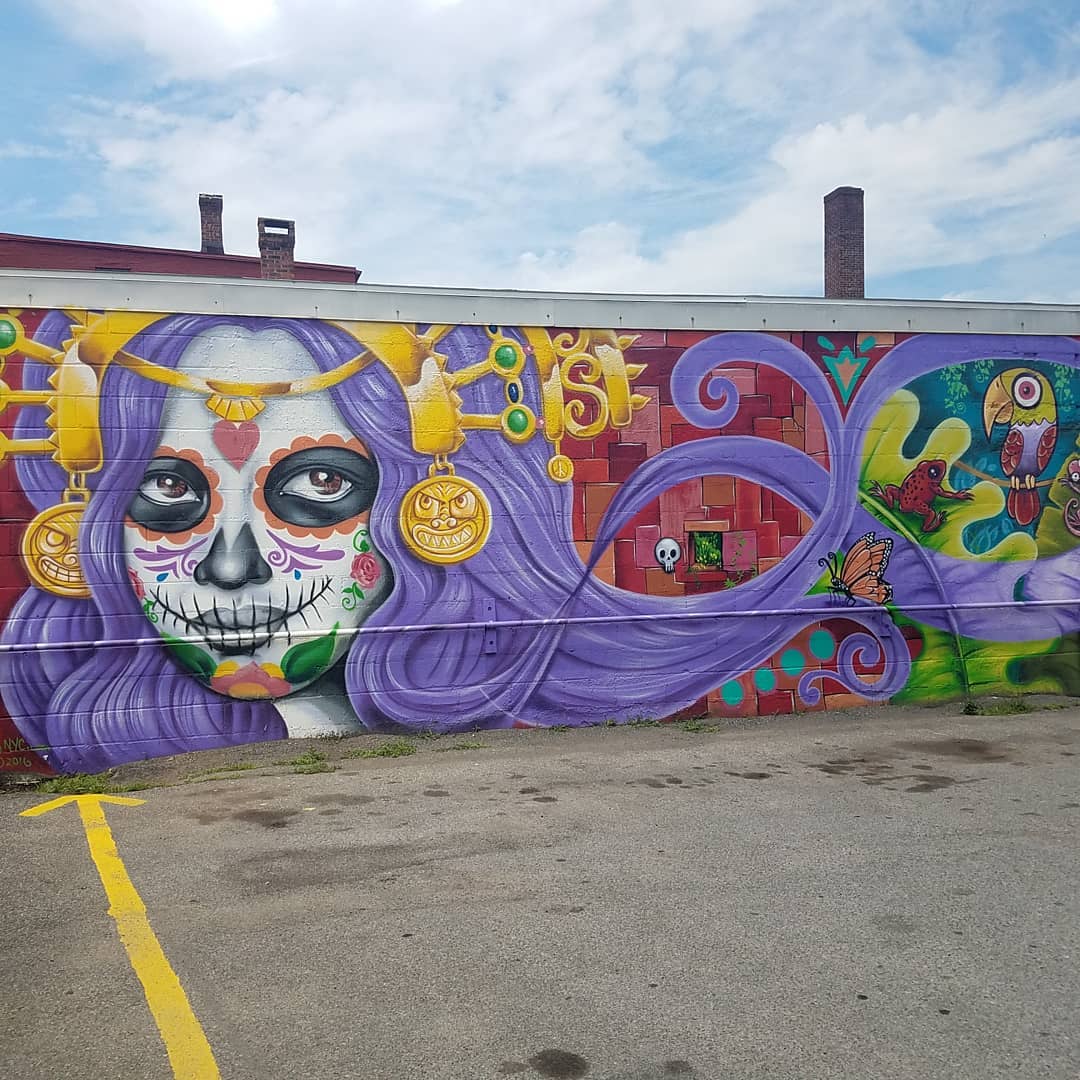 Day of the Dead is a celebration in Ecuador, Sandra's home country on November 2. Friends and family come to remember their loved ones and bring meals to share with those on their journey to the next life.
25. Welling Court Project Mural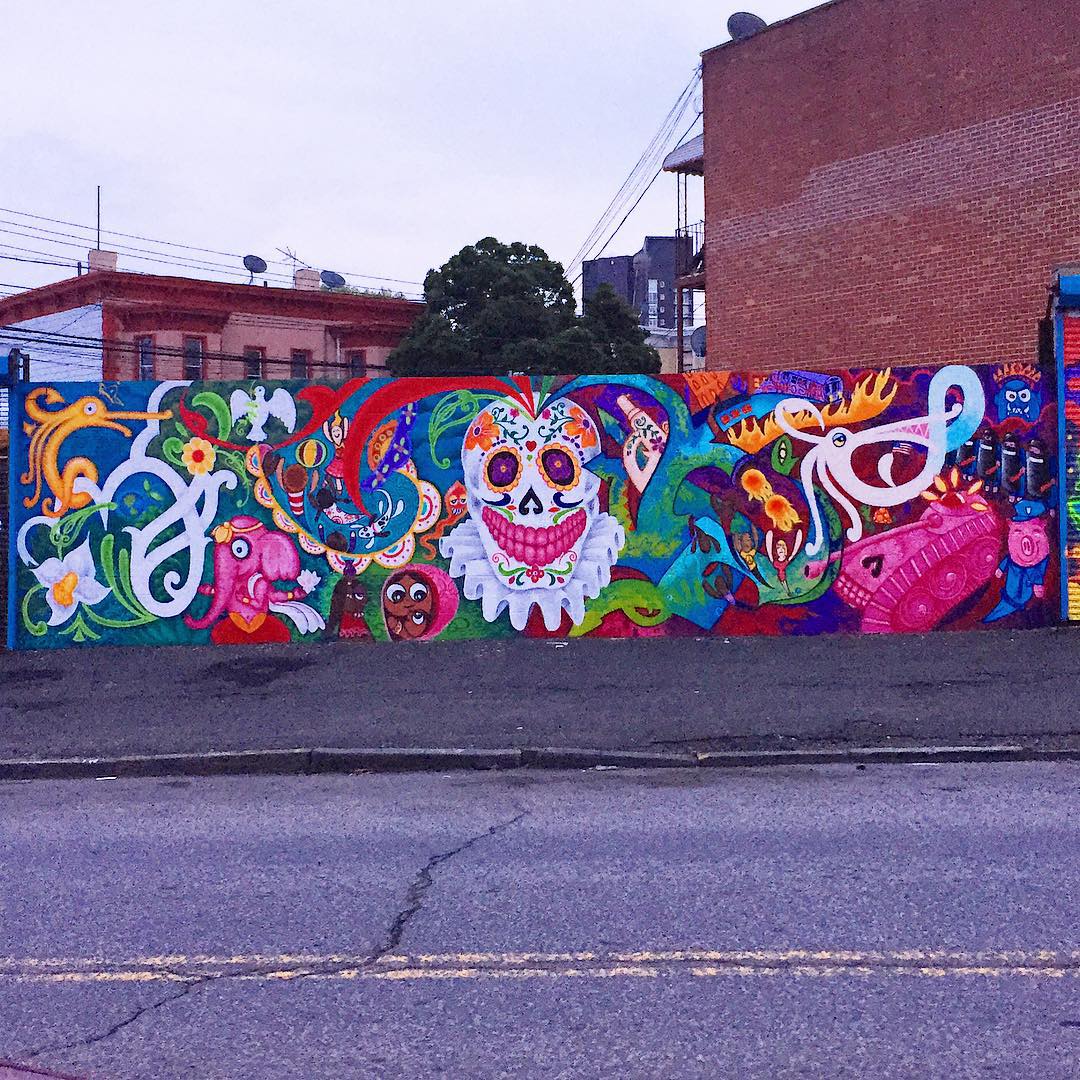 You can say the Day of the Deceased inspired Sandra for this mural as well. After all, she is one of the few artists in New York that can make a skull look beautiful.
26. Lady Of The Leaf (Green)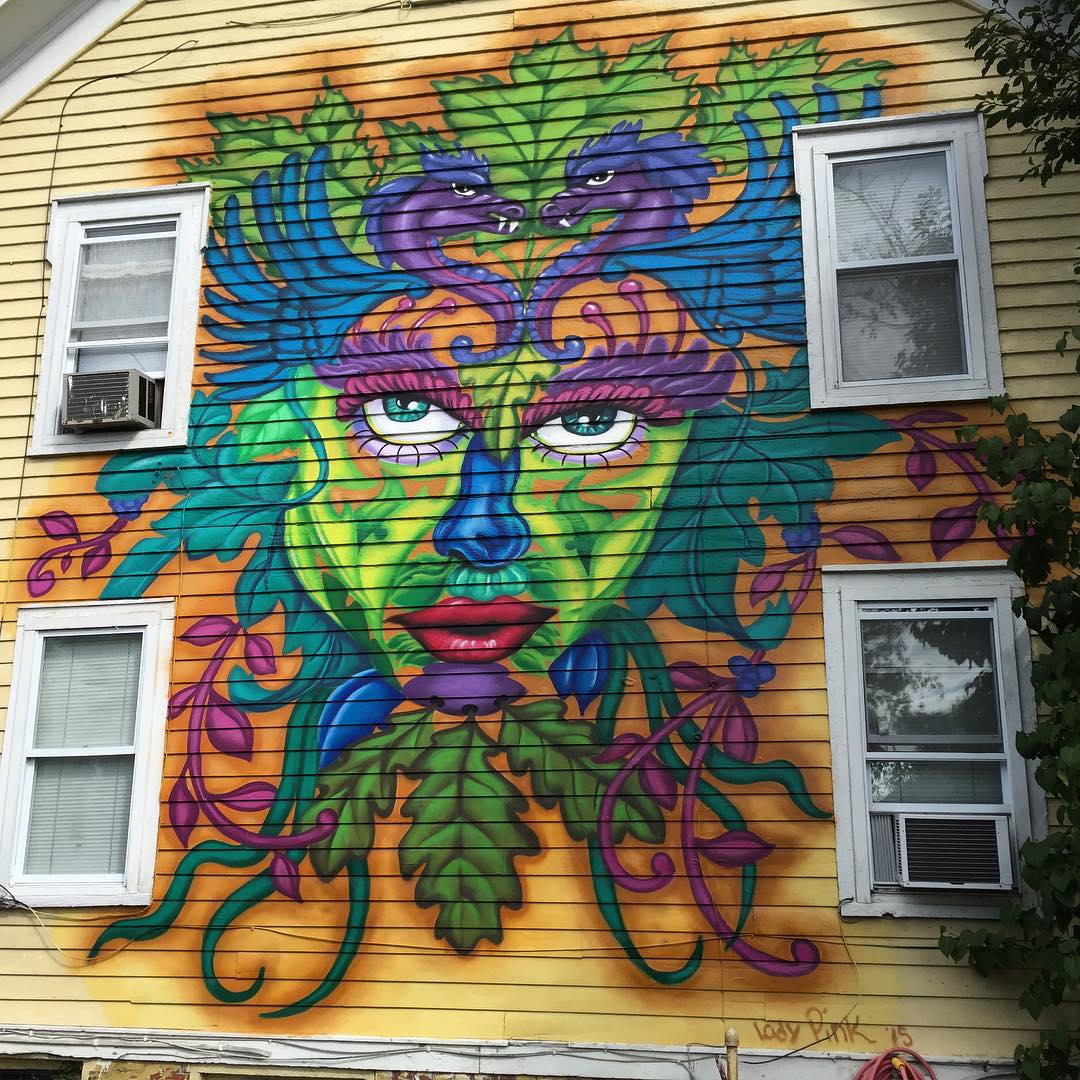 We had this graffiti in a different color. It carries the same message about empowering women, but in a bit more serious color.
27. My Boo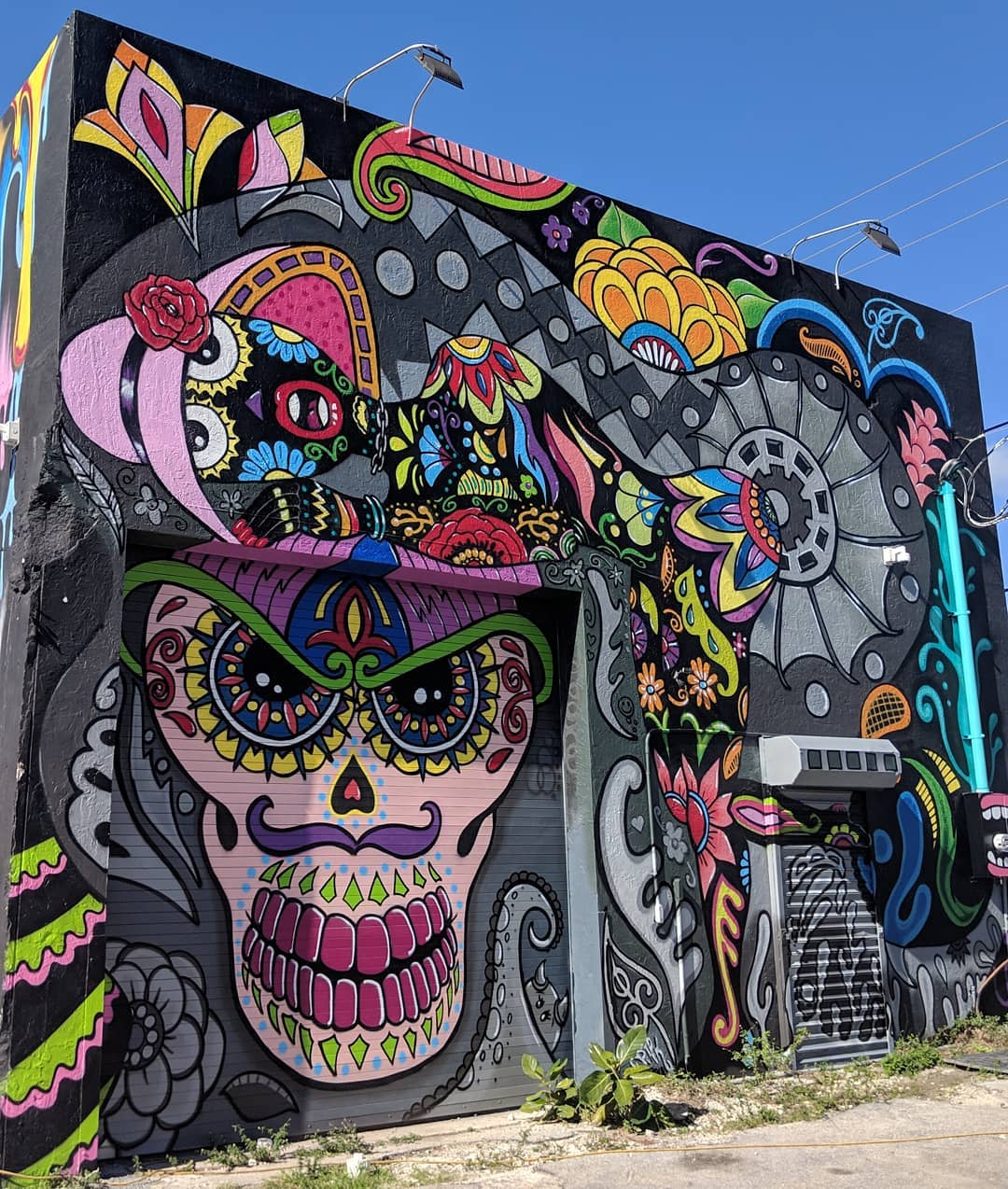 When you think of the term "my boo", it means "my boyfriend" or my loved one. And it is usually an association for a romantic relationship and love. Not when Sandra paints it. She has some different ideas.
28. Brick Magnolia
Did you know that in the Chinese culture, the magnolia tree symbolizes purity and nobility? It is also famous for its healing powers. And that is probably the message Fabara was going for. But she has her own version of Chinese tree. Hers is made out of bricks.
29. Saint Denis Reunion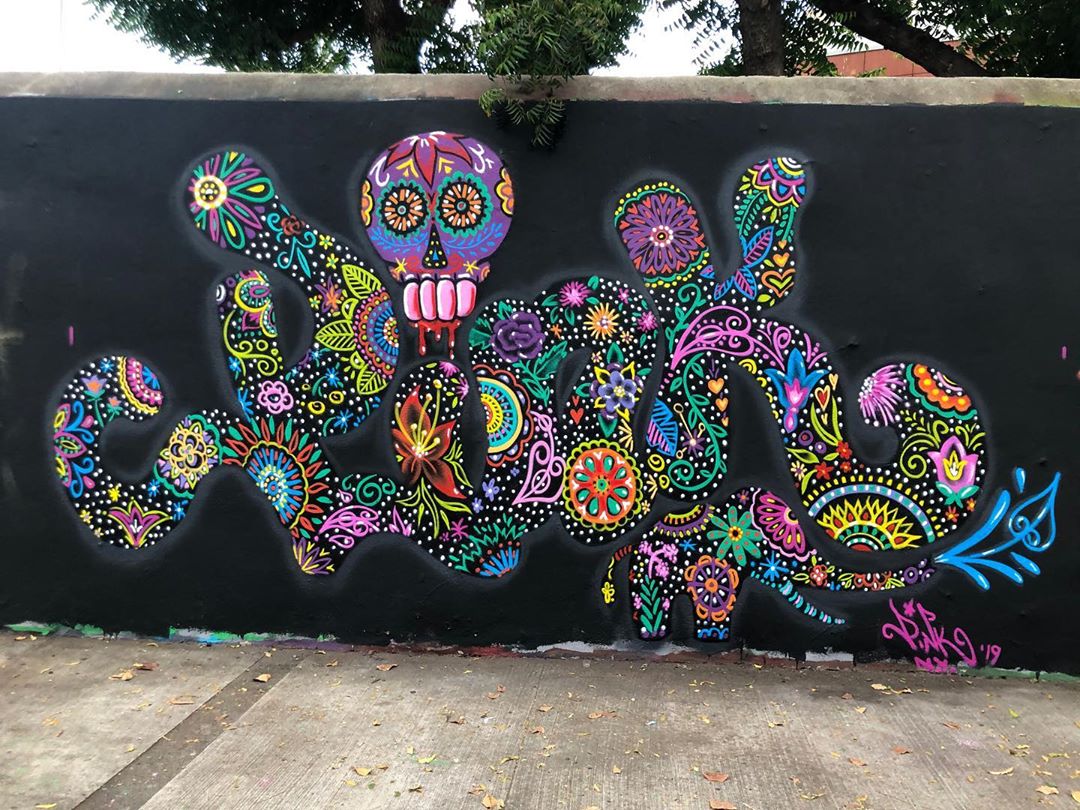 This painting has so much history on it. It is a painting about the city Saint Denis, the capital of Reunion Island. It is a French department in the Indian Ocean, known for the colonial heritage.
30. The Pink Lady Sandra Fabara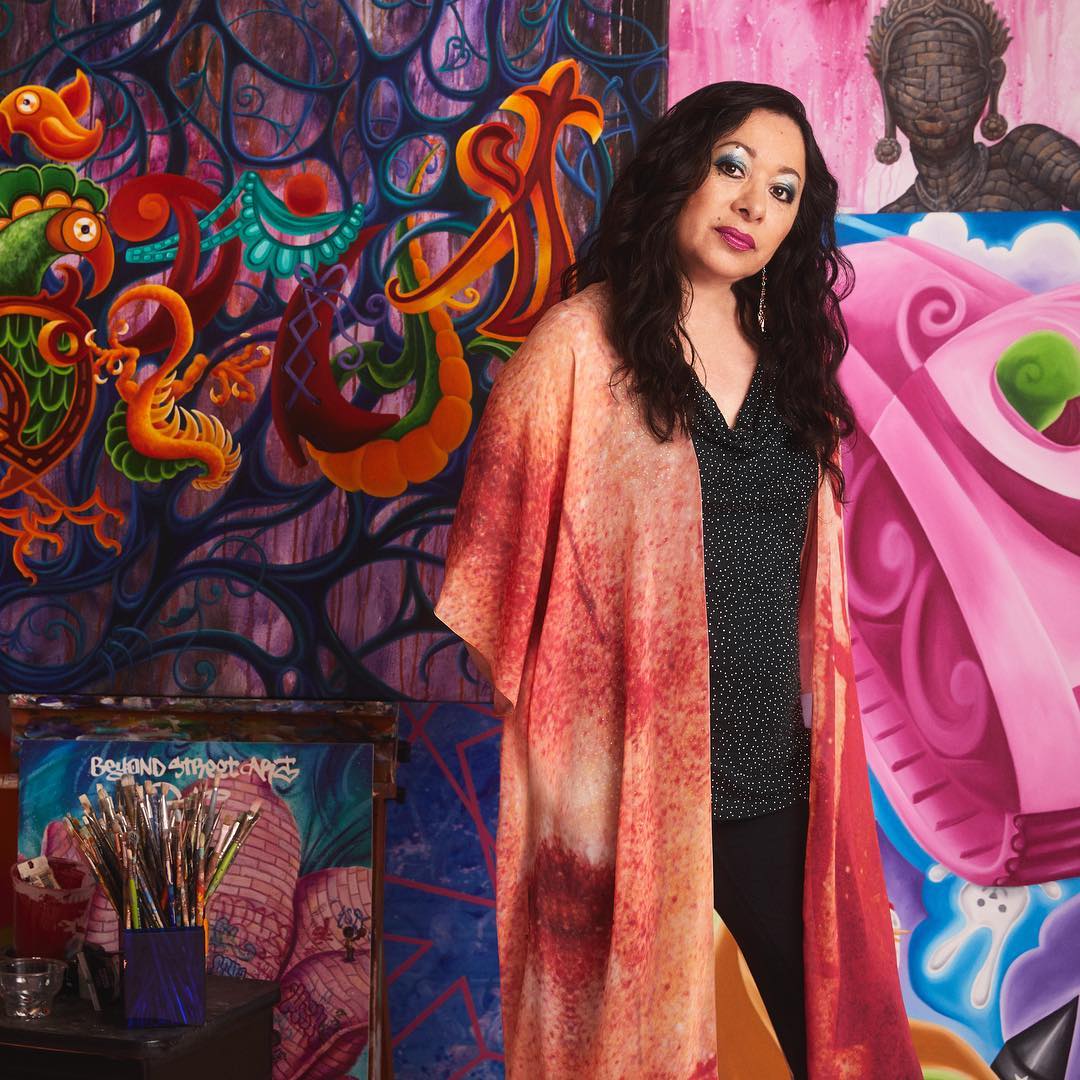 Let's finish off our list with the Lady herself. She poses next to some of her graffiti. Hope you liked the list of Queen Pink Lady graffiti.