If you think graffiti is vandalizing parts of the city, think again. There are some graffiti artist that actually create beauty out of a wasteland. Street artist Scaf is one of them. He is a self-taught French street artist. Many consider him a real magician in the world of graffiti.
He doesn't just tag buildings, he created incredible 3D pieces of art that look amazing. And he even adds himself in the graffiti as well.
He started creating graffiti in abandoned factories more than 18 years ago. A school friend inspired him. Since then, he continues nurturing his love for painting in abandoned places. Those include houses, manors, castles, and factories.
Scaf says he feels like he is transforming and adding value to those places. And the reality is he really turns rundown walls into incredible 3 graffiti art.
To highlight his artwork, he interacts with the art. In some graffiti he dresses as a caveman and sits next to a dinosaur or feeds an animal in another. But his presence gives the graffiti a spectacular finishing touch.
And with his sense of humor, the paintings look amazing.
1. Michelle Lewin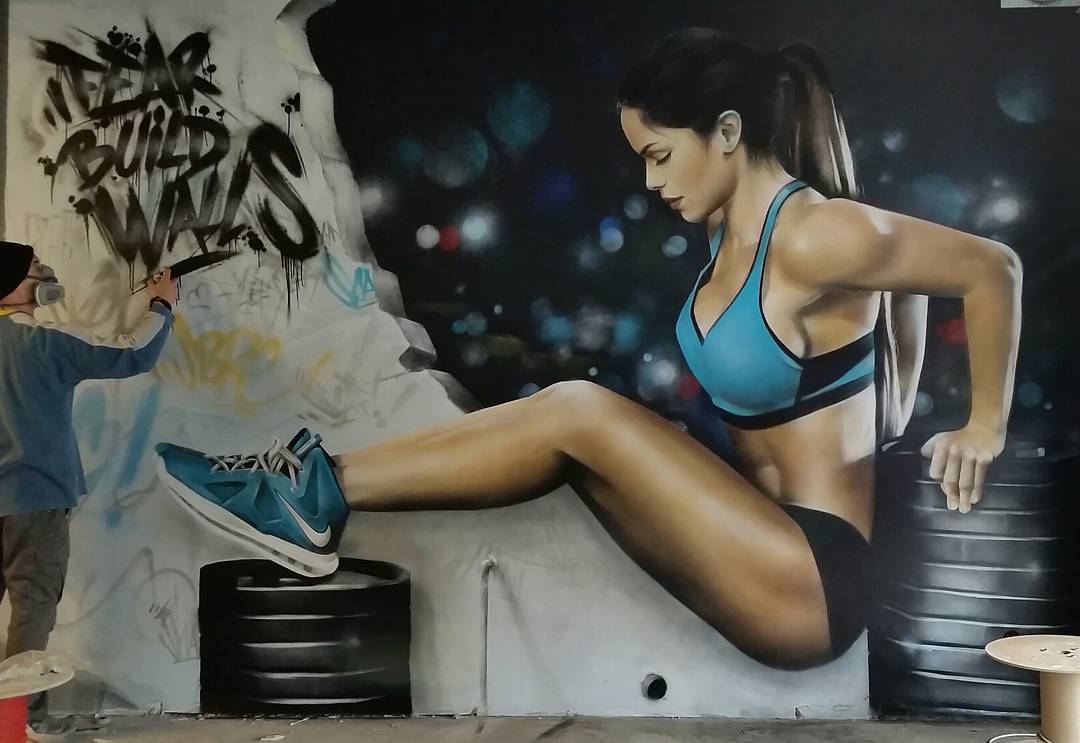 Michelle is a popular Instagram model and celebrity. She is a fitness trainer but also an inspiring person. Here is Scaf painting the wall while she works out.
2. Scaf The Sailor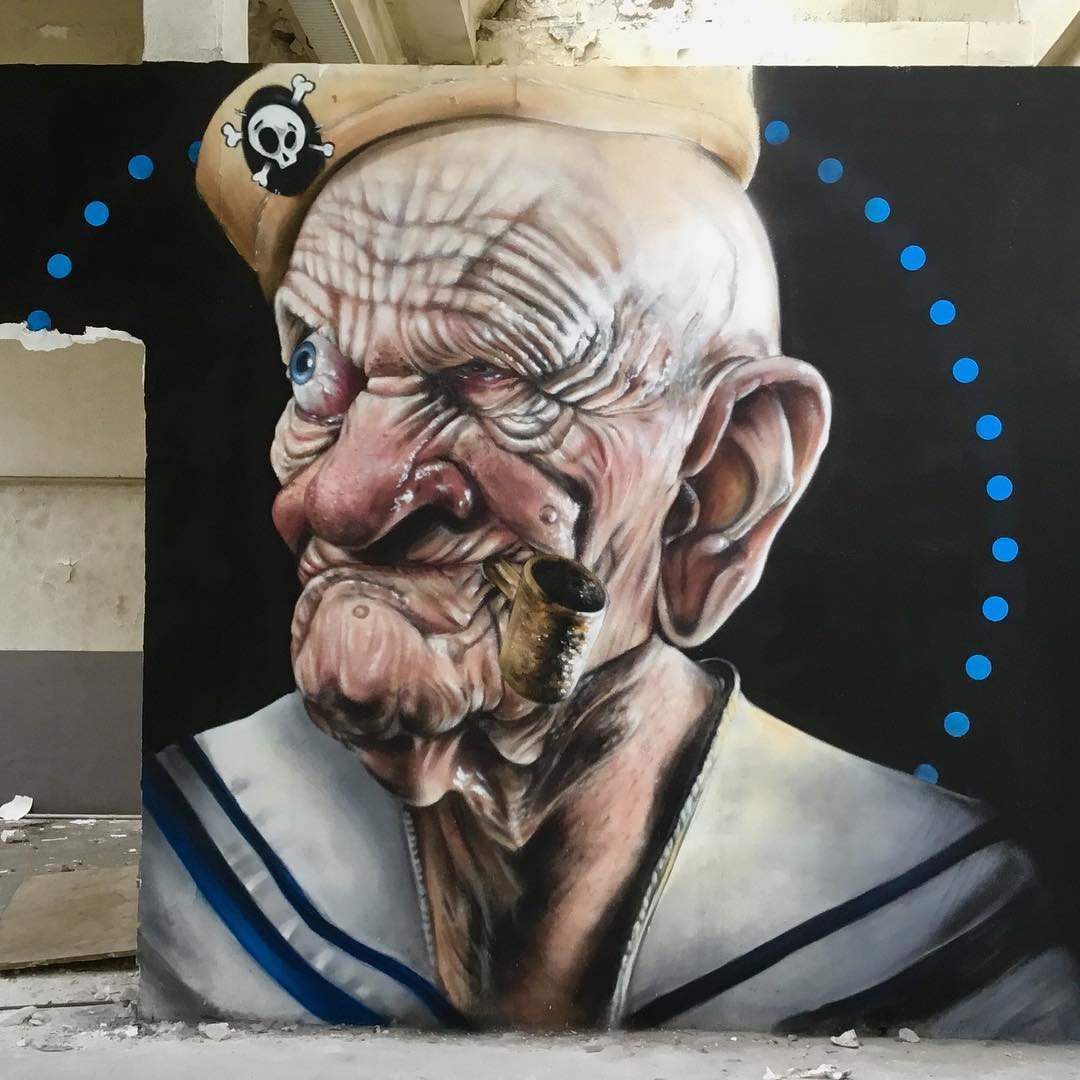 Many of us have seen Popeye the Sailor as little kids. But Scaf has another idea how the man should look like. How do you like his view on the popular character?
3. Scaf To The Future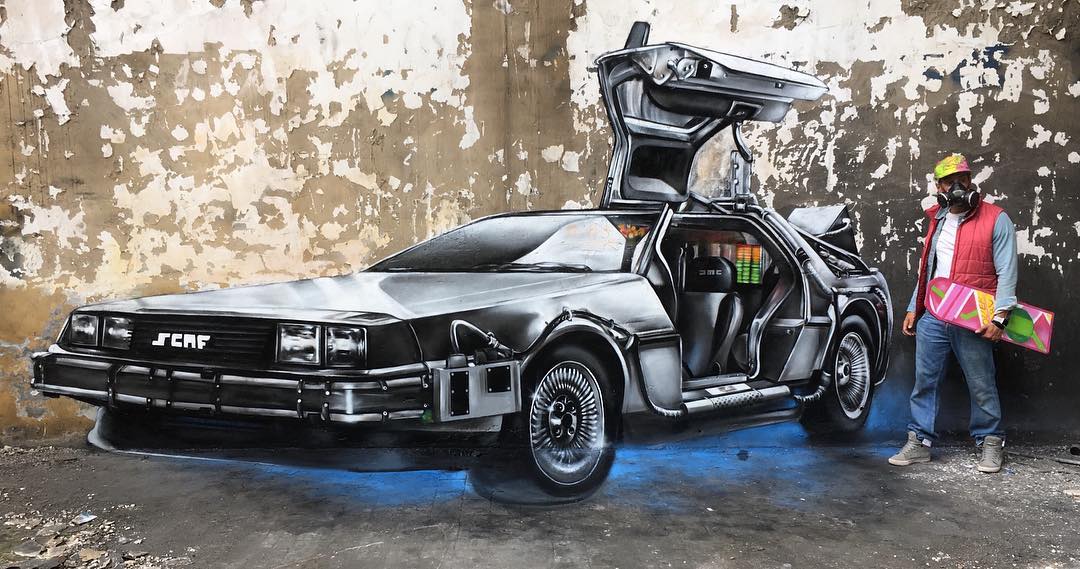 Here is another iconic reference to a movie. The DeLorean is an iconic part of pop culture. And instead of Marty McFly, we have Scaf going into the car. Where he will land, we do not know.
4. Scaf Wars 2018
Fans of Star Wars are divided in two groups. Some like the new trilogy, others consider it a blasphemy. But most fans agree that Daisy Ridley was amazing in it. She portrayed the Rey character to the best of her opportunities.
5. Scaf The Hedgehog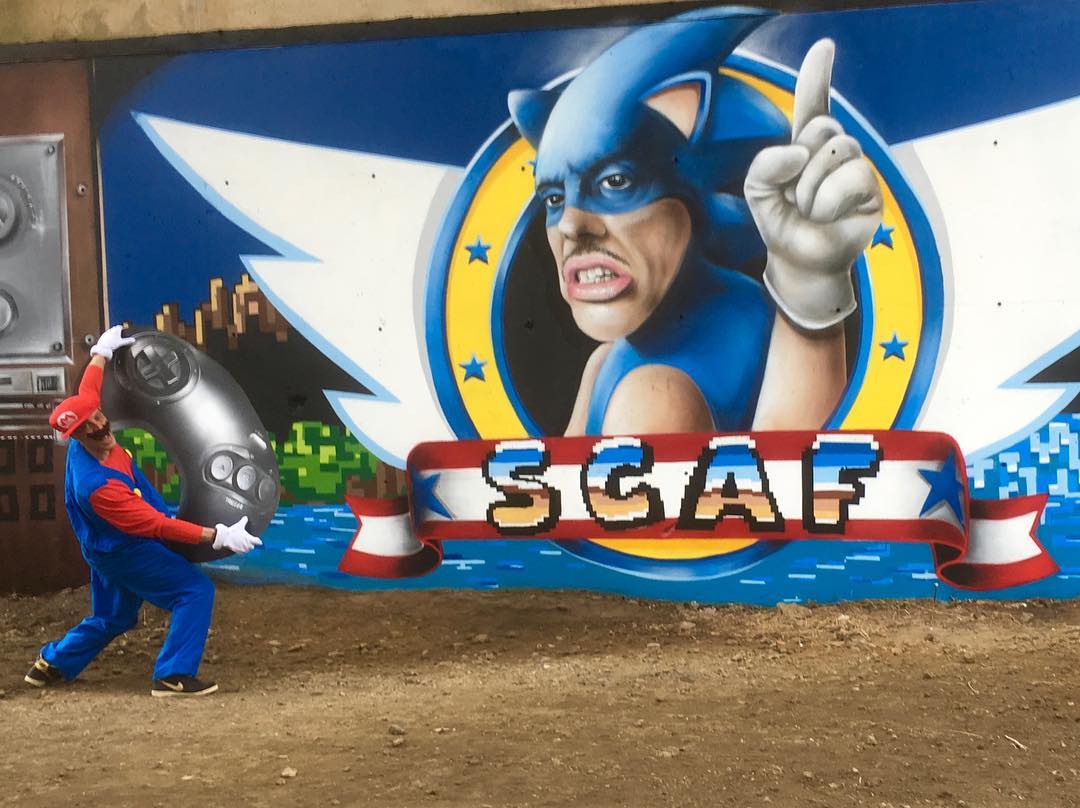 One thing fans love about Scaf is his limitless area of creativity. He adds so many different pop culture references in his graffiti. You can find something for everyone. Whether you are a cartoon guy, iconic movies, science, or anything in between, Scaf has a graffiti for you.
6. Heinsteinberg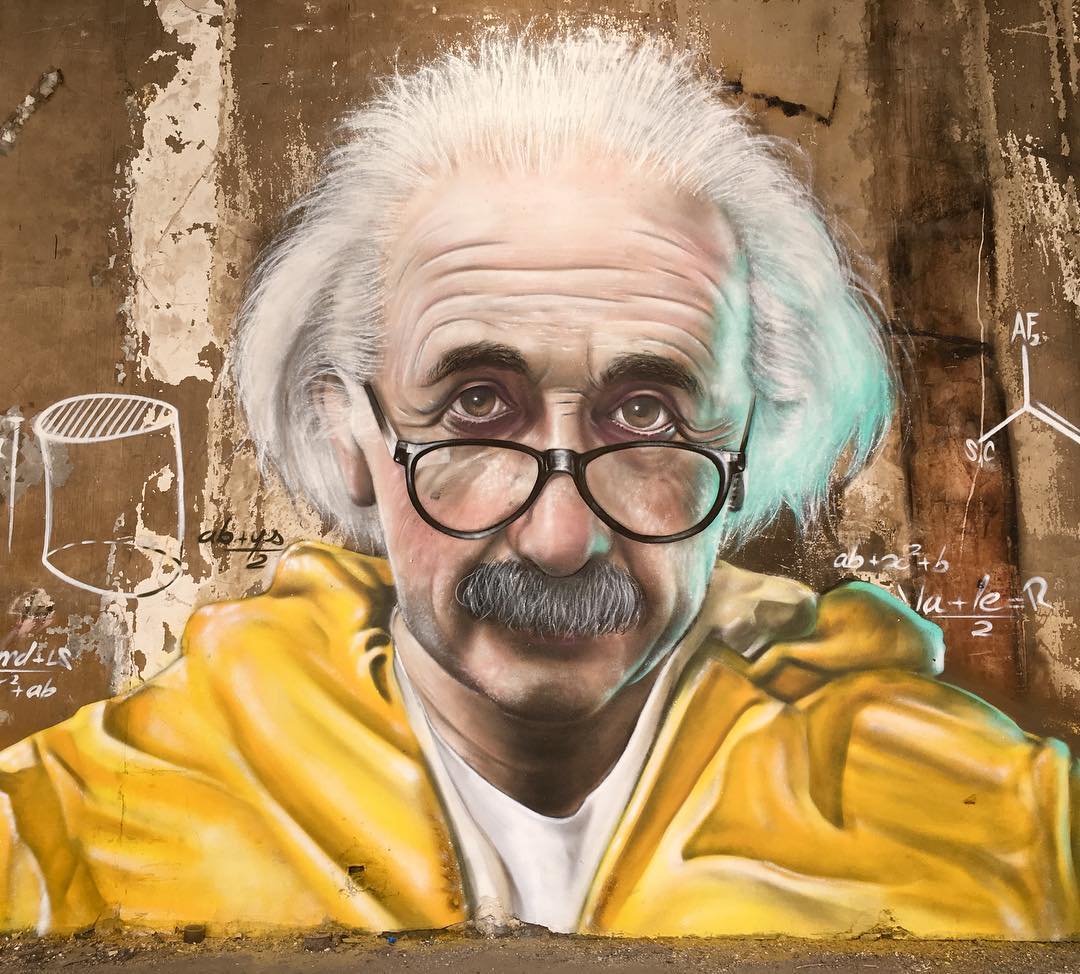 You just have to love this guy. He can make anything look funny and humorous. Even a serious character like Albert Einstein looks like a comedy guy in his graffiti.
7. Scaf The Tiger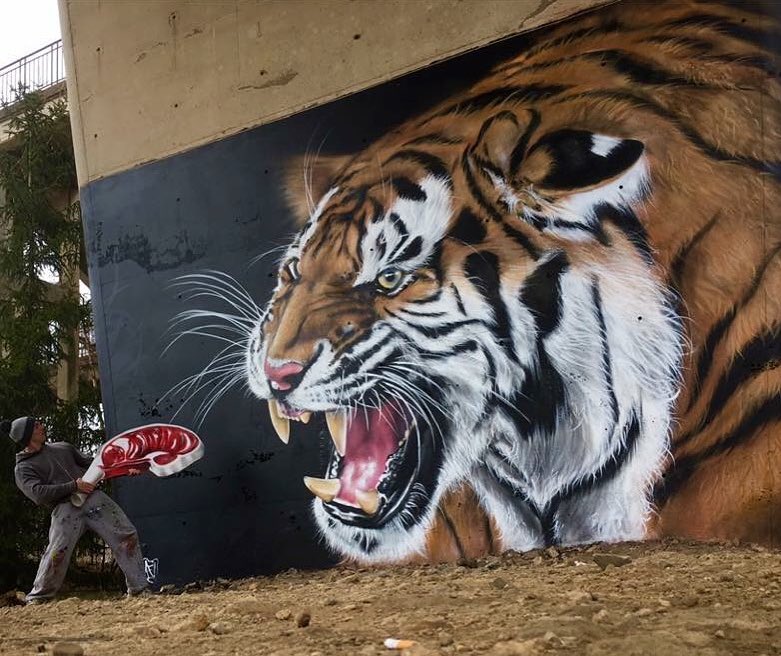 The Life of Pi tells a story about a young boy surviving a boat accident and ending up in a small boat with a tiger that wants to eat him. But by the end of the story, the two forge an amazing friendship. Scaf has a similar idea as well.
8. Alien vs Scafonator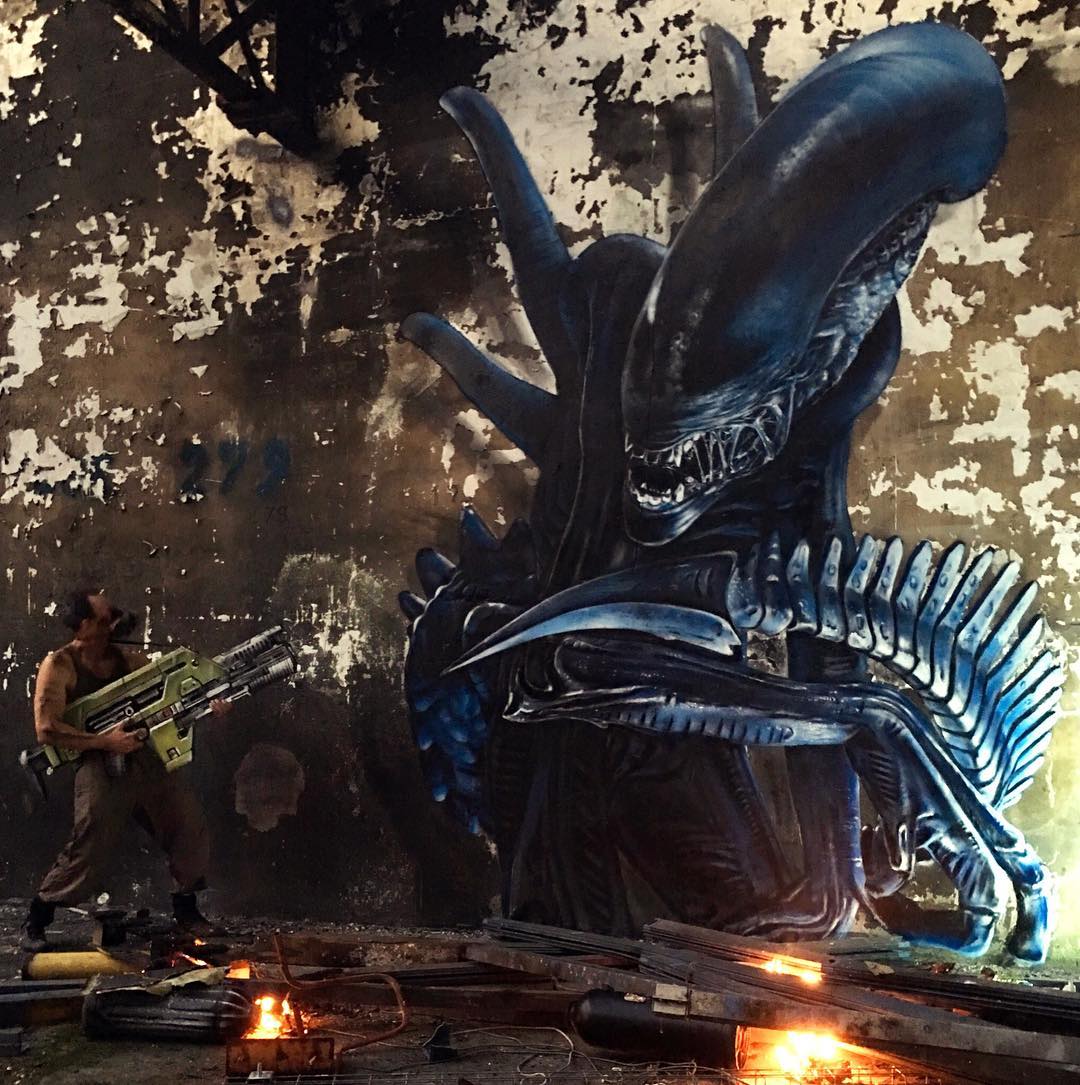 Maybe if we sent Scaf as the main character in Alien vs. Predator, the movie could have ended sooner. And we wouldn't have to go through many sequels, some of them awful.
9. Eyes Of Crocodile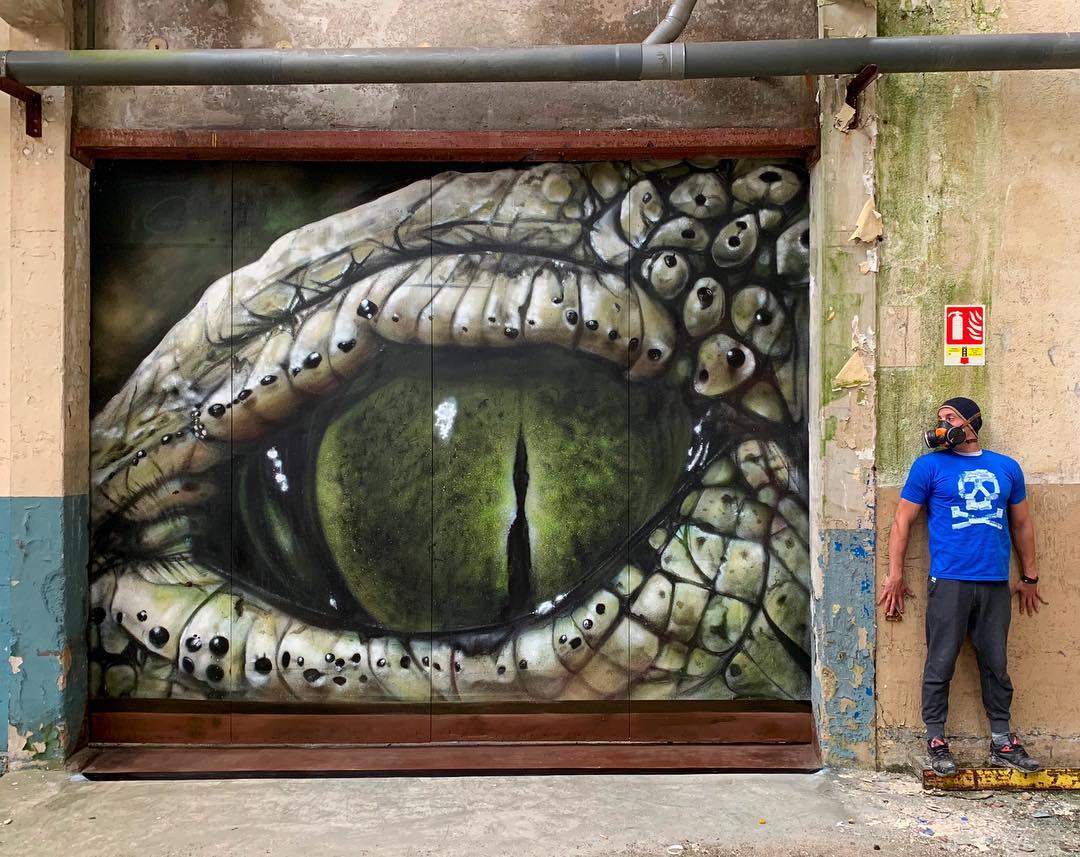 We said it in the beginning, Scaf loves to interact with his graffiti. And has an amazing sense of humor, making these art paintings look real and surreal at the same time.
10. It's Crisis Winnie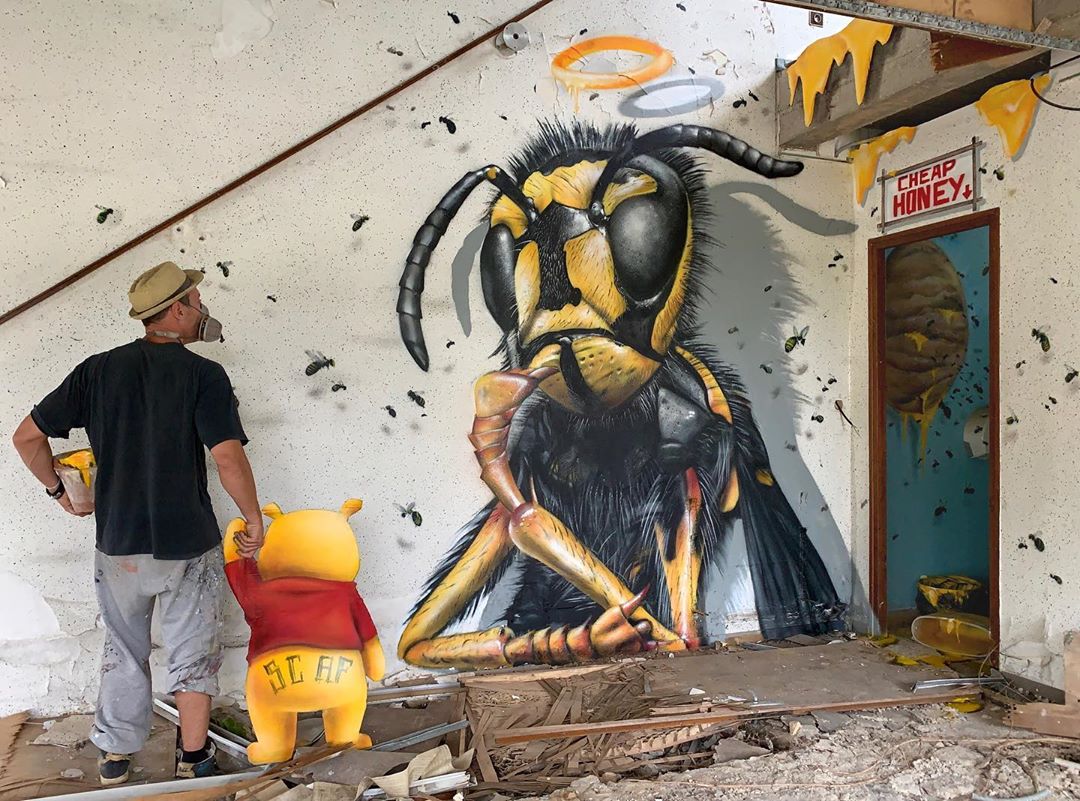 Some fans might not like this painting. After all, it completely ruins our view about popular cartoon character, Winnie the Pooh. But you cannot deny one thing. Scaf definitely has a creative idea how to place characters in his graffiti. And do it in the most absurd way possible.
11. Good Boy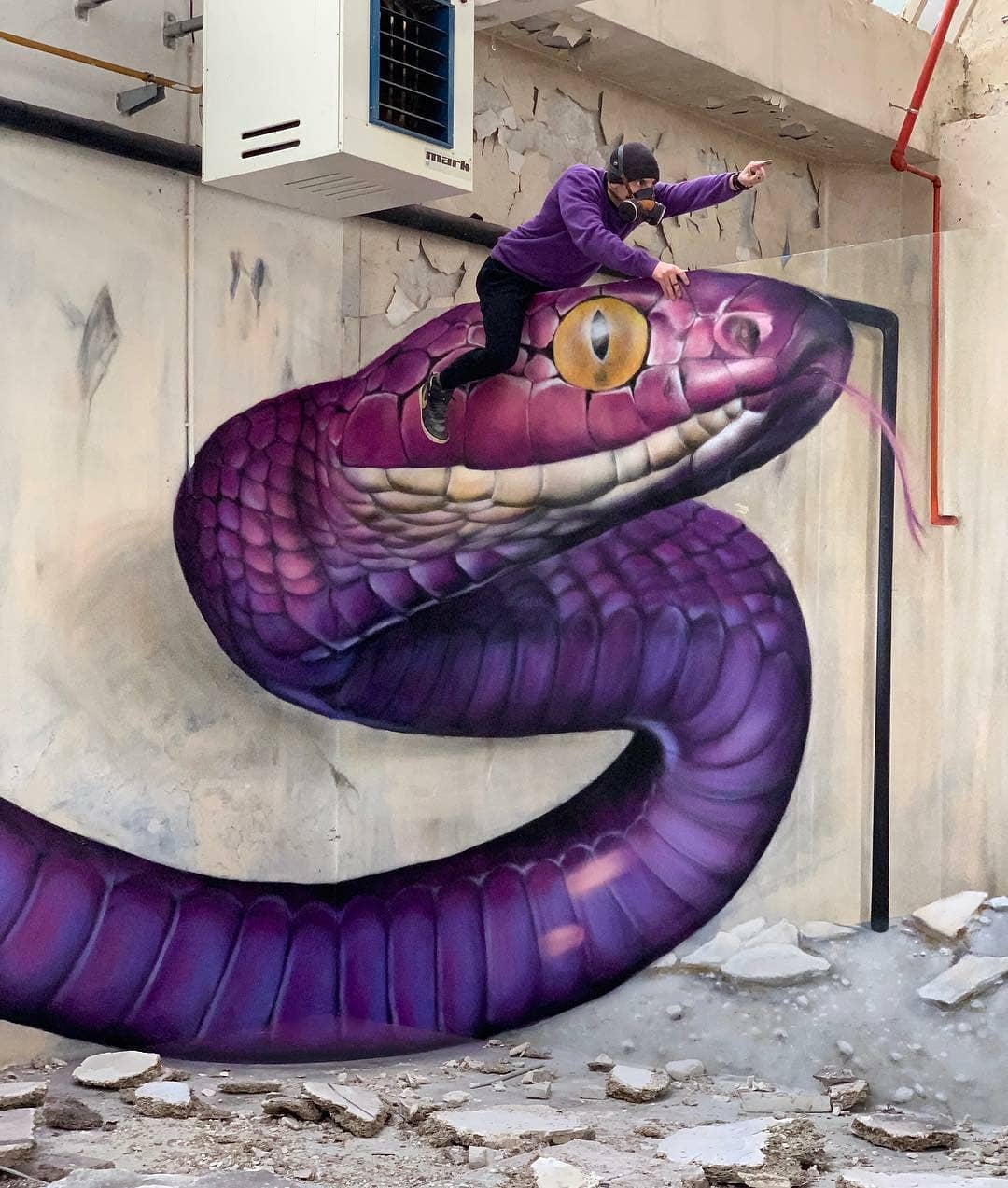 It looks like there is no an animal Scaf cannot tame. Be it a vicious tiger or a poisonous snake, Snaf can get on top of it. Literally and figuratively.
12. Gollum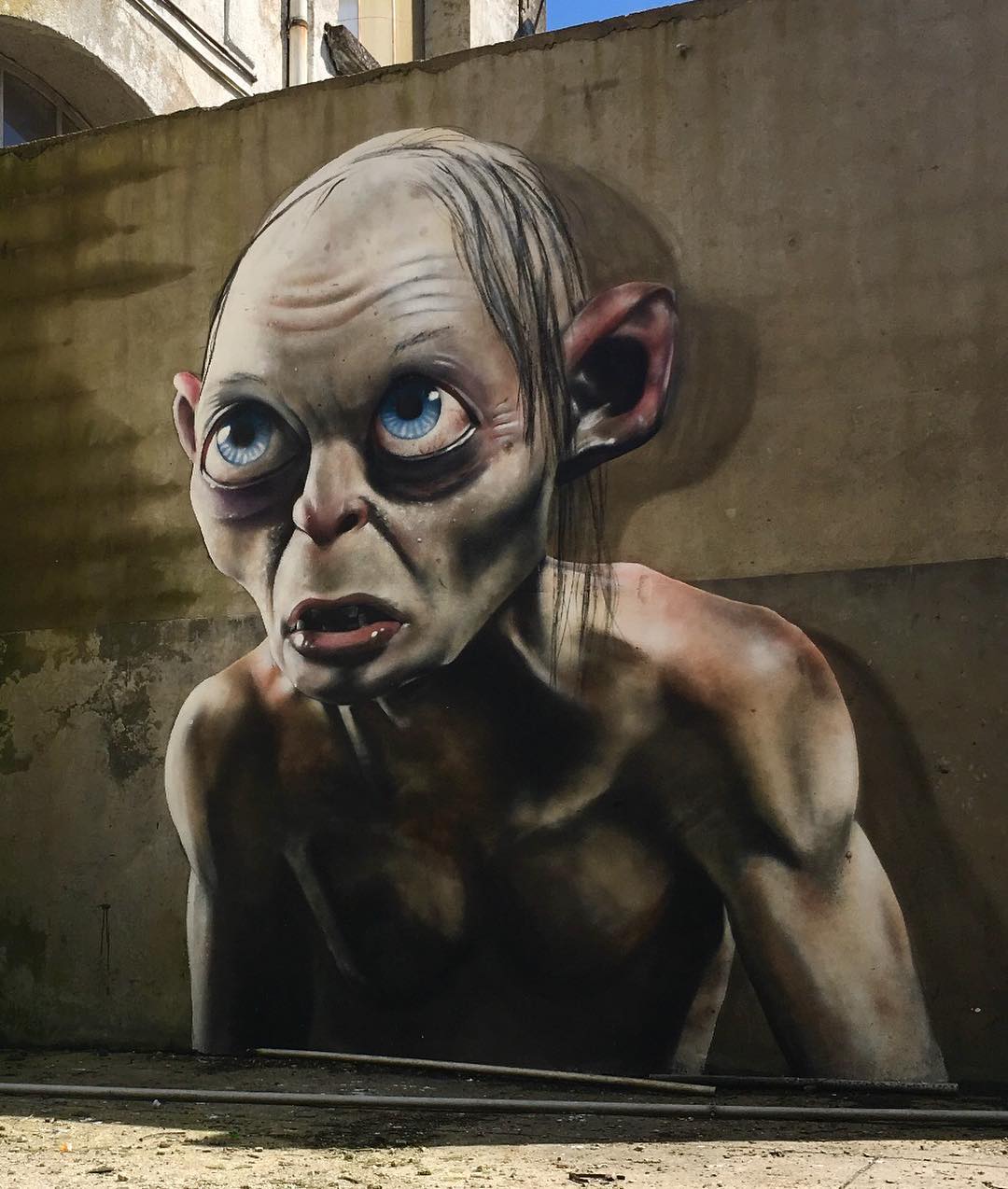 What do you think, would Scaf end up destroying the ring as Frodo did? Or he will succumb to Gollum and let him have "my precious"?
13. Scaf And Morty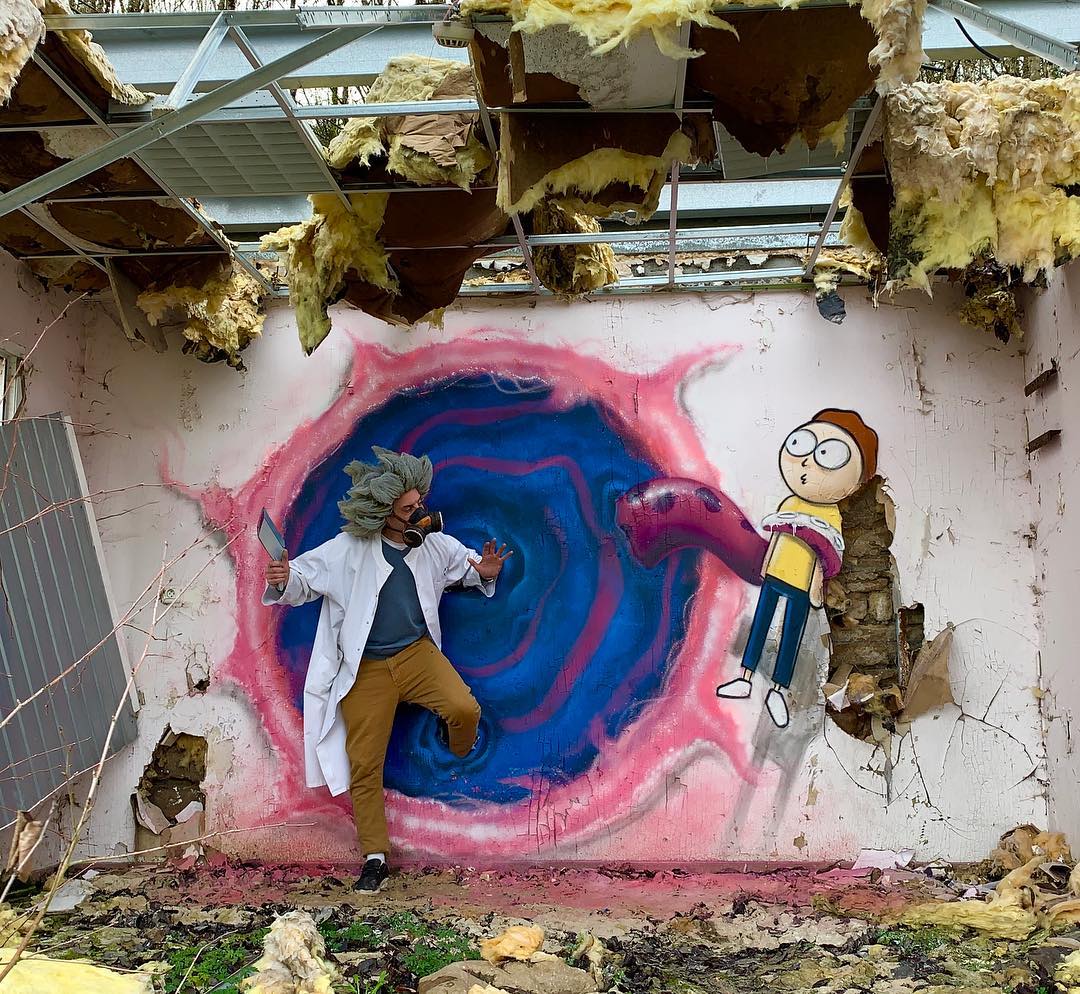 Rick and Morty is one of the most popular series right now. For the past few years, fans loved following these two in their adventures through the multiverse and alternate realities. Imagine a council of Scafs? Right?
14. Princess Scaf In Danger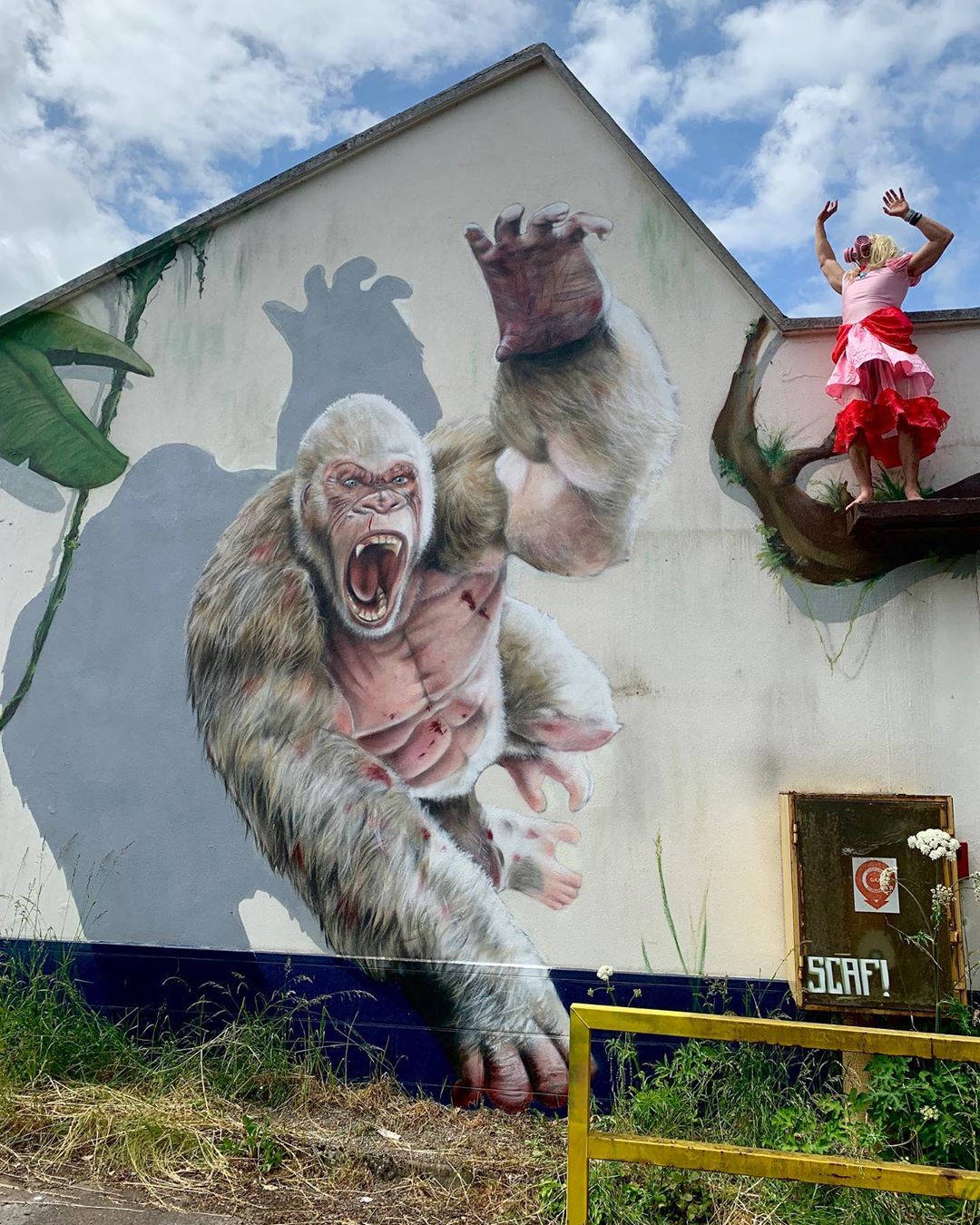 How can you not love this guy? He dresses up in everything he needs to make his artwork popular. He doesn't even mind dressing up as a princess. A damsel in distress if you like. Come Kong, save the princess.
15. ScAfméHaméHaaaa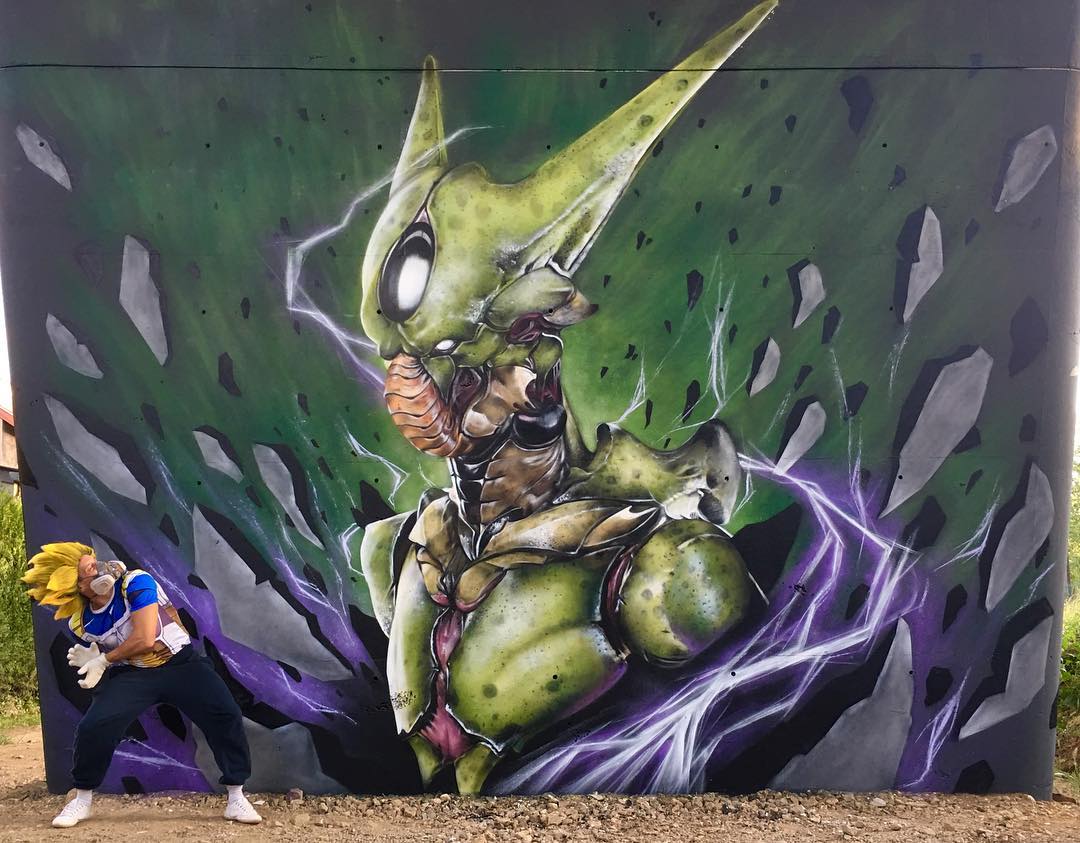 From popular movies to iconic cartoon characters and even anime characters. Is there something this guy cannot do? You tell us!
16. Jurassic-Scaf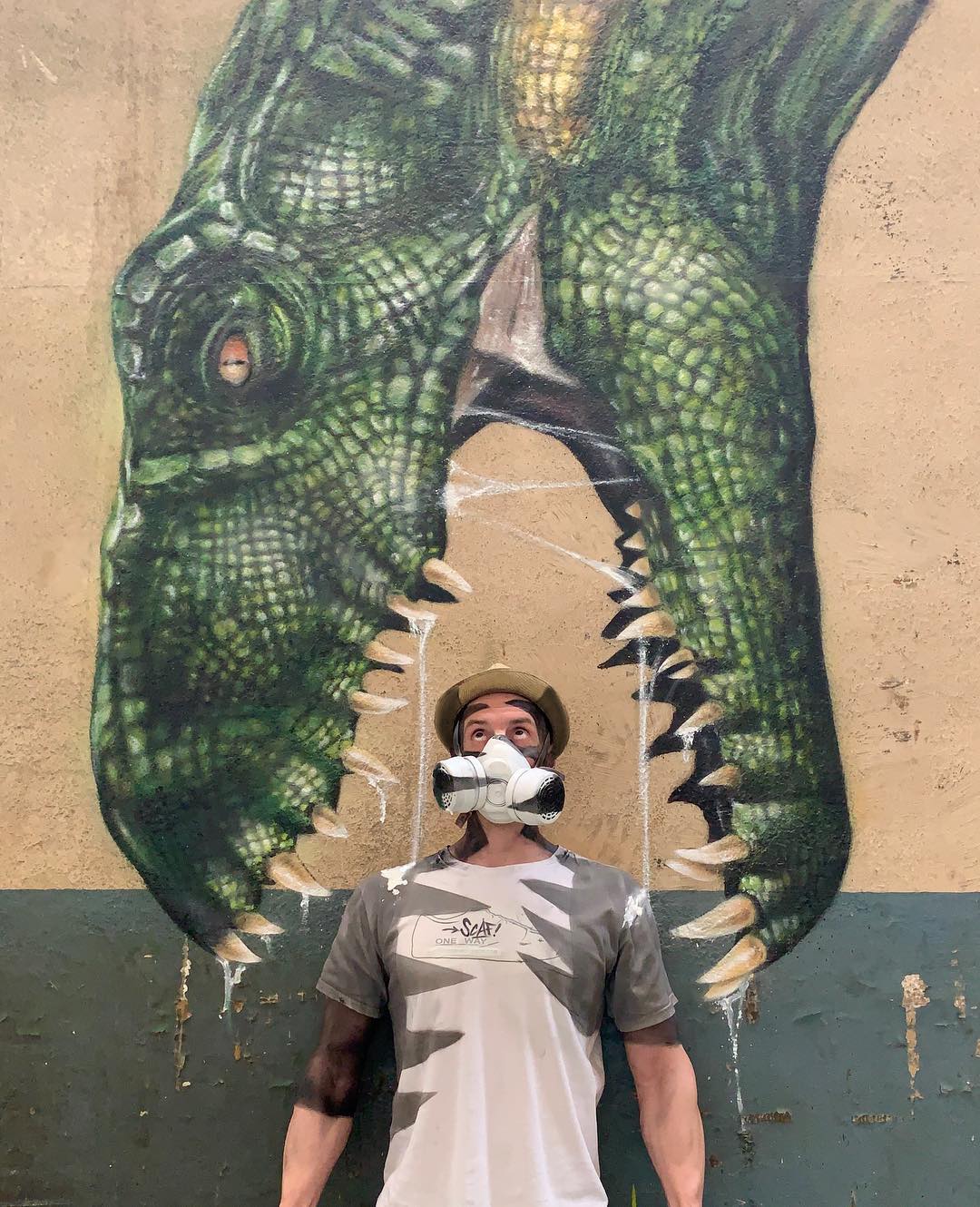 In 2022, we will get the seventh installment of the Jurassic Park series. Some fans would say it is more than enough. Some even stopped watching after the Jurassic Park III and Jurassic Park : The Lost World. Those two were the best.
17. Morscaf Kombat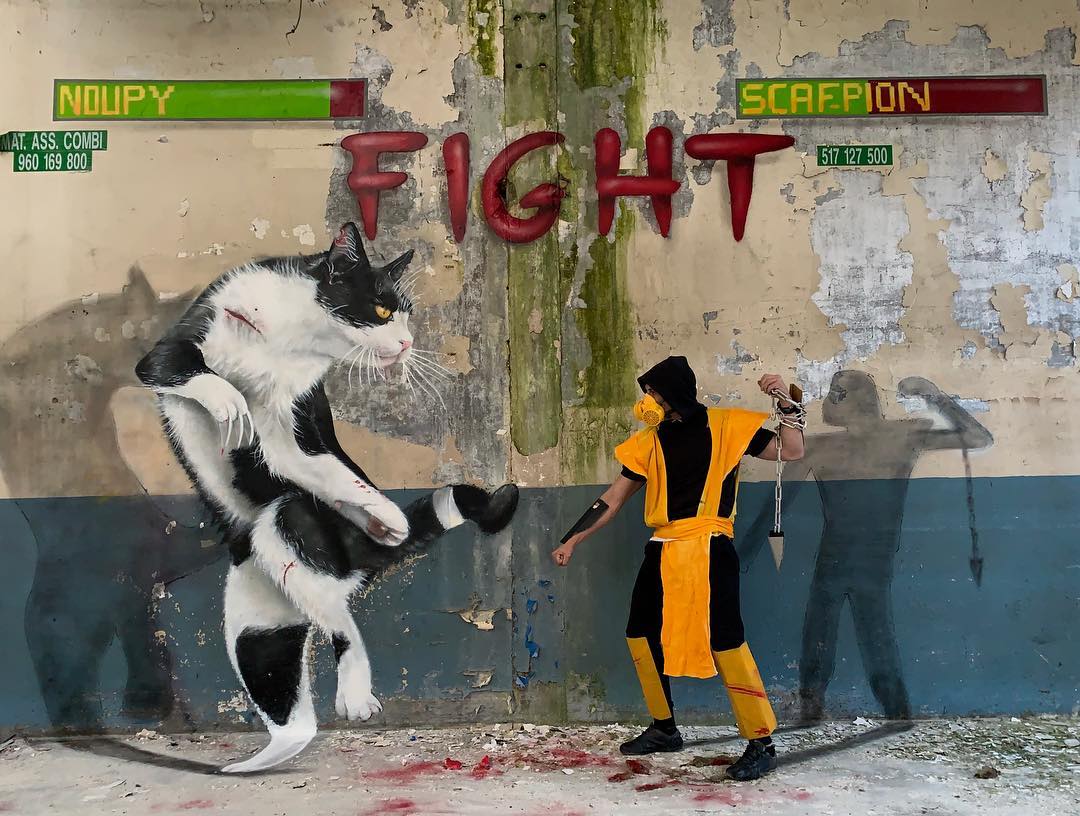 As we said before, Scaf is a master at making iconic scenes look absurd and funny as hell (pun intended here). Maybe he will send this kitty to hell with his brutality.
18. Scaf-Busters
Some people are afraid of ghosts and spirits. Others do not even notice them. Put Scaf in the latter category. He doesn't move a finger even when a ghost is behind him.
19. Scafing Dead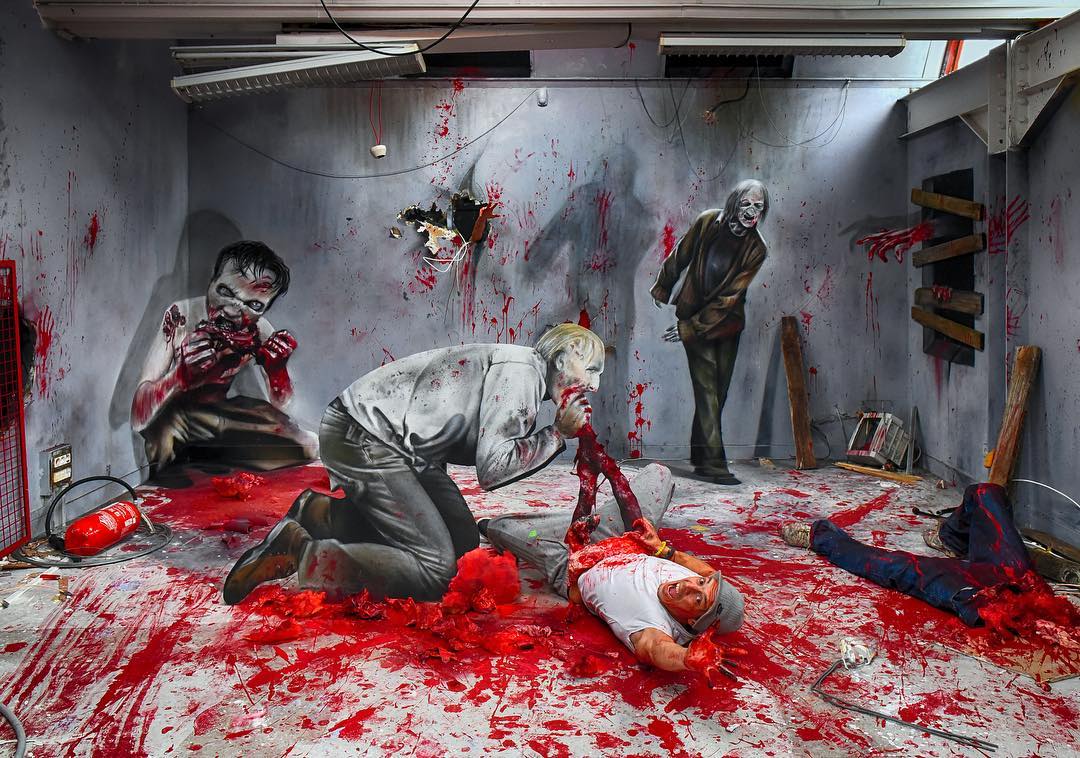 Similar to other television series, the Walking Dead started to fall in the ratings department after a few seasons. Some fans can point to the precise moment when the show lost its magic. But the French artist can definitely remind us of the good times.
20. Ghost Lady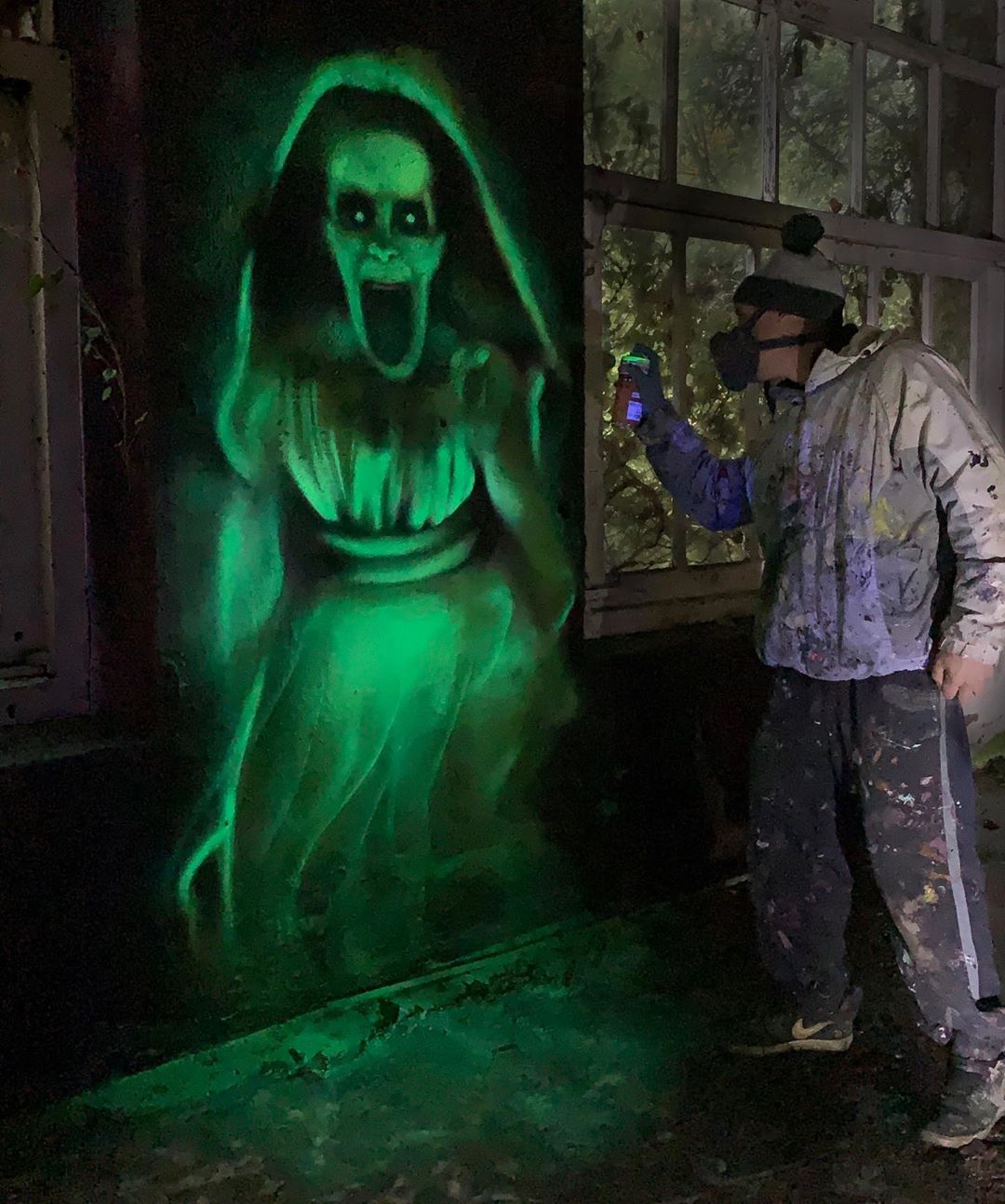 We said before nothing can scare this street artist. We wish more people are so courageous, right?
21. Scafpion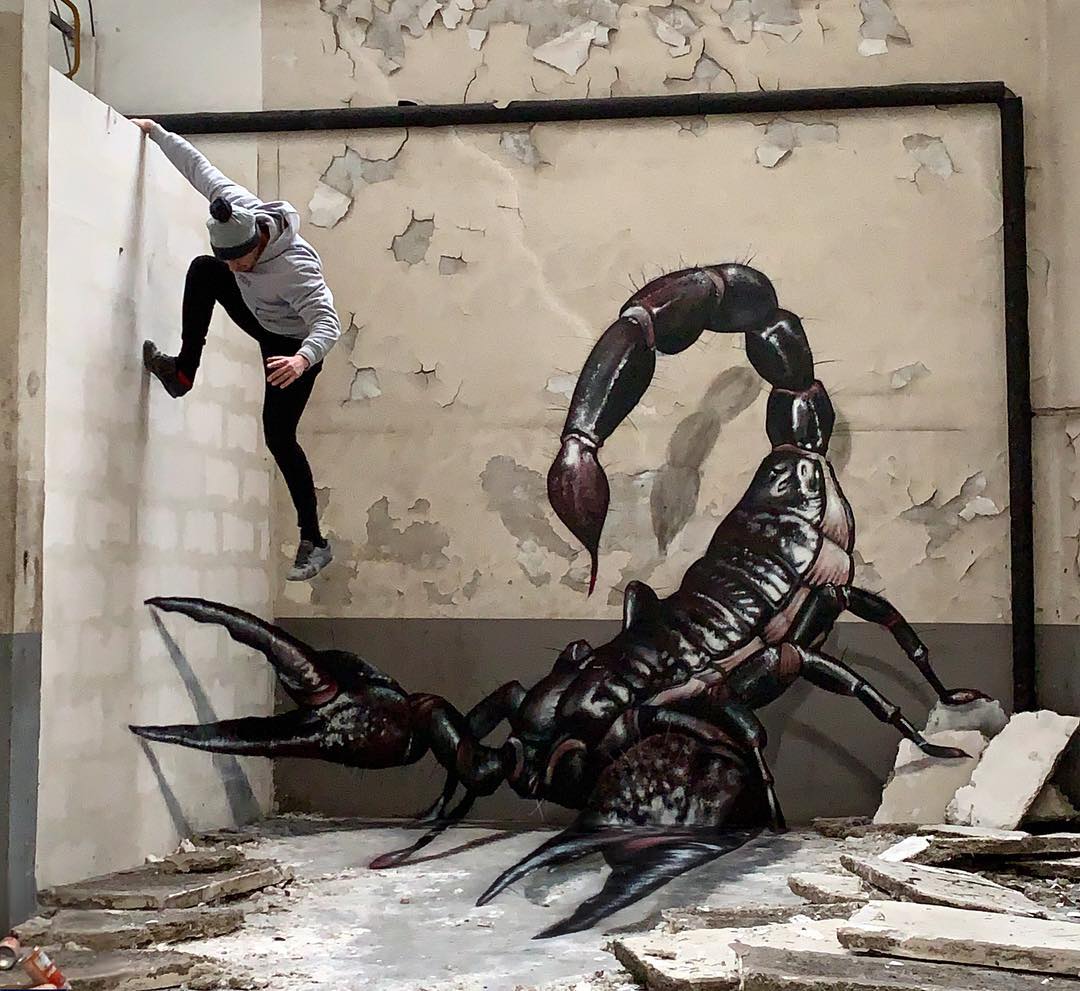 Bringing the desert to the city and its wildlife, Scaf brings the famous scorpion to a rural jungle. Does that sound normal? Well, it sure does for us.
22. Vade Retro Scafanas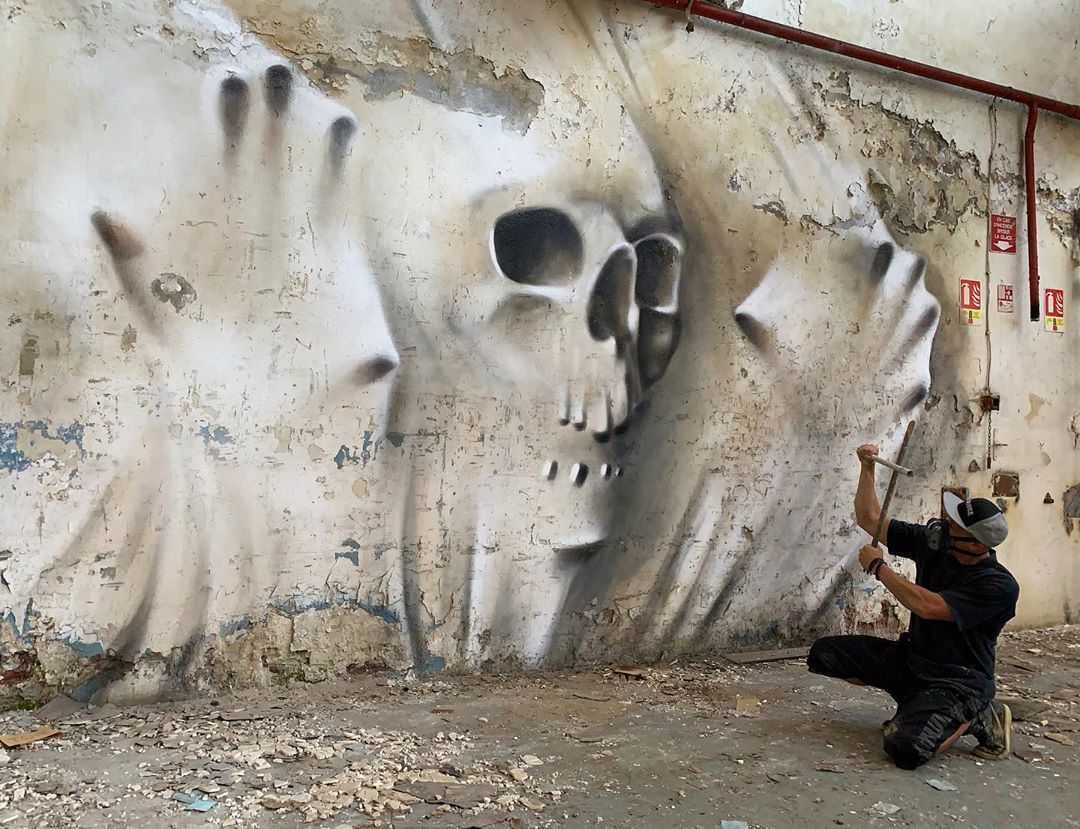 If you need someone to save you from ghosts, evil spirits, or anything else, just call Scaf. This artist has everything you need to survive. A boy scout is always ready.
23. Judgement Day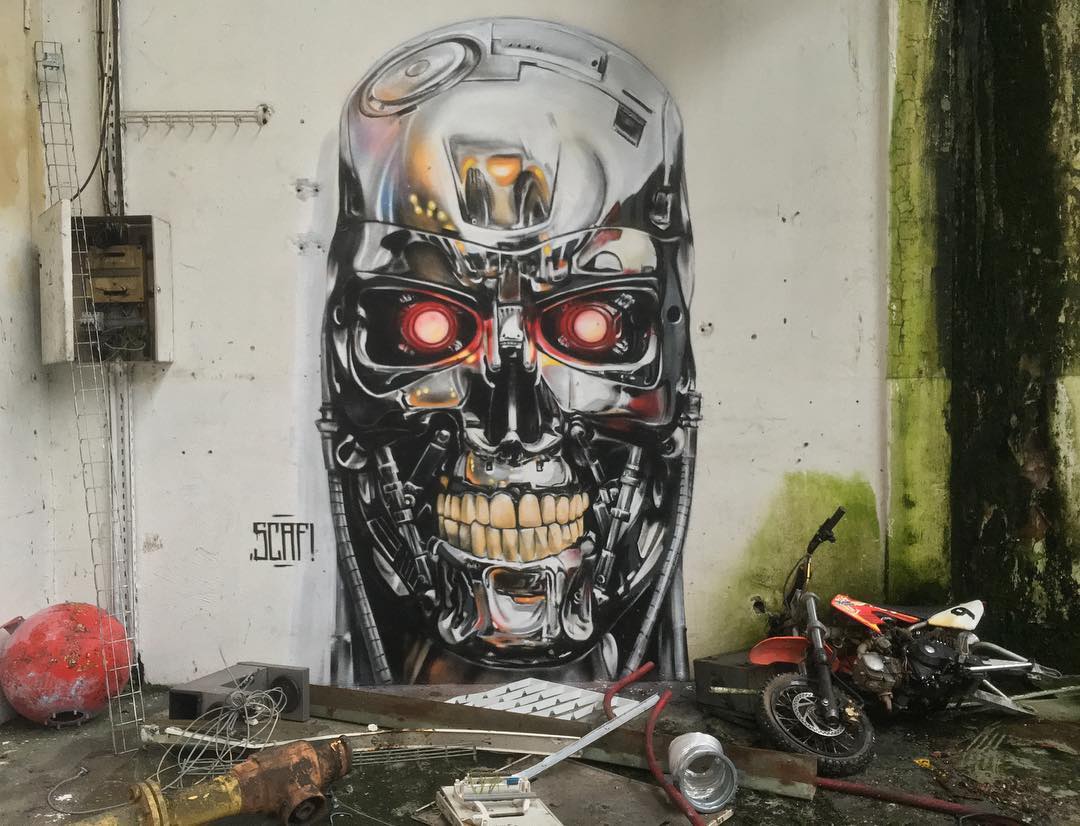 We might decide to watch this movie if Scaf is in it. For many fans, Judgement Day is one of the worst in the Terminator saga of movies.
24. Scafosaurus-Rex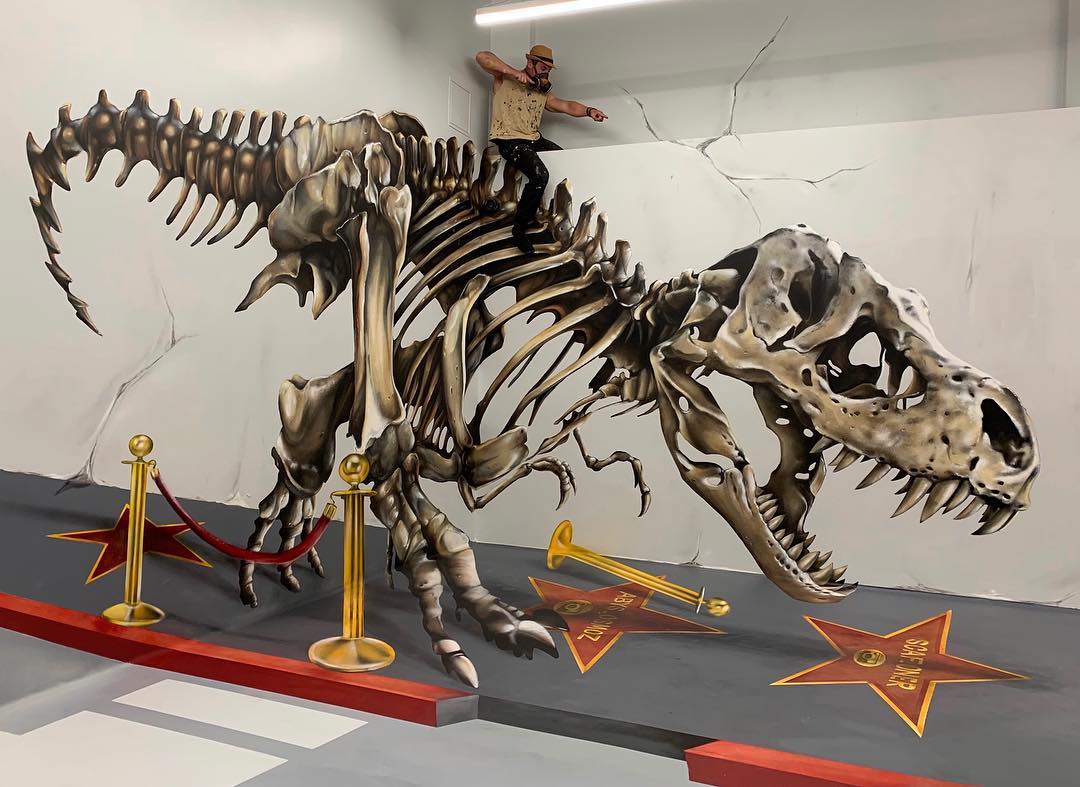 T-Rex definitely deserves a spot on the Hollywood walk of fame and the red carpet. Don't you agree? With so many movies featuring a T-Rex, it is just sad this dinosaur doesn't have a star on the famous street.
25. Hard Day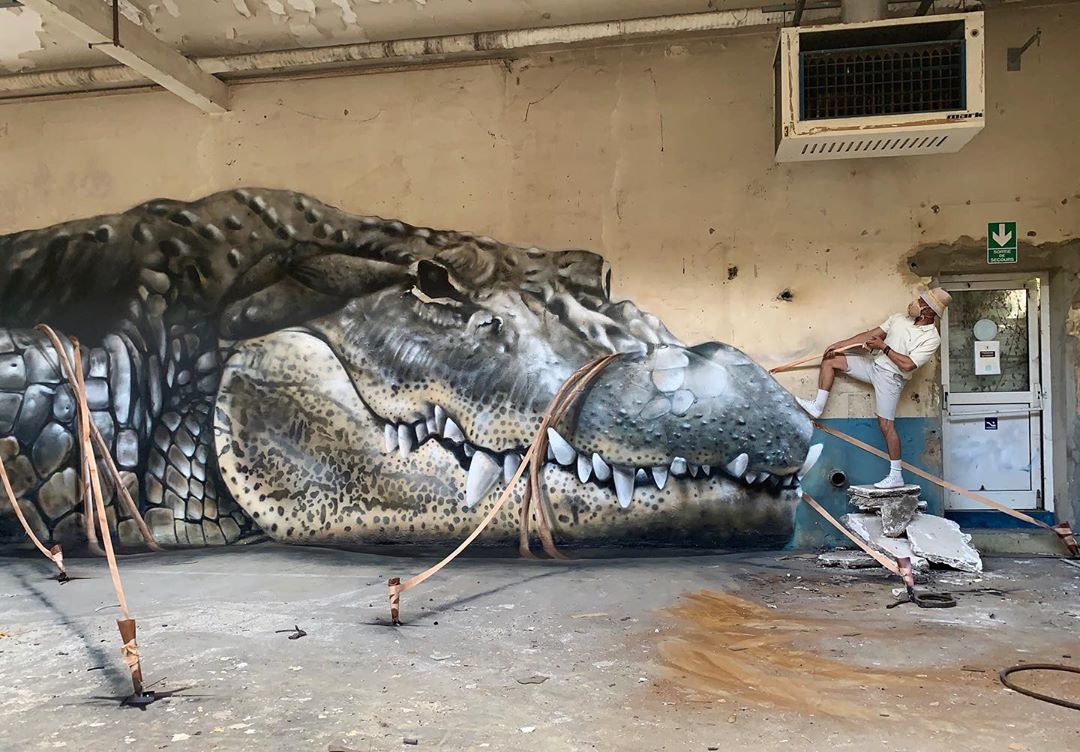 Here is another graffiti of wildlife in the urban jungle. But do not worry, Scaf is coming to the rescue. And nothing can stop this French artist.
26. Scaf-O-Fish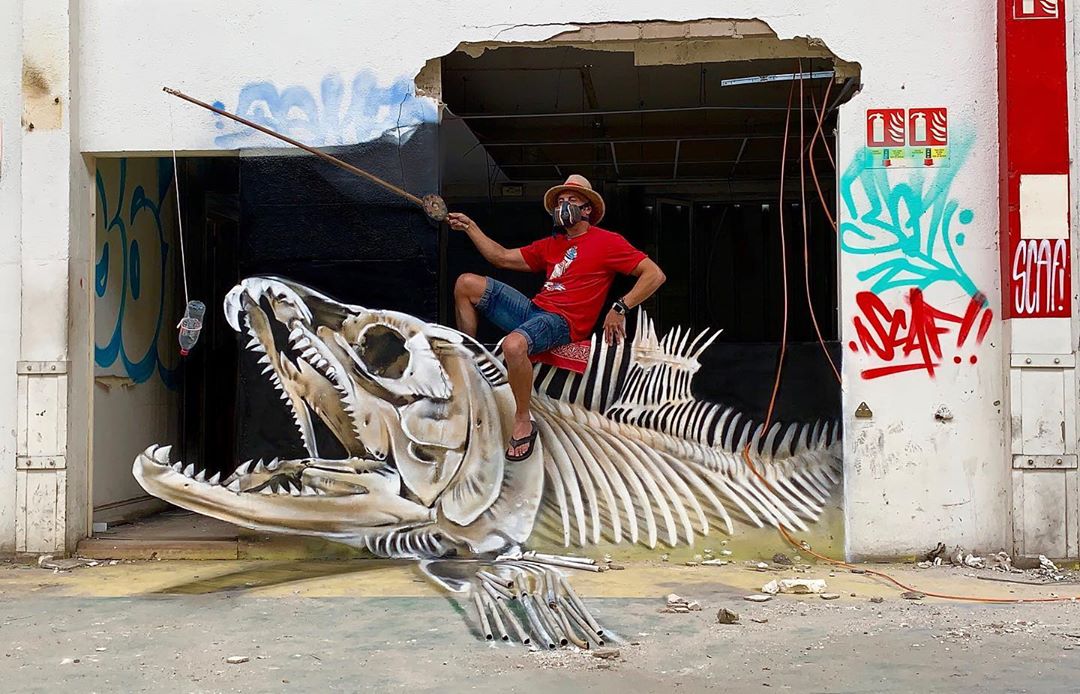 This is probably our favorite graffiti. It shows the artist riding an extinct fish species.
27. Smells Like Cheese Spirit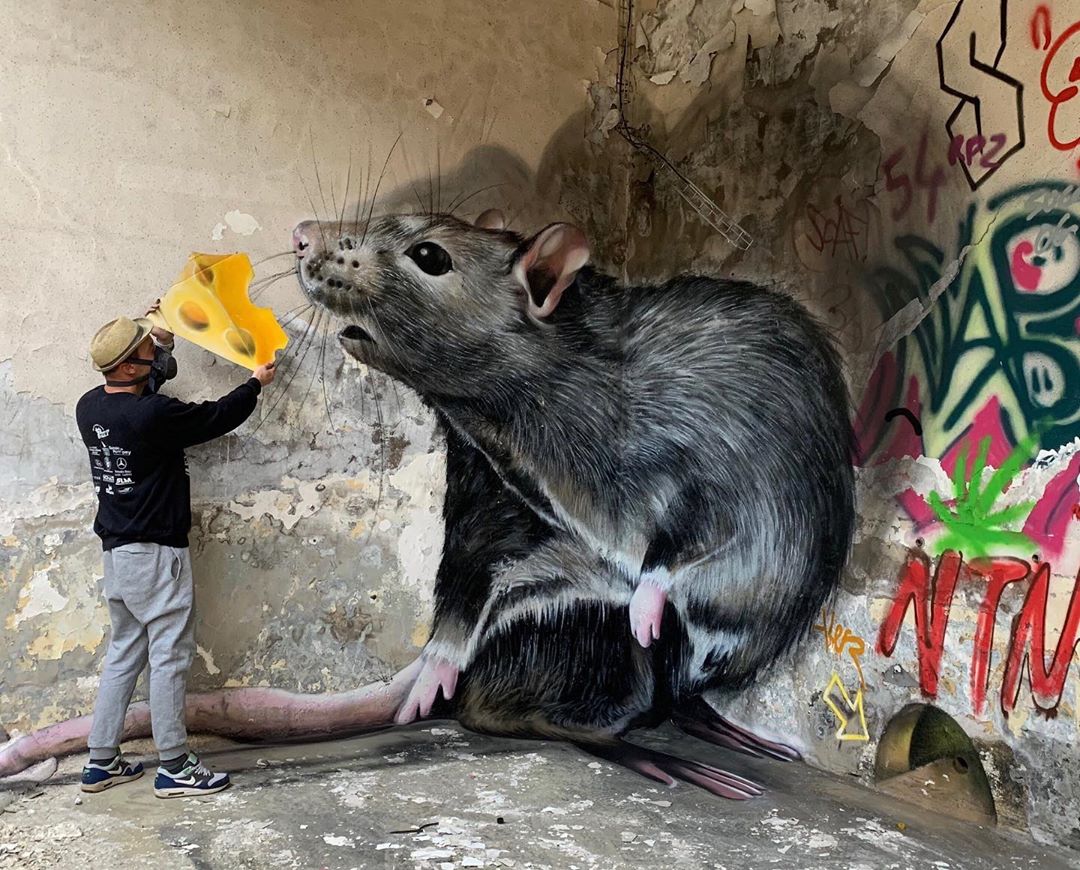 Let's finish off our life of Scaf graffiti with the artist finally taking care for the animals in the big city. After all, we had enough of him catching all the wildlife and bring them to the urban jungle. Here is Scaf feeding the big rats of New York.