One of the best perks about living in a house is the outdoor space that comes with it. There's nothing better than having a space where you can just relax, unwind and enjoy some outdoor time while still feeling that unique comfort that you are in your own home. And no house is complete without a porch. This little outdoor area, be it large or small, is your space that can be turned into an outdoor sanctuary.
No matter the size of your yard, when you live in a house, you spend most of your outdoor downtime on the porch. Depending on the size and the location, you have a range of possibilities on how to utilize and transform this space. Having a nice comfortable seat where you can sit back, relax and watch the world go by is a given, but it can also be turned into a fun space for a get-together with friends and family.
Since it is an outdoor space, most people might not think much about decorating the porch, since it is exposed to the elements, and who likes the hassle of having to put furniture outside which needs to be put away as soon as the weather changes? There are plenty of ways and options you can use to solve that problem and a variety of outdoor furniture options that you don't have to worry about if they're left outside.
In our list today, you can find a lot of fun options on how to decorate your porch to make it one of your favorite places in your home, and we are not talking about seasonal or holiday decorations. No matter the size or placement of your porch, we're sure that you'll like some of our ideas and find them useful to start your porch transformation.
Let's begin.
Black And White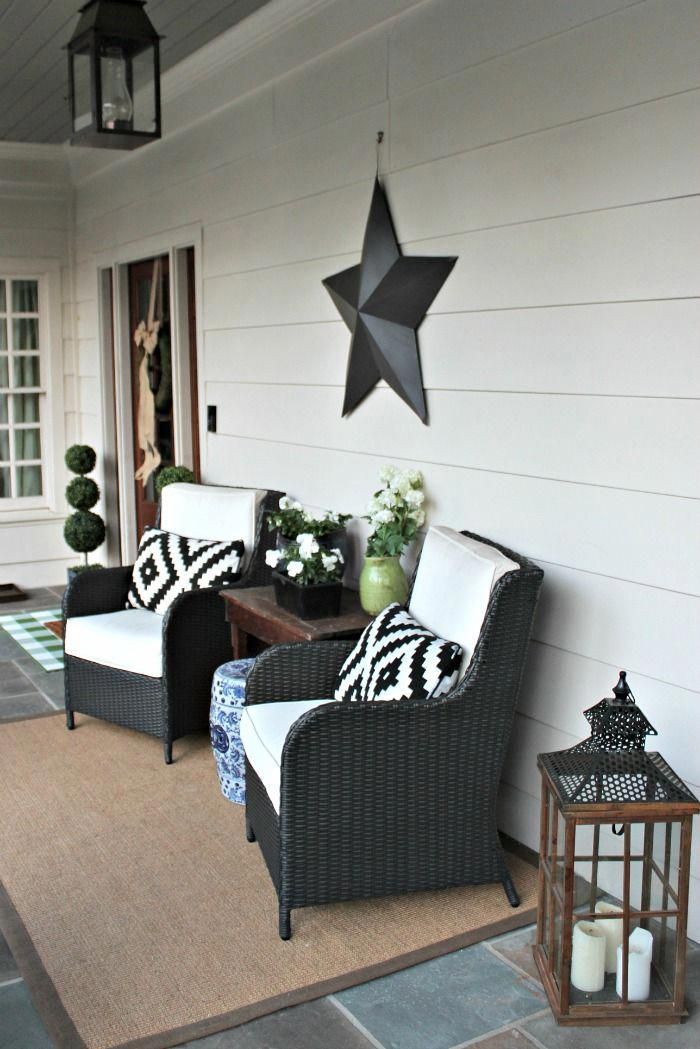 Black and white is a classic, timeless color pattern and is fairly easy to maintain even outdoors. Dark wicker armchairs with cushions in a fun pattern, a small table, and a rug make a nice cozy setup for a small front porch. For decoration, a nice wall ornament is a simple way to add that personal touch.
Boho Pergola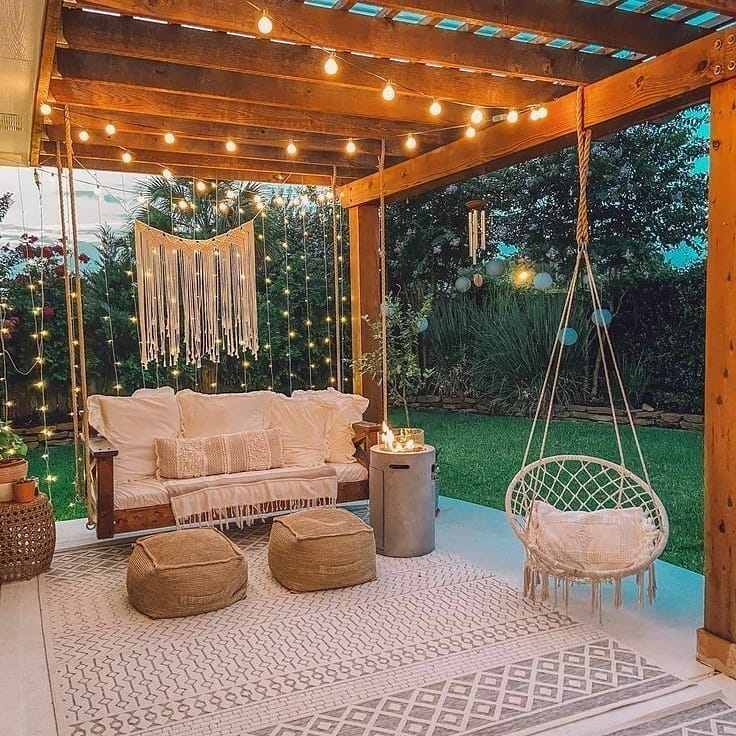 You can do more decorating when you have a larger porch to work with. Sometimes the construction can add to the decor. A wooden beam pergola is a lovely addition to the porch, illuminated with string lights for a soft, boho look, and adding to the relaxing experience, there's nothing better than a swing porch or a macrame swing chair.
Layered Porch With Beach Beds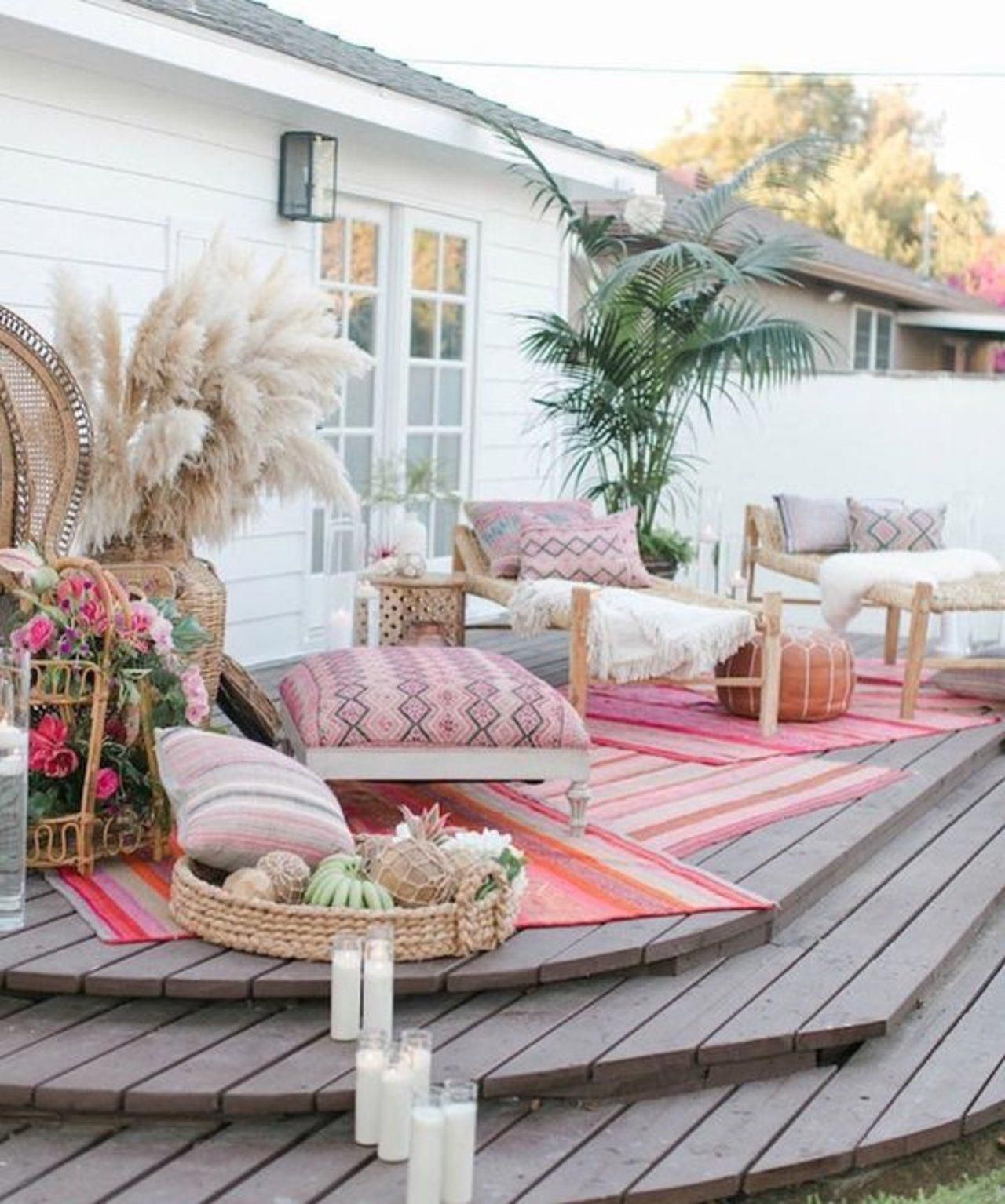 A large porch is perfect for laughing around in the summer and catching some sun when you can't do it on the beach. Padded bamboo beach beds, maybe even an ottoman, a coffee table, a rug or two in cheerful colors, and your summer chill-out area is ready.
Homey Tropical Look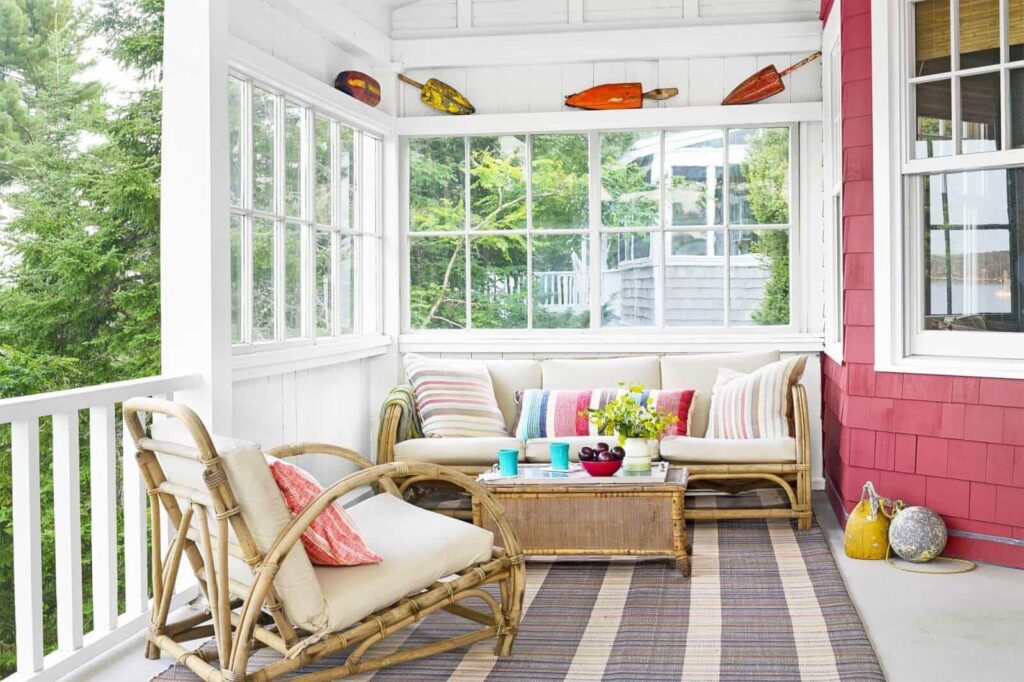 Bamboo furniture is a popular choice for porch decors like this set of bench, a chair, and a table. Another thing to consider when making a comfortable porch area is shading or separators. Closing off a part of the porch with windows offers you protection from the elements while providing natural sunlight.
Porch Pond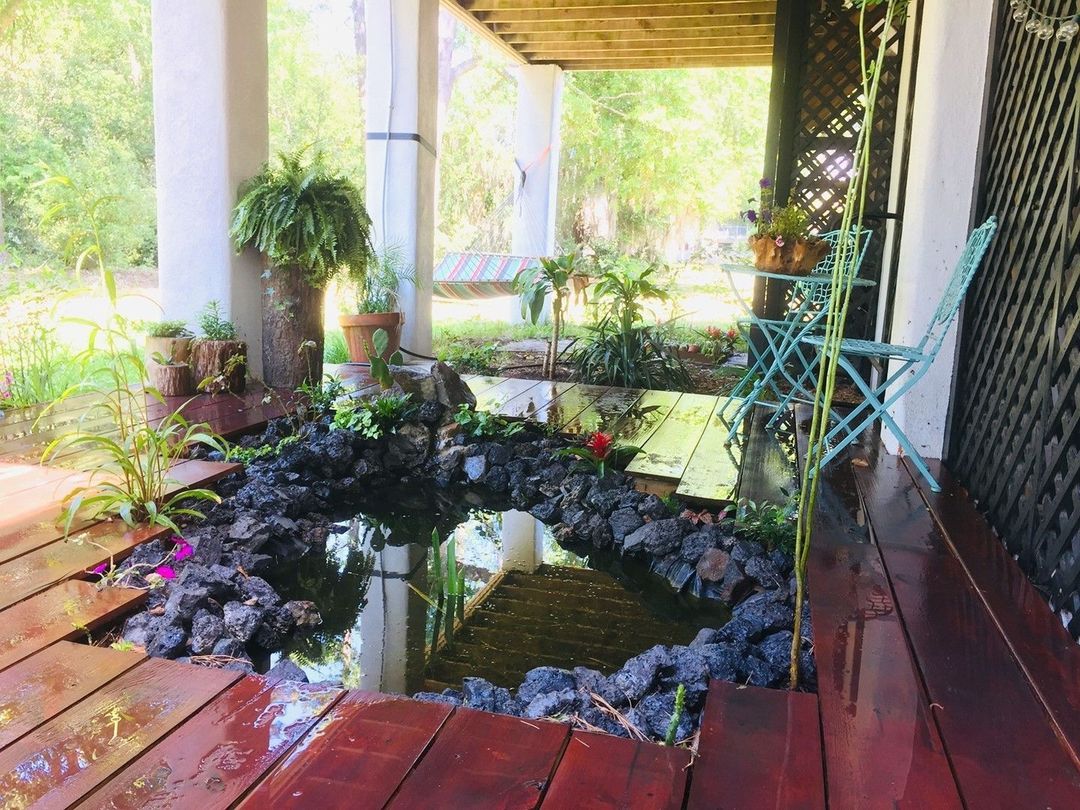 A small pond is usually something you landscape into the yard, leaving the space on the porch free for sitting around. Yet, sometimes the pond can be further away to enjoy it, so having it inside the porch does make sense. Get that zen experience and enjoy gazing at that calm water surface from the comfort of your porch.
Wooden Screen And Plank Bench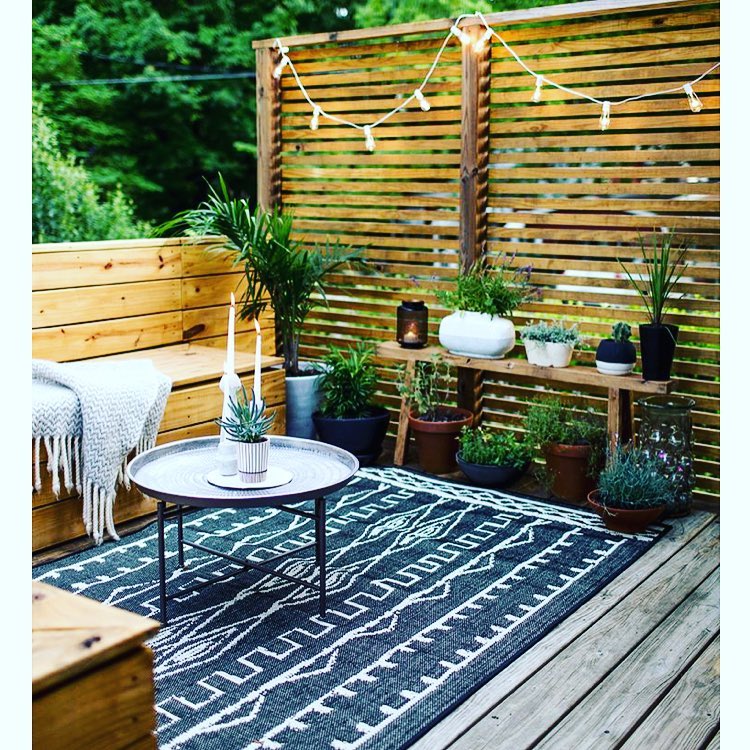 Railings don't always provide much privacy or cover, so some blinds or screens can come in handy. Wooden screen wall gives you sufficient privacy and lets the light in, while still making the porch look like part of the outdoors and not the indoors. Full bench from planks, some nice potent plants nearby, and a simple patterned rug to make for an inviting outdoor design.
All You Need At Hand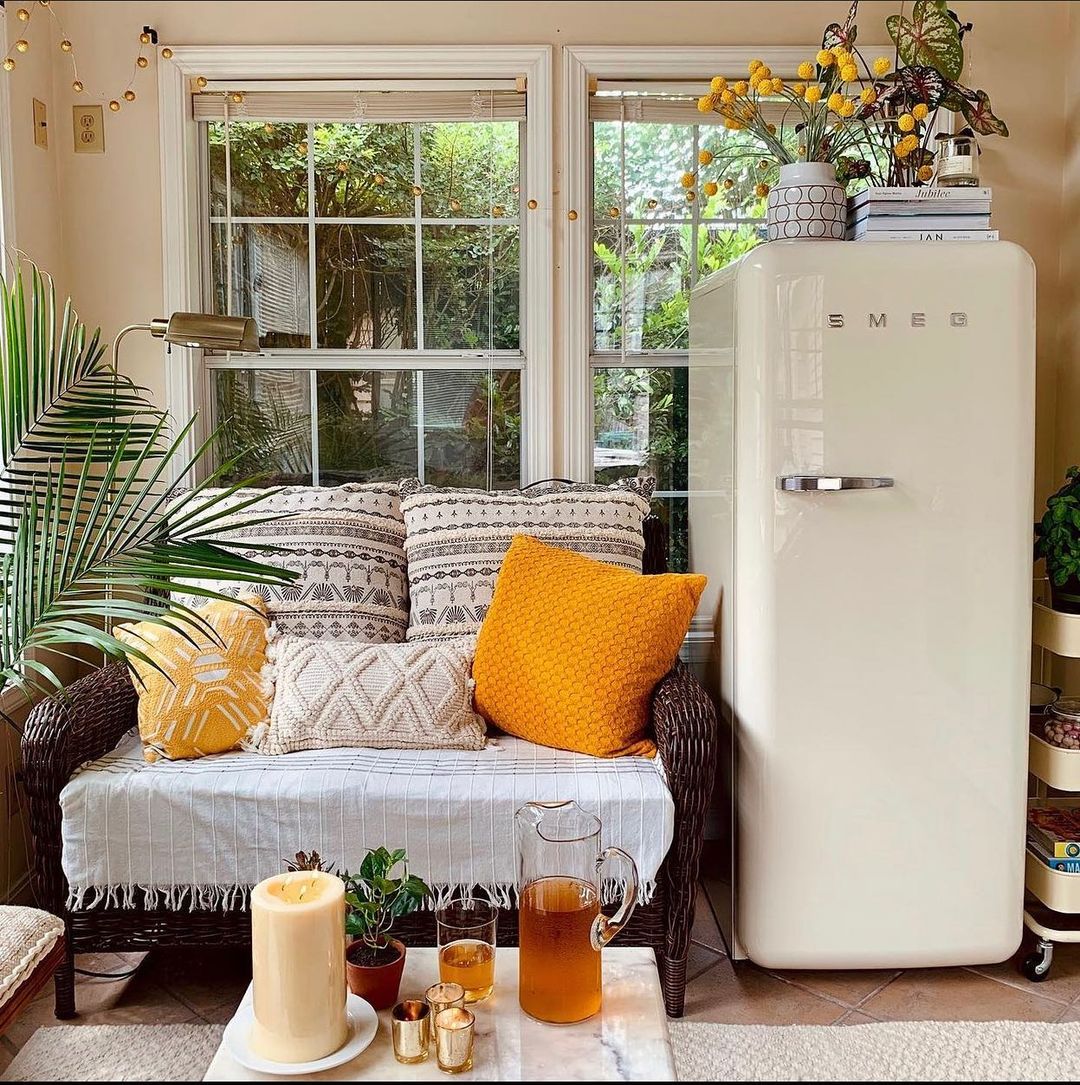 When you spend a lot of time on the porch, having quality fun time with friends, especially on hot summer days, no one wants to get up from their comfortable position to get the next round of cold drinks. At those times you might wish for a fridge nearby, right? And you can have it, or at least a nice ice chest.
Painted Porch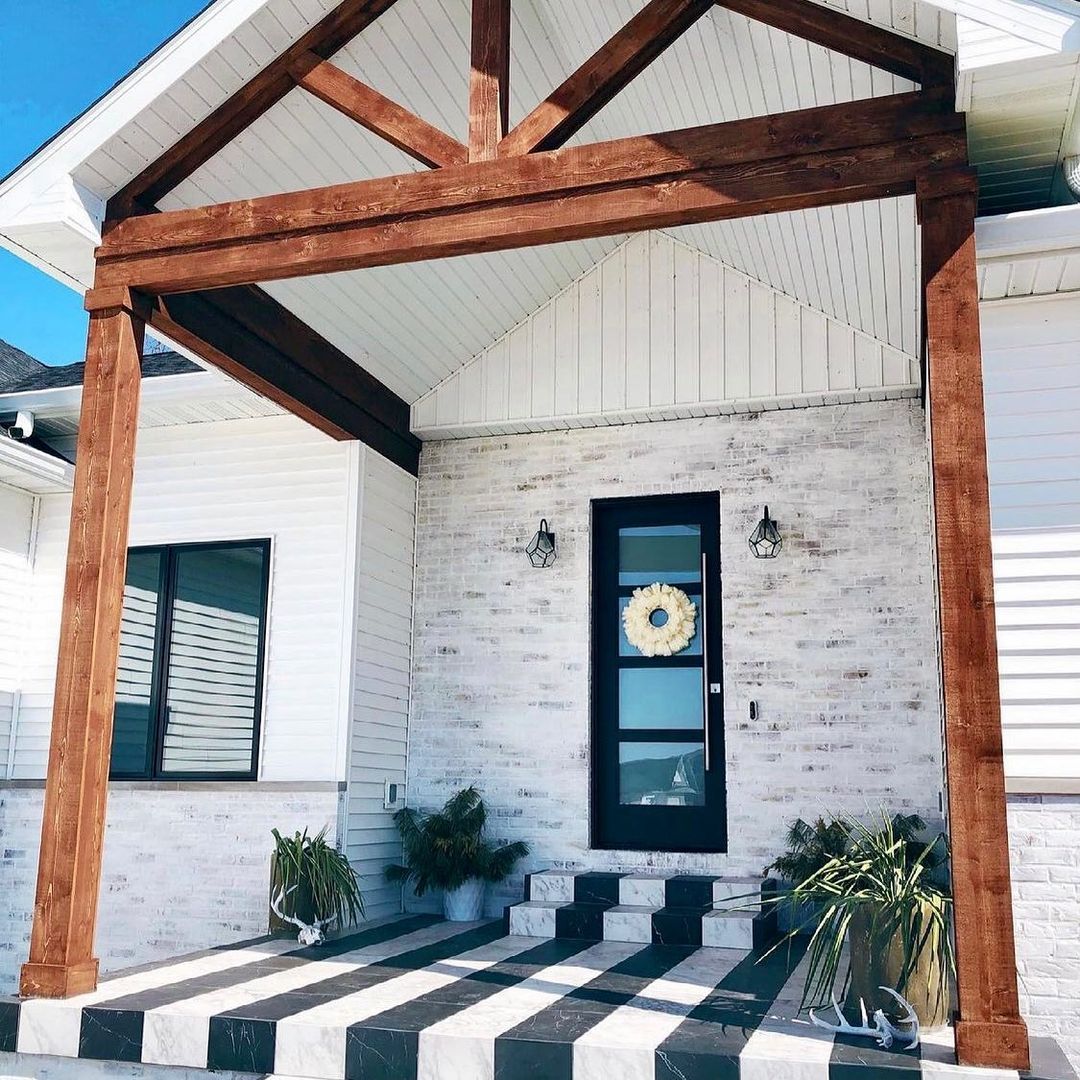 Small front door porches don't usually have enough space for a single chair, let alone an entire sitting area, and you might find them more useful for placing some shoe storage instead. You can still have a nice decorated porch, by making a lovely painted pattern or covering it with materials such as weed or marble.
Tiki Touch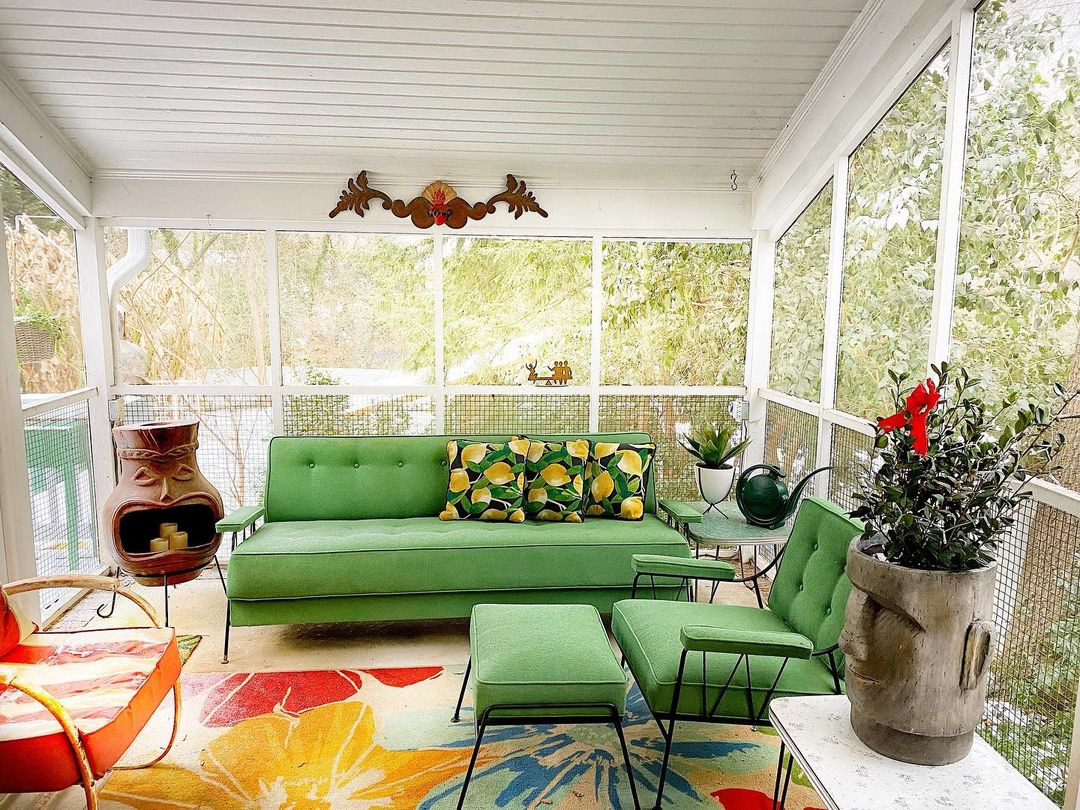 You can choose a theme for decorating and go for it. Whatever you like. This tiki-inspired porch decor with lovely vases and green furniture will give you a piece of that island/jungle feel to the house.
Corner Pallet Bench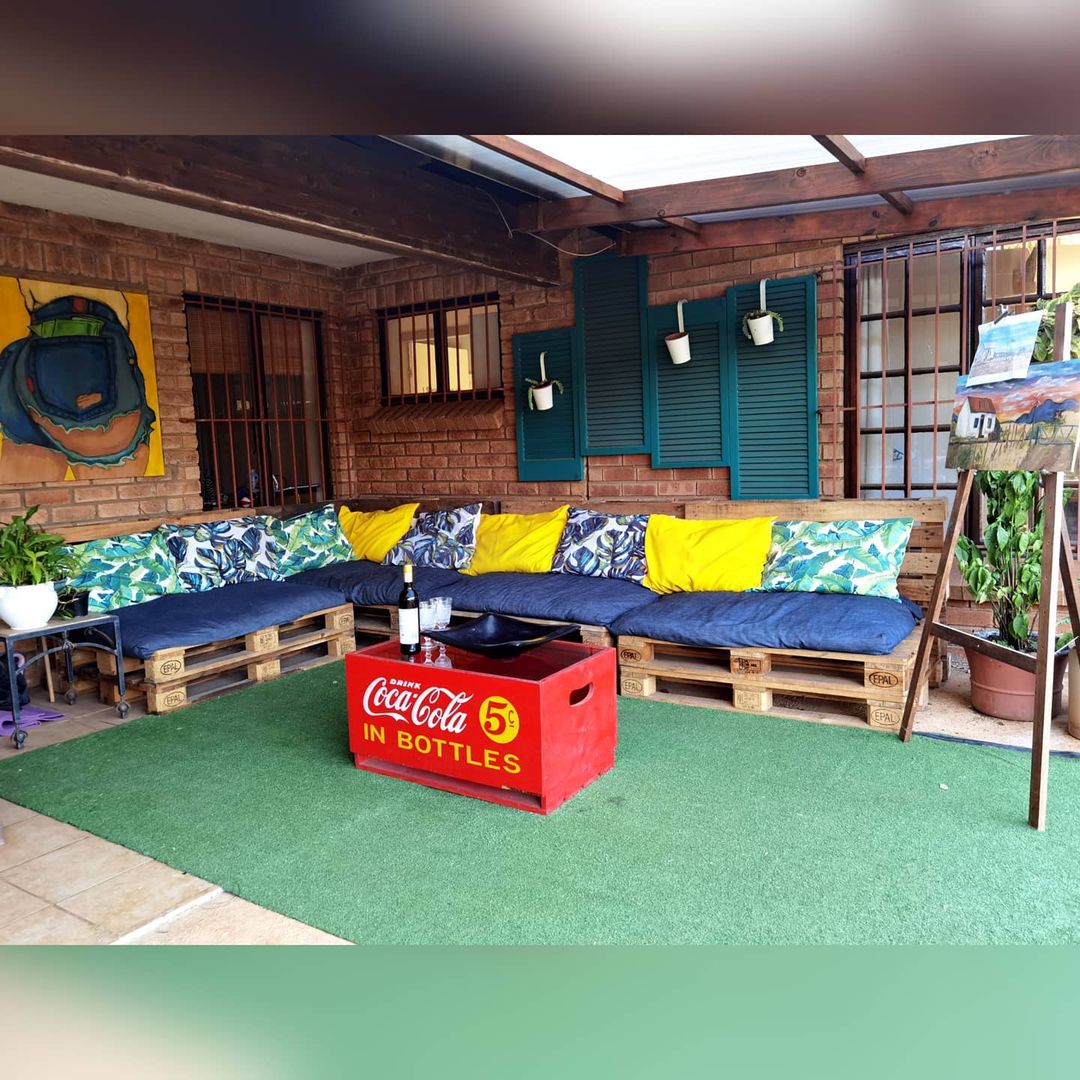 Pallets are very versatile and affordable, making them a perfect choice for a lot of home improvement projects. You can make a large L-shaped sitting area for a lot of people with some pallets and cushions, and the best part is that you don't have to worry too much if they get damaged by the elements. And while we're on the topic of repurposing, some repainted old shatters make a perfect outdoor wall decor and even plant holders.
Swing Bench For All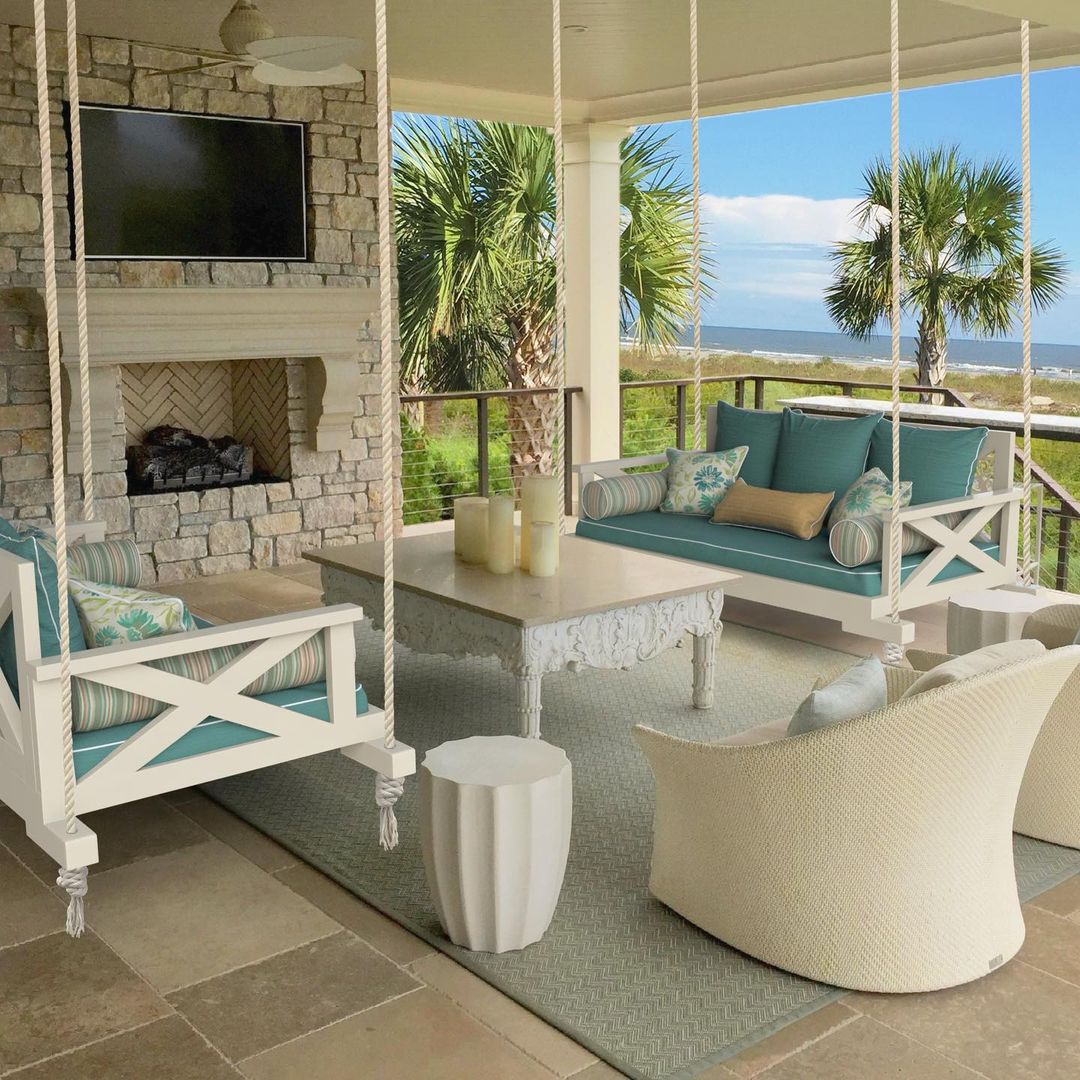 Everyone loves to relax on the porch on the swing bench, no matter how old you get. People usually get only one for the porch, but two is even better. Face them against each other, put a table in the middle and everyone can enjoy in a soft back-and-forth motion while having a cup of coffee.
Modern Rustic Porch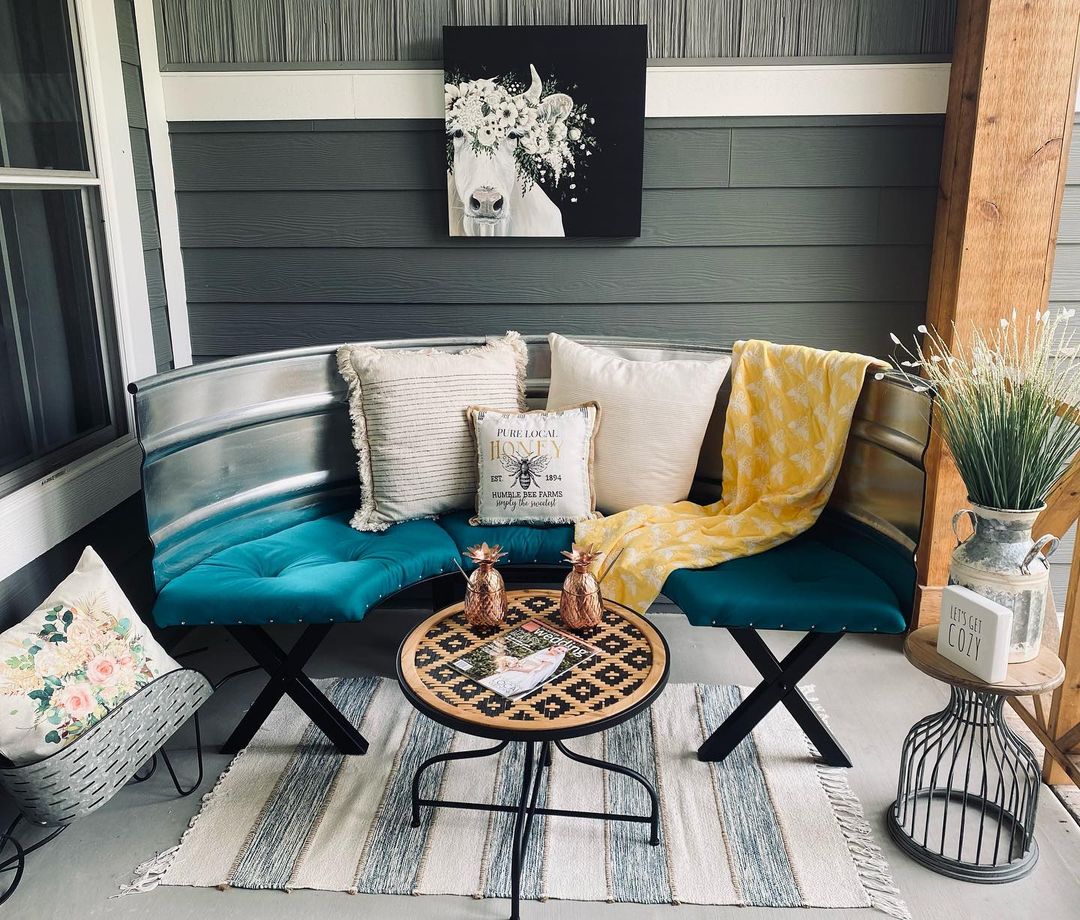 It's always fun to incorporate something new and modern into your home decor, and while porch furniture is limited to several styles and materials, you can always find something interesting. This crescent seating that's made from wood and tin shit, or half a metal barrel will certainly make a statement for your porch decor. And is very comfortable and durable, too.
All Gardened Out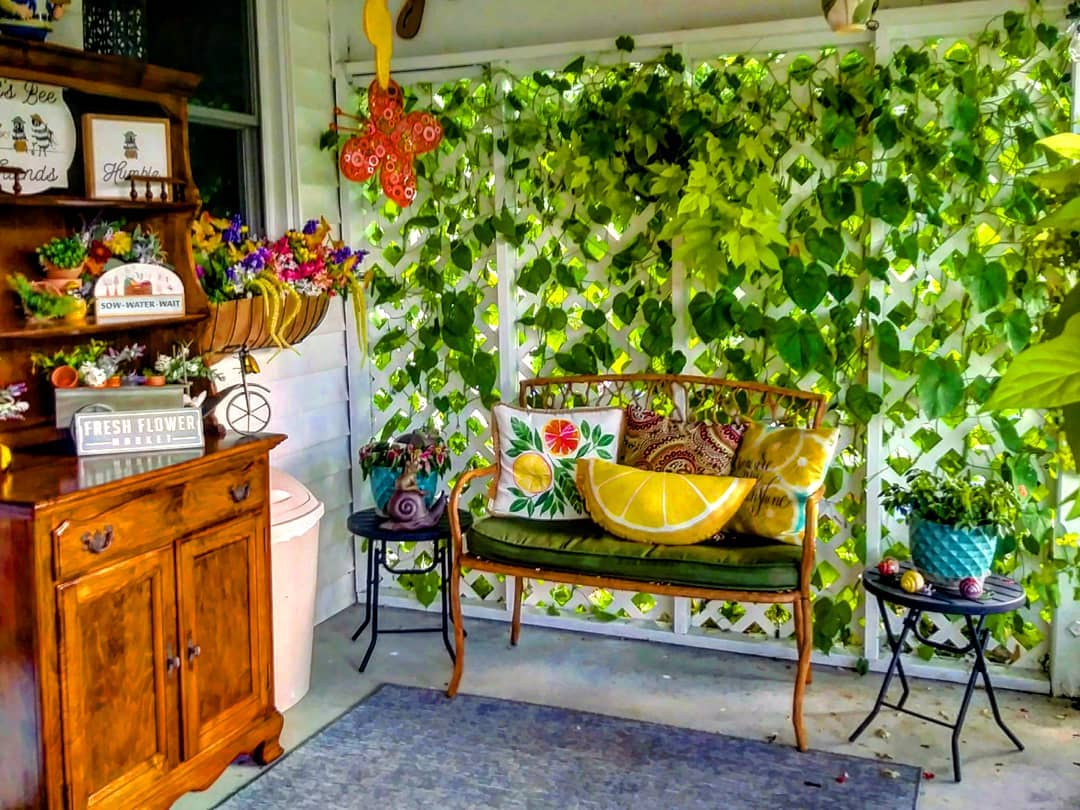 Those of you who love gardening will certainly appreciate this porch decor. Why should the garden stop at the threshold? Place a trellis on one end of the porch where the vines can freely grow and cover the wall, and add some warm rustic wooden furniture with warm hues.
Luxury Oasis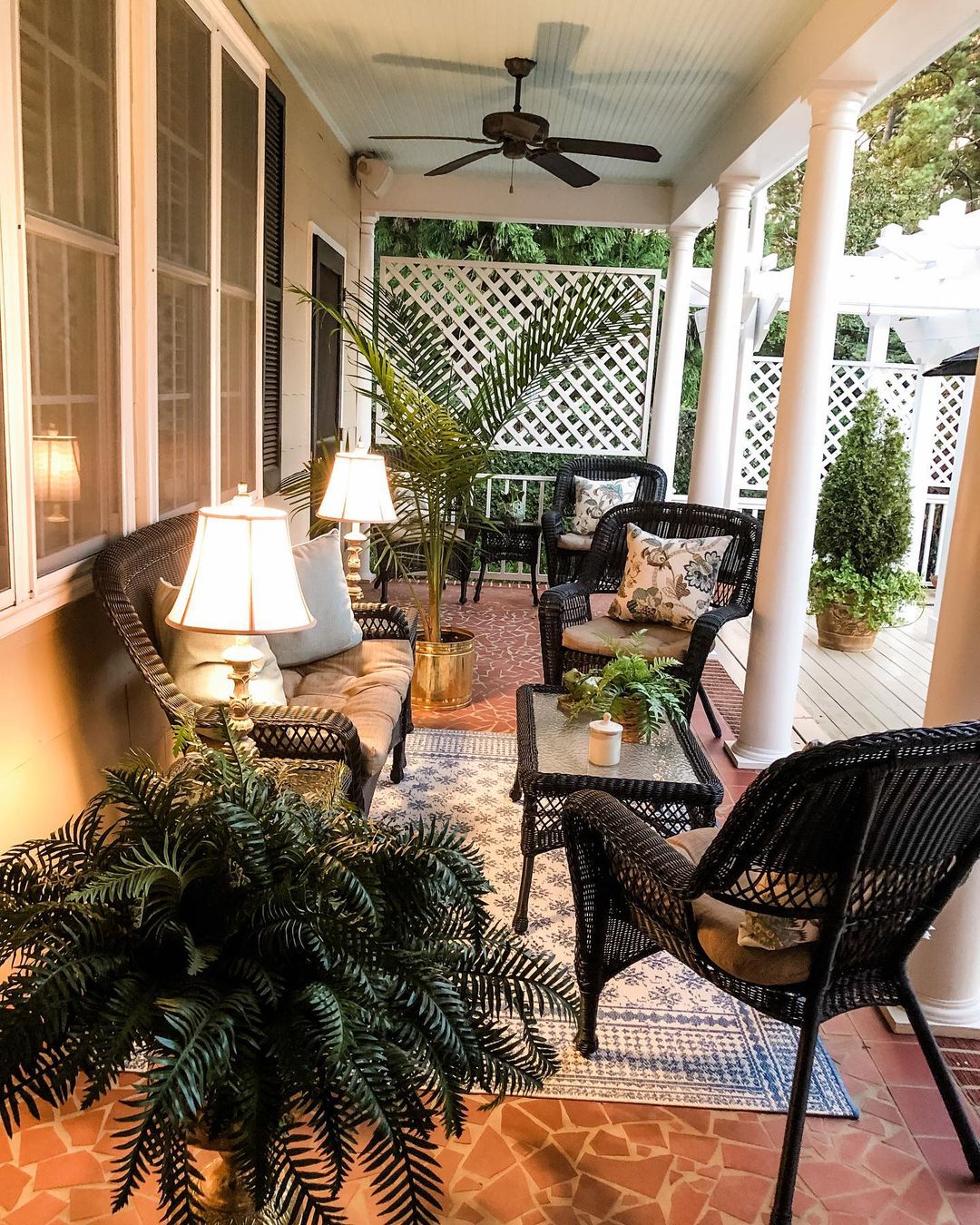 Speaking of plants on the porch, you can create a real tropical oasis if you want to, where even the wicker furniture can look chic and luxurious. It's all in the setting, color choosing, and a few touches, like a small table lamp with lampshades, and for the greenery, you can go with fern plants.
Always Warm And Welcoming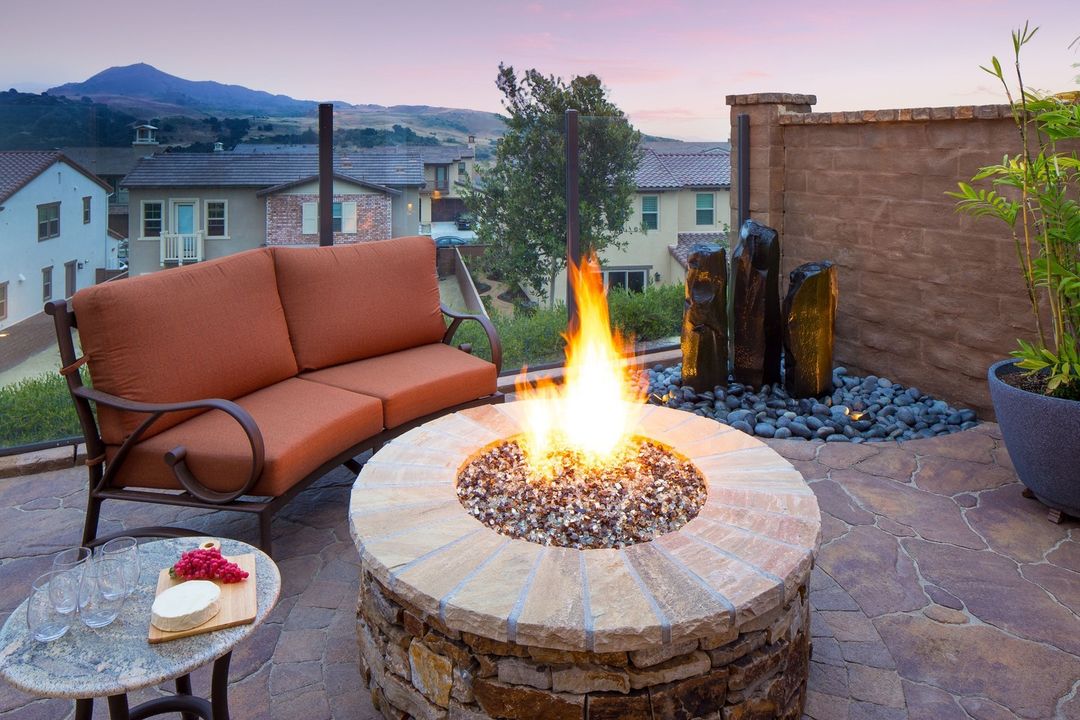 Sometimes it gets chilly in the evening, but you're not ready yet to go back home. Adding a small fireplace to the porch is certainly a perk you'll find very useful, and it adds to that pleasant, calming evening atmosphere.
Wooden Cabin Style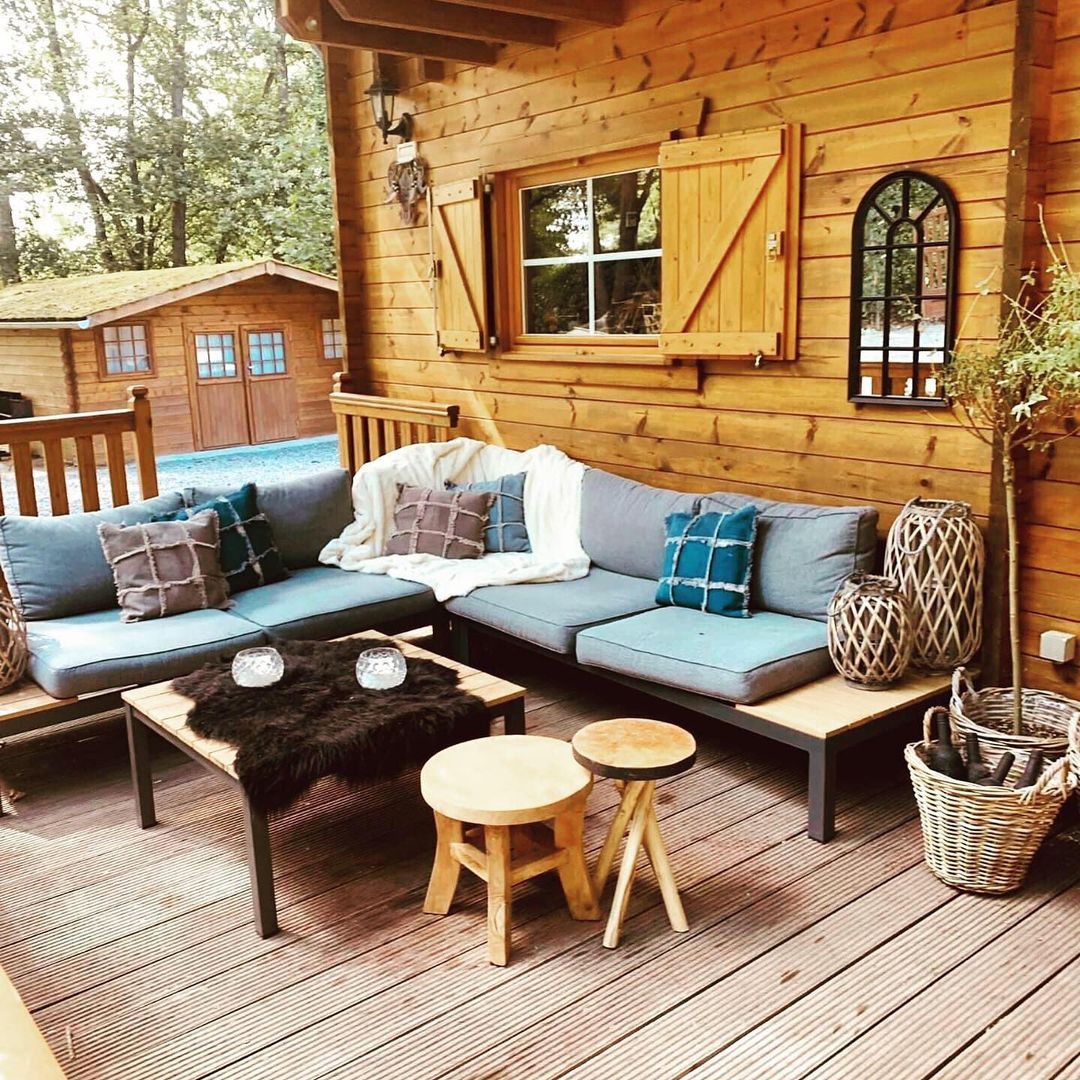 We would all like to get away from it all for a while, but we can't always go to a cabin in the woods. But we can bring the wood cabin style to our porch. Wooden siding along your porch, and you can even add shutters on the windows for good measure, some simple industrial style furniture for the seating area, and it will be just like in you're up in the mountains.
Curtains And Lights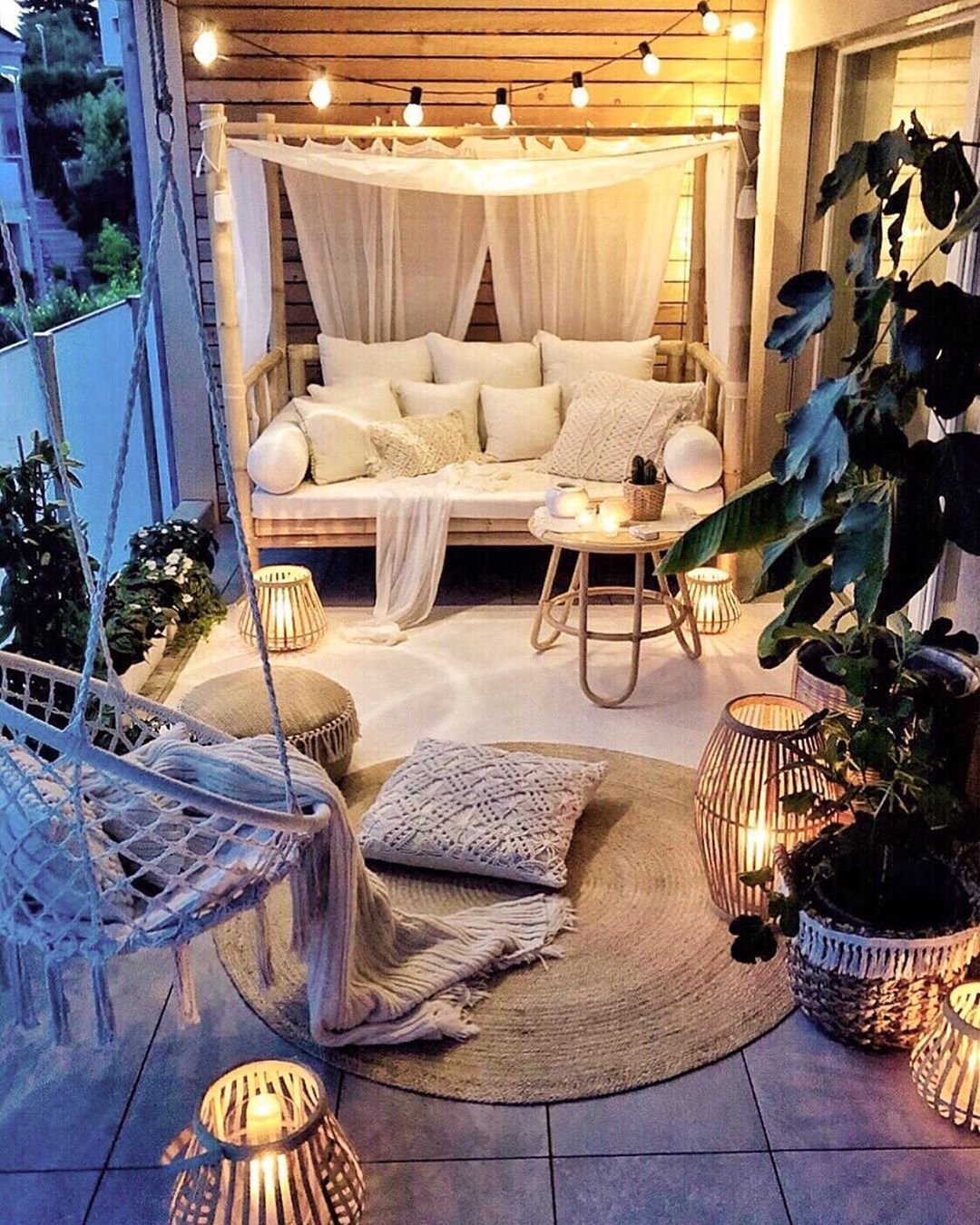 Simple additions can make a great difference sometimes. Even if you don't have the right furniture pieces for a certain style, you can still get the desired look by adding small elements, like white curtains above your bench, some string lights for a soft, calming mood, and even a few throw blankets. It's not what you've got, but what you do with it.
Covered Industrial Style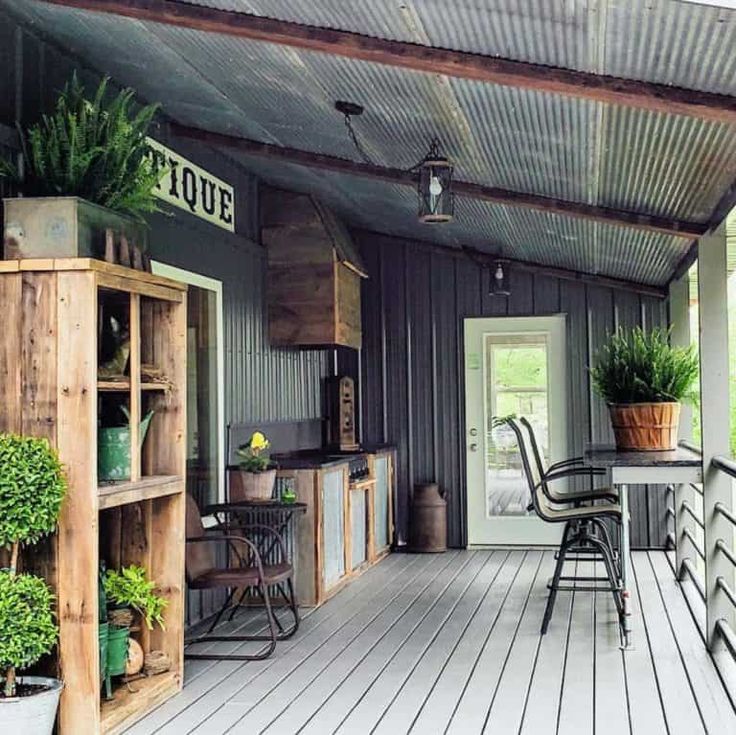 Practical, manly, and functional, this porch will accommodate everything you need for your backyard activities. A bar counter for sitting and gazing at the yard, a small barbecue or stove for backyard parties, and a place for your gardening tools. The dark gray paneling and a metal patio cover give out that old-time industrial vibe.
Rocking Chair Rustic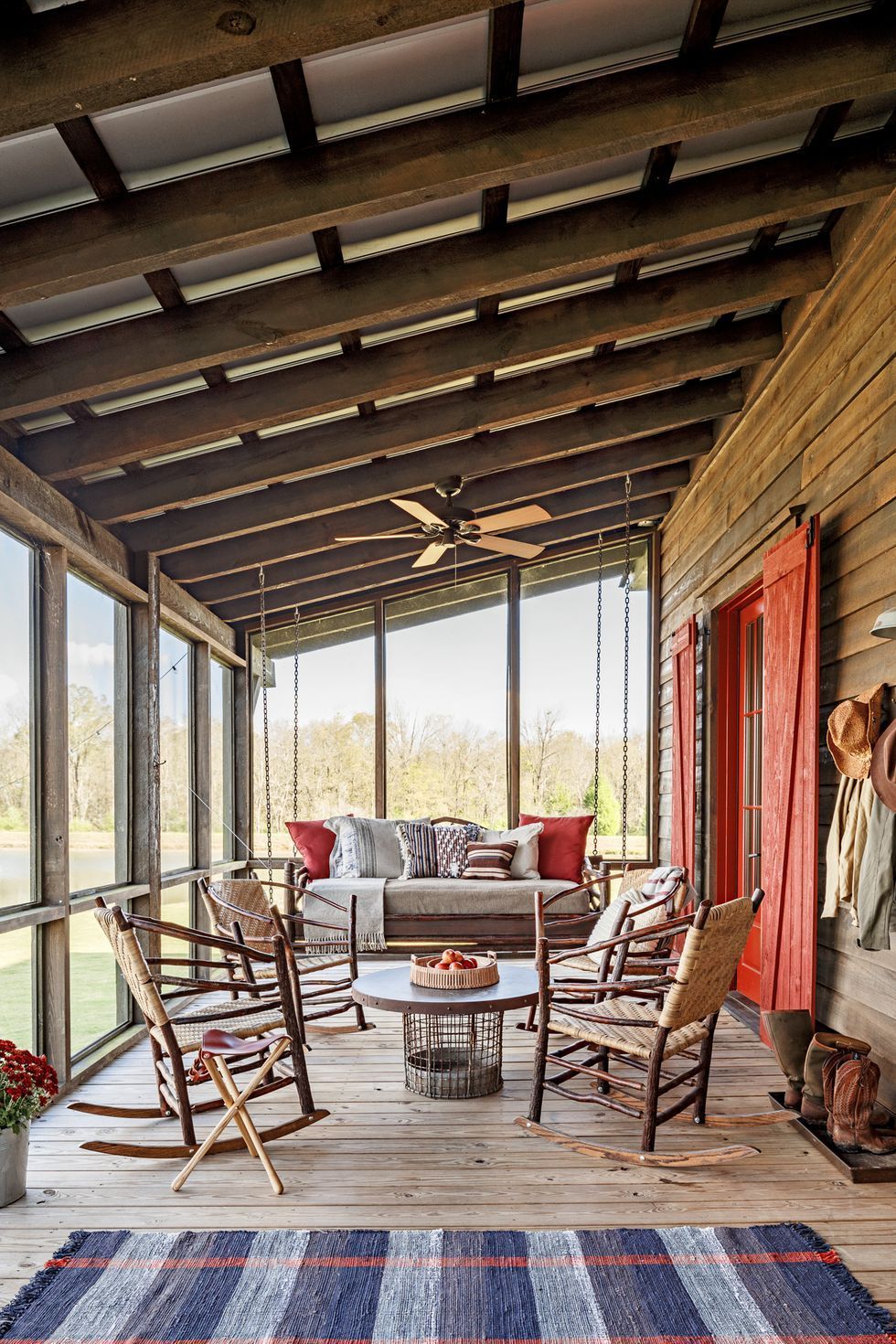 Rocking chairs have always been the staple of front porch laughing, so we just had to end our list with a setup that makes you think of old western homes and lazy nights gazing at the stars. This closed porch will certainly become your favorite place to spend your downtime, all year long, since you can easily add a small heater for the colder days, and a ceiling fan for those hot summer days.
We hope you've enjoyed our list of porch decor and ideas, and that you got inspired to spruce up your porch as well. What would your ideal porch look like? Share us your thoughts and ideas in the comments and always find time to just sit back and relax.