The bedroom should be your sanctuary. A place you feel most comfortable in, where you can rest and unwind after a long day. Comfort should be that main feature in the bedroom, meaning a suitable bed, closets, and dressers for your clothes and maybe a night table or a vanity if you have room for it. What most people don't pay much attention to in a bedroom is the decor. Of course, you might look for certain types of furniture or covers and bedding to make the room more pleasing, but there are other ways to make your bedroom special.
Wall art is a simple way to brighten up a place that doesn't take up too much space. Pictures and frames are all well and good, but honestly, thanks to our phones and the thousands of pictures we have on them, hanging pictures in our home is becoming a thing of the past. Art and paintings can be quite expensive, and sometimes we get bored of the painting or it just doesn't match the decor anymore once we decorate. So how do add the decor to the bedroom?
Accent walls are quite a popular decor feature and they can be created in a variety of ways, from painted murals or shapes to intricate designs from different materials. They add a certain dimension and aesthetic effect that can't be accomplished by simple decor pieces. With that said, let's take a look at some amazing accent walls that can transform your bedroom.
Rhombus Mosaic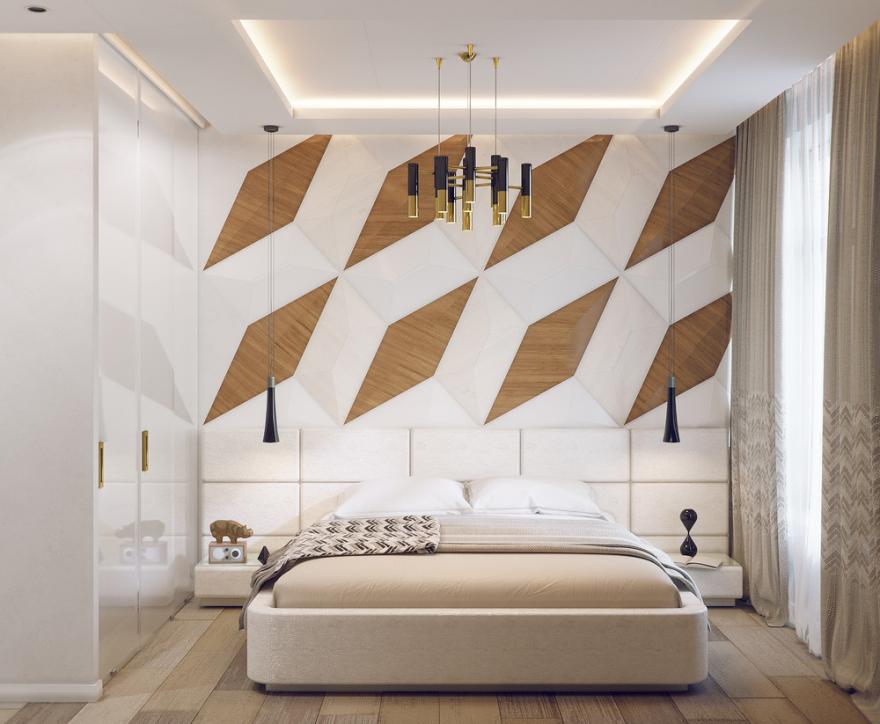 Paneling is becoming more and more popular for accent walls, and you will see why. The patterns and designs you can create are nothing short of amazing, like this white paneling with wooden rhomboid design, giving you a luxurious modern look.
Terracotta Diamond Accent Wall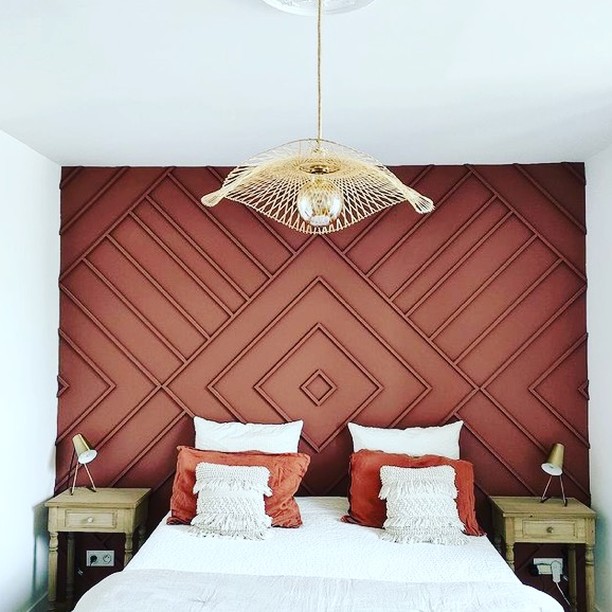 You don't have to use entire panelings to create a 3D effect on your walls. You can arrange some moldings in a fun pattern and paint the wall in one or multiple colors. This terracotta diamond pattern is a great example of what the end result might be.
Large River Stone Accent Wall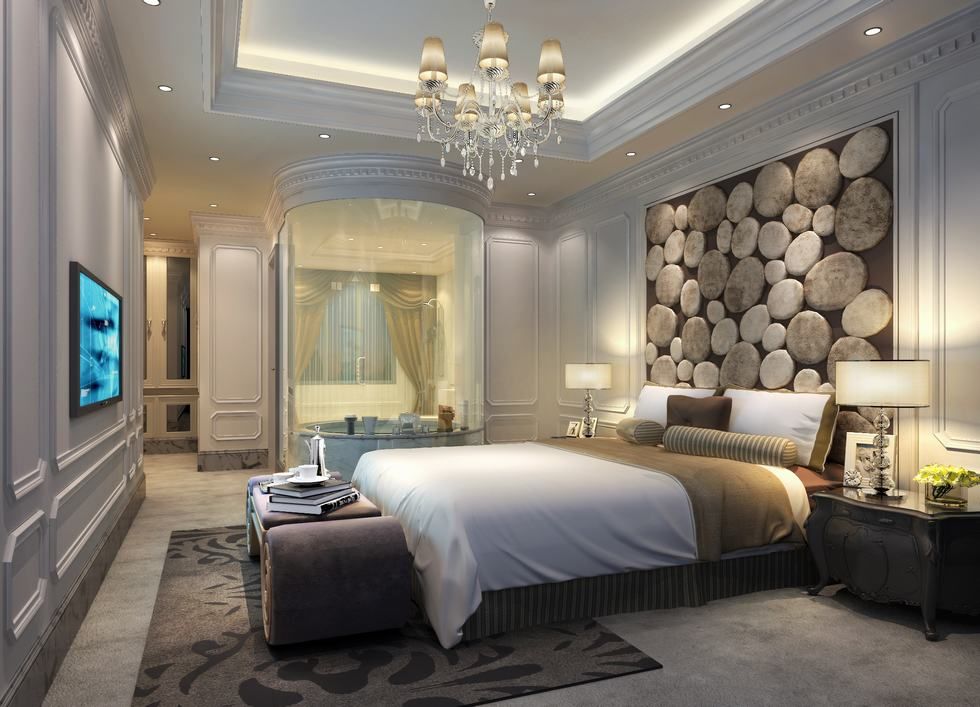 Wainscoting is a lovely way to decorate and protect the walls, and if you have large panels, you can make an accent wall by filling in one of the sections with large, flat river walls. It gives out a calming, earthy vibe to the room.
Wide And Narrow Board Accent Wall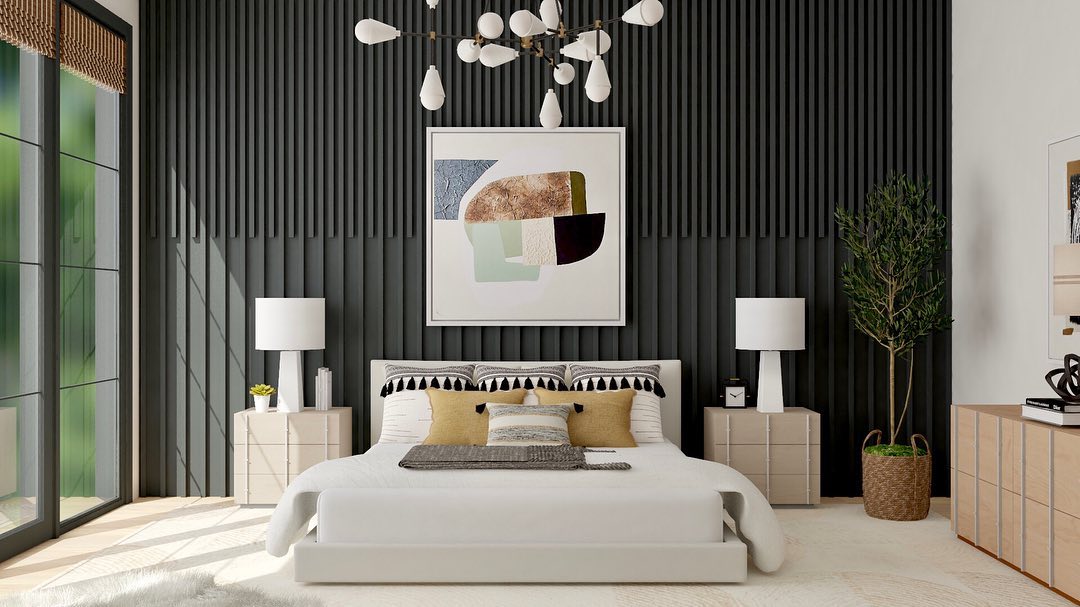 Dark walls should only be used in rooms with a lot of natural lighting, otherwise, it will close off your room even more. This accent wall has a modern look, with narrow and wide boards separating in the middle of the room. It makes the room appear wider, yet cozier.
3D Honeycomb Accent Wall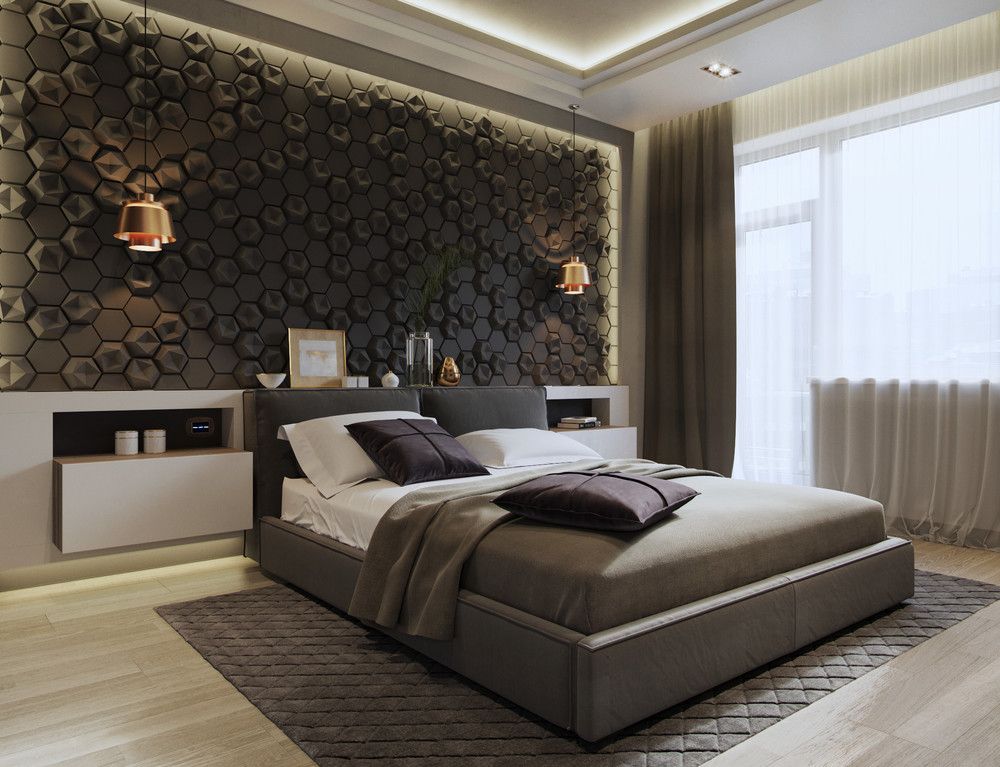 This honeycomb pattern with protruding pieces is a wonderfully modern design, and some might agree that it might look even better if it's in a brighter color. It still looks amazing, giving a more masculine look to the room, and here we also see a way to get those darker walls and keep the room sufficiently illuminated. Installing LED rope lights along the edges of the wall compensates for the dark color, and it will work great for other designs or darker rooms as well.
Stripe And Mirror Accent Wall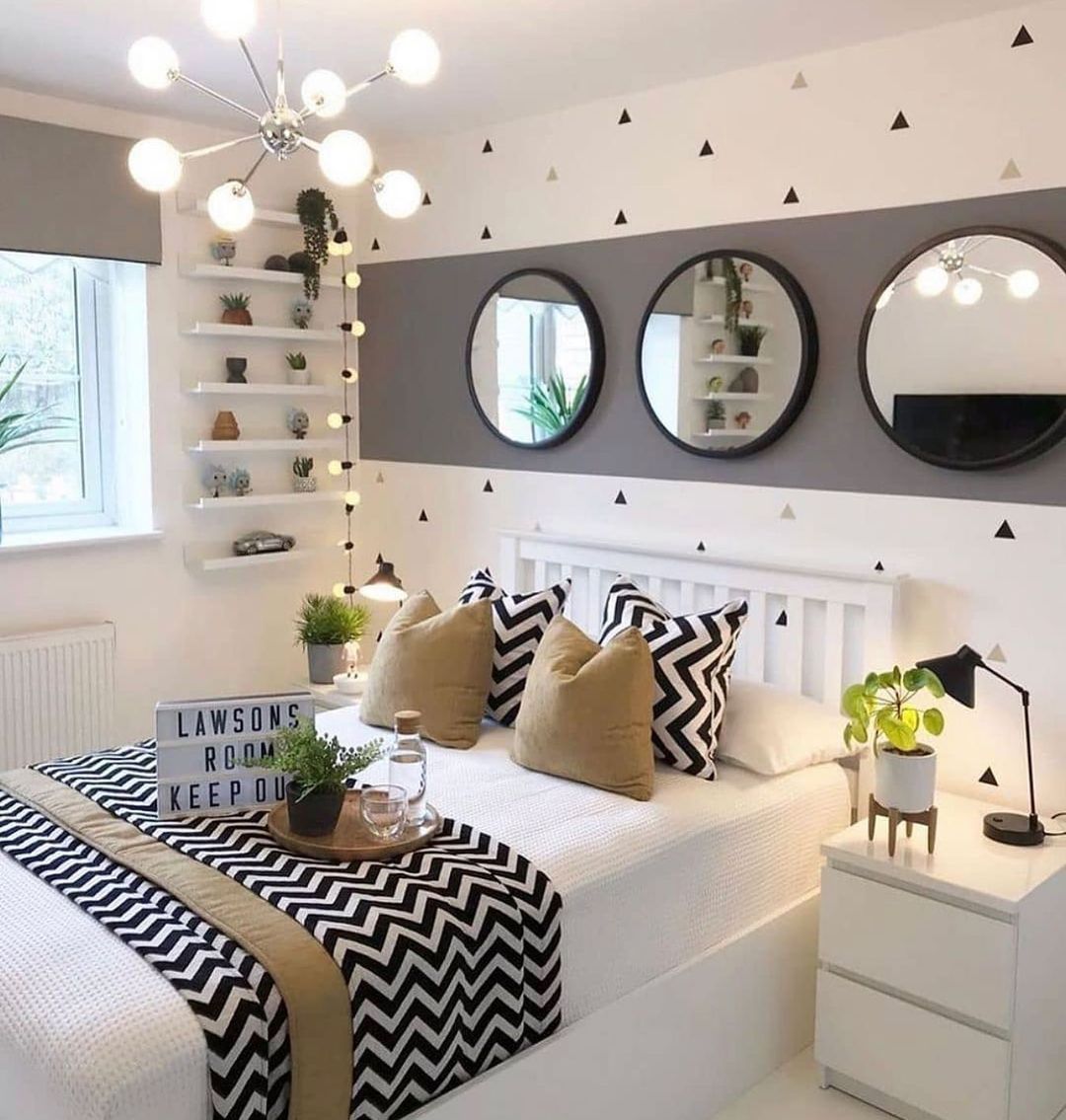 You can optically alter the size of the room just by painting the walls, making it longer or shorter, darker or lighter. Painting a horizontal stripe divides the room, making it appear lower and wider, and you can make it more interesting by adding some fun shapes on either side and placing mirrors on the stripe line to open it up even more.
Block Hues Accent Wall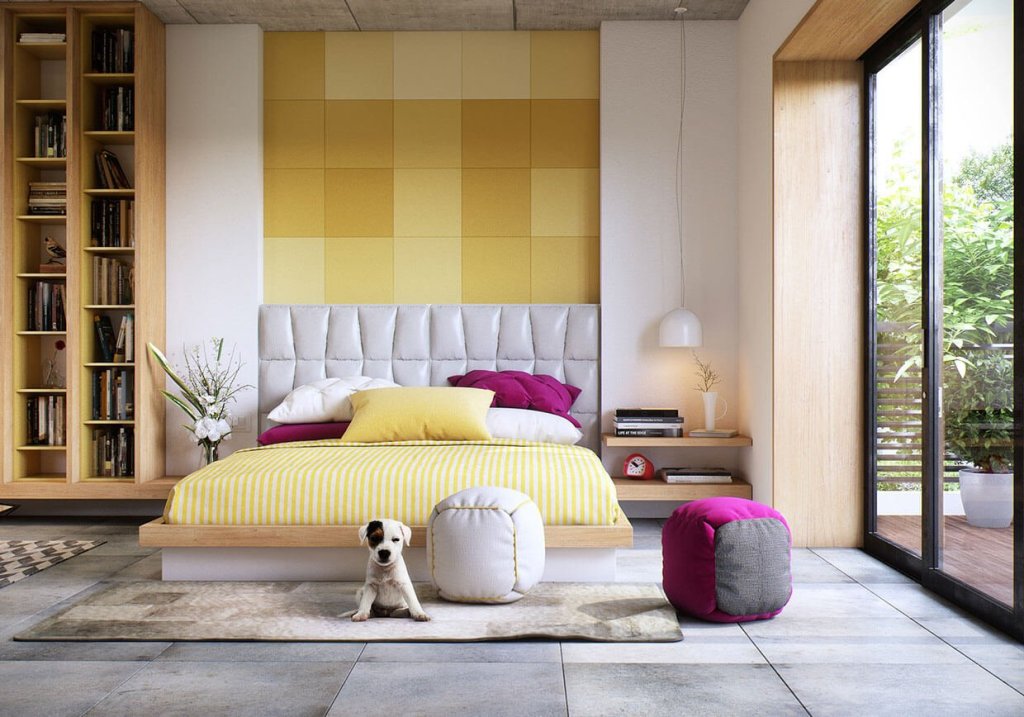 Color blocks are easy to make and arrange on your wall and you can use a variety of materials. Depending on the color you choose you can set the mood in the room.
Wallpaper Accent Wall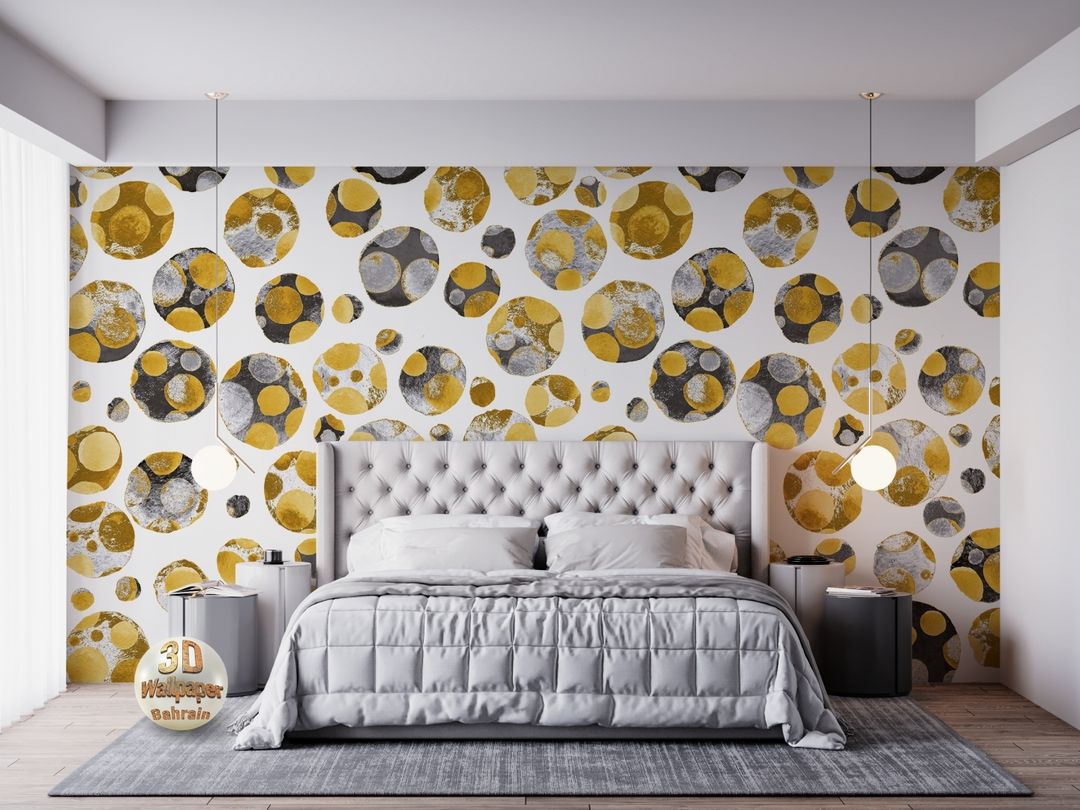 When in doubt, you can always go for creating an accent wall with wallpapers. There are a lot of companies that offer custom designs of your choice or you can pick up a pattern that's already available. Put it up and enjoy, simple as that.
Triangle Mirror Accent Wall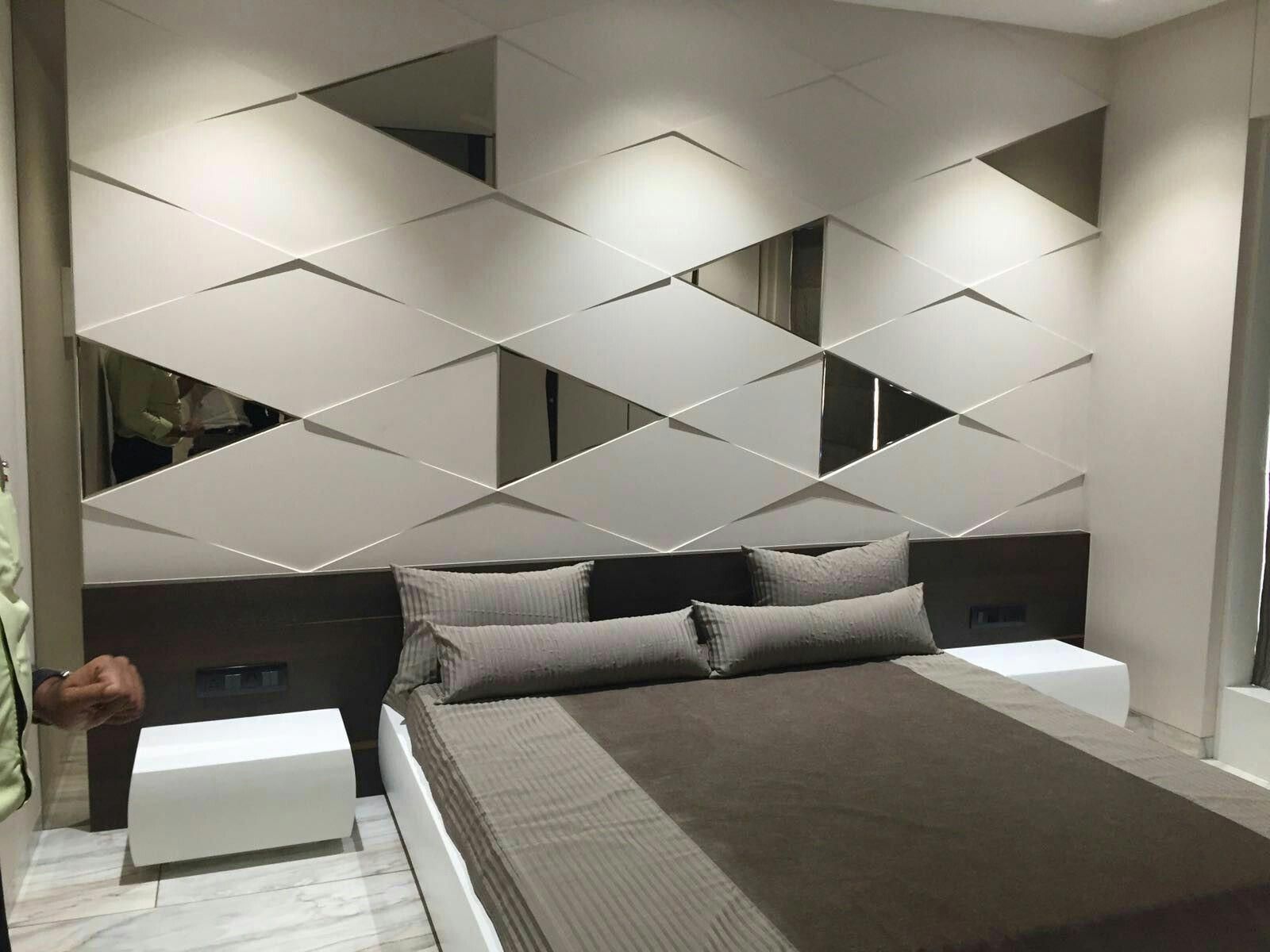 Doesn't this design look great? A subtle relief on the wall with triangle mirrors scattered around to add dimension. A simplistic modern look anyone would appreciate.
Cobblestone Accent Wall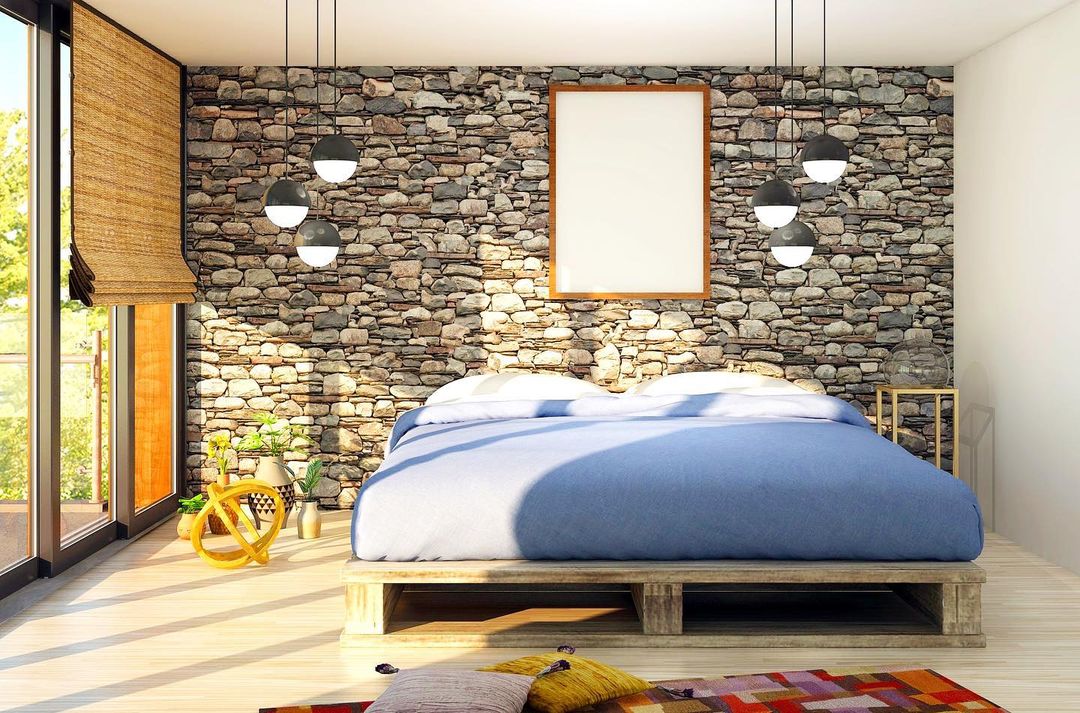 Although cobblestones are usually used for the outdoors, nothing prevents you from bringing them inside and creating a nice fortification to your bedroom. Add some plans and you'll feel like you're sleeping in nature in the comfort of your own bed.
Wooden Baclit Relief Accent Wall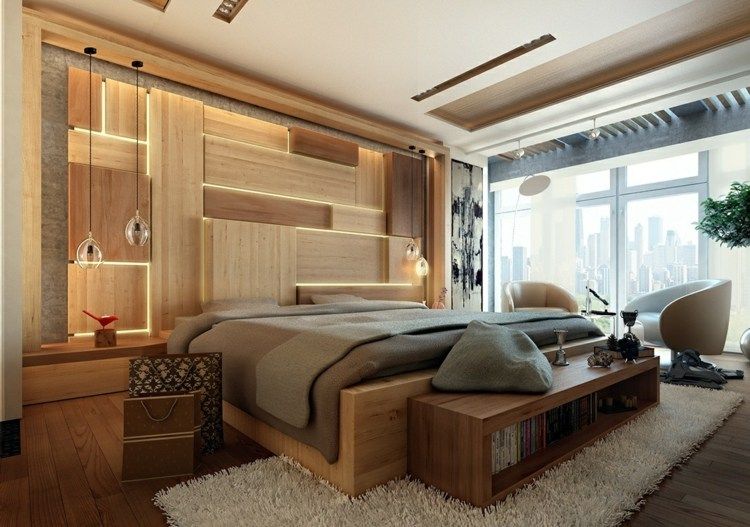 This bedroom is just wonderful. Backlit wooden planks in different sizes are craftily arranged to create a real work of art on your wall. with slick lines and a minimalistic look, it creates a warm, calming atmosphere perfect for a bedroom.
Floral Accent Wall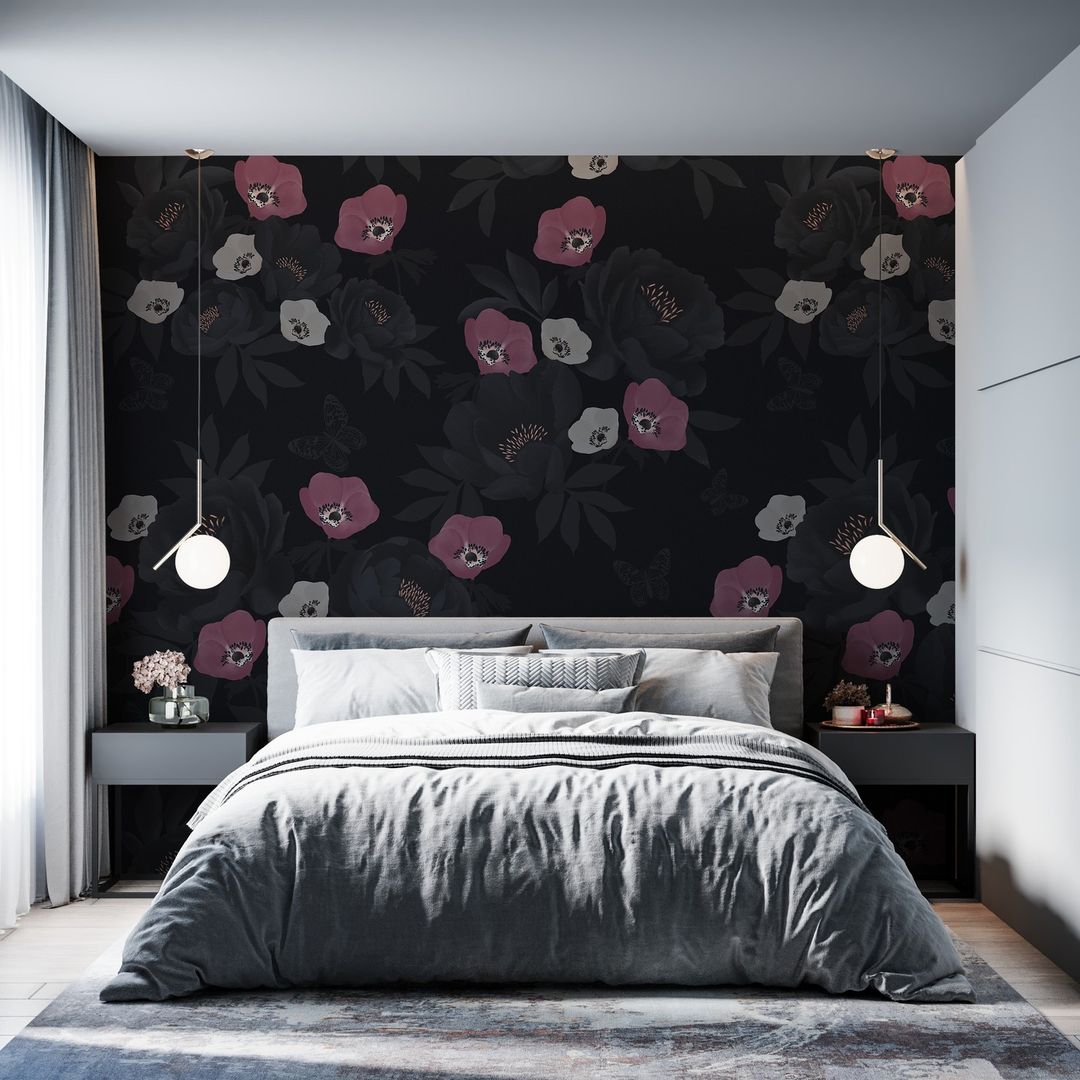 Flowers always bring color and good vibes to a room. While we can't always have a bouquet around, we can still enjoy their beauty in our bedroom by making an accent wall with some floral wallpaper.
Industrial Wood And Black Chevron Accent Wall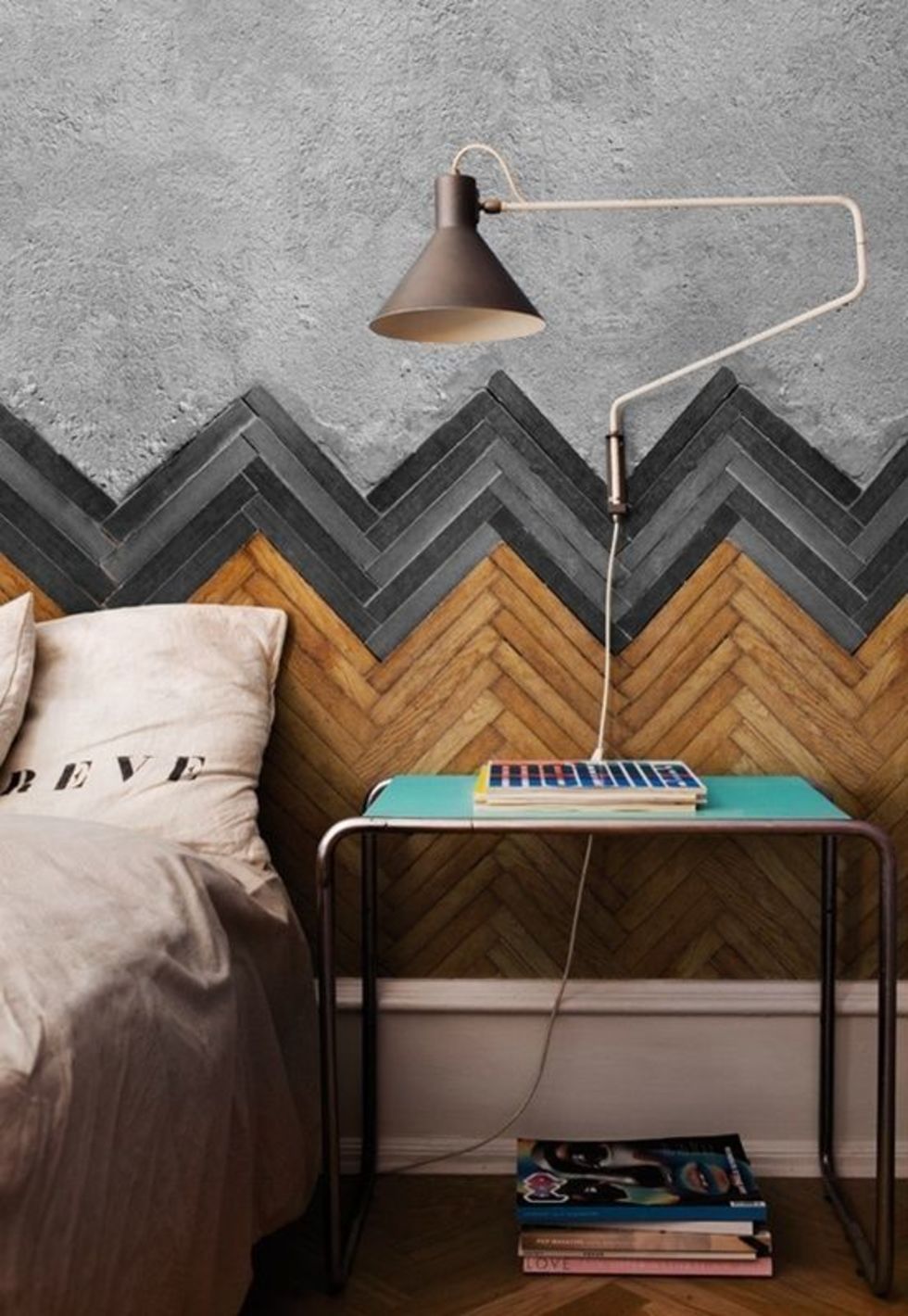 Wood floors are a big selling point for most houses, and those chevron or herringbone patterns do liven up the room even more, but we rarely appreciate that, since we don't usually stare at the floor. Now, what if you can extend that pattern up the walls a bit, and add something more, like dark wooden boards or thin stone slabs on top? It's fun and a wonderful option if you like the industrial design.
Light Art Accent Wall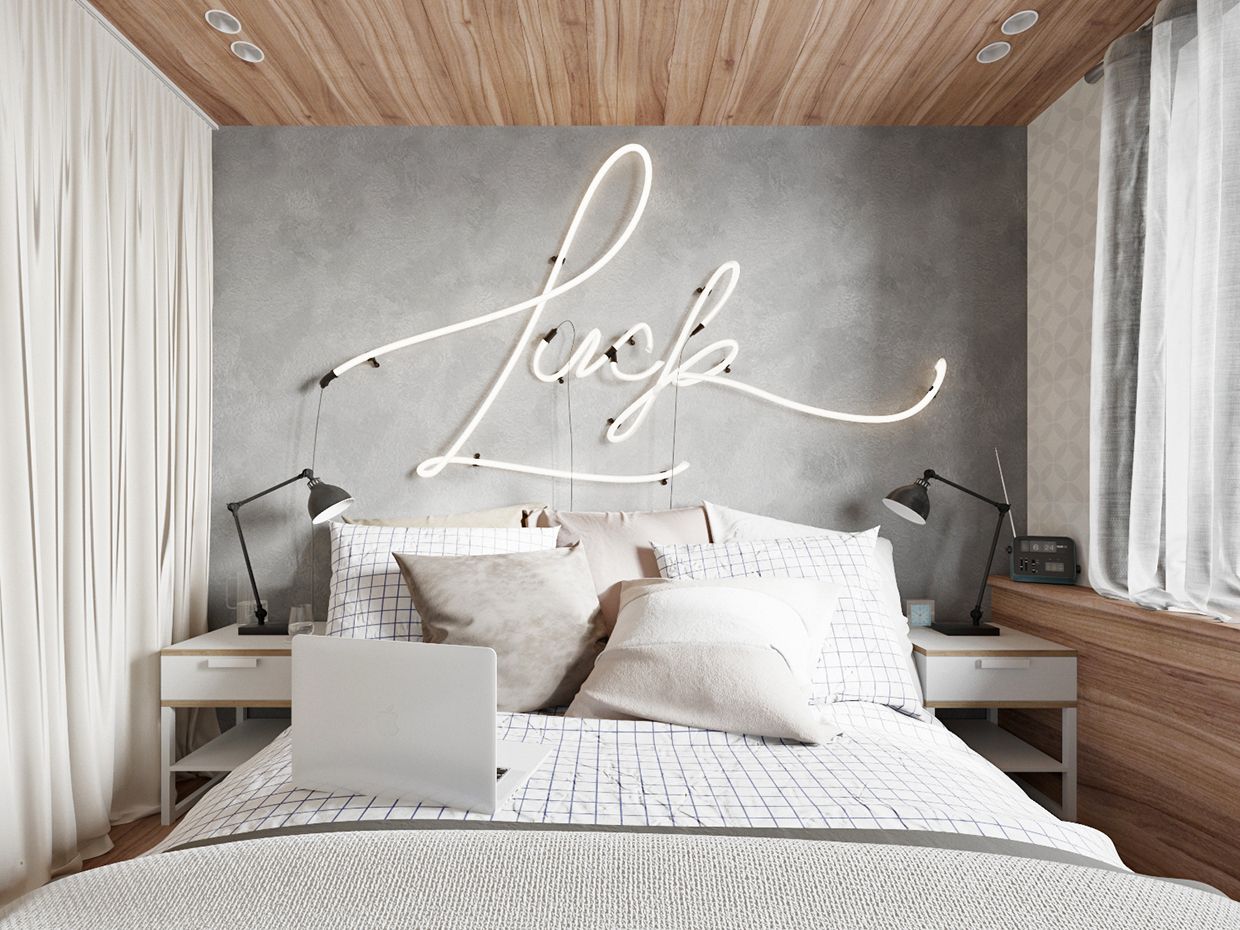 LED hose lights are usually used for creating soft lighting along the edge of the wall or furniture, but you can take it a step further and create lovely light wall art that is both beautiful and functional.
String Curtain Accent Wall
Accent walls don't have to be made permanent or long-lasting, like with paneling or other materials. you can make an accent wall pretty much of anything you like,  even some fun colorfully trying curtains that you can hang at the alcove of the bed, to fill up the space and bring some color to the room.
Salvaged Wood Accent Wall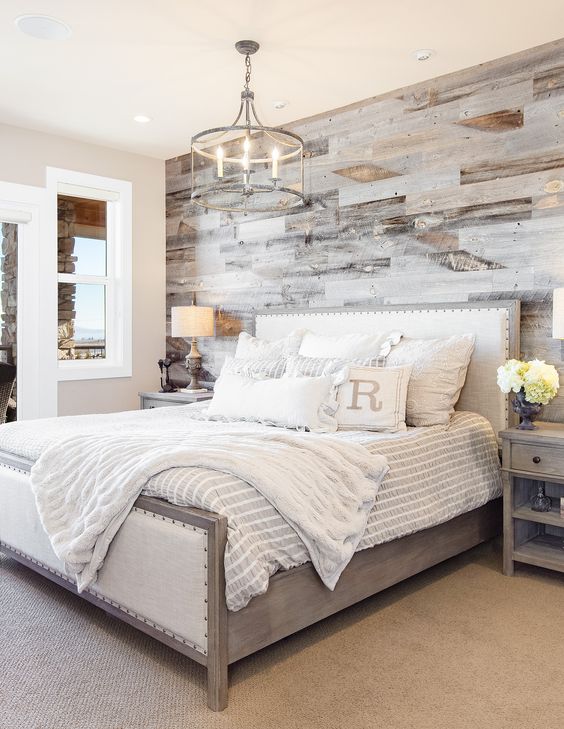 Salvaged wood brings in warmth, but it also carries a certain character with it. The way that the wood has aged and the patterns and colors it creates is what the modern rustic style is all about. If you can manage to get your hands on some salvaged wood, you should absolutely consider using some of it for a bedroom accent wall.
Stone Fishscale Accent Wall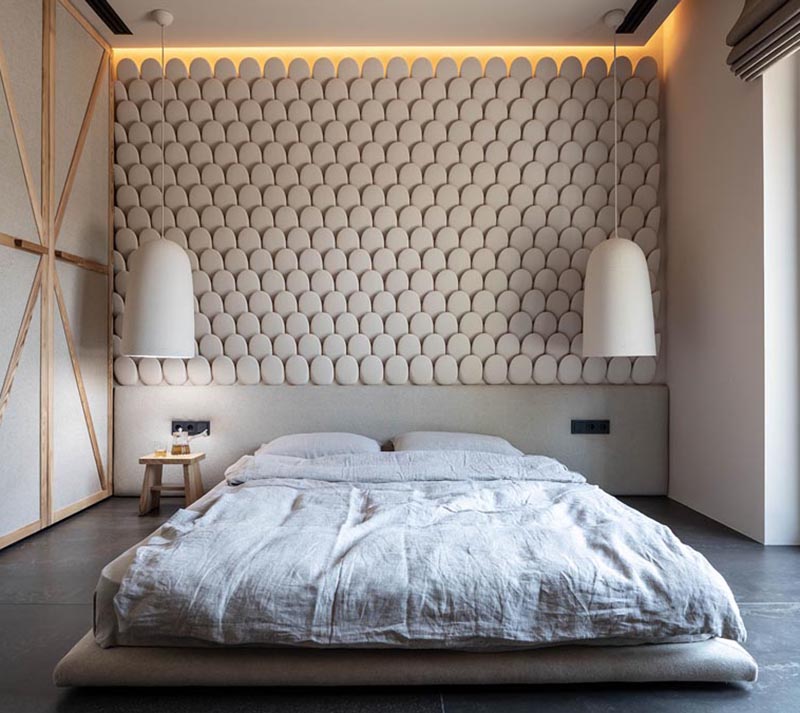 Scalloped or fish scale patterns are maybe more appropriate for children's bedrooms, yet fans of the pattern won't deny that this particular magical design created from stone-like pieces will look better in their bedroom, than in other kids' rooms.
Tin Tile Mosaic Accent Wall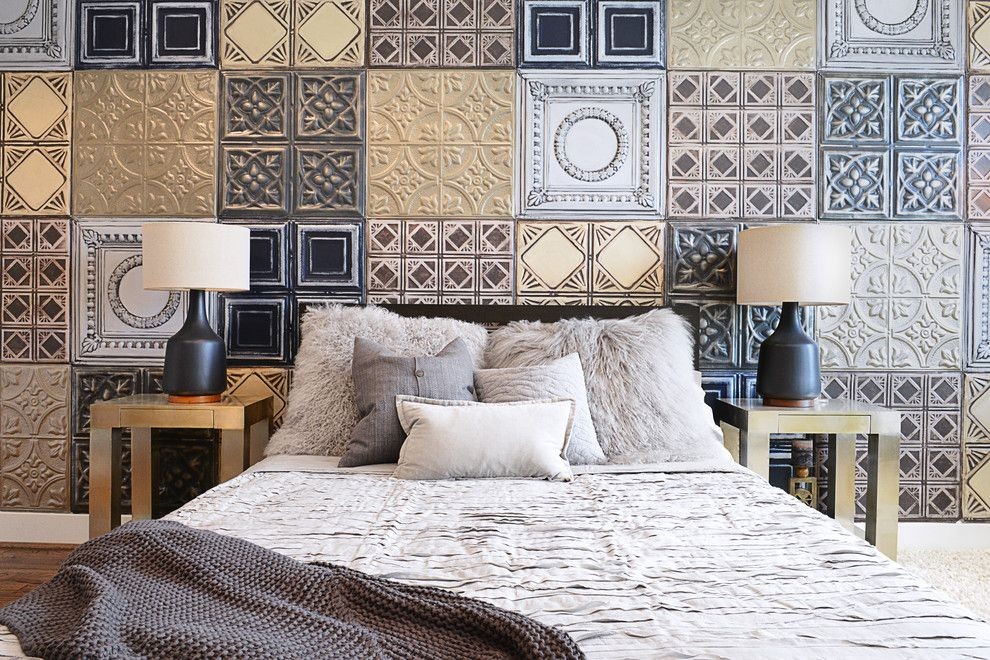 Tin tiles come in a variety of colors and designs, and people usually use them for ceilings or on the backsplash for the kitchen. With the wide selection of tin tiles, you can get the ones you like best and put them all on your bedroom wall to create a beautiful mosaic that gives out almost an oriental/Mediterranean feel to the space.
Snowfall Accent Wall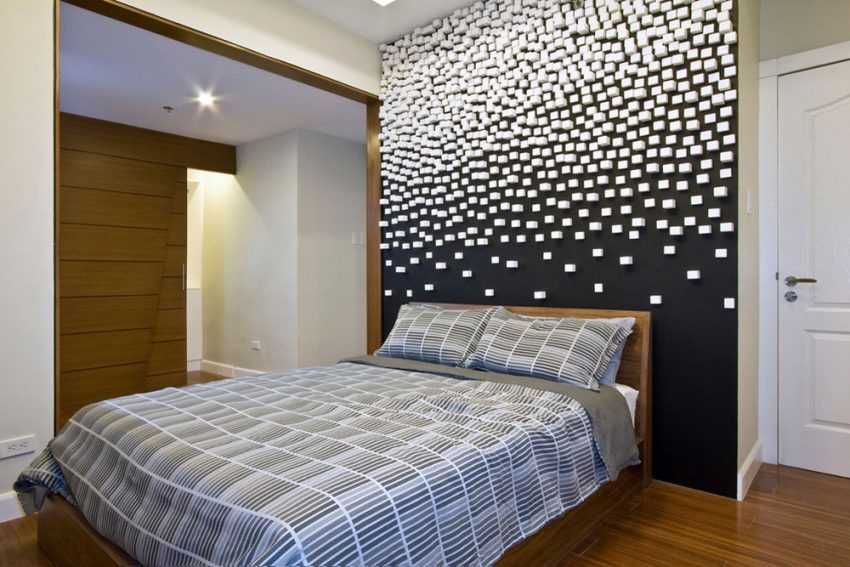 Searching for ideas on how to paint your walls, you've probably come across a lot of ombre designs. This is taking it a step further. An easily achieved design that looks almost like snow gently falling down the wall. And who doesn't like watching a snowfall?
Chalkboard Painted Accent Wall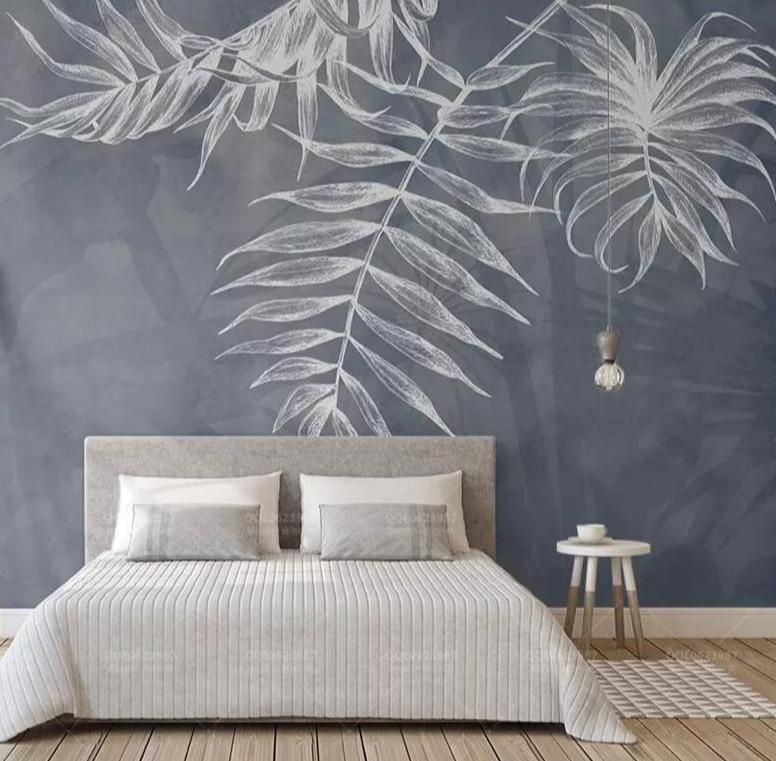 If you have an artistic side to you and what to change things up often, maybe you should consider making a chalkboard paint accent wall. You can draw whatever design you like on the wall, and simply wash it out and make a new one once you get bored with it.
Ombre Geometric Wall Design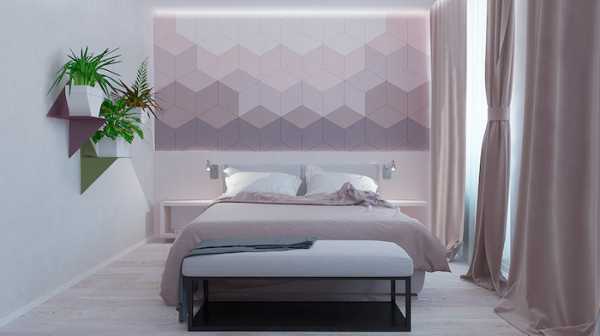 We mentioned an ombre design, so we had to include one. This geometric ombre design can brighten up any cozy, modern bedroom.
Dark Panel And Marble Slab Combo Accent Wall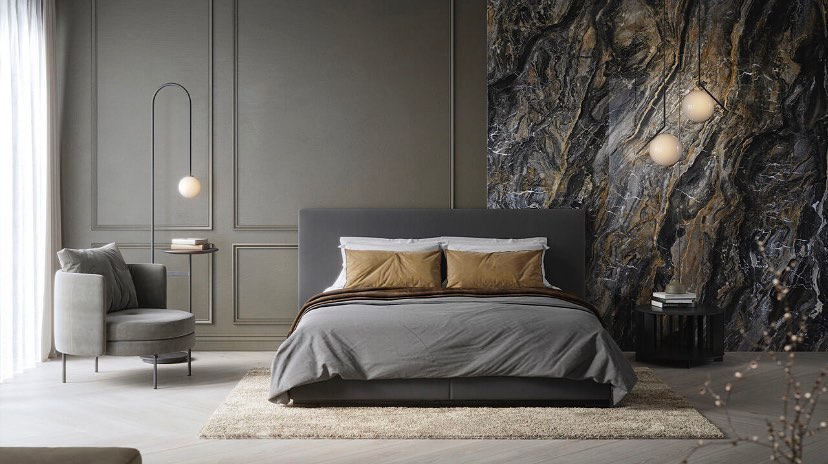 Can't decide on which material or design to choose for the bedroom? Try combining the top two choices. A half and half accent wall done right can truly make a statement.
Whatever your style or preferences in home design, when designing the bedroom always remember to design it the way you'll feel most comfortable and at peace, with or without an accent wall. Share your thoughts and ideas about what the perfect accent wall would be for your bedroom in the comments.