Keeping the house clean and tidy is an all-year-round chore, which becomes especially tedious and challenging during fall and winter, and even more so when it rains or snows. Coming into the home with wet and muddy shoes is annoying, but unavoidable. While doormats can help with the mess somewhat, having a space inside the home, at the very entrance where you can take off your shoes and wet coats and jacket certainly helps a lot. And that's what mudrooms are for.
You don't need a lot of space to set up a mudroom in your entryway, but if you have the room to spare, you should definitely go out and make this little nook in your home that will keep your entrance, as well as the entire home, cleaner and less messy
In short, a mudroom is just a place where you can sit down, take off your shoes, and store them, with some hooks to hang your coats and jackets, all in one place. The mudroom can be as big or small as you like, as long as it serves your needs. There is some great furniture to get to tart your mudroom, or you can make it a build-in to completely utilize the space you have.
If you think about making a bedroom in your entryway or a looking for ideas for a remodel, check out our list and get some mudroom inspiration.
White Wood Pannels and Industrial Bench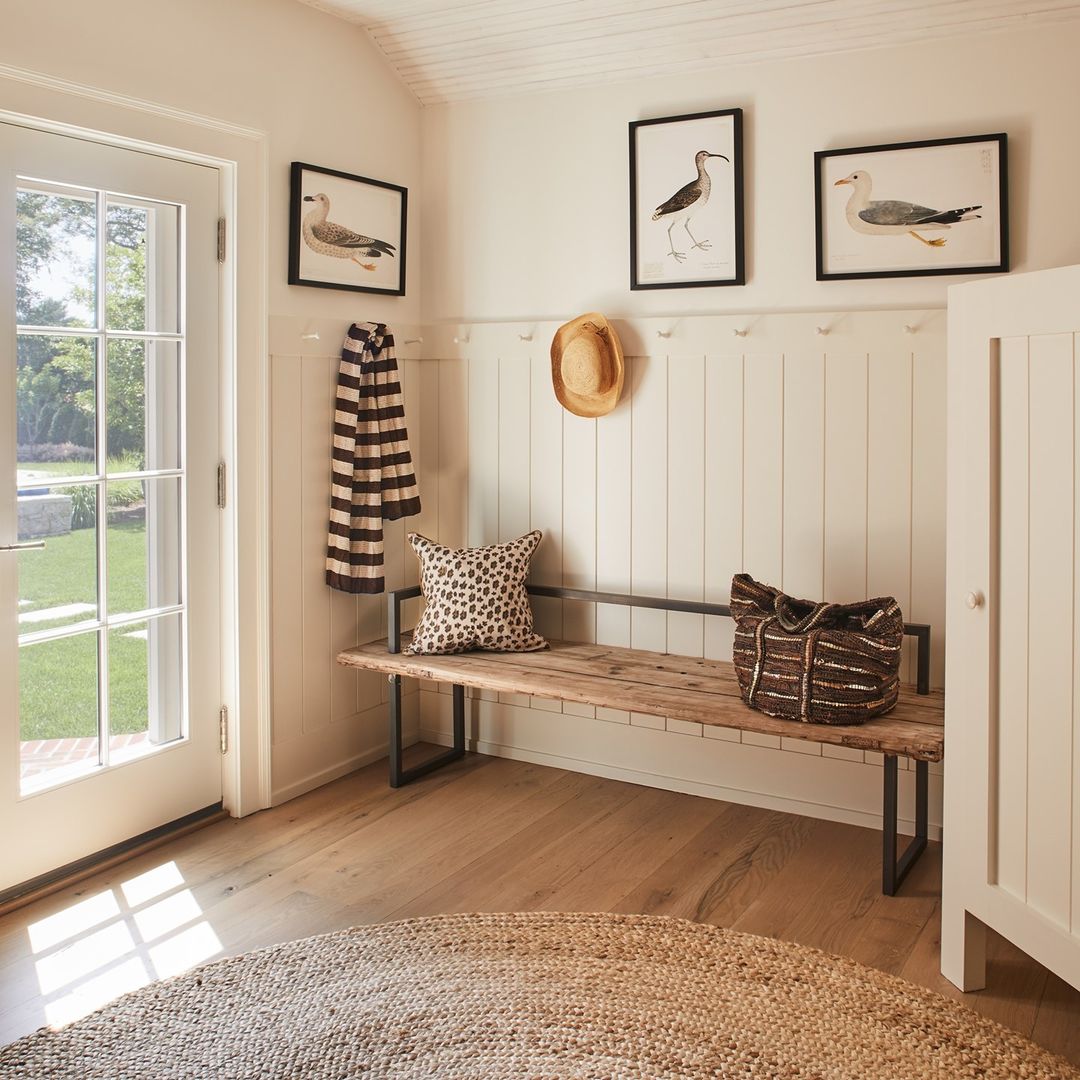 Starting with something simple, this mudroom can fit into a narrow or wider space. Wood paneling on the wall to separate the mudroom, some hooks at the top, and an industrial bench of wood and iron to match and to provide seating and some storage underneath for the shoes.
Narrow Mudroom Below Stairs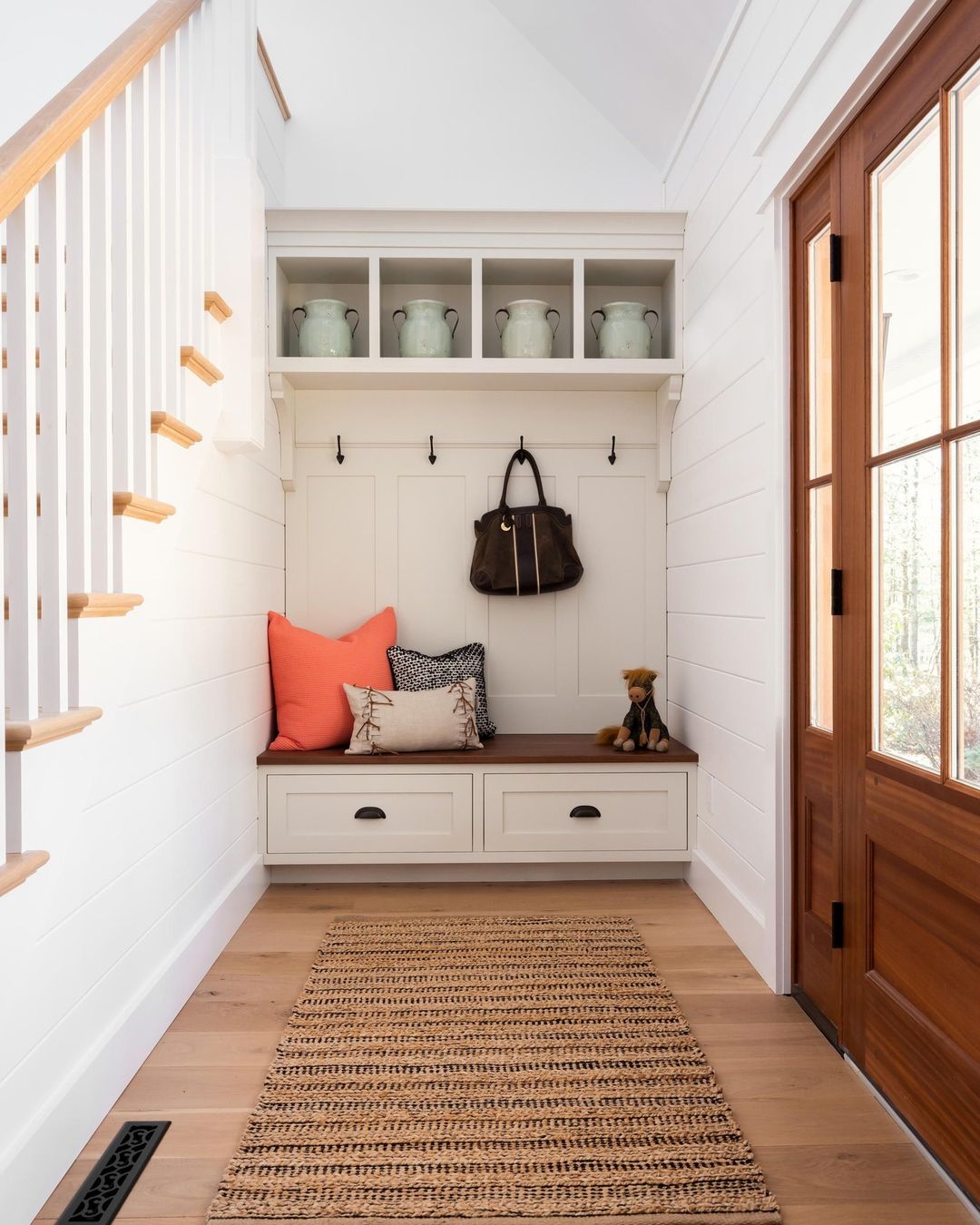 Stairs can create a lot of dead space in a home which you can use creatively if you know how. That small space below the stairs next to the front door can be perfect storage space or a mudroom, like this one. A wall-to-wall bench with drawers underneath, and some shelving above for some extra storage or decor pieces.
Hidden Mudroom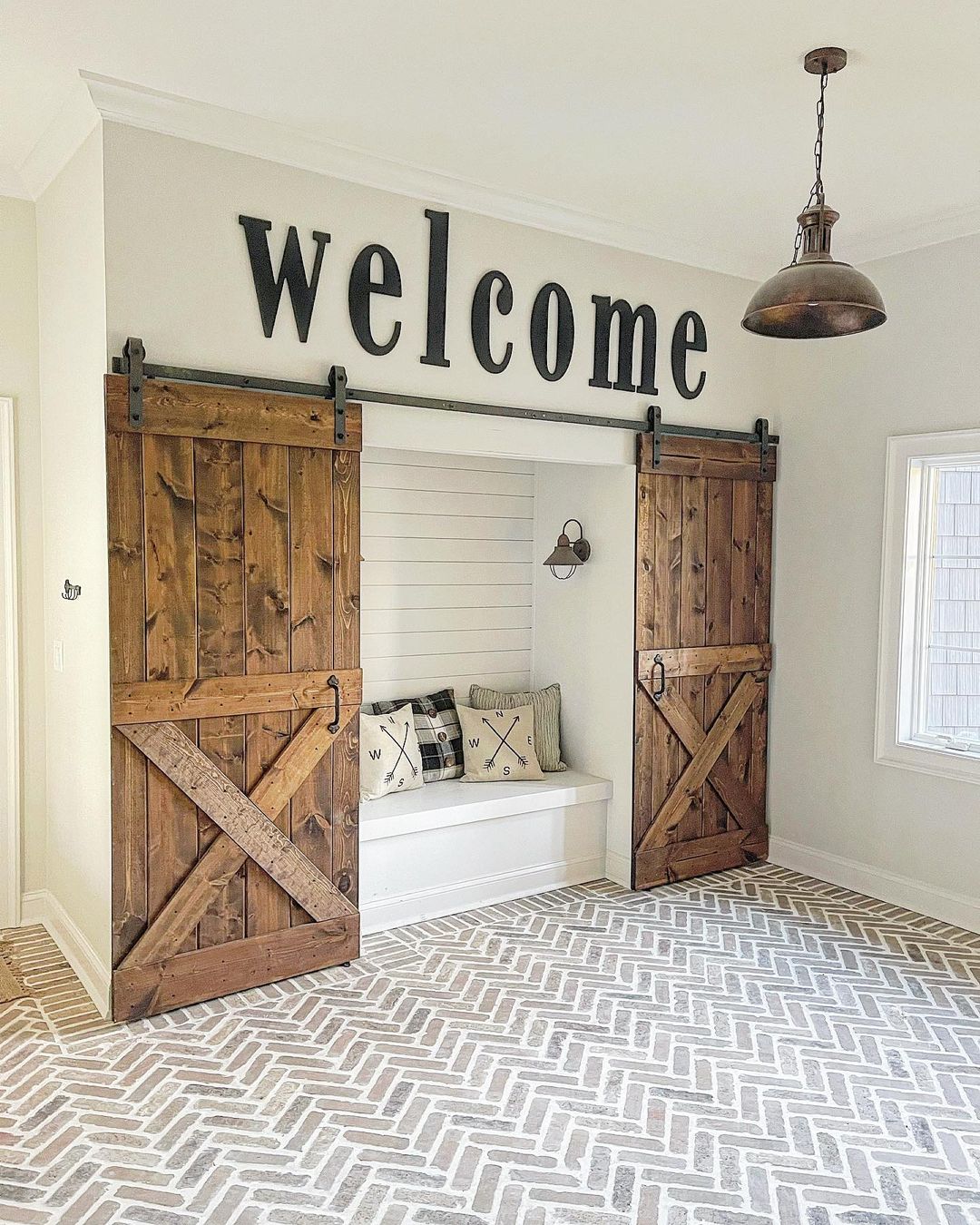 Keeping things tidy and organized can be a hassle, even if it's only coats and shoes, which is especially true when there are more members in the family. Don't you wish you can just close the door on all that clutter? Well, mudroom spaces aren't always closet-friendly, but there is a solution. Sliding barn doors don't take up space and they give you that rustic and amazing look.
Mudroom With Wall Mounted Folding Bench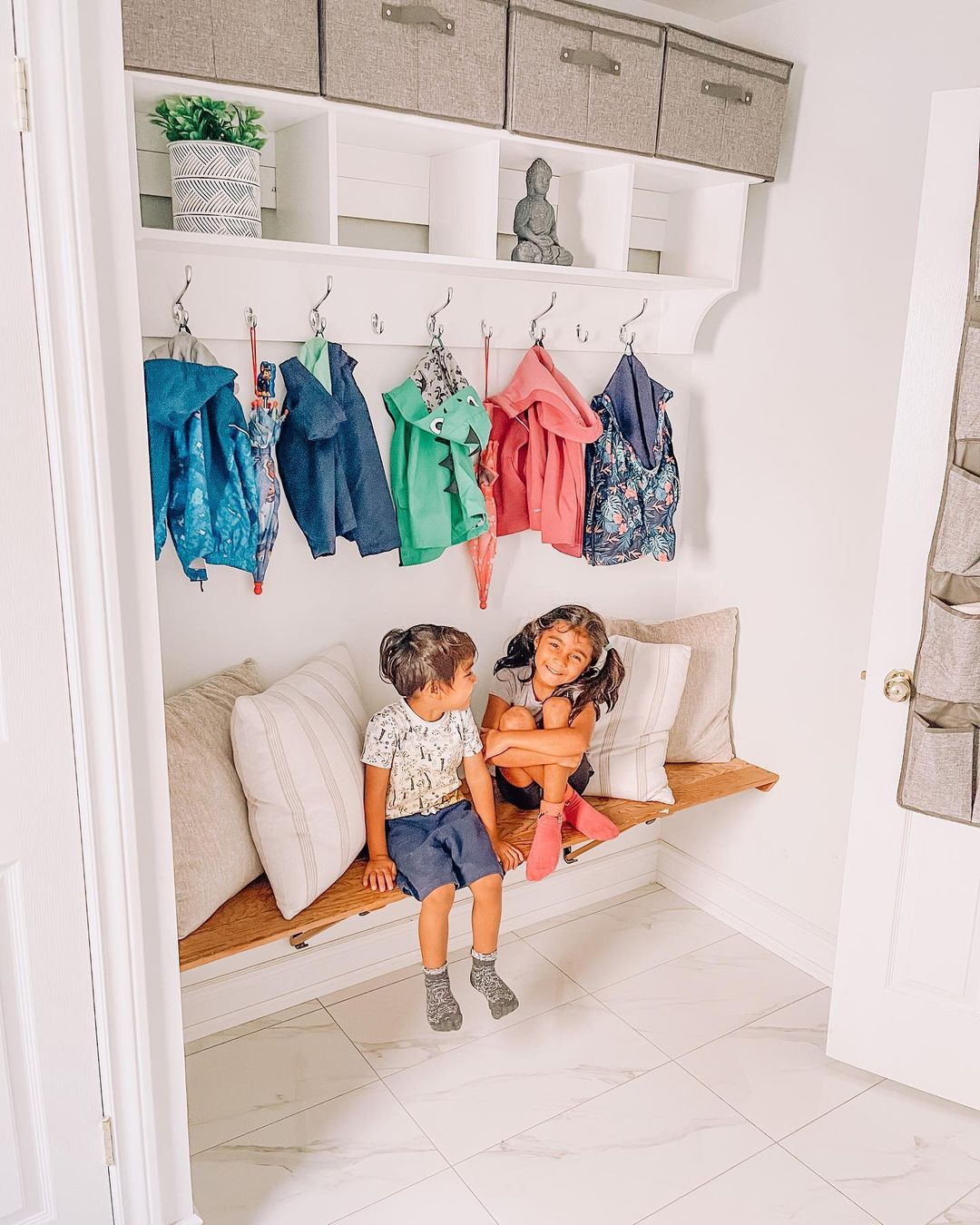 While the bench is a necessary part of the mudroom, sometimes it does take up space, and you don't always need it. Mounting a foldable bench is a nice alternative. You'll always have a place to sit at hand, and just fold it away when you don't need it.
Well Lit Mudroom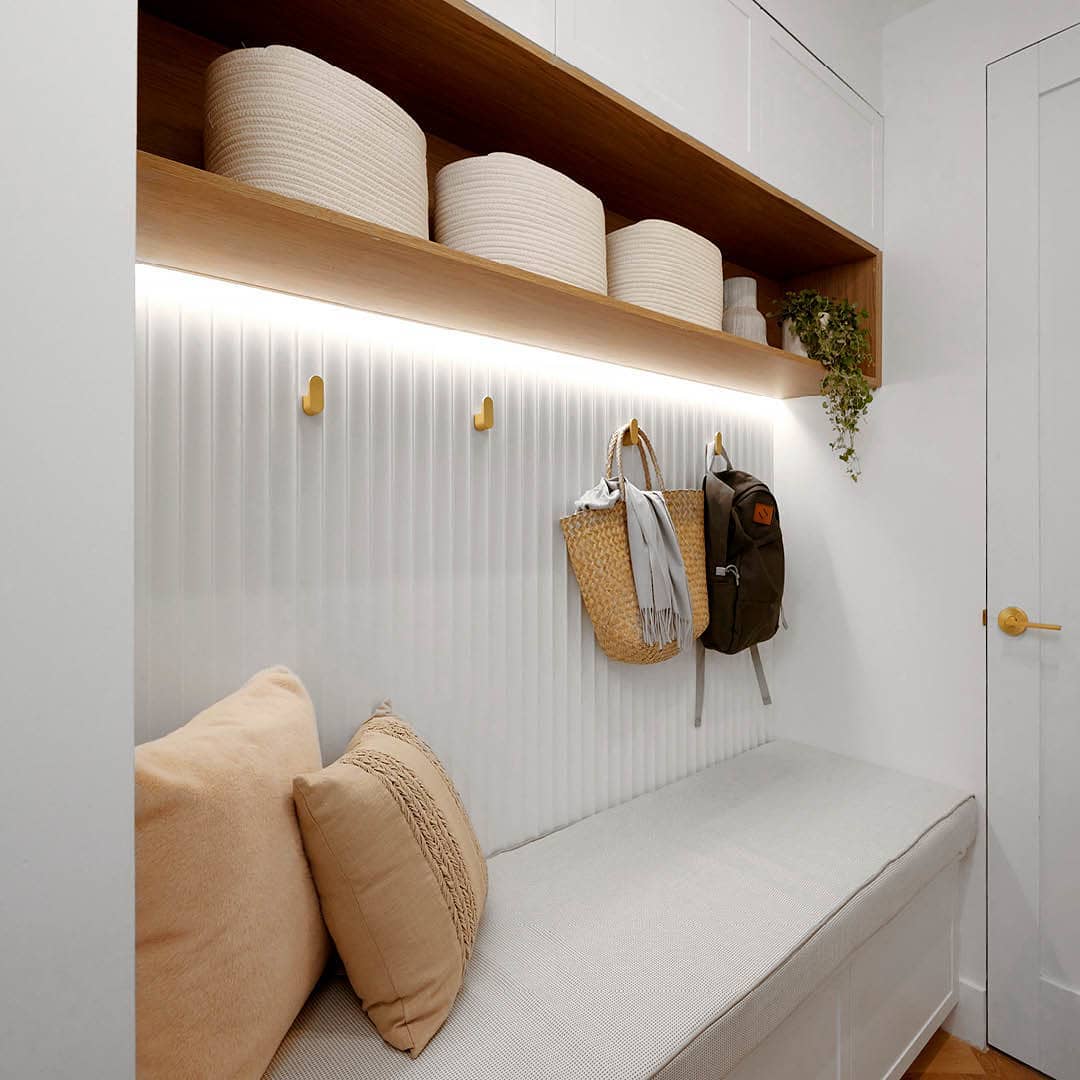 Most entryways don't have a lot of natural light and need additional lighting. If you're looking for a modern upgrade to your mudroom, add LED strip lights underneath the top storage. It gives out great illumination and livens up the mudroom.
Modern Upholstered Mudroom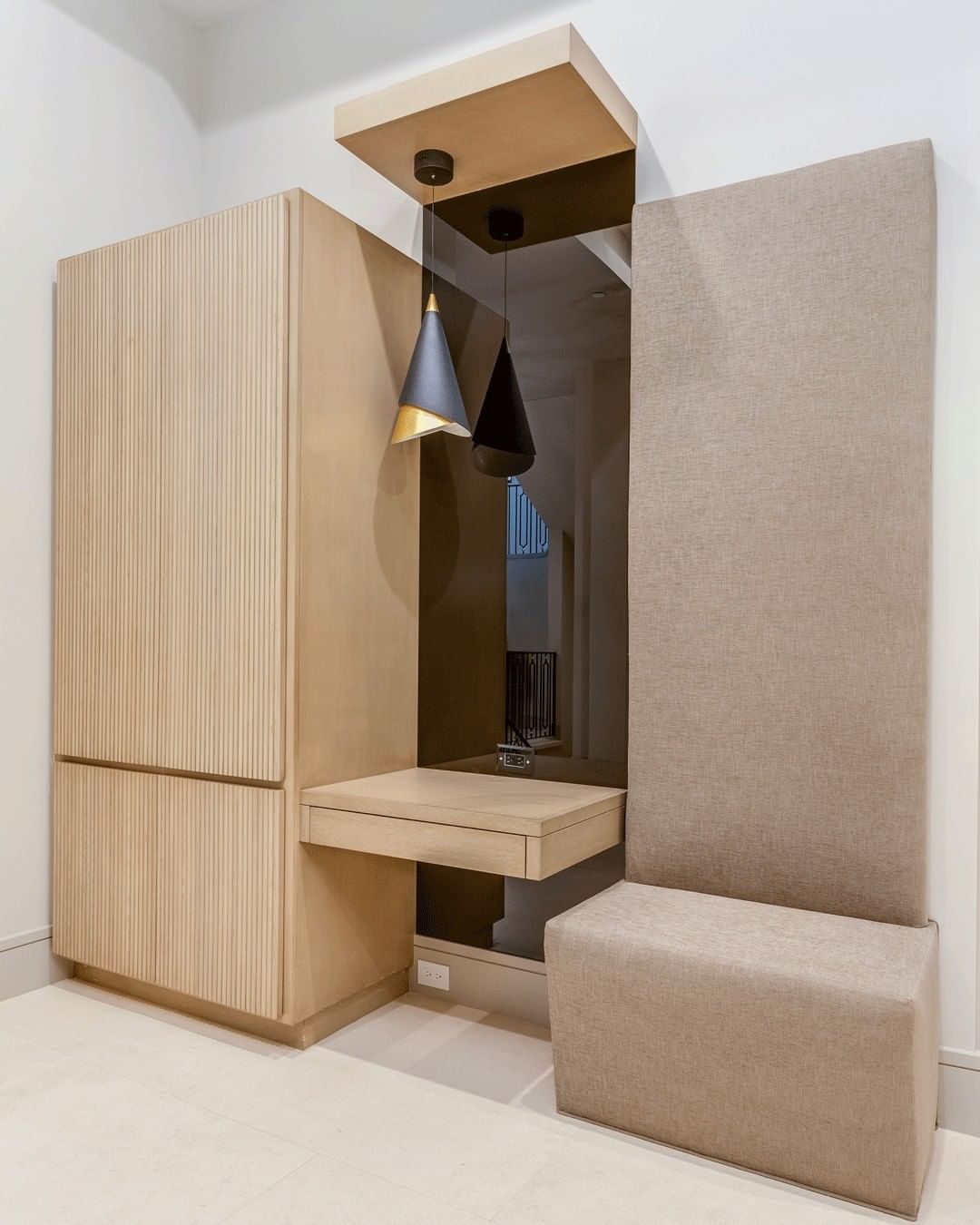 While upholstered furniture isn't always the first choice for a mudroom, it is nice to have something soft to sit on while you take off your choice. This modern design also has a small closet for storage, and a mirror with a small drawer shelf for placing your keys and other items you usually leave by the front door. It all comes together nicely with upholstered wallboard along the bench, giving you a nice cozy and functional mudroom.
Full Storage Mudroom
Entryways fo have a lot of space we overlook and never utilize. This mudroom, however, has a place for everyone and everything, with a lot of drawers, overhead storage, and some fun fishbone mail slots that add that nice decorative touch.
Stone Mudroom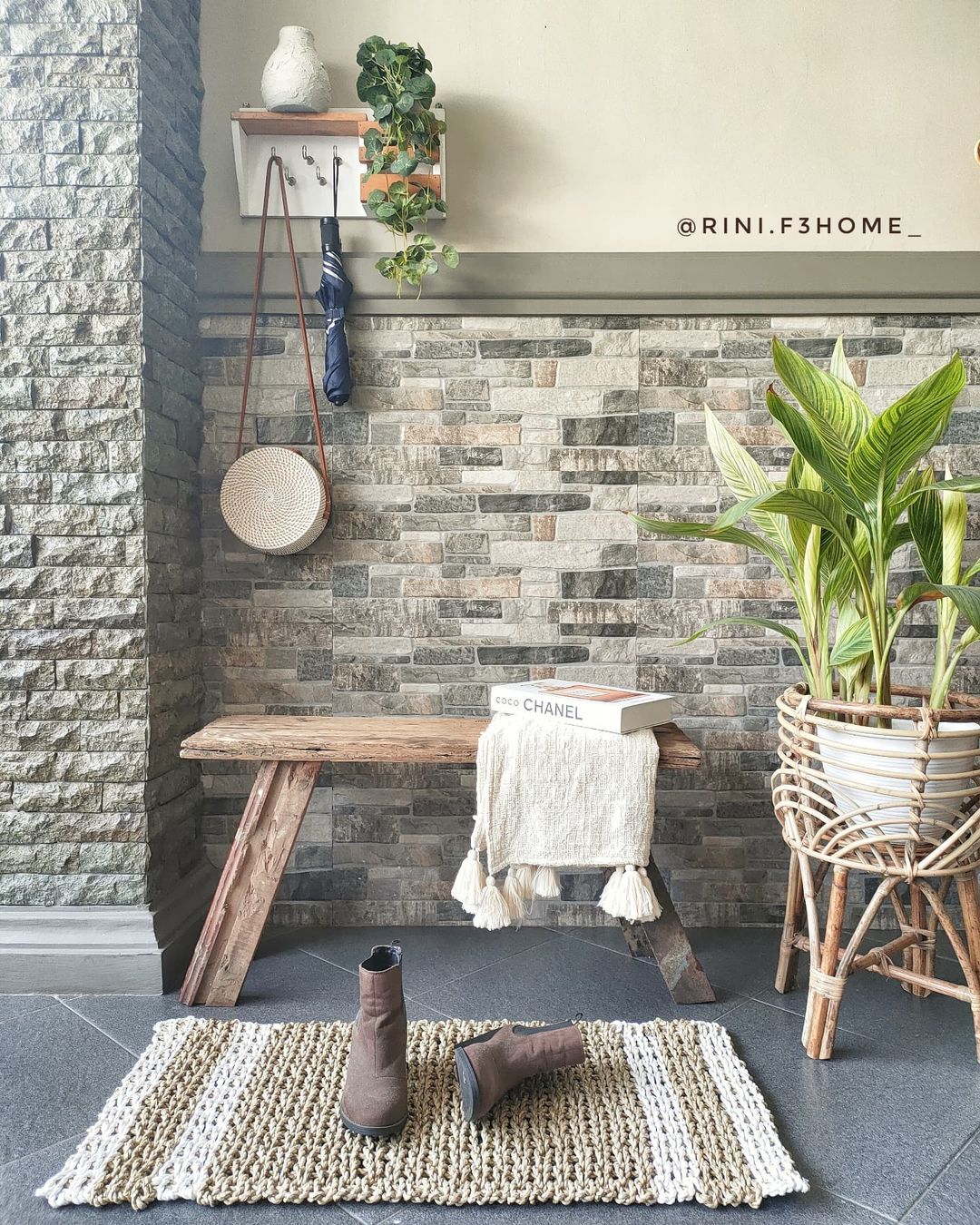 Stone is not the common choice for home decor, which is a shame, since it is a lot easier to maintain and looks amazing. People don't use stone or brick materials in home decor because it rarely matches the rest of the design in the home, but here's the perfect chance where you can use it. A stone wall for the mudroom and a rustic wood bench, paired with some nice gray tiles will surelytransform your entrance.
Rack Mudroom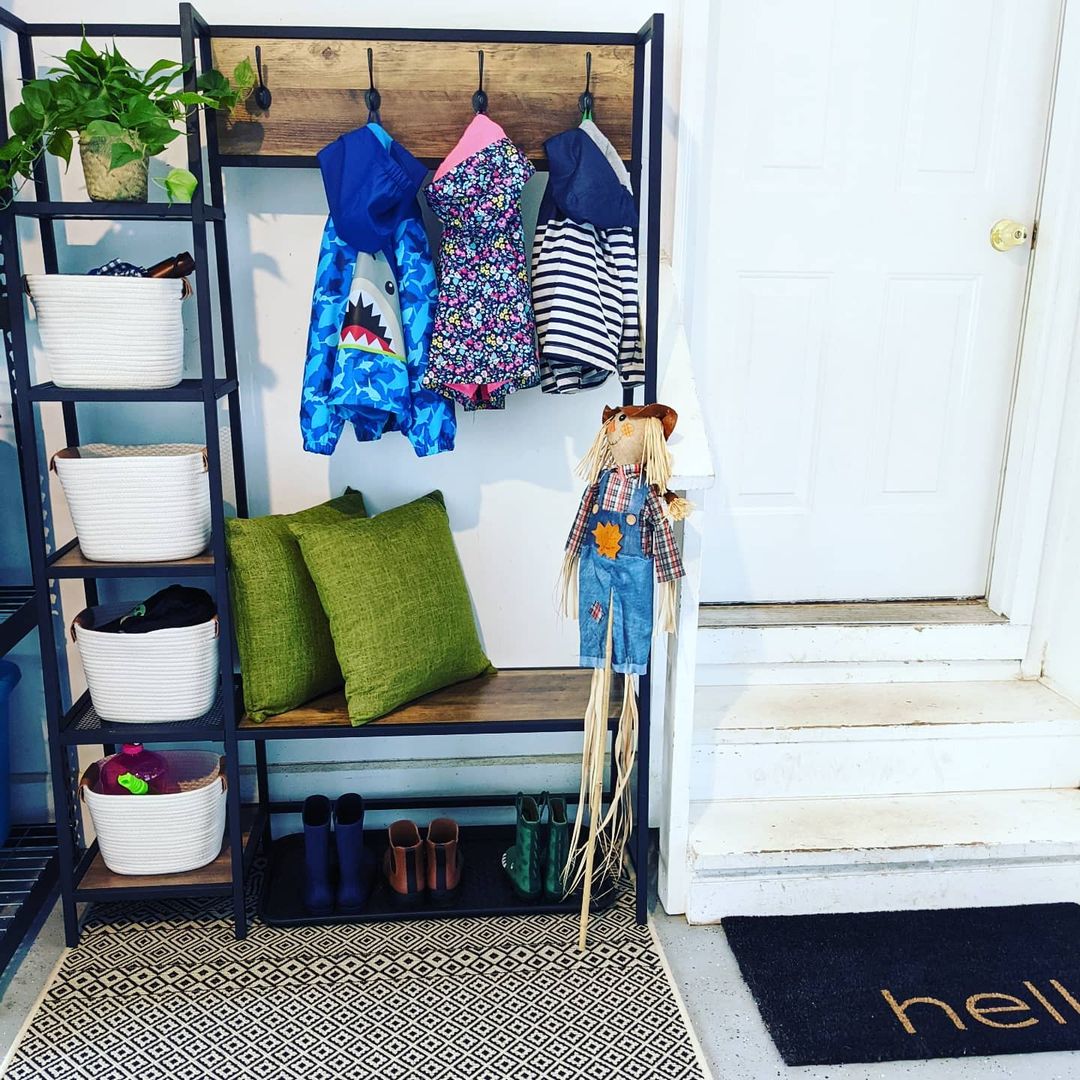 The seating area in the mudroom, as you've already seen, doesn't have to be big, but accommodating to you and the space you have to work with, A small industrial bench incorporated with some shelves and overhead hooks are perfect for smaller spaces, and the i
Mudroom With Rustic Planking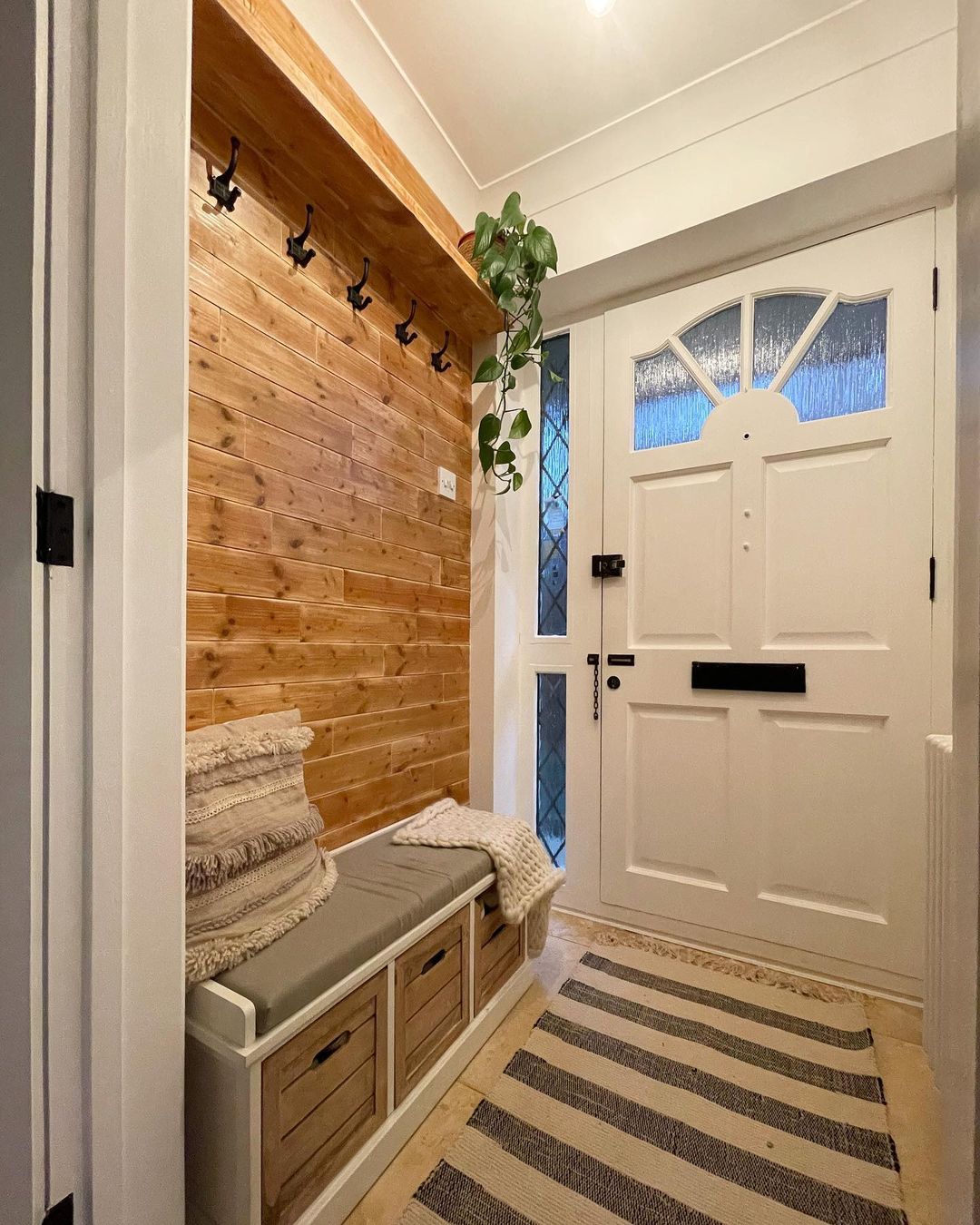 While white wood paneling gives out a clean and neat look, it can't be compared to the classic. Horizontal wood paneling, which would look even better if you use reclaimed wood, give out a nice welcoming warmth to the mudroom. A snug cushioned bench and wooden crates underneath for storage complete the decor.
White And Black Barnyard Style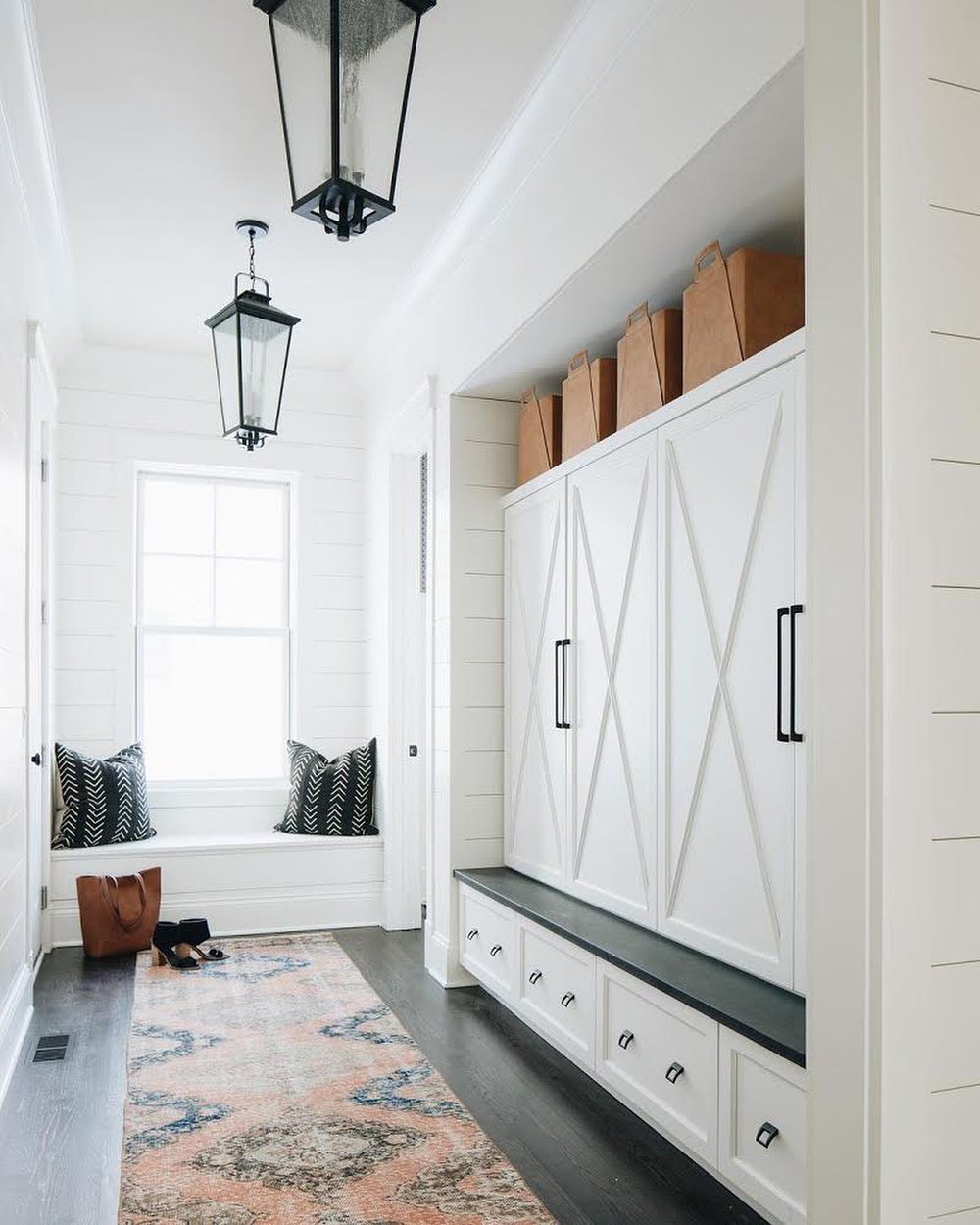 Older houses love to keep with that rustic authentic theme, yet bring something modern as well. Dark wood floor with white storage and seating with a black benchtop is one sure way to achieve that updated rustic look.
Dark Gray And Wood Mudroom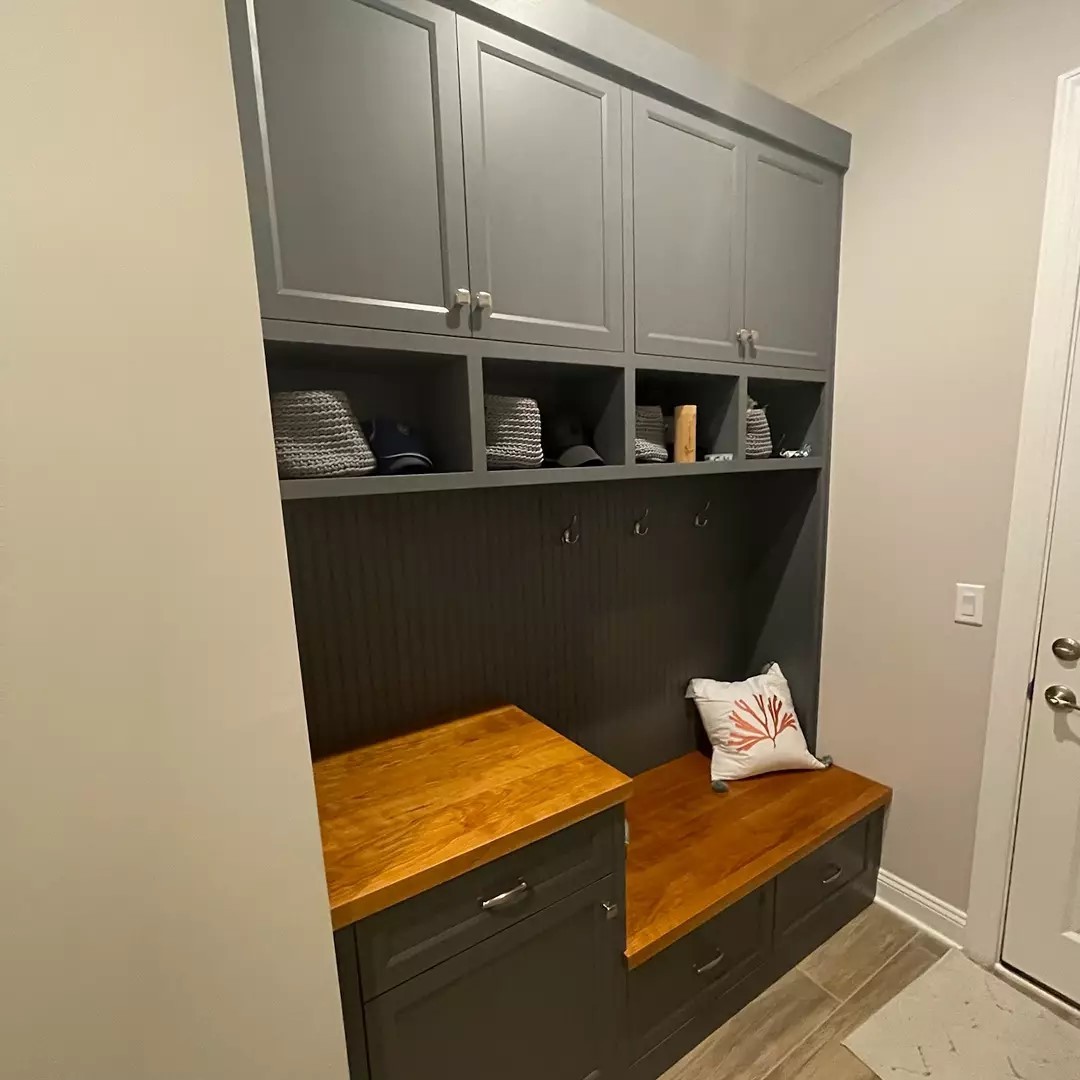 Most people would avoid dark colors for the mudroom since it closes up the already small and dark space. Still, some nice gray shade cabinets with drawers and with light wooden tops create a very sleek and modern look.
Green Vintage Mudroom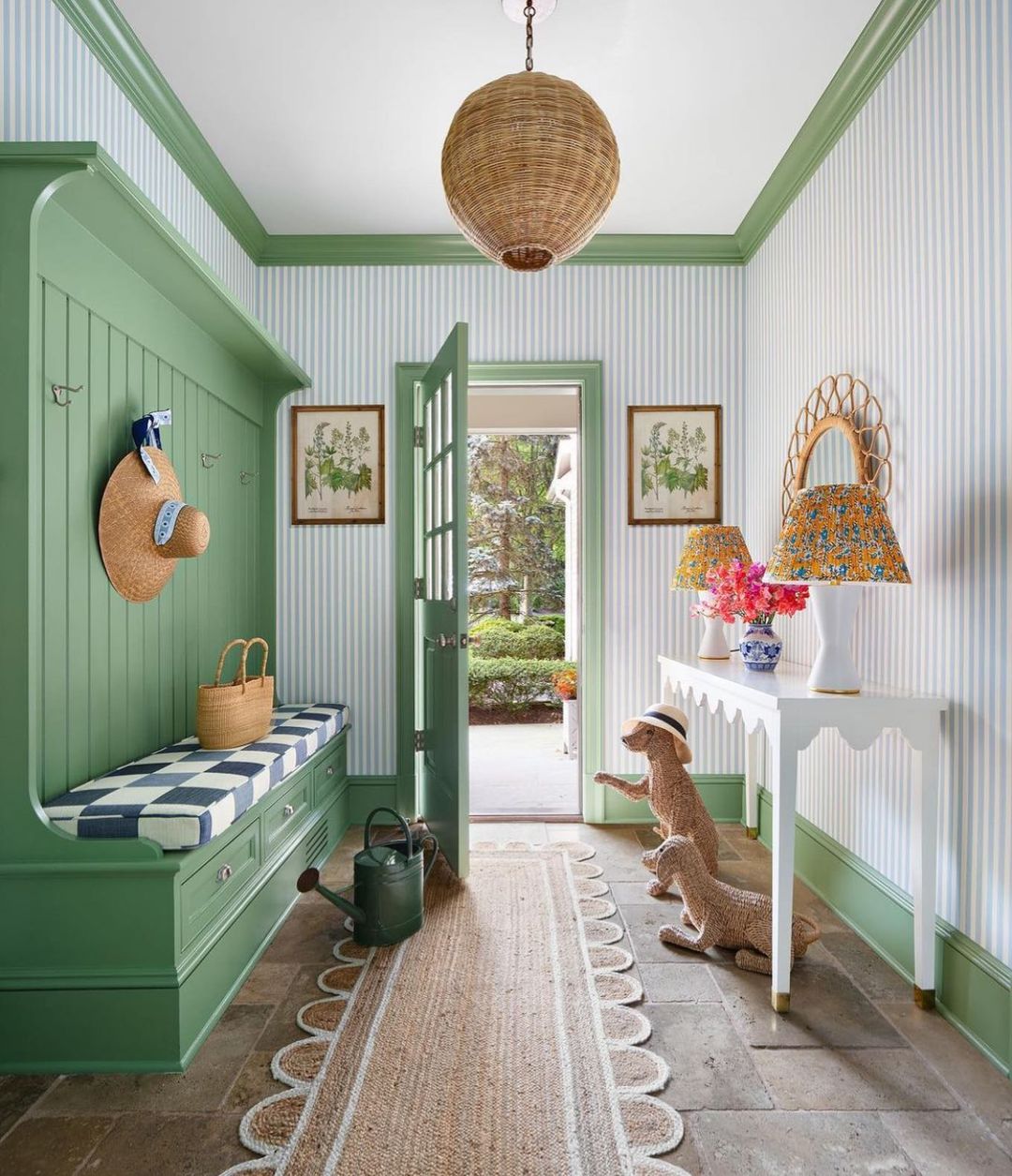 You don't have to limit yourself to the regular furniture colors like white, gray, or brown. Cheer up the place with a color palette, like this lovely throwback mudroom, with green storage and sitting area with blue and white cushion and walls.
Corner Mudroom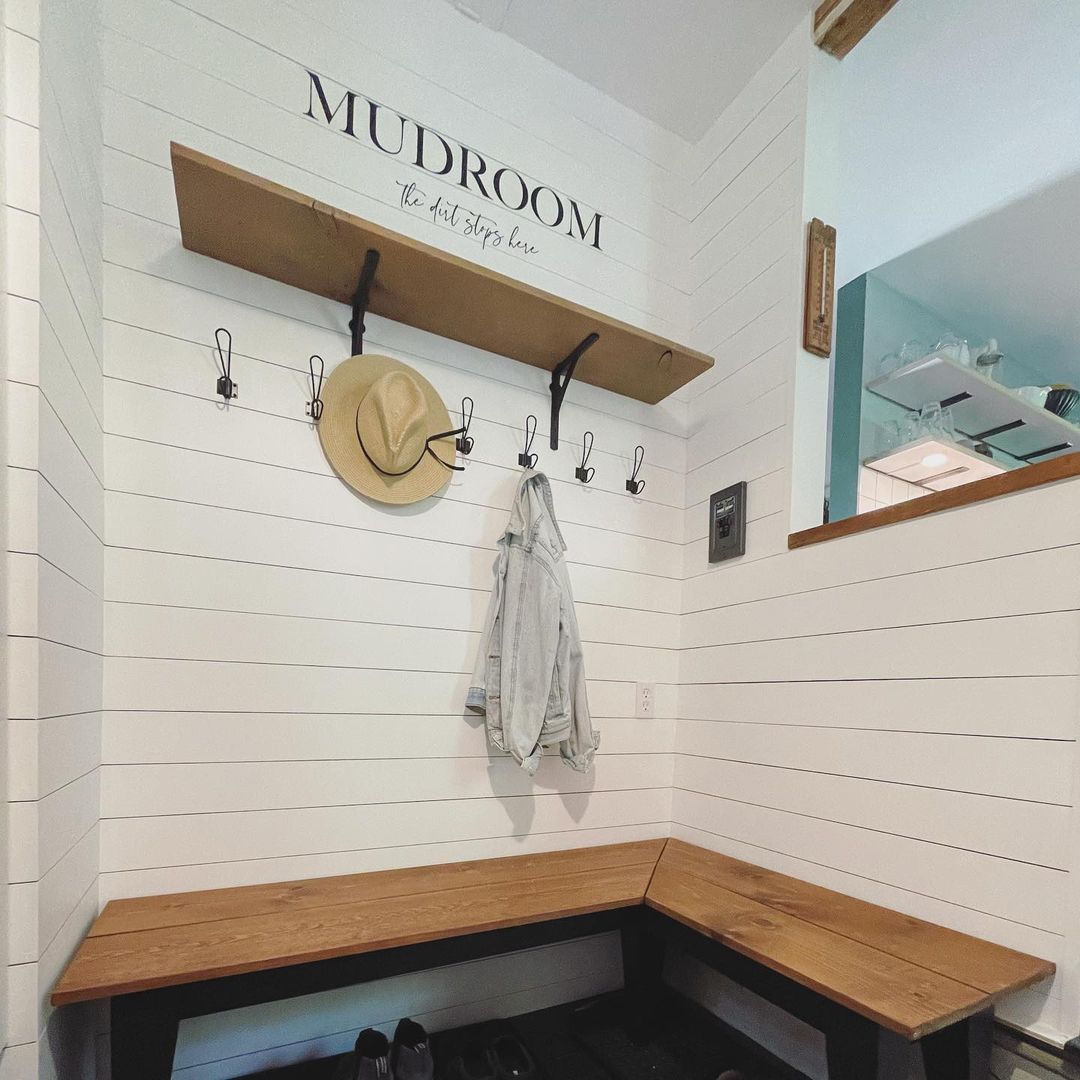 If the space for your mudroom is too narrow, but you have some space at the adjacent wall, use it. Make a corner bench, and you can even decorate the mudroom with mirrors and fun signs. to make it even more inviting.
Repurposed Material Mudroom
Pieces for the mudroom can be pricey sometimes, so if you're low on budget can use your creativity and create something amazing from old furniture or materials or can find it for a low price. This mudroom is a great example of creating something new and wonderful from scrap. Painted window shutters for the bench and an old ladder for the hooks. A brick wall for the backdrop and you're done.
Shiplap Mudroom
If you're a fan of the shiplap decor but doesn't quite match your home, the mudroom is here to accommodate you. Some nice white shiplap, wooden benches, and block panel cabinet doors complete this modern, yet classic decor.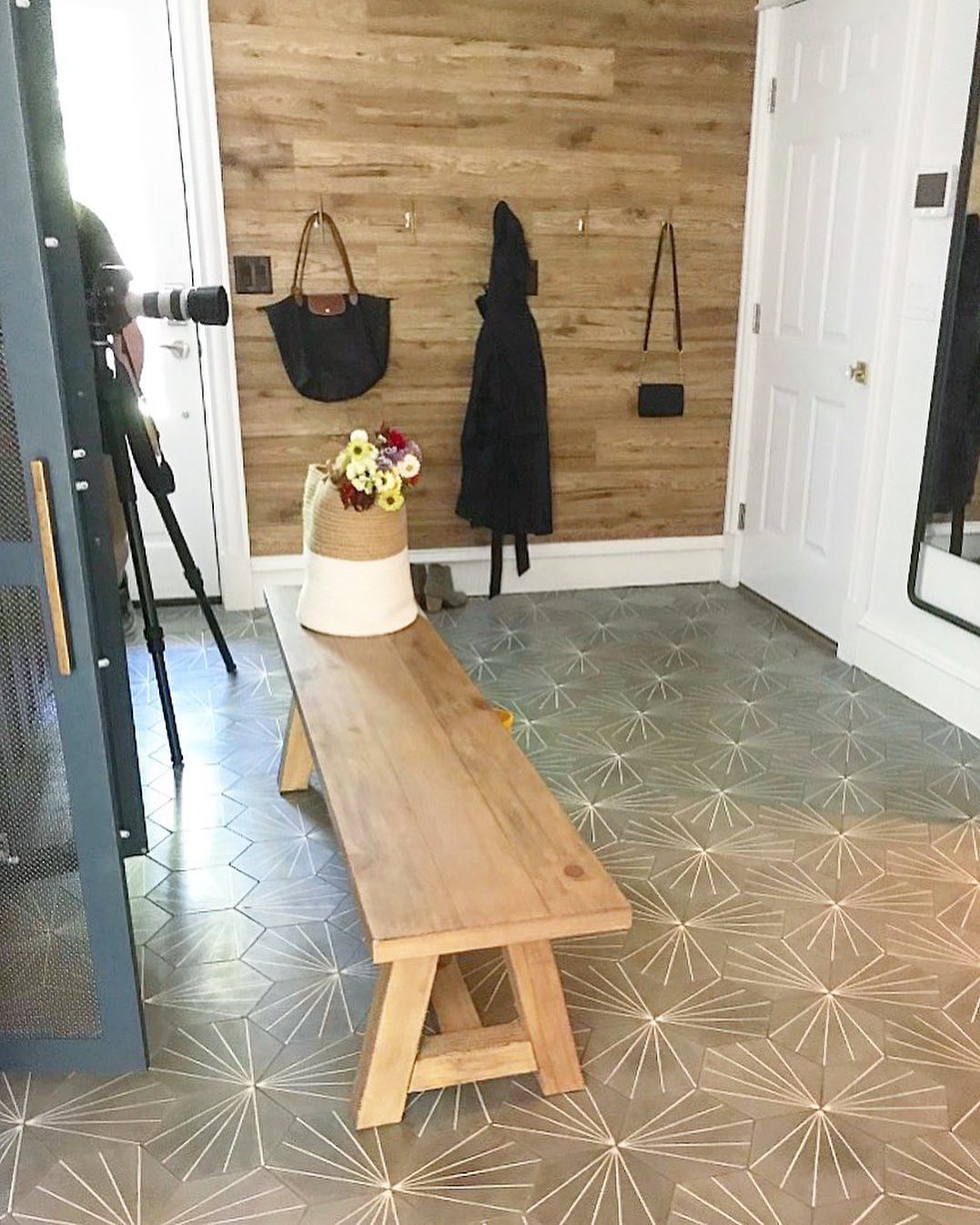 A lot of mudrooms have benches right underneath the hooks, which looks great but can be a bit cramped for space when there're a bunch of coats on the hooks. So, if you have the space, you don't have to make a mounted bench, but instead, get a regular one that you can more around.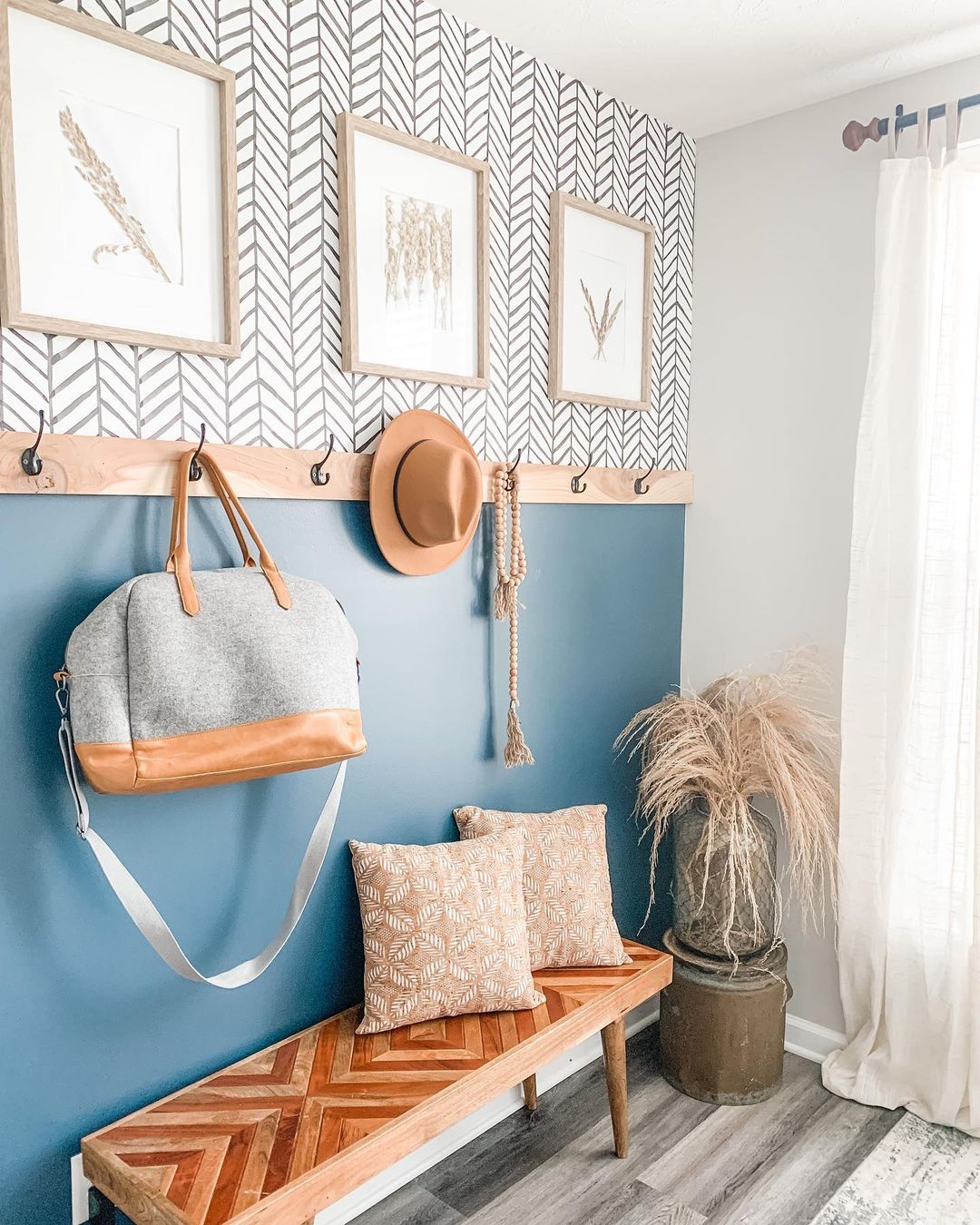 You don't have to get a lot of furniture for the mudroom, as we mentioned before. A bench and some hooks are all you need when you're short on room. As for the rest of the empty wall, you're left with, you can cover it with some fun wallpaper or make a design like this one, half color, half pattern. The diamond benched from different colored wood pieces is also amazing.
All-White Sectioned Mudroom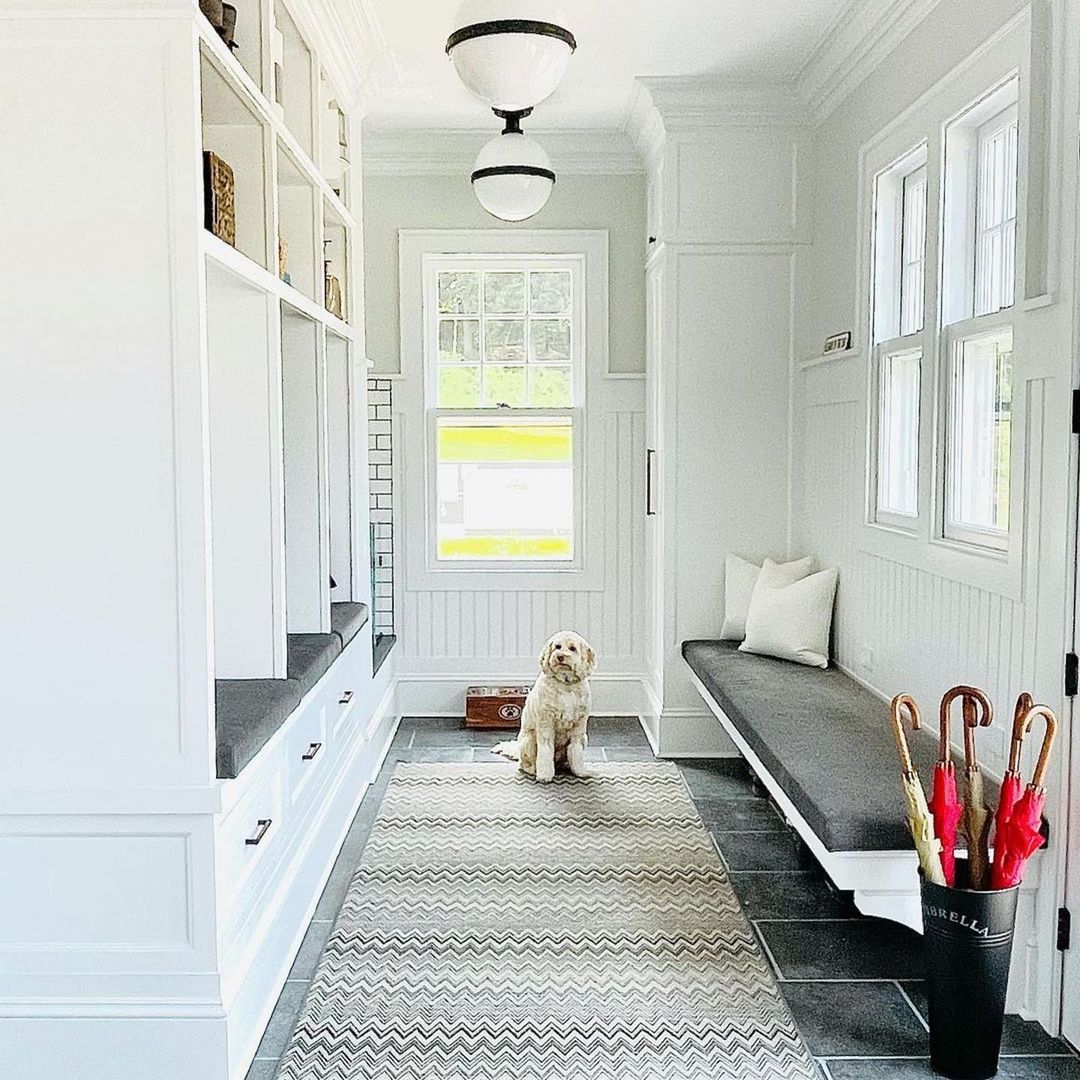 If you have the opportunity to create a spacious mudroom, you should absolutely go for it. A sectioned-off cushioned sitting area is great when you have children and designate each section for each child, keeping things neat and organized for everyone. You can even add a separate bench on the opposite side for guests.
Alcove Mudroom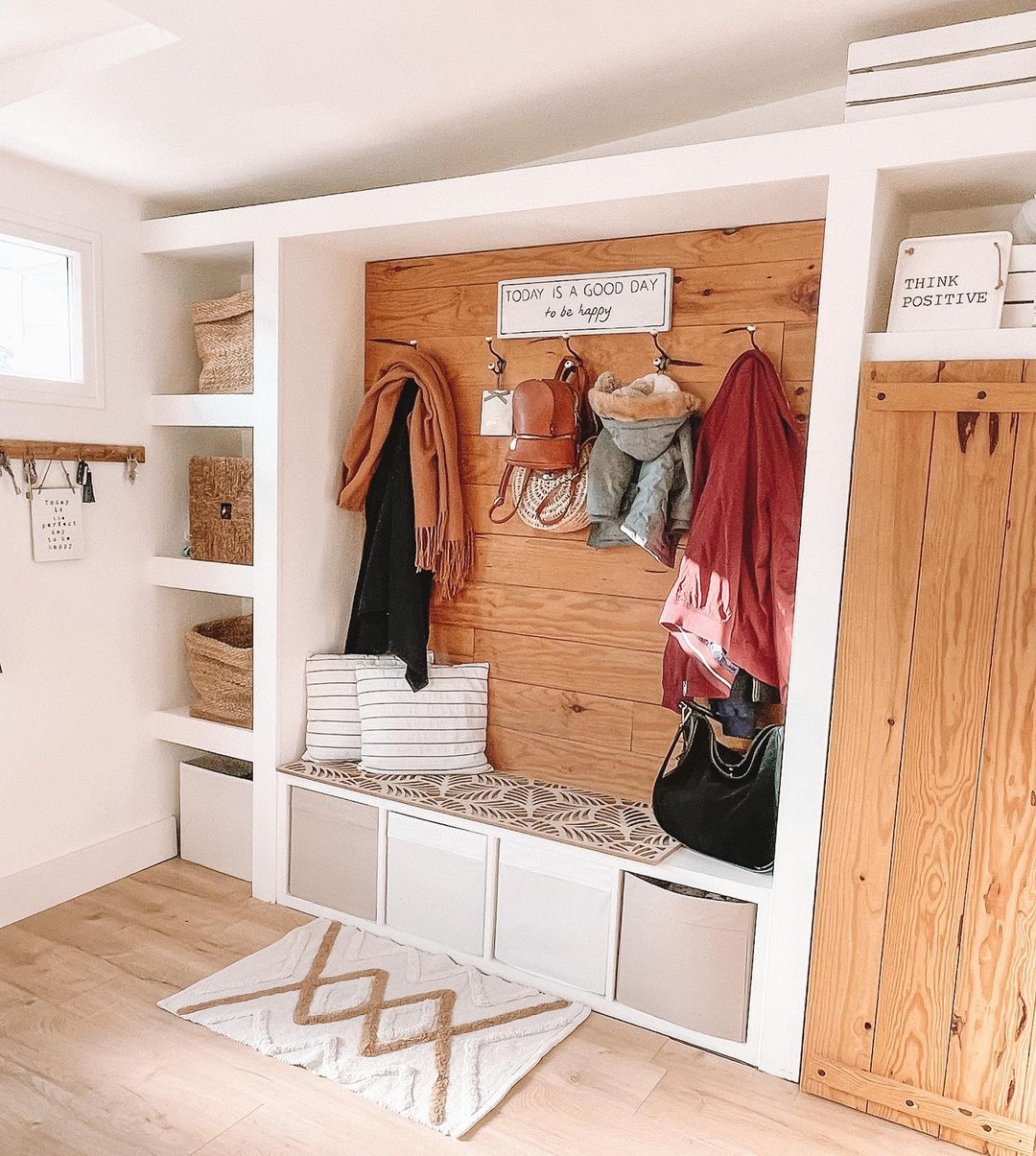 Let's finish the list with another white and wood-brown combination since it's so welcoming and easy to incorporate in most homes. Some storage space beneath the sitting area this time, with some motivational wall art, and a few shelves at the side to store purses and other items to grab or leave on the go, all seamlessly incorporated in the indented wall next to the door.
As they say "Cleanliness is next to godliness" and mudrooms sure lend a helping hand in keeping the home cleaner. Did you get enough inspiration to set up your mudroom? We hope you've enjoyed our ideas and selection and we'll love to hear your thoughts and suggestions in the comments.