Kenny Scharf is an American painter and iconic street artist. He gained fame and popularity in the New York downtown art scene in the 1980s thanks to this inimitable graffiti paintings. His work regularly featured stylized aliens and popular culture icons in colorful patterns.
Kenny calls his art Pop Surrealism. He is a true child of the television age. For his greatest inspiration, he cites cartoon characters such as The Flintstones and The Jetsons. His early work was strongly influenced by Hanna Barbera cartoons. Yet, he gradually began to transition to biomorphic imagery.
During his time at college, he became close friends with his roommate, another young artist by the name of Keith Haring. The two started experimenting with creating unsanctioned graffiti in the city's streets and subway lines.
Born in November 1958, Kenny is famous for his participation in the interdisciplinary East Village art scene during the 1980s alongside Jean-Michael Basquiat and Keith Haring.
His do-it-yourself practice began spanned painting, sculpture, fashion, video, street art, and performance art.
He grew up in post-World War II Southern California. And he was fascinated by television and the futuristic promise of modern design. And it is fun that he was influenced by two totally different television shows. The Flintstones are all about prehistoric times. The Jetsons, on the other hand, depict a futuristic society.
Scharf in his paintings tries to caricature middle-class Americans in an apocalyptic science fiction setting.
1. Escaped in Time, I'm Pleased, 1979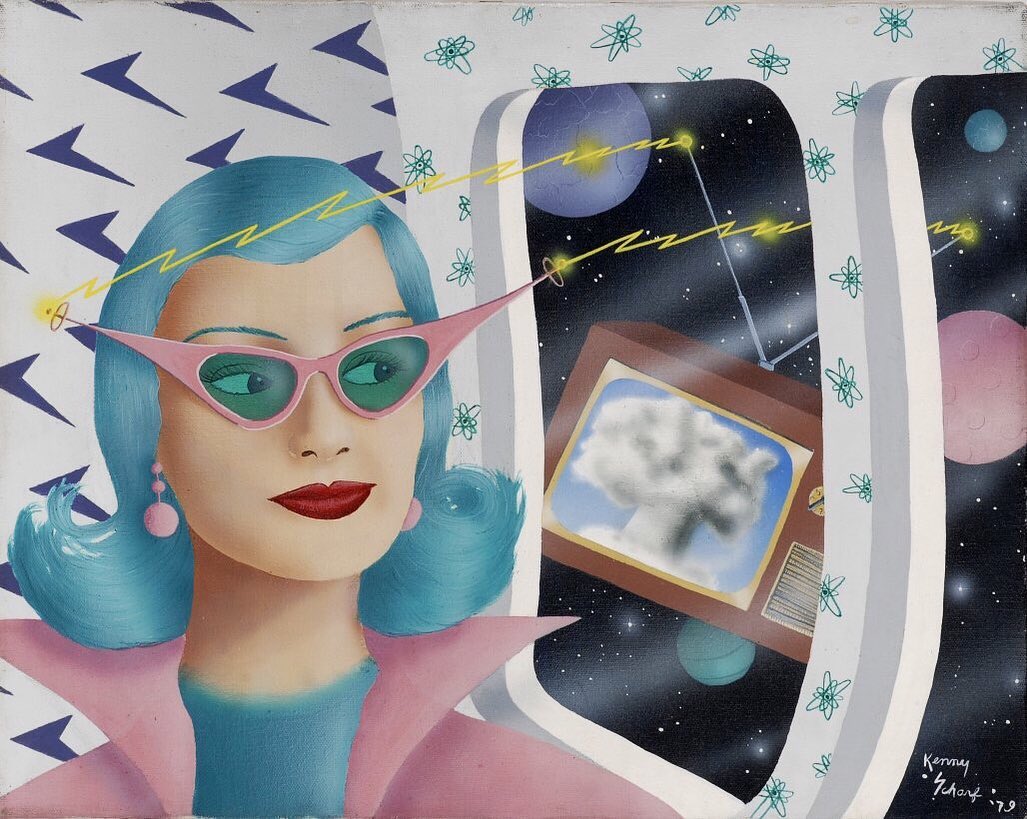 Let's start with a classic Kenny painting. You can see a character put in the Jetsons series setting. But the painting carries a deeper meaning. It shows a woman watching TV in a futuristic setting, similar to the artist watching series as kid.
2. Hannah Barbaric Paradise 1981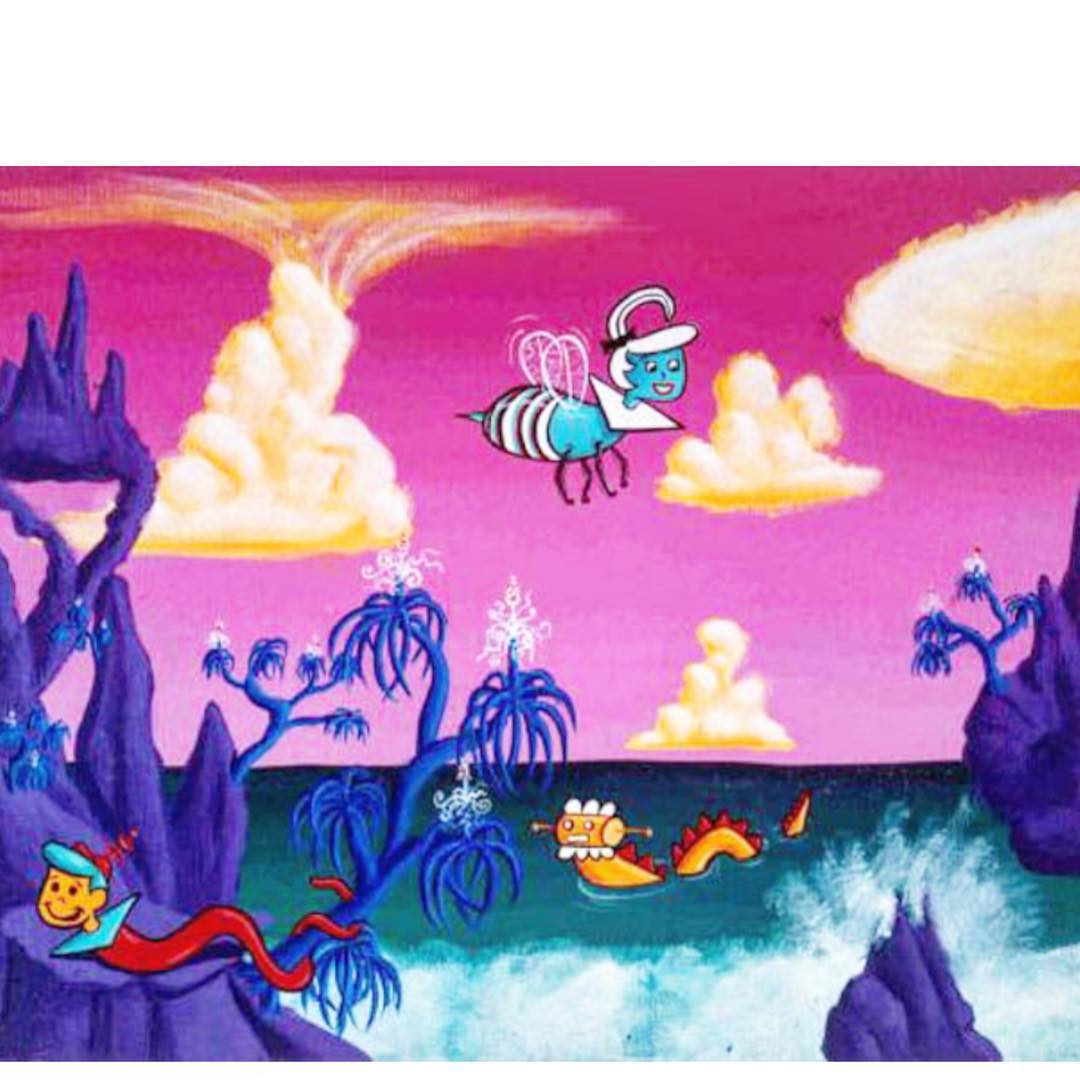 The Hanna Barbera paradise has several characters from The Jetsons, but painted as lizards, snakes, flies, and more. It is one of the apocalyptic ideas Scharf has.
3. Agua Pollination  1983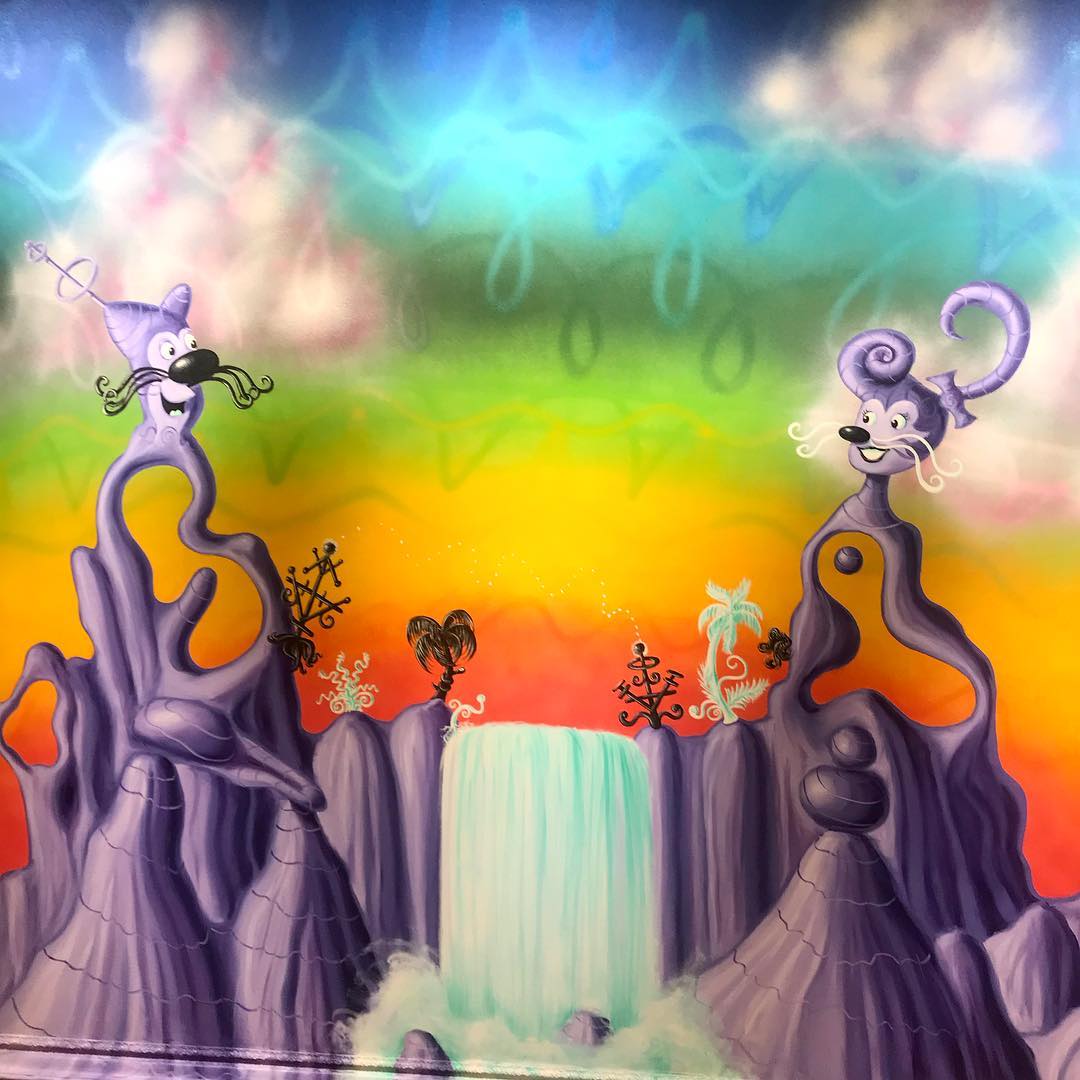 This painting is part of a unique trial-proof serigraph created by the American artist. It depicts two creatures that should represent bees and their pollination of the world.
4. Jungle Boogie 1984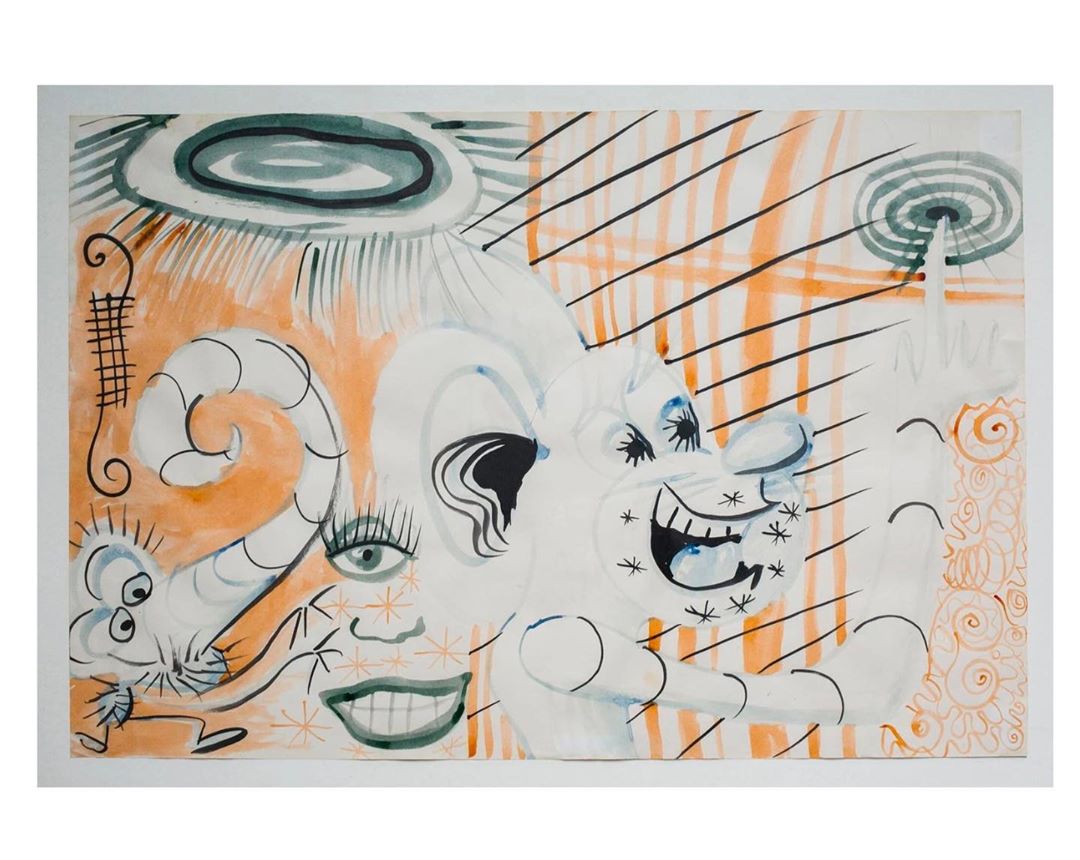 This image is from the latter years of the artist. When he moved from Hanna Barbera inspirations into something different.
5. Jungiloony 1986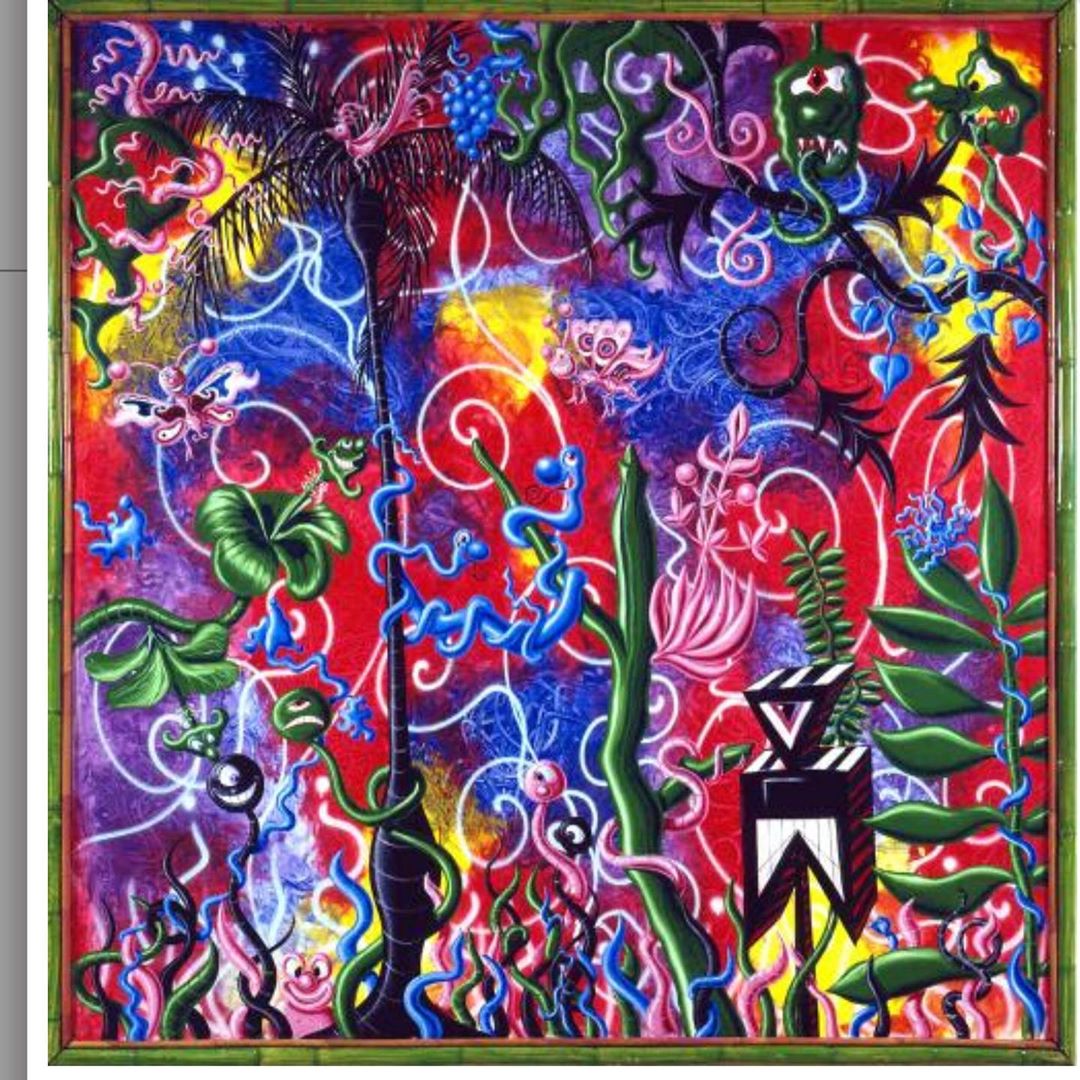 As we said before, the artist uses a lot of alien-inspired characters and alien-lookalike subjects in his paintings. This one is the best proof of that. All the insects in it, worms and more, look like alien-like characters.
6. The Big Bong Theory 1987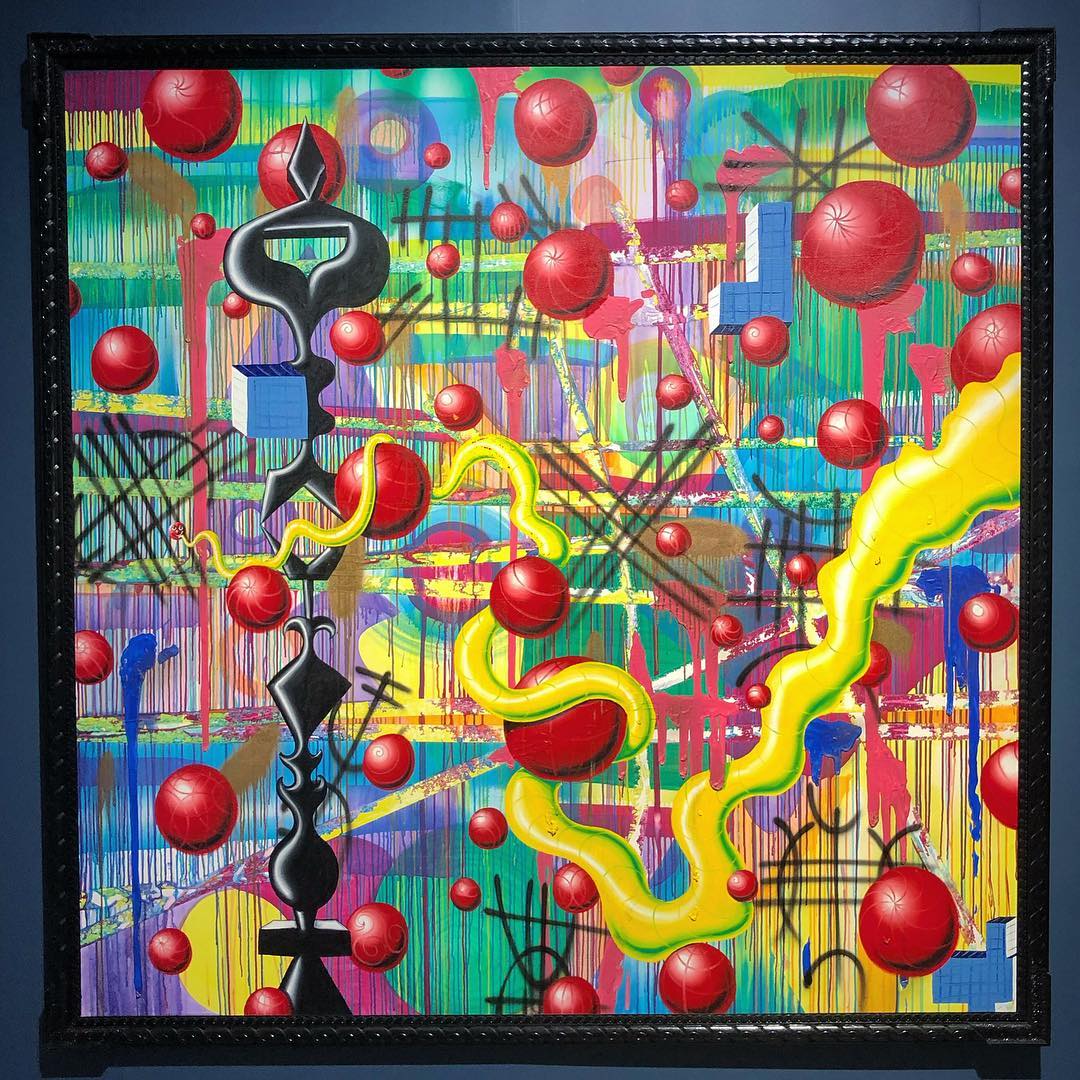 Leave it to Kenny to pain the Big Bang Theory in a futuristic setting. It is a surrealism painting that plays with the word "bang and bong". Maybe that is how he views the event.
7.  Biorama 1991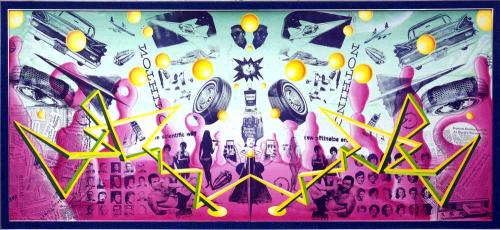 Kenny plays with all the different subjects trying to create a future that looks like the television series he saw as a kid. You have classic cars and TV airplanes in one painting. Amazing.
8. Bluey 1994
In most of his paintings, Scharf tries to paint as many small details as possible. But every now and then, he goes for one big object that is the central piece of the painting.
9. Flintstones 1998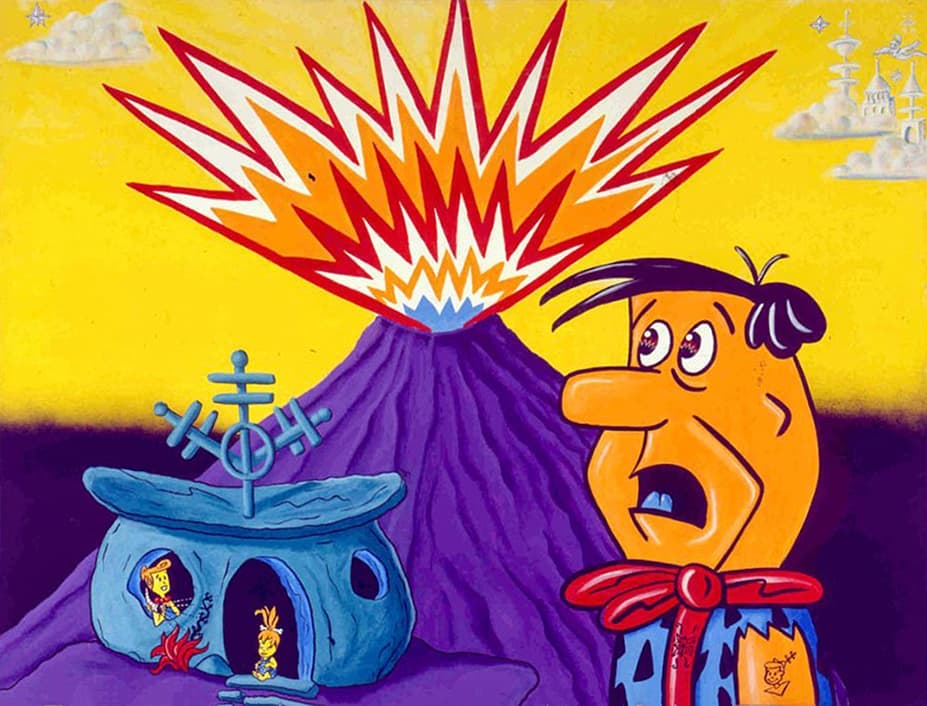 Some of Kenny's best paintings include cartoon characters. They look like taken right out of the cartoon. But the fun part is referencing other shows. For example, you can see The Jetsons tattoo on Fred's arm.
10. Cosmic Covern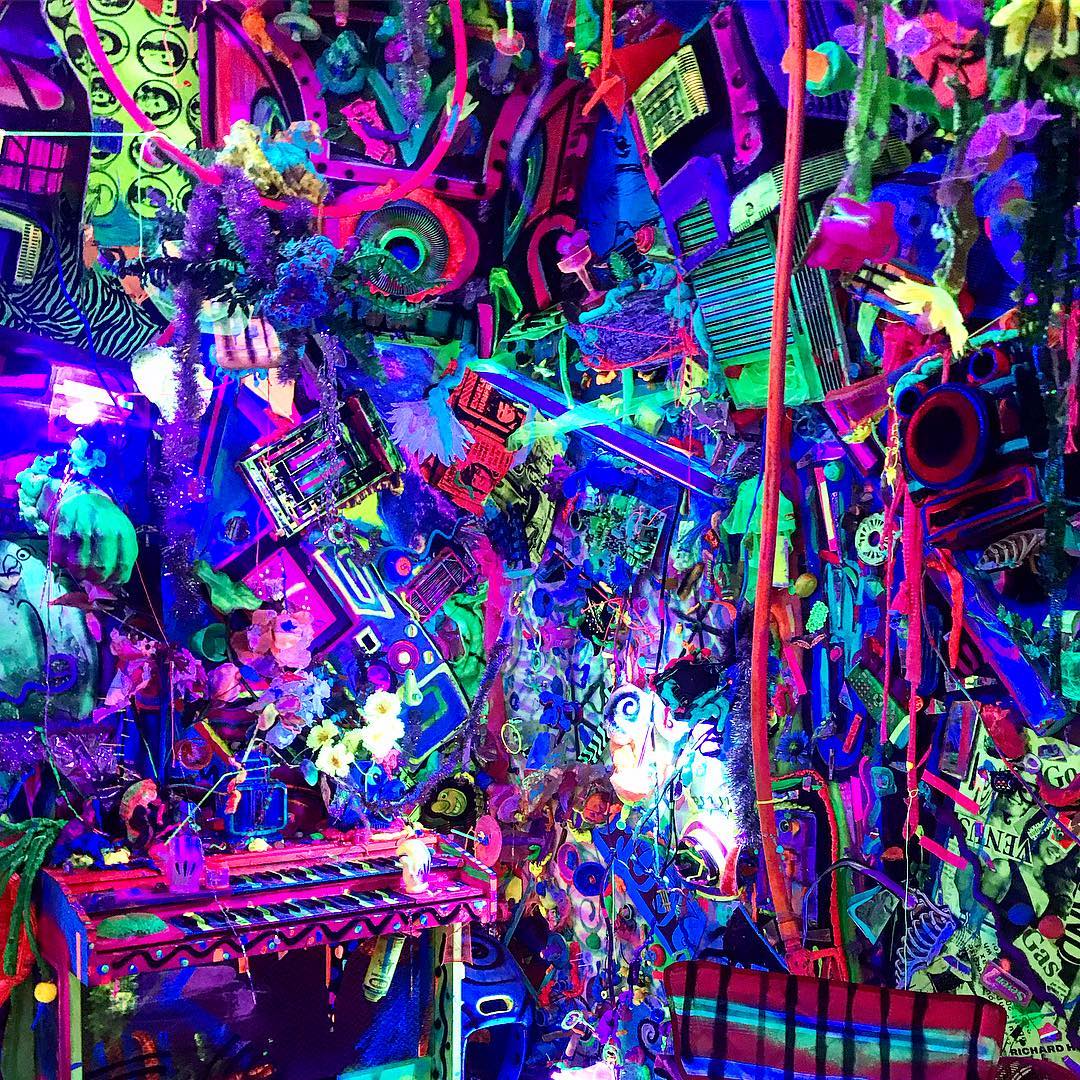 Truth be told, not many people can gaze at this colorful painting. It is almost psychedelic. But that is one of Kenny's signature styles in the past several years.
11. Bujunglr  2002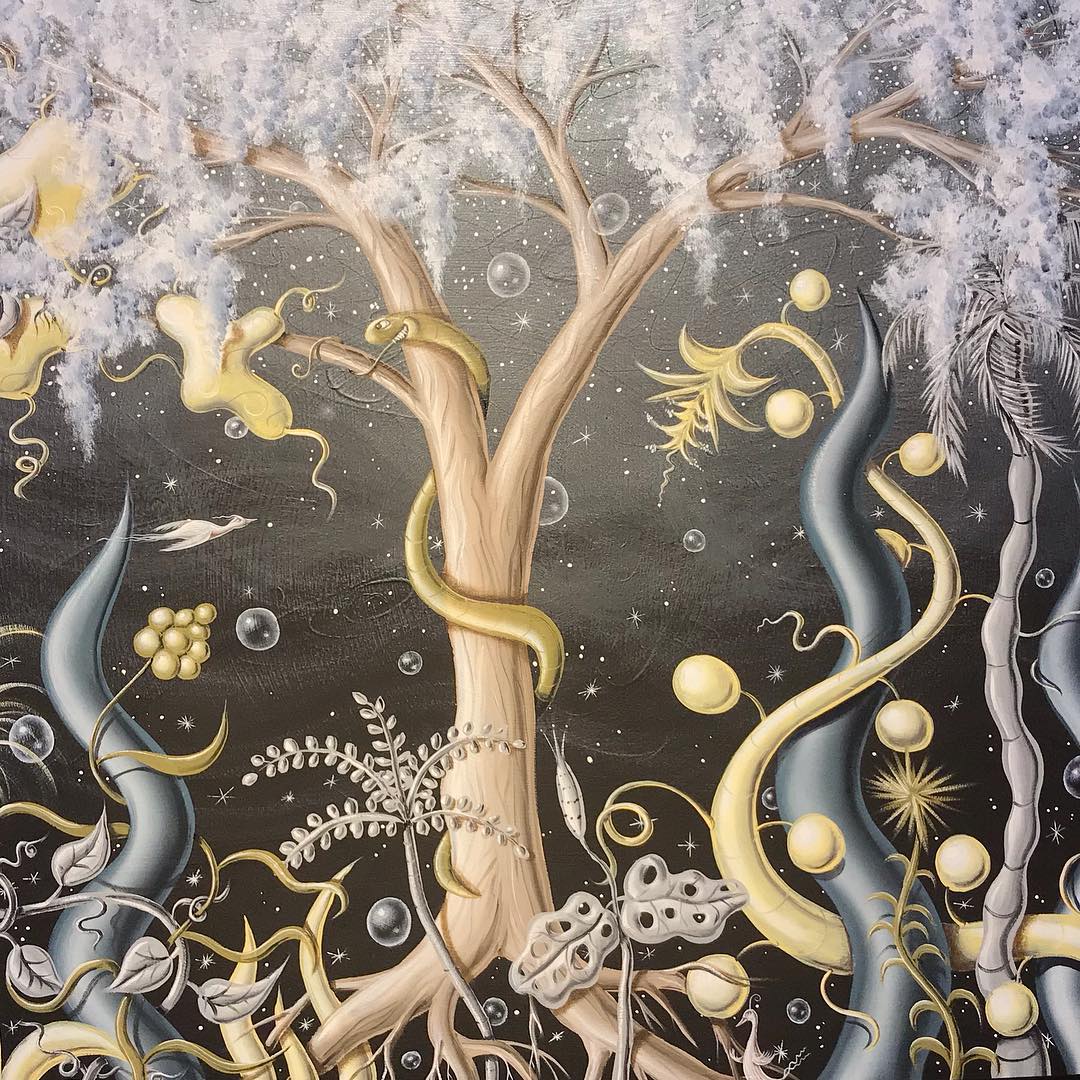 Two topics that dominate Kenny's artwork are future and aliens. And everything looks alien-like. Even trees and their roots.
12. Blue Star 2004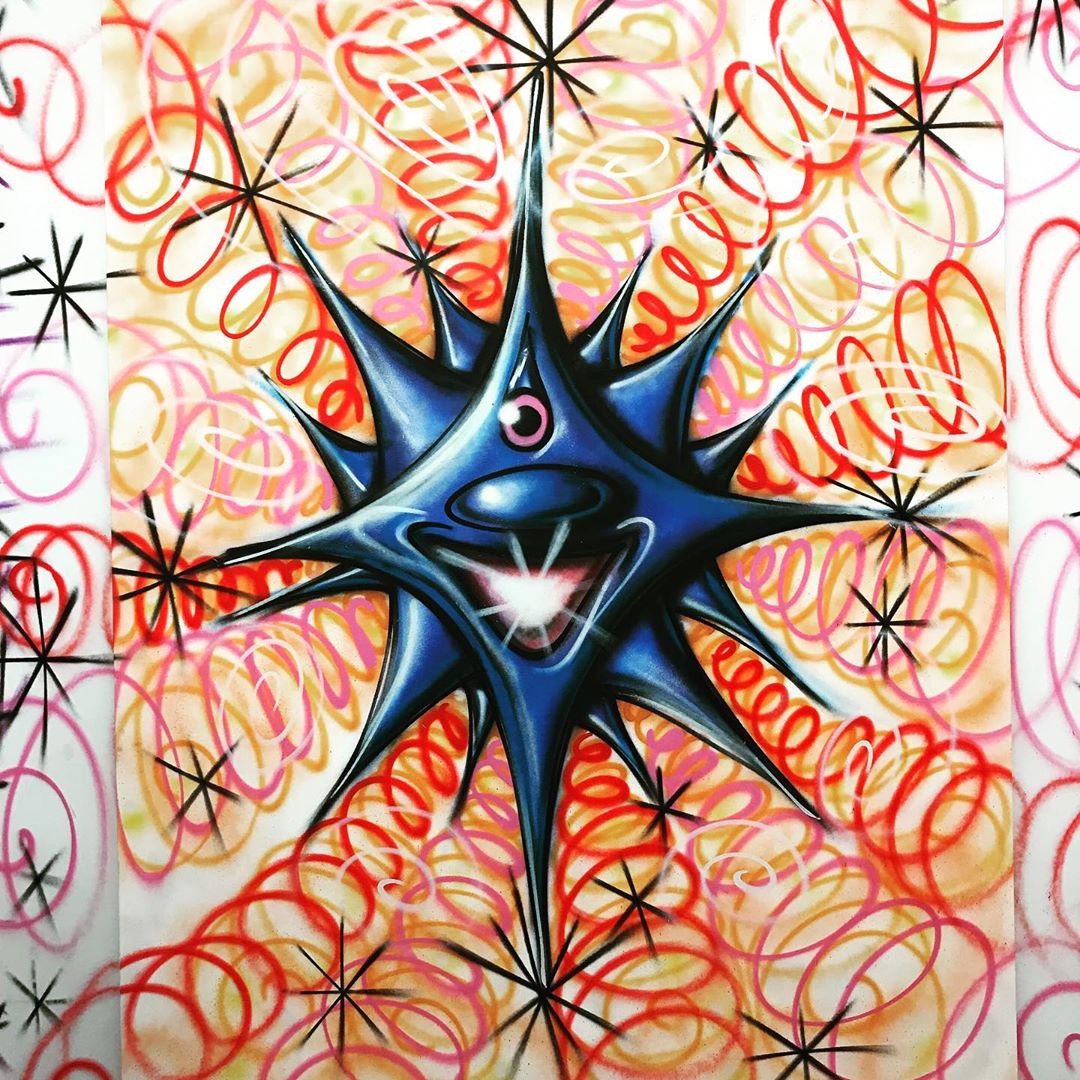 Kenny is one of the few brave artists that can change the color of something we have known forever and make it amazing. Stars have always been and will be yellow. But the blue star Kenny draw is an amazing painting.
13. Fungle 2008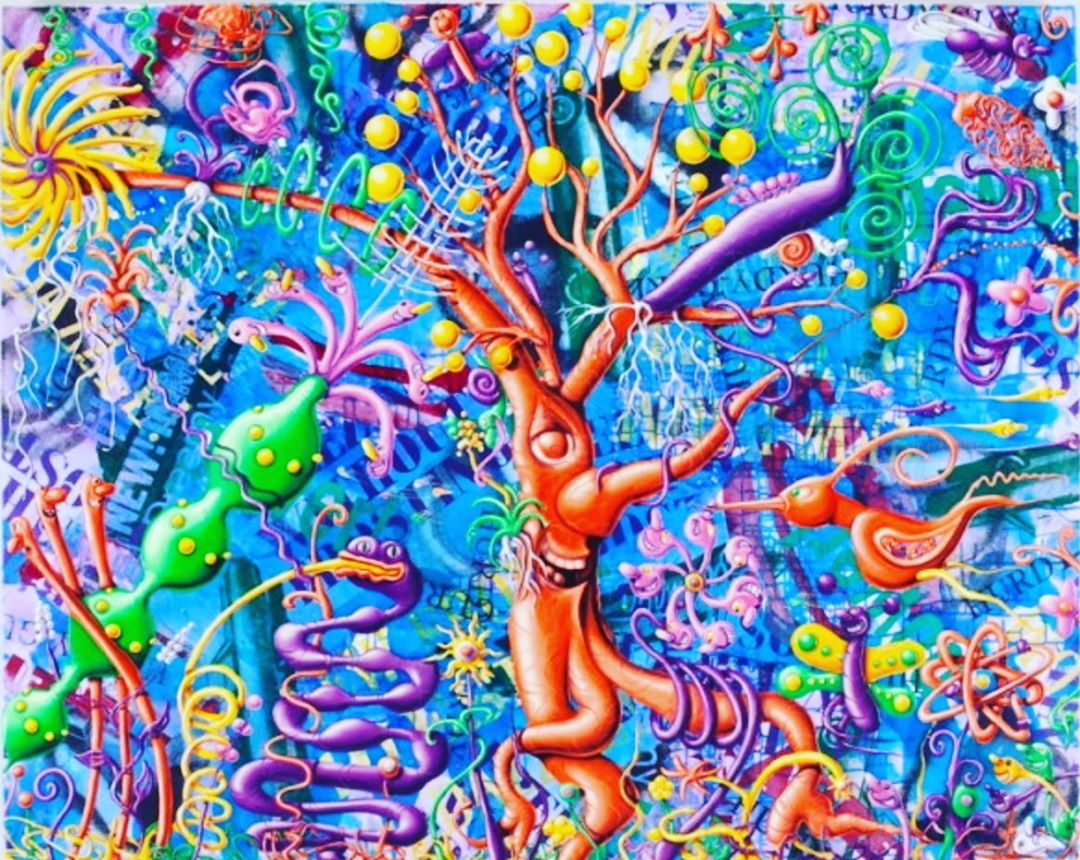 Many of Kenny's paintings are wordplays. Take this one for example. Instead of Jungle, he paints Fungle. It is a clever wink at the future and how our jungle looks in his post apocalyptic scenario.
14. Chocolate Doughnut With Sprinklers on a Lovely Day  2010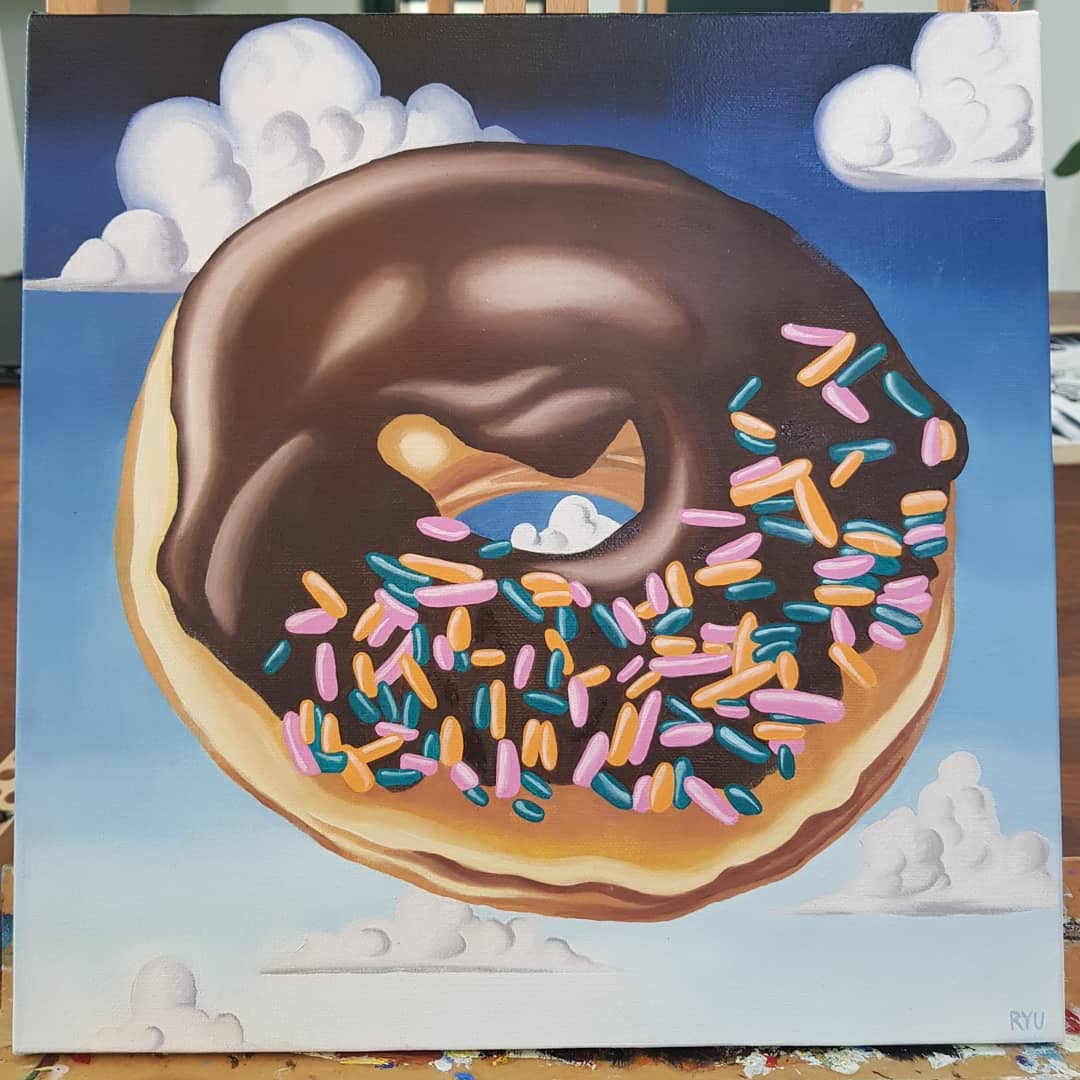 While Kenny is a futuristic painter, he knows to paint a contemporary piece every now and then. This is a classic American object, the famous doughnut.
15. Blobomundo 2011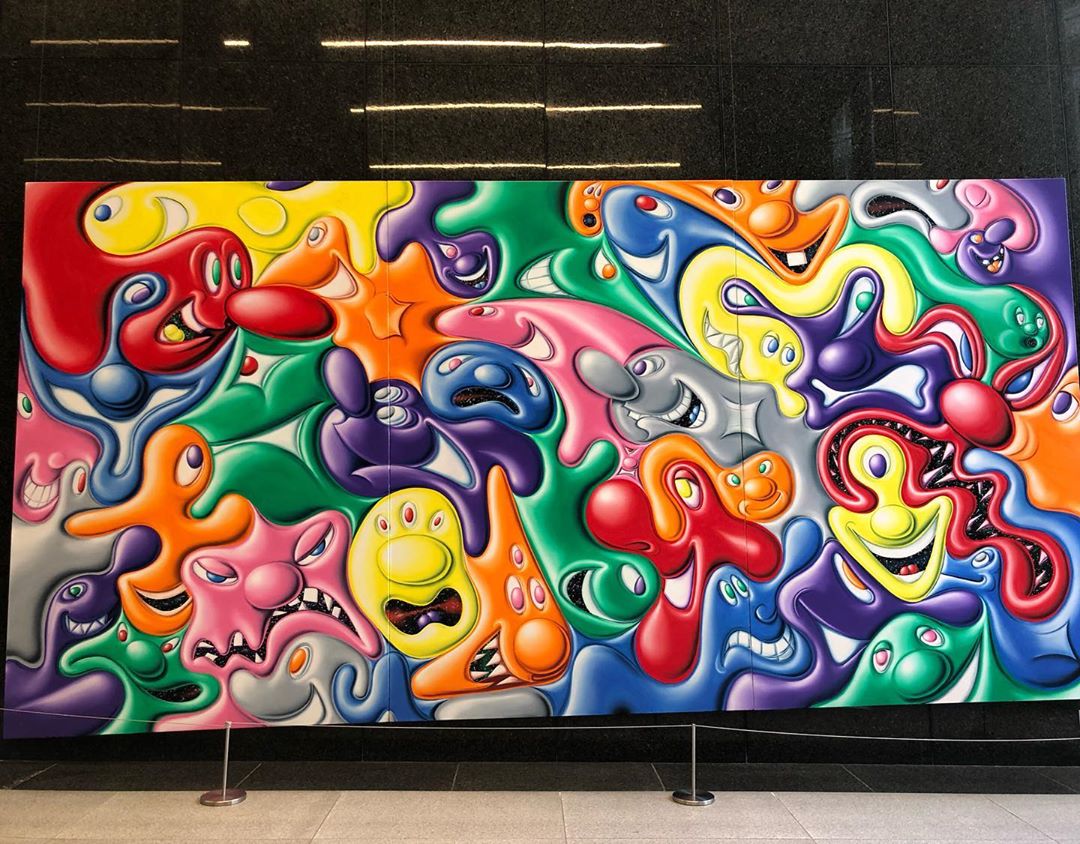 This is a painting that shows a futuristic take on the jigsaw puzzle. In his true futuristic spirit, Scharf uses futuristic aliens as parts of the puzzle.
16. Wynwood Walls 2011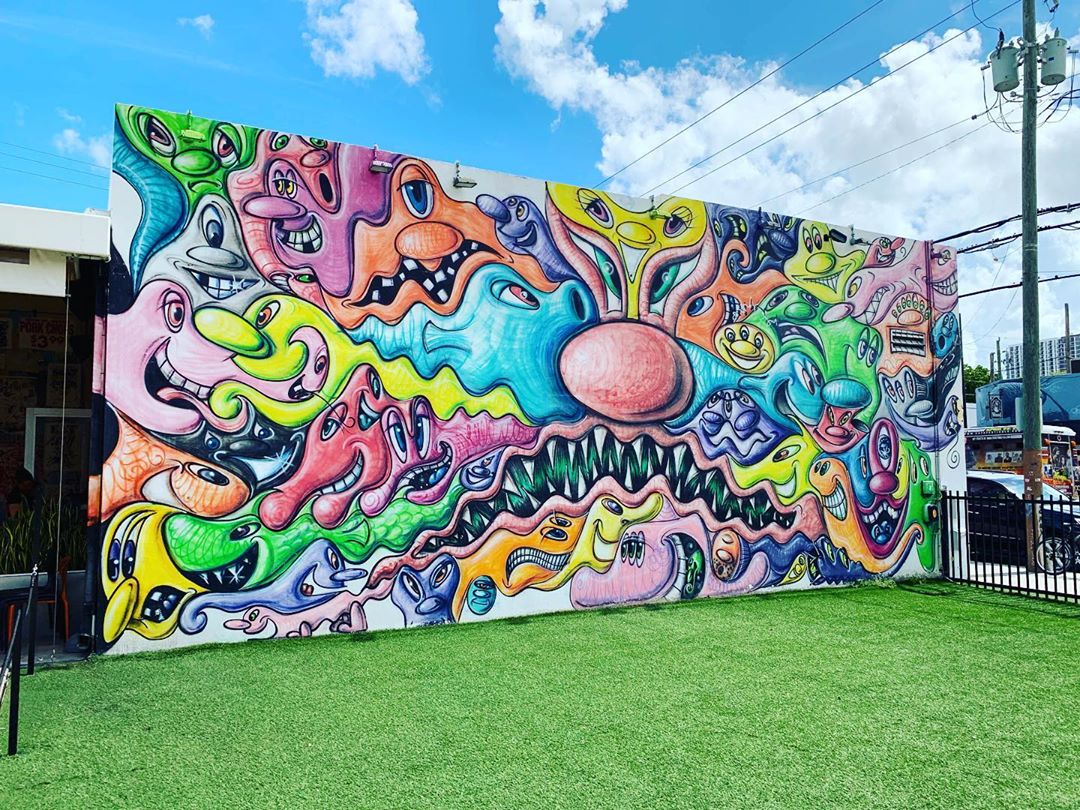 Aliens and alien-like creatures dominate this painting as well. Every creature looks like a little alien in Kenny's paintings. That is his signature feature.
17. HAPPYMADNOSELOCK 2014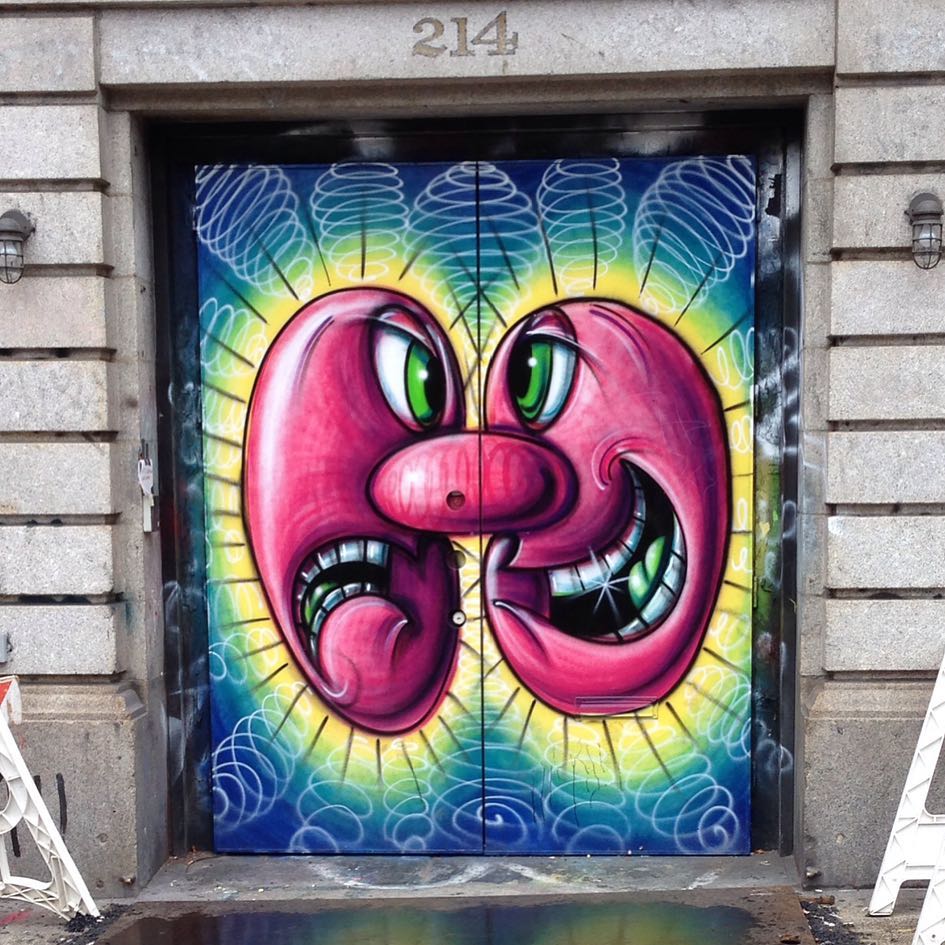 This painting is a true representation of the world of Kenny Scharf. And it is a mural located on the streets of Pasadena.
18. Malaga Mural 2015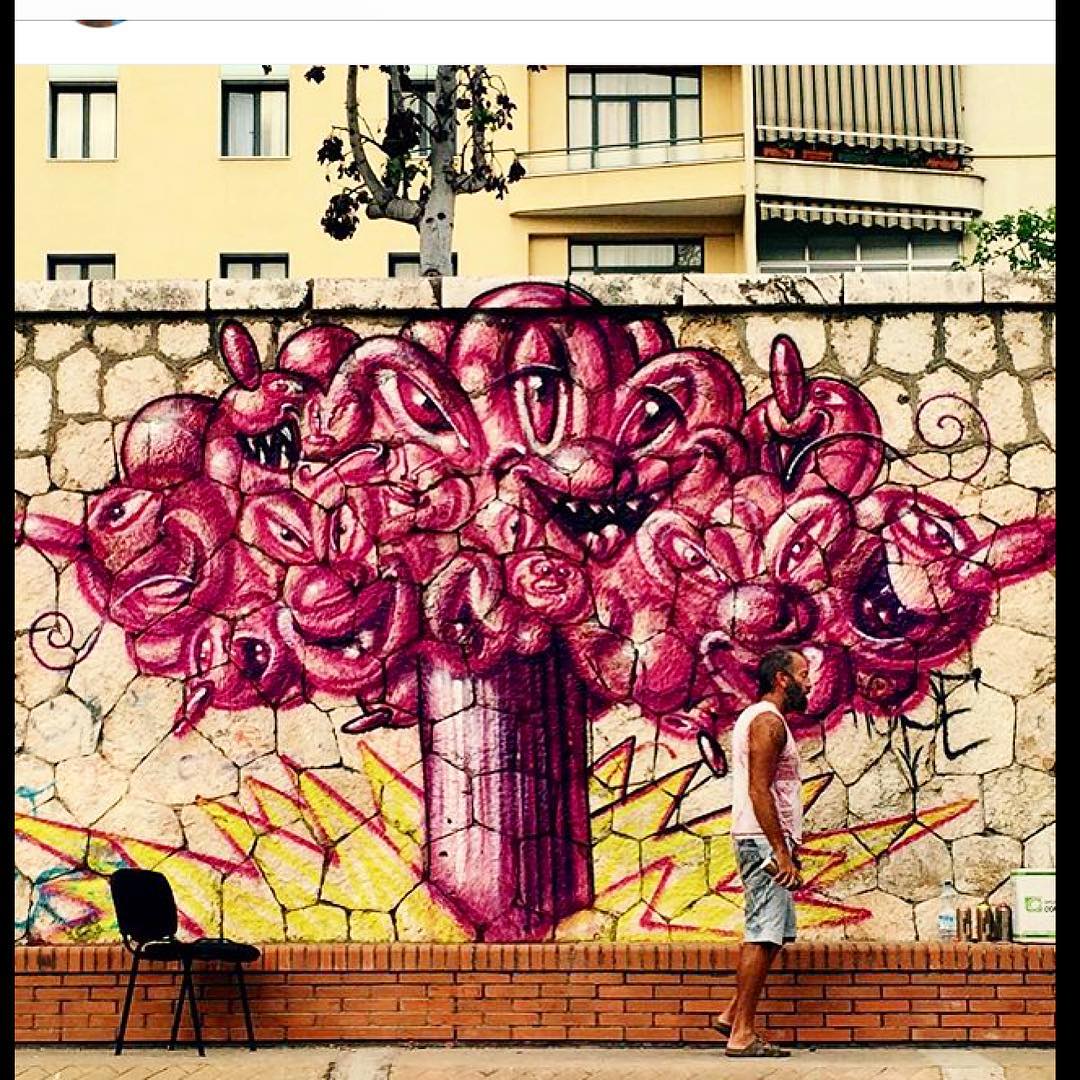 Kenny is an American artist, but he also travels around the world. And because he is so famous in the States, countries in Europe want to get a piece of his art as well. He brought his alien-like creatures to Malaga, Spain.
19. The Bathers 2015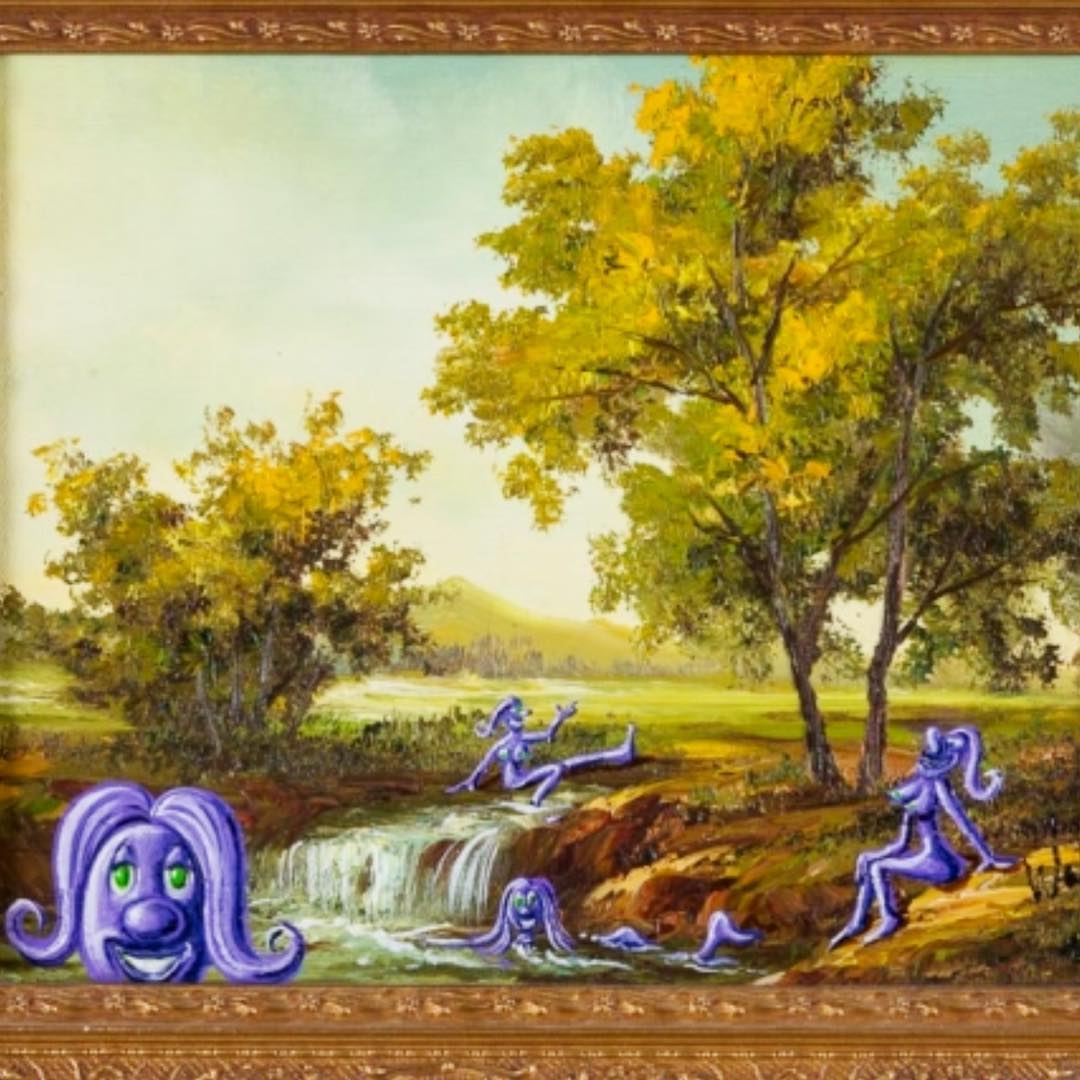 Just when you thought Kenny can paint a true landscape nature photo, he puts his stamp on it. No Kenny painting is complete without some alien-like creatures. And in this case, we have some Jetsons looking characters.
20. Bronx Mural 2016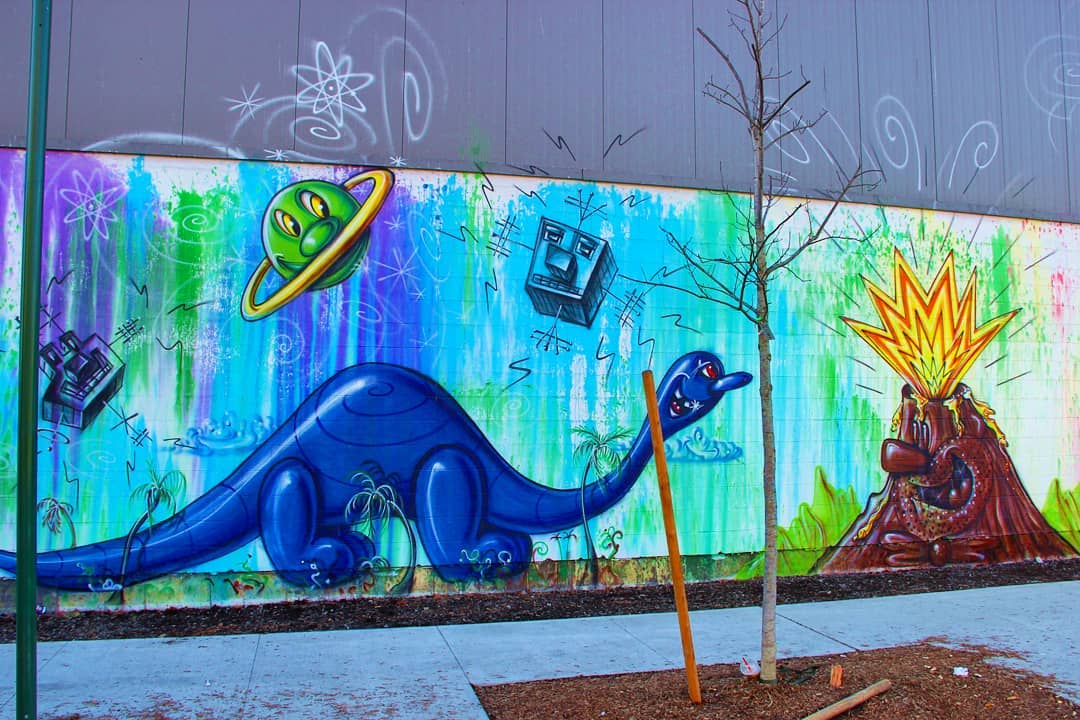 This painting combines two of Kenny's inspirations for an amazing mural. You have the prehistoric times of The Flintstones and the futuristic look of the Jetsons in one painting.
21. Sugar Pop Universe Lotte Museum 2018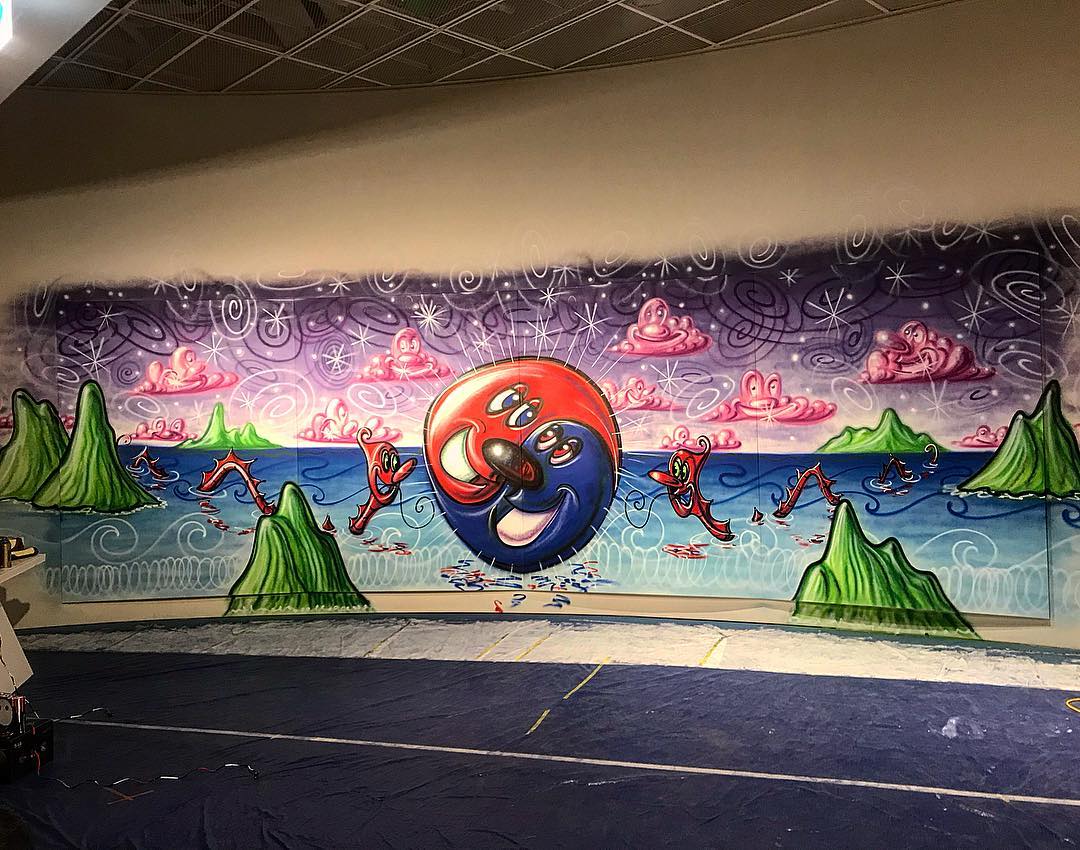 The Lotte Museum had a Kenny Scharf exhibition, and the artist wanted to give them a special mural the occasion. The museum paid tribute to the living legend of Pop Art.
22. Out Of Space 2019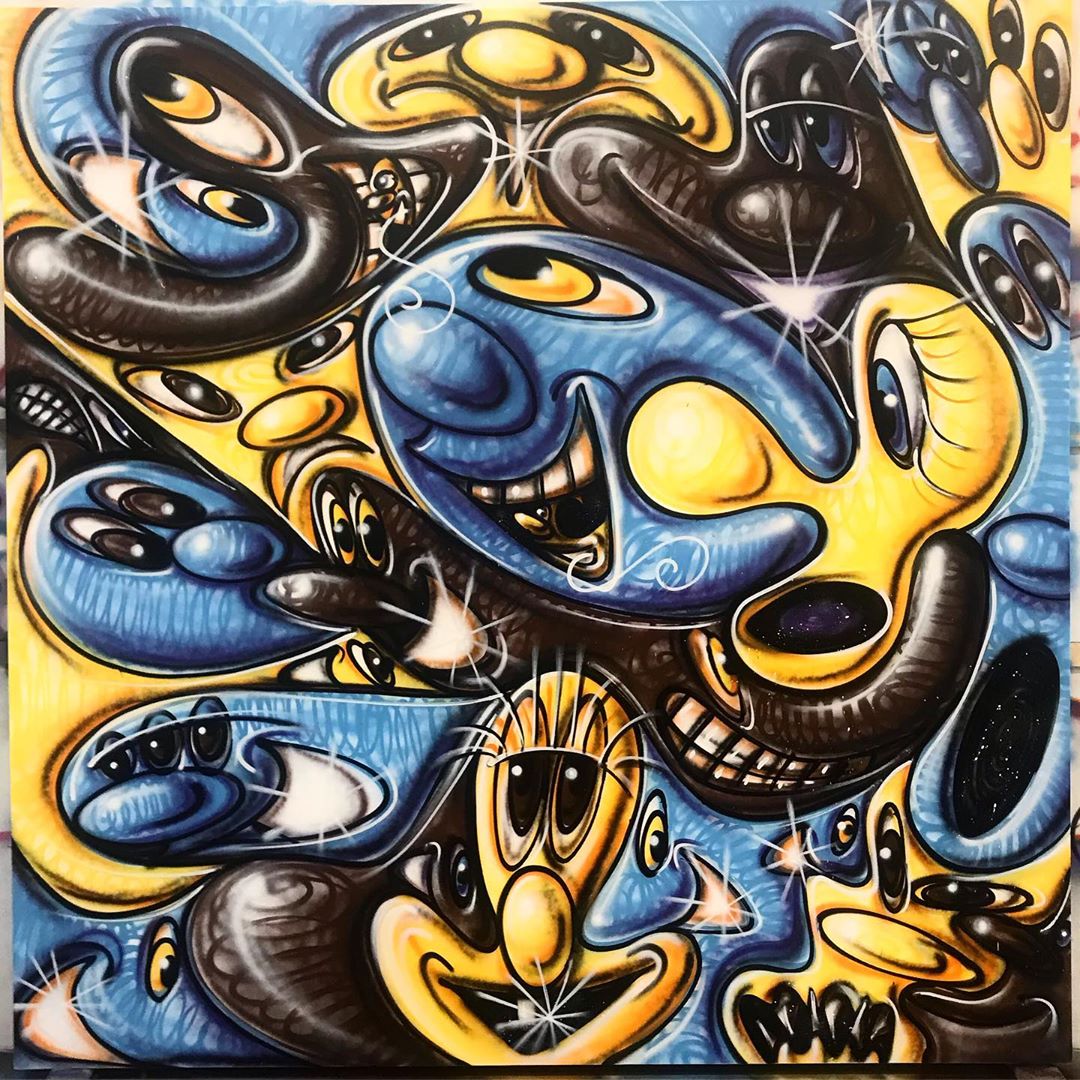 Many of Kenny's paintings incorporate social messages through animated characters. You just have to search deeper for the meaning.
23. Micro Macro Monstrosity, 2019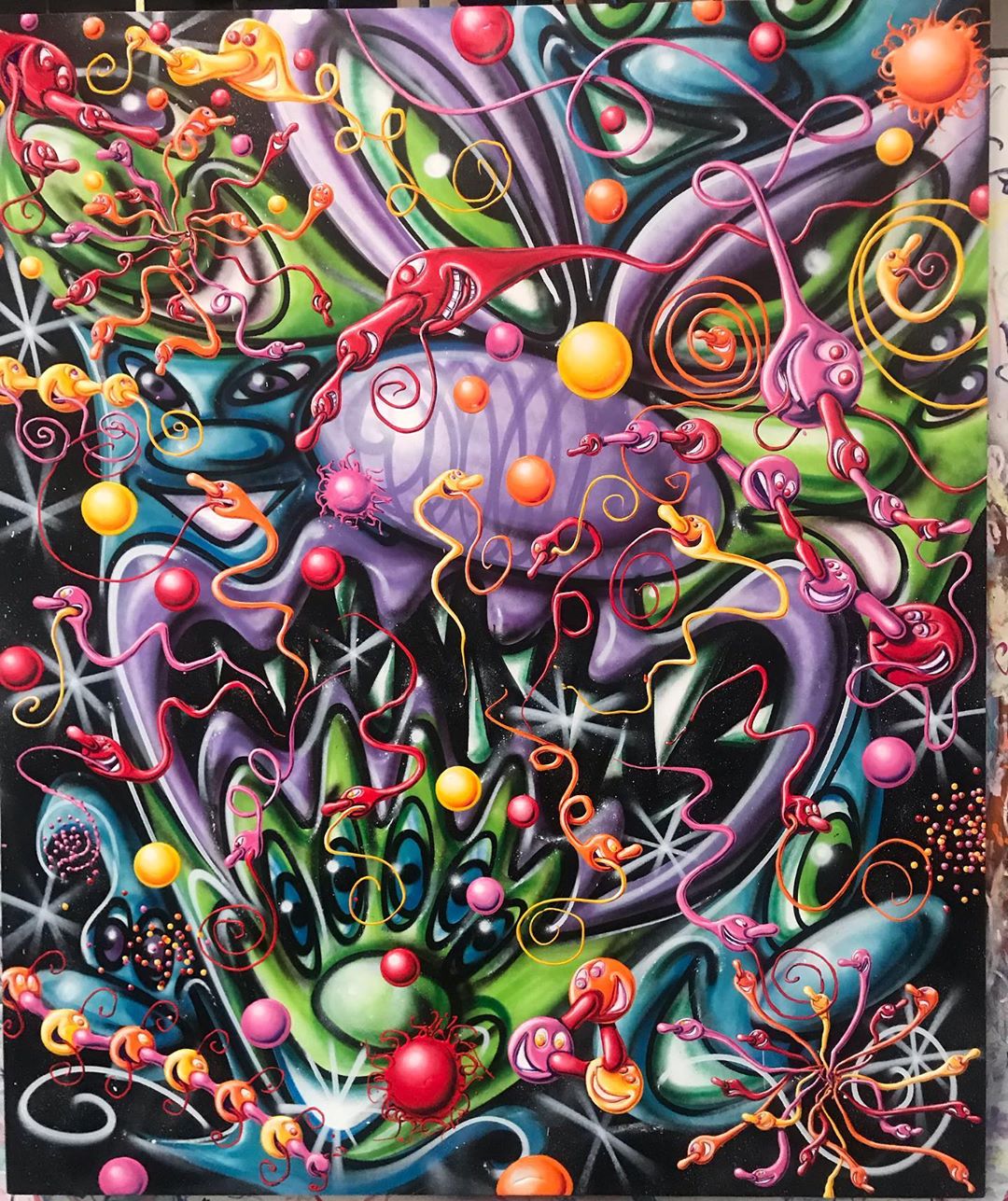 Speaking of hidden meaning in his ingenious works, Kenny is master at painting the society in futuristic and alien-like characters.
24. Davis Bro's Tires 2019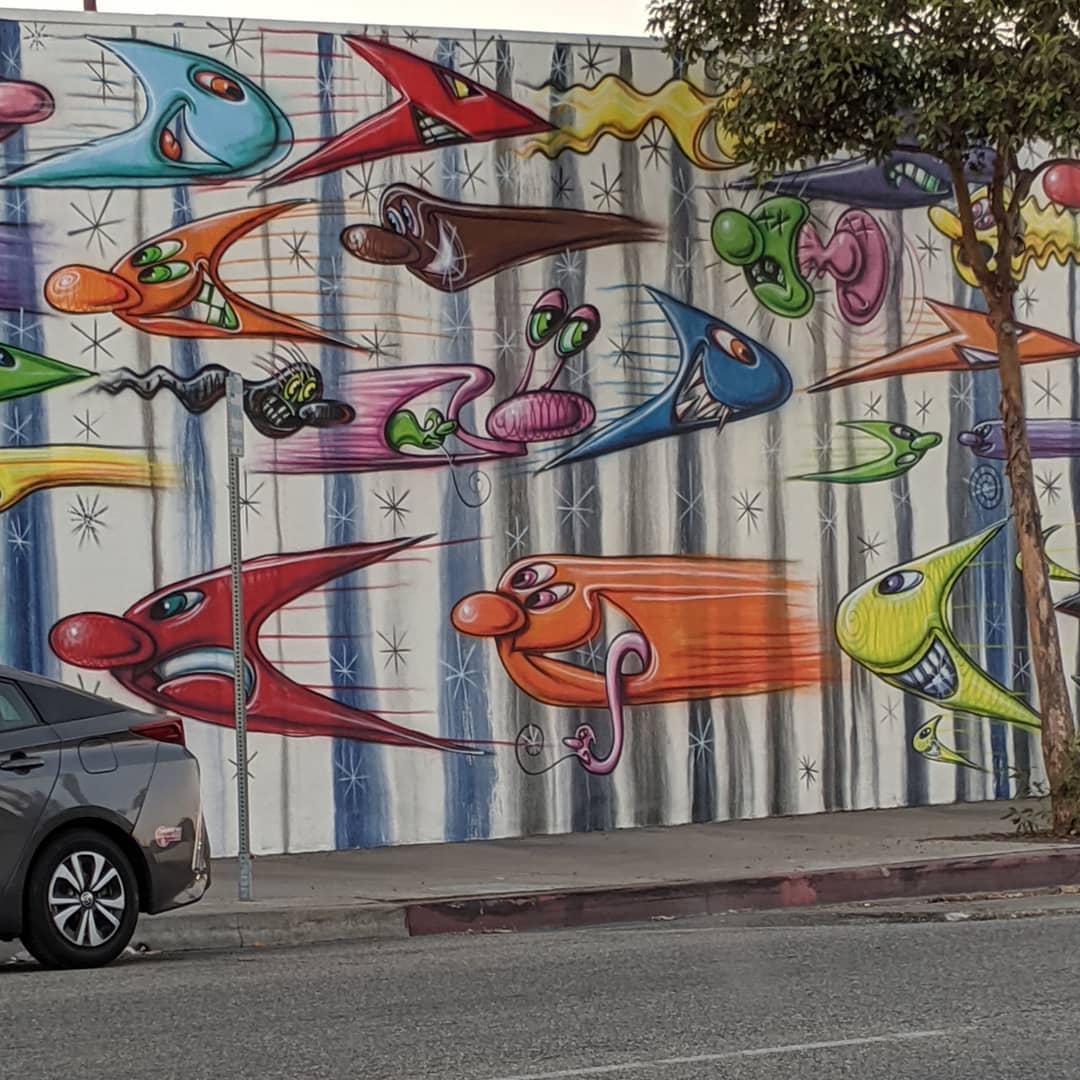 Scharf lives and works in the area where David Bros operates. He is also a customer of the company. He was very happy with the placement of this mural.
25. Fleurs et Vase Sur la Table, 2019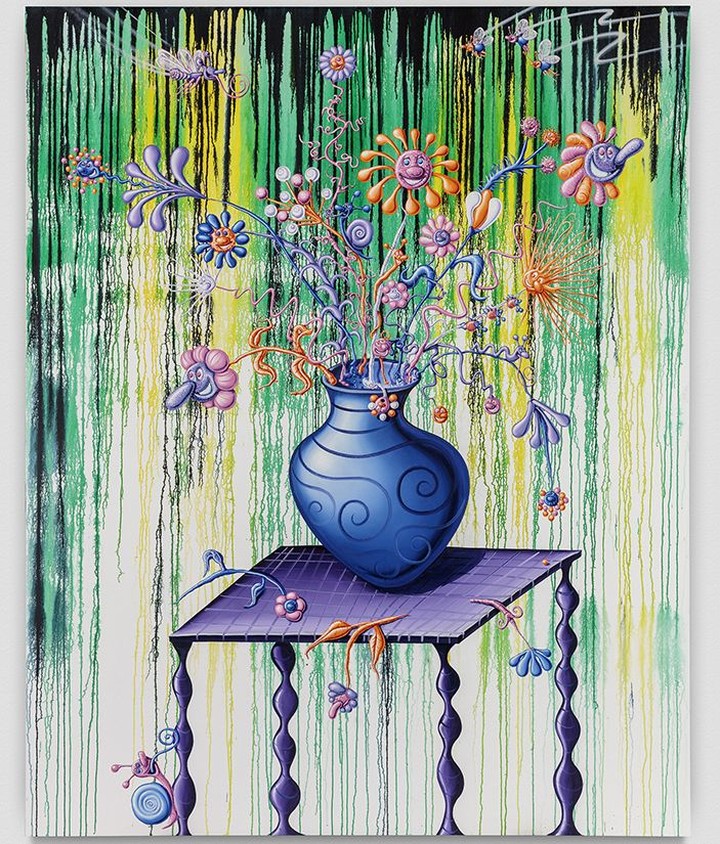 If you think modern and contemporary pop art artists do not paint still life paintings, think again. Still Life was very popular in the 16th century in the Western World. And of course, Kenny has a few ideas for how still life should look like.
26. Copenhagen Denmark ,Public Permanent Mural 2019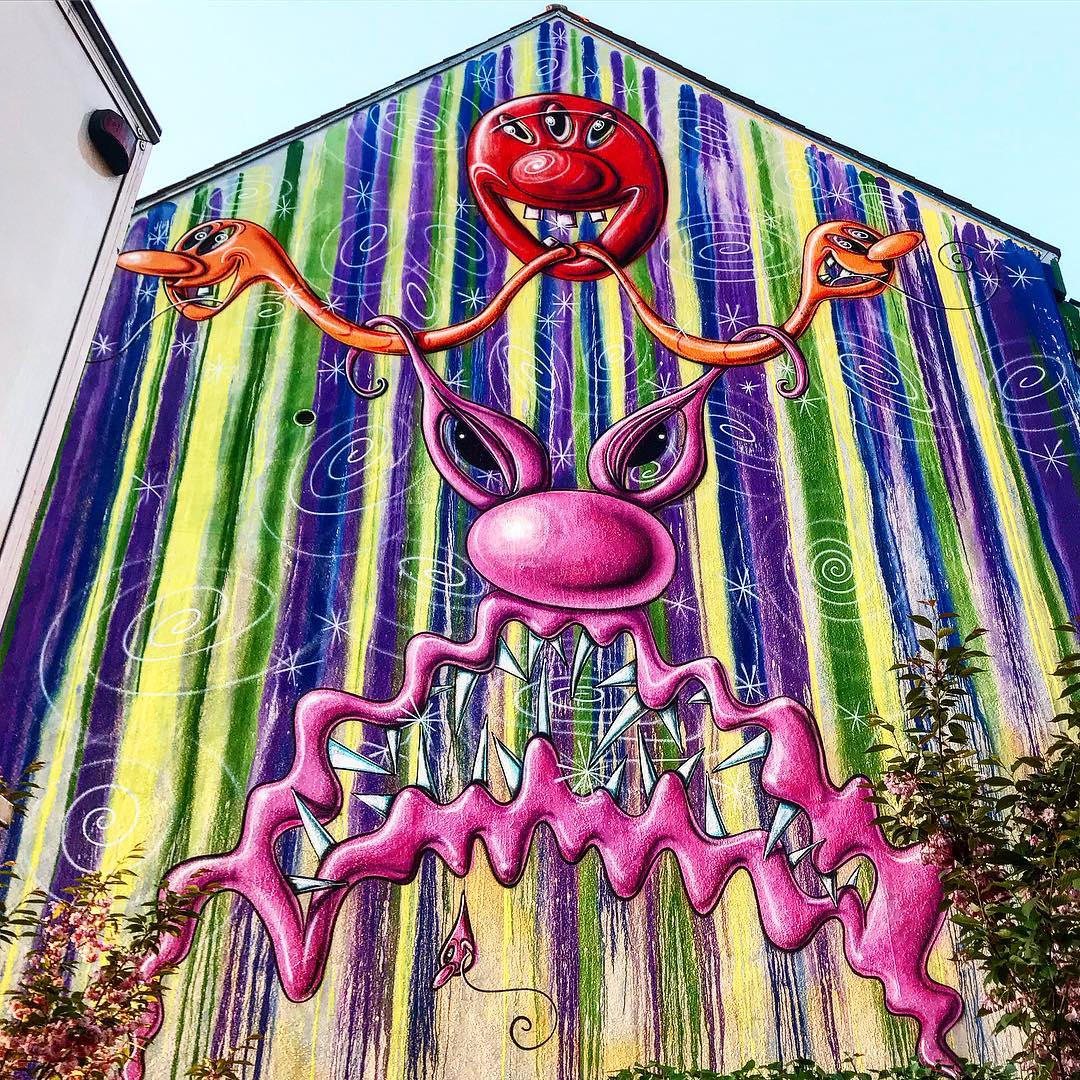 Scharf is a world-renowned artists. Countries and cities all over the world would love to get a mural by the artist in their area. And Kenny delivers when they ask.
27. Beyond The Streets 2019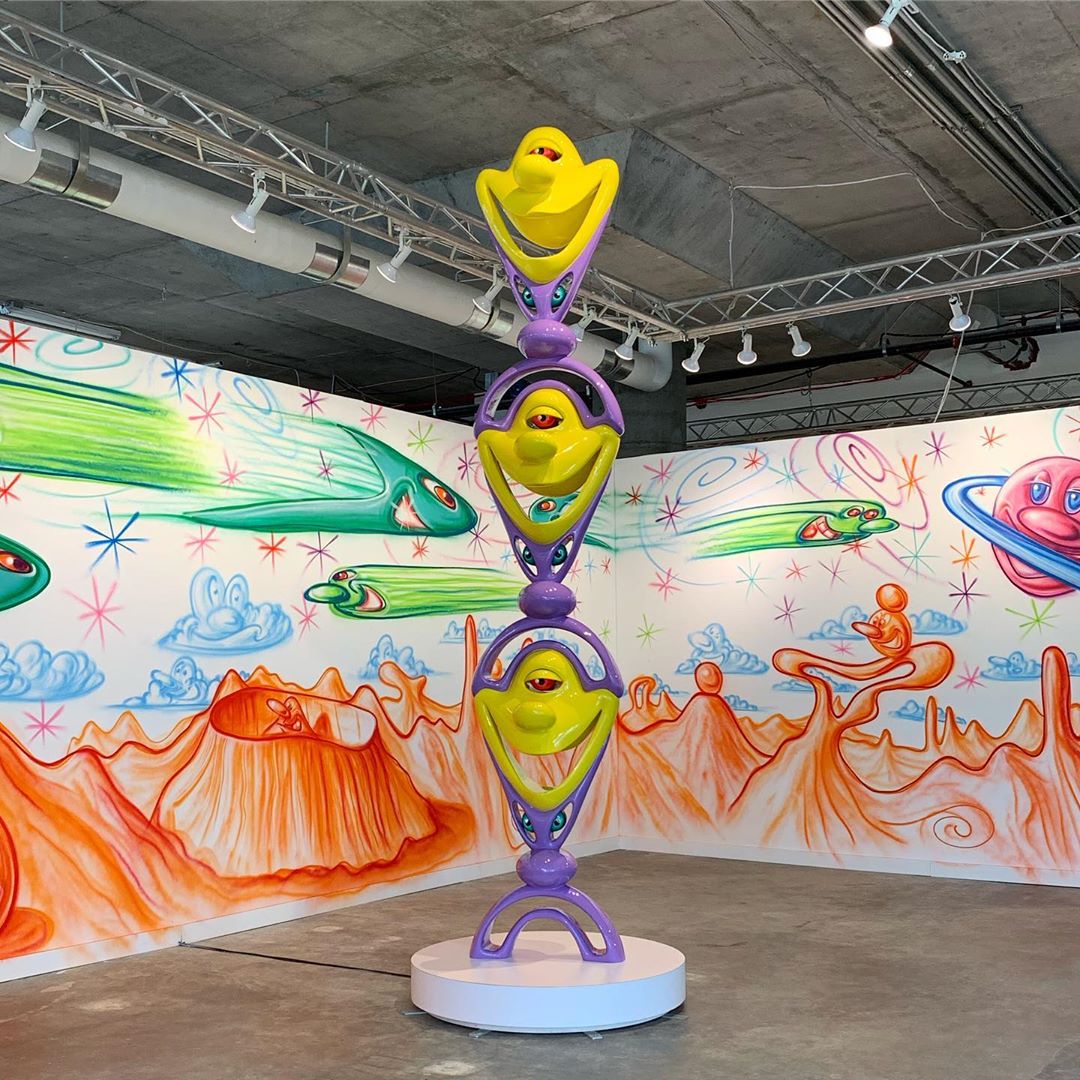 Kenny got famous as a painter. But he is also a sculptor. His sculptures carry the same design ideas from his paintings. This is how an alien would look like in real life if Kenny is asked.
28. Ultra Planeta 2019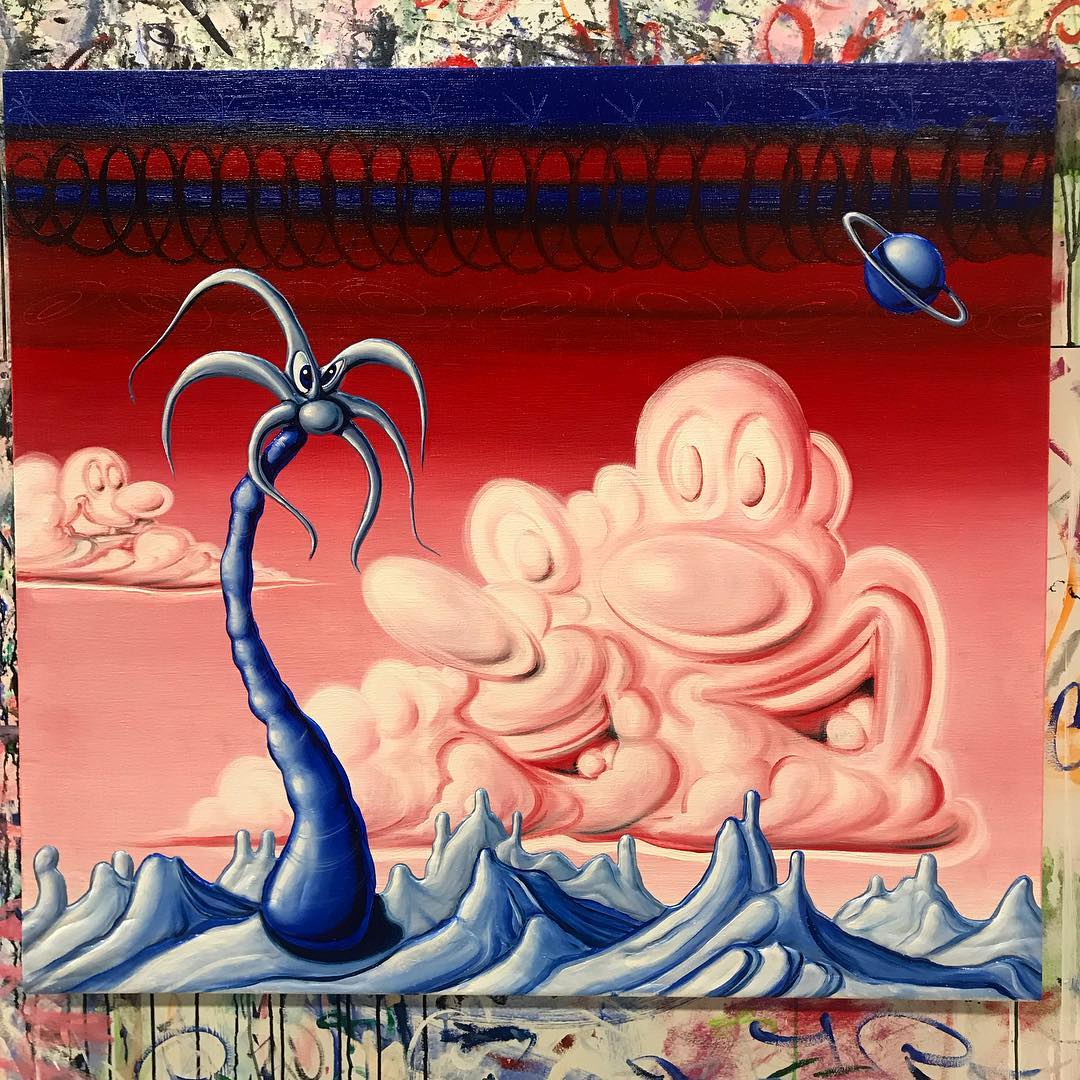 We said before that Kenny often adds messages in his mural through cartoon characters. And this one shows our planet and how it can become a wasteland if we do not change our habits.
29. Stonewall Mural 2019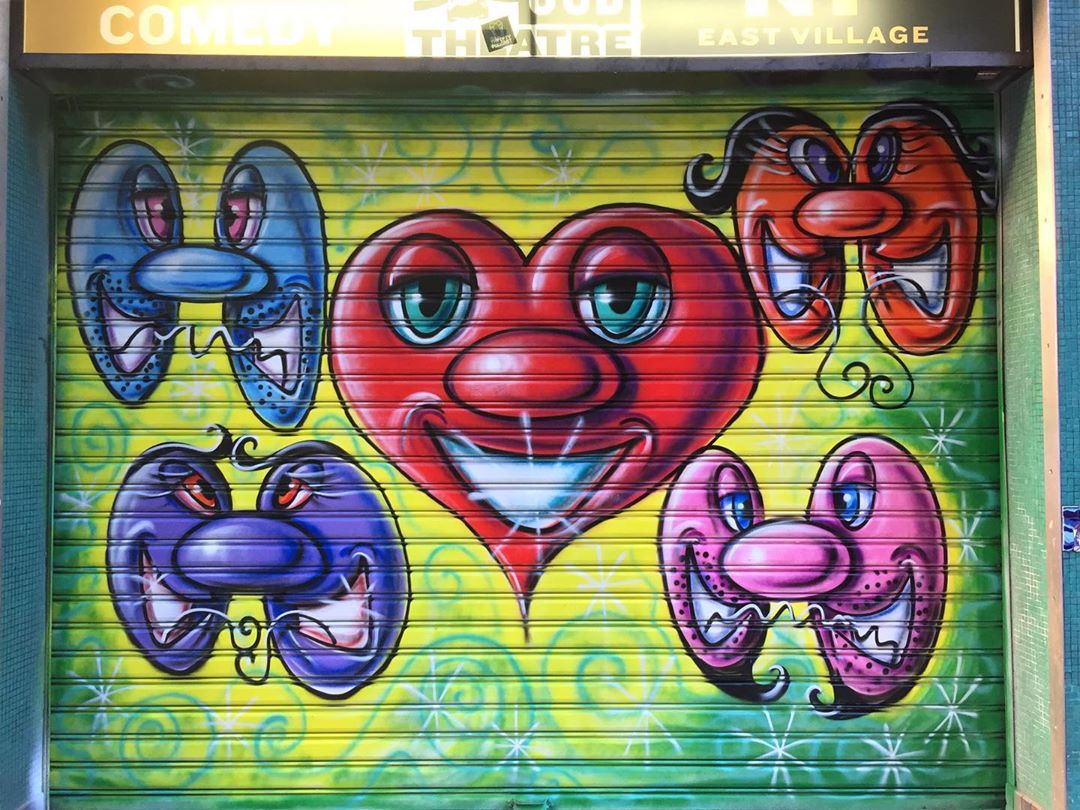 Kenny can paint a mural on everything. And his paintings pop out of nowhere and bring colors and happiness.
30. Stonewall Mural 2019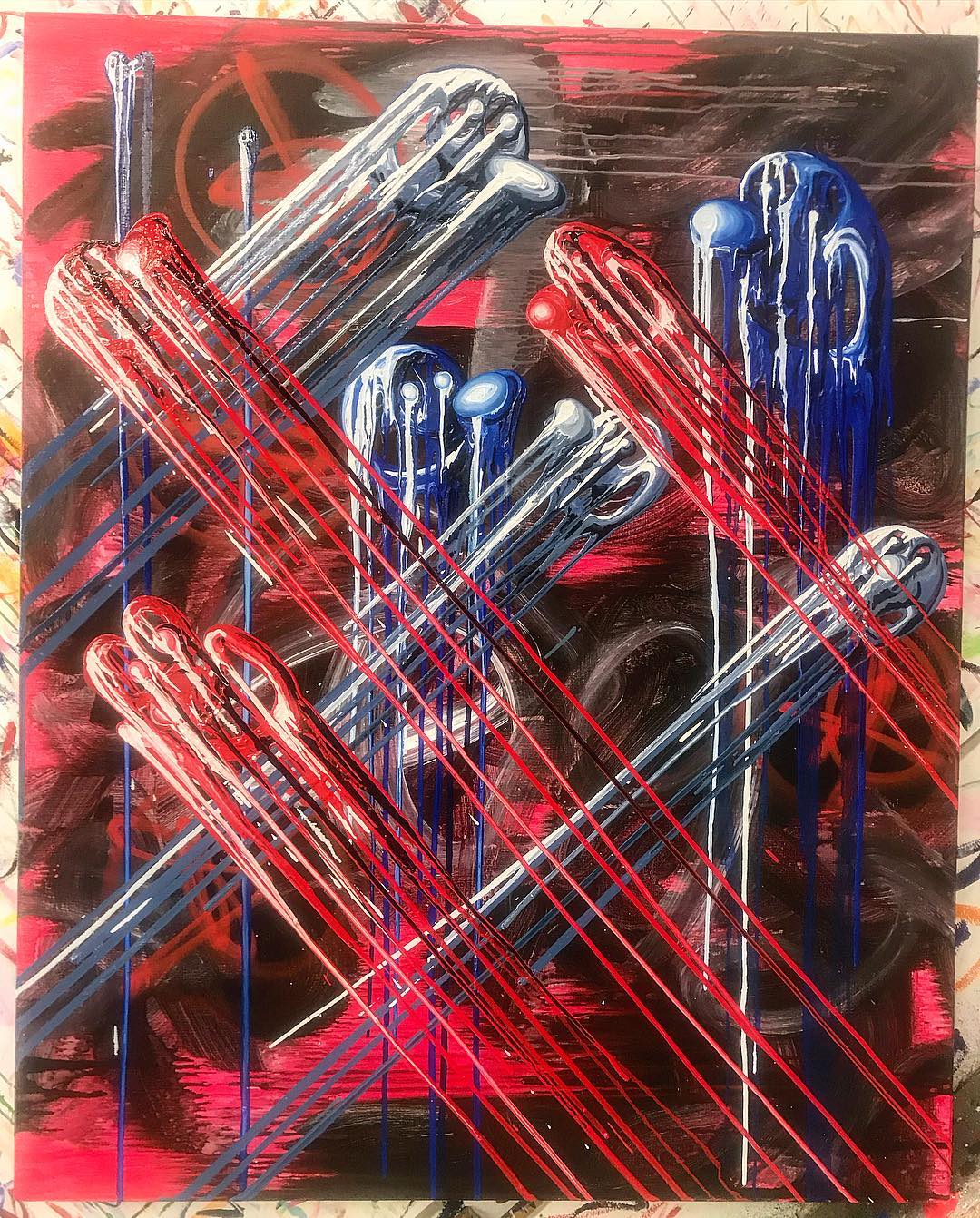 You might have hard time recognizing this painting as a Kenny Scharf. After all, there is almost no alien futuristic character in it.
31. Kookie 2019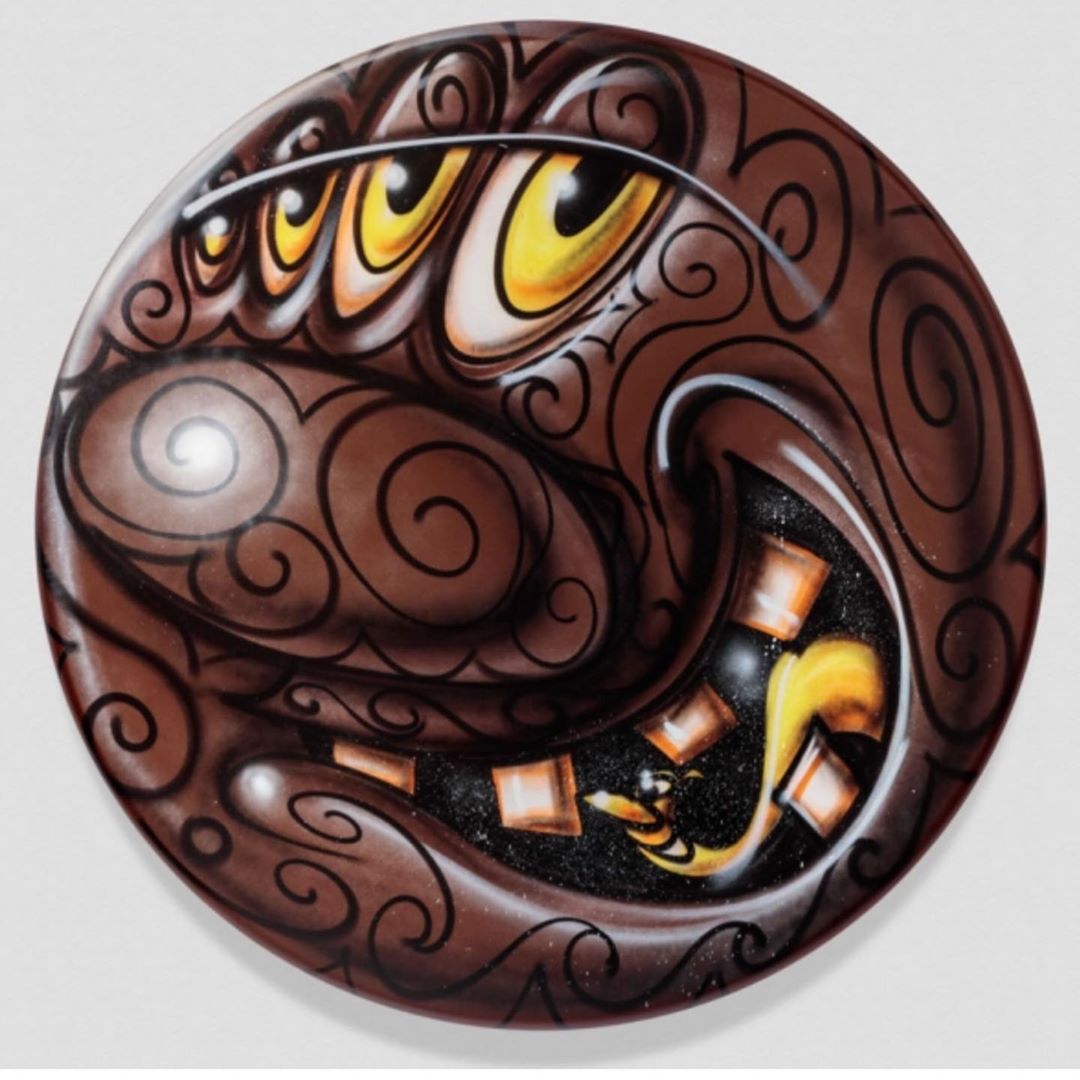 This is a painting of one of his signature characters, but in a big size. Just look at how subtle he shows that chocolate can ruin our teeth if we eat it in large amount.
32. Kenny Scharf And Tondos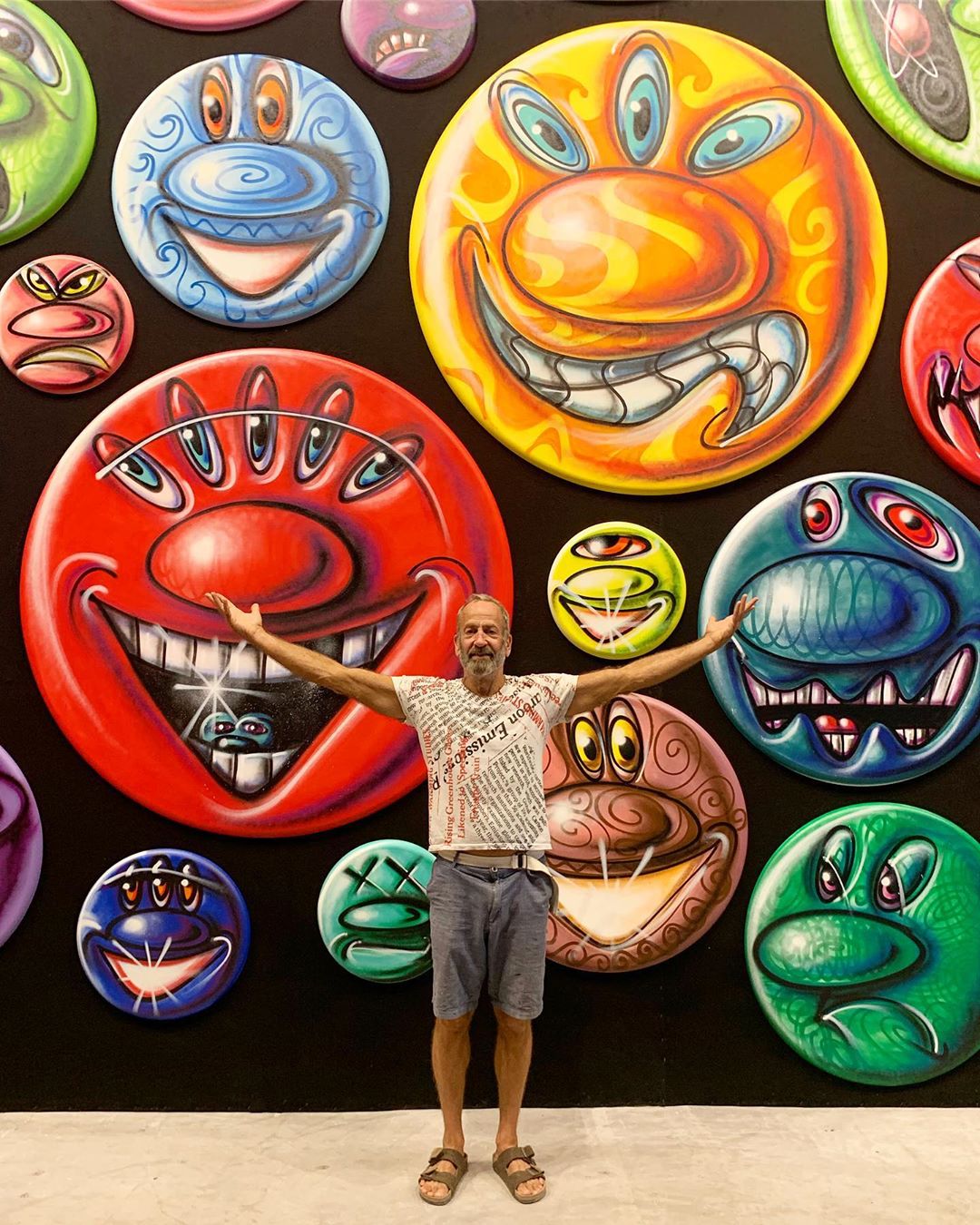 Here is the artist with his famous characters and painting elements. He looks as happy as they are.