Born in October 1963, Robero Britto is a Brazilian artist, painter, and sculptor. He combines elements from different movements for his artwork. While many call him a Cubist, he combines cubism with pop art and graffiti painting in his work.
He is recognizable for his use of vibrant colors and bold patterns as a visual expression of happiness, hope, and dreams.
He lived and grew up among a big family. But his innate creativity allowed him to fill his life with images of a bigger and more beautiful world beyond his own.
From his young age, Britto painted what he saw and what he imagined. He painted on surfaces such as newspapers, cardboards, or any scraps that he could find at his early age.
Since 1989 he moved to Miami, Florida. In 2020, it was announced that a biopic of his life will be produced by the same company that filmed the biopic on Walt Disney Walt Before Mickey.
1. Cloud Nine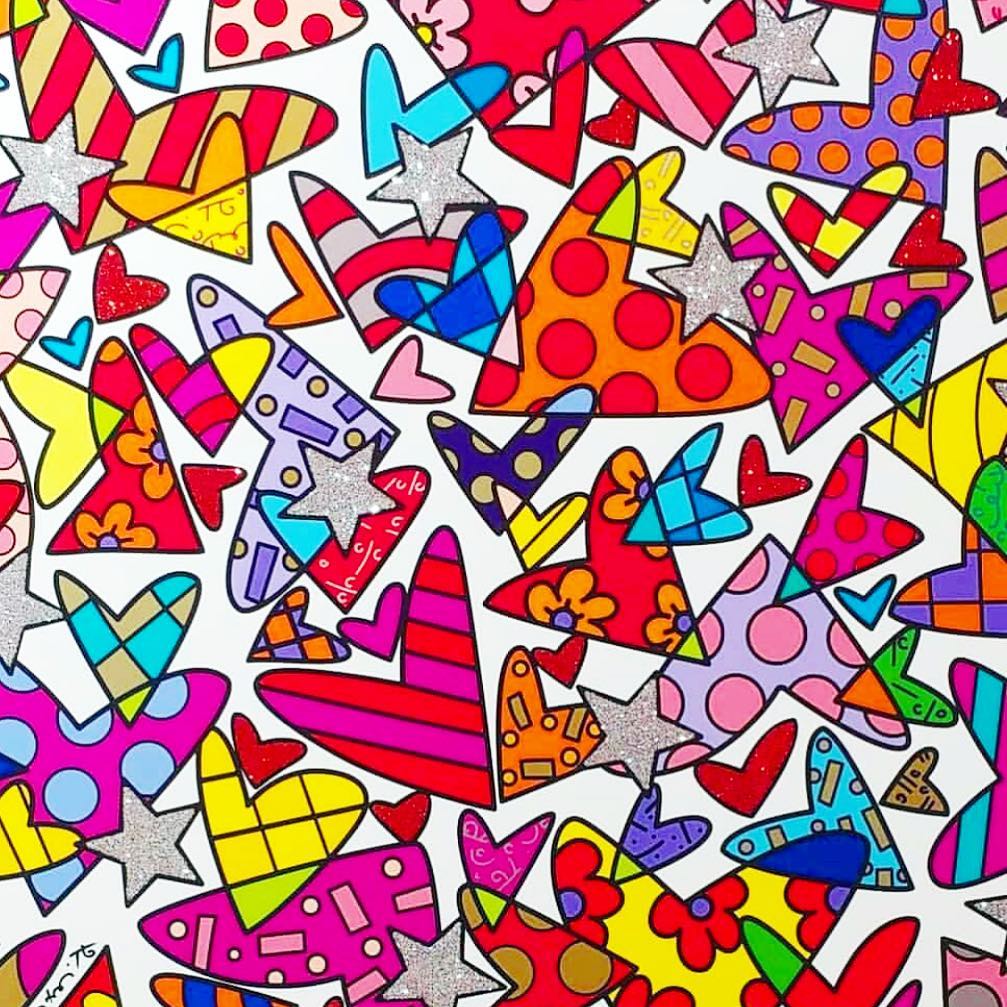 Happiness and love are two topics that dominate in Romero's art. That is why we start with a colorful artwork by the Brazilian artist.
2. Lovely Puppy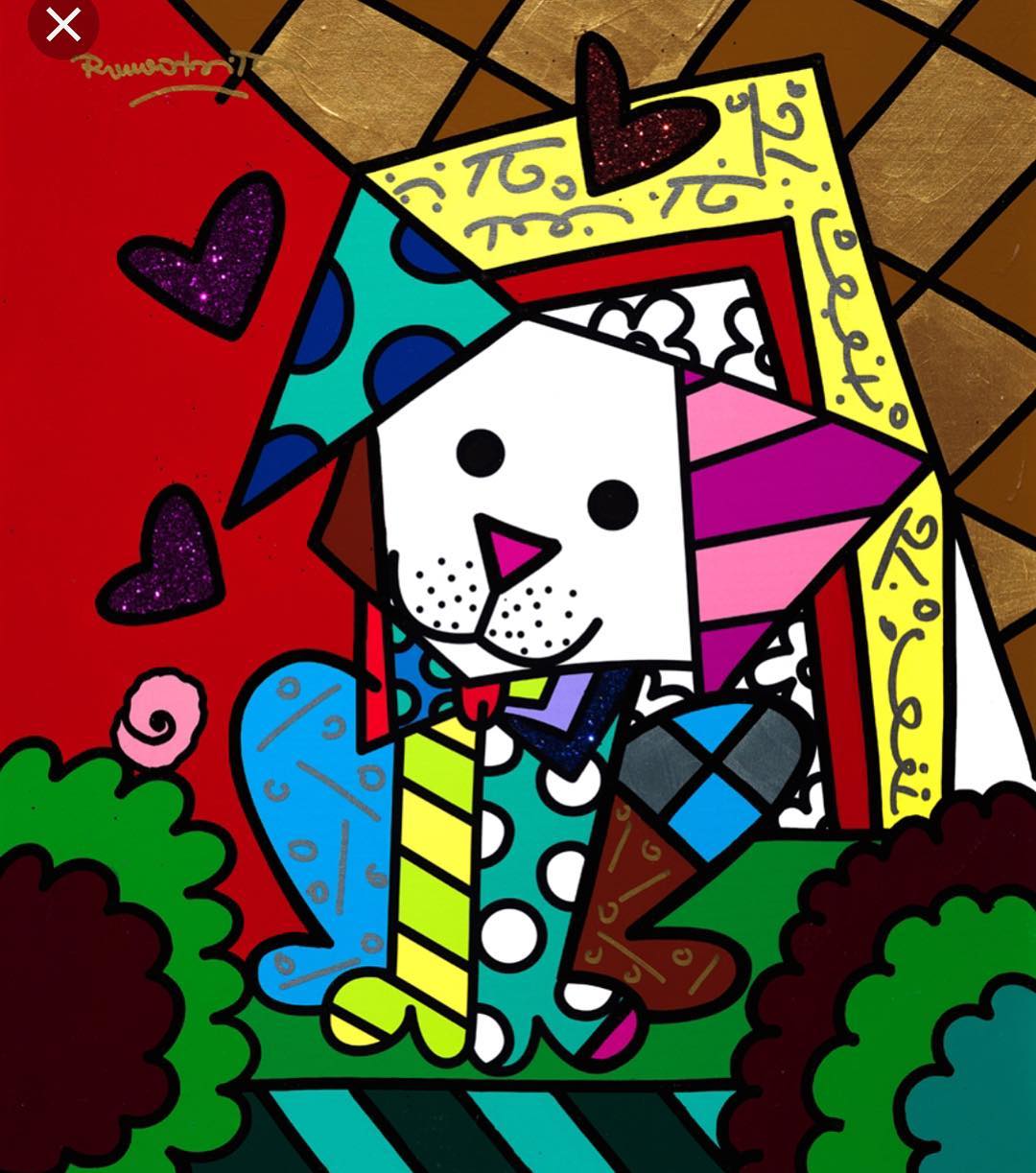 Puppies spread happiness. They give us unconditional love. Those are two things that Romero would love people spread as well. Sadly, that is not the case. But we can only hope, right?
3. It's For You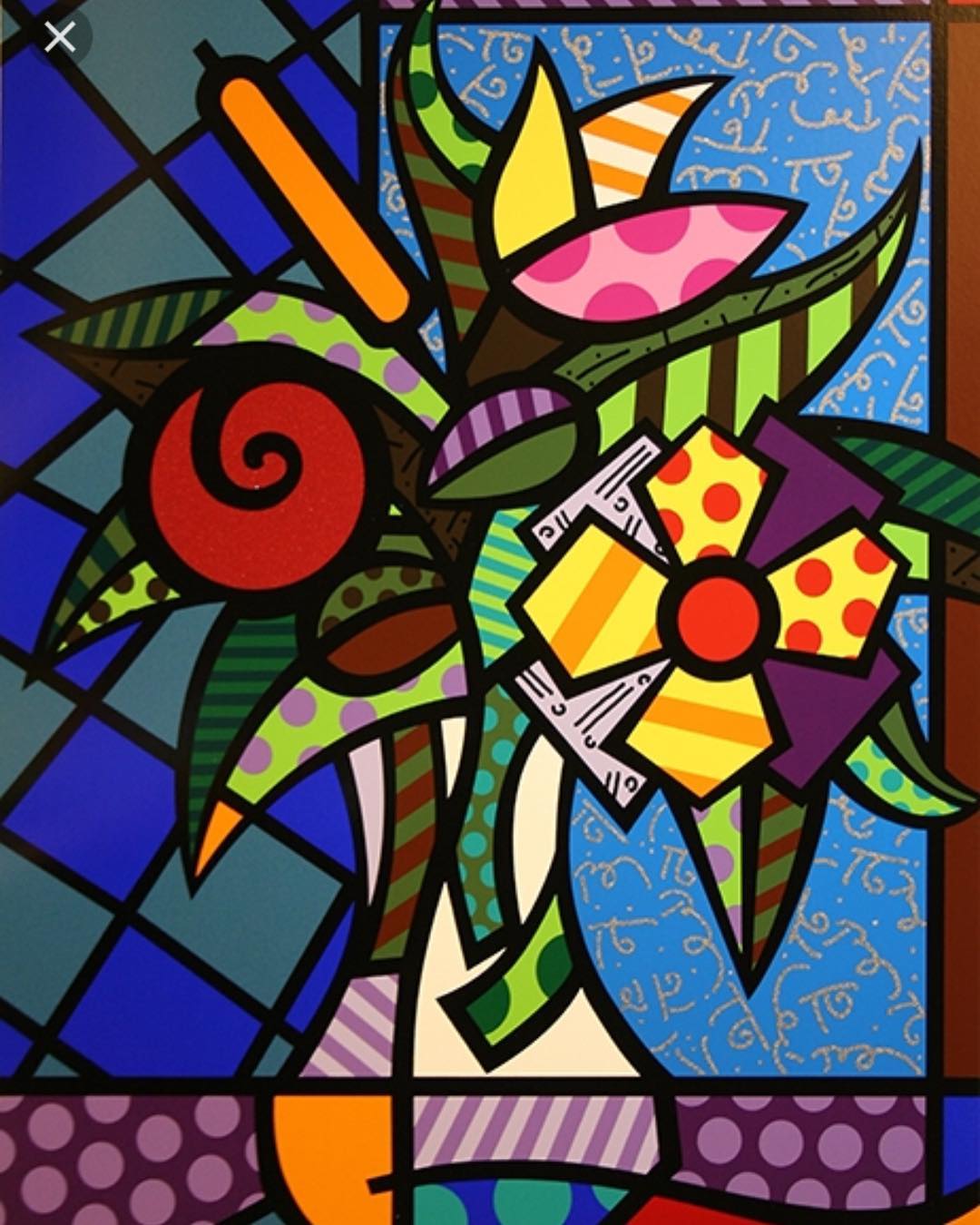 Bringing flowers to the loved one. It is just amazing how Britto can make simplest gestures look amazing by using Cubism.
4. Green Eyes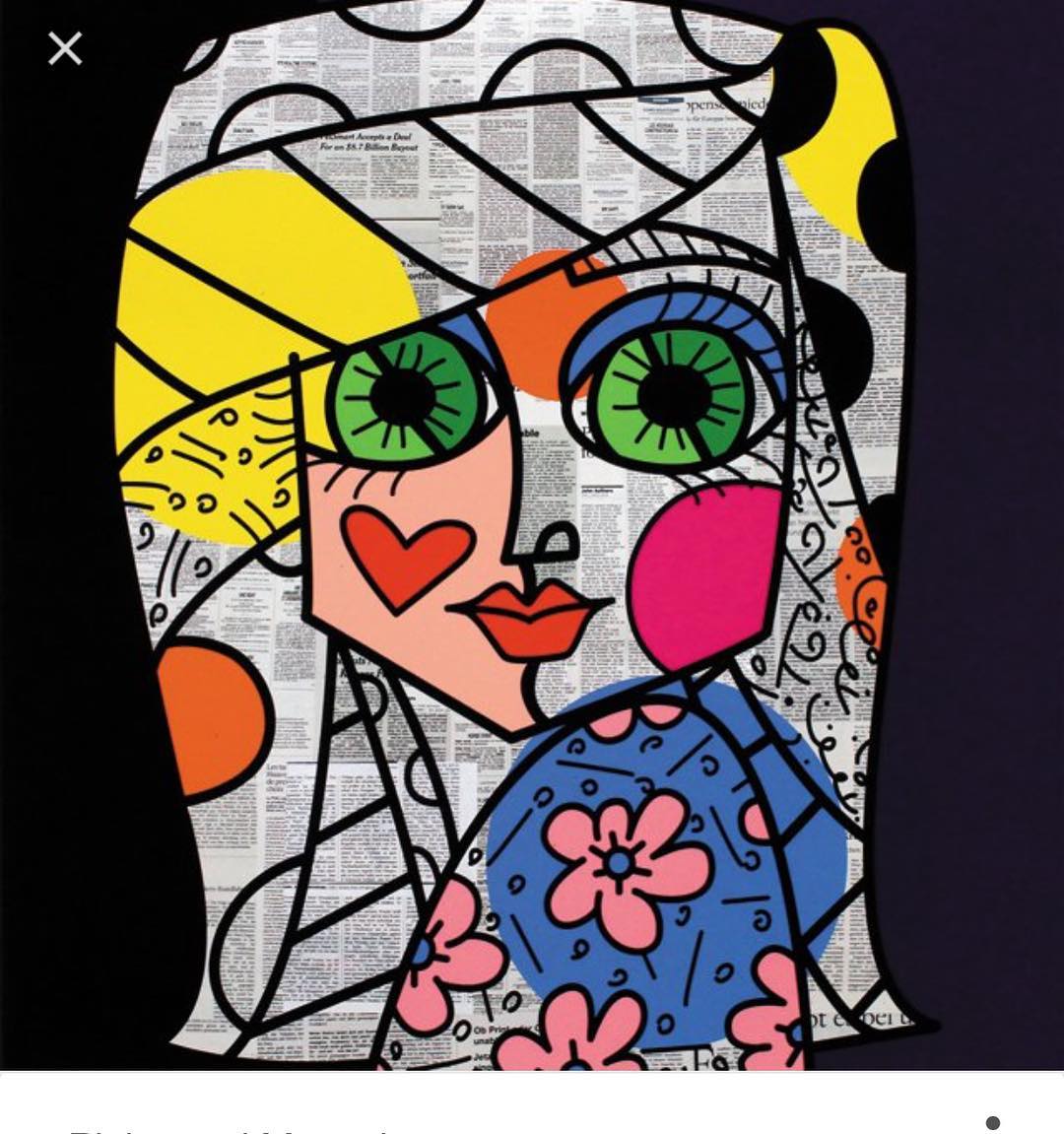 We said in the beginning that Romero painted on newspapers and everything he could find when he was young. After he got famous, he didn't forget his beginnings. That is the reason you see newspapers as the basis for the body of this green-eyed girl.
5. Elephant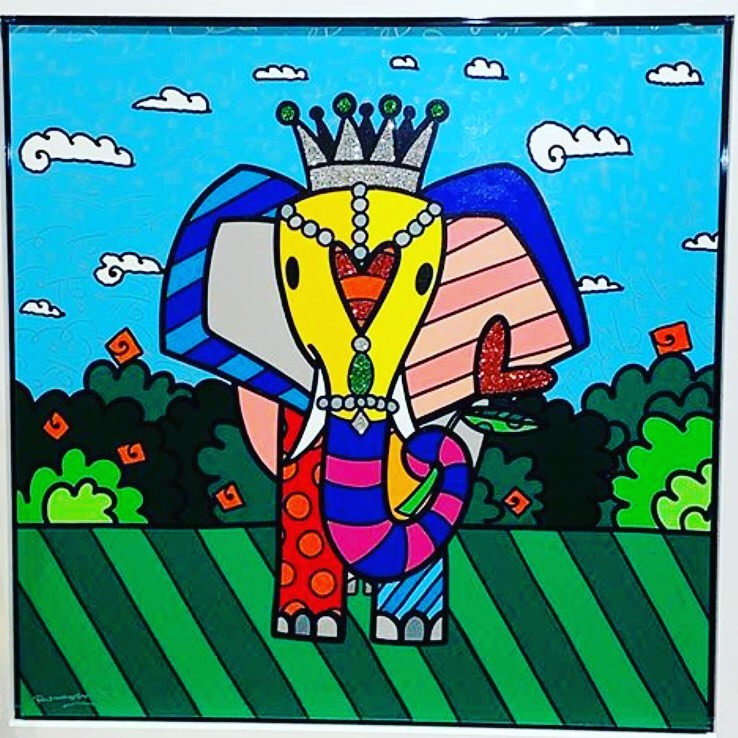 One of the best parts about Romero and his work is the colors. Back in the days, Cubism was more of a philosophical movement. Artists tried to express complex feelings and wake up our emotions. Britto, on the other hand, uses Cubism to bring colors to our boring life.
6. Trinity
Trinity is one of the central doctrines in life. It is the central philosophy in Christianity, the Holy trinity of the Father, Son, and the Holy Spirit. But it is a trinity in everything else. For example, in life, it is mind, body, and soul.
7. Peaceful Reflections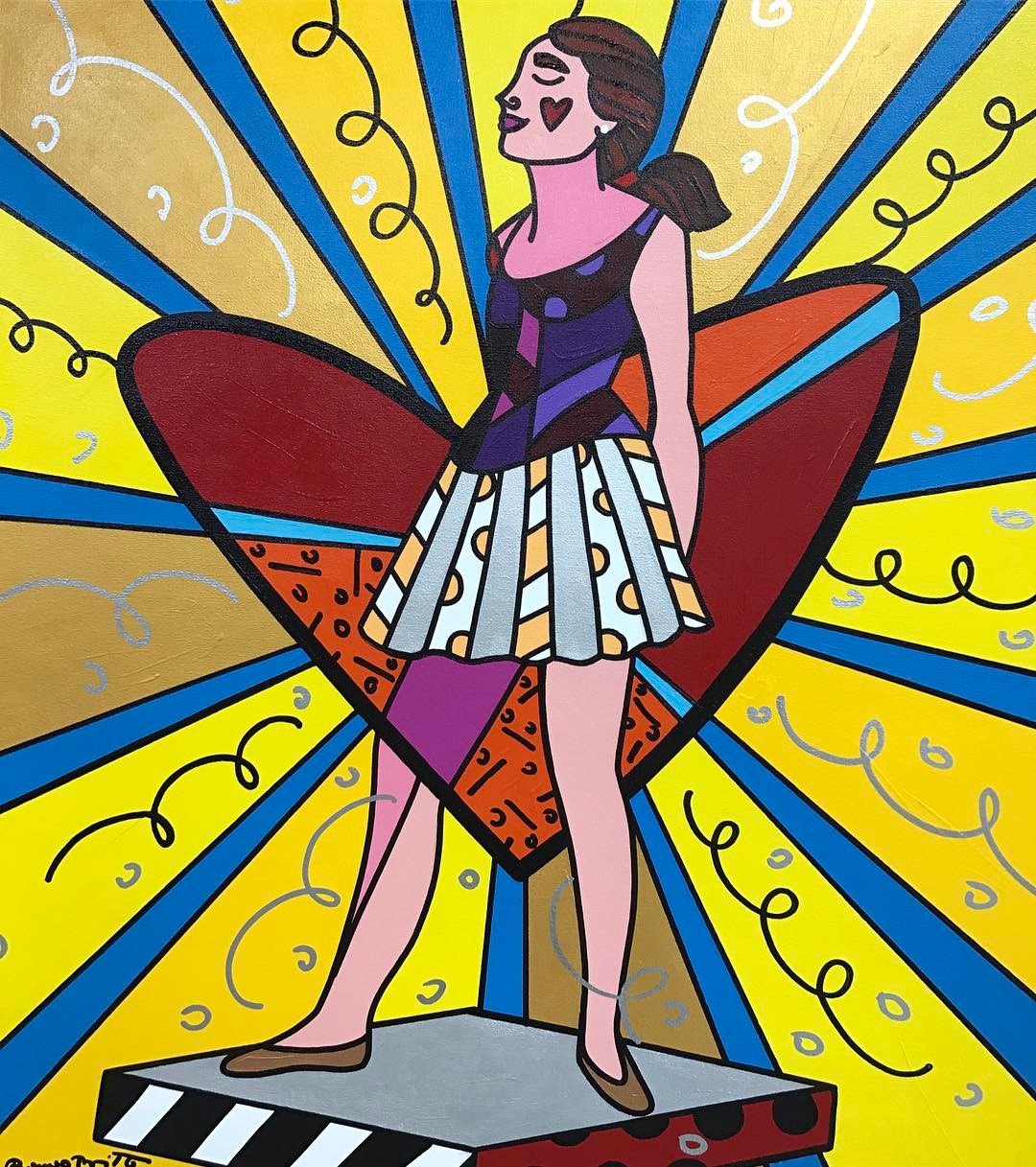 Just look at the expression of this young lady. She looks happy, doesn't she? That is the main goal of Romero, to show as many happy people as he can.
8. Mona Lisa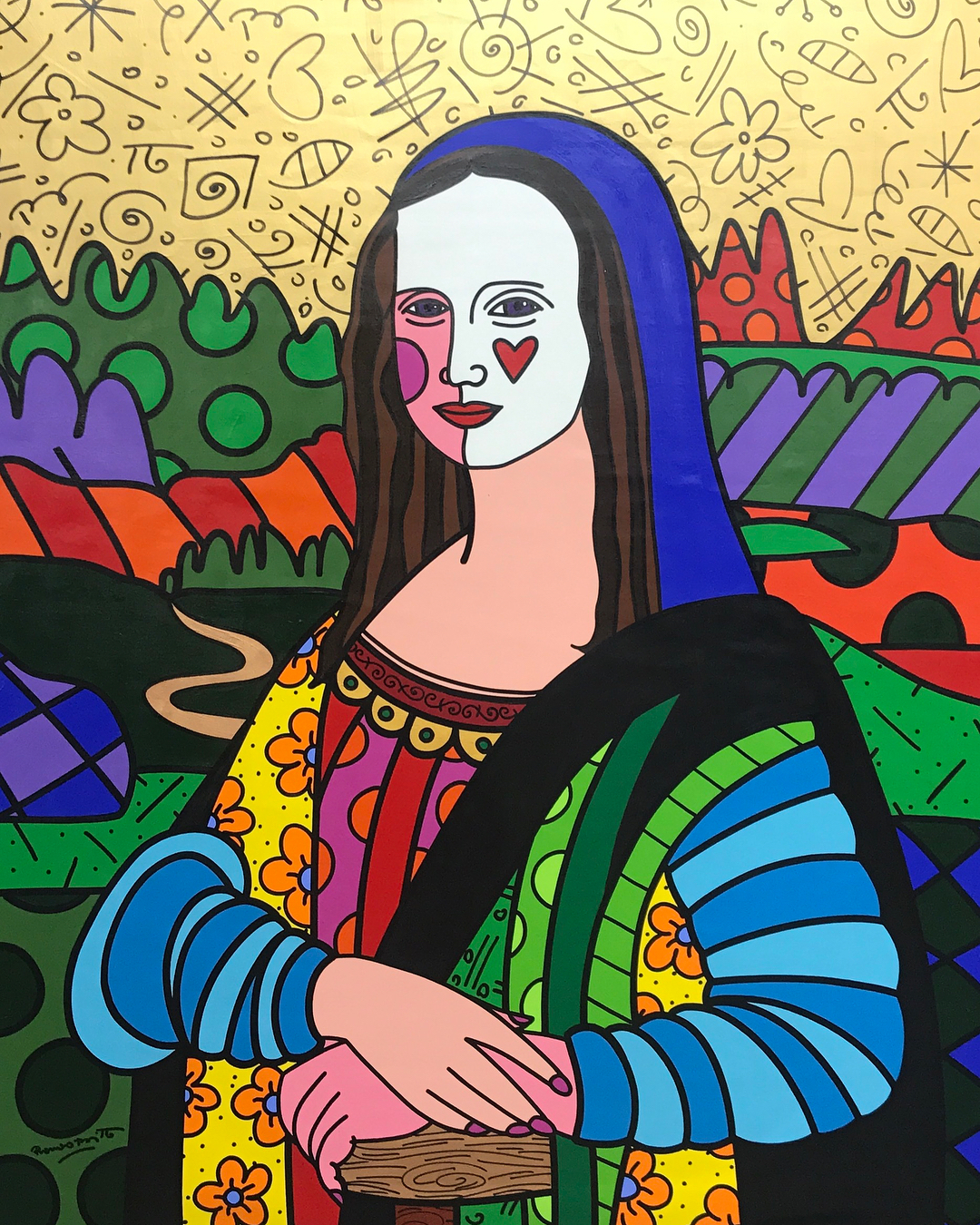 It takes a lot of courage to try and make your own variation of one of the most famous paintings in history. But Britto manages to deliver a completely different version of Mona Lisa. One that is colorful, happy, and joyful.
9. Lion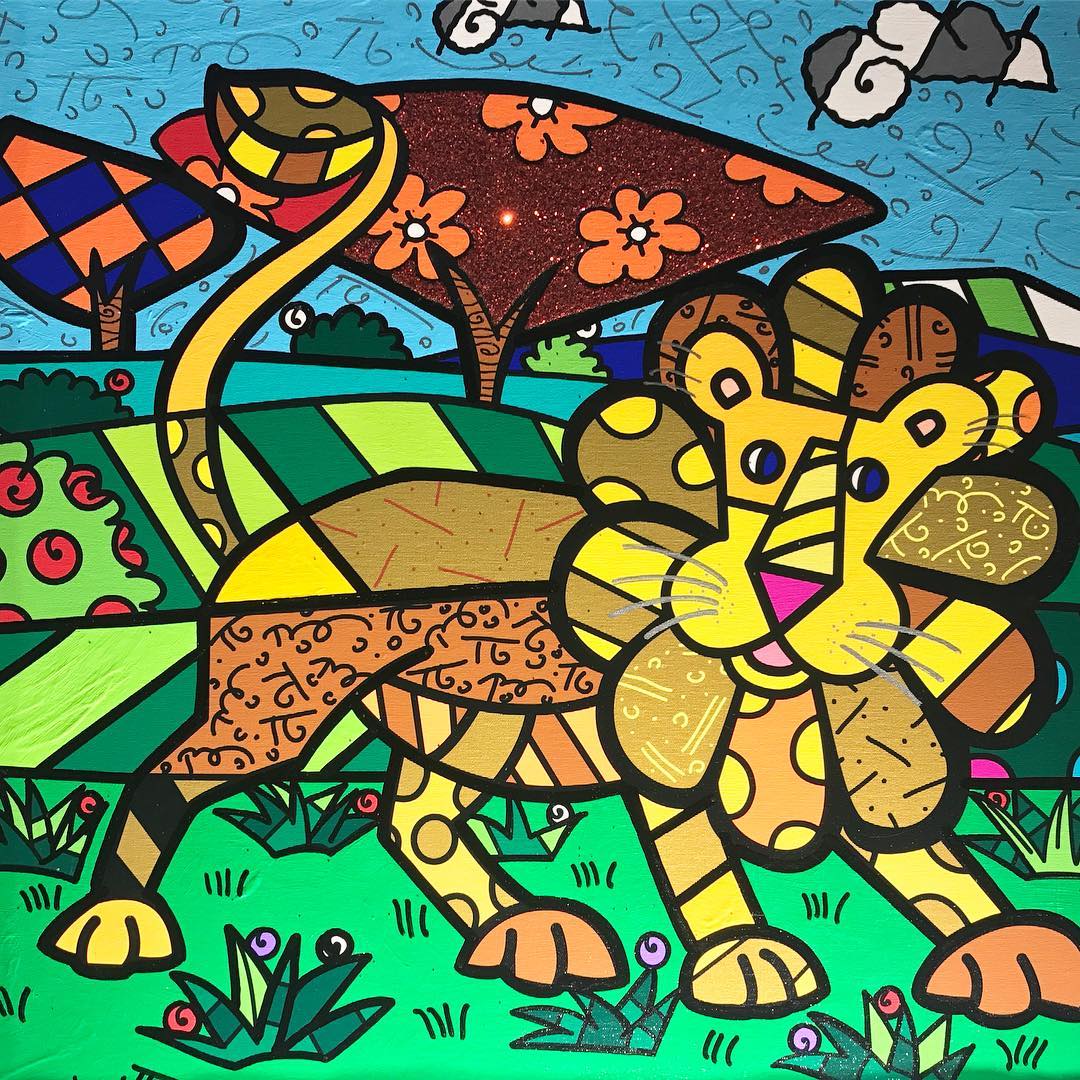 Robero paints a lot of animals. He loves painting animals but using a technique that is combination of Cubism and graffiti. And that is how we get these unique creatures.
10. Einstein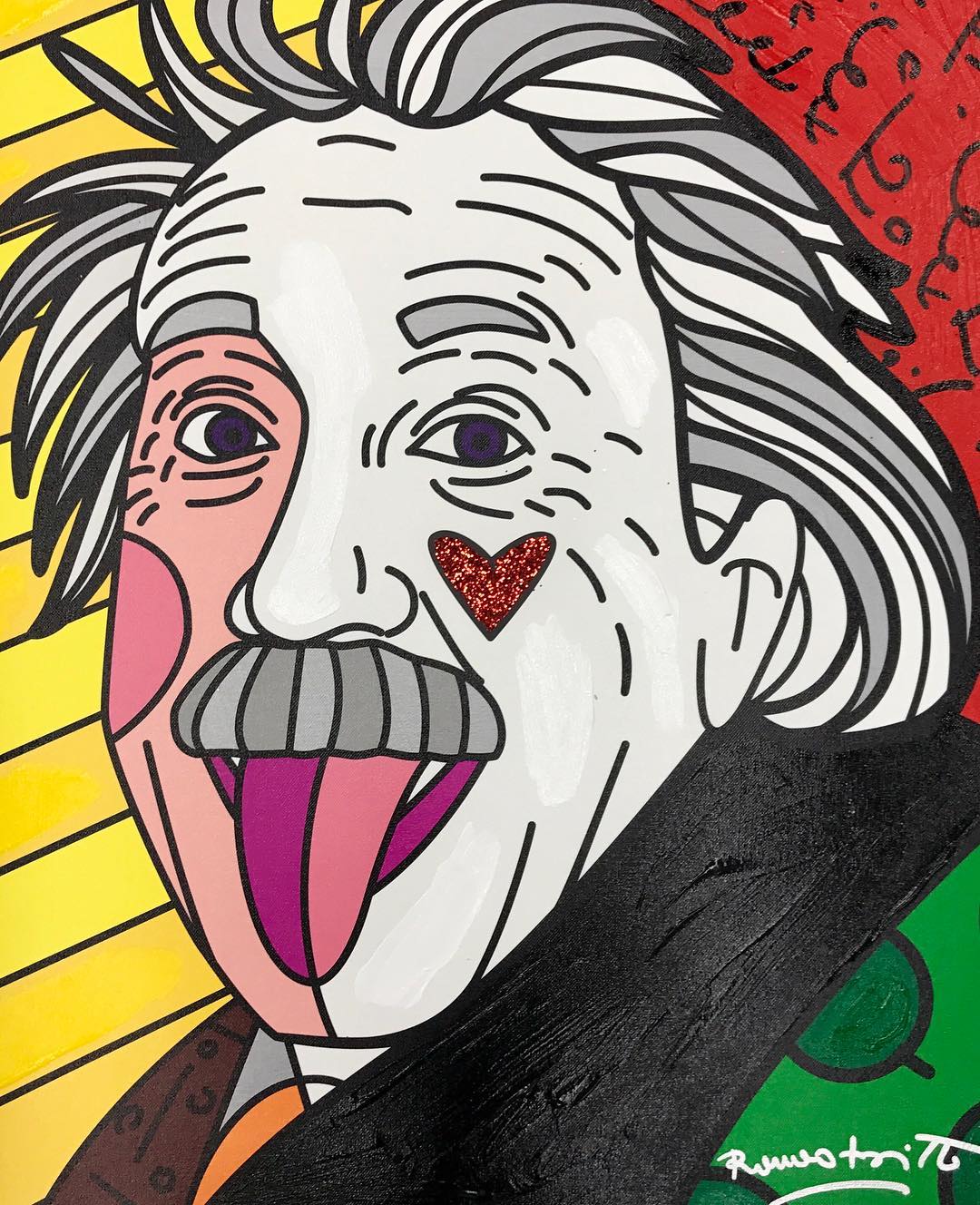 Britto is master for making some of the most serious people look happy and joyful. Take Einstein, for example. We always see him depicted as this serious scientist. But not here.
11. Cheek To Cheek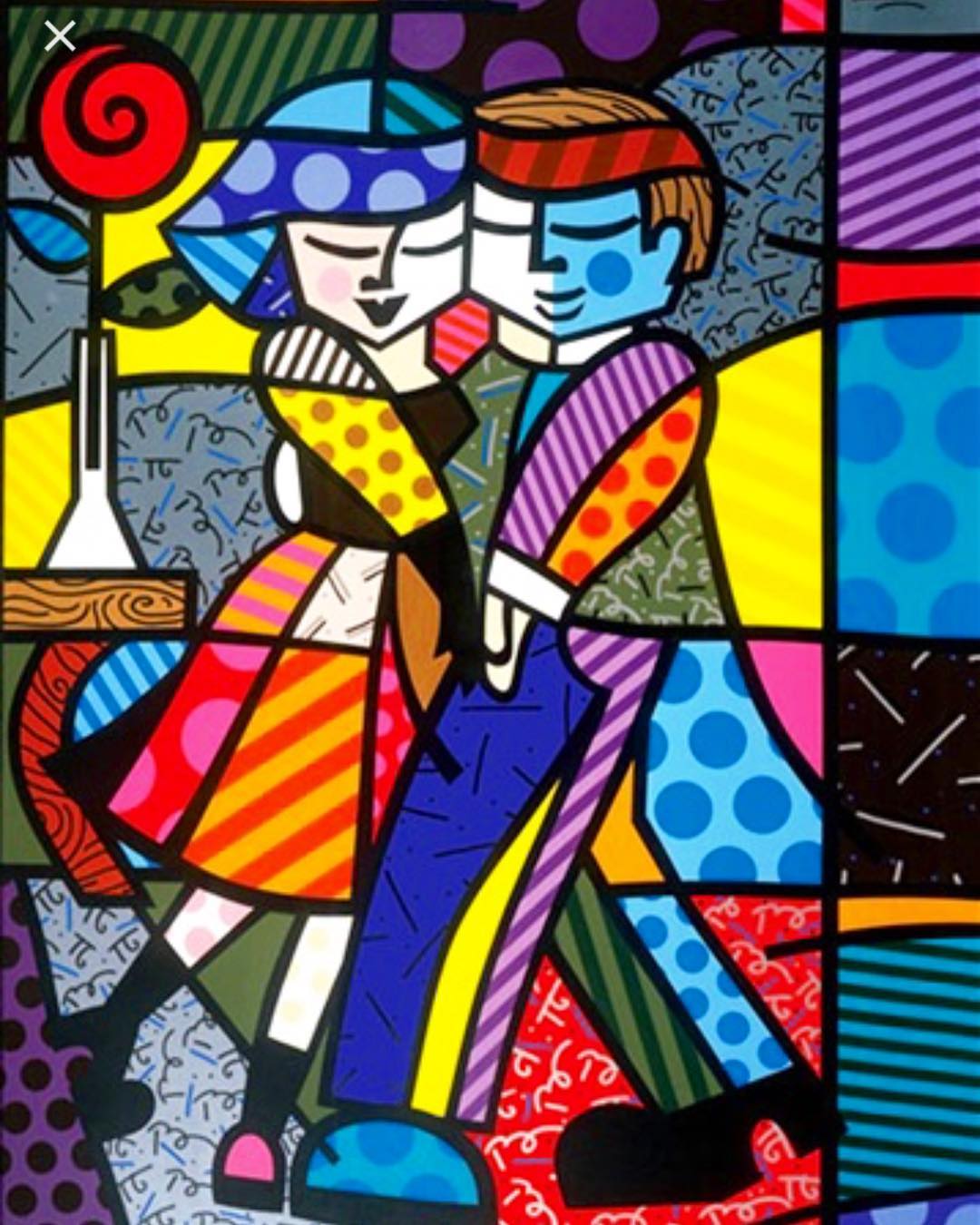 Love can be so simple and joyful, don't you think? That is one of the core messages in Romero's art. He pays attention to the little things, like a hug.
12. American Beauty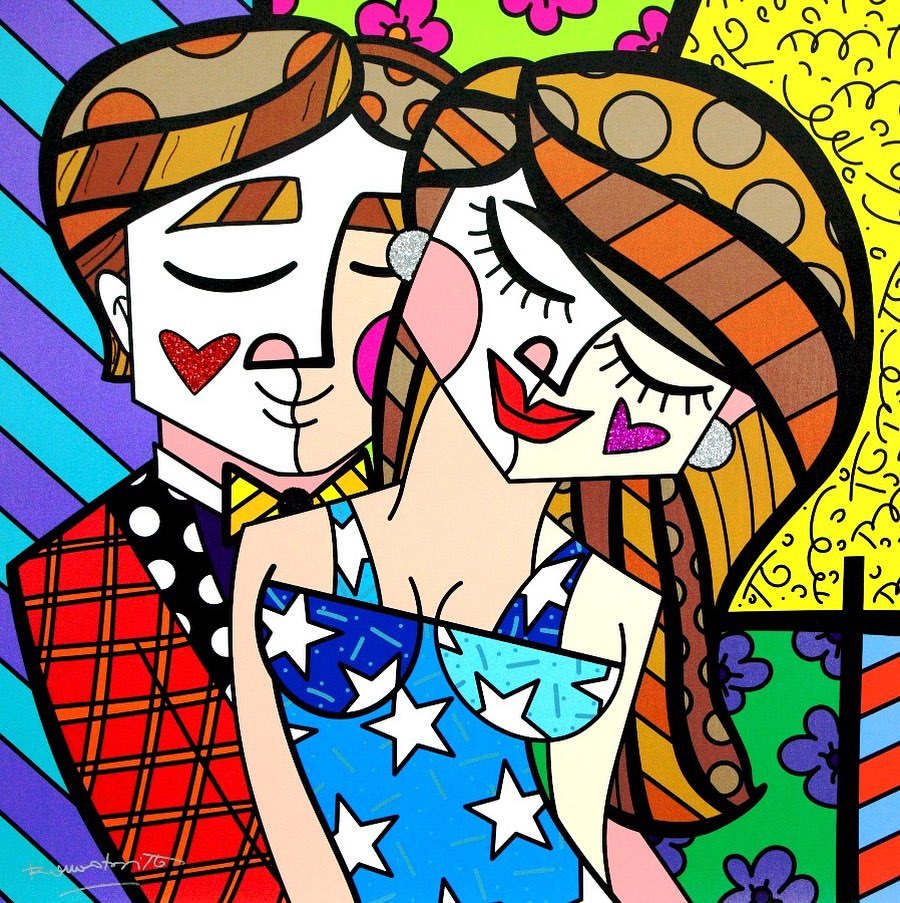 Britto is a Brazilian artist who moved to the United States in 1989. So, he got a taste of the American culture and traditions. And in America, it is all about the colors of the flag.
13. Tomorrow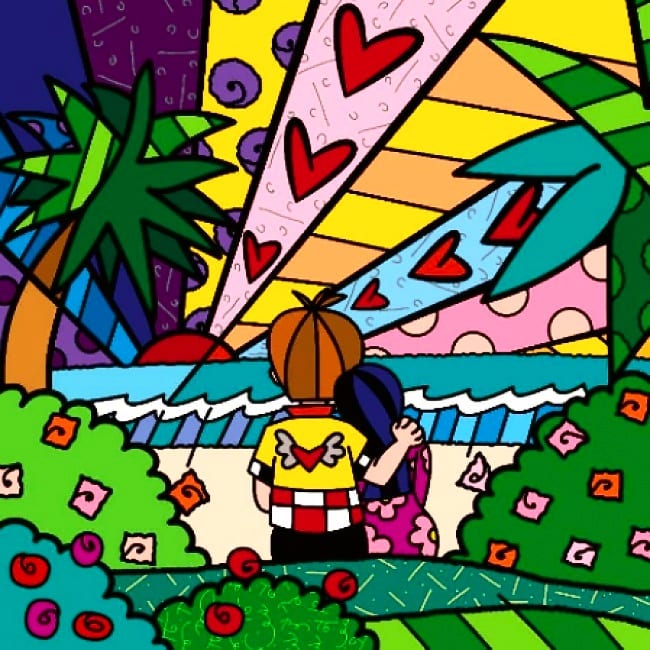 When looking at this art, we might think do not worry what tomorrow brings. Enjoy the moment, in this case, your time with loved ones. Definitely a motto to live by.
14. Our Lady Patron Saint Of Brazil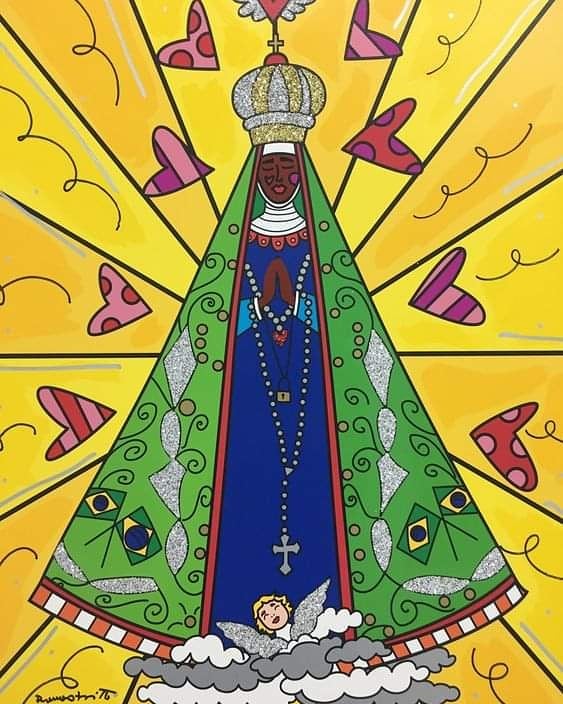 This is a beautiful depiction of the Lady Protector of Brazil. But the most important part is that even a religious painting has to have a lot of hearts floating around. Love is in the air.
15. Martine Zinn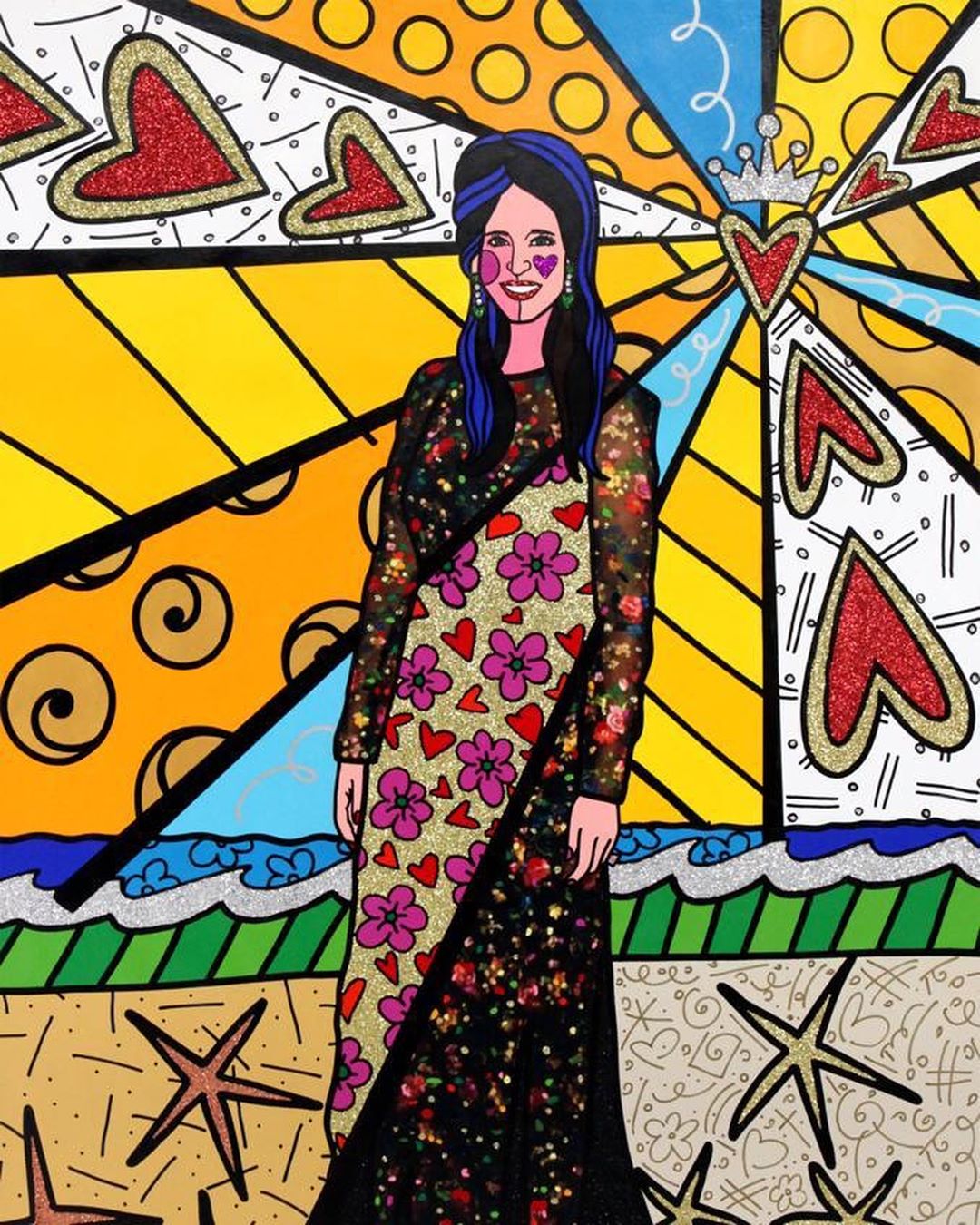 You just have to love how Britto can combine different styles in a single artwork. You have cubism and graffiti all in one.
16. Last Supper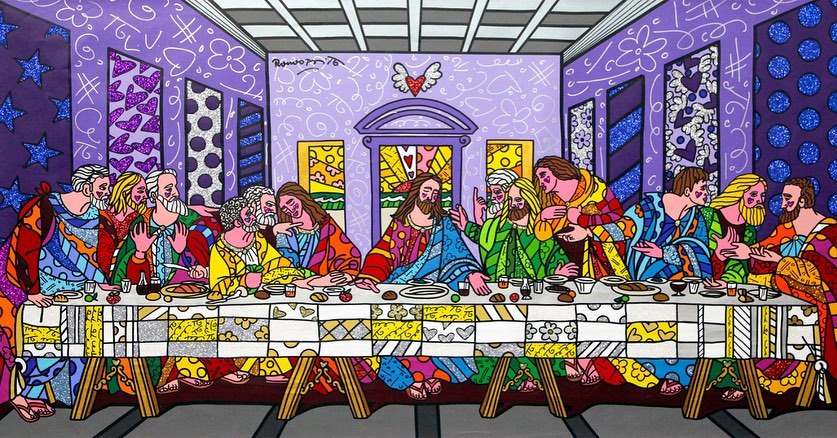 We said before that Romero often loves to paint serious images and give them a new life. He copies some of the most famous works. And unlike the real Last Supper, this one doesn't have an ounce of sadness and melodrama.
17. Funfair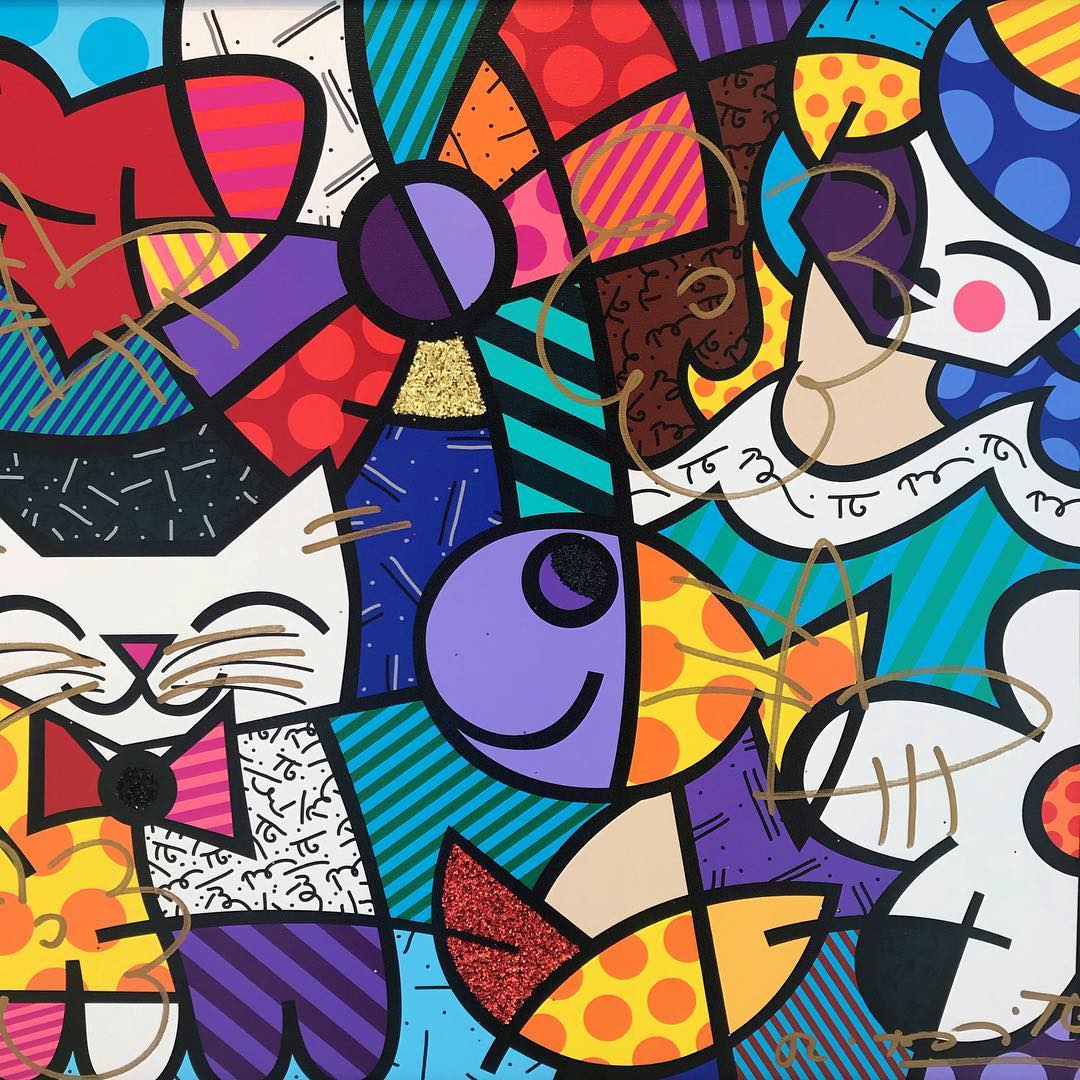 You know what FunFair is, right? It is an event, held outside, where people come and pay for attractions. They ride on various machines for amusement. And these events are always colorful and entertaining.
18. Dylan's Candy Bar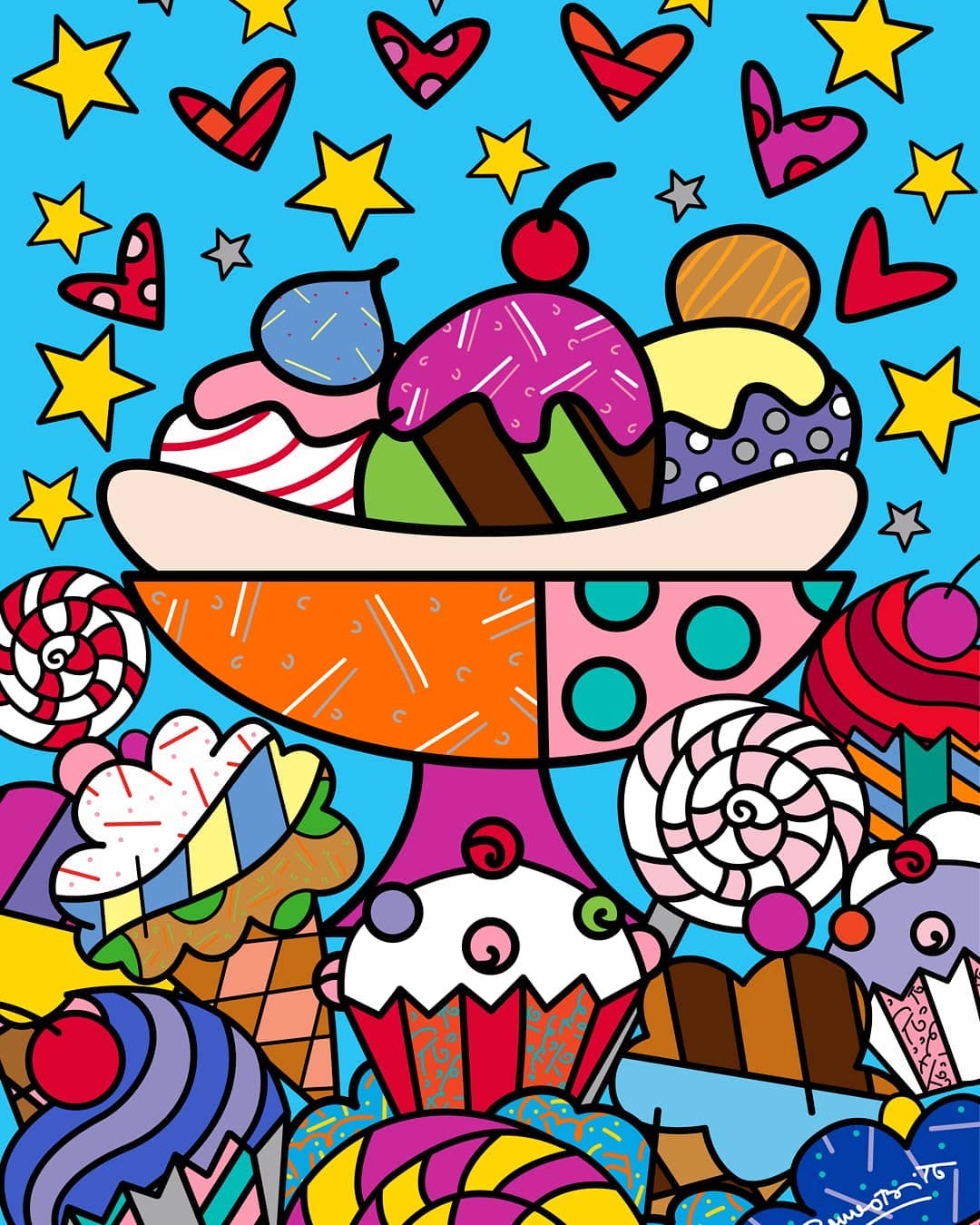 Here is Romero paying homage and tribute to one of the more famous candy shop chains in the US. The brand has shops in New York, Miami, Los Angeles, Chicago, and many other places.
19. Beautiful Evening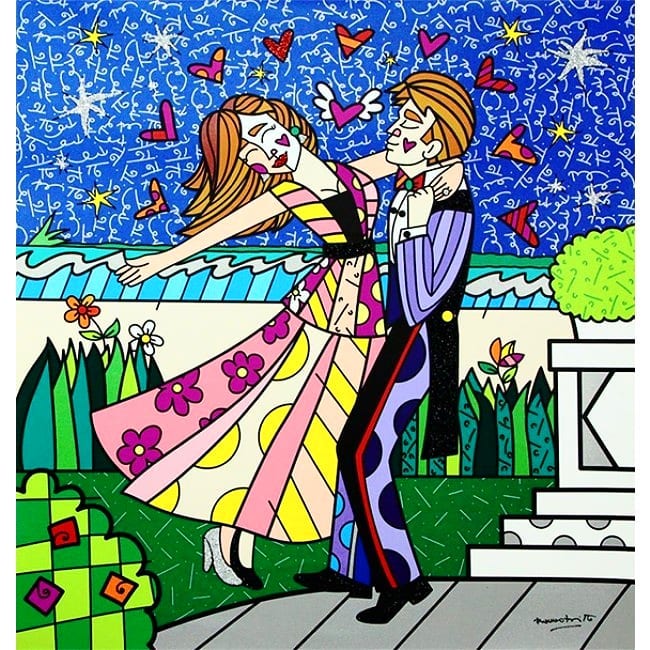 This is definitely a great evening. And give Romero props for making it look as colorful as it can be. Don't you wish you experience such an evening with your loved one?
20. Amazonia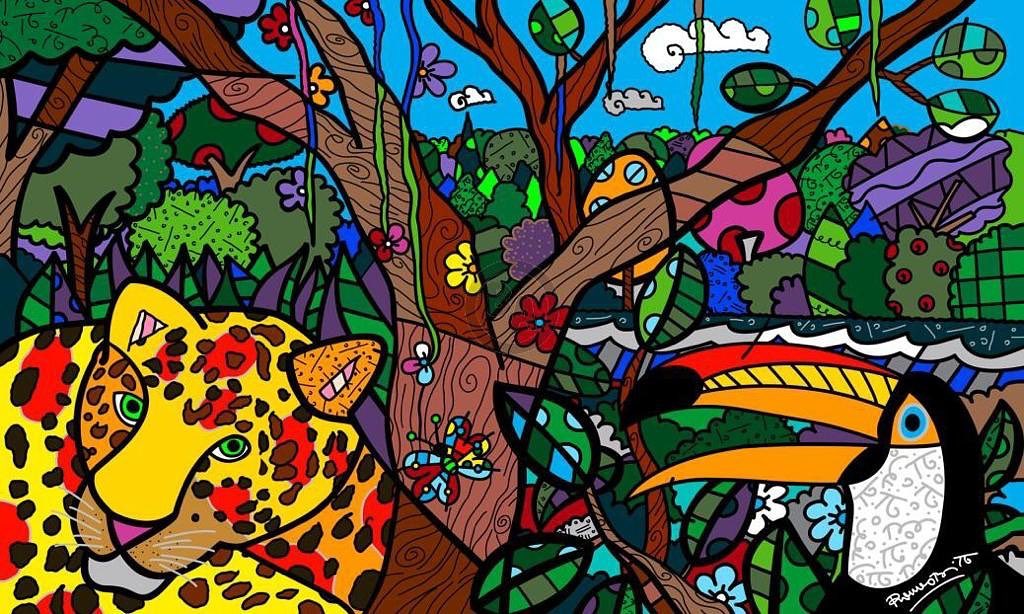 Amazon is the river floating through Brazil. And we all know about the condition it is in. Due to climate change and human behavior, Amazon is in danger. And the animals living in Amazonia even more. This is Britto's way of showing support for the region.
21. Toast To Love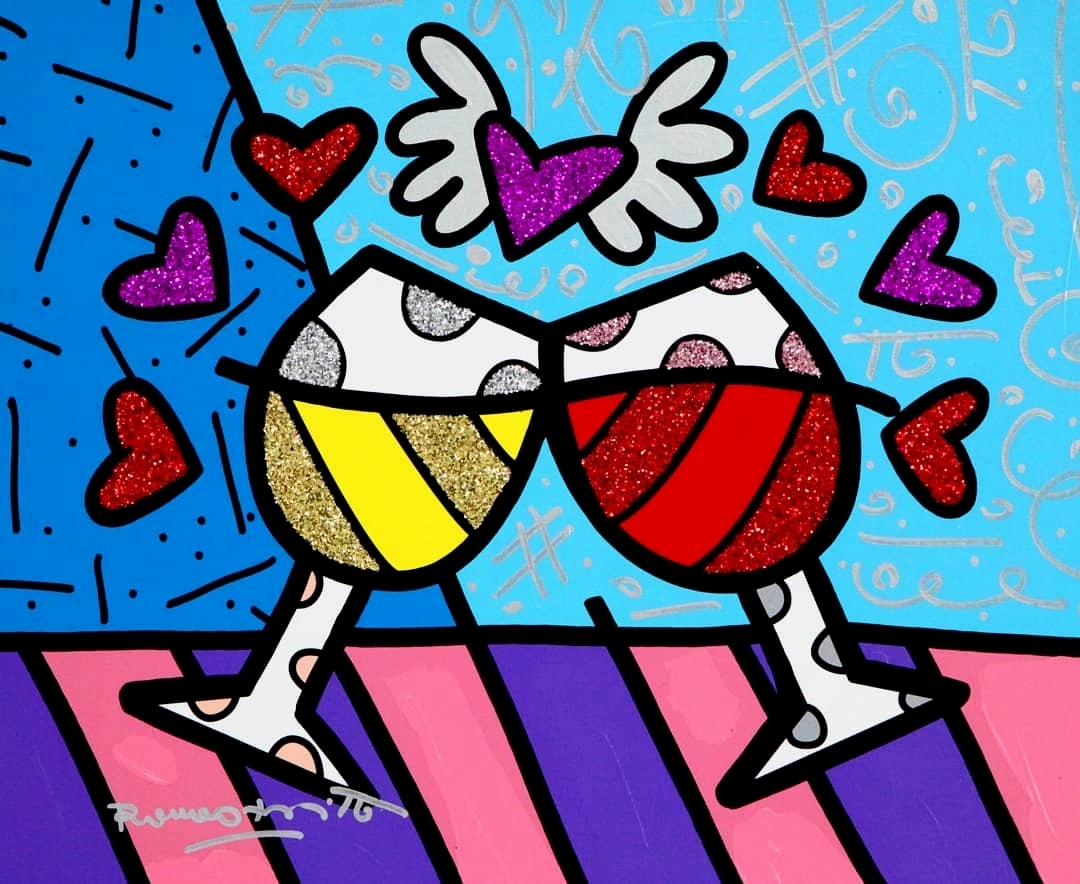 We said that love is one of the central topics in Romero's art. Let's raise our glass for love and hope more people can find it.
22. Love Me Tender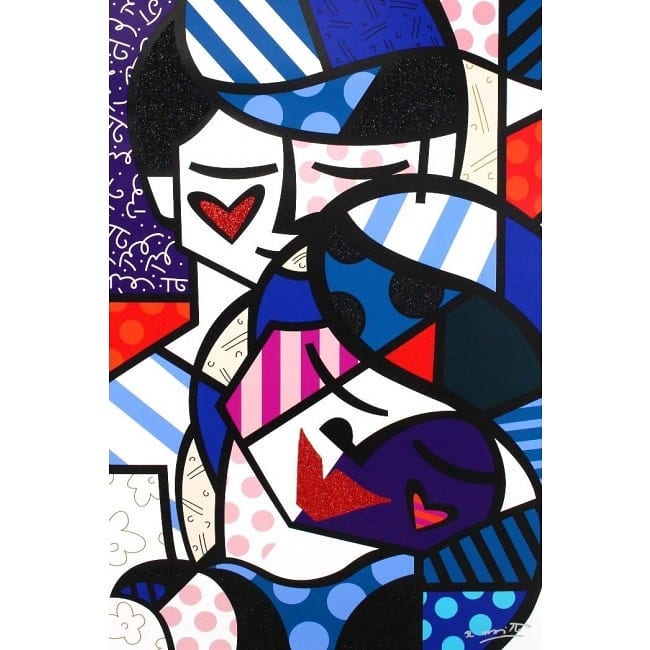 Romero is a genius at showing love and its beauty in his paintings. We love him for it.
23. Freedom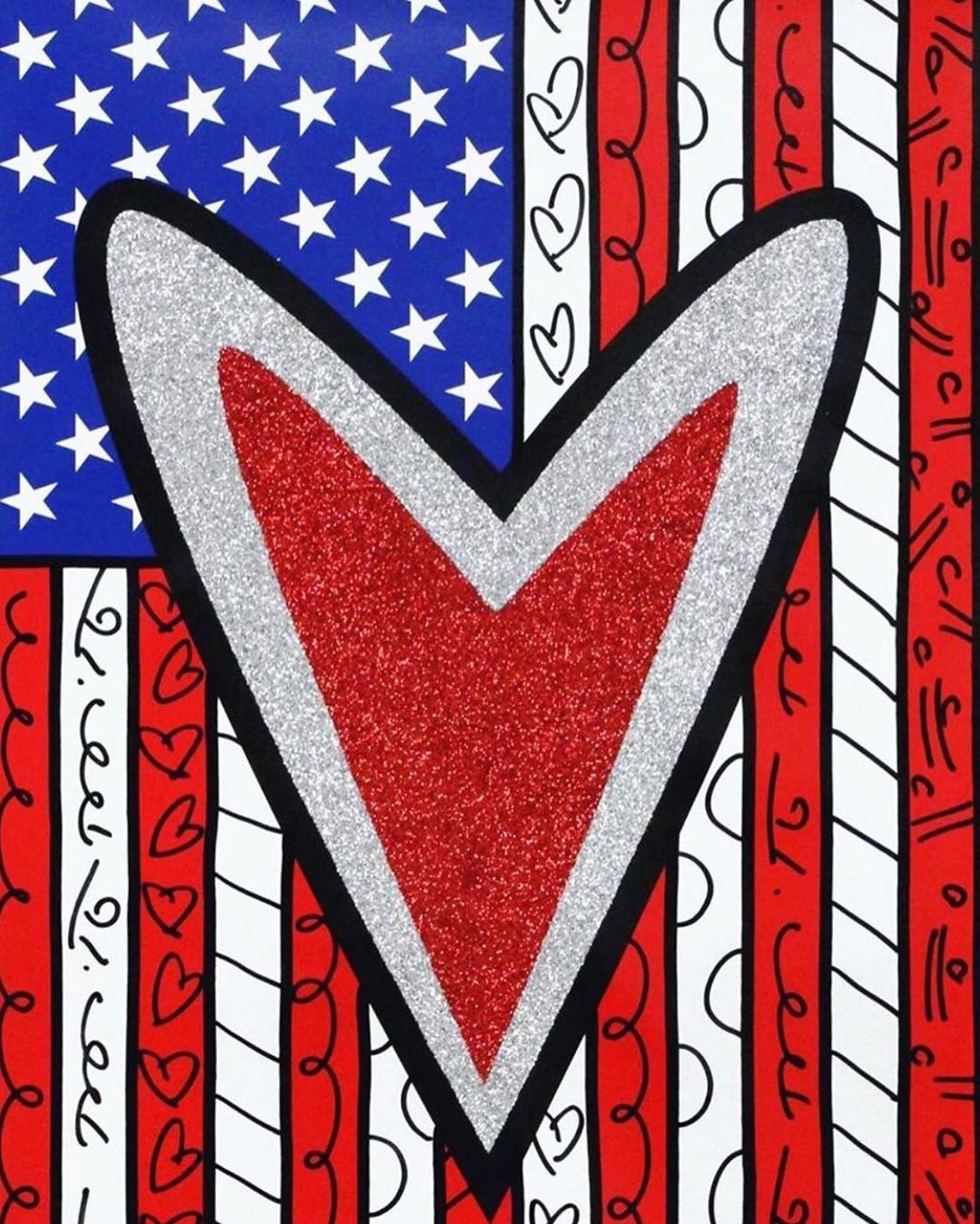 What is freedom for you? How do you think we can achieve freedom in the world? Romero is one of the big supports for world peace and freedom. But not all nations feel the benefits of freedom.
24. Duke And Grace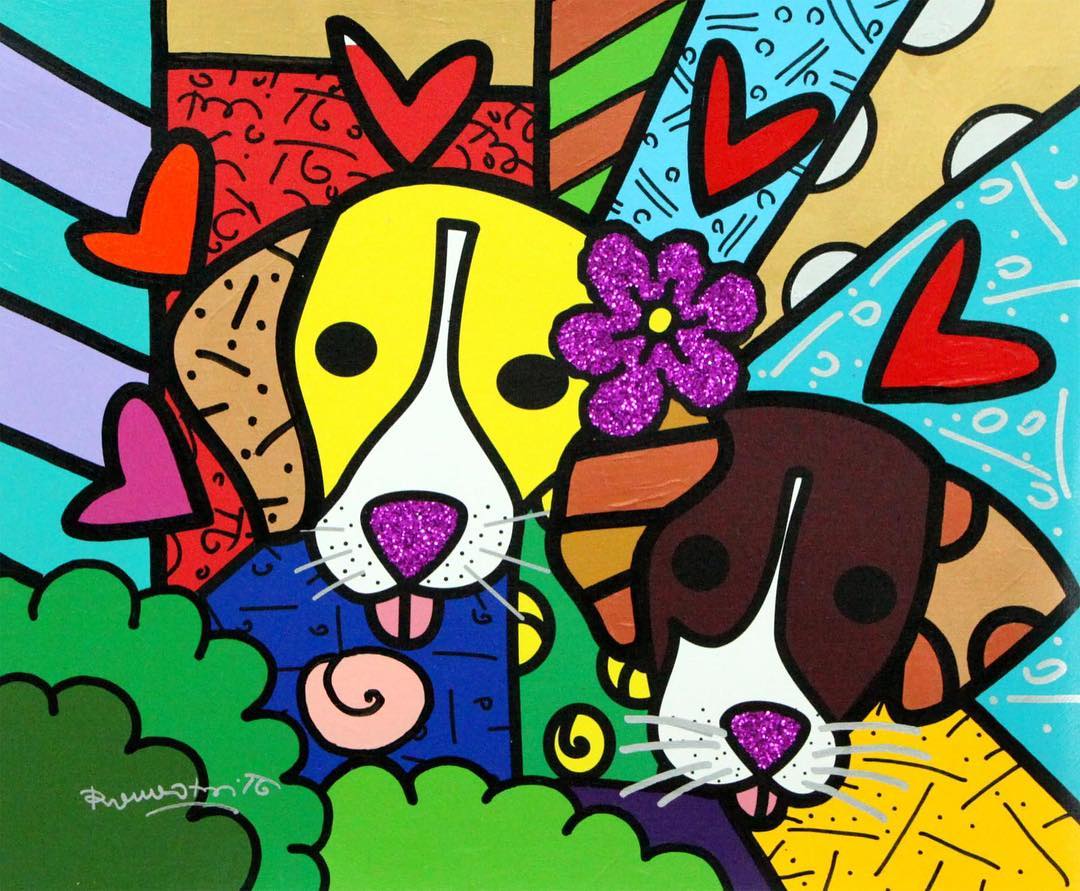 We said Romero is a big fan of animals. Well, here are his puppies. Don't they look cute and adorable?
25. Beautiful Mind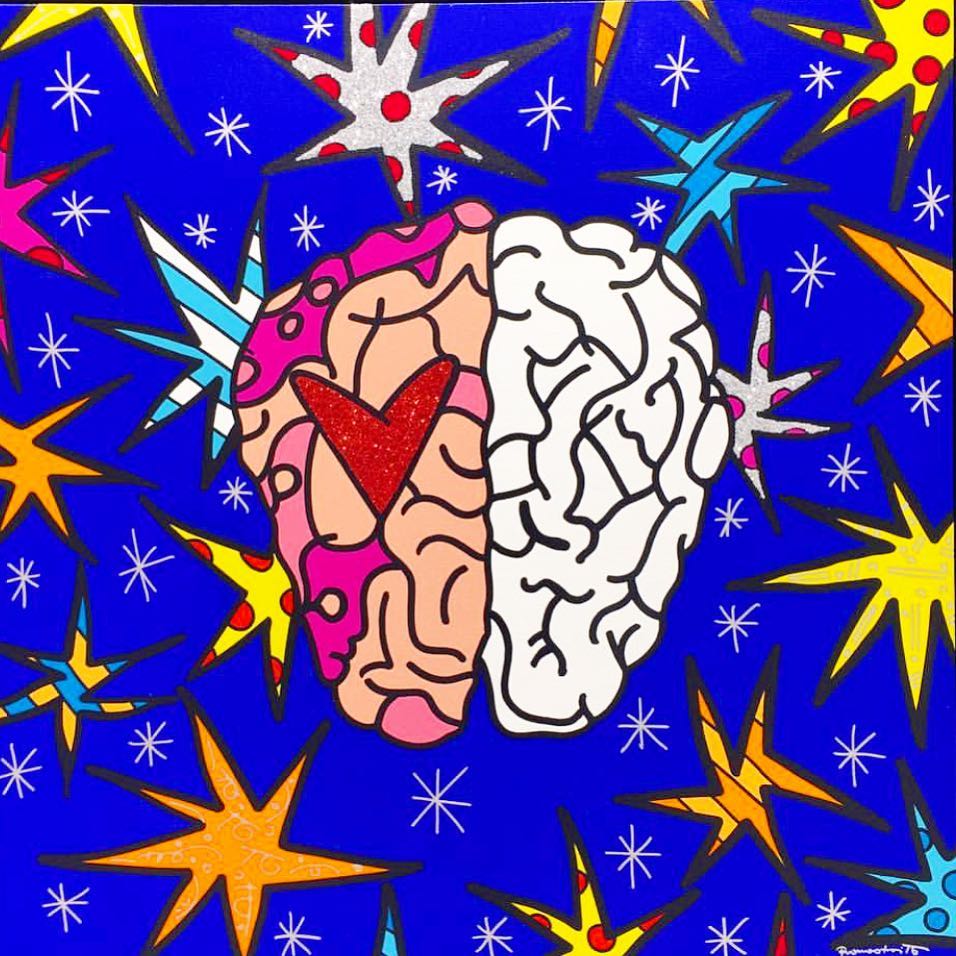 Happiness and colors are part of Romero's artwork. And he is one of the few artists that truly loves to show us the beautiful mind we have.
26. Beach Party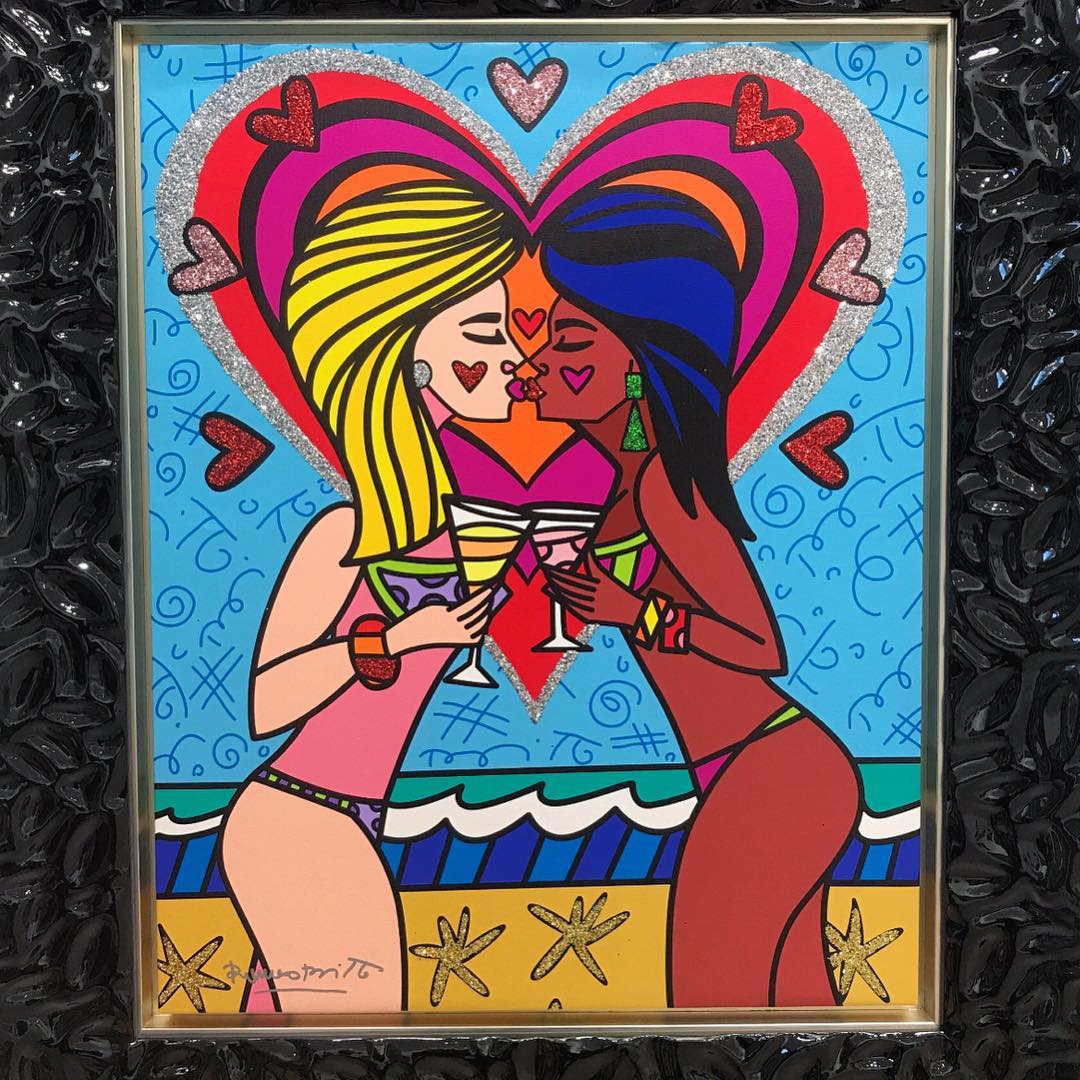 For Romero, Love is Love. As long as two people love each other, he sees no problem in their gender. And that is how love should be.
27. Animal Dog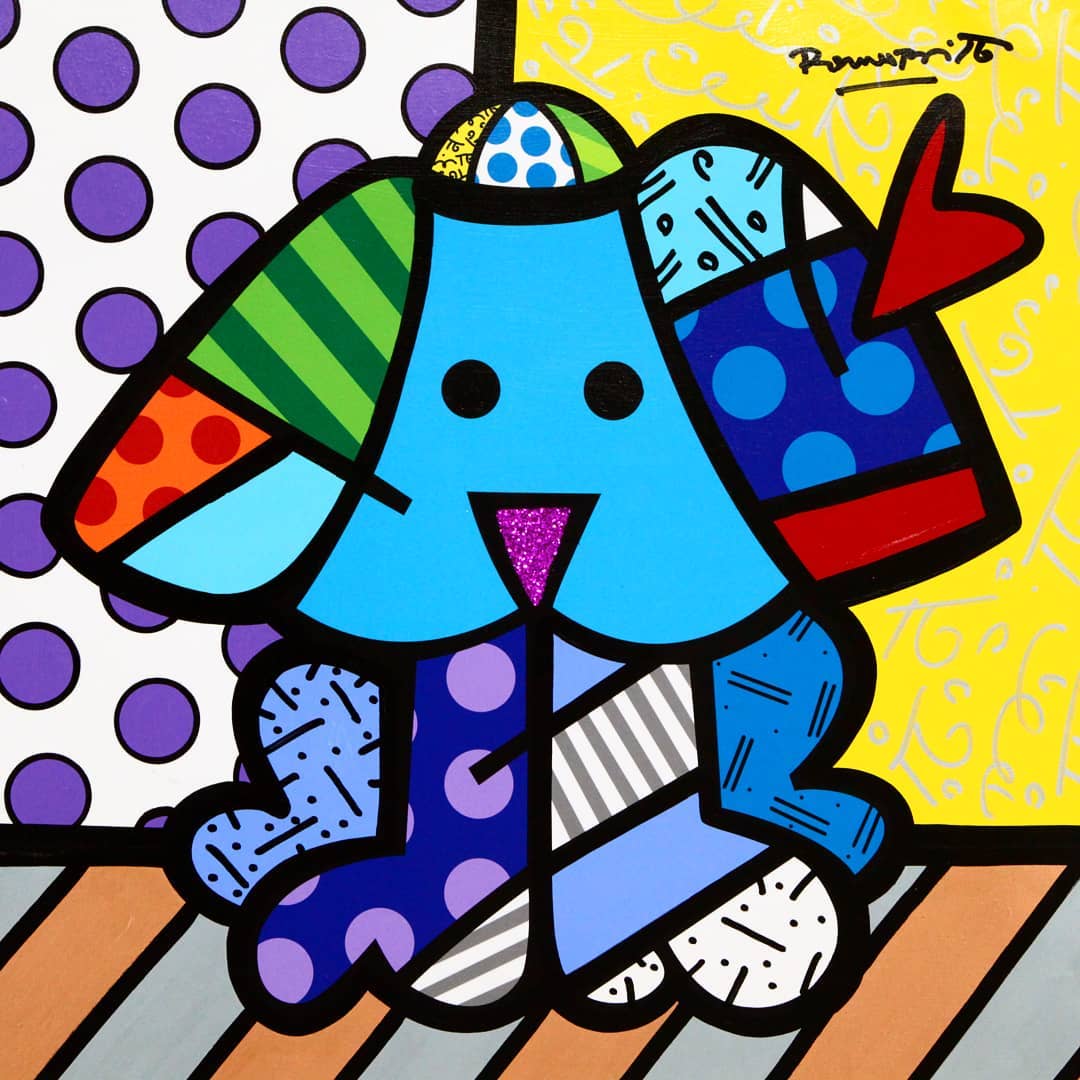 We said before that Britto loves painting animals. And his Cubism is all about animals. Painting animals in unique shapes, different than what we have seen before.
28. Teddy Bear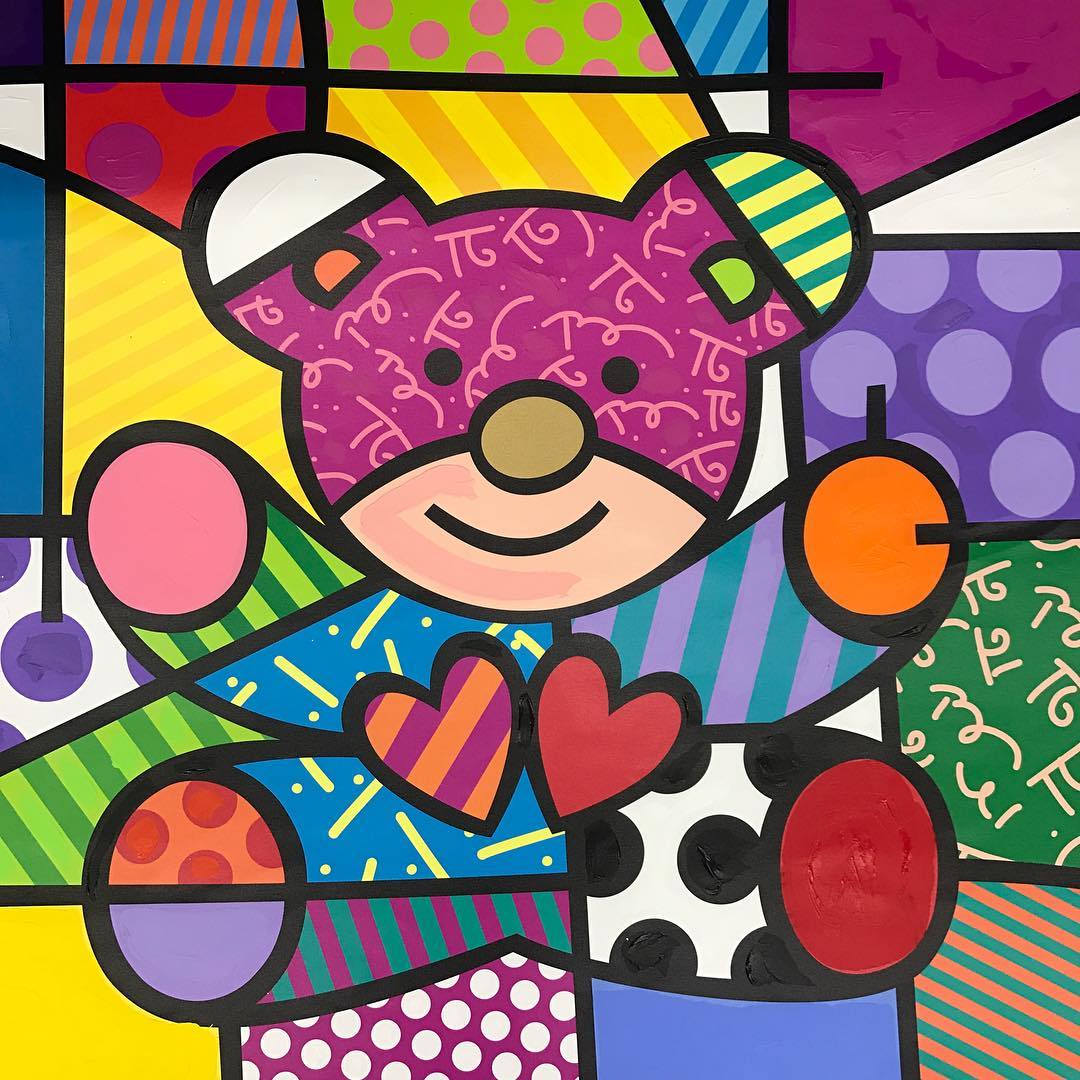 Every child has a favorite teddy growing up. We sleep with our teddy, we cuddle with our teddy. Our teddy is there to comfort us while we are sad. But he is also there in our happy moments.
29. Nature in Harmony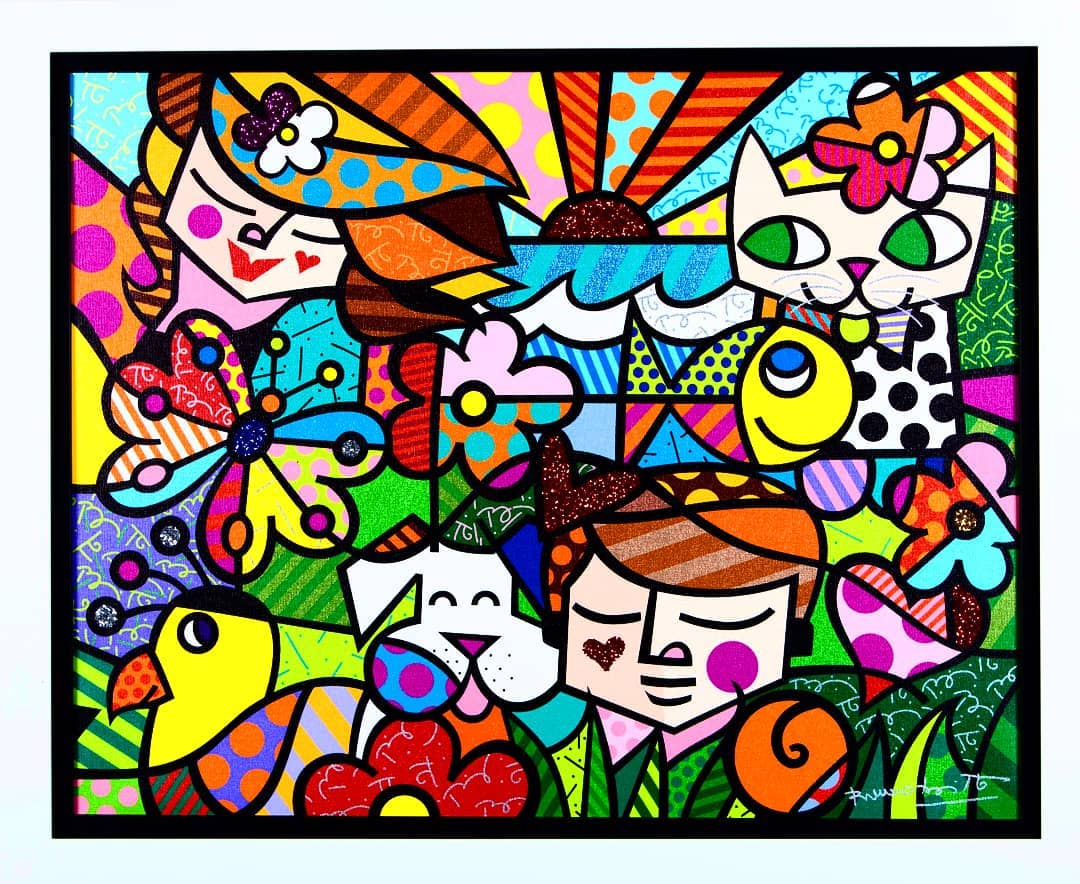 One reason fans love Romero is because he supports harmony between all living beans. That includes animals, plants, and humans. He believes we should all live in harmony, and not take advantage of one another.
30. Moon Struck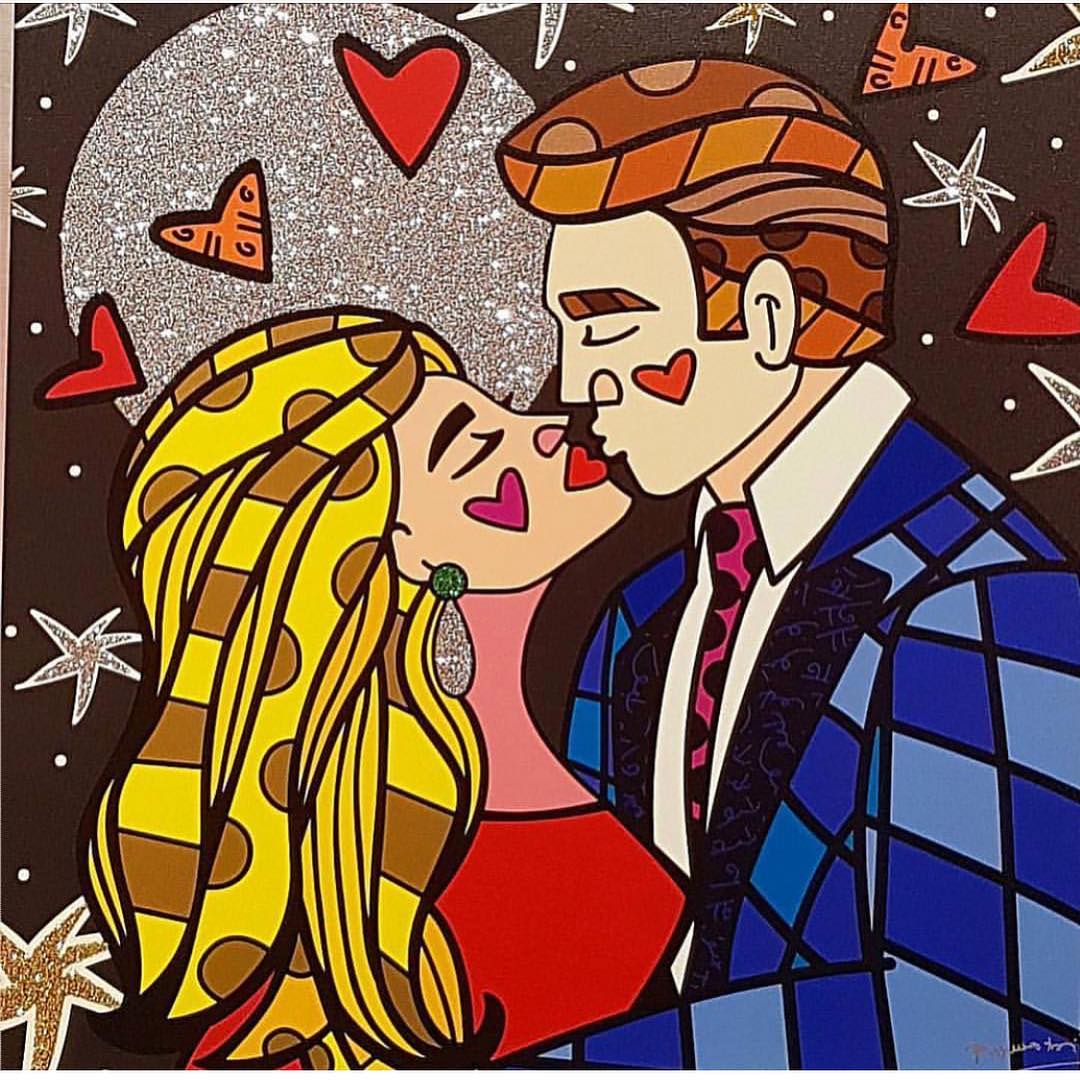 For many couples, moon struck is one of the most romantic moments. Britto managed to capture it in this painting and make it as memorable as it can be.
31. Love Circle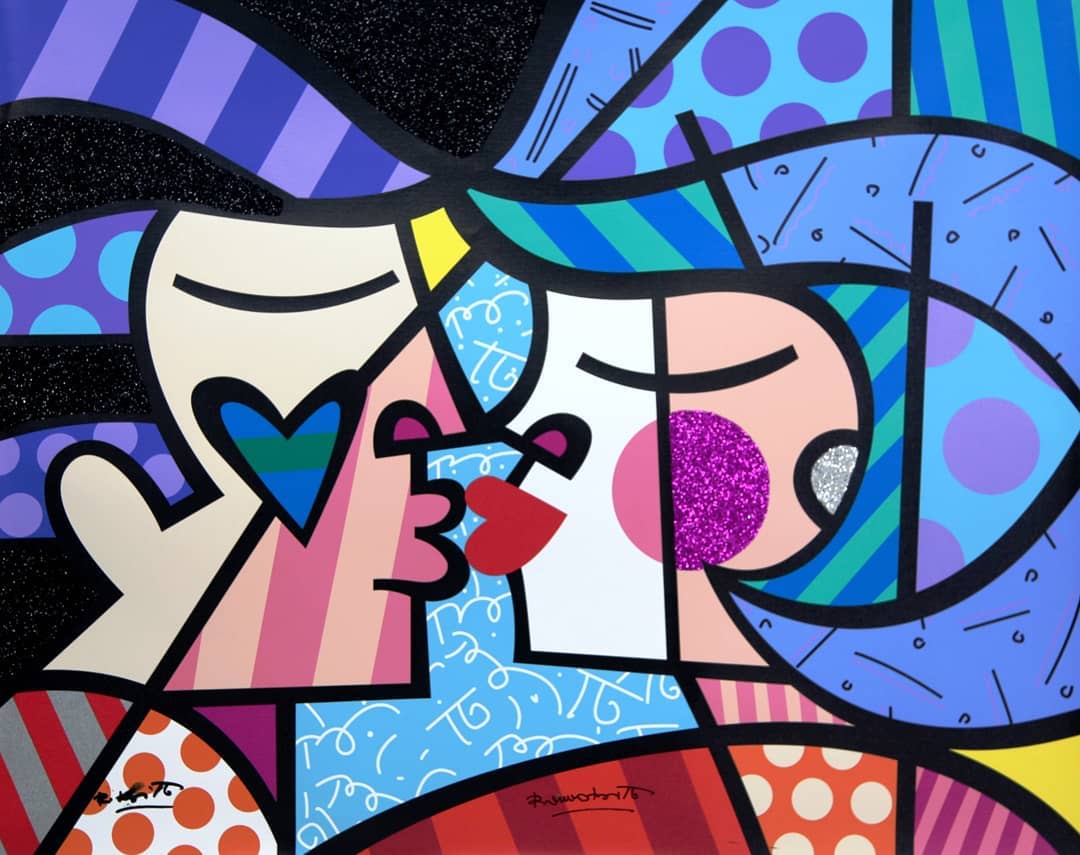 Here is another couple that spreads love, joy, and happiness. Romero is all about spreading happiness through his colorful paintings.
32. Huggable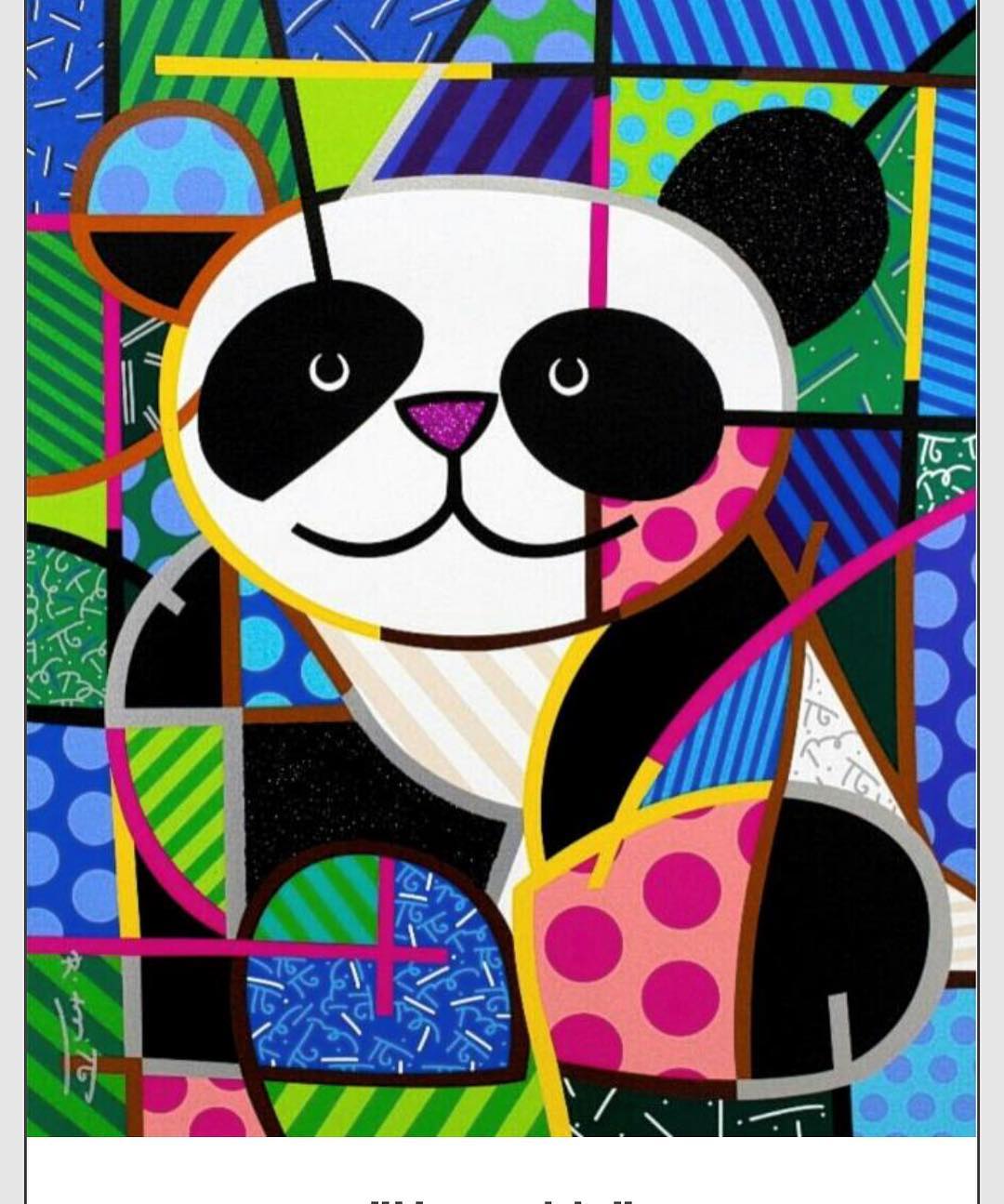 Don't you just wish to hug this teddy bear the moment you see him? Britto is master at waking up our emotions and make us happy.
33. Follow Me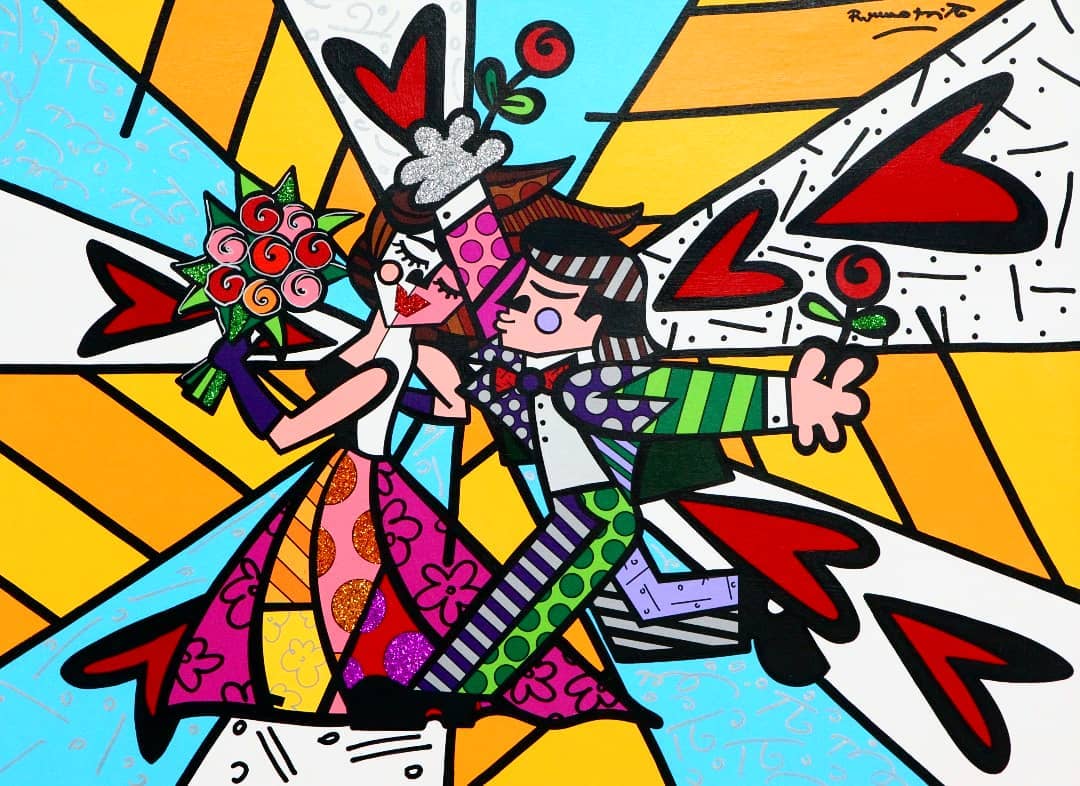 In some relationship, women take the lead. In others, men take the lead. But it doesn't matter as long as they are happy. We need to follow our loved one to the very end.
34. Love Birds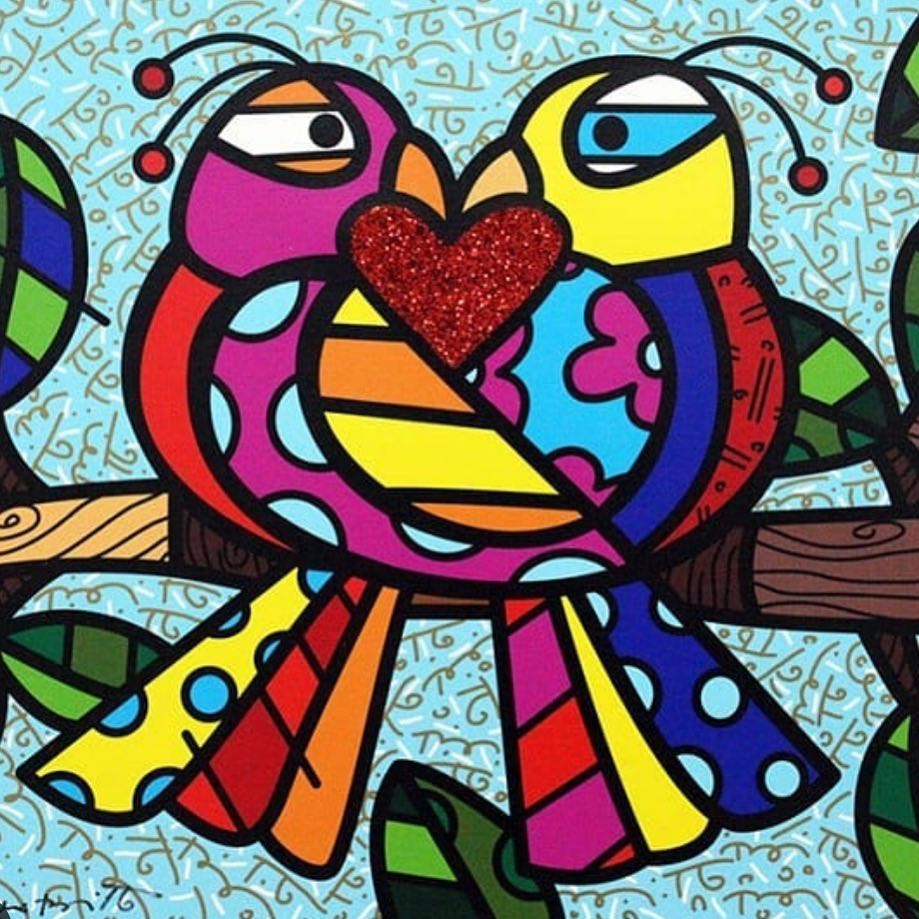 We said before that this Brazilian artist makes no difference when it comes to love. People of same gender or animals, he doesn't make a difference. For him, love is love. And he tries to spread the love harmony all around.
35. Couples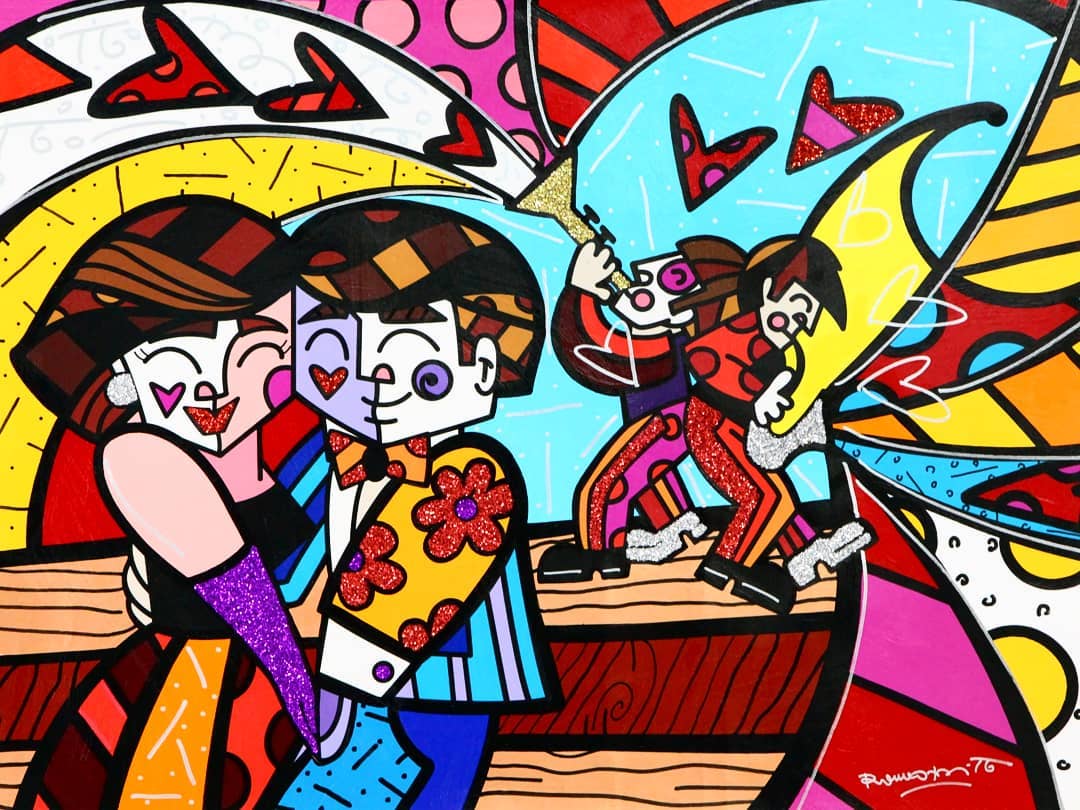 This scene is like right out of a dance movie. That is how good Romero is at painting emotions and romantic scenes. You think it came out of a movie.
36. Nova Dia
Fun fact: Britto donated this painting to Baptist Hospital and it now hangs outside of the NICU Family Lounge. The painting is in memory of Isabel Riley Ramirez. The painting is a reminder to spread joy and happiness in the world we live in.
37. Romero Britto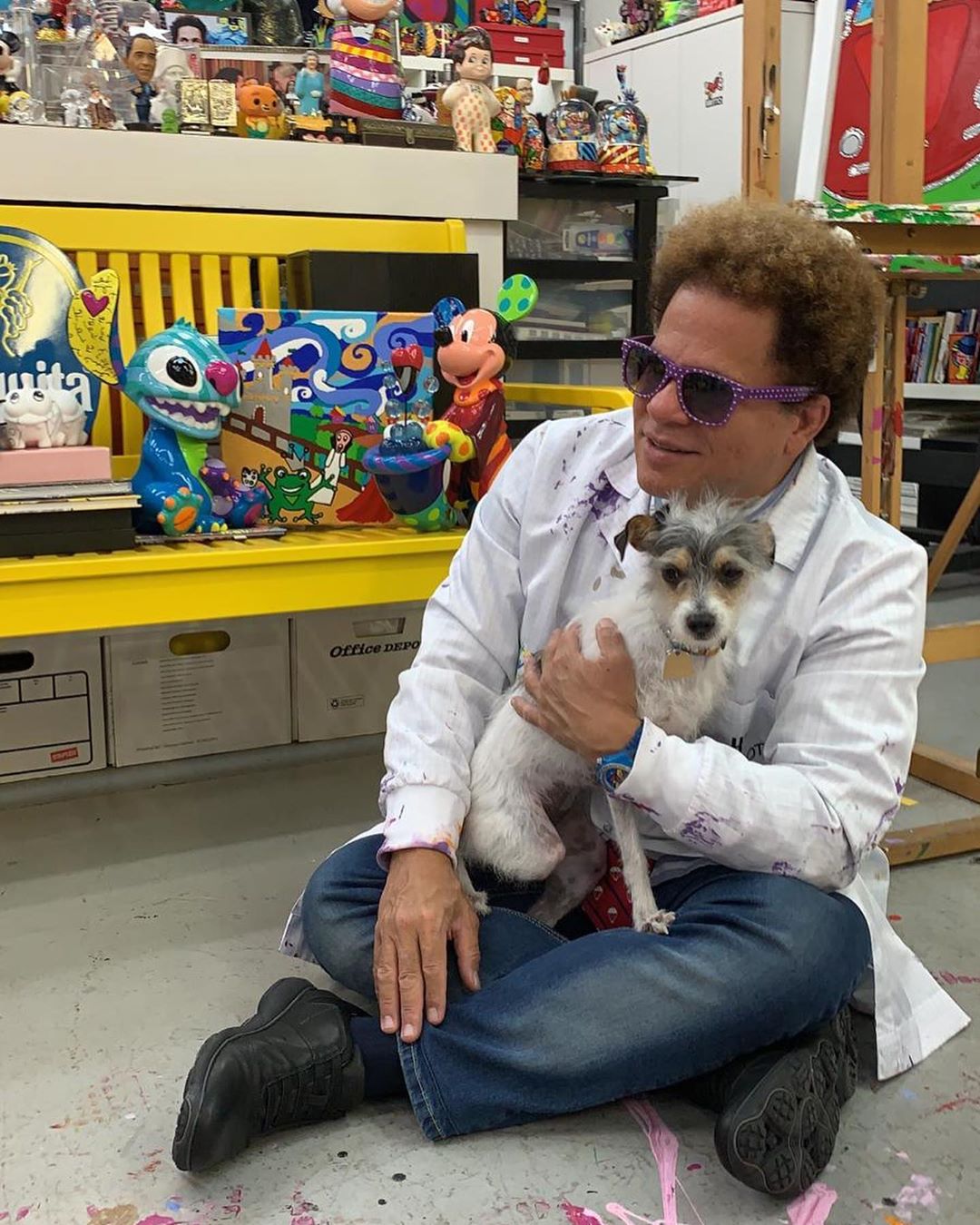 As you can see, Romero is an artist who himself lives in a colorful world. And that is how he views the world. He hopes one day we will all live in a happy and colorful world.