Invader is the name a French urban artist uses. He is known for his ceramic tile mosaics modeled as pixelated art. They resemble 8-bit video games, and many depict the titular aliens from the 1978 arcade game Space Invaders. Which is how he got the name or the pseudonym.
His creations can be seen in more than 65 cities and 33 countries. He also publishes books and maps as guides to the locations of his mosaic.
In addition to making mosaics resembling the popular arcade game, he also uses QR codes and stacks of Rubik's Cubes. That is how he got the nickname Rubik Kubrick.
He was a graduate of the Parisian Ecole des Beaux-Arts, and initially derived inspiration for his creations from the video games he played during growing up. He used tiles to represent the pixels in the game.
He began making mosaics in Paris in the 1990s, and then went to install mosaics in many more cities in France and the world. He has also staged invasions in New York, Hong Kong, and more.
He works incognito, often masked and largely at night. He also uses pixels to mask his own face or image during interviews. According to him, only a select few people know his real name and identity. His parents, for example, think he works as a tile worker in the construction industry.
1. Zebra 3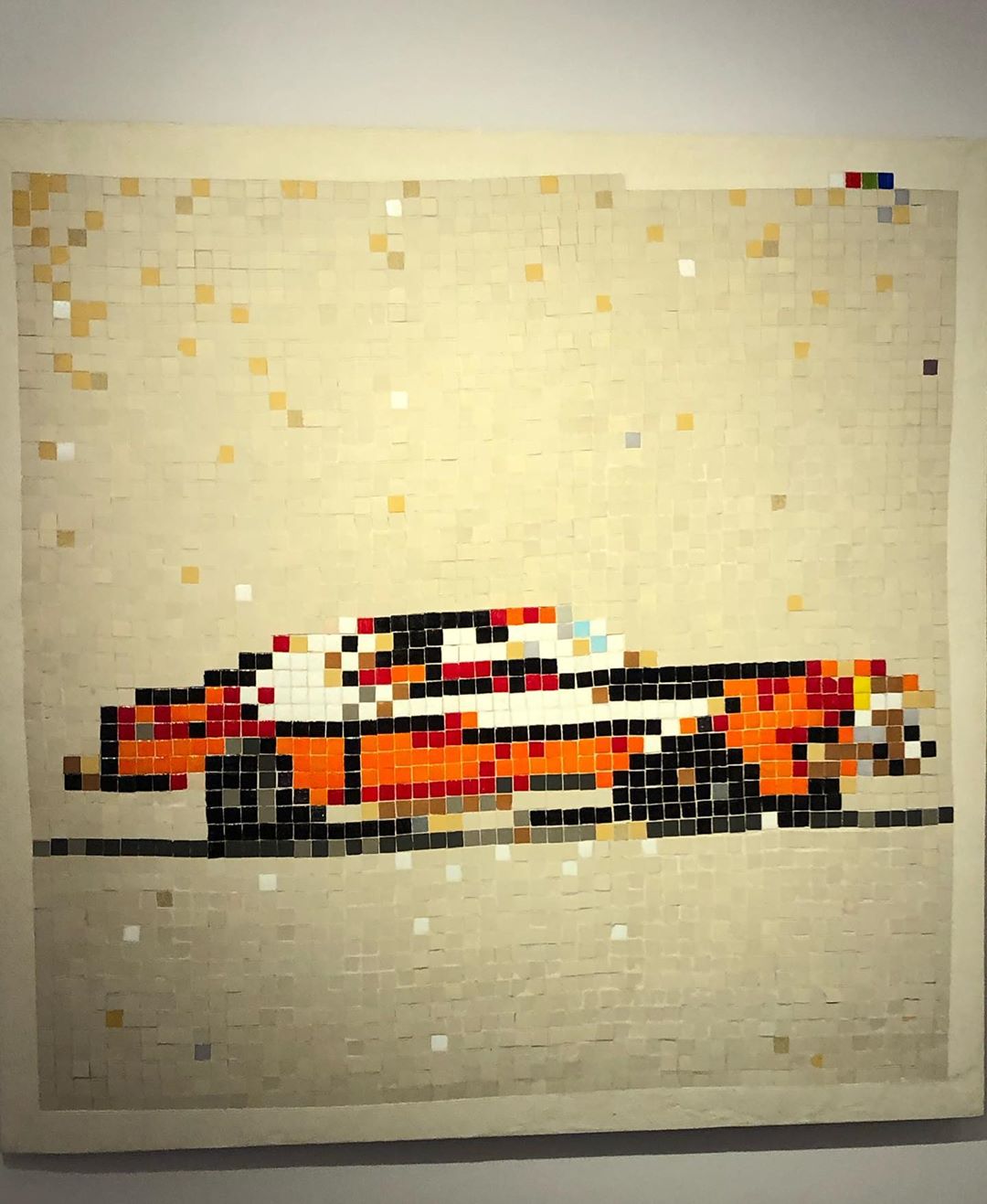 Let's start with a classic work by the Invader, which is a car design. Back in the 1970s, car games were quite popular, although not as detailed as Need for Speed later on.
2. Rubik Kubrick II – The Shining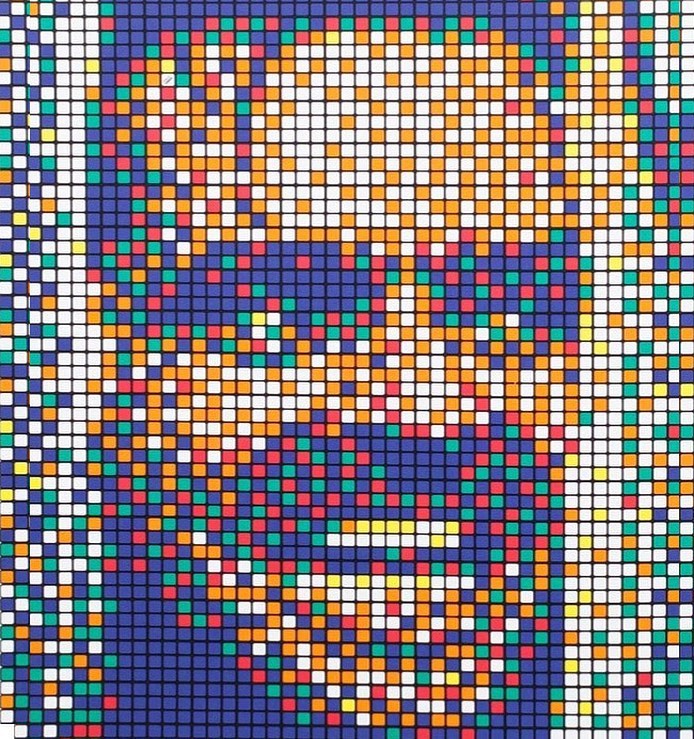 We said that Invader moved from arcade games to using Rubik cube for his mosaics. He also uses the cube for masking his own face. However, here, he paid tribute to the one and only Jack Nicholson and his famous facial expression from the Shinning. It looks as scary in 8-bit as it looks in the movie.
3. Rubik Mr Pink And Mr White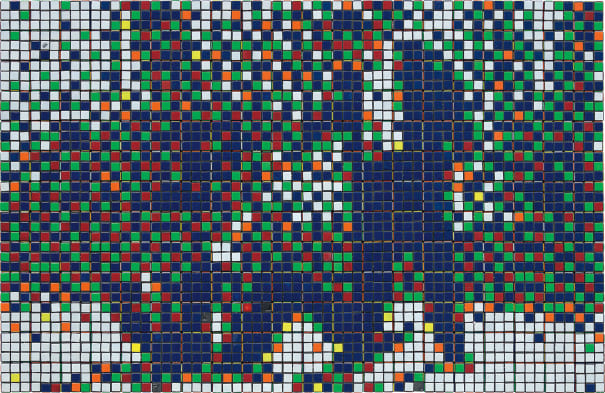 You might have troubles recognizing the face here. But if you know who Mr Pink and Mr White are, you know they are fictional characters from the movie Reservoir Dogs. It is a classic by Tarantino.
4. Rubik Arrested Sid Vicious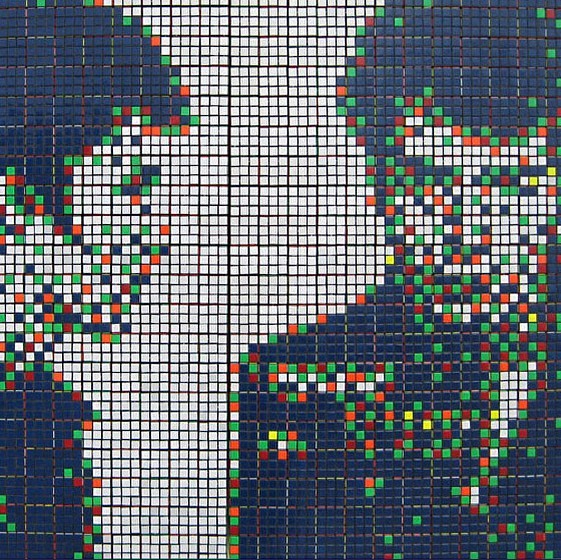 Sid Vicious was cult hero, an icon during the 1970s. And as we mentioned, Invader grow up during that time. He was a mythic figure during the 1970s punk explosion, becoming famous for his edgy and rebellious persona. He was a member of the Sex Pistols.
5. Rubik Diamond Dogs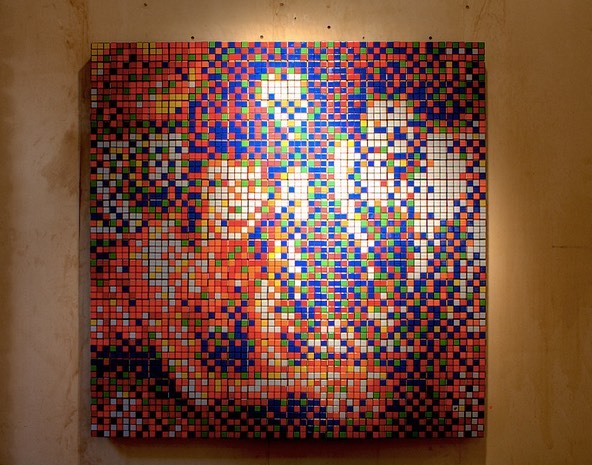 As you can see, video games from the 1970s are not the only source of inspiration for Invader. Diamond Dogs is the eight studio album by David Bowie, and invader gives the cover of the album an 8-bit treatment. The album was recognizable for Bowie's glam-tinged vision of a post-apocalyptic world.
6. Rubik Ohh Alright 2011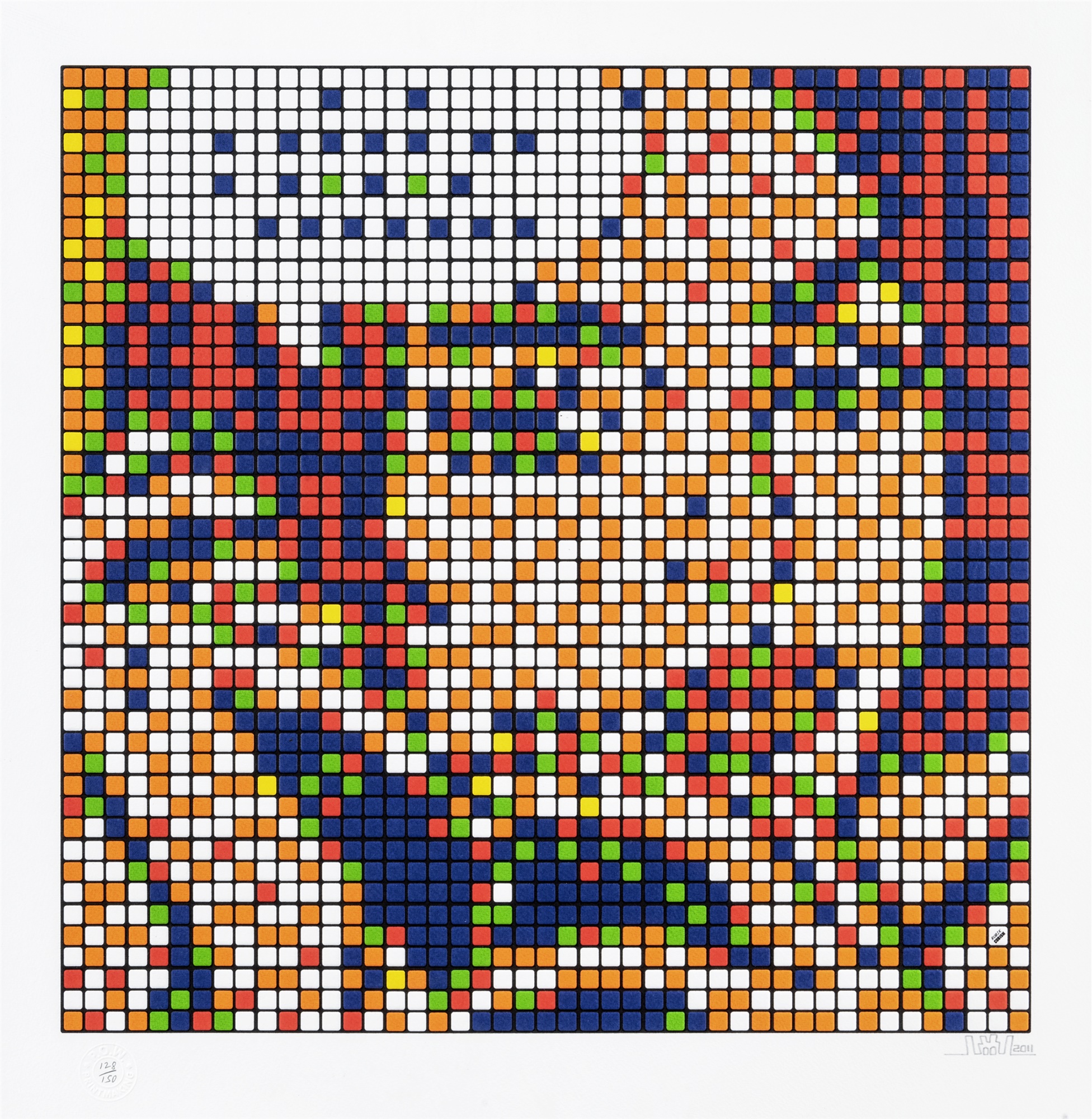 Even the sixties serve as an inspiration for Invader. This pop art painting was released in 1964 by Roy Lichtenstein. It formerly held the record for the highest auction price for a Lichtenstein painting.
7. Rubik Jaws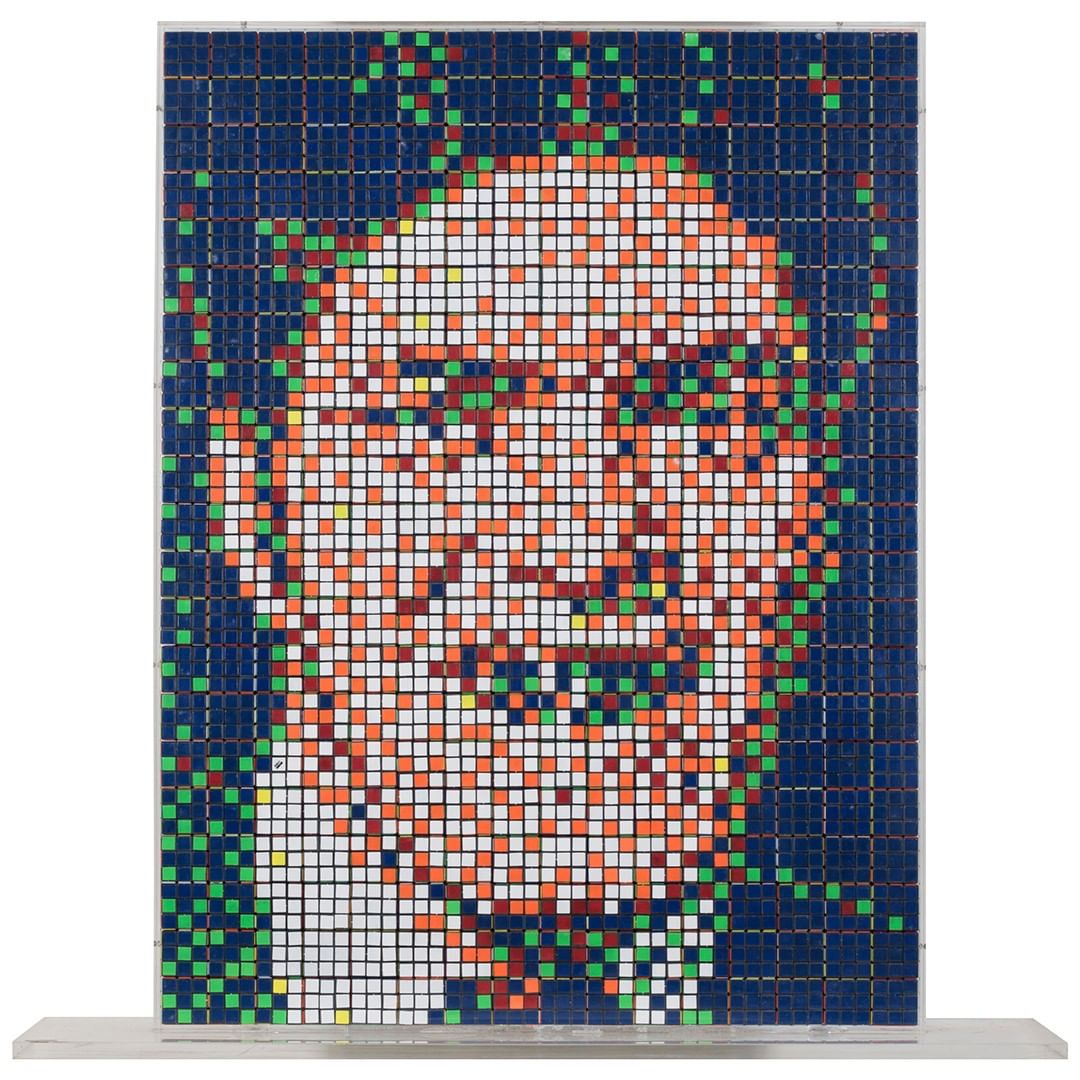 It is hard to tell whether Invader was giving tribute to the movie Jaws, or to something else. After all, Jaws featured a shark on the cover of the movie.
8. Chuck Berry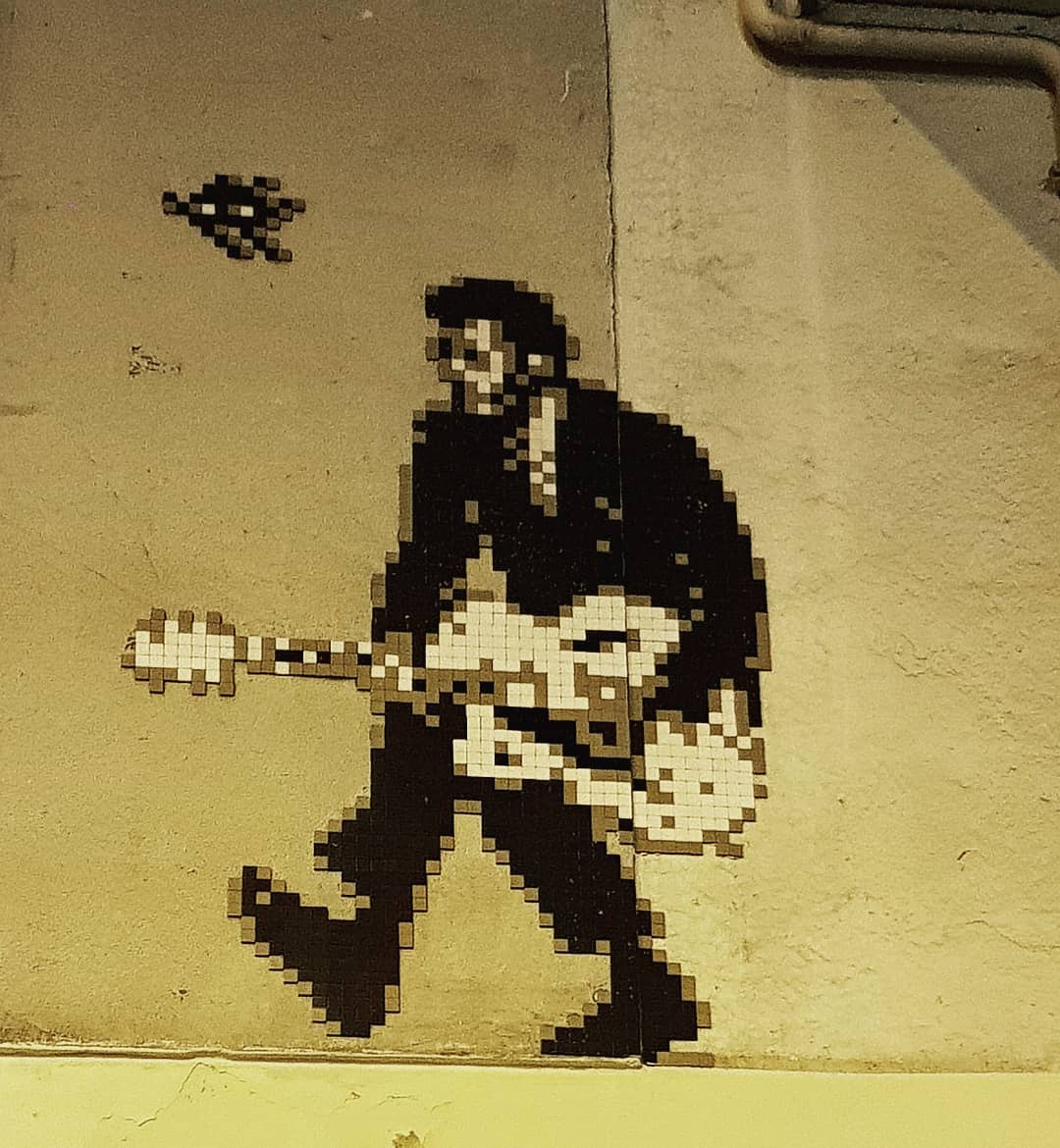 Chuck Berry was an American legendary songwriter and singer. He was one of the pioneers of the rock and roll music. As a guitarist, he was quite influential in the rhythm and blues music in the 1950s, 1960s, and so on.
9. Space Invader LA_33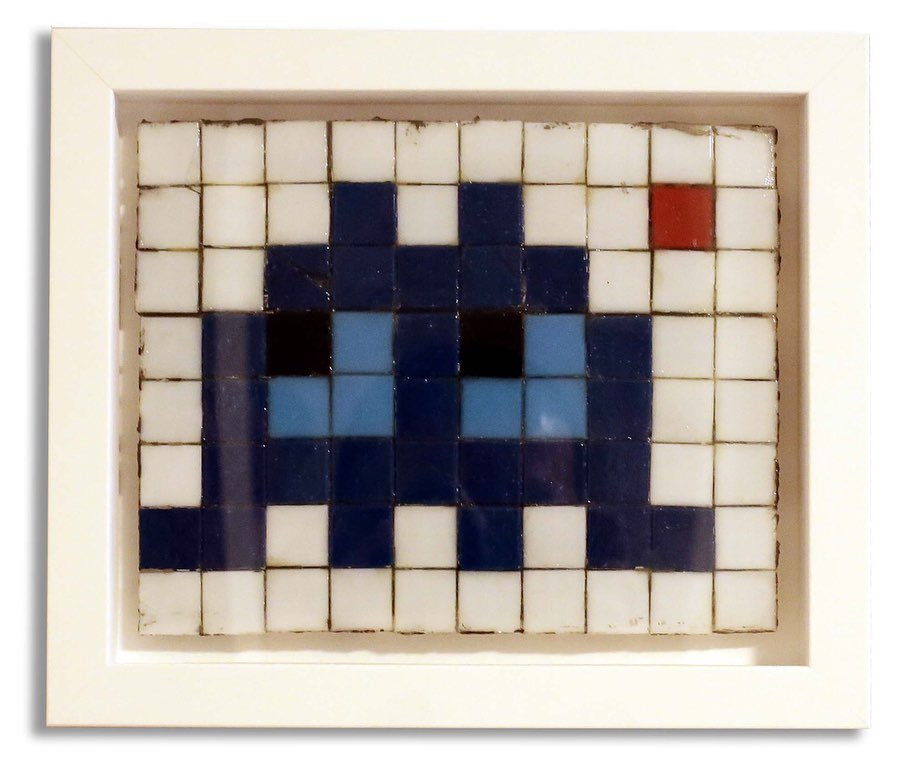 We are now getting to some of his original and initial arts. The OG if you like it. Space Invader is the arcade game that inspired his nickname, and his art. Here, you see one of the characters of the game. As you can see, the mosaic has its own number and city, which makes it easier to find it.
10. Alias NY-124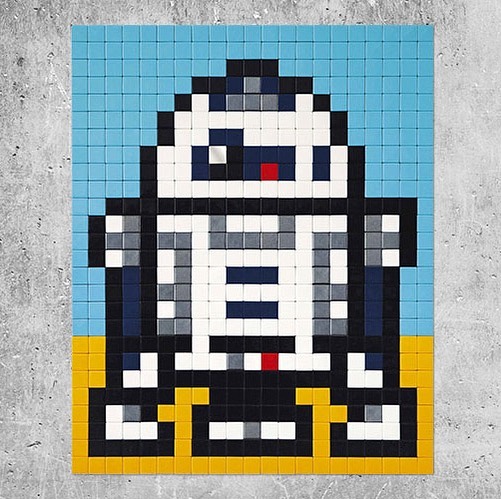 Nowadays, R2-D2 is considered one of the most iconic characters in movie history. It is only logical that artists like Invader, who are largely influenced by the 1960s and 1970s use him.
11. Sunset (Blue And Gold)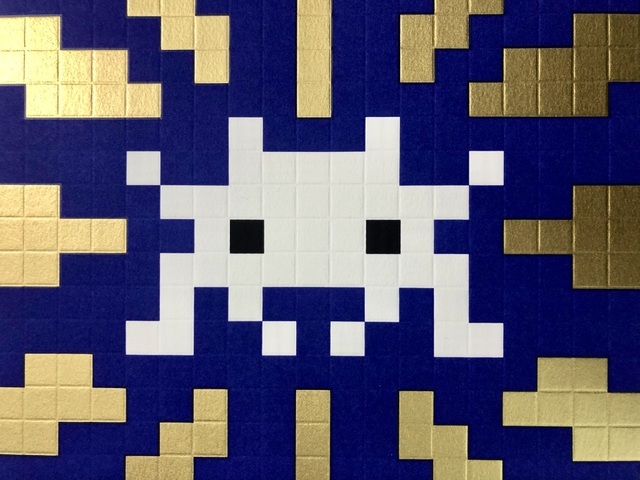 We all had our own version of the sunset and the sun as we were growing up. We all draw different versions of it. Now, you can see how Invader imagined the sunset. He doesn't even use the standard gold and orange colors.
12. PA-902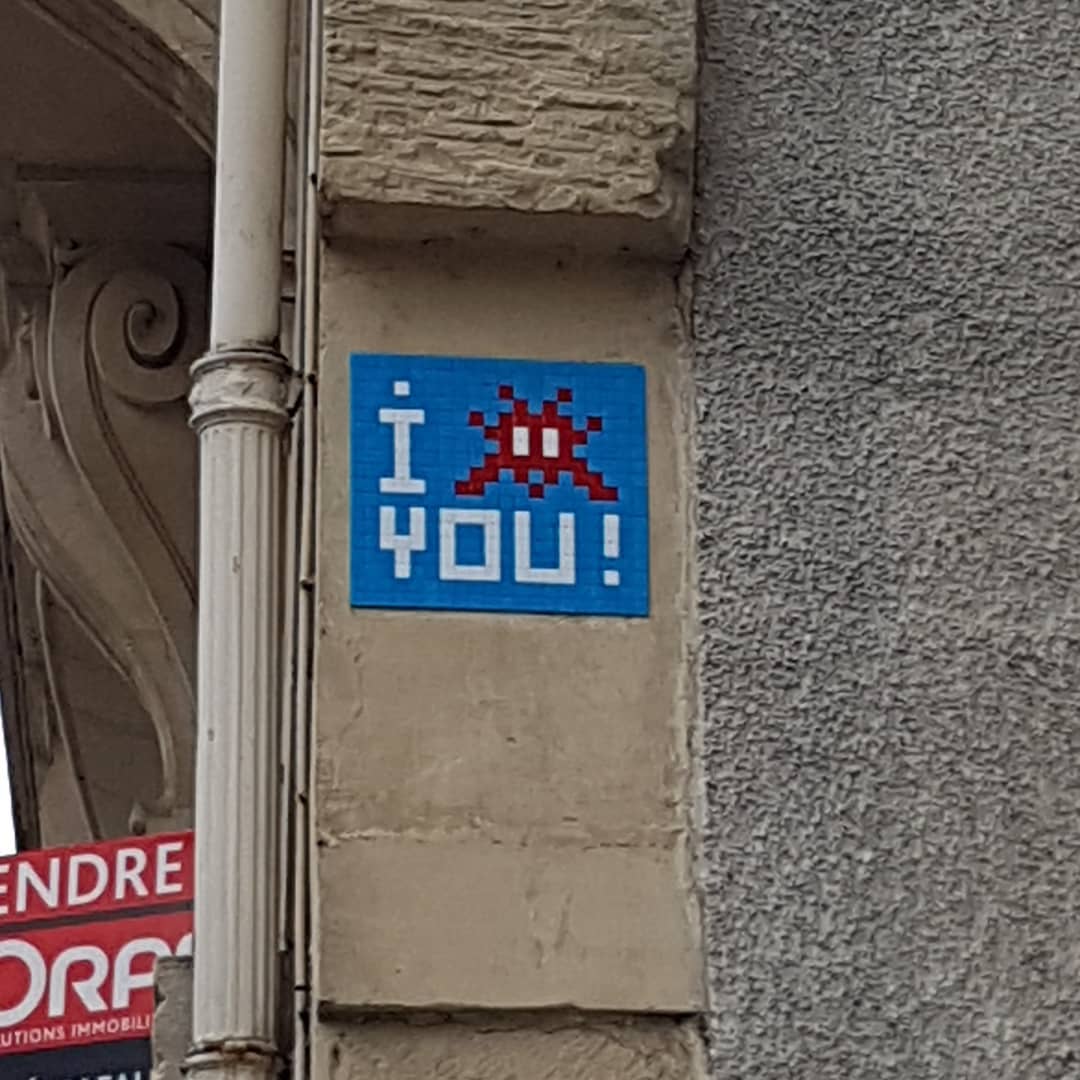 Most of Invader's mosaics are large. But this one, is one of the smaller versions. Sort of like a name of a street.
13. Black And Green Invader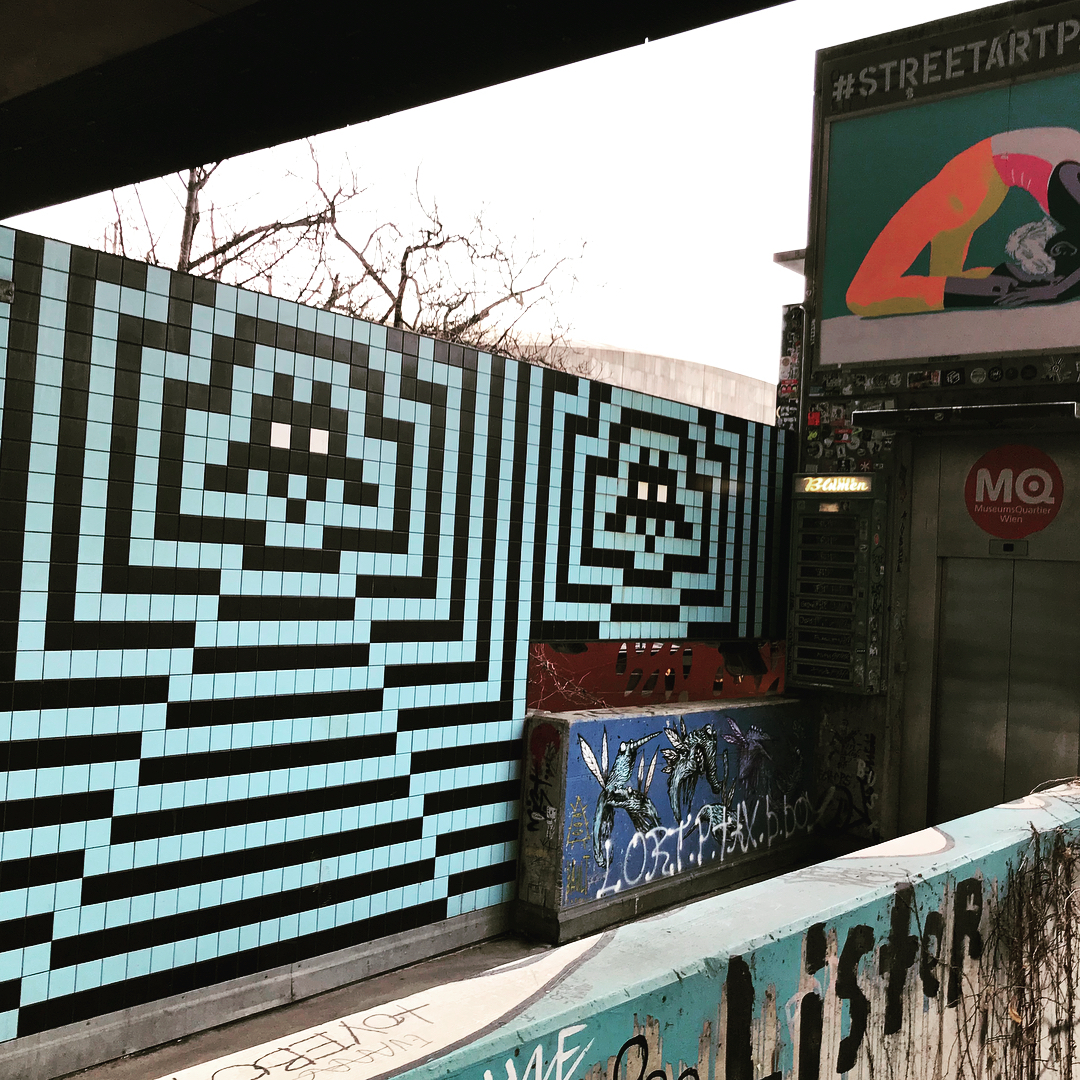 Most of his mosaics are inspired by the classic Space Invaders arcade game. And he makes the mosaics in different colors and shapes.
14. Pa_1177 Alias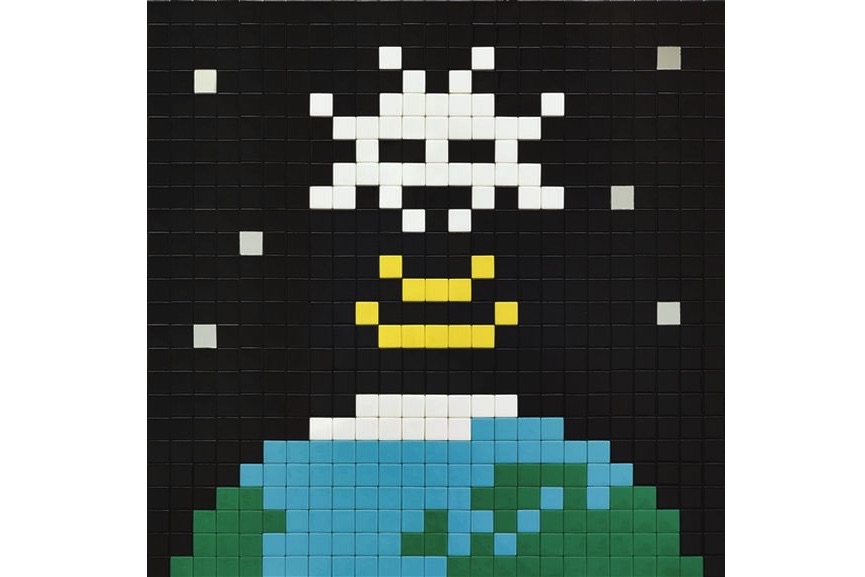 Pac-Man is the second most popular game in Invader's oeuvre. We have all been running away from these fellas at one point in our childhood. Now, you can run from them on the streets.
15. Super Mario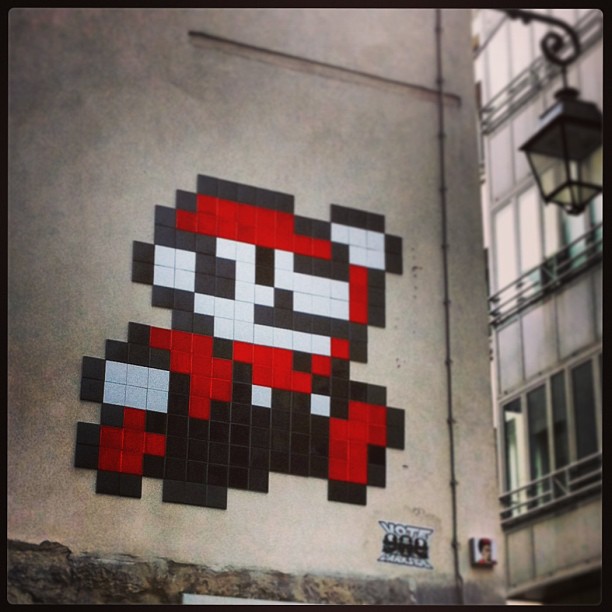 If there is one game that transcends generations, it is Super Mario. The game was popular since forever, and it is still one of the most widely played games. There are countless versions of the Italian plumber. This shape and form is the most recognizable.
16. Pac Man mosaics in Bilbao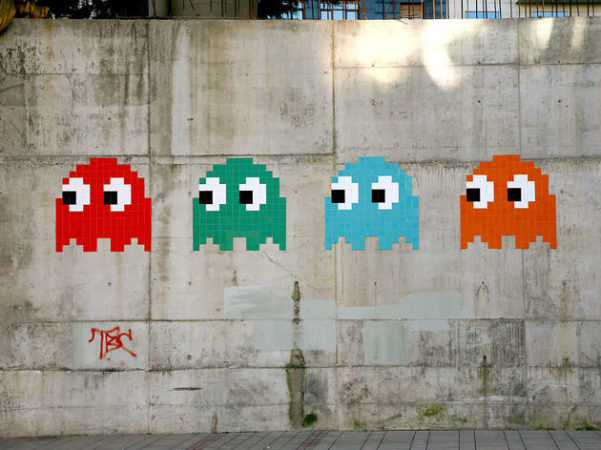 We said that Pac-Man is the second most popular arcade game used by Invader. These little fellas were scary back in our childhood. Now, they are just colorful.
17. Women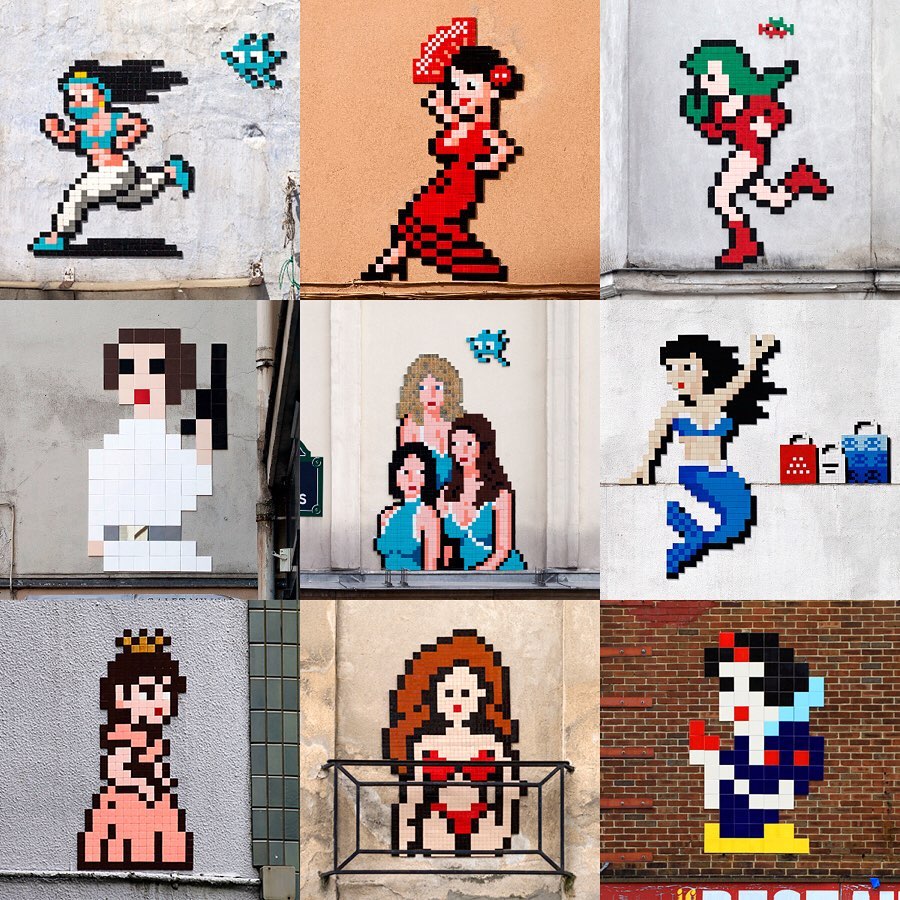 Back in the days, women characters were not much part of the gaming world. They were rare. They were mostly the princess Mario had to save. Or some similar role. This mosaic is more inspired by women fictional characters in movies and cartoons, not games.
18. MTB-09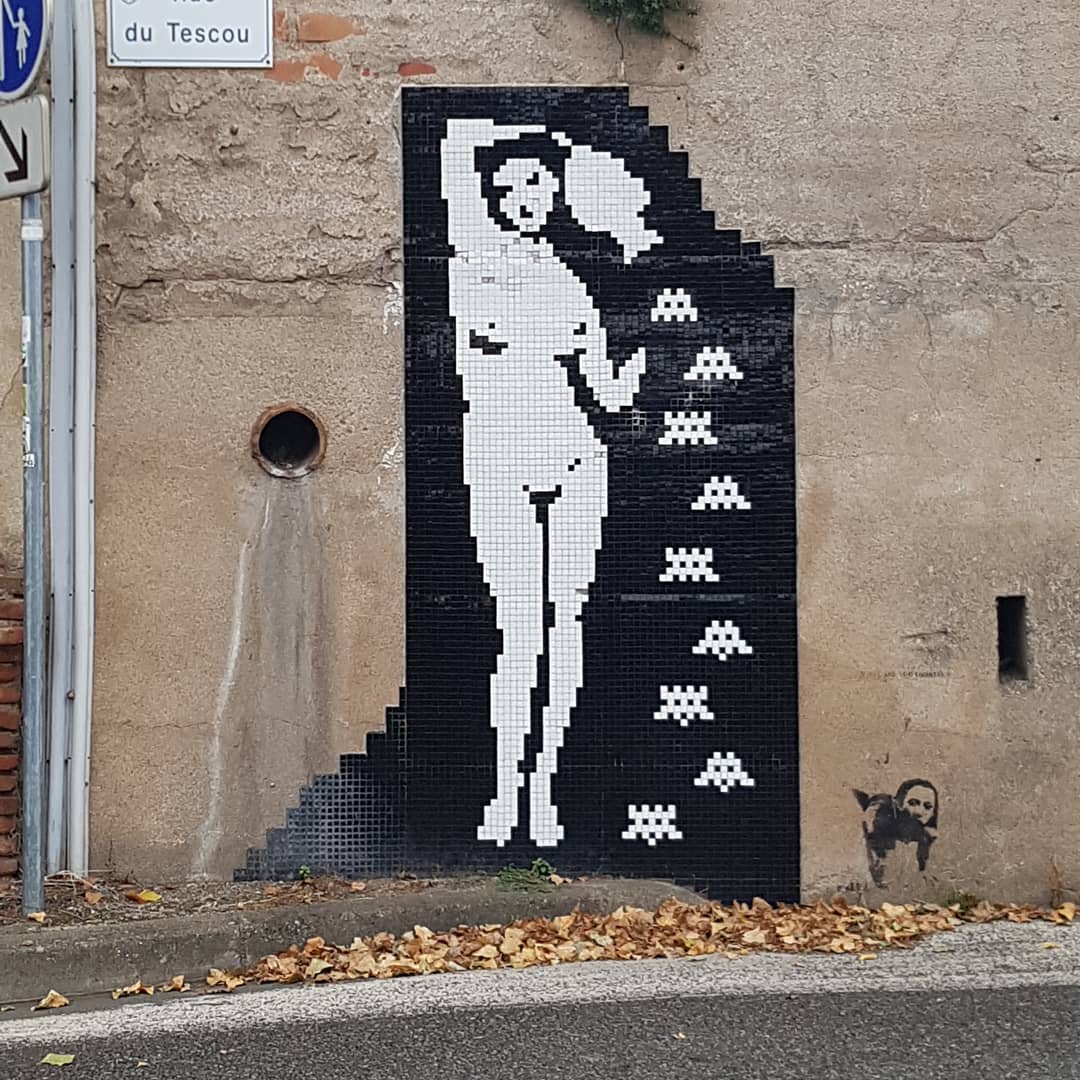 Invader is taking his art to the Renaissance, when nude women first started appearing. This, for example, is the Birth of Venus by Botticelli, a classic masterpiece. And a priceless piece of art.
19. Mona Lisa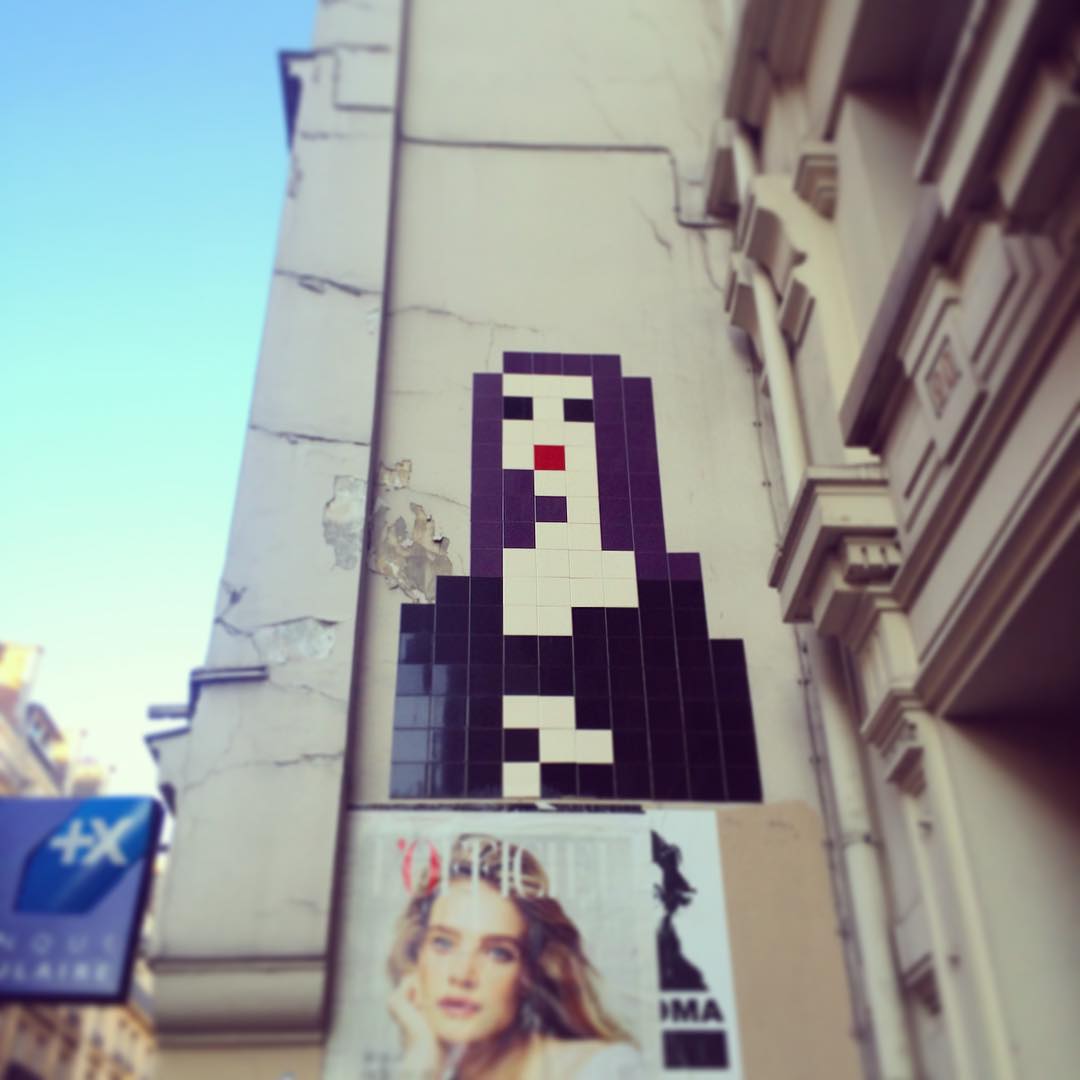 The best part of this mosaic is how it fits with the commercial below. Mona Lisa's smile accompanying that model smile. Priceless and genius.
20. Alice In Wonderland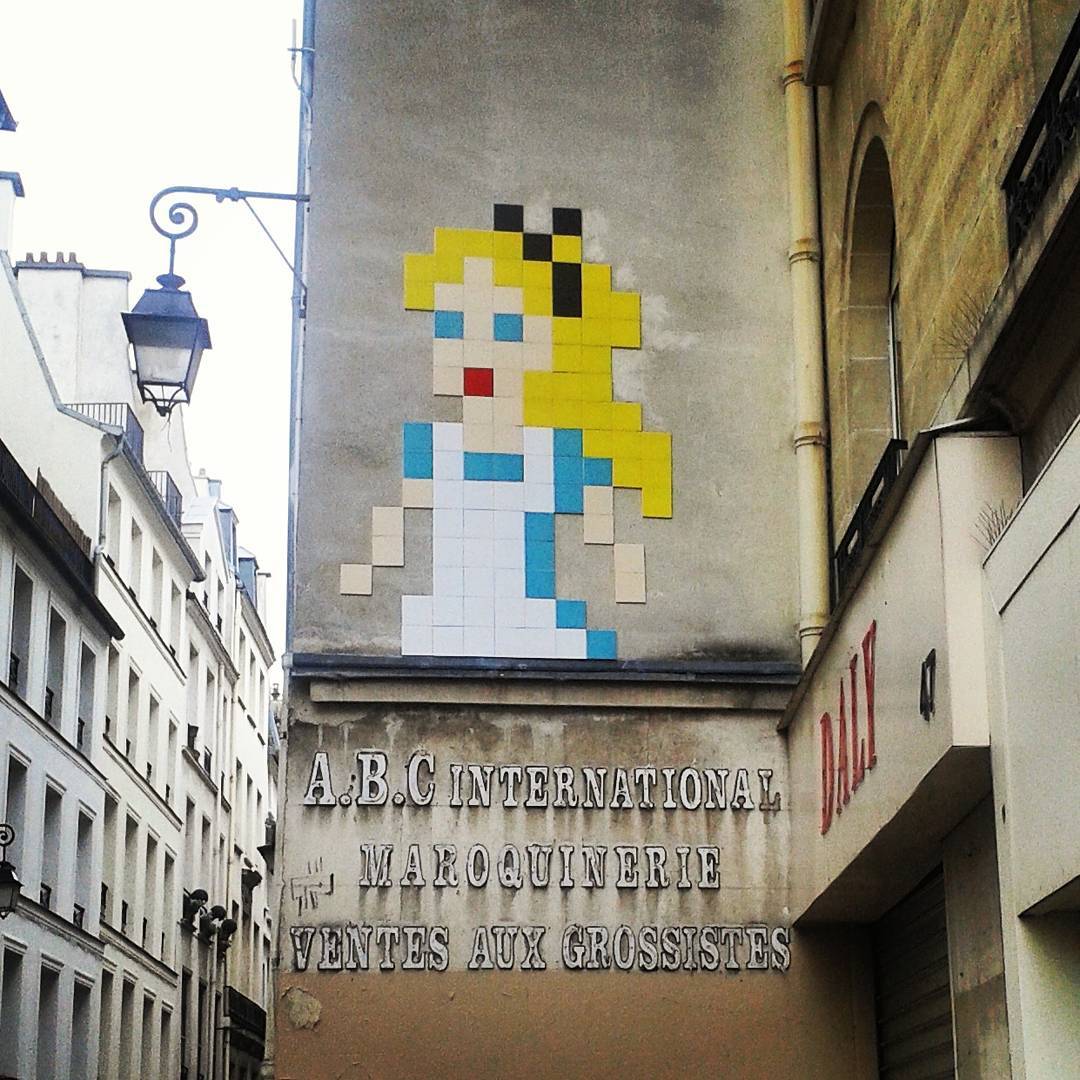 One of the best parts about Invader's mosaics is their positioning and location. He just always finds fitting positions that he blends with the environment surrounding them.
21. Chewbaka and C3PO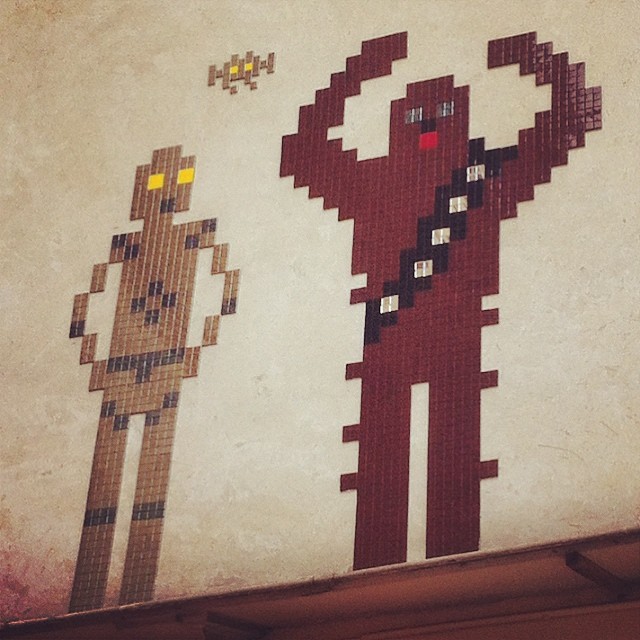 The underrated heroes of the Star Wars saga. For many people, the Star Wars saga is all about the Skywalker family. But it is all about the unsung heroes of the movie. C3PO is one of the best, if not the best. There are just too many iconic characters in the saga.
22. Hong Kong Phooey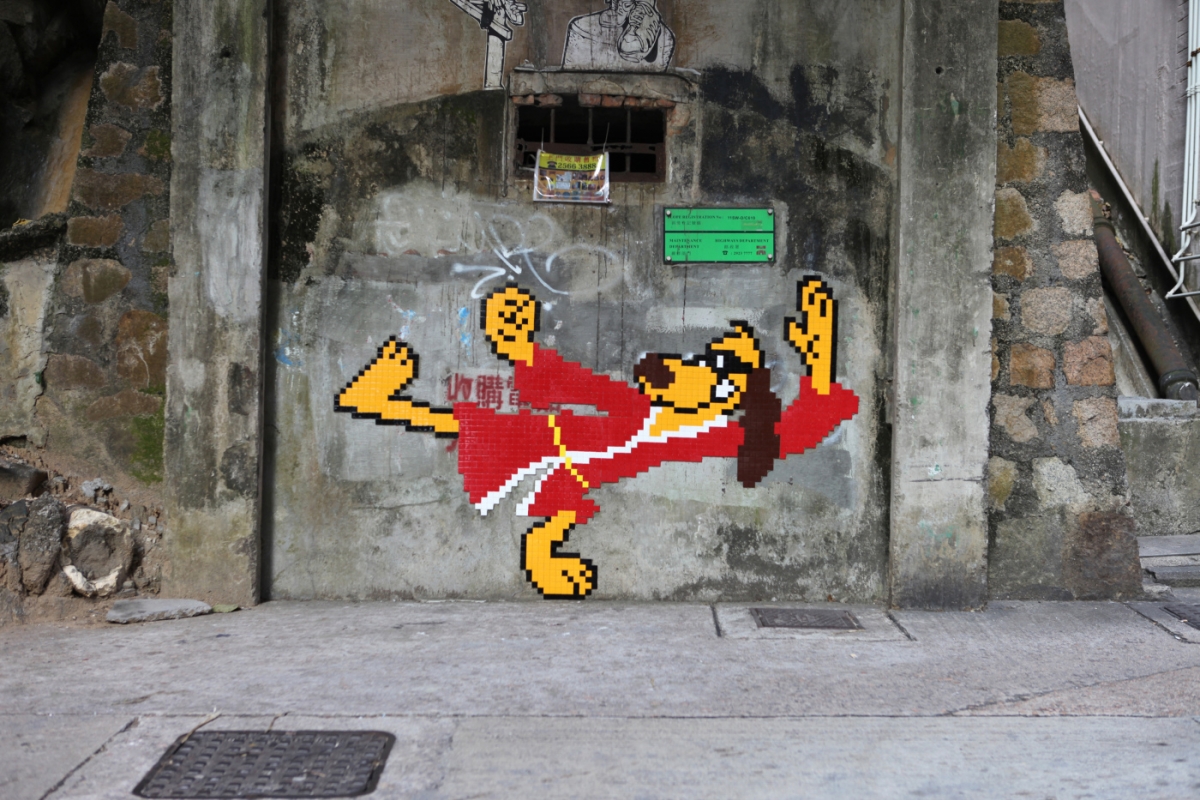 This karate dog was one of the more popular television shows back in the 1970s. Even though there were just 16 episodes, the dog still inspires countless of memes and jokes.
23. VRS-19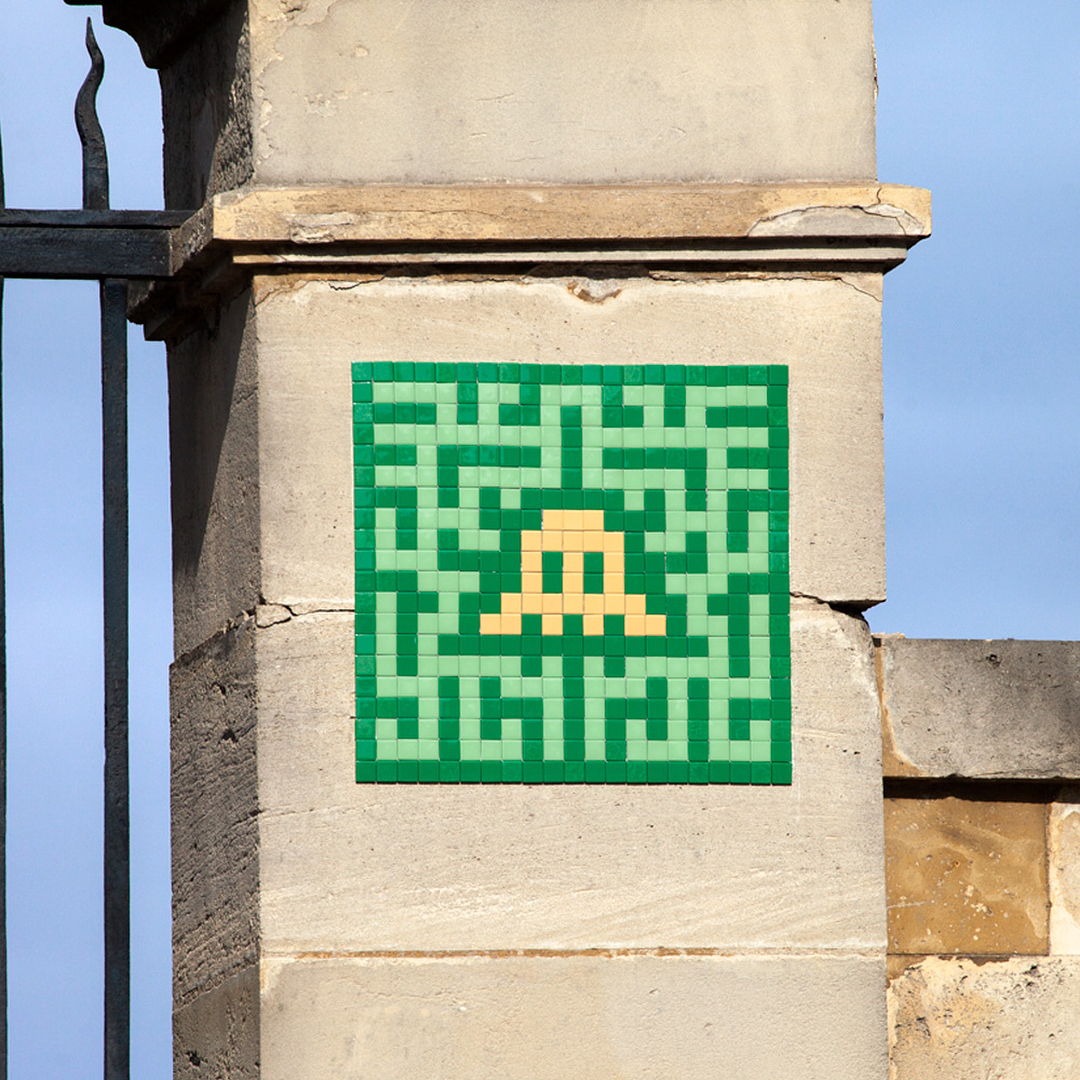 Here is Pac-Man trying to escape from the aliens chasing him. Just another sign that Invader is just obsessed with this game.
24. Sonic PA-1084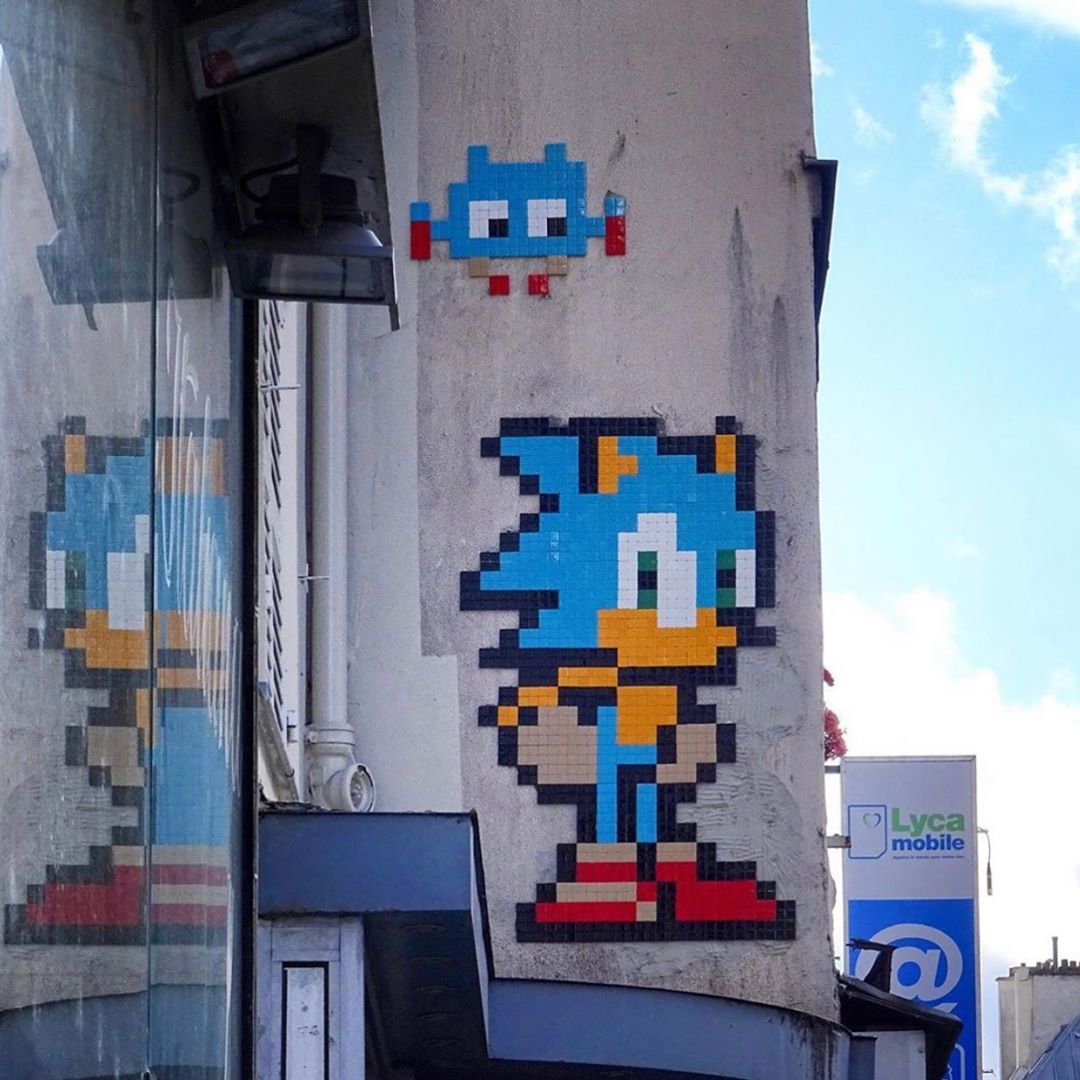 Sonic might not appear in many of the Invader's mosaics, but he too was a popular arcade game character. He is also one of the more underrated characters, as he never rose to the heights of Mario, Pac-Man, and similar characters during the arcade games era.
25. Smiley Napoleon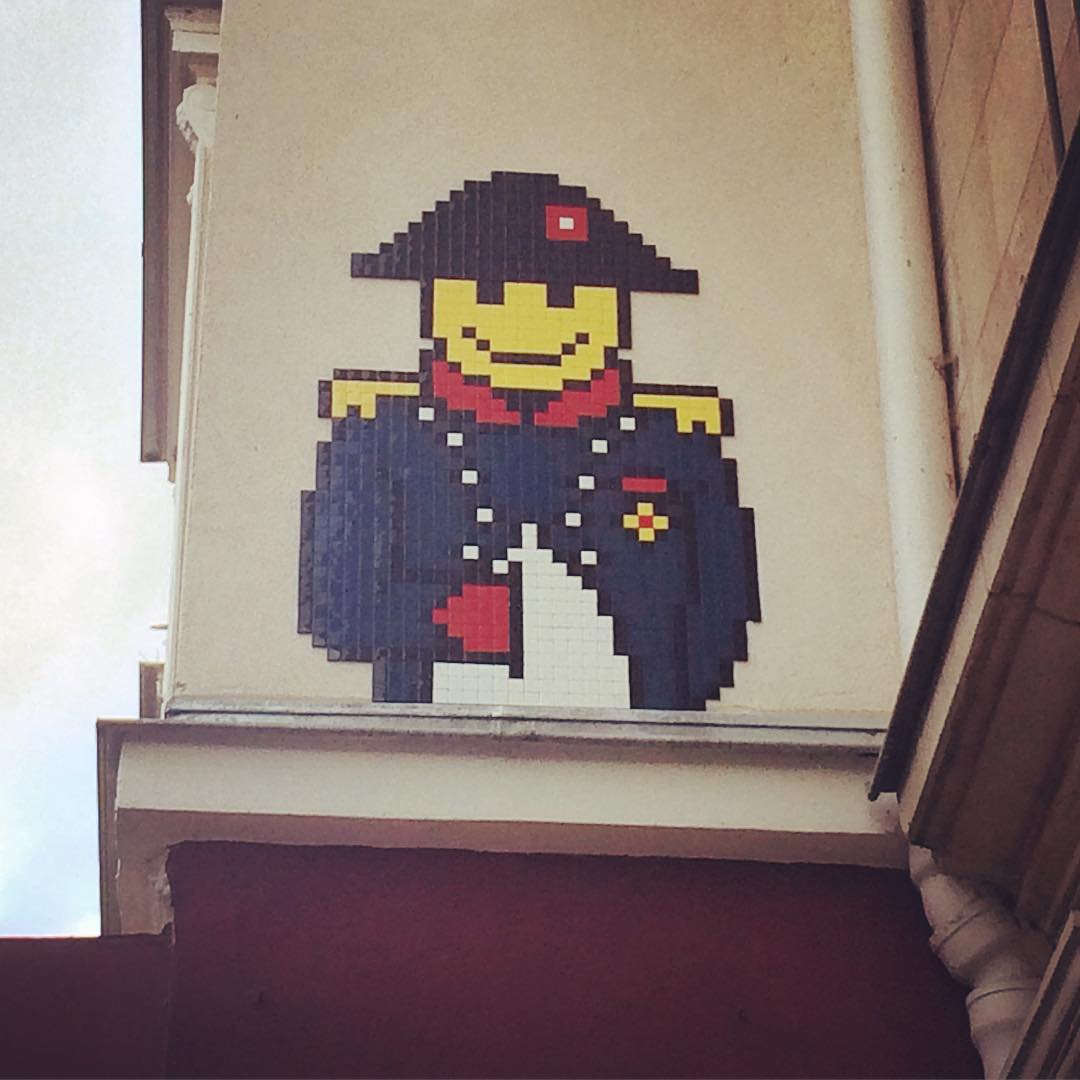 Many people depict pictures and paintings of Napoleon in his serious face. As if, the famous General never smiled. Well, here is one of him smiling courtesy of Invader.
26. Peter Pan
What makes Peter Pan so popular? It is all about his mischievous nature, his free spirit, and his "I never want to grow up" attitude. Truth be told, many will tell you that men nowadays are like Peter Pan, kids that do not want to grow up and mature.
27. Sun God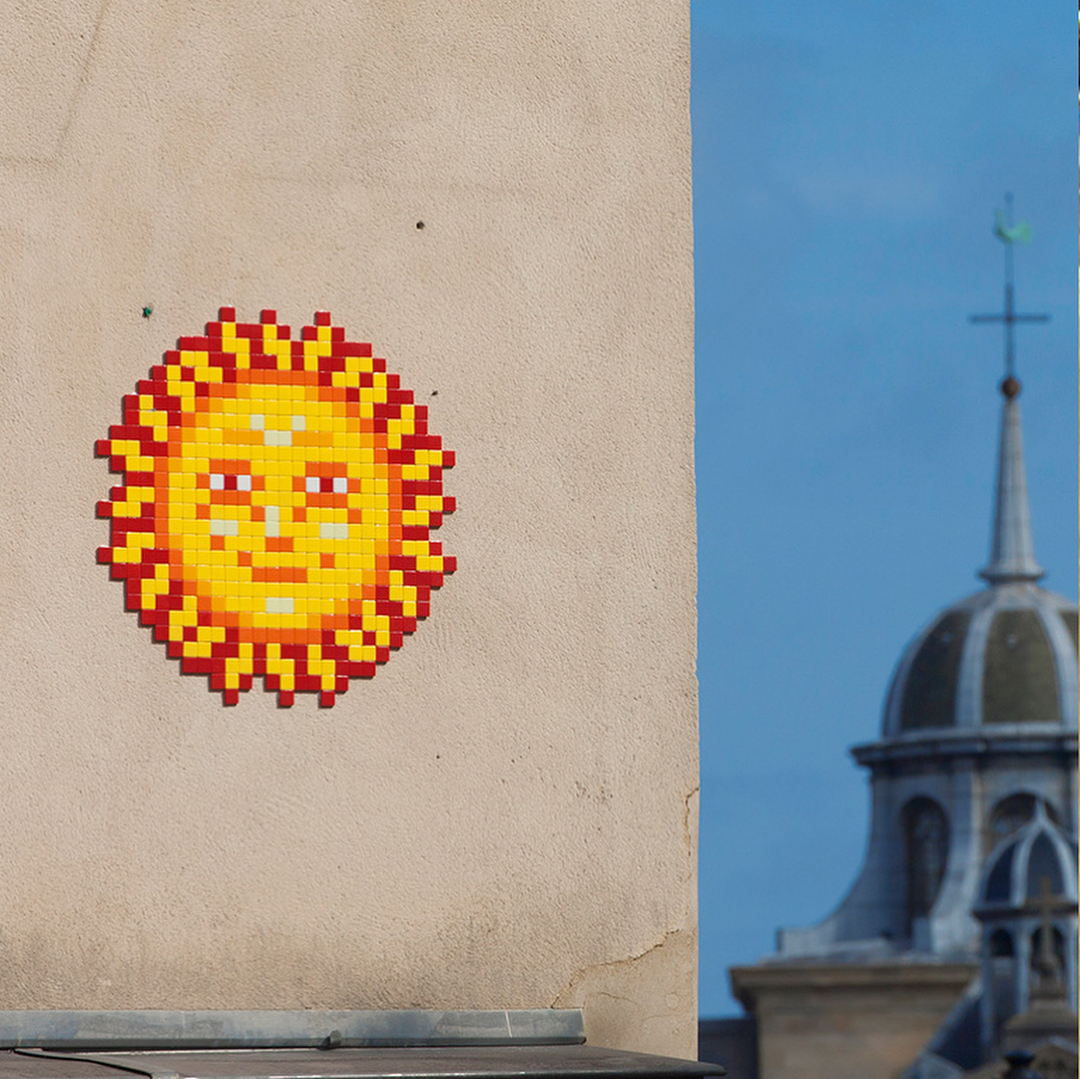 The Sun God has appeared in many arcade games. He is sometimes a boss, or just a character you pass by. Or some games, like Zuma, for example, use his shape as shape of the game.
28. Mirror King Invader VRS-35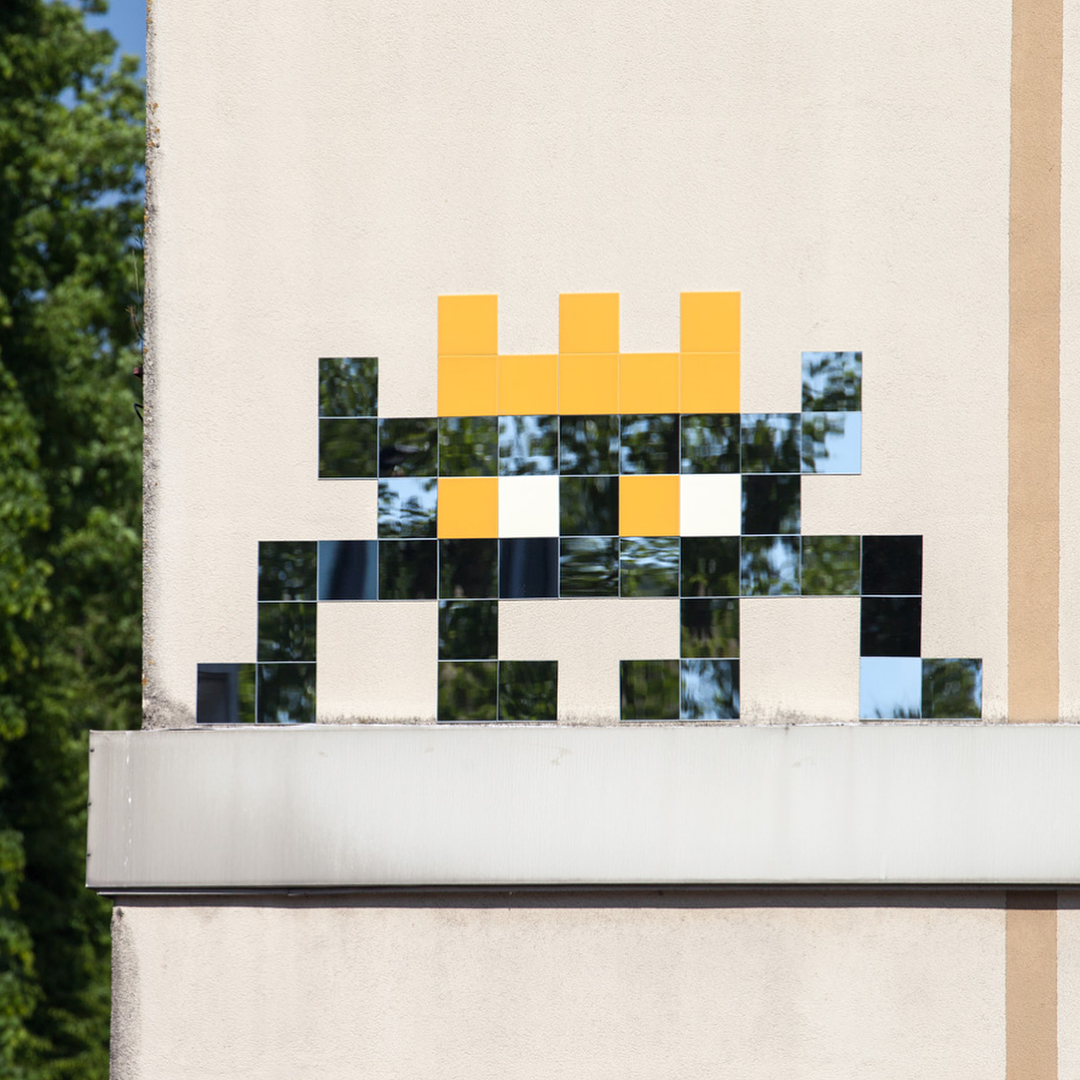 Most of the mosaics we saw so far are basic and straightforward. This one, however, can be even classified as classic art and more than just a mosaic.
29. Daffy Duck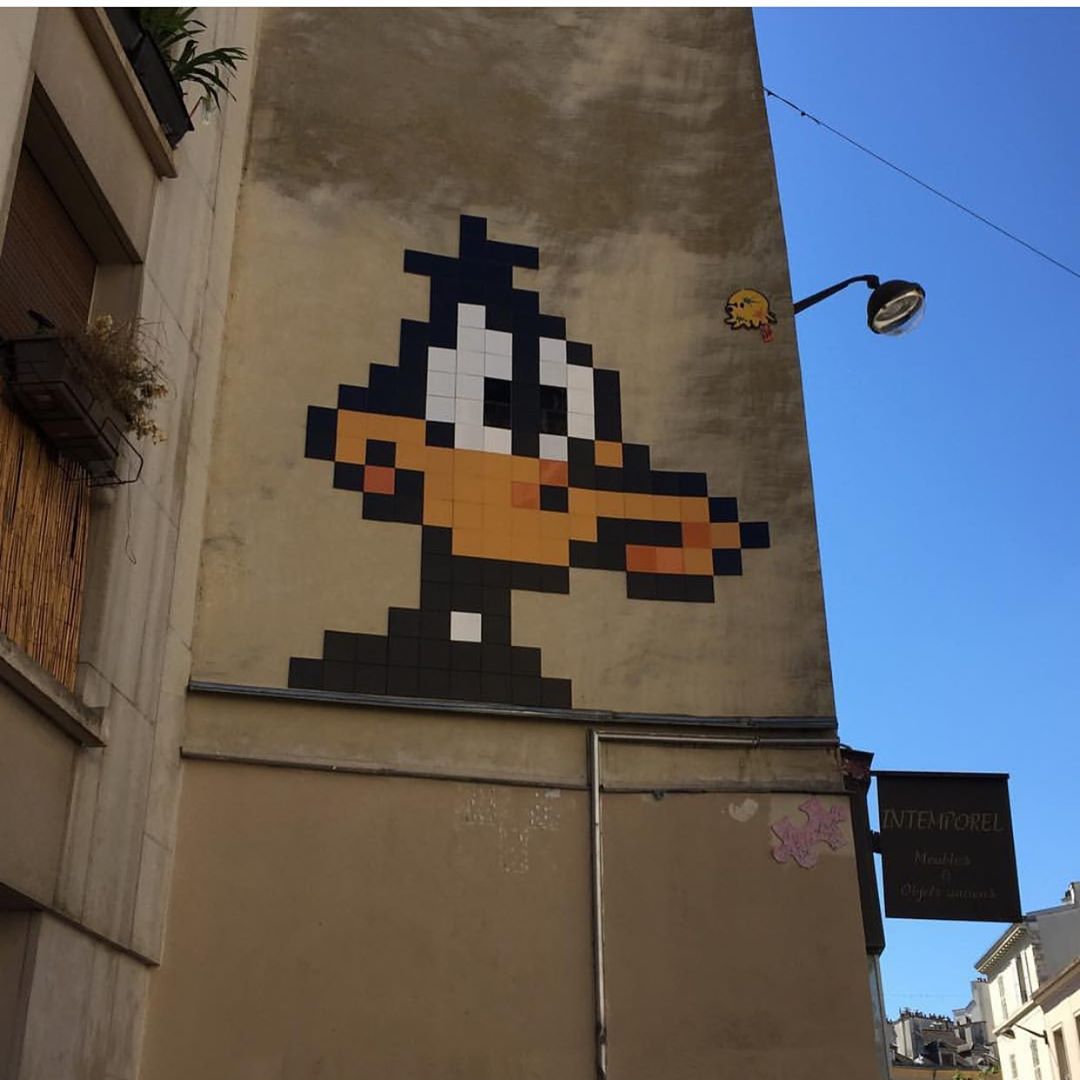 Who doesn't love Daffy Duck? He is just too good. He is one of the best foils for Bugs Bunny, and one that has a couple of jokes up in his sleeve.
30. Long Live The King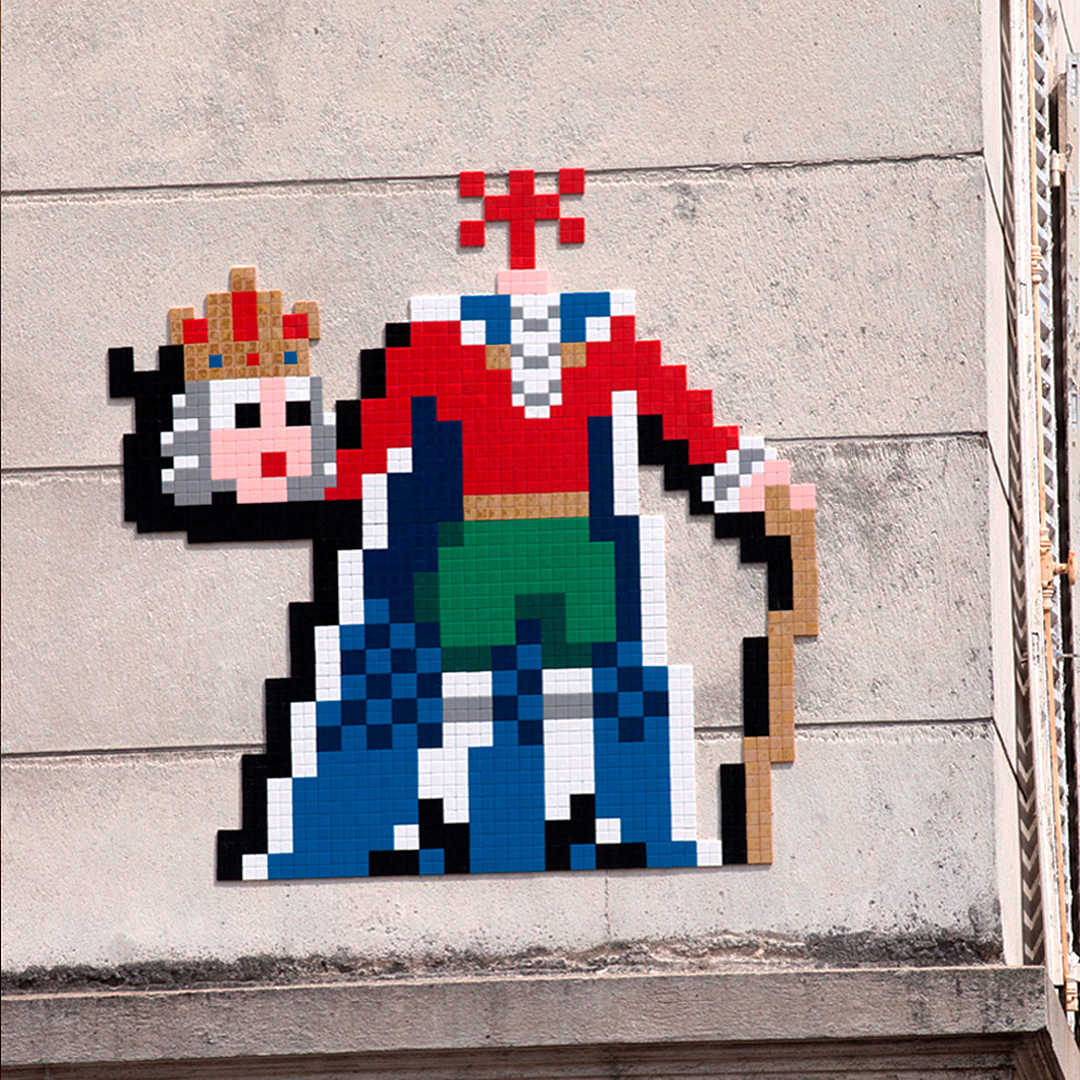 There is always a king in arcade games. That was one of the rules back in the days. And they looked amazing.
31. Donkey Kong PA_326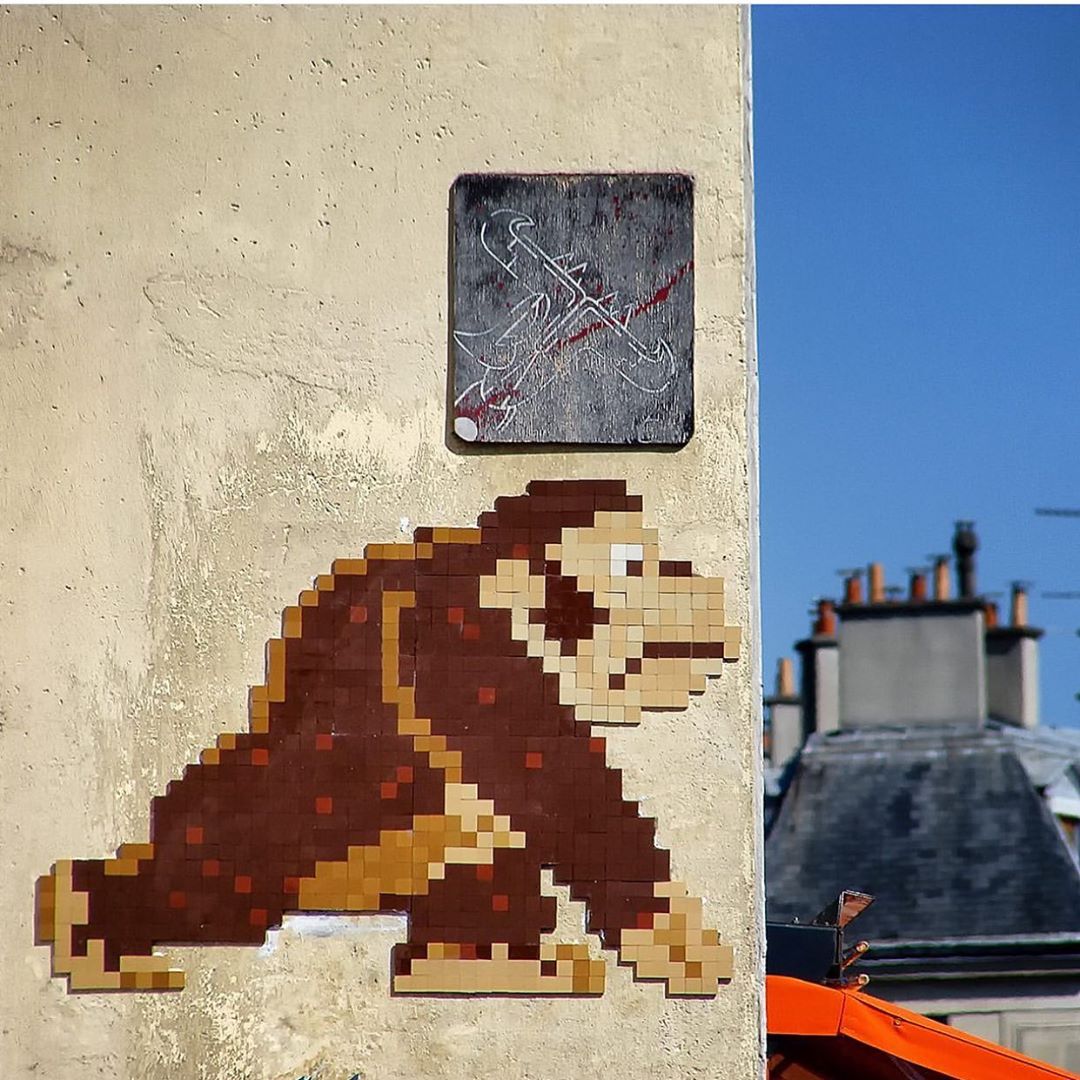 Donkey Kong was an early example of the Nintendo platform game genre. It was released in the 1981, and it was much more advanced than the classic arcade games we had before. Gameplay focused on maneuvering the main character across a series of platforms, all while dodging and jumping over obstacles.
32. Space Flowers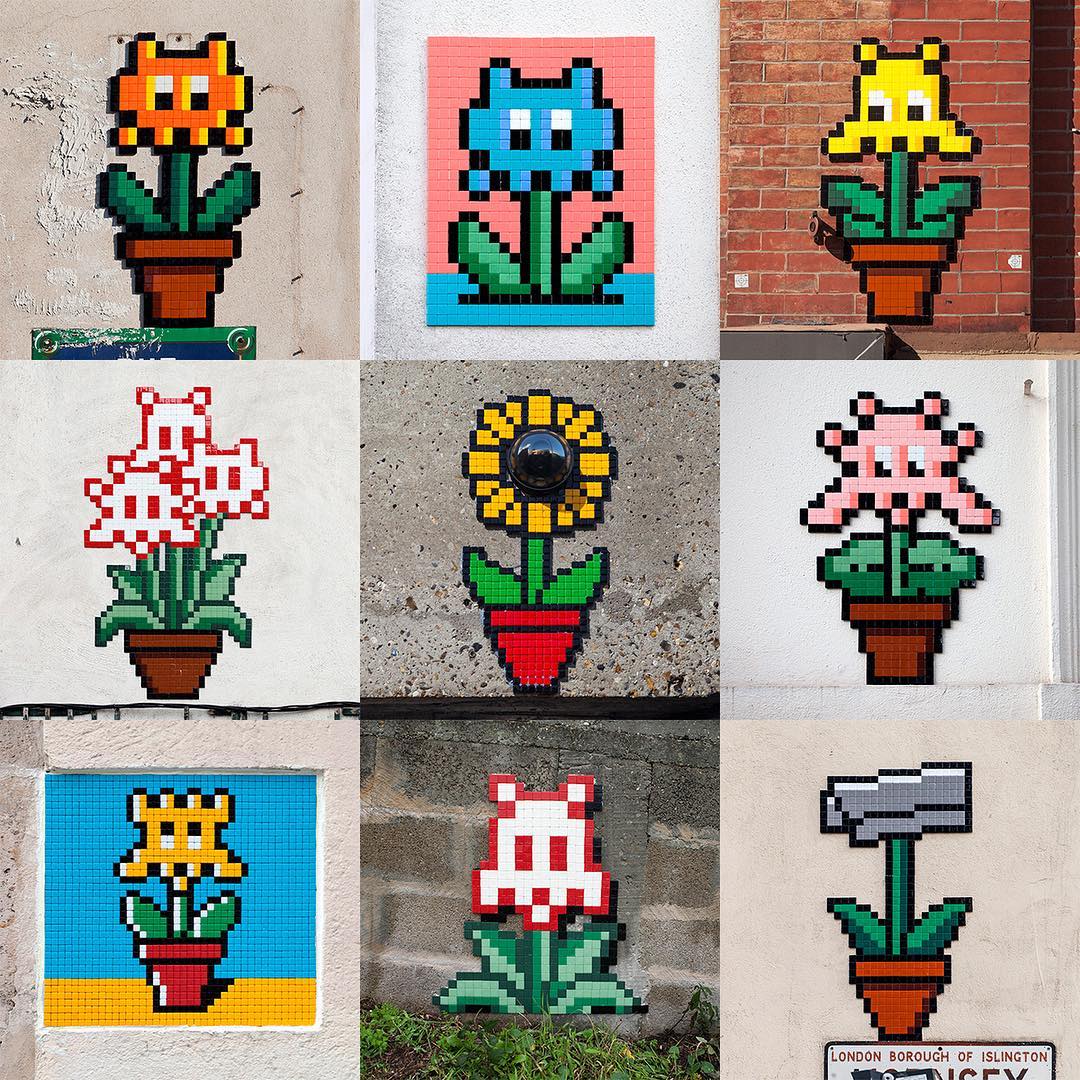 We said at the beginning that Invader was influenced by the game Space Invaders. But now we also have some space flowers. There were many flowers in arcade games back in the days, and all of the looked like they came out of space.
33. Still Life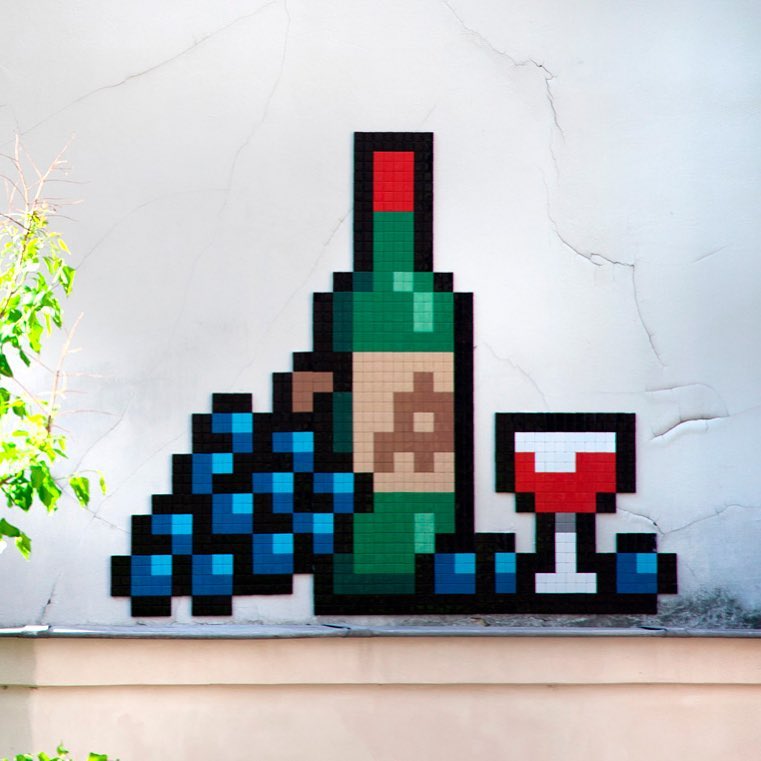 Still life is a popular theme for artists. But it looks quite different when done in a mosaic. This is not your classic still life masterpiece.
34. Invader Was Here
It is only fitting that we finish off with an invasion by Invader himself. Hopefully you enjoyed some of his mosaics. And the next time you see an 8-bit mosaic in your city, it might be done by the French artist.