"Late modernism" or "structural expressionism" are other terms for high-tech architecture. This architectural style blends modern construction processes and components from new high-tech industries into building design. High-tech is frequently regarded as the nexus between modernism and postmodernism. High-tech, which arose from modernism, prioritized the object itself over the object as a useful use of space.
Its goal was to create a new industrial aesthetic that was influenced by technical advancements and the computerization of industry. It was created in the 1970s in the United Kingdom, and it made use of innovative technology and new building materials. It aimed to integrate the building's technical equipment into its structure, combining functionality and aesthetics. Architects like Richard Rogers would go on to design buildings like Lloyds of London and the Centre Pompidou in a style known as "bowellism" which was predicated on the premise that by externalizing building utilities, the most amount of free floor space could be retained.
From the 1970s forward, major architects Norman Foster and Richard Rogers were responsible for bringing about and implementing these reforms. Exposed structures (usually of steel and other metals), with services (pipes, air ducts, lifts, etc.) often highlighted in bright colors, a smooth, impervious skin (often of glass), and the flexibility to create internal service zones, rather than rooms or sequences of rooms, are all characteristics of high-tech buildings.
This style arose in response to the monotonous conventional structures that were created at the period under the banner of contemporary architecture. The architecture, which consisted of brick walls and hardwood floors, appeared to be unchangeable and outdated. The raw aesthetics of grain silos and factories, where the form was governed by utility, enchanted designers, and architects. The trend, on the other hand, has origins in earlier forms and draws inspiration from previous eras. Its concepts have been greatly impacted by notable figures like Le Corbusier, Walter Gropius, and Mies van der Rohe.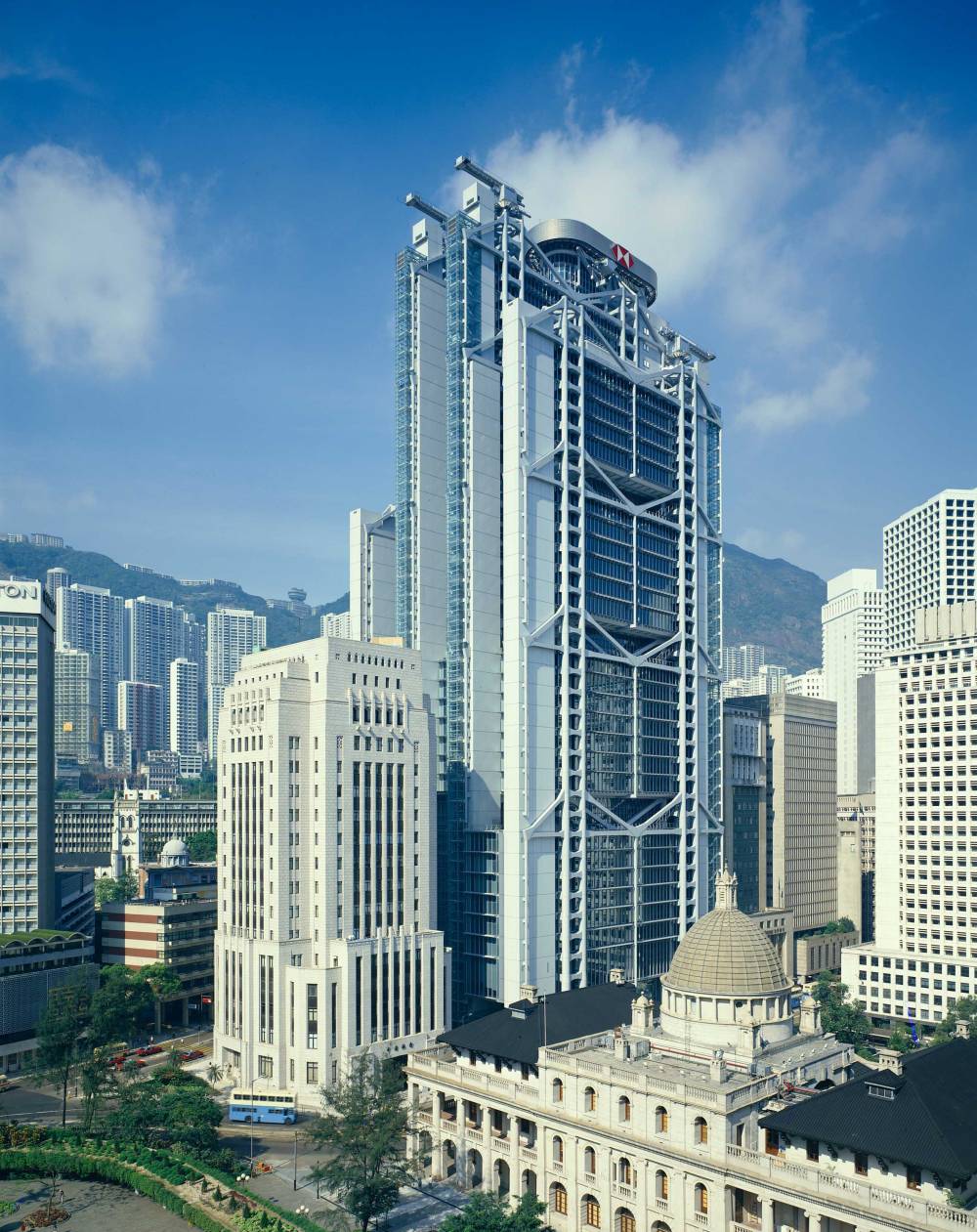 The high-tech architectural style arose from modernism and is now widely regarded as the link between the two movements. It was more concerned with the thing itself, the structure, than with the practical use of space. The look is also industrial, as it is inspired by technological progress. It stresses transparency in building design. Throughout the building's interior and exterior, communication is achieved through the building's underlying structure and purpose.
Aluminum, glass, steel, and, to a lesser extent, concrete are frequently used in high-tech architecture. These materials were widely available, in a broader range and shapes, as with industrialization, especially during the development of high-tech architecture. It aimed to integrate the building's technical equipment into its structure, combining functionality and aesthetics.
Internal load-bearing walls are frequently absent in this architectural design. One of the most important aspects of design is the ability to reconfigure spaces. Overhanging floors can also be seen in most buildings. In certain projects, bright colors are employed to generate a sense of drawing or diagram.
Examples of high-tech architecture
Centre Pompidou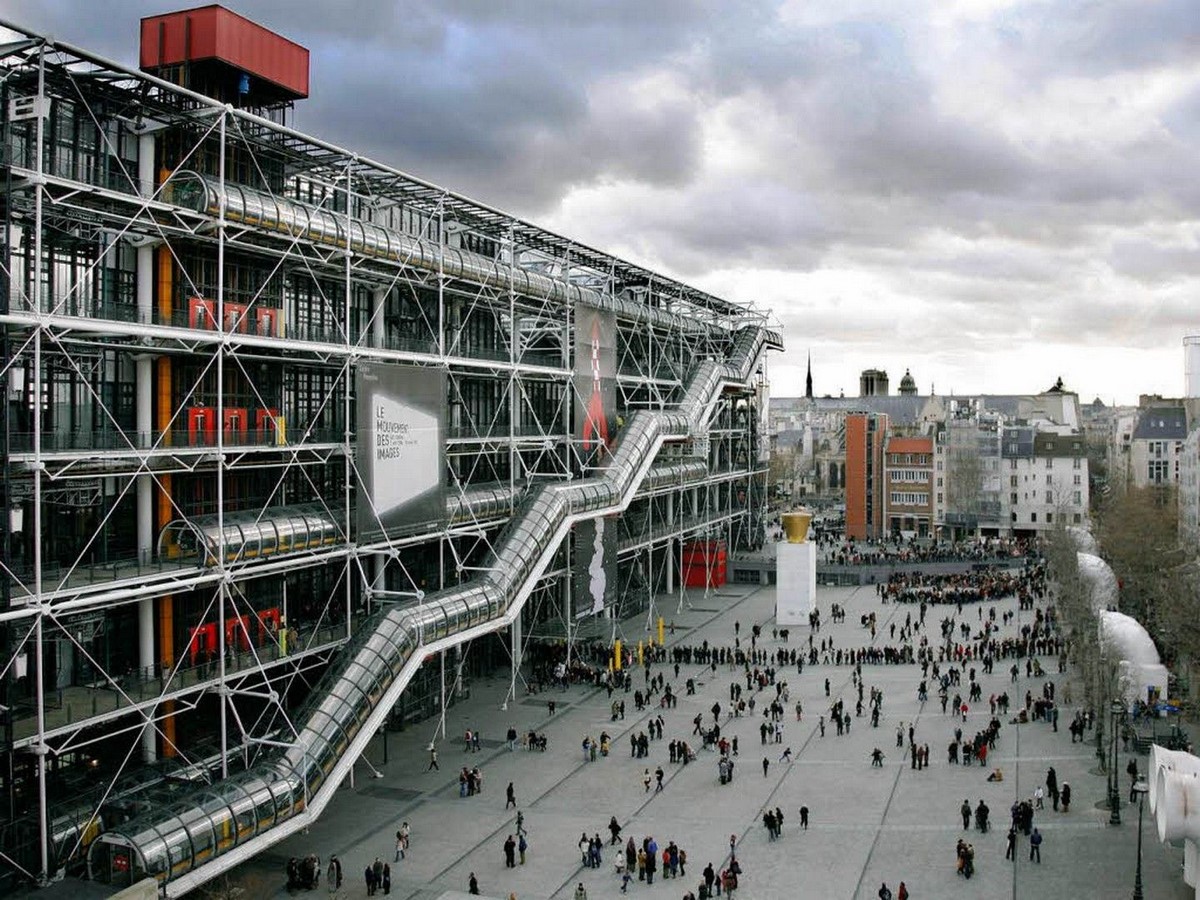 Richard Rogers and Renzo Piano collaborated on the design of this structure in 1977. It's made to be a highly adaptable art container. The Pompidou Center embodies high-tech architecture's aspirations. The architectural style is also referred to as 'Bowellism.' Richard Rogers is closely identified with Bowellism, a modern and high-tech architectural style. The exterior of the Centre Pompidou is ornamented with lifts, escalators, and ventilation ducts, which are wrapped around a massive steel frame, leaving the internal areas fully open and adaptable.
Lloyd's Building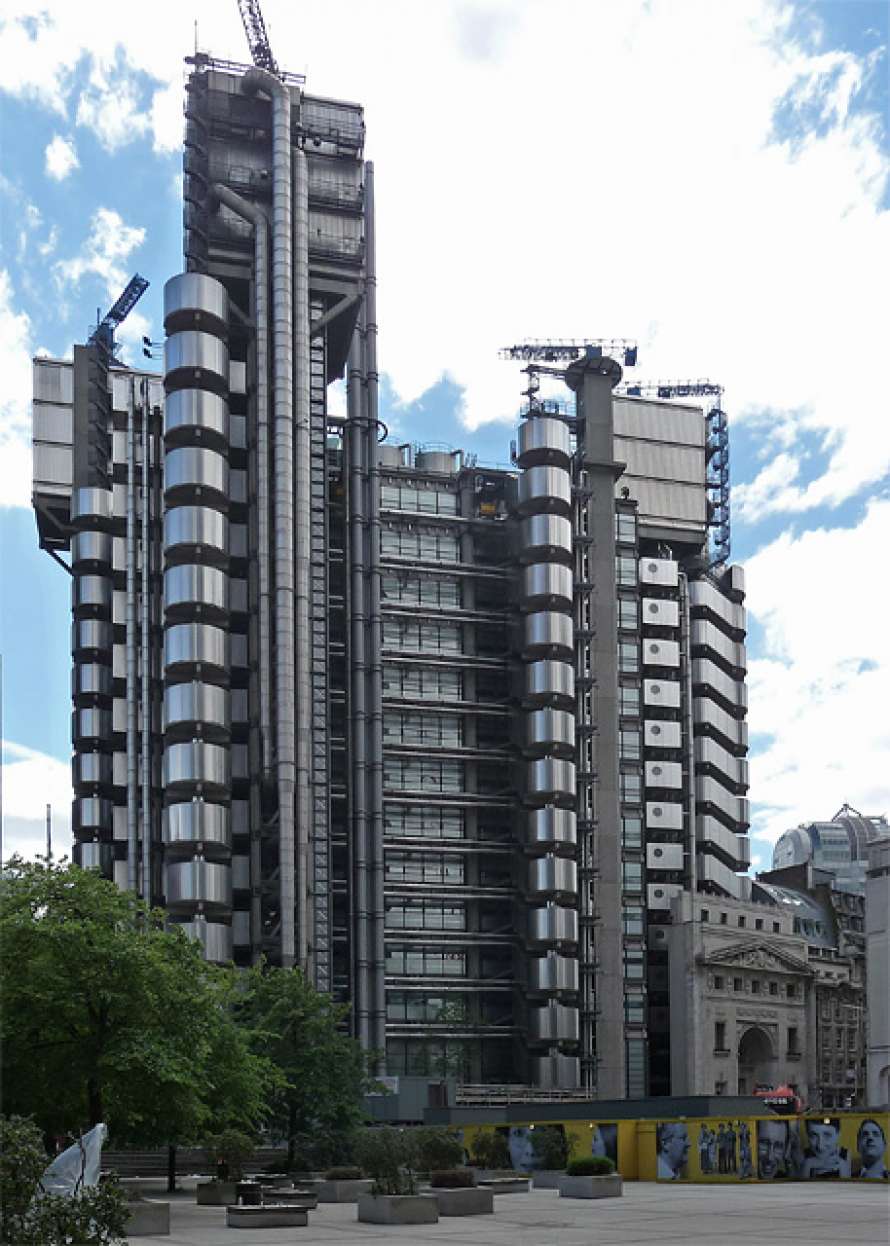 Following the Centre Pompidou, which is one of the most famous works of architecture from the 1980s, Richard Rogers designed the Lloyd's building in London. Lloyd's building, like the previous project, is innovative in placing its services on the exterior. This creates an uncluttered interior. Around a center rectangular space, there are three main towers and three service towers. Exterior lifts provide access to the higher floors.
Willis Saber and Dumas Building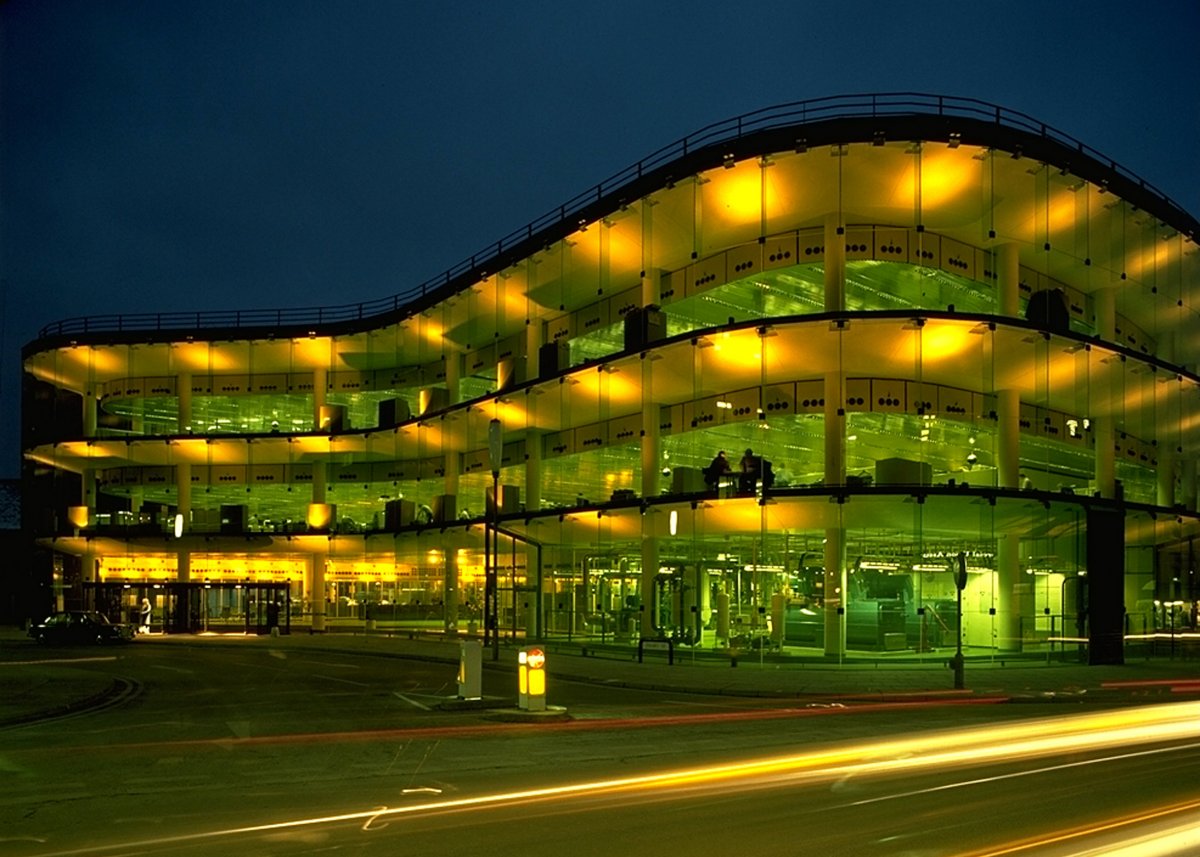 Foster Associates' Willis Faber and Dumas building is another example of high-tech architecture. It was constructed in 1975. It is a three-story office building with a curved glass curtain wall that is suspended from the framework. The structure is located at the further end of Ipswich. The uneven plot is shaped by the old town's medieval street pattern. The design aims to foster a stronger sense of camaraderie among the workers. This was accomplished by creating an open-plan workplace with an unbroken and adaptable internal area.
Renault Distribution Center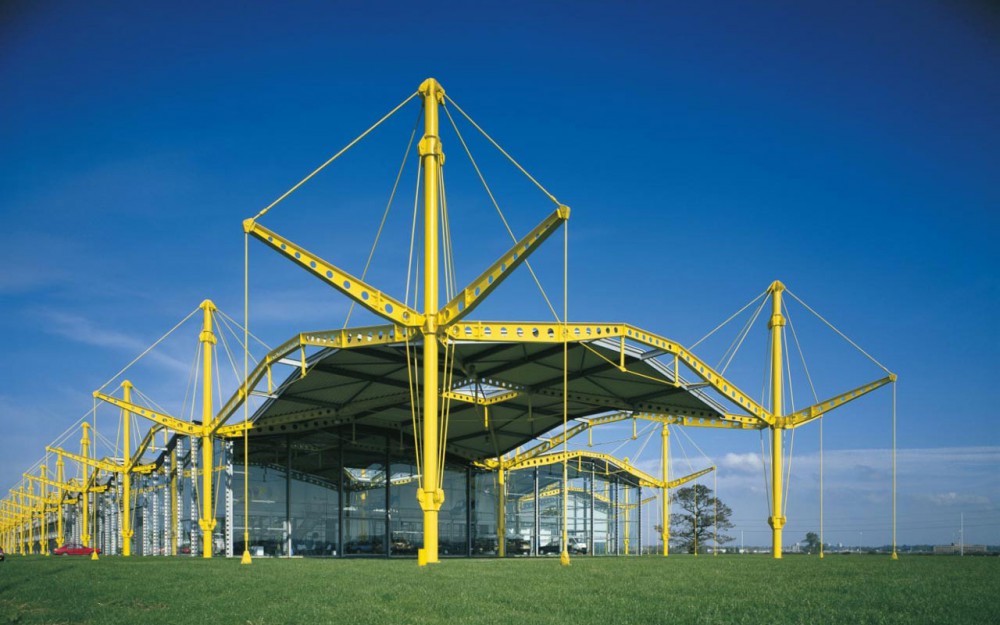 Swindon's Renault Distribution Center is one of the most remarkable and articulate examples of high-tech architecture. The Renault Distribution Center was the largest distribution center for the French automaker Renault in the United Kingdom. Foster Associates finished the project in 1982. Renault required a flexible space with wide, open sections, therefore the building's unusual top was built for industrial racking and storage. The construction is made up of forty-two square modules, each measuring 24 meters by 24 meters. For the roof, a PVC membrane runs across each module.
Portcullis House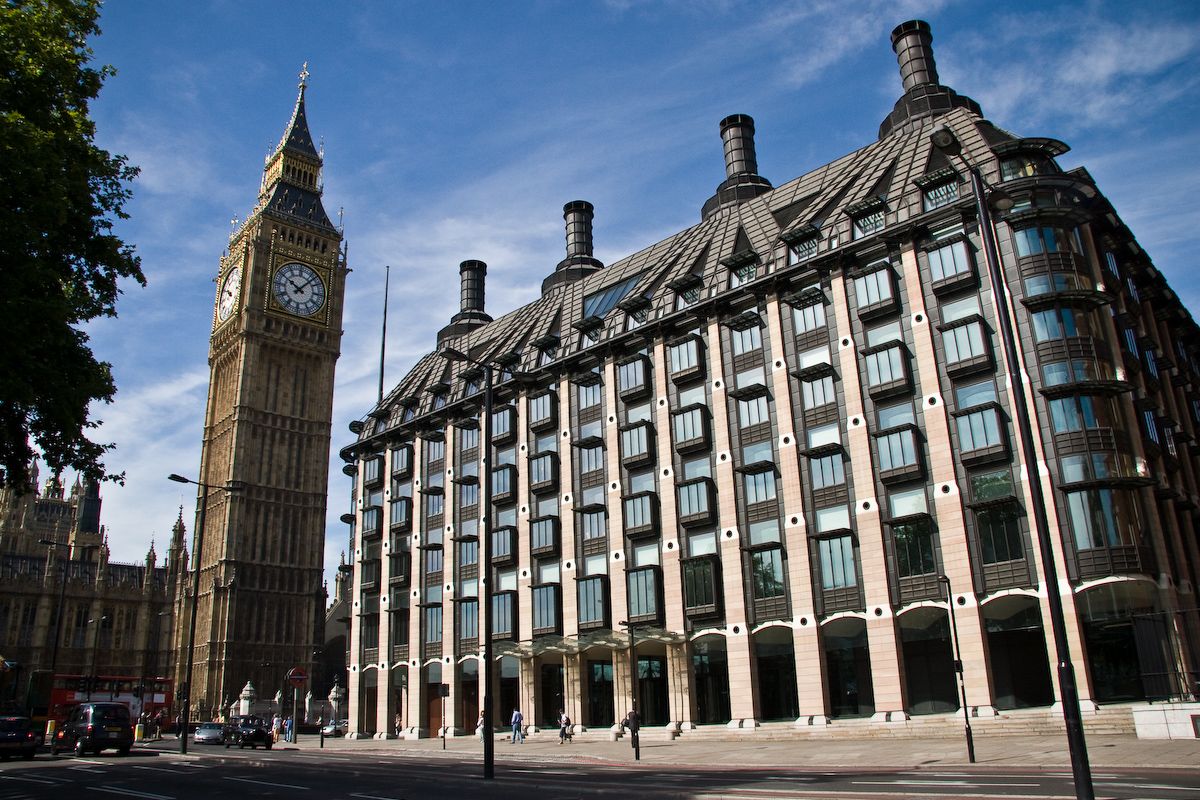 Portcullis House, located next to the Palace of Westminster in London, displayed how the high-tech style's dramatic and futuristic elements might be adapted to fit historically sensitive locations. With a roof lined with ventilation chimneys and a sturdy substructure visible within the London Underground tube station below it, it was designed by Michael and Patty Hopkins' studio.
Kansai Airport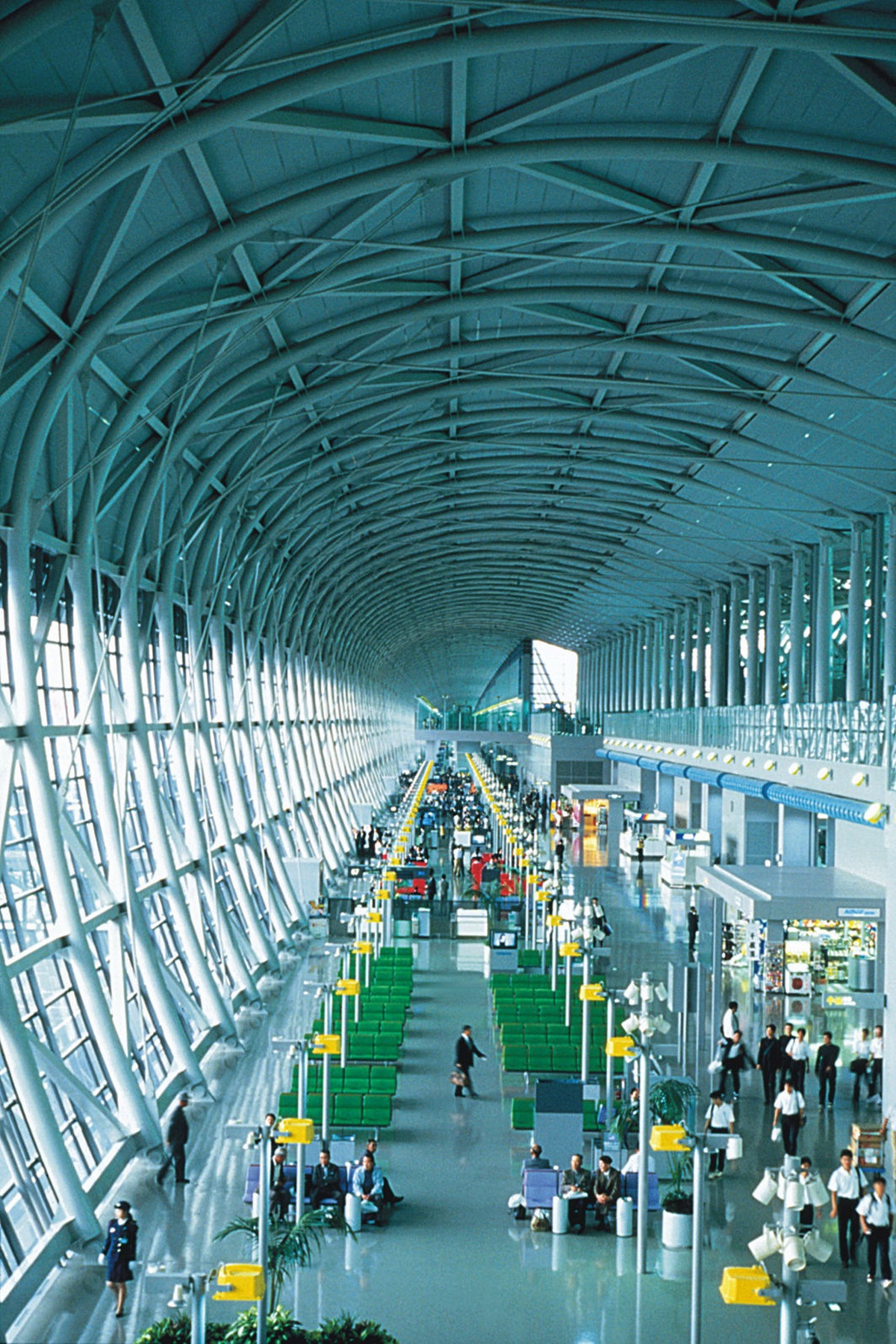 The Kansai International Airport, designed by Piano, is situated on a man-made island in Osaka Bay and stands out for its visible construction and asymmetrical clear-span roof. Its mile-long high-tech terminal, which makes it the world's longest airport, is one of its most striking features.
Herman Miller Factory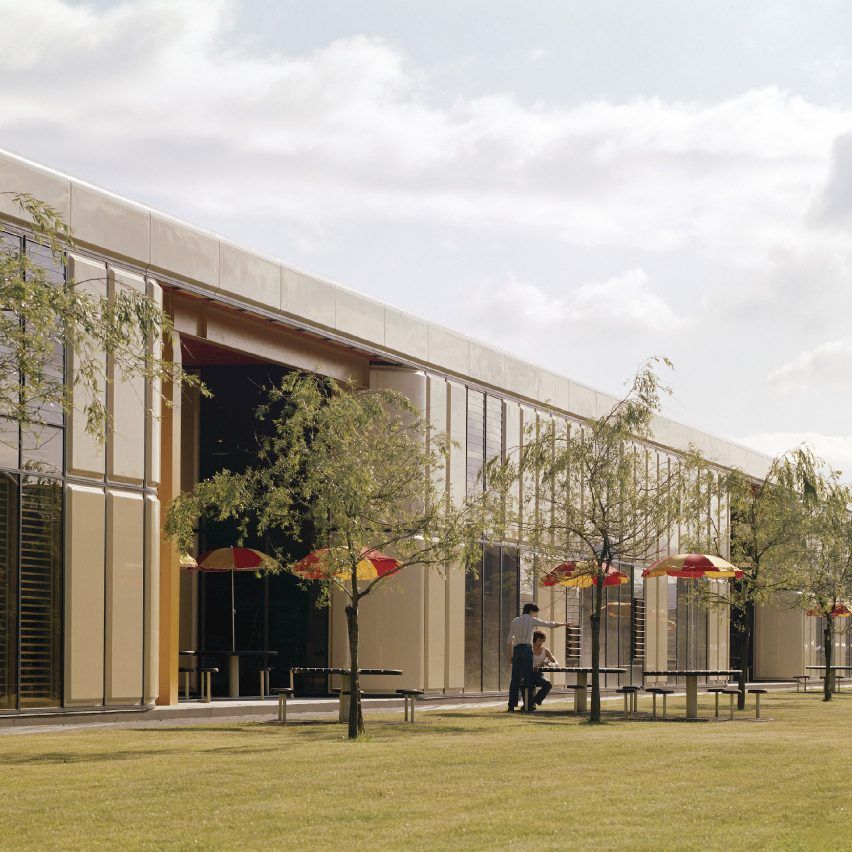 Terry Farrell and Nicholas Grimshaw designed the Herman Miller Factory in Bath with an adaptable, open-plan layout to represent the office furniture Herman Miller was making. Its exterior is also adaptable, with demountable, interchangeable, and customizable pale-yellow paneled cladding. It received a Grade II classification in 2013 for its influence on industrial workplace design.
The Inmos Microprocessor Factory

The Inmos Microprocessor Manufacturing is a single-story factory prototype made of prefabricated steel elements that are highly flexible. The external expression of its construction and building services, which originate from nine blue-painted towers along the center of its roof, makes it easily identifiable.
Eden Project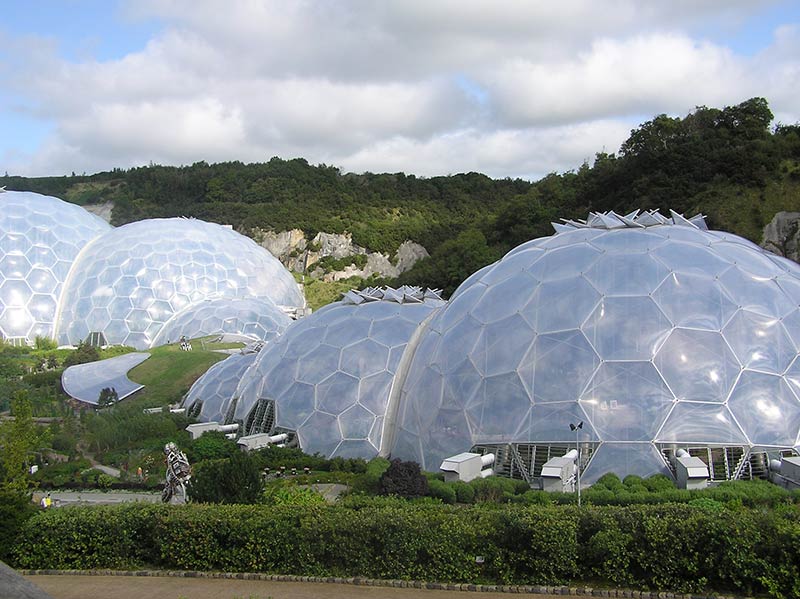 The Eden Project, arguably Grimshaw's most well-known project, was created in a quarry in Cornwall and features a sequence of interconnected bubble-like structures. The unusual shape was created to allow the structure to be designed while the quarry was being excavated. Each of the domes is made up of a steel structure that is covered in hexagonal EFTE panels.
Allianz Arena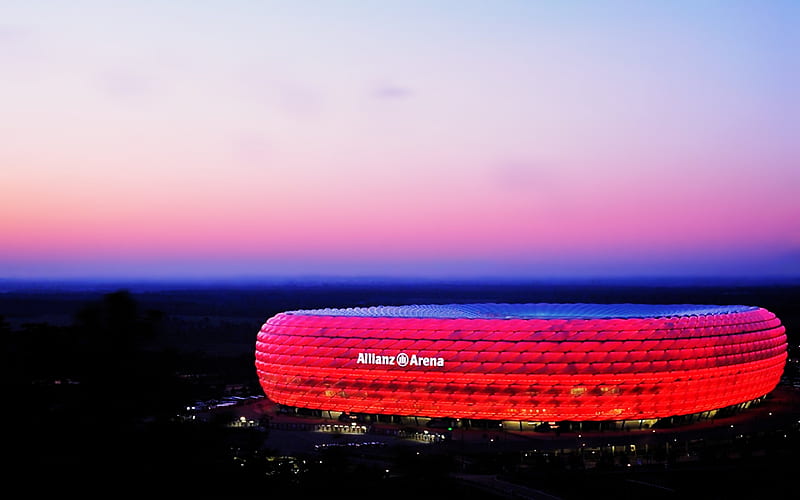 The Allianz Arena was constructed in 2002 and finished in 2005. The architect is Herzog & de Meuron, a Swiss architectural firm. The stadium has a seating capacity of 71,000 people and the largest parking lot in Europe in the basement. The term Allianz is derived from the name of the principal sponsor of the project, namely the Munich-based insurance and financial 'Allianz'.
The Allianz Arena's outside / façade building has become so unusual and futuristic because of the use of 2874 air panels using ETFE-foil technology, which creates walls that are convex shaped like gigantic tires. The stadium, which will host the 2006 World Cup semi-finals, is made of a plastic polymer that is both temperature and rust-resistant. The color of the panel is another distinguishing feature.
Hopkins House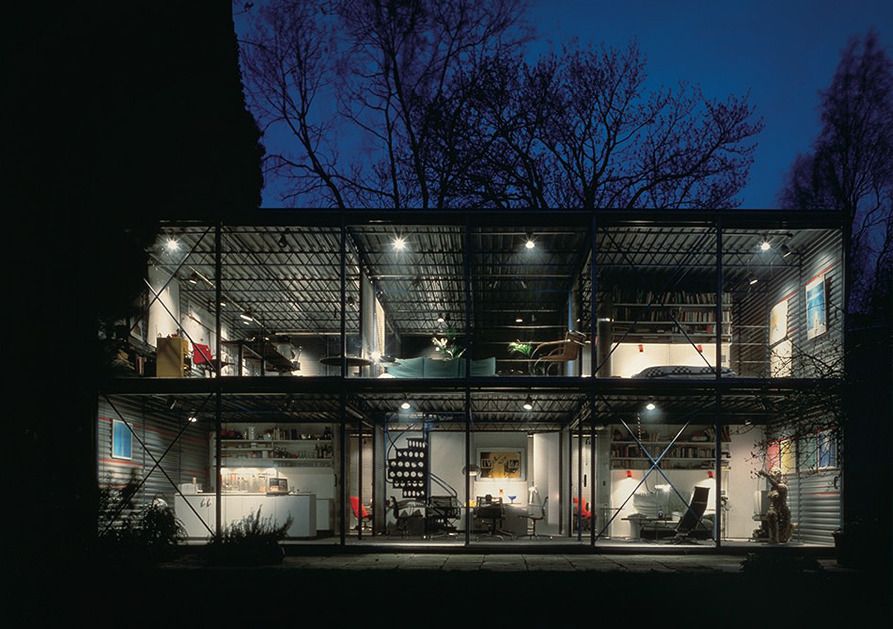 Hopkins House is Michael and Patty Hopkins' self-designed house and workspace. It was the firm's debut project, and it was designed by Hopkins Architects' husband-and-wife pair. The lightweight steel and glass construction of the two-story skyscraper was developed with high-tech engineer Anthony Hunt to be open and adaptable, with few permanent internal divides.
International Congress Center, Berlin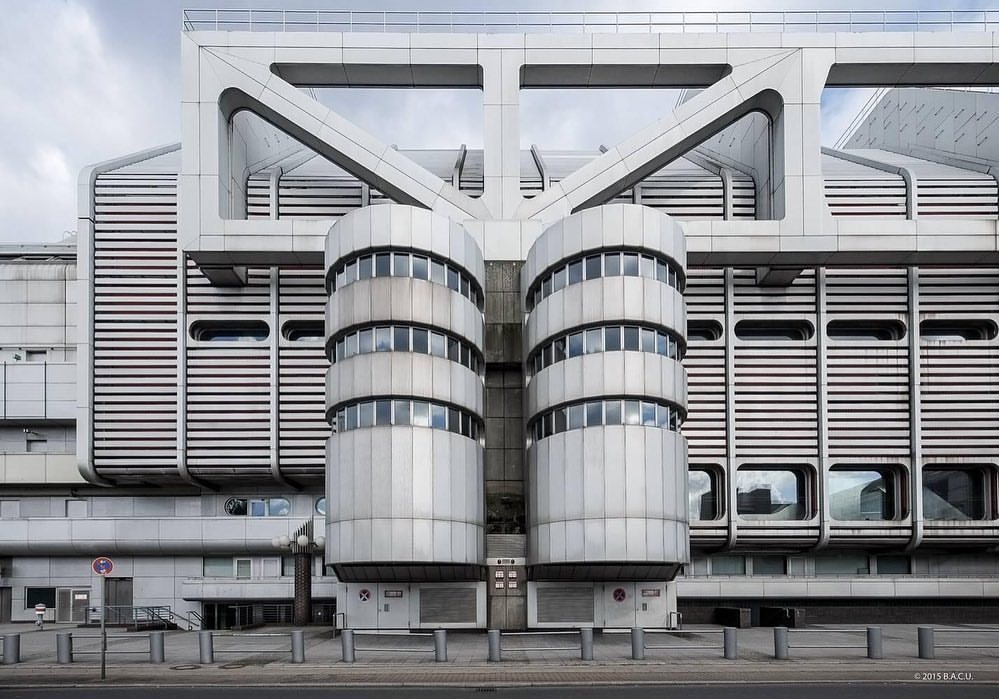 Ursulina Schüler-Witte and Ralf Schüler designed the ICC Berlin, which opened in 1979 (three years after the Palace of the Republic). It measures 320 meters in length, 80 meters in width, and 40 meters in height. It is connected to the nearby Messe Berlin fairgrounds, and it frequently participates in trade shows and exhibitions. It was crucial to Berlin's status as one of the top conference cities in the world, since it was possibly Europe's largest such center. According to its estimations, the ICC Berlin is a monument of postwar German architecture and has served as a model for similar structures around the world.
John Hancock Center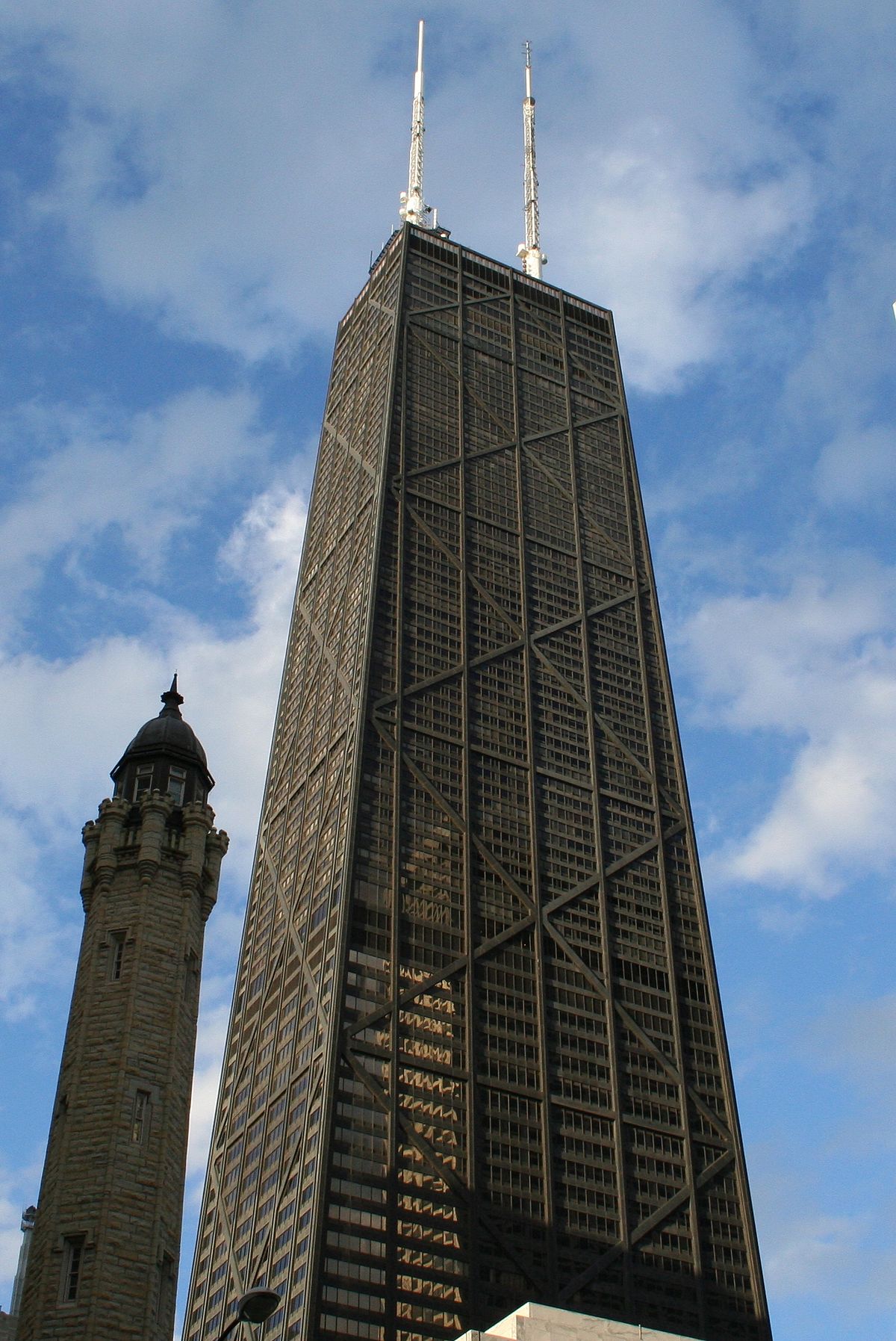 The skyscraper's distinctive X-braced façade demonstrates that the structure's skin is part of its "tubular system," making it one of the most famous structures in the structural expressionist style. The tubular system is the structure that holds the building upright during wind and seismic stresses, and it was one of the engineering solutions employed by the designers to achieve a record height. This X-bracing allows towering constructions to perform better while also allowing the interior layout to open up. 875 North Michigan Avenue has become an architectural landmark thanks to its unique features. Fazlur Khan, a Bangladeshi-American structural civil engineer, and Bruce Graham, the lead architect, pioneered it.
Bank of China Tower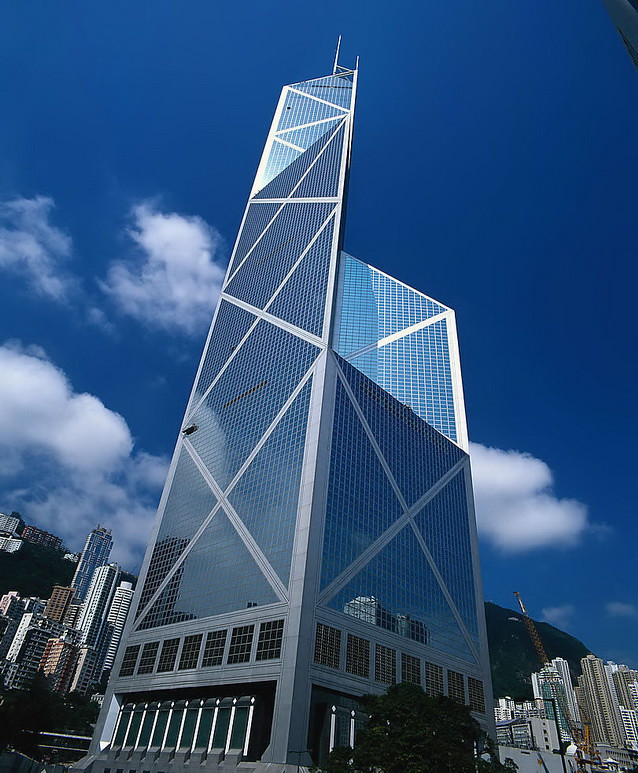 The building is noteworthy for its distinctive shape and architecture, consisting of triangular frameworks covered by glass curtain walls, and is one of Hong Kong's most well-known monuments. Designed by Pritzker Prize-winning architect Ieoh Ming Pei, stands 315.0 meters (1,033.5 feet) tall, with two masts reaching 367.4 meters (1,205.4 feet). The four steel columns at the building's corners sustain the entire structure, with the triangular frameworks distributing the structure's weight to these four columns.
Hotel Arts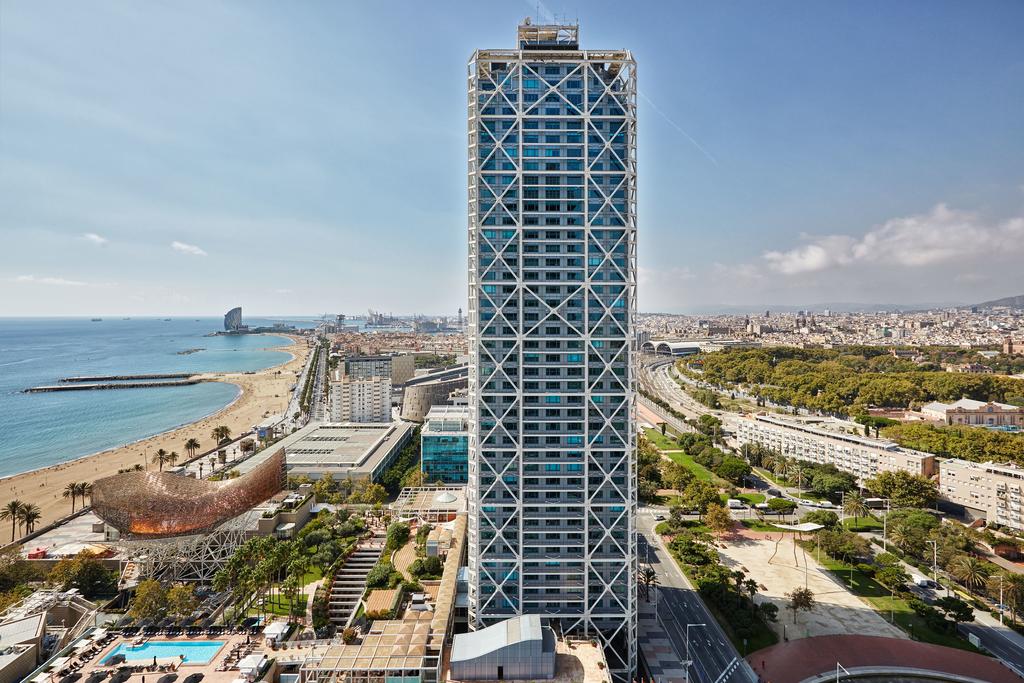 The building was completed in 1994 and is a prime example of high-tech architecture. It is 154 meters tall and was created by Skidmore, Owings & Merrill in collaboration with Colombian-Peruvian architect Bruce Graham. Senior Architect Miguel Ruano led the design team, with Dr. Agustin Obiol serving as the local Architect of Record.