Dame Zaha Hadid was an Iraqi-born British architect famous for pushing, blurring, and bending the boundaries of architecture with her radical deconstructivism. By experimenting with new spatial concepts, her mind, heart, and hard work were set to create a new visionary aesthetic intended for pre-existing urban landscapes.
Although her skill repertoire extends in fields such as interior, furniture, and product design, Hadid Zaha is best known for her architectural masterpieces that bend and shift the path of traditional lines and planes. Indeed, Zaha Hadid architecture can and is categorized as an endemic entity of its own.
Even though postmodernism was taking over the scene in the 1980s, modernity, according to Zaha, was an unfinished project. The crown jewel of modernism has indeed managed to capture what Cubist, Futurist, and Expressionist landscapes couldn't quite accomplish.
The Constructive Beginnings of Zaha Hadid Designs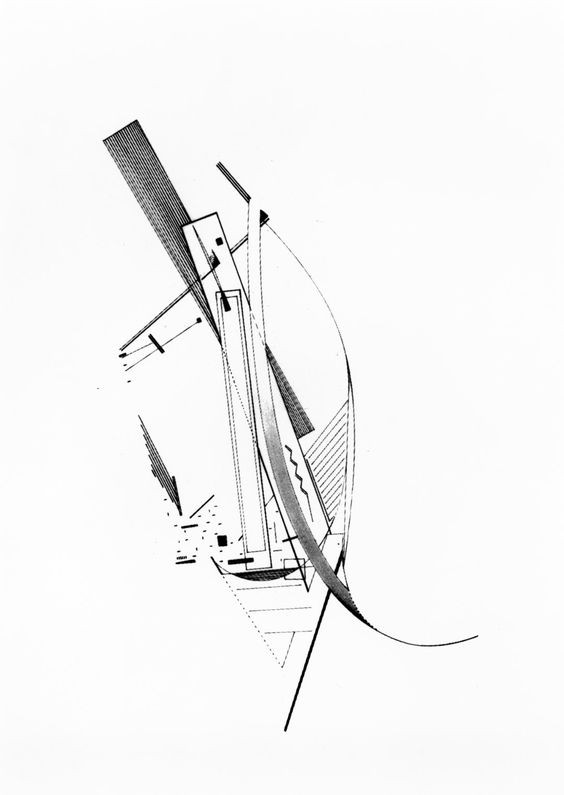 The Architectural Association (AA) in London that Hadid attended from 1972 to 1977 (when she was awarded the Diploma Prize) is where she dived into Constructivism, alongside mentors Rem Koolhaas and Elia Zenghelis. Later on, she became their partner and collaborator in the Office for Metropolitan Architecture.  In addition, she held her own studio at the AA until 1987.
The first of many international acknowledgments was in 1983 when she entered and won a competition for a leisure and recreational center in Hong Kong. Called "The Peak", this horizontal skyscraper that moved at a dynamic diagonal down the hillside site was never realized, like most of her radical and striking designs due to their sense of fragmentation and instability. Hence, she became known as the "paper architect" with designs way ahead of her time and thus, raising reluctance for their building.
The Vitra Fire Station (1989–93) in Weil am Rhein, Germany was her first major realized architectural accomplishment, followed by a housing project in Berlin (IBA Housing), the Land Formation One exhibition space in Weil am Rhein, and the Mind Zone exhibition space at the Millennium Dome in Greenwich, London. What they all have in common is her dynamic approach to space by producing interconnectedness.
Her reputation as an architect grew and strengthened in the 2000s, with designs like the Lois & Richard Rosenthal Center for Contemporary Art in Cincinnati, Ohio. Importantly, she became the first woman ever to receive the Pritzker Architecture Prize in 2004.
The Glowing Sunset of Zaha's Career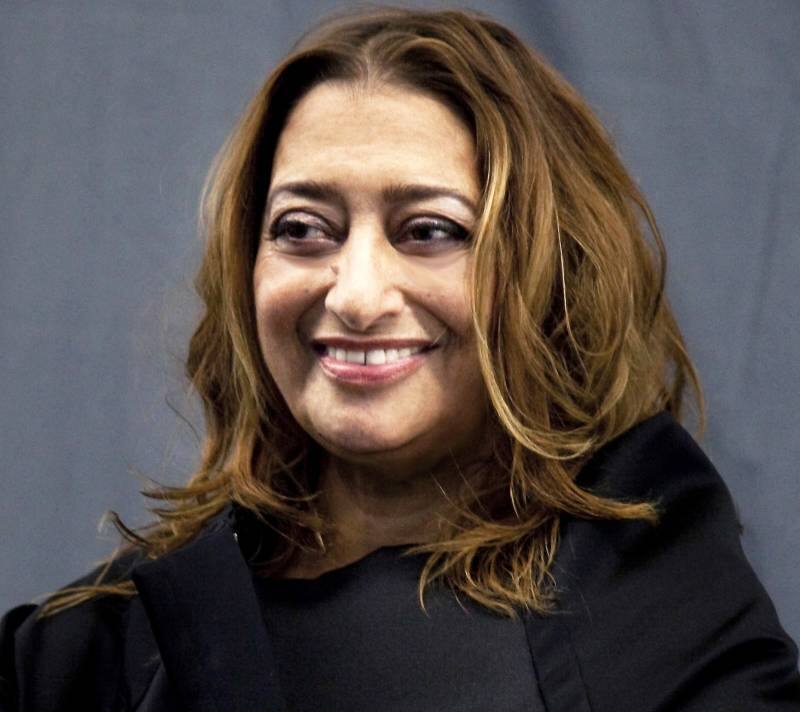 In 2010 she was awarded the Stirling Prize by the Royal Institute of British Architects (RIBA) for the best building by a British architect. The next year her second Stirling Prize followed, acknowledging her design of a secondary school in London called the Evelyn Grace Academy.
Hadid sure had a lot of firsts. For example, she was the first woman to win the London Design Museum's Design of the Year in 2014 for her work on the cultural center in Baku, Azerbaijan called the Heydar Aliyev Center. Interestingly, this design was the first ever from the architecture category as previous awards were meant for graphic, product, furniture, fashion, and transportation designs.
Her academic career is as dynamic and eye-catching as her work and designs. Not only did she teach at the Knolton School of Architecture (Ohio) and the Masters Studio at Columbia University (New York) but she was also included in the American Academy of Arts and Letters as an honorary member.
Furthermore, she was a fellow of the American Institute of Architecture, a commander of the British Empire, and a member of the Royal Academy of Arts. After holding a position as a Kenzo Tange Chair of Harvard University's Graduate School of Design and the Sullivan Chair at the University of Illinois, School of Architecture (Chicago) as well as guest professorships at the Hochschule für Bildende (Hamburg), she also taught at the University of Applied Arts (Vienna, Austria) and Architectural Design at Yale University (New Haven, Connecticut).
Her sudden death of a heart attack in 2016 left the world speechless as do her designs. Luckily, her architectural company "Zaha Hadid Architects" will go on to enliven the streets and turn ordinary cities into cultural and architectural hubs.
Best of Zaha Hadid's Buildings And Designs
Vitra Fire Station, Germany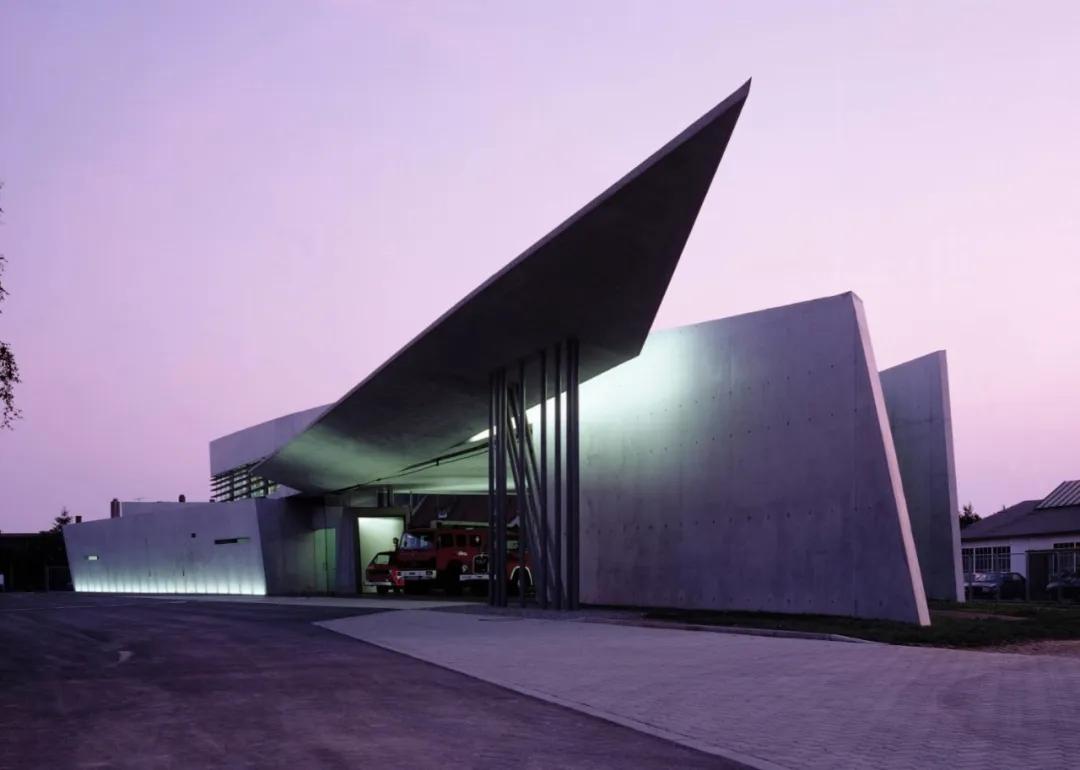 Composed of a series of sharply angled planes, a structure that bears a resemblance to a bird in flight, The Vitra Fire Station and its sharply angled and obliquely intersecting planes was one of the first Zaha Hadid designs to be set into motion.
Many famous architects were commissioned to raise a vast complex of factories and showrooms from the ashes of the original's destruction by fire. Although Hadid was primarily hired to design only the fire station, the project and thus her contribution would eventually expand and evolve.
Heydar Aliyev Center, Azerbaijan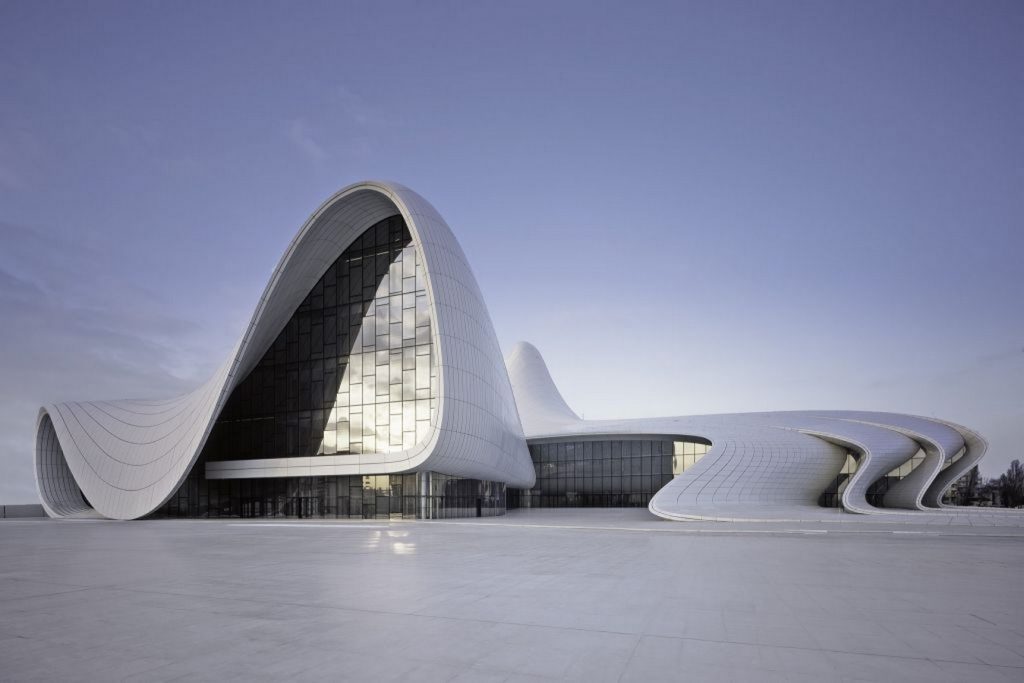 Azerbaijan has invested in breaking free from the chains of its past after declaring its independence in 1991. Zaha Hadid Architects were a crucial part of the attempt of leaving the rigidity of Soviet Modernism and entering a more fluid architectural and cultural state.
Zaragoza Bridge Pavillion, Spain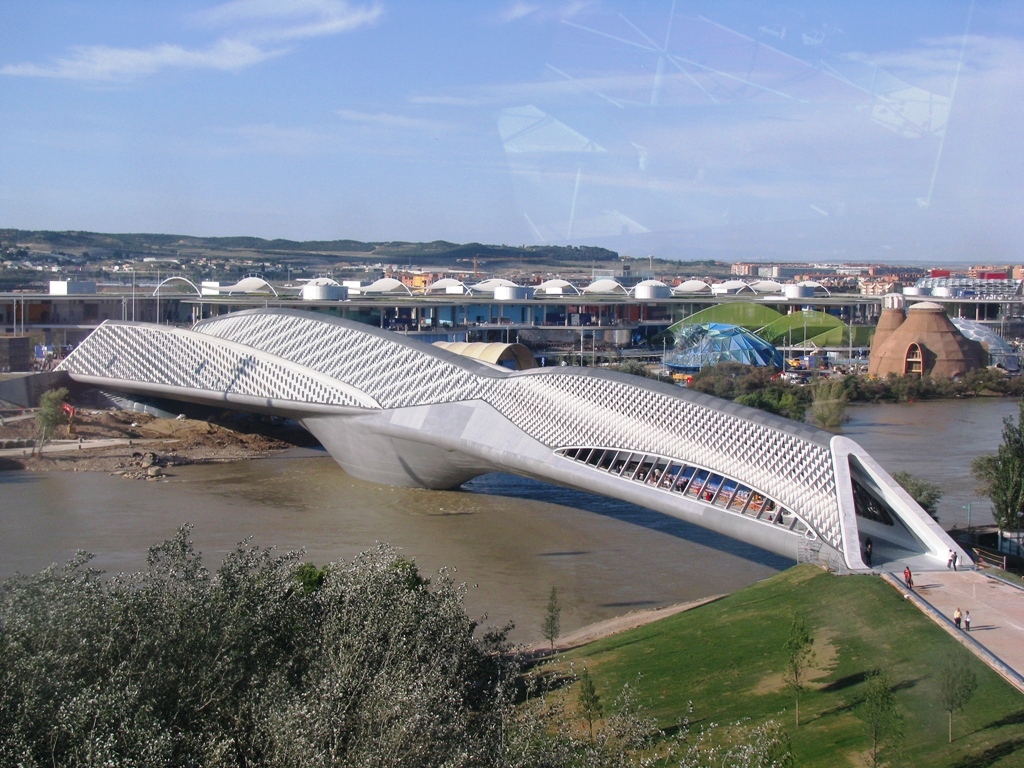 Following the footsteps of the Crystal Palace and the Eiffel tower, this pavilion made strides in 2014.  Not only does it serve as a pedestrian bridge but also as an exhibition space.
580 West 28th Street, New York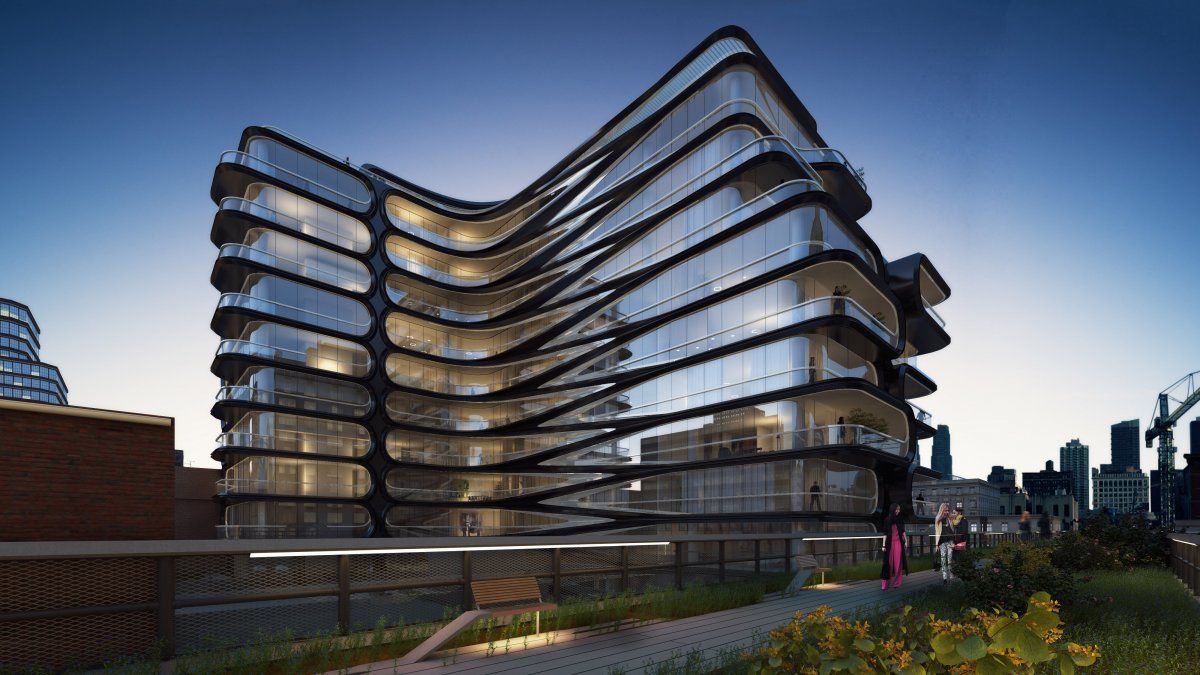 Hadid's glass and steel 11-story luxury apartment block was her first New York City project. With lavish terraces overlooking the magnificent High Line of the Big Apple, these apartments offer both private courtyards and a communal garden.
By reinventing the spatial experience of the resident, she not only offers a unique identity and perspective but also high-end and deep intimacy.
Bergisel Ski-Jump, Austria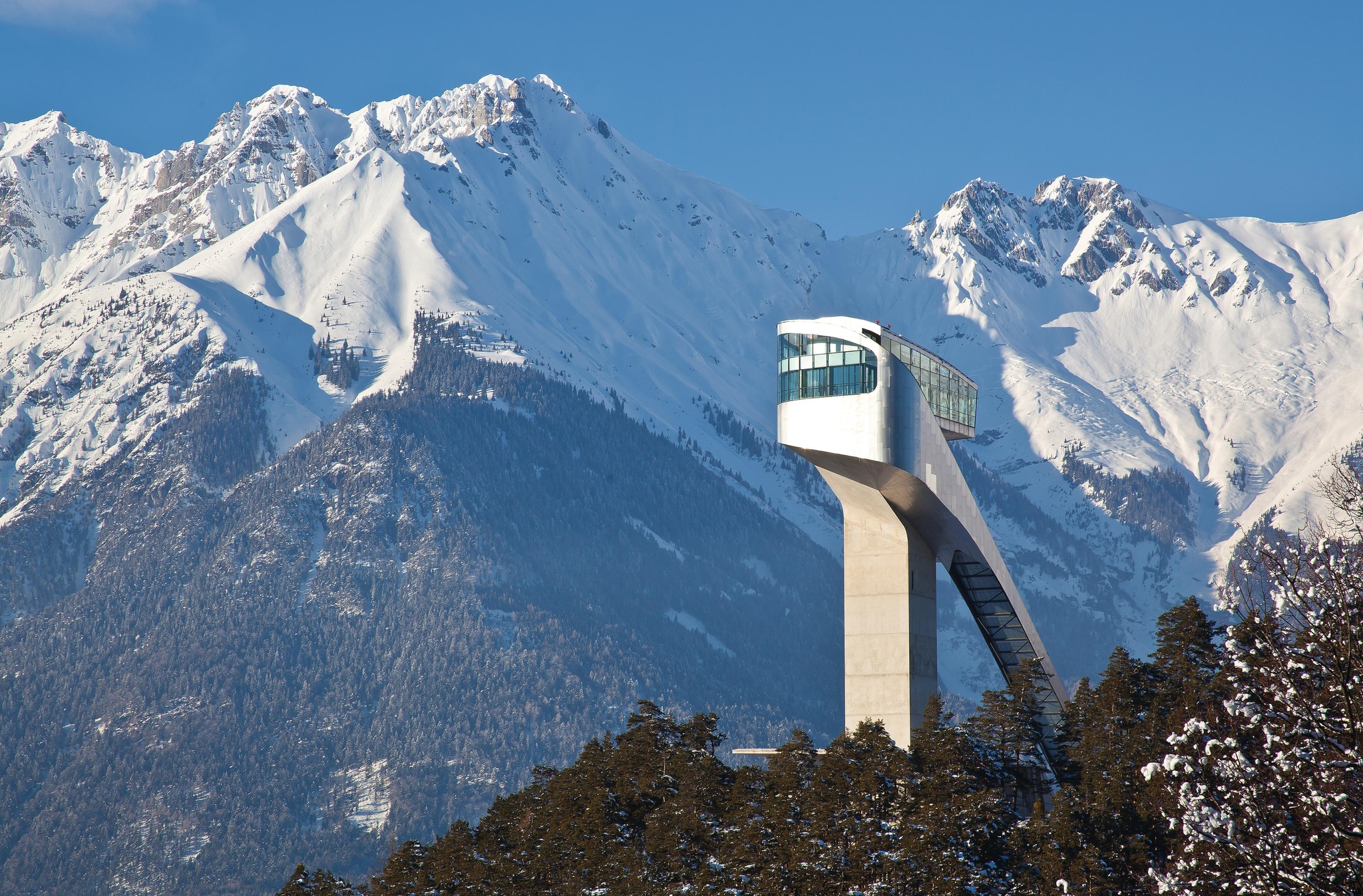 Transforming history and tradition into contemporary functional art, the extensive lines and curves of the Bergisel Ski Jump match the movement of skiing itself.
Although primarily considered massive, Hadid's design was intended to blend with the mountain slopes, thus, unifying the accelerated dynamicity of skiing.
Terminus Multimodal Hoenheim Nord, Strasbourg, France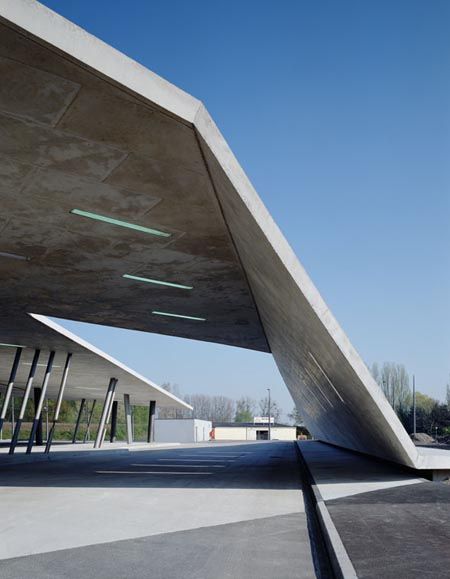 Zaha's playful interweave of lighting and landscapes becomes evident in her 2001 project the Strasbourg's Hoenheim-Nord Terminus and Car Park. Fascinated by the white road markings, she implemented them as tilted poles for car parking spaces or as stripes in the concrete roof.
The Rosenthal Centre for Contemporary Art, Cincinnati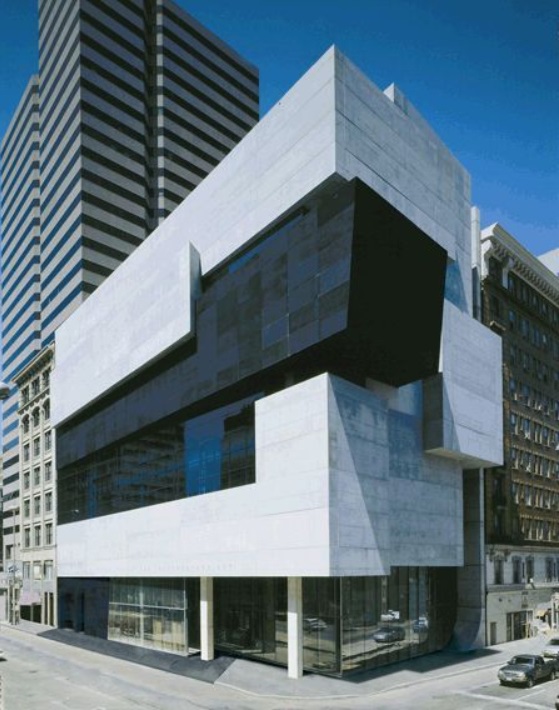 The first American museum designed by a woman, this 85,000-square-foot center that opened its doors in 2003 was actually founded in 1939 as one of the first contemporary art establishments in the US. Contrary to other predecessors worldwide, it was also one of the first art institutions that weren't located peripherally. However, it did not stand out from the crowd of buildings.
Hadid's proposal to organize the interior of the museum's units which ended up affecting its exterior as well, was alluring enough, leading to her victory in the design competition on March 4, 1998.
The BMW Central Building, Leipzig, Germany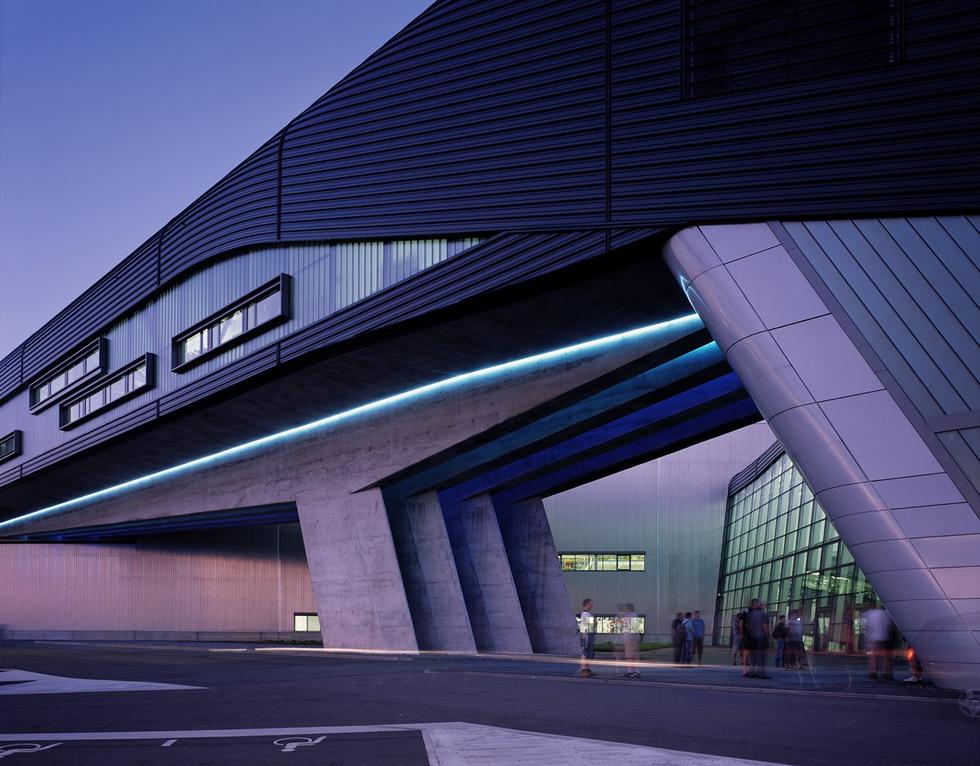 By not only matching the manufacturing process but also adding some smoothness to its grit, the BMW central building is a successful attempt to transform the traditional office into the dynamic and edgy environment it actually is.
Hotel Puerta America (interior), Madrid, Spain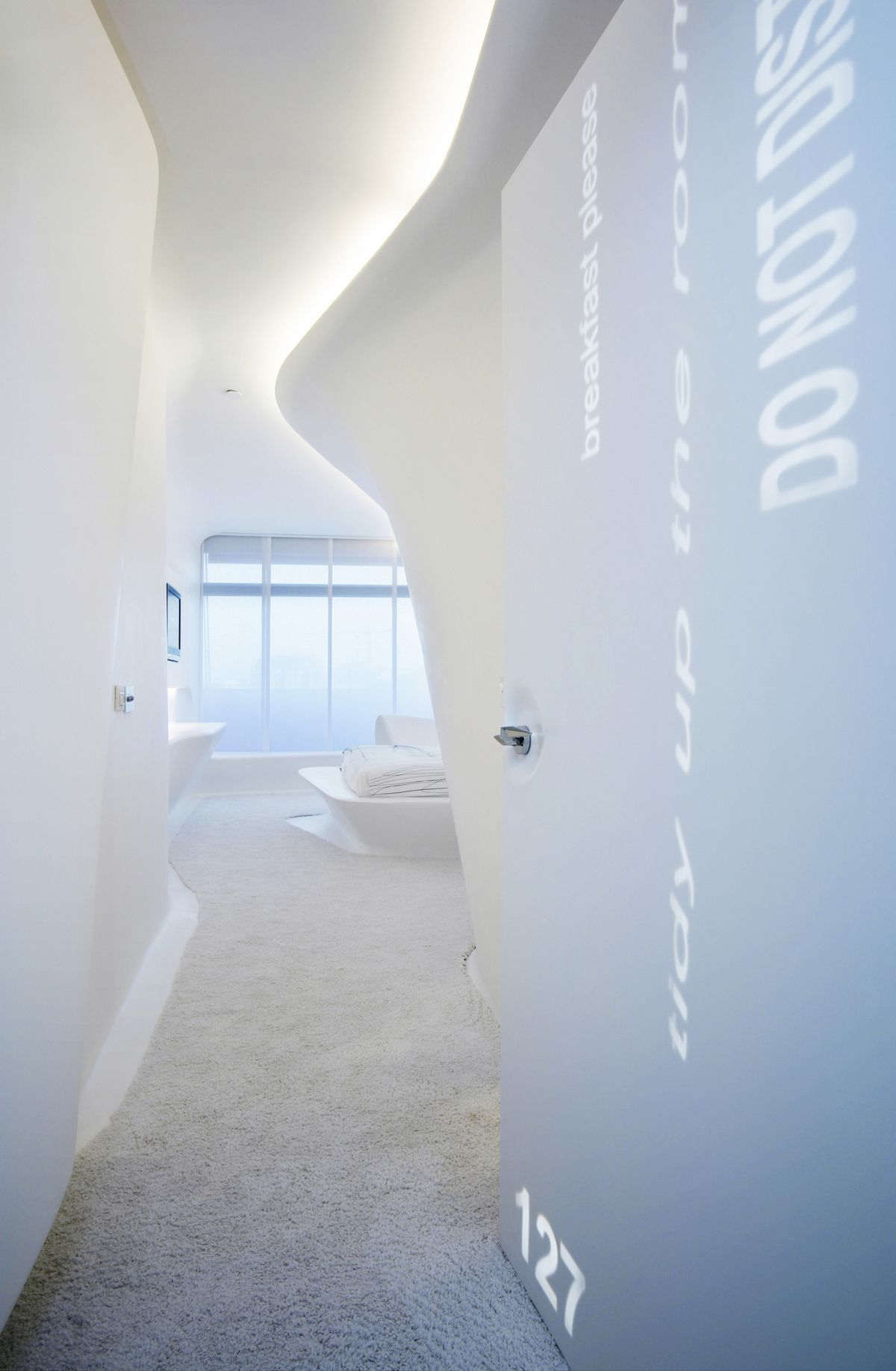 This extravagant Madrid hotel opened its doors and 12 floors designed by world-renowned architects in 2005. The first-floor rooms have Hadid's signature lines, curves, and swooping shapes written all over the walls, resembling a high-end 21st-century cave.
The Ordrupgaard Museum Extension, Copenhagen, Denmark

Allowing visitors an uninterrupted and unfragmented route, Hadid's extension in Ordrupgaard rebuilt the lost relationship between the gardens and the building, hence, restoring the harmony with the environment that tends to get lost in most human creations.
Phaeno Science Center, Wolfsburg, Germany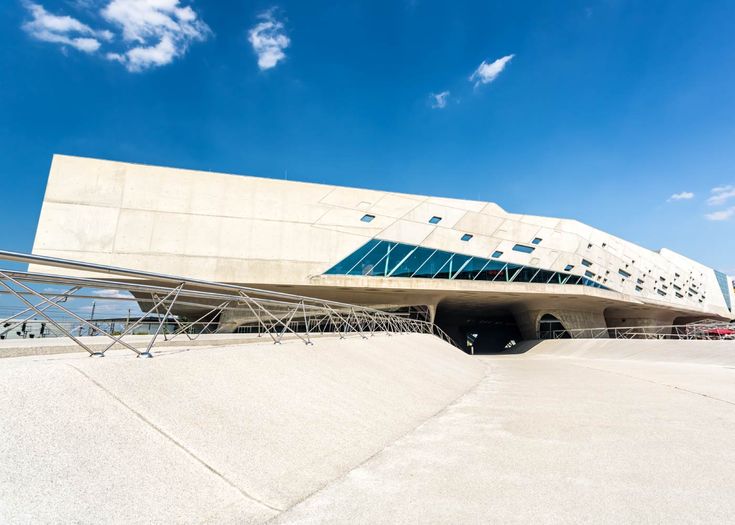 With each facade unfolding differently and an open floor arrangement, this deconstructivist architectural piece of art inspires different forms of both learning and being.
London Aquatic Centre for the London 2012 Olympic Games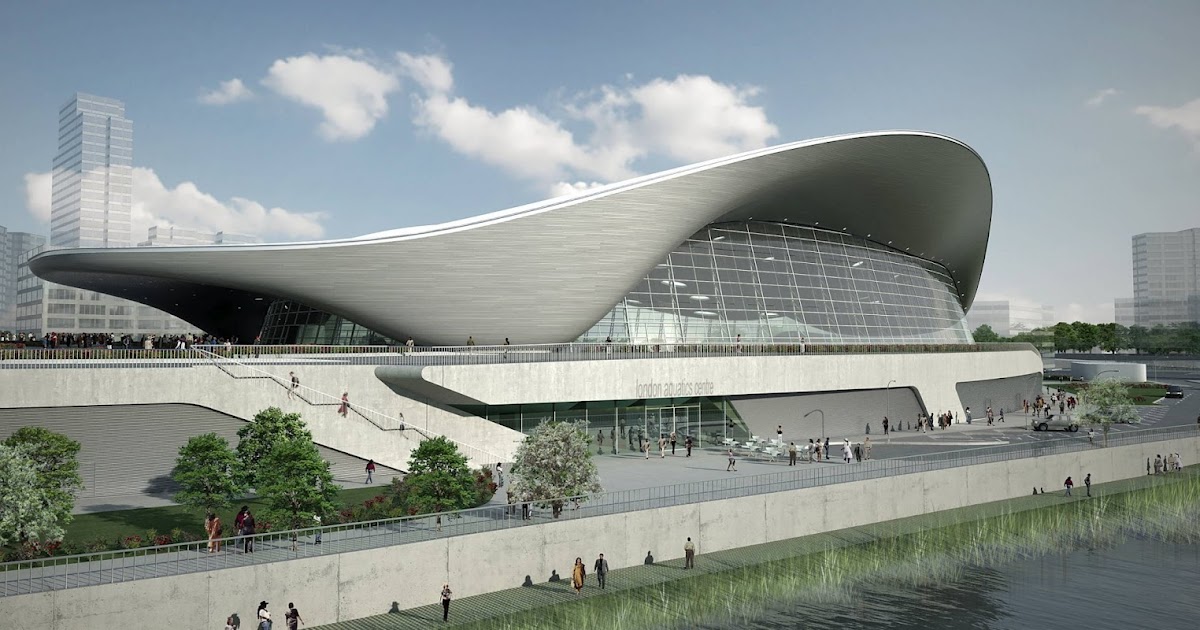 Intended for 17500 spectators and inspired by the fluidity of water, the space reflects the riverside landscapes. The roof resembles a wave, once again affirming the liquidity and dynamicity of both the spirit of the Olympic Park and Zaha Hadid architecture designs.
The Signature Towers, Dubai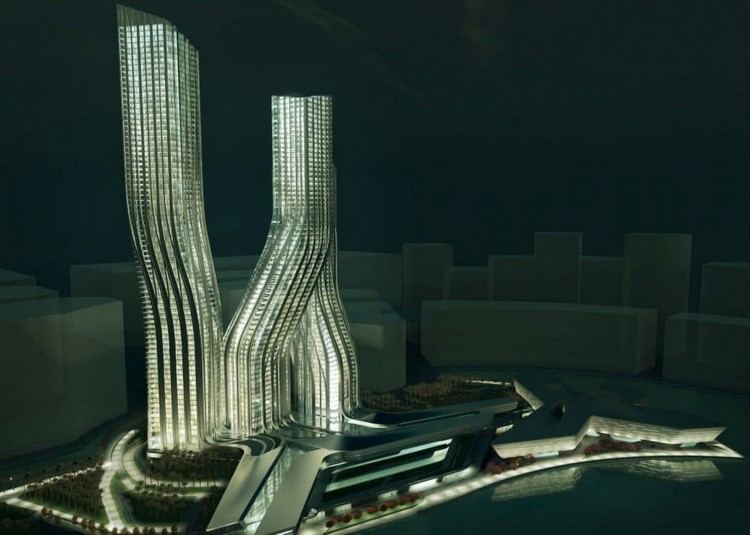 Fluidity remains Zaha's primary choice and source of inspiration. These towers affirm the business development of Dubai and its constantly evolving future.
 Dubai Opera House, United Arab Emirates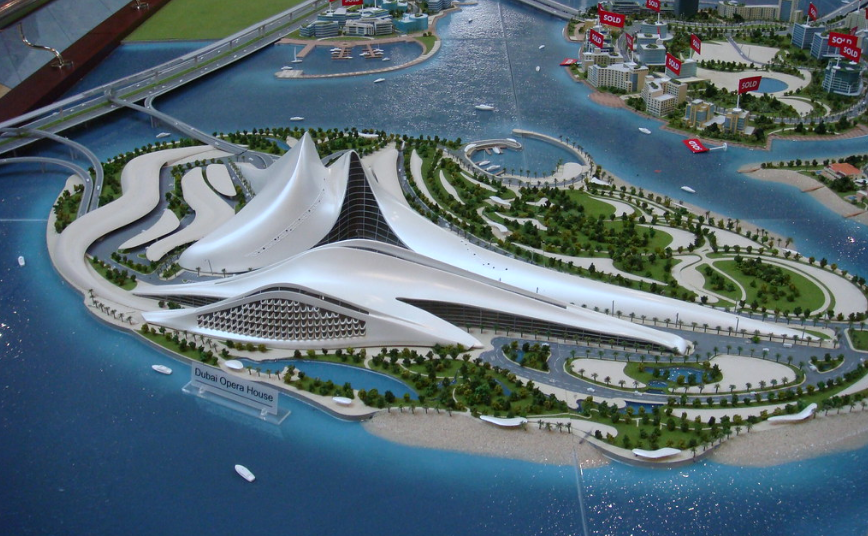 With an opera house of 2500 seating capacity, this striking landmark also accommodates an art gallery, performing arts school, a themed hotel, and even a playhouse.
Guangzhou Opera House, China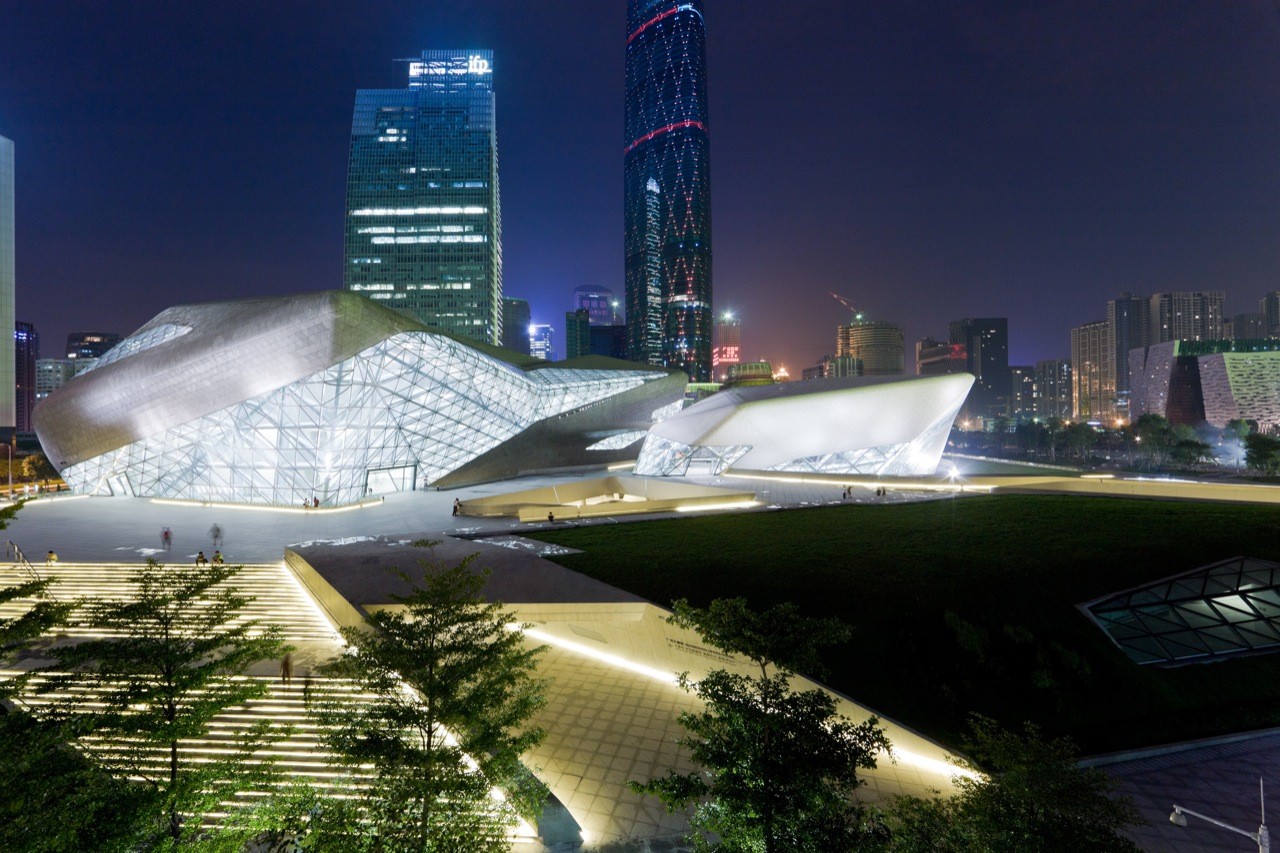 Zaha managed to confirm the city's cultural significance and impact by opening the doors for opera and art lovers to the entrance lobby, lounge, multifunction hall, auxiliary facilities, and the 1800 seat Grand theatre of the Guangzhou Opera House.
Abu Dhabi Performing Arts Centre, United Arab Emirates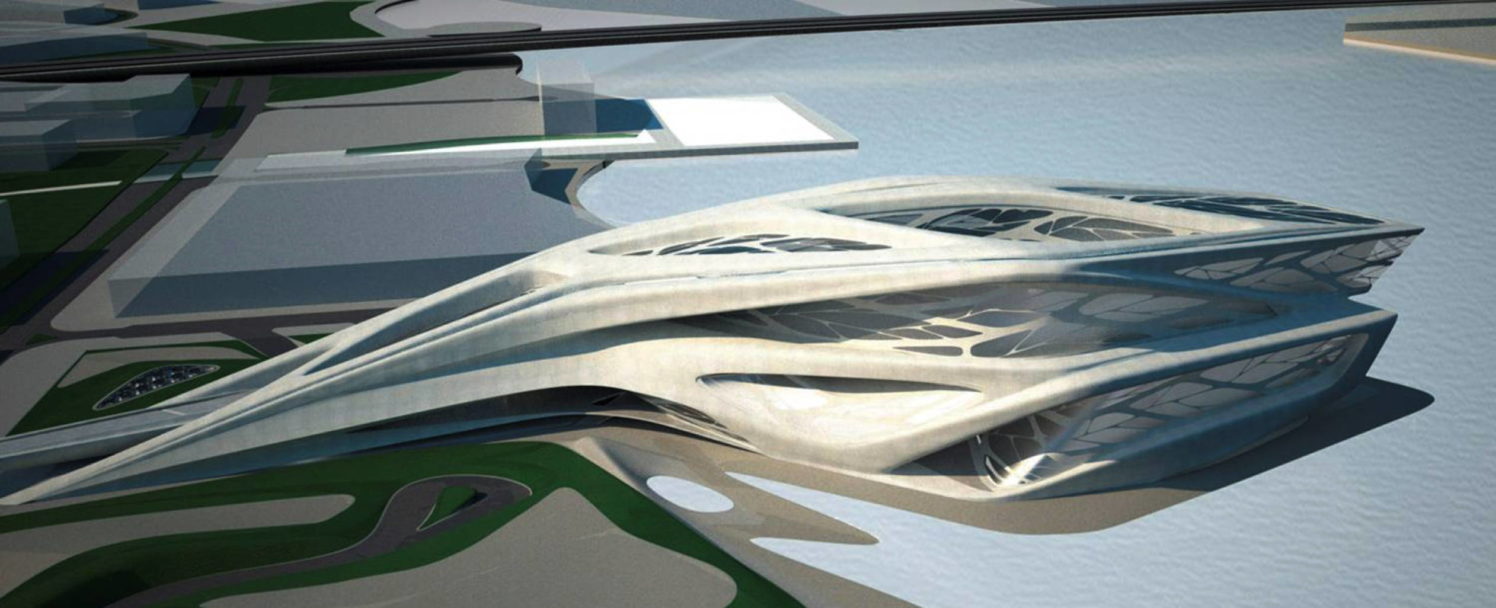 Considered as a continuation of her long-lasting relationship with the Guggenheim, Hadid's Performing Arts Centre is a growing organism that not only houses five theatres (opera house, drama, and a flexible theatre and also a music and concert hall) but may also be the nerve center of the Academy of Performing Arts.