Having a balcony is a dream for most city residents. They fantasize about having their own private outdoor place. But if you're one of the lucky ones who have your balcony, it's usually a pretty small place. Sometimes so little that no one or normal-sized furniture can fit on it. Your balcony, no matter how small, has a lot of design potentials.
Dexterity is definitely needed if you want to arrange a small balcony and make it a pleasant place to enjoy the free part of the day.
Given that this is a small space, to make the best use of it, you should follow the same rules that apply when decorating small interiors.
Do you have no idea how to organize the space in your tiny balcony? We have all the design and styling ideas you need, whether you want to maximize space, add more privacy, or improve your planting scheme in this raised location. Continue reading to discover 15 small balcony ideas for transforming your outdoor space from top to bottom.
The Small Parisian Balcony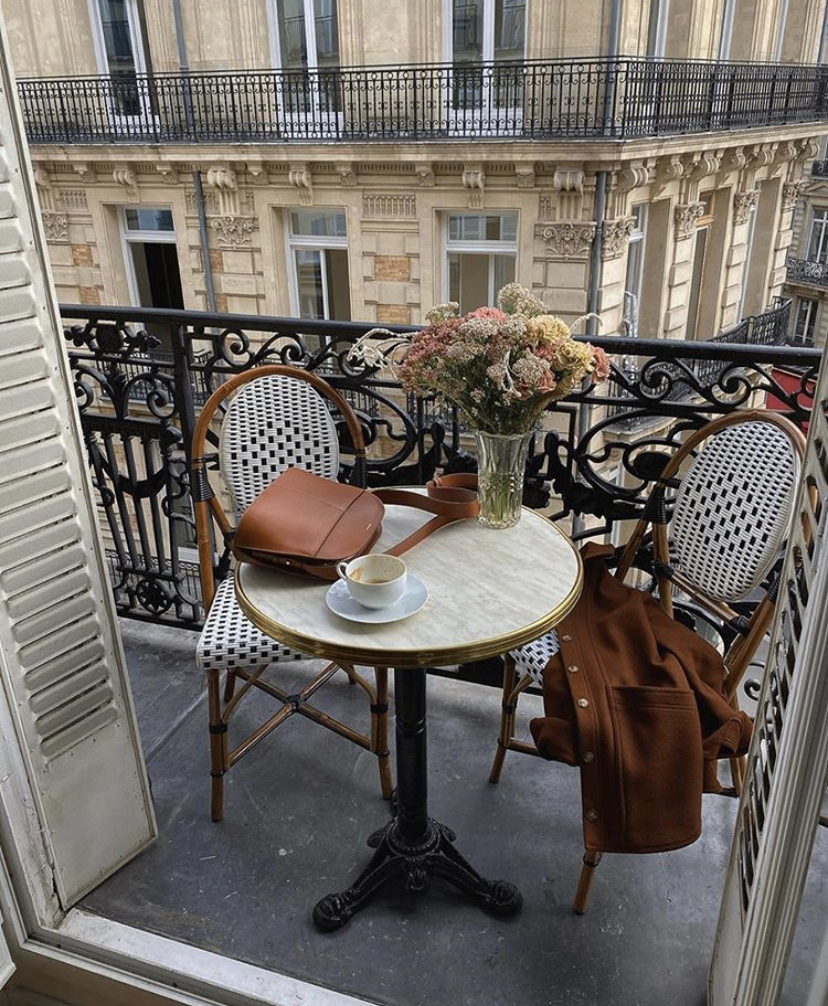 It's the simplest yet the most elegant balcony you can ever imagine. All you have to do is invest in two chairs and a small round table. Decorate the table with flowers and there you have it. A beautiful balcony where you can enjoy your morning coffee. Choose one that can be folded up and stored within if necessary.
Adjustable Elements To Save Up Space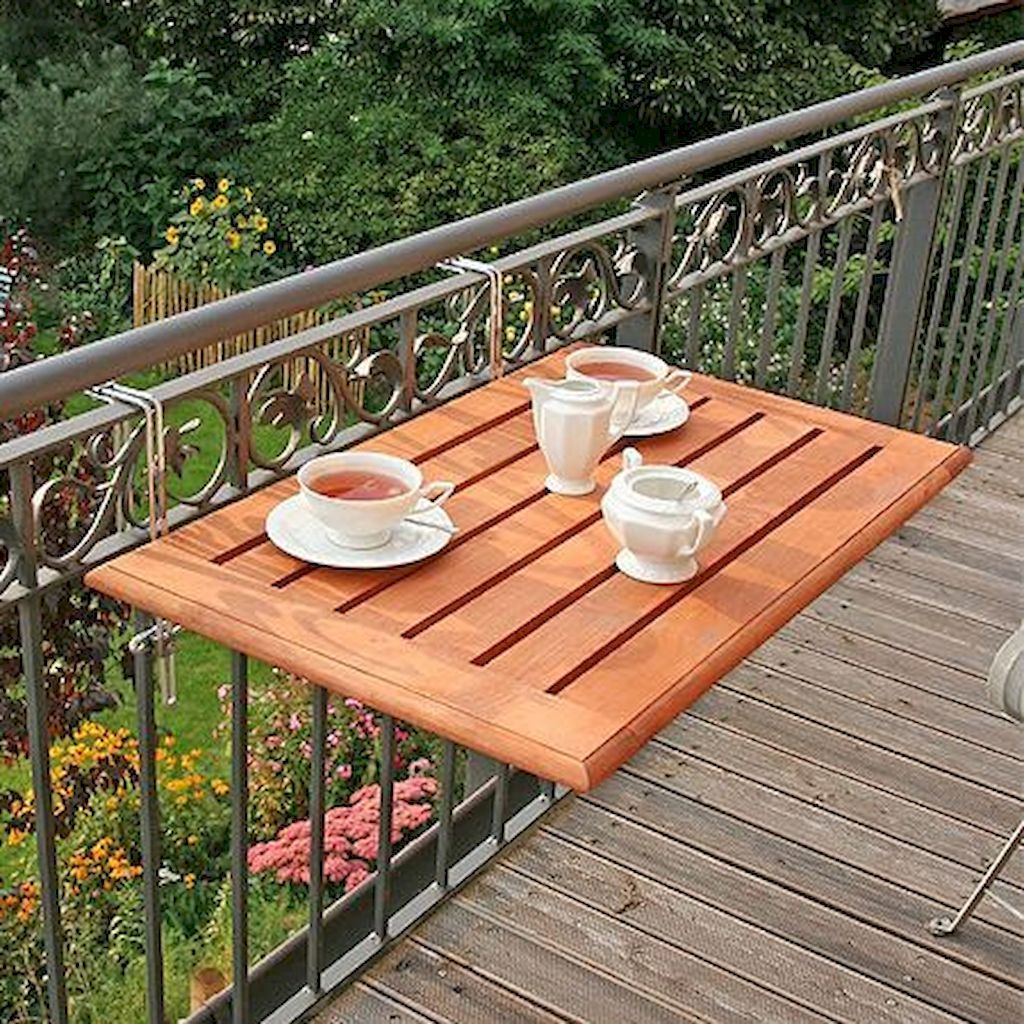 Do you lack the space for a table and chairs? By installing a folding table, you can still enjoy the city views or the green trees that surround your tiny space. You may want to sit on your balcony with a book and a cup of coffee at times, but you may also want to walk around and water your plants or practice yoga. When you need additional space, a foldable table and chairs are the right solution.
Minimalistic Balcony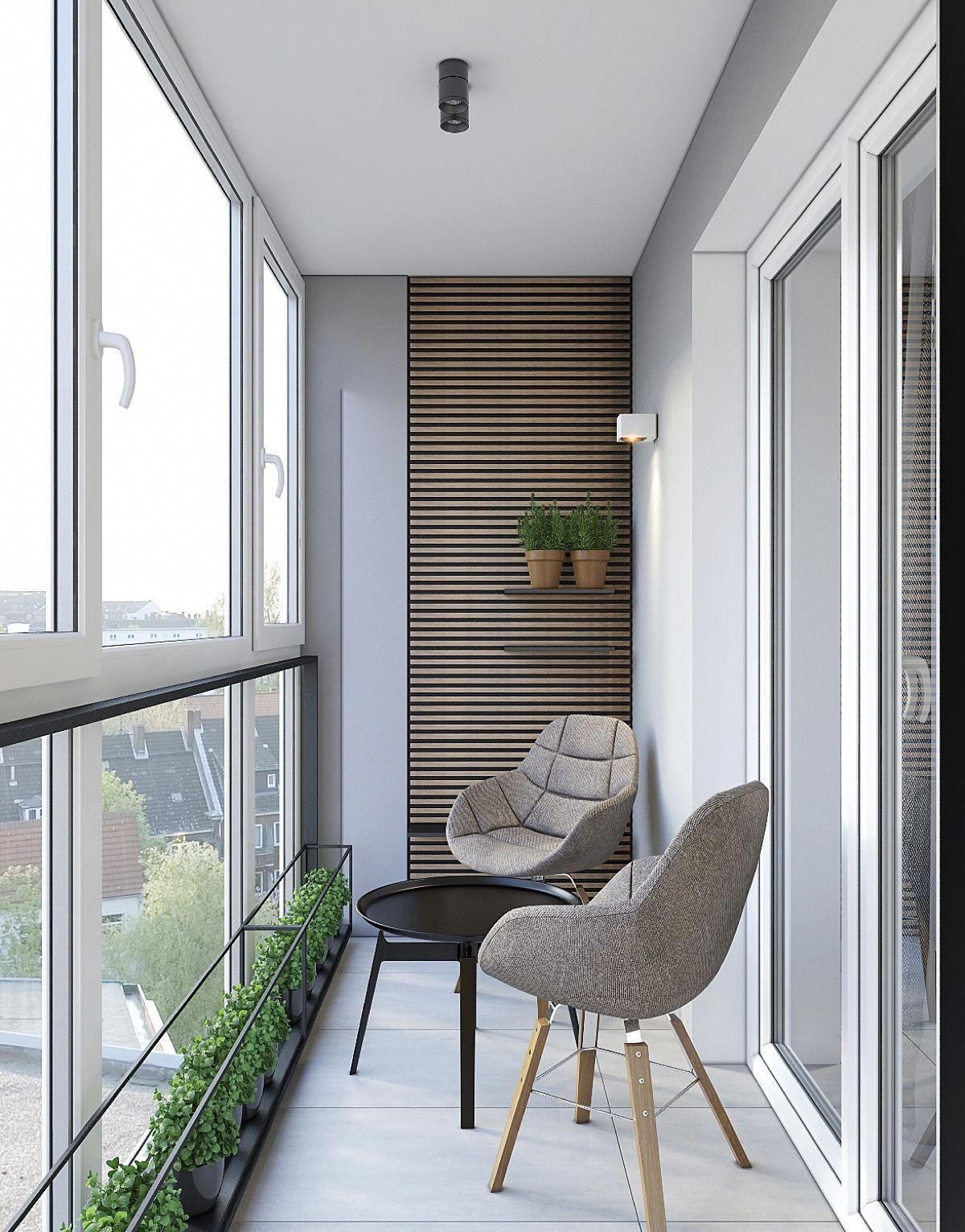 Unconscious purchasing is becoming more common around the world, and people are buying things they don't need. In today's world, the minimalist lifestyle is a growing trend that involves less consumption and fewer products in all aspects of life. Use natural elements like wood and stick to one or two colors max. Less is more.
Use The Walls For Extra Space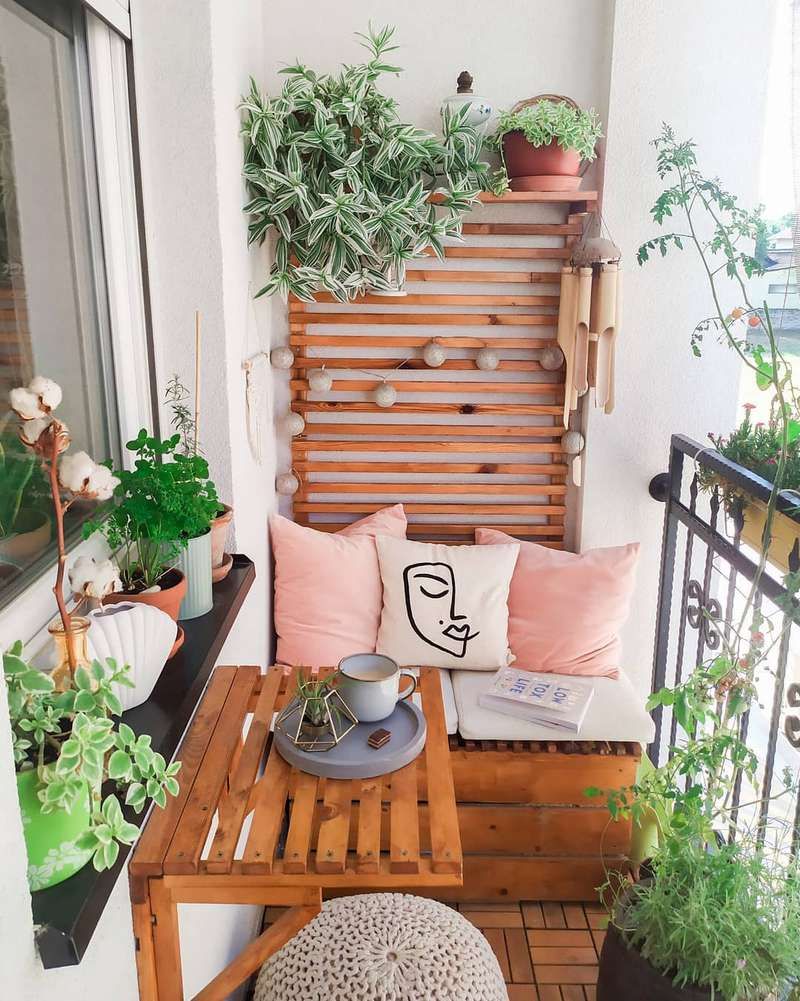 Vertical wall designs are valuable to us since we value free space on our balconies. You can put anything you wish like from plants, lights, to wall slats.
Green Paradise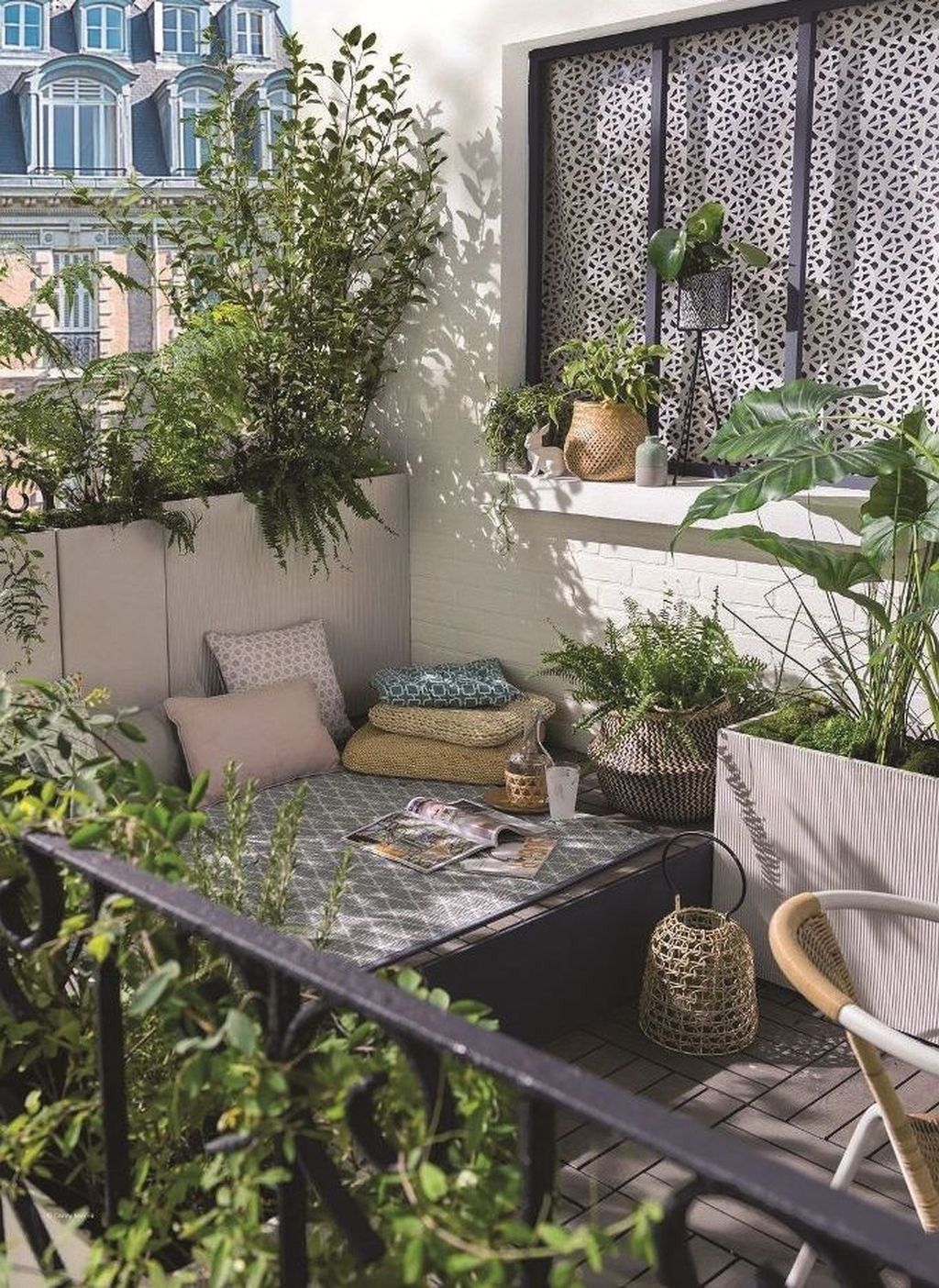 Turn your balcony into a mini green paradise. This way you will not only contribute to the good of our planet but also scientifically proven that plants contribute a lot to our health because they send relaxing vibes. Yes, it's healthy when you look at the green color.
Balcony Swing Chair to Free Up Space
Photo: instagram.com
Swing chairs are so cozy and usable because you can easily place them wherever you want. Plus you can enjoy them with a nice relaxing swing.
Pallet Furniture
Balcony furniture can be expensive, particularly if you require a whole set of sofa, table, and chairs. Pallets are so inexpensive, plus if you have some free time on your hands, you can make the furniture yourself. With a little skill, you can make some great balcony furniture for yourself. You will add a rustic touch to your balcony and save some money at the same time.
Bed Balcony
Why not make a bedroom out of your balcony? Combine the feeling of sleeping outdoors with the warmth and comfort of your own home. Outdoor sleeping is magical. Your balcony will be a large outdoor bedroom that can make your ordinary nights special.
Lighting To Open Up The Space
Make sure your balcony has some good lighting because it makes the space visually larger. It's incredible what good lighting can do for a little space! This, combined with comfortable furniture is great for making your balcony a cozy place to enjoy your evening.
Built-in Furniture
Built-in furniture is a certain method to make the most of every square foot of your outdoor space. Suspended tables that blend in with the wall and long seats that act as a decorative base for accessories like elegant lamps are just a few examples.
Connect The Indoor With The Outdoor
Another excellent way to make the most of your outdoor space is to connect the indoors with the outdoors. Consider your balcony as an extension of your home, with a similar design concept. Introduce fluffy blankets, cushions, and rugs, or other living room elements to your balcony that you'd ordinarily keep indoors. This will create a fresh atmosphere in your home.
No Furniture Needed
Smallness is of course a relative concept. If you have an extremely small balcony like the one above, you fill the floor with cushions to create a warm and cosy outdoor space where you can read your book or drink your coffee.
Boho Style Balcony
Give preference to earthy colors. Colors are considered the "key" in designing a space, whether it is the interior or the exterior. In the case of a small balcony, warm, bright options are what you need. Give preference to white as a base, then add details in earth tones, such as beige and light brown.
Furniture The Whole Space
If you want your tiny balcony to be solely for drinking coffee, dining, or working, then furniture the whole space. This means that you give a function to your balcony which is probably the first important thing to do before decorating and organizing your tiny precious outdoor space.
Make It Colorful
Adding more colors will freshen up the space and make it visually larger. You don't want your balcony to look cluttered but make it cozy and lively.
For small city flats, having a balcony is a godsend. However, the balcony is one of the most underutilized areas in most homes since it is not given the attention it deserves. But don't put yourself down because, with some clever planning, you may turn your balcony into a well-designed and relaxing environment. We hope we've inspired you to wrap up your sleeves and get to work.