Renoir was a French artist who was a leading painter in the development of the Impressionist style. As a young boy, he worked in a porcelain factory. But his drawing skills were early recognized, and he was employed to create designs of porcelain. He also painted decorations on fans.
His early works were typically Impressionist snapshots of real life. They were full of sparkling color and light. However, by the mid-1880s, he began applying a more disciplined and formal technique to portraits and figure paintings. He was famous for painting women.
In his later years, he had severe rheumatoid arthritis, but even the condition couldn't stop him from painting. While he was in a wheelchair and had limited movement, and arthritis left a permanent physical deformity of his hands and shoulder, he changed his painting technique to adjust to the physical limitations.
Nowadays, he is remembered as a prolific artist, with several thousand artworks. He is also responsible for some of the most well-known paintings in the art world. Some of them hang in Louvre. His Au Moulin de la Galette, became one of the most expensive paintings in the world when it sold for $78 million in 1990.
1. Portrait of Mademoiselle Romaine Lacaux 1864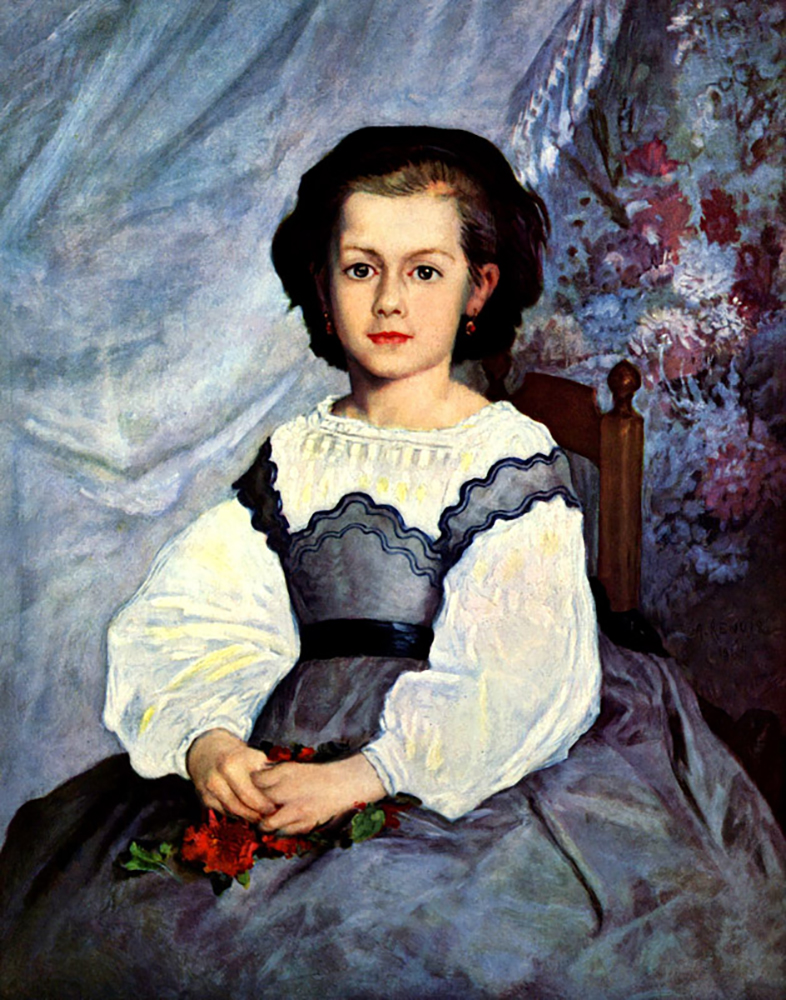 The charming portrait is one of the earliest signed and dated pictures by Renoir. His early works are harder to find, because he was not that famous at the time. He painted this portrait when he was just 23 years old.
2. The Parisian Girl 1874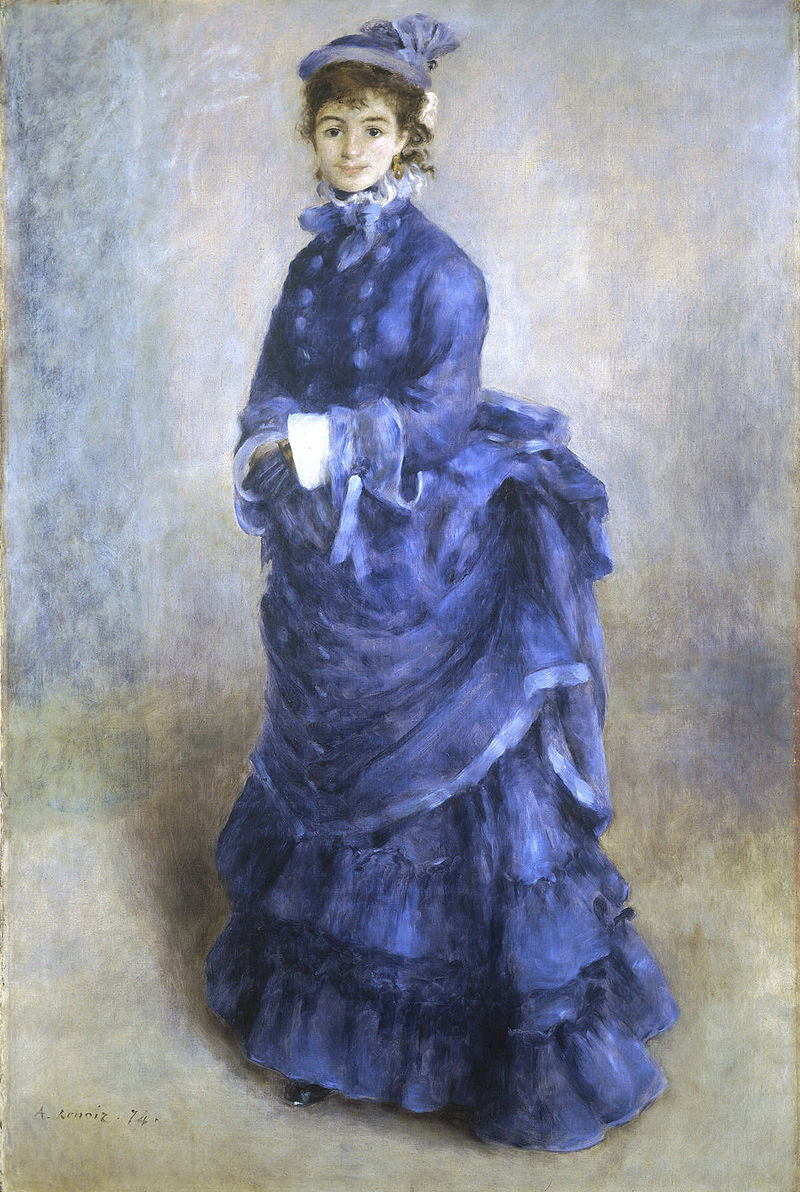 The Parisian girl is displayed at the National Museum Wales in Cardiff. As you can see, he was quite a fan of painting women in his early years. Some experts view it as a way to show women preparing for a sexual encounter.
3. Spring Bouquet 1866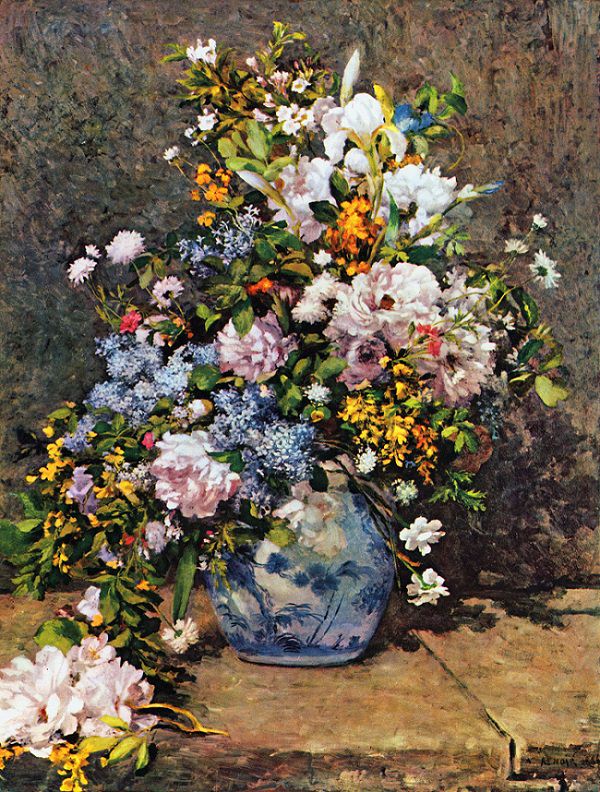 In his early years, Renoir had a more loose style. But for all its apparent looseness, this painting has quite the precise structure. You can see the flowers spill over into the lower left hand corner in joyous profusion.
4. Diana the Huntress 1867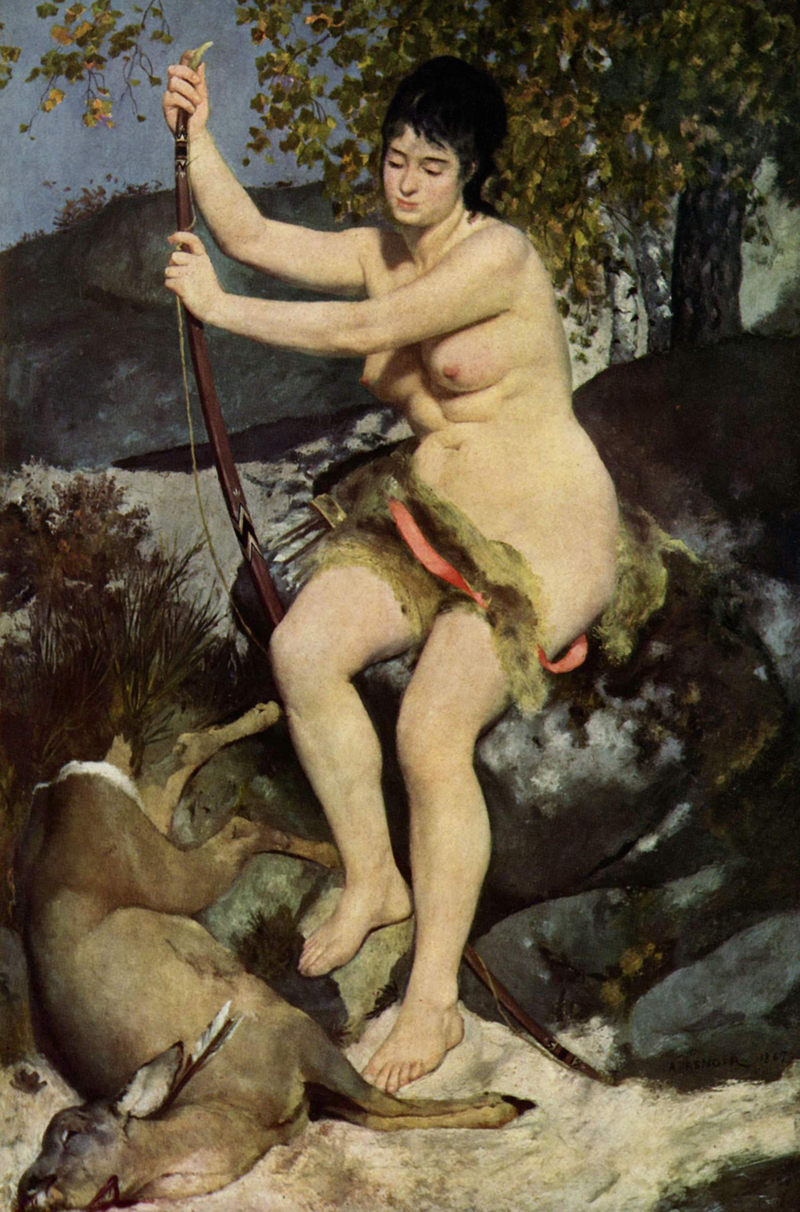 Renoir perceived the world in constant motion. As such, he tried to capture all the changes. This is one of the rare pictures where he shows nudity of a woman. Just look at how he captures the originality and poetry of every movement.
5. La Grenouillère  1869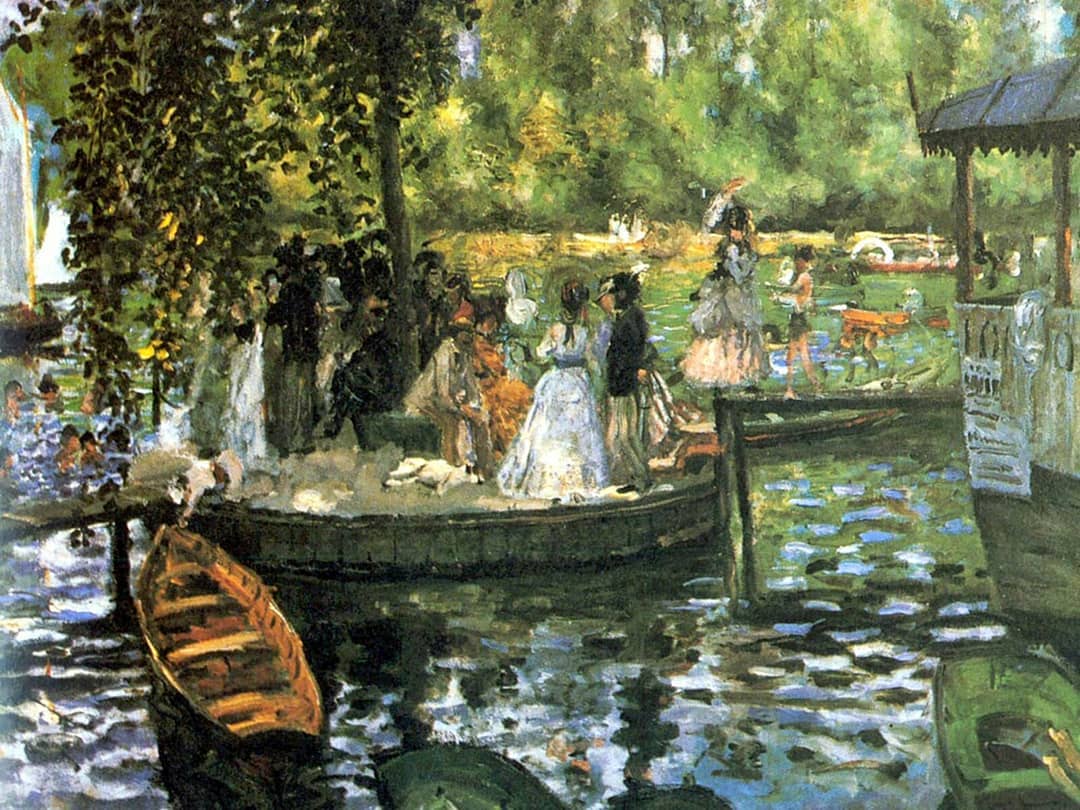 One of his more famous early works, this oil canvas painting shows the "camembert", a small island planted with a single tree, linking the island to a bridge. Renoir painted this masterpiece in the La Grenouillère restaurant, the same place where Monet made his Bain à la Grenouillère.
6. Summer Landscape Aka Woman With A Parasol In A Garden 1875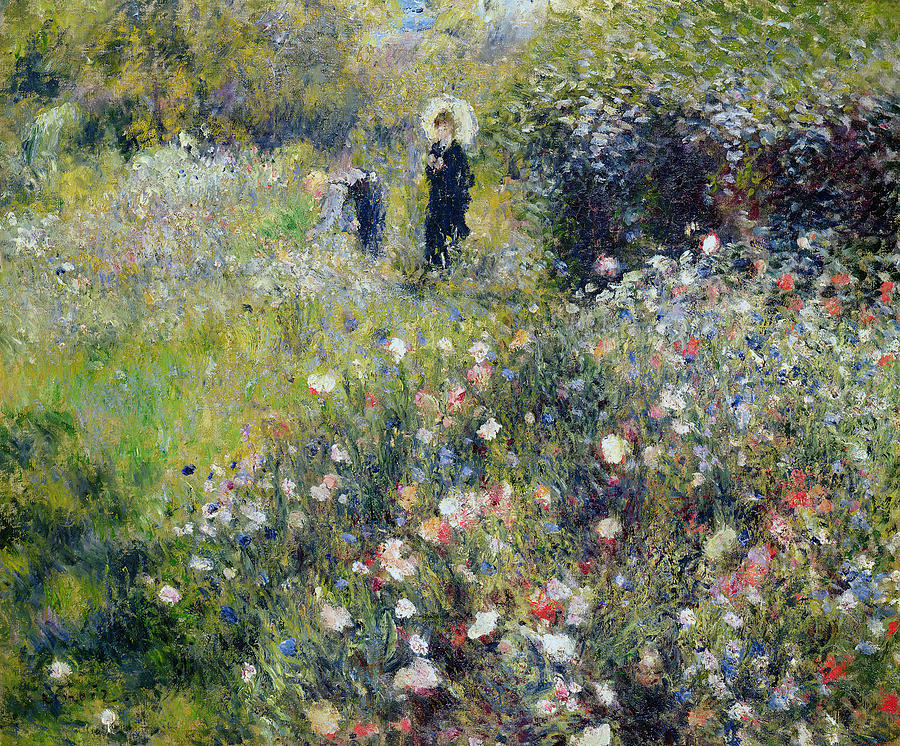 This painting shows the Impressionist movement at its best. Paintings lack a visible horizon, and the objects are "hidden" in the grand picture.
7. La Loge  1874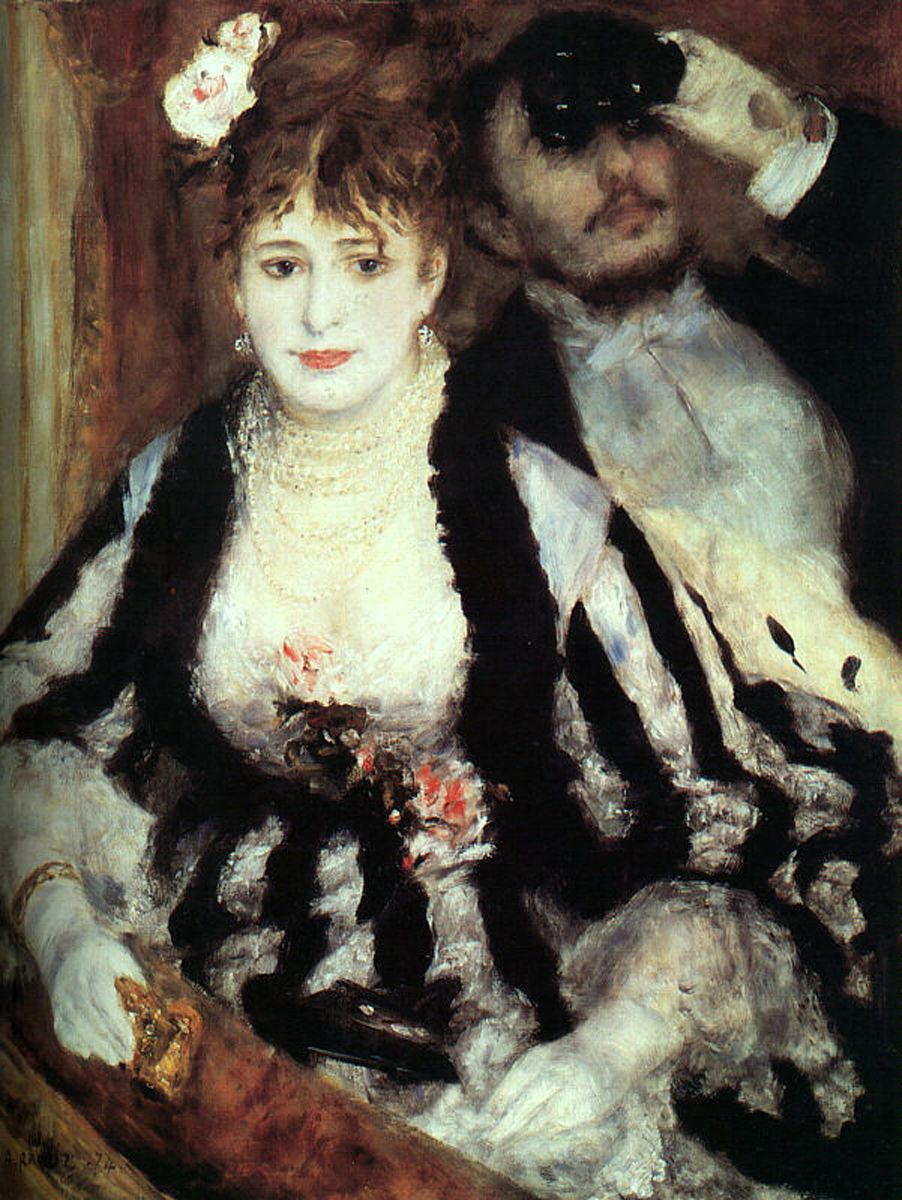 We said before that Renoir loved painting women. He often placed men way behind women, and often covered, like in this painting. For him, beauty is happiness. This painting, according to many experts, is a hymn to the beauty of woman. In the painting, the woman is offered for full and rapturous gaze.
8. The Swing, 1876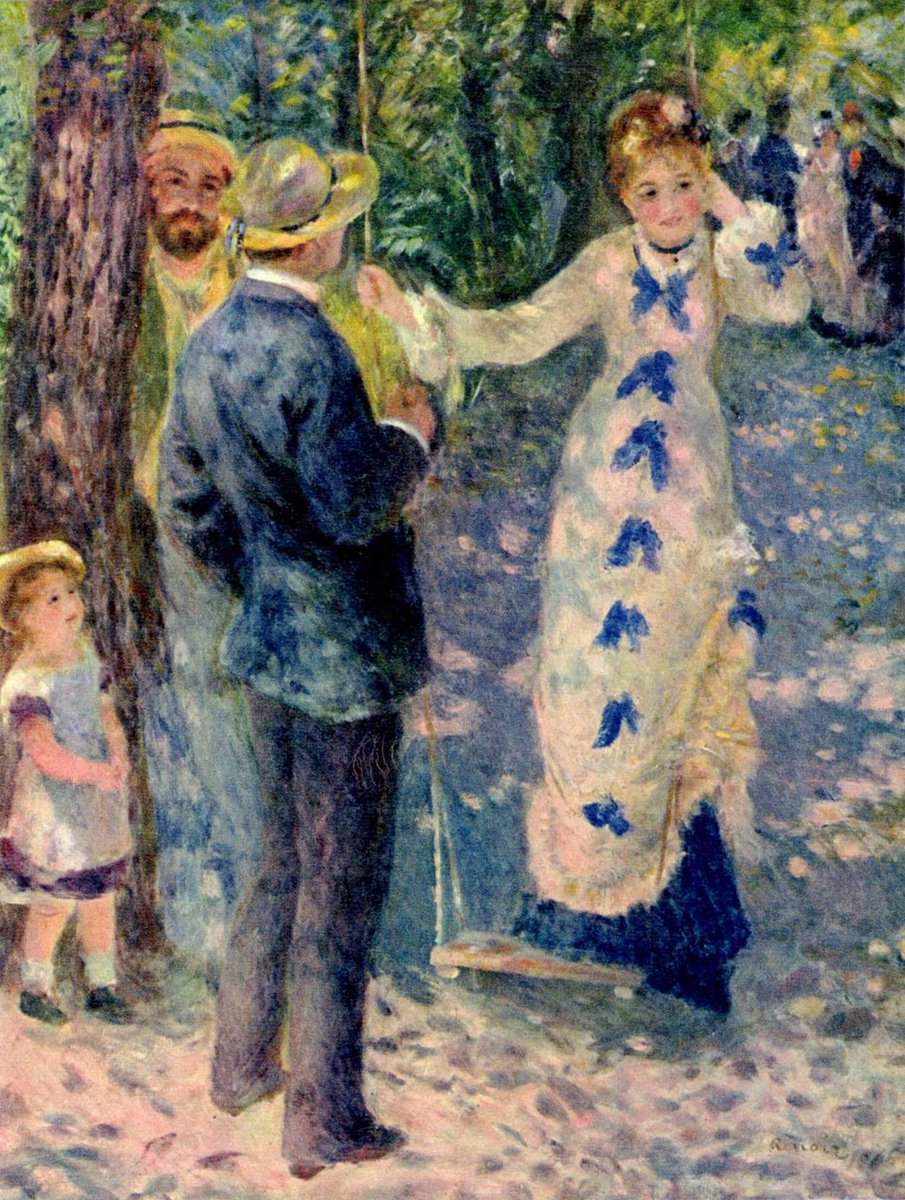 This painting is a leading exponent of the Impressionist style. Again, the woman is shown in her full glory, while the man on the painting is seen from the back.
9. Lunch at the Restaurant Fournaise, 1879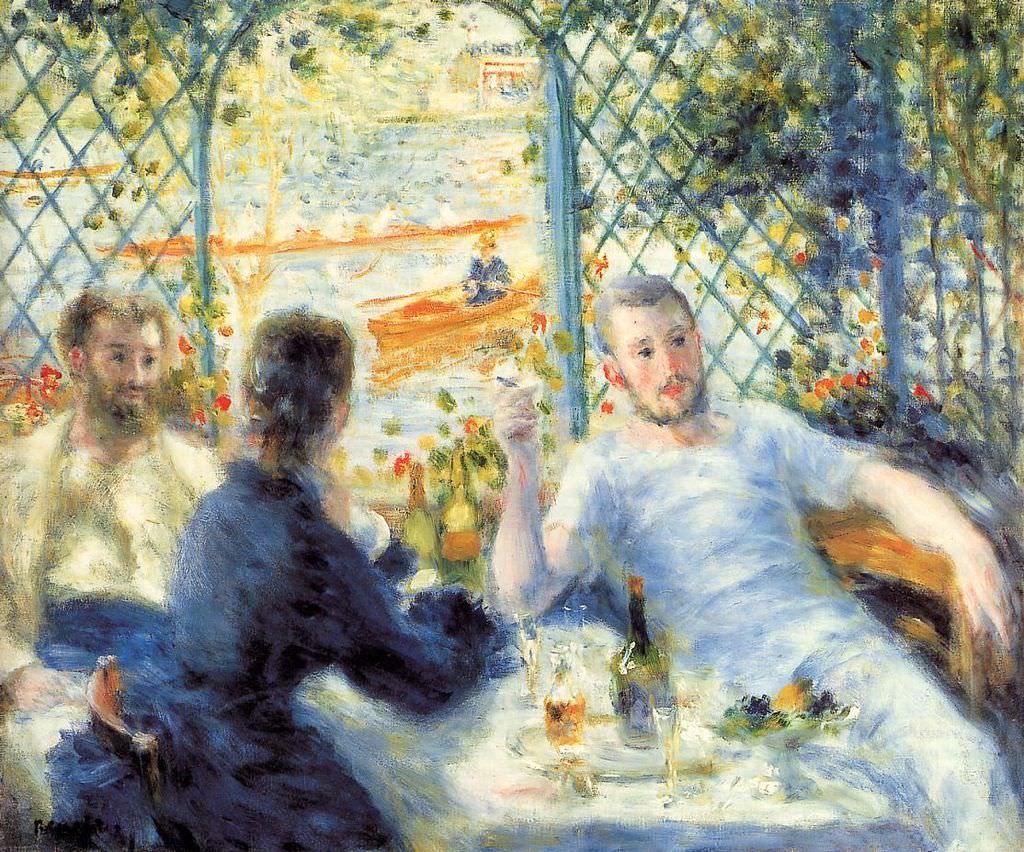 This is one of the rare paintings where Renoir shows men in their full body. The painting is a tribute to the Maison Fournaise, located in an area west of Paris. Portraying three people having lunch.
10. Madame Georges Charpentier and Her Children 1878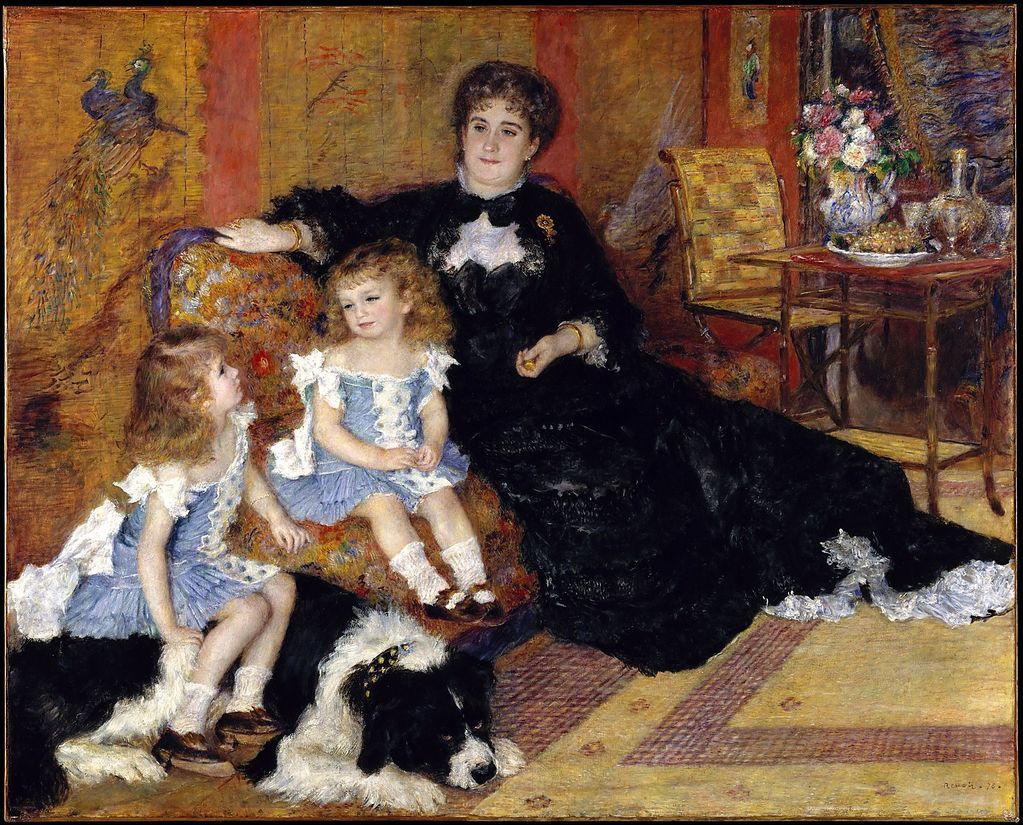 When he painted this work of art, it drew much attention and admiration. Nowadays, it is located in the Metropolitan Museum of Art in New York. Madame Charpentier was a brilliant and attractive woman, and she had great influence in the world of art. She became interested in the Impressionist movement, so she wanted a portrait of herself.
11. A Girl with a Watering Can 1875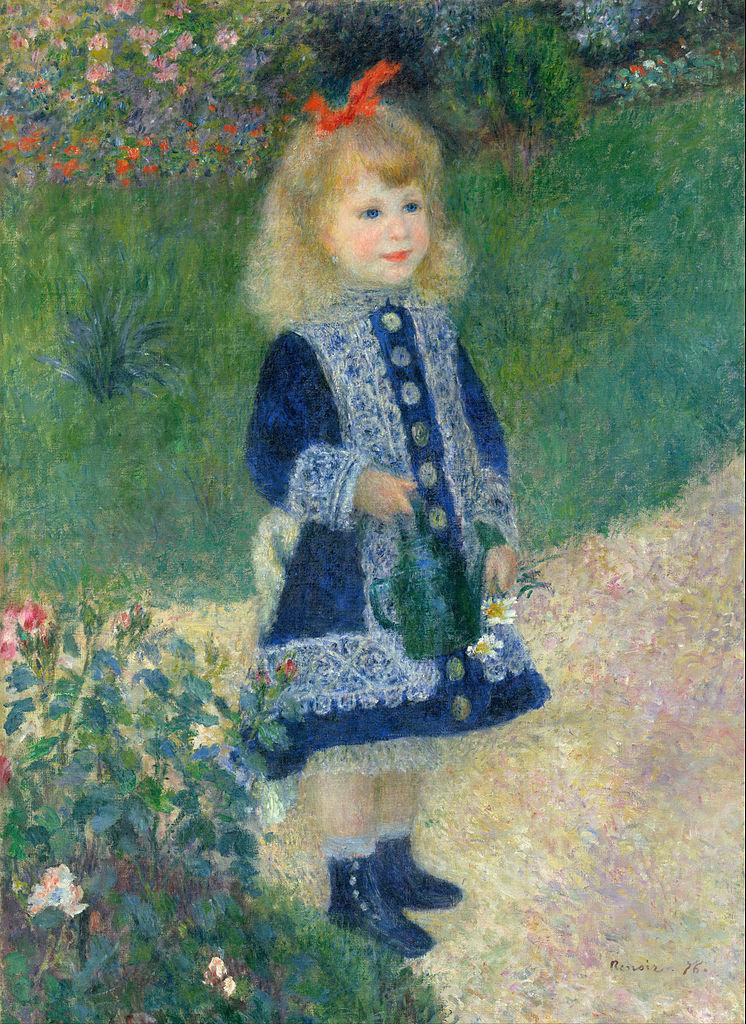 There are rumors that this art was painted in Monet's famous garden at Argenteuil. The painting shows Mademoiselle Leclere in her blue dress. Renoir hoped it would please a large audience.
12. Pont Neuf Paris 1872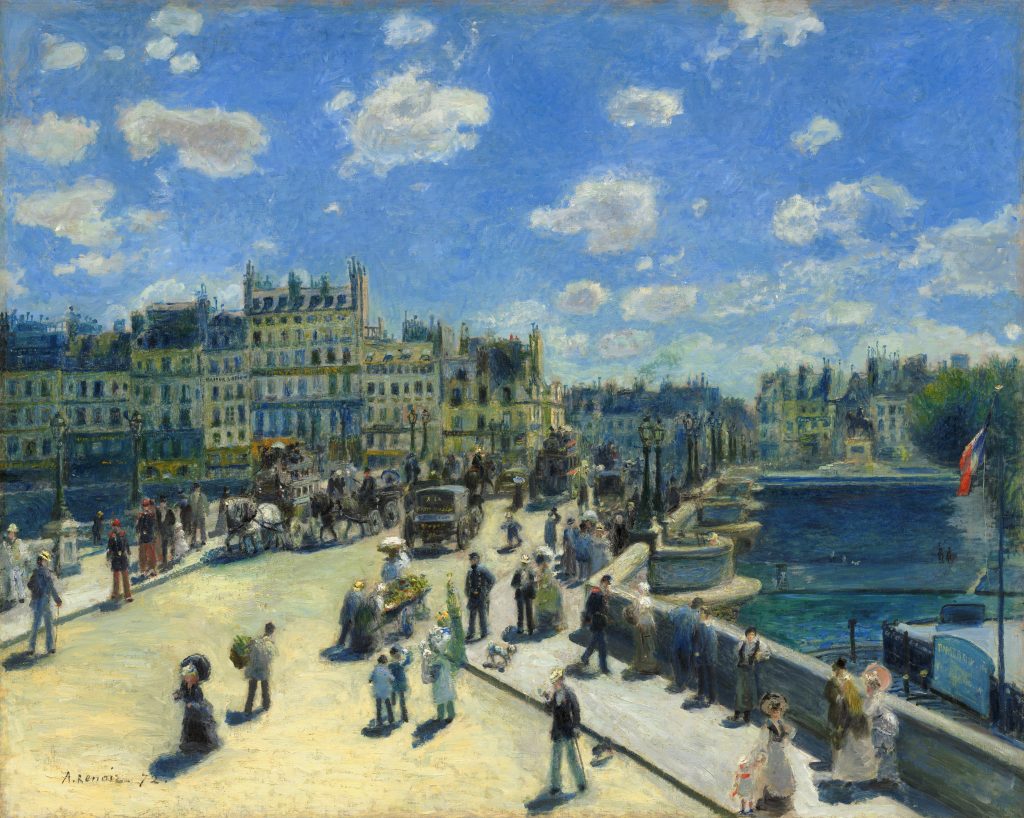 It is truly a masterpiece. And it show the brilliance of Renoir, as he wonderfully caught the vibrant day in Paris. The painting shows the happiest qualities of a bright summer day, and it was painted during a single day.
13. The Umbrellas 1881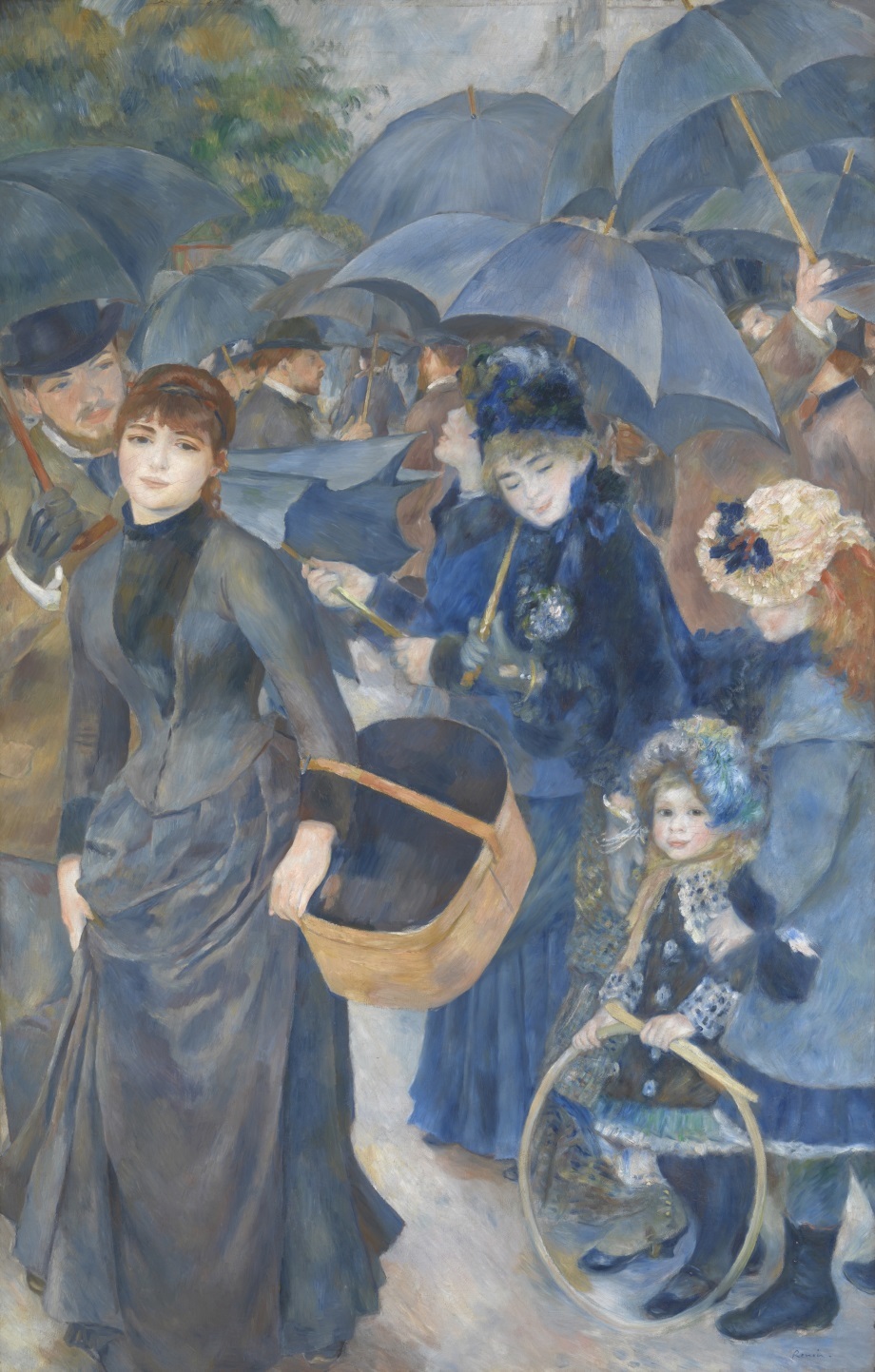 Photo: heritageweek.ie
The painting shows Renoir as the gentle and loving chronicler of everyday life. It is notable for its naturalness. The Umbrellas was done in two distinct stages.
14. Two Sisters, 1881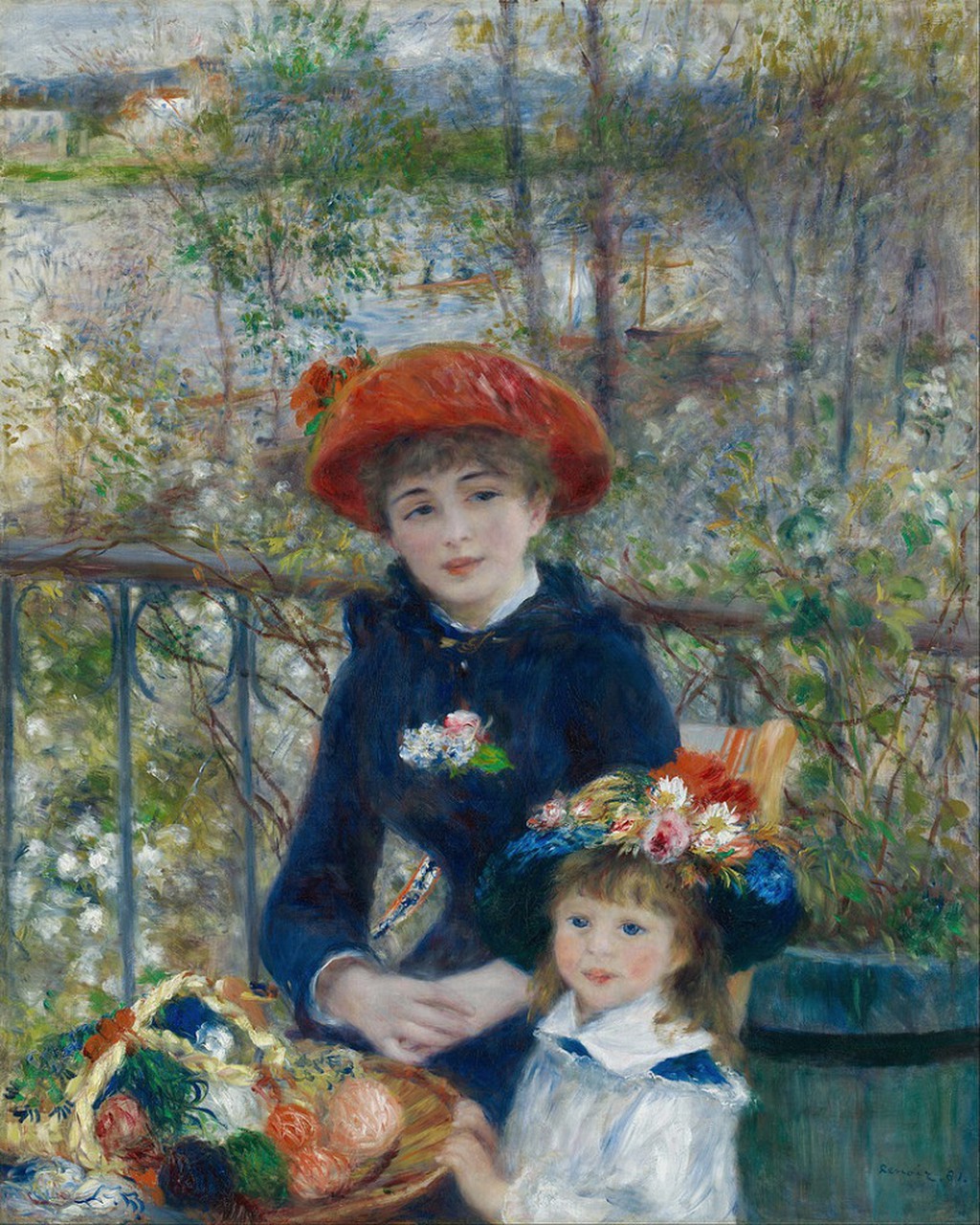 This painting is actually known by two names. The first one, two sisters, is the one Renoir gave to the painting. But it is also known as "On the Terrace", a name given by the first owner of the painting, Paul Durand-Ruel. It shows how Renoir loved everything that is joyous and brilliant in life. It also shows the special quality of his heroines, they resemble and do not resemble the models.
15. Steps in Algiers 1882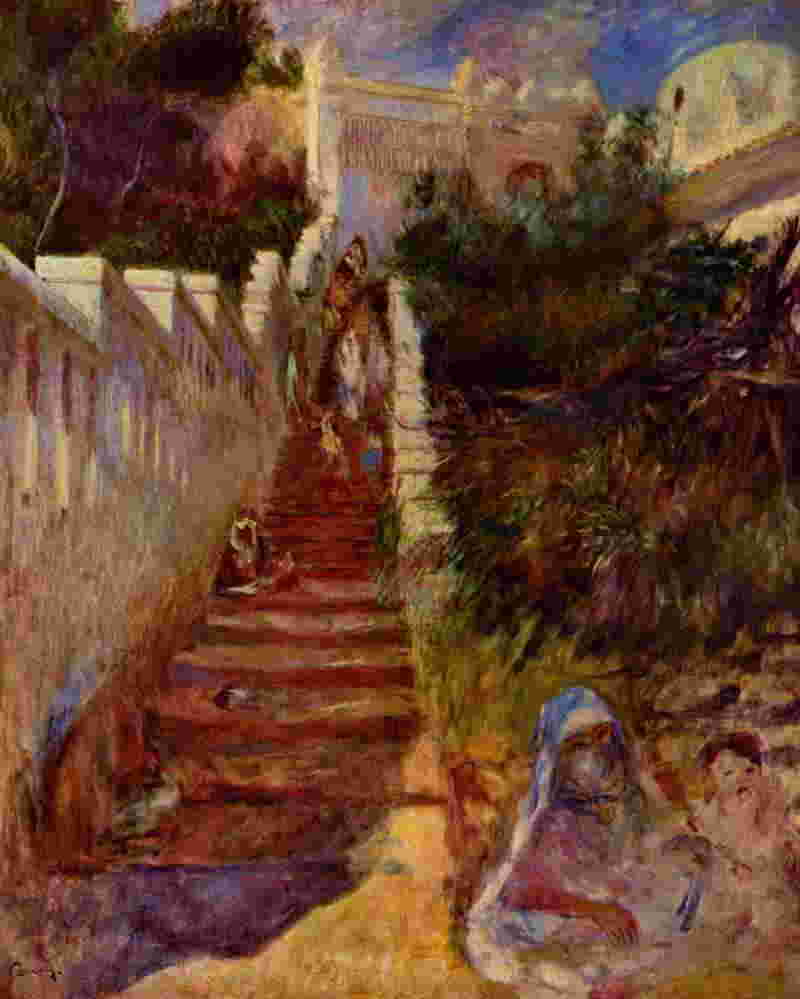 This painting is special in a way it shows a phase Renoir was going through. He was reaching the very end of impressionism, and wanted to try something more in the world of classic ideas. He made this painting before he left for a trip to Italy, and it shows both his impressionist style, and the more classic idea of modeling and composition.
16. Seated Bather 1883-1884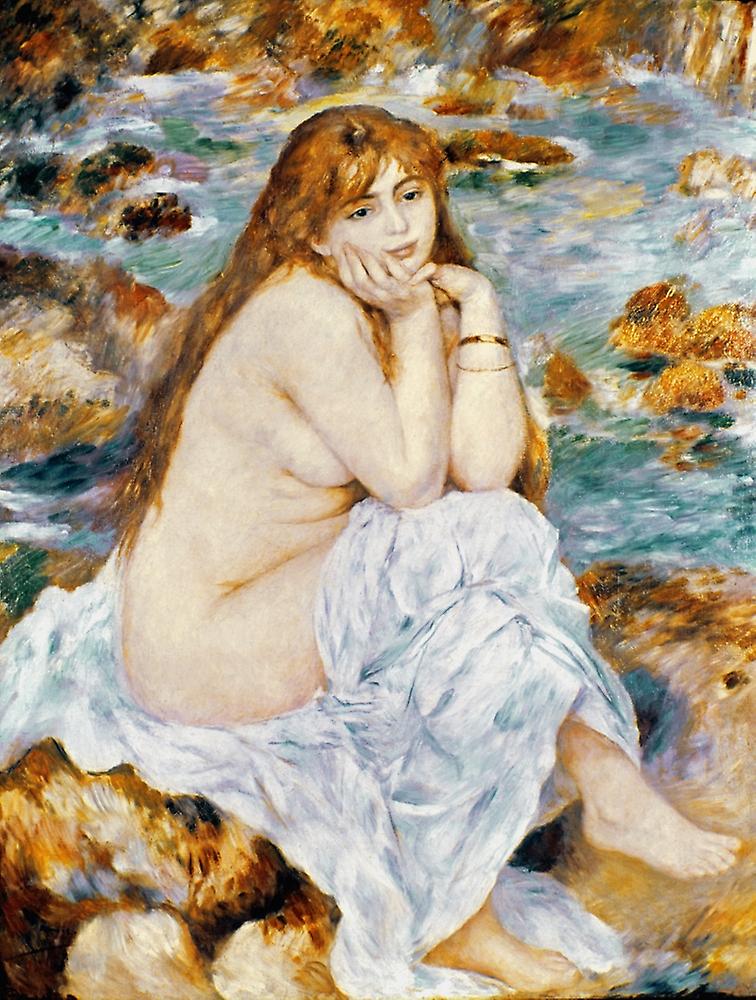 One of the rare paintings that Renoir worked on for a longer period of time. Again, it shows his admiration of beauty, and his impression by the glow of gorgeous skin.
17. Luncheon of the Boating Party  1881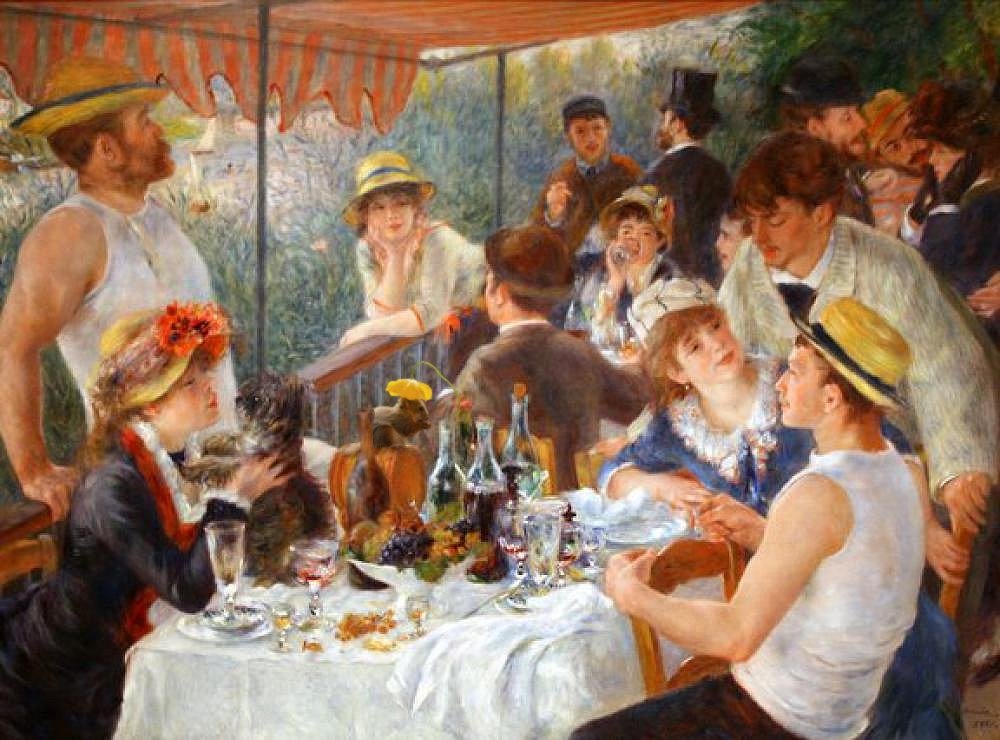 This is one of the most famous piece of work by Renoir. For years, it was part of the private collection of his patron Paul Durand-Ruel. However, following his death, his sons put the piece up for sale. This painting shows a new appreciation for dimension and definition by Renoir, as well as a break from the early impressionist interests. Fun fact: the painting is actually a portrait of his dearest friends, whom he called to pose.
18. Near The Lake 1979-1980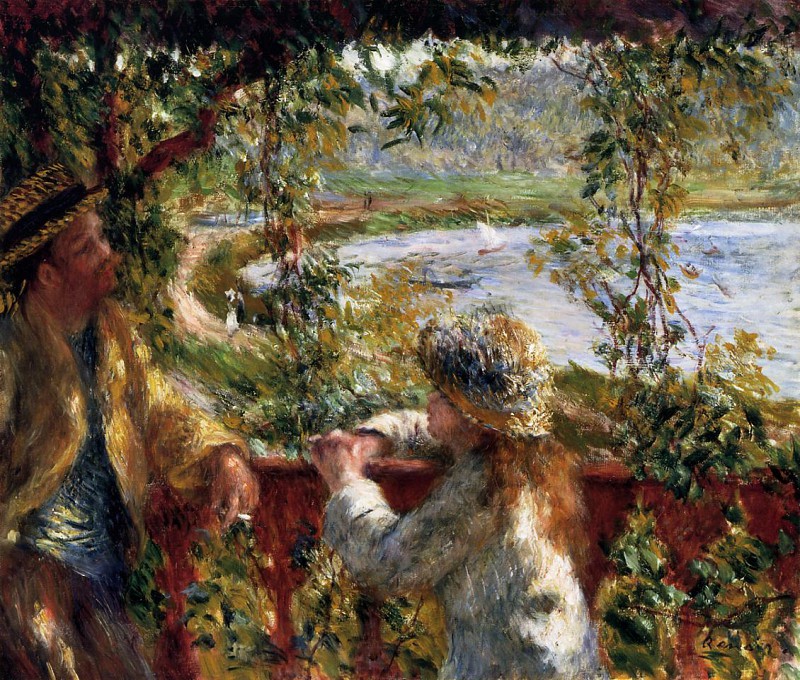 This scenic multicolored and glossy painting shows a canotier. However, some people think it is just a man dressed like a canotier, talking with a young girl. There is no set date when it was painted.
19. Dance at Bougival 1883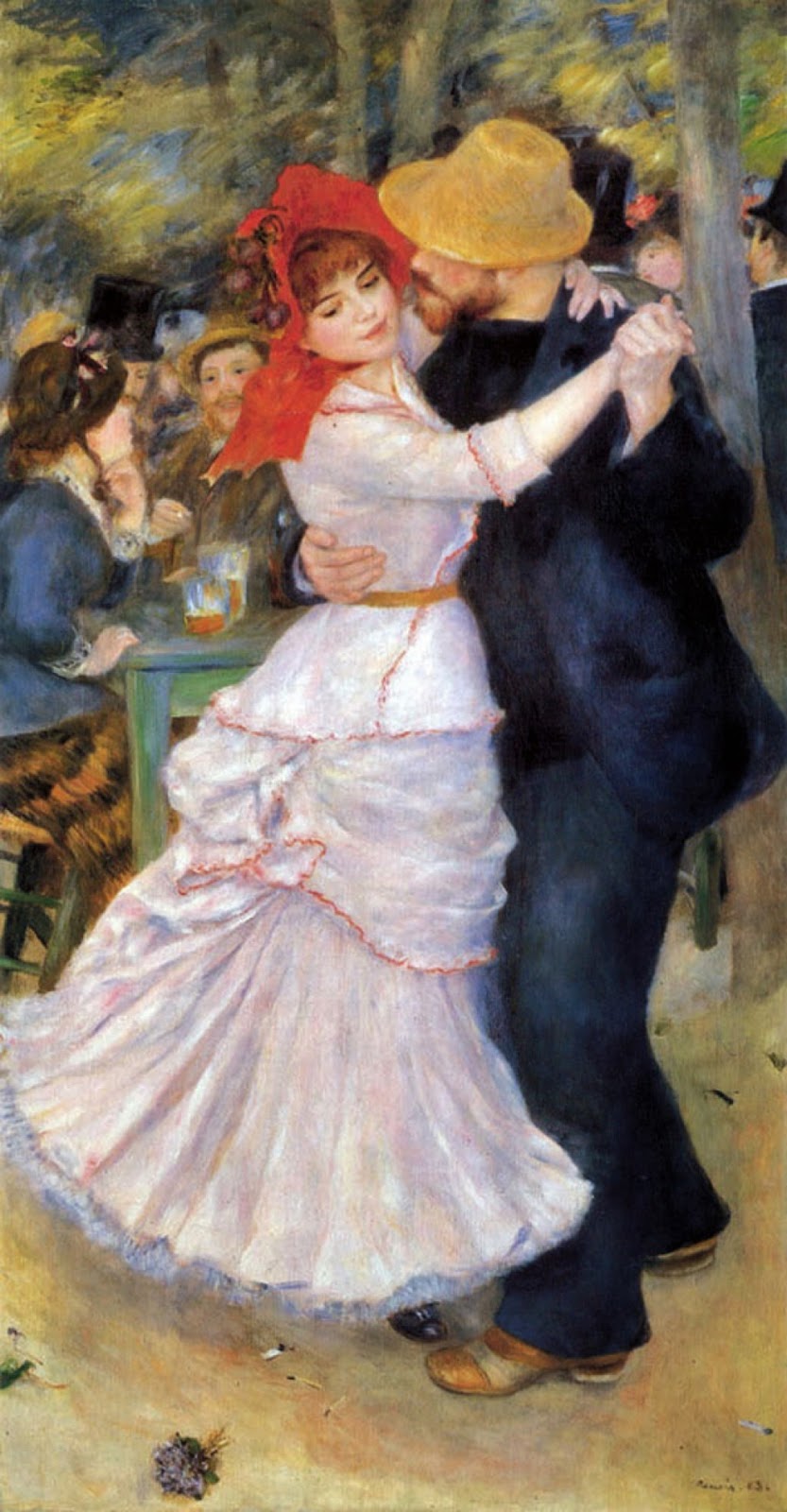 Renoir used two of his close friends for this painting, Paul Auguste Llhote, and Suzanne Valadon. It shows his preference for the female form. It is one of his most famous pieces, and it has been described as the "one of the museum's most beloved works".
20. Dance at the Moulin de la Galette  1876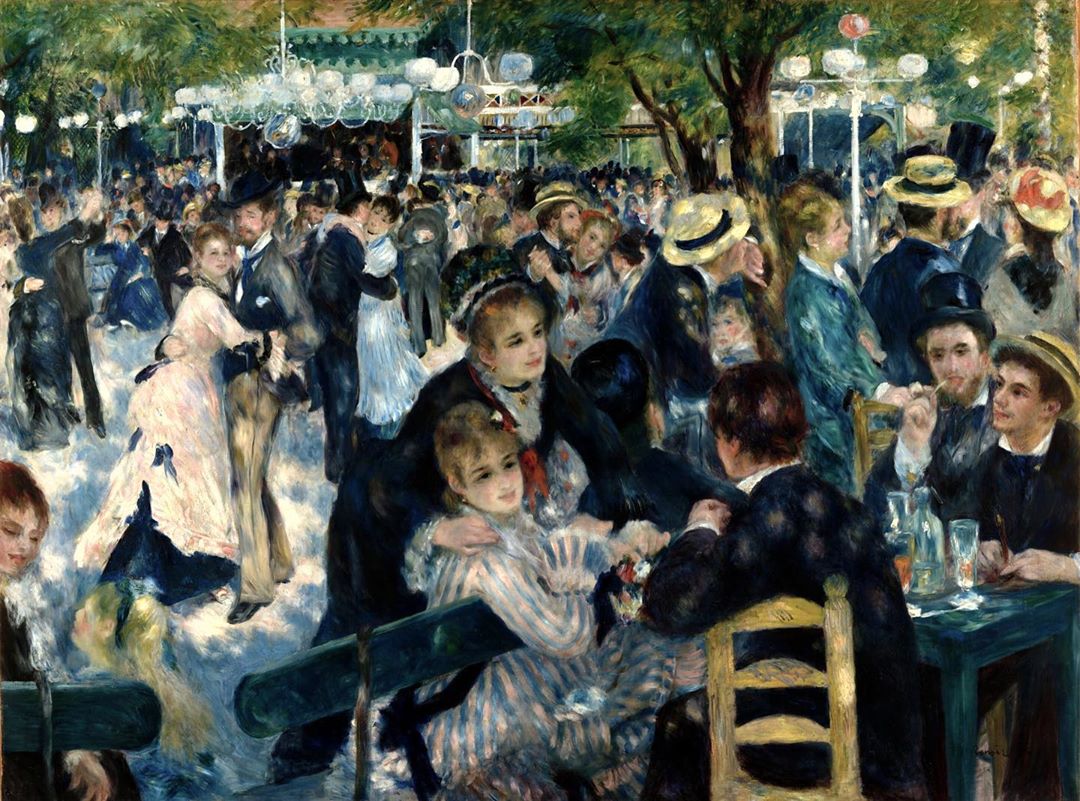 This painting is considered one of the most celebrated masterpieces of Impressionism. It shows the nature and beauty of the movement, depicting a typical Sunday afternoon at the original Moulin de la Galette.
21. The Large Bathers  1884-87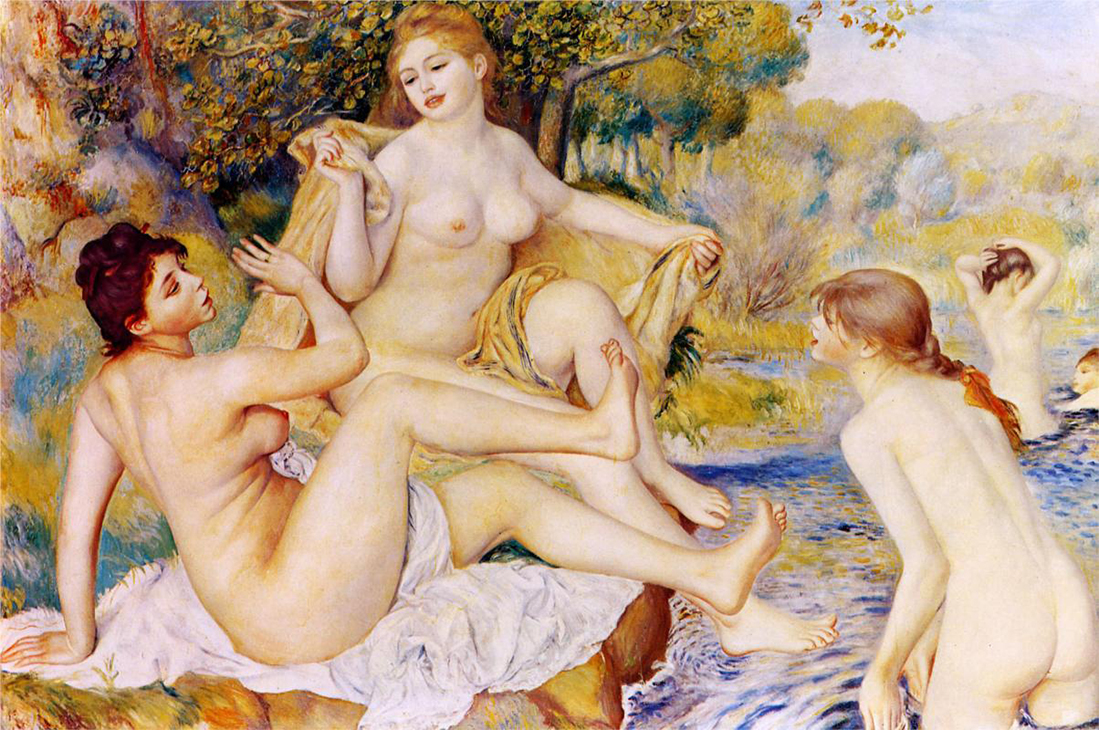 Renoir did a number of preliminary designs for this painting. It was greatly influenced by Delacroix, as the artist admired him in his early years. It depicts three nude women bathing, again showing his preference for the female form.
22. Woman Arranging her Hair 1887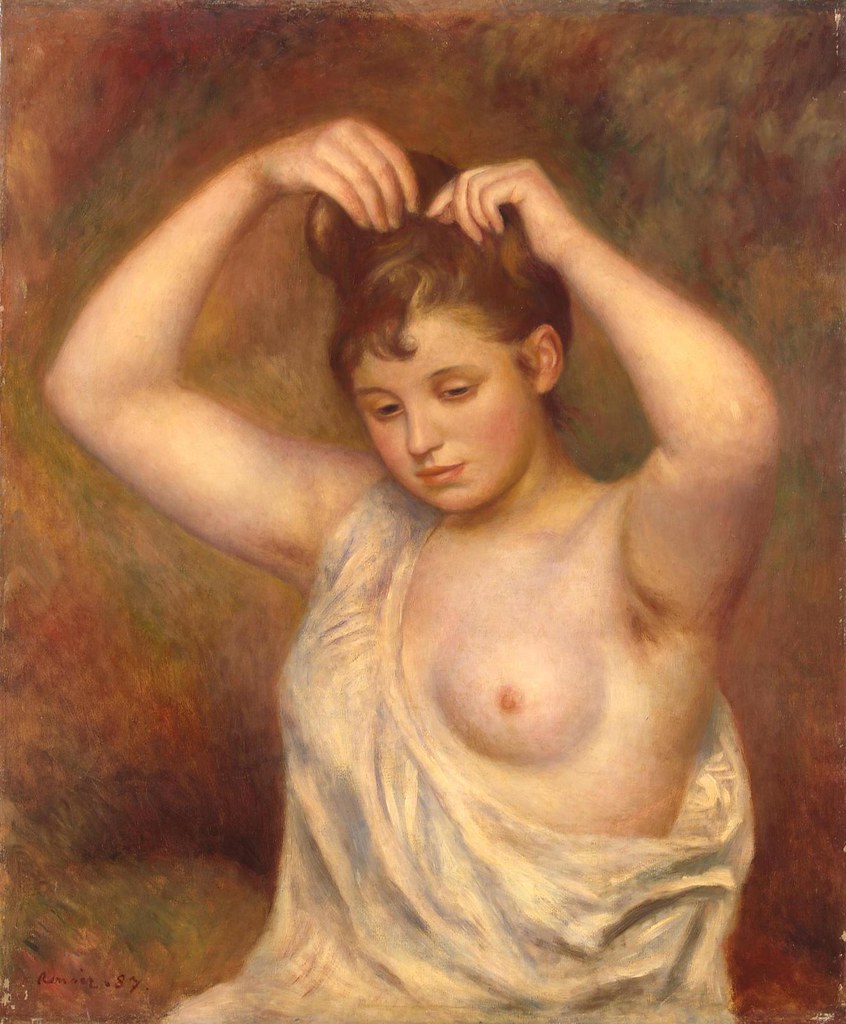 This shift in style is quite visible in this painting. It is one of his better pieces of the series of portraits of voluptuous bathing women.
23. Two Young Girls at the Piano, 1892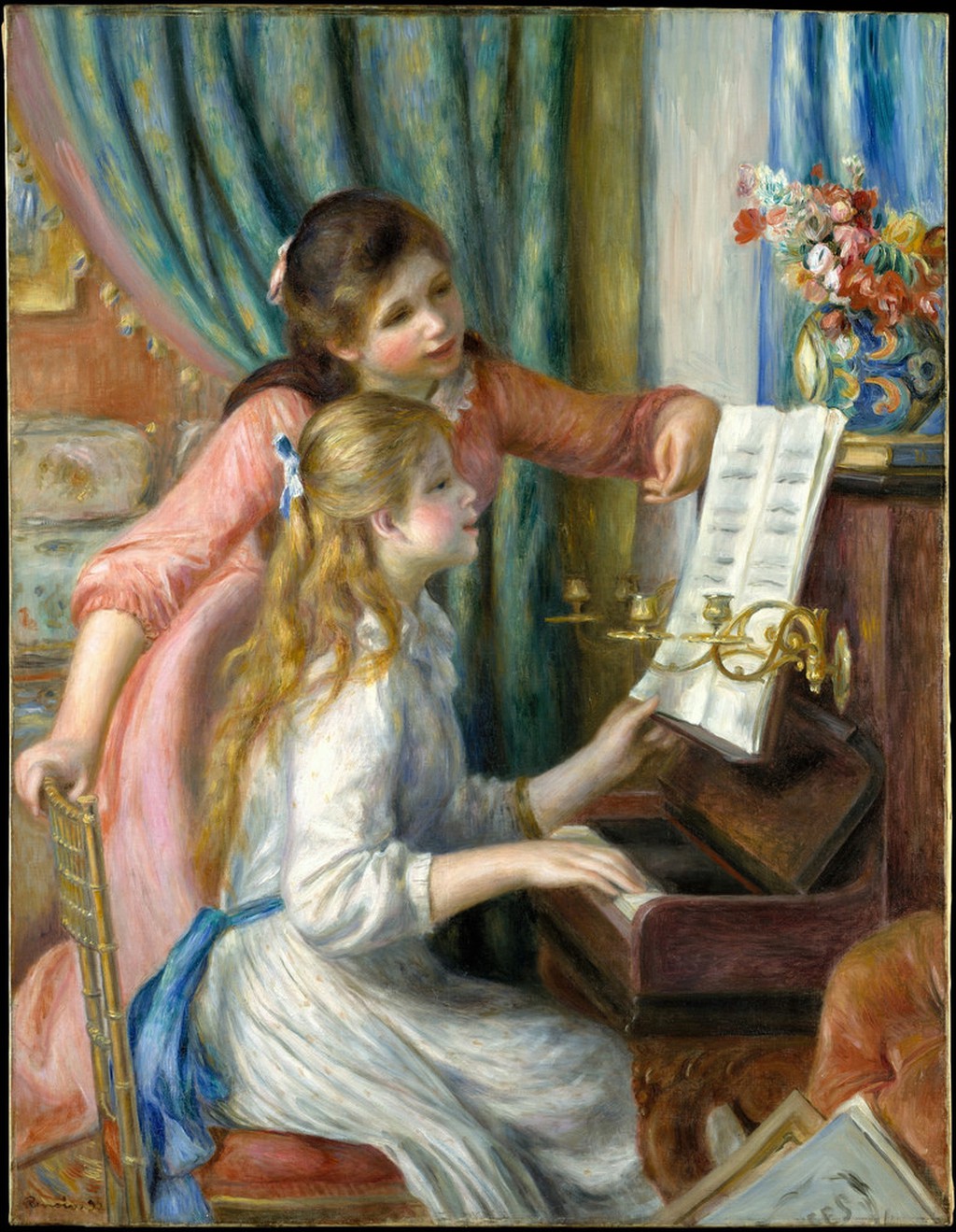 Renoir was invited by the French government to execute a painting for a new museum in Paris. The museum was devoted to the work of living artists. He chose two girls at the piano as his subject. He made three other variations of this composition.
24. Portrait of Ambroise Vollard 1908
Vollard was a French art dealer, regarded as one of the most important in French contemporary art. Renoir showed him as a big and heavy man, mocked for his bald head. And even in a portrait of a man, he included a nude woman in the painting.
25. The Artist's Family, 1896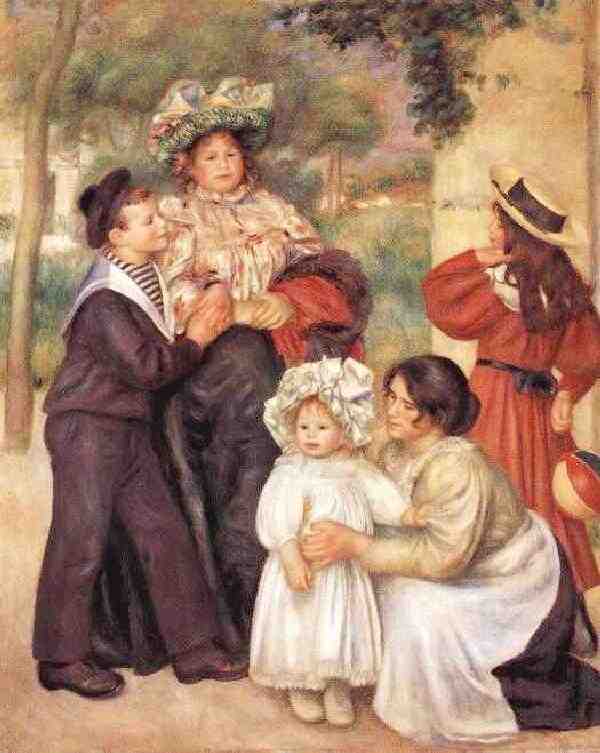 In his later years, Renoir painted more about himself and his family. Therefore, he made a painting of his closest family.
26. Renoir Self-Portrait 1910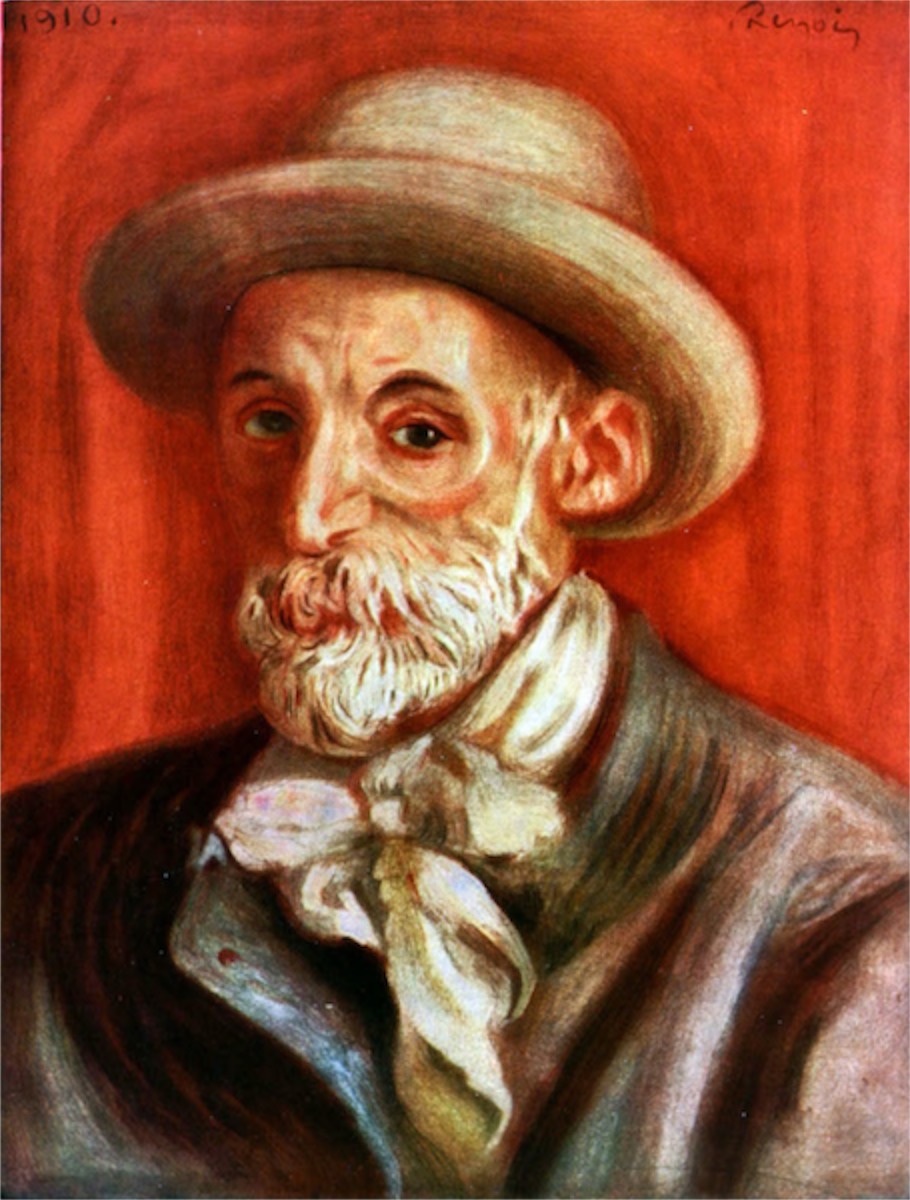 Renoir was best known for portraiture and figurative work. It is only logical that he made a portrait of himself as well. In fact, there are a couple of self-portraits. This one is done in his later years.
27. Girl With a Mandolin 1918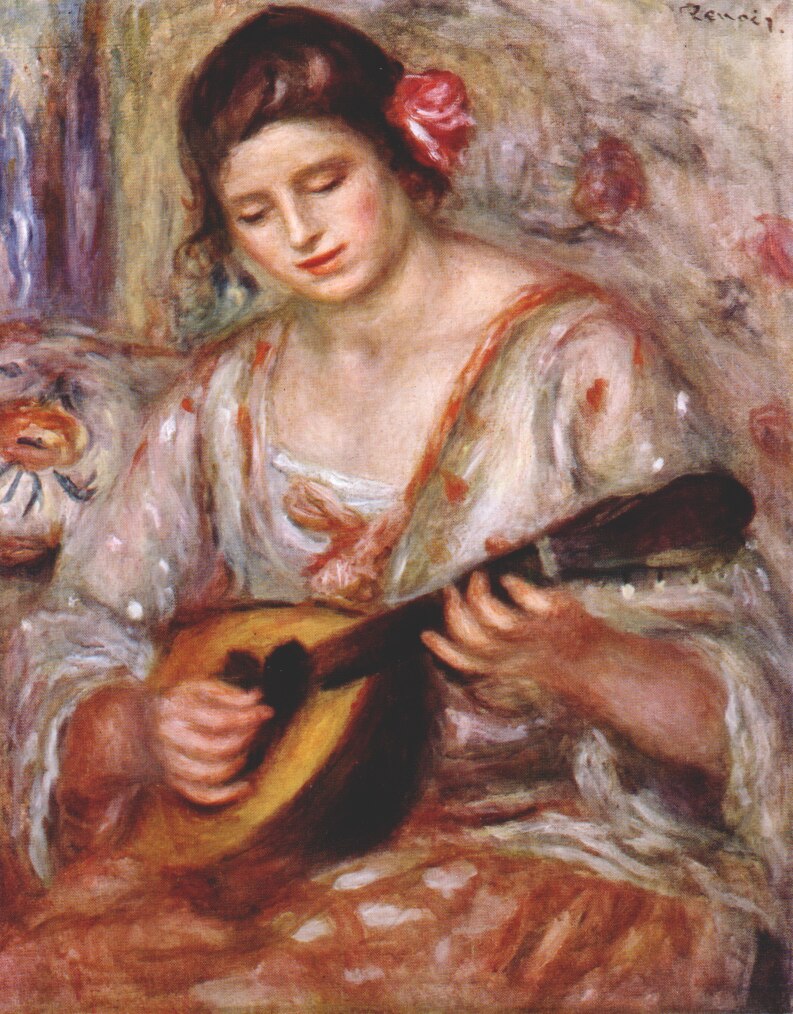 This is one of the last paintings done by the famous painter. The change in style and painting technique is evident. At this point, he had to change his painting technique due to the arthritis.
28. Landscape 1919

During the first two decades of his career as a painter, he was doing a lot of landscape work. It is only logical that some of his last pieces of work are also landscape.