There's more to walls than meets the eye, and there are several different types of wall treatments to consider when designing or upgrading a space. To pull a room together, modern fashions have leaned toward flat, blank walls and a focus on color. A distinctive wall texture, whether in a room or on a single accent wall, may give your home a personality that a color choice alone will never do.
Wall texture types could be exactly what you need to brighten up and transform your living environment. Texturing can even assist disguise architectural flaws, saving you money on costly repairs by blending an uneven wall or ceiling into a pleasing textured pattern. You can create a unique, textured effect for your walls and ceilings that is eye-catching, mood-setting, and individualized to your decorating tastes with a little effort. Whether you're looking to add a new texture to your home or just want to figure out what that strange pattern on your ceilings is, there are a variety of drywall texture types to choose from, ranging from deceptively simple to surprisingly complex.
You're undoubtedly familiar with a few drywall textures if you're like most DIYers. A paint sprayer, a specific brush, a trowel, or a knife can all be used to produce different wall texture types. Some designs necessitate a mix of these techniques. So, take a look at the list below, and get inspired for your new wall.
Coffered Ceiling Design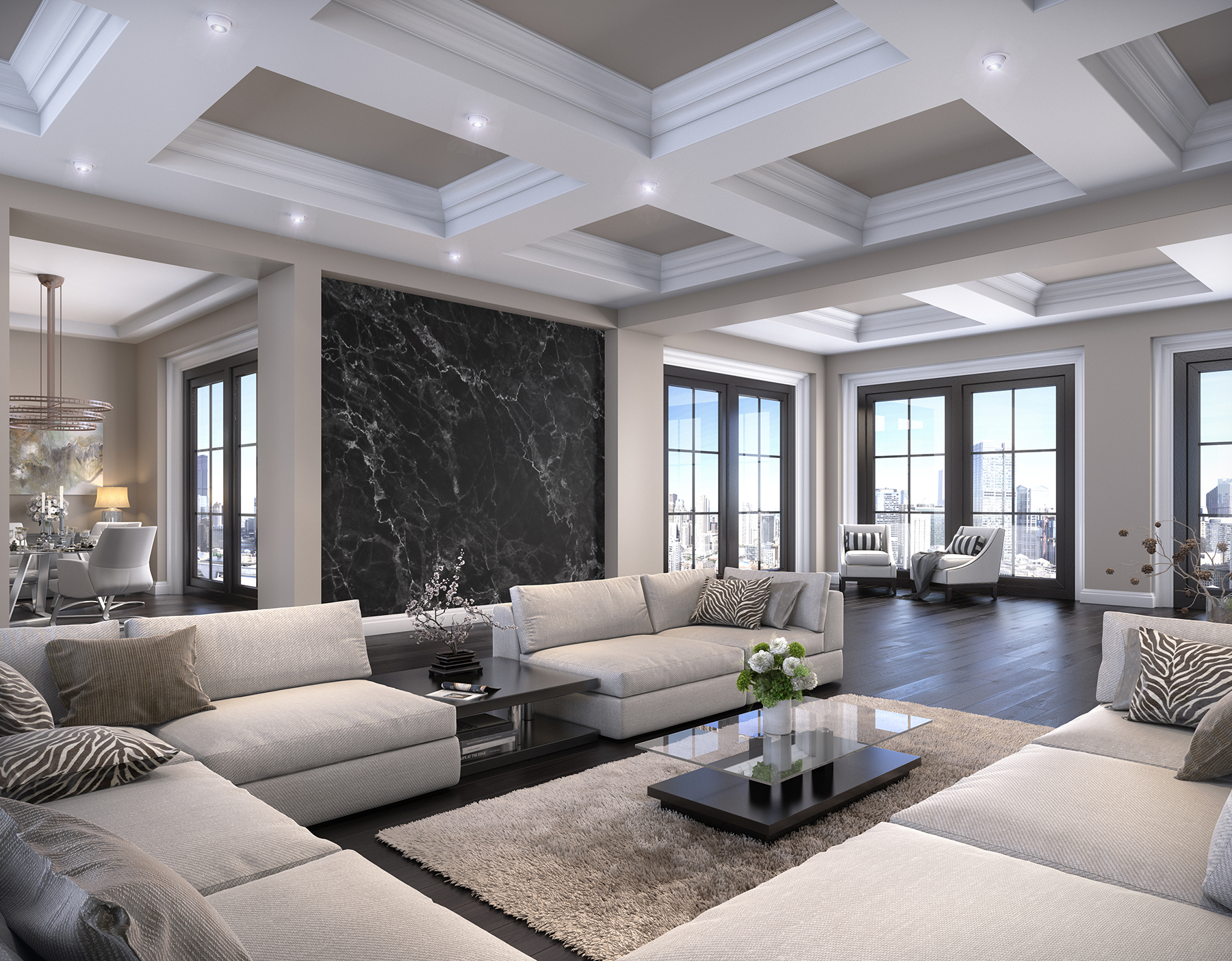 You can add drywall to your ceiling as well to create higher or lower space, as the room requires. Play with the lights as well, and don't ignore those crazy faults you have on your ceiling. This will let you take care of them, and at the same time give your room a posh and elegant feeling. The lights will only add to the overall style.
Hide the Lights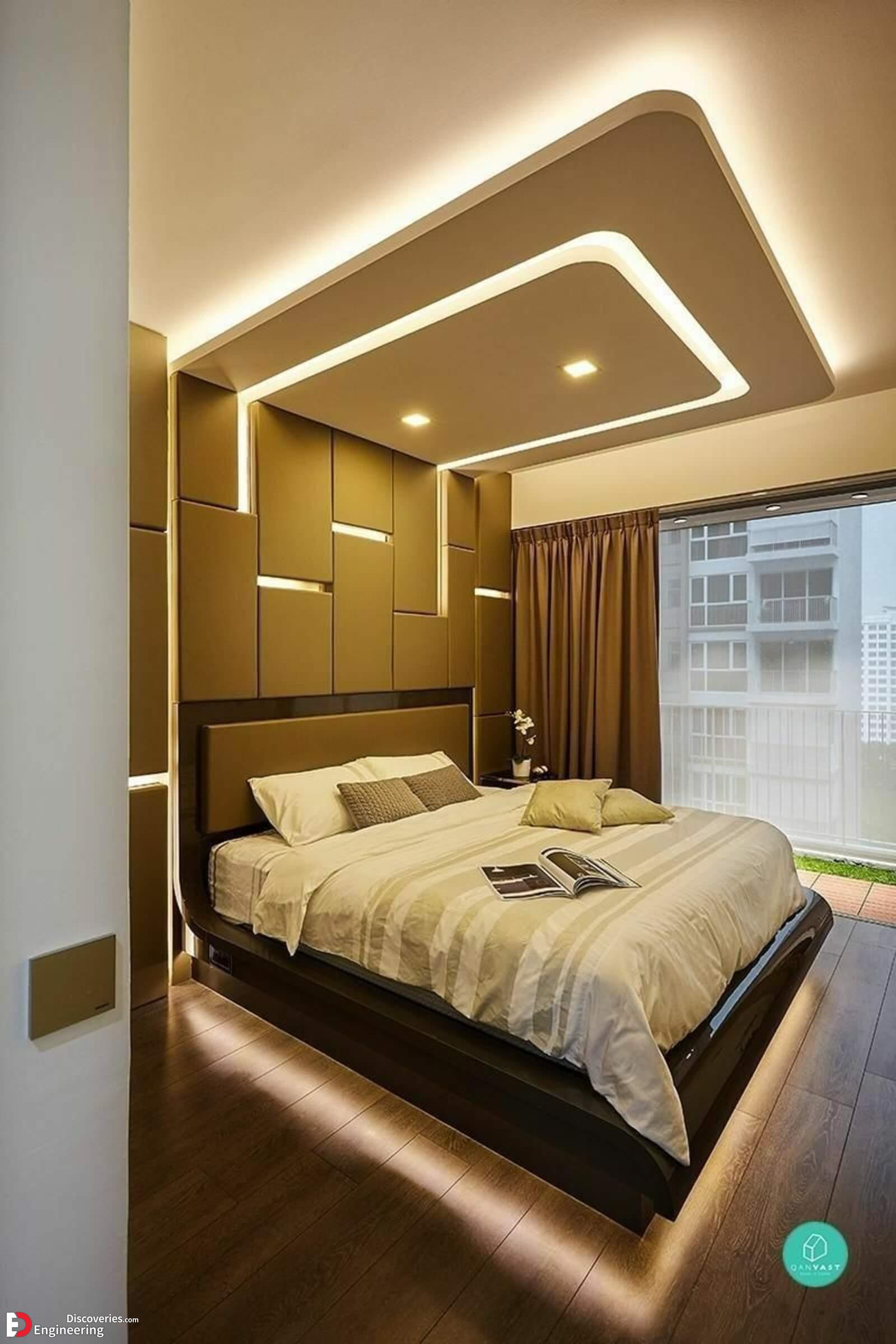 Play with the lights in the bedroom, on the walls, on the ceiling, everywhere. You'll surprisingly get more light in the room, and still not have it flash right into your eyes. It's a wonderful surprise at every turn, from sophisticated machinery to storage and distinctive fixtures, and it's undoubtedly a home unlike any other!
Grey Striped Wall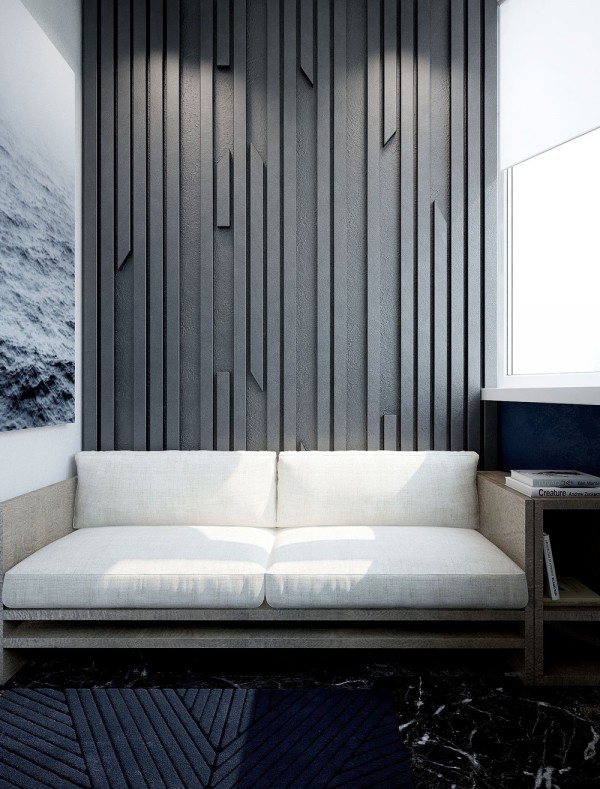 The ocean print and muted hues, along with a strong textural accent wall, would undoubtedly contribute to a comfortable and informal home office atmosphere. Especially if you contrast the deep ocean grey with white furniture and dark floors. It will bring out the best in the room, and hide the worst.
Sand Waves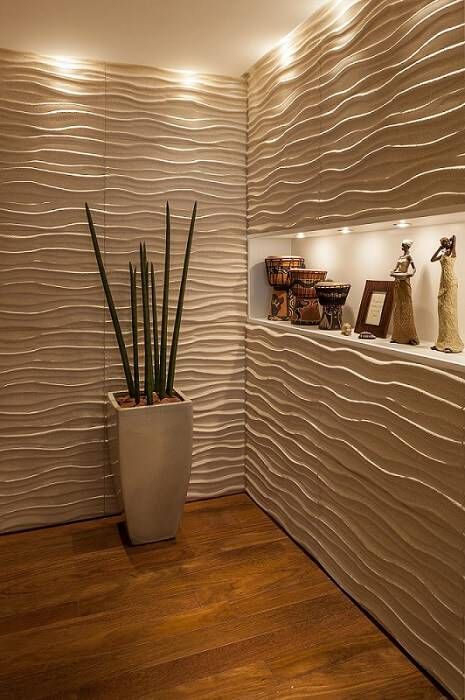 Sand color, as well as the waves, gives you the relaxation and calmness you need. So, making a wall in the tone of the sand and the form of the sea can impact the way you feel at home. It doesn't have to be a whole room, only one wall or even a corner is enough to make you feel great at home. Add some flowers to complete the decoration.
Accented Wall
Even the hallway or the corridor can look appealing if you opt to put in it an accented wall. Why feel dull in your corridor and great in your room when you can feel great in your whole house. Play with textures and colors to get a perfect balance and enjoy every inch of your home.
Bedroom Wall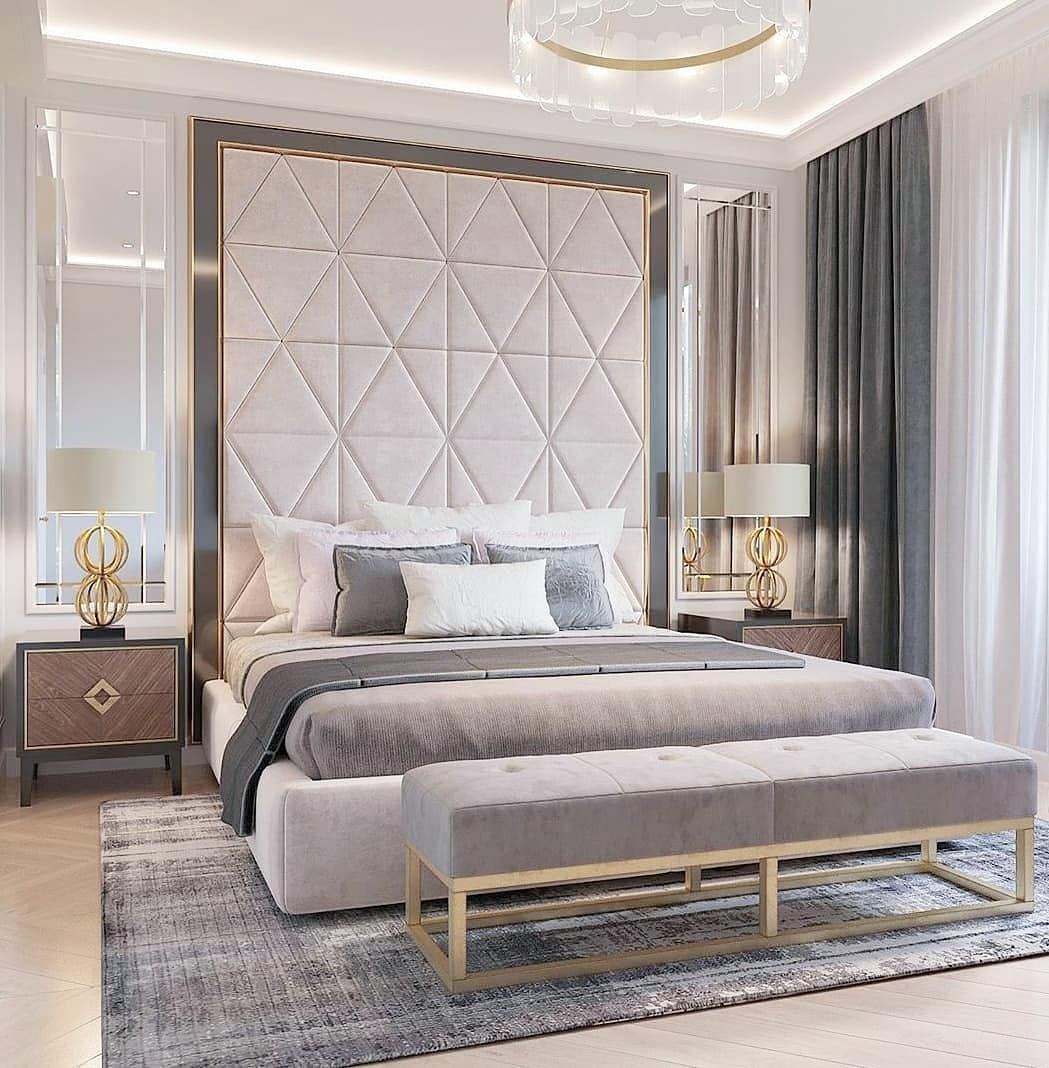 You can choose the size of these panels. There are no connections between the panels. The cushioned panels form a pleasant and protected wall decoration that is both beautiful and functional. This lovely addition to a bedroom will bring the space together and offer texture and warmth.
Fishtale Wall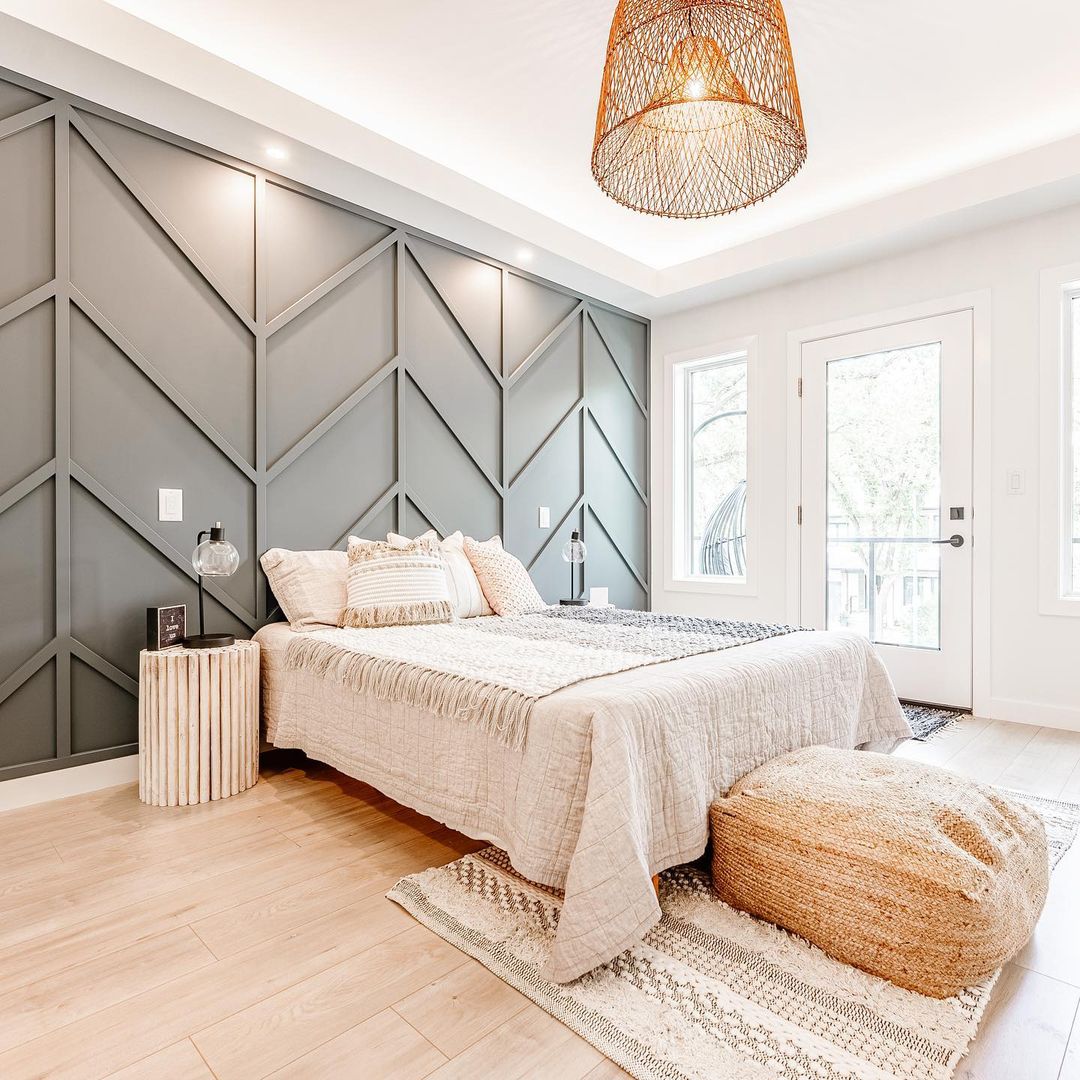 A contrasted grey-toned wall can really brighten up the room. But a patterned wall can make a big difference. If you don't know how to decorate the wall, and still feel that the floor is too simple, choose a large fishtail pattern. It will give the space a special feeling to make you feel great whenever you enter the room.
Well-balanced Lighting System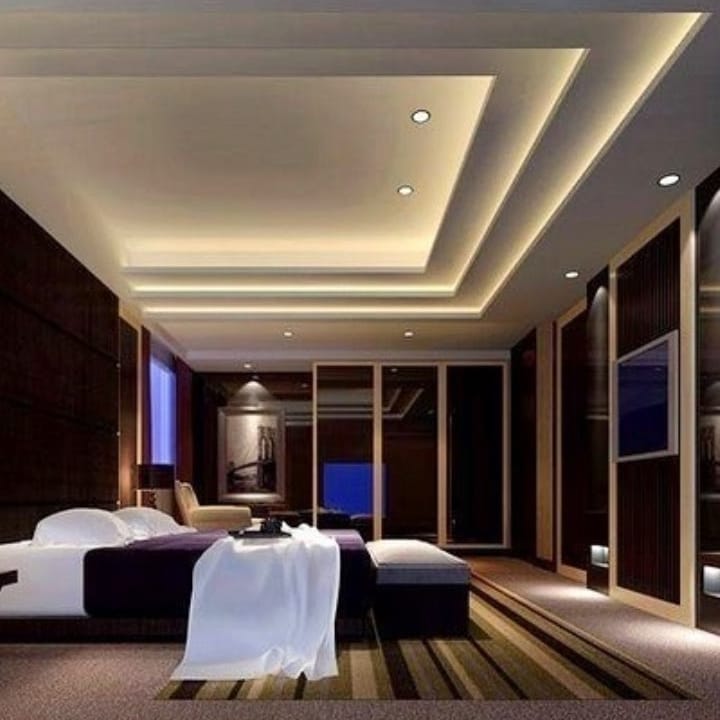 Before you start planning anything, think about the lighting requirements in your bedroom. Bedroom lighting, like everything else, requires a balance of different types of lights in the appropriate number and placement. Furthermore, the bedroom requires a well-balanced lighting system that serves multiple objectives. For most bedrooms, 9 feet is considered an acceptable ceiling height. As a result, anything less than that makes the area feel cramped. Between the actual ceiling and the artificial ceiling, there is a 5 to 6-inch clearance. This is great for any lighting fixtures that need to be hidden. If you have a low ceiling, though, ceiling-mounted lights are the way to go.
Balck and White Pattern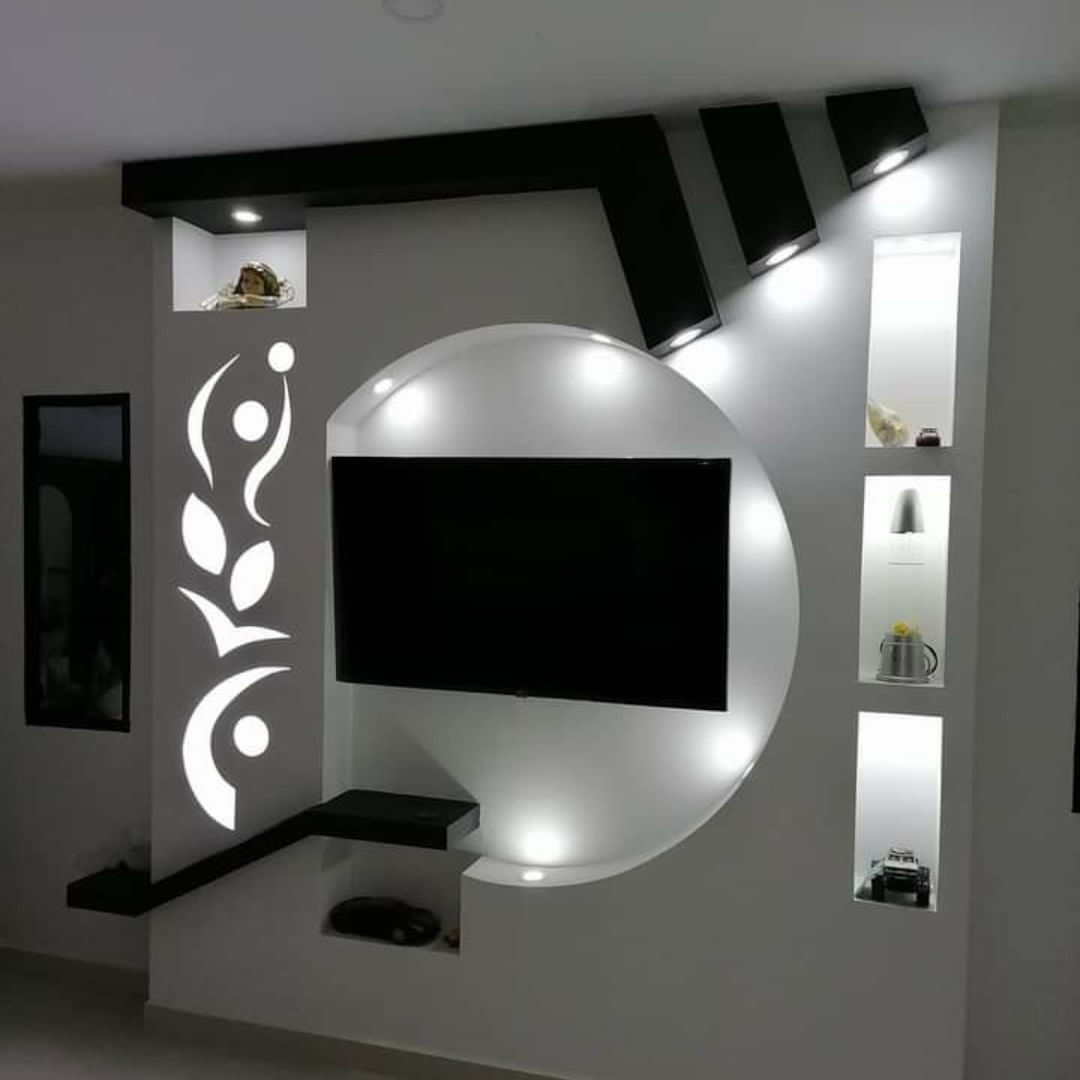 Black and white is always a thing. There's no other more minimalistic thing than black and white. So, play with it even on your walls, especially if you want to accent a single wall in your living area. White walls with black details and black built-in TV can change the way you see your favorite resting spot in the house.
Blue Lights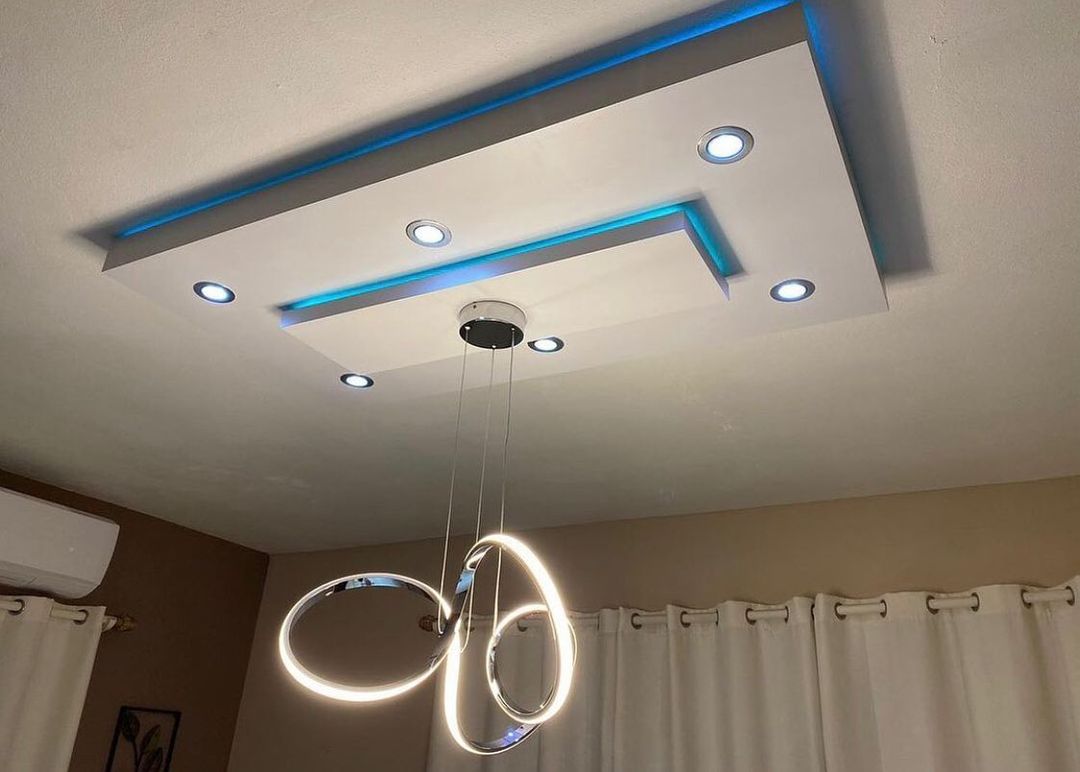 If you feel like the chandelier is not enough, make a decoration around it and install some blue-colored lights in it. It will give the ceiling a new life, and it will additionally make the chandelier pop and the room light up. The only thing you have to be careful about is that the light in the chandelier is bright white.
3D Walls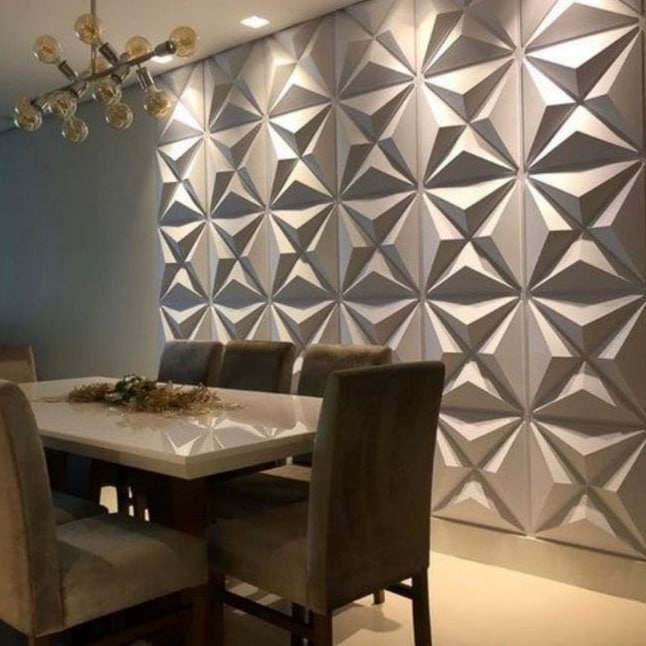 These squared 3D patterns are great for the walls in your living room, dining area, or even your bedroom. It will give the room a modern, yet sophisticated look. And if you add lights right above it, it will ply with the shadows and create an even better effect.
Stained Wall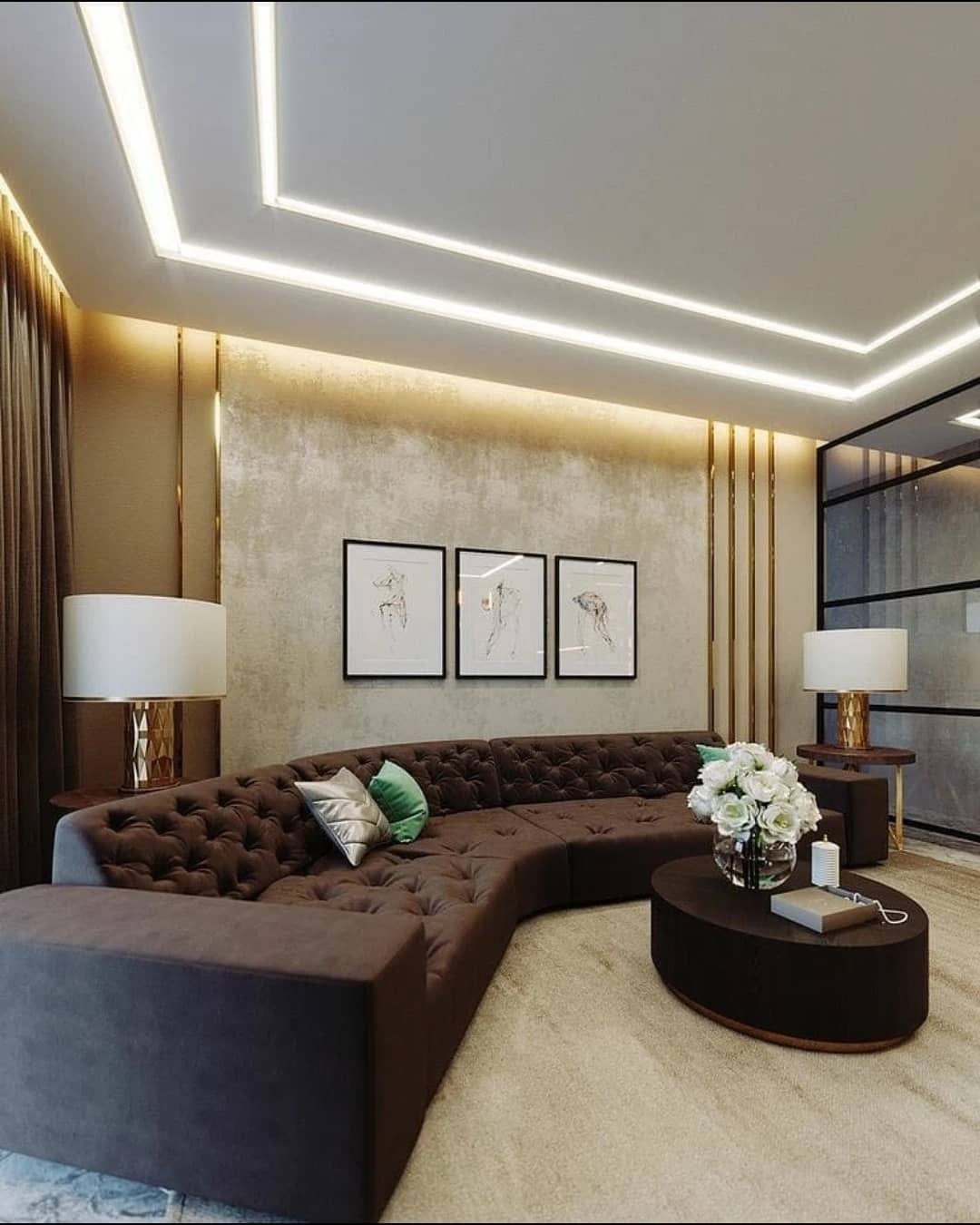 Sometimes only a stained pattern on the wall can make the room look different. Try playing with different shades and coloring schemes to get this effect. Add some pictures on the walls to complete the look of the wall and make the room shine.
Squared Wall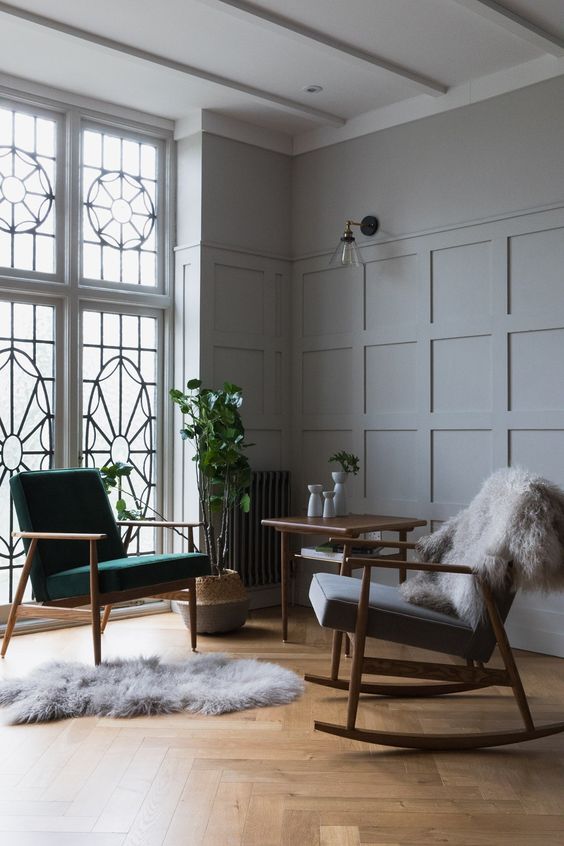 Go back in time with this vintage squared wall. You don't have to put it on the whole wall, only give an accent to a part of it to make you feel cozy. Play with the furniture, combine different styles and get a perfect balance.
Sparkle White Quartz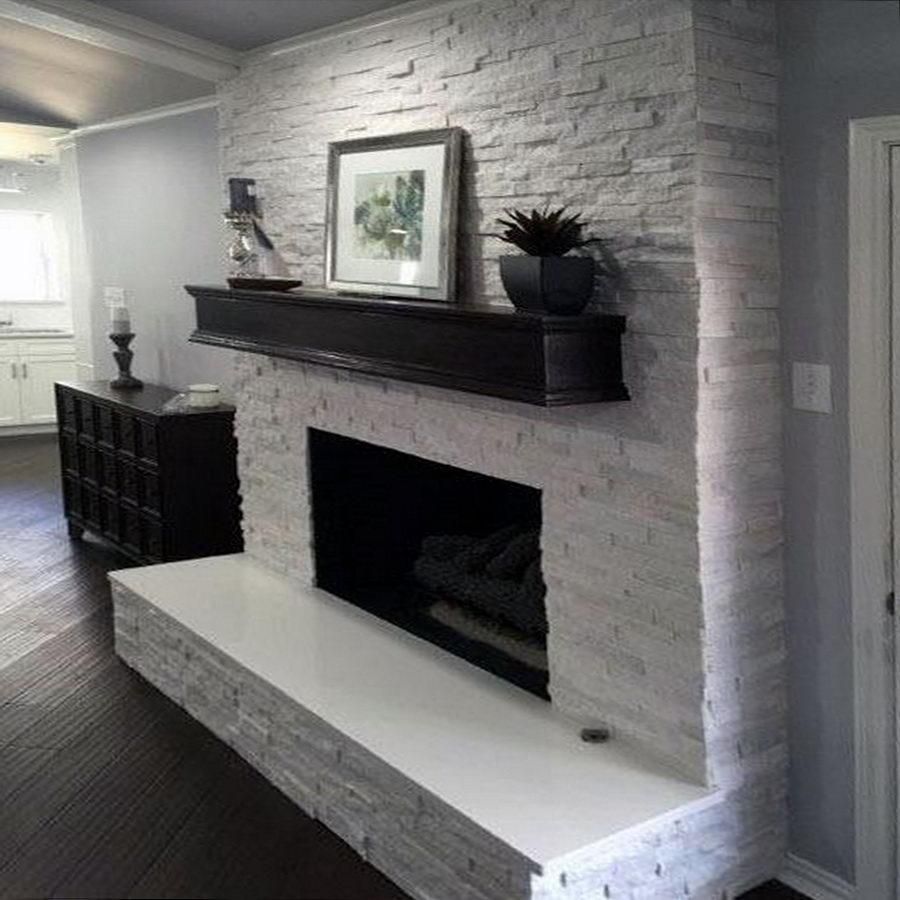 Quartz split face tiles with a gleaming white finish are becoming increasingly popular. They look fantastic on a feature wall in a homeowner's home. They're especially lovely as a backdrop behind a TV/media center, a fire surround, or any other location of the house or yard (BBQ, garden wall, etc) where you wish to create an understated yet sophisticated aesthetic.
Marble Patterned Wall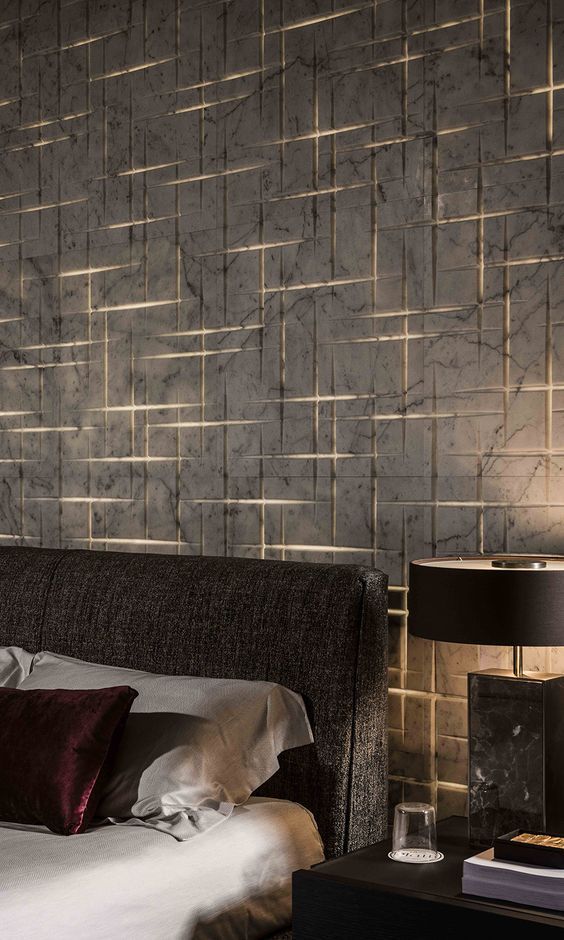 Although natural finishes such as rocky, wood, or marble are the most common, there are also alternative textures. Lithos Design's creation is stunning. Do you think you'd be brave enough to try something like this at home? As you can see, the colors and textures you choose will be determined by your preferences and the available area.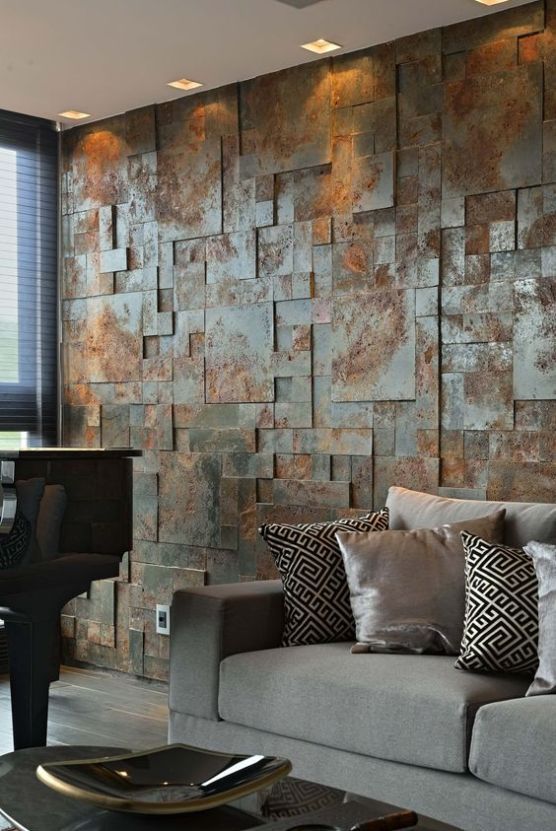 If you still don't like to decorate your home, a wall treatment is an ideal option. You may create an interesting texture by using an old metal wall that is placed irregularly. It will also give your living area an industrial feel and attract the attention of everyone who sees it.
White Waves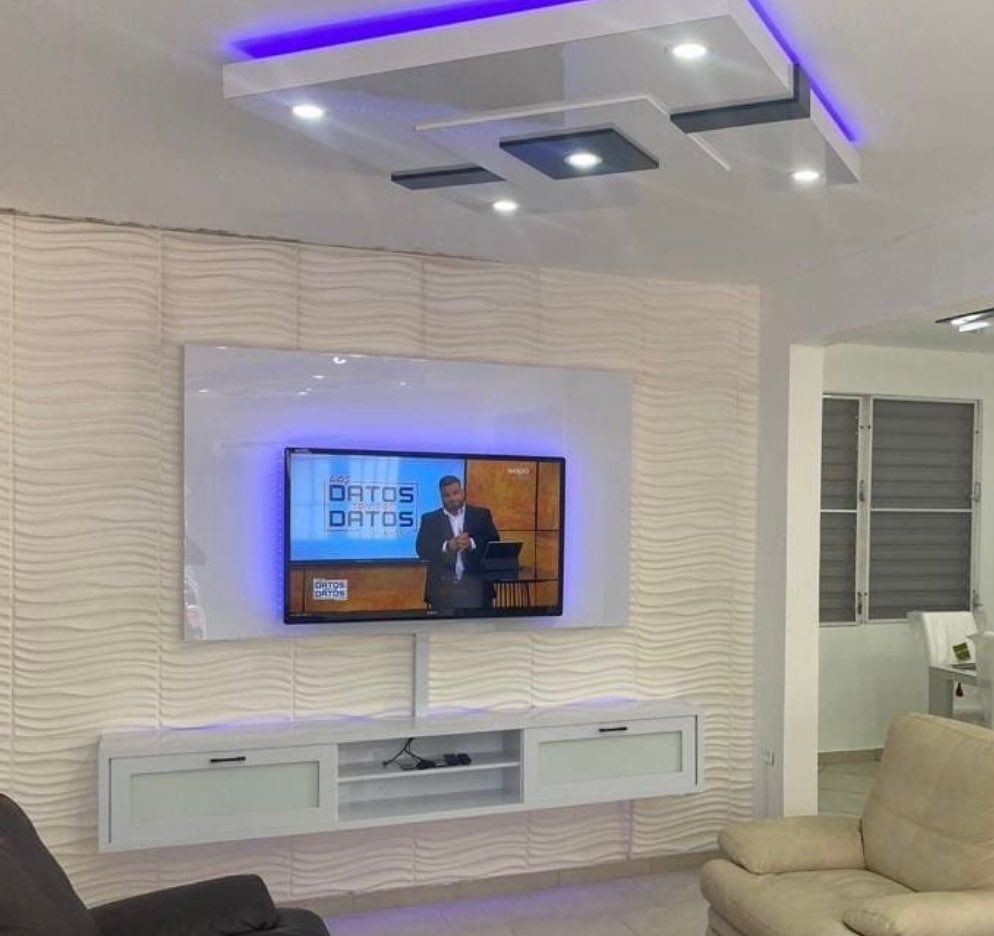 Waves make you feel calm and relaxed. It makes you feel like bringing the sea into your home. Now, if you combine them with blue backlight and not put them all over the place, you can really enjoy just like being on the beach. Enjoy them and relax.
Vault Design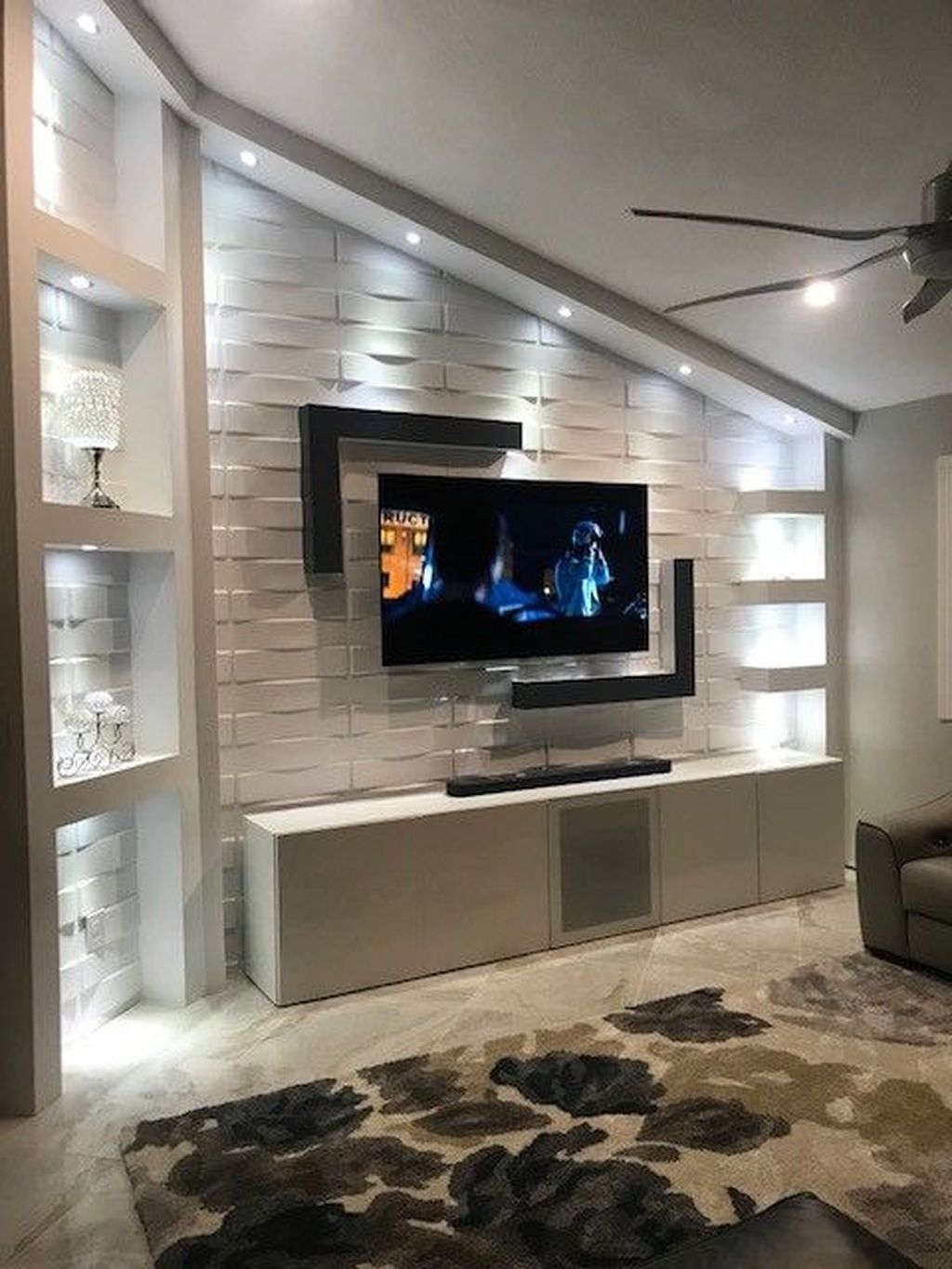 This design is particularly suitable for the wall where you'll hang your TV. It will brighten up your wall and give it a modern twist to distract the dullness of the white. Enhances the look and feel of any room by adding depth and flair. Combined with a differently patterned carpet, it will light up your room.
These were the ideas we chose for you. Now get inspired and redecorate your home. Share your ideas and creations in the comments below.