Even after decades, if not more, people still value and appreciate knitted, woven, and crochet items, and when it comes to choosing such items for the home, macrame is probably at the top. This weaving technique never seems to go out of style. Sure, it has its ups and downs, but never fully disappearing from some of the modern trends. Macrame might have its origins in the 13th century in the Arabic region, but its popularity most likely peaked in the 1970s.
Like many weaving and crocheting techniques, macrame is an ornament weaving art form that allows you to create anything from ornaments to furniture, and even clothes, creating patterns, as simple or as intricate as the weaver may want, all done by tying knots in cords made from yarn, twine, cotton, leather and more. The end result is a piece of artwork that may be decorative or functional. Macrame items have become almost an icon of the boho, hippy style and it is what most people today are assisting it with.
So, is macrame a popular way to decorate your home? If you are going for a more laid-back, bohemian feel to the plate, definitely. If you are not a fan of the boho style, yet enjoy the intricate patterns of the macrame items, that is also a yes. So, in the end, the only time you shouldn't decorate with macrame is like with any type of decor, it is when you don't like it. And another great thing about macrame is that anyone can learn how to do it, and the starter pack for it as a beginner hobby is something anyone can afford.
So give it a try, and if you need more convincing, then you need to see our list.
Macrame Vase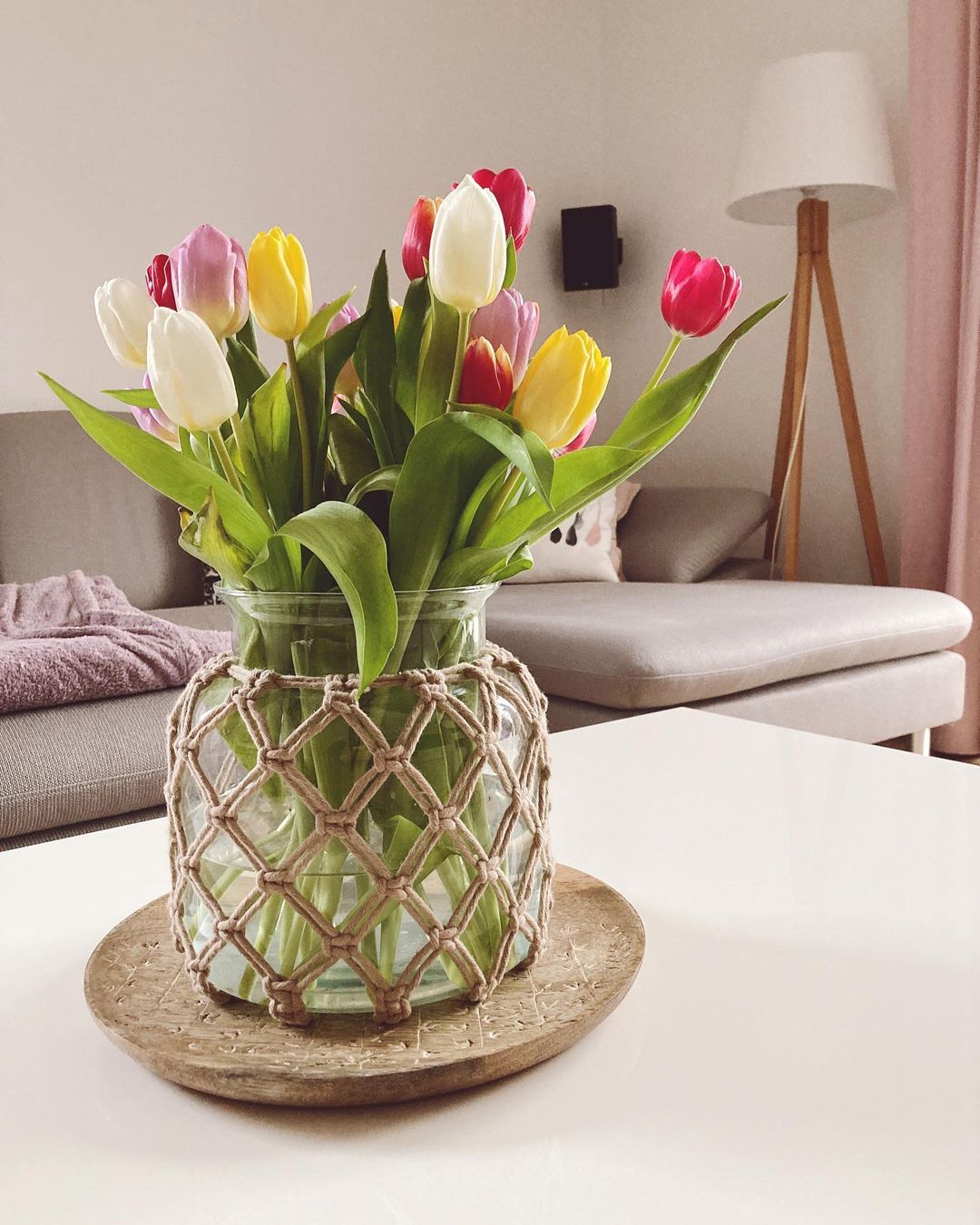 We're starting our list with a very common macrame item. A simple mesh-like cover for a glass vase or container, to add some extra texture to the vase, and add that earthly vibe.
Macrame Wall Art With Hanging Planter Pockets
A lot of people love items that have more than one use, especially if that item is an ornamental one. With macrame, the designs of the macrame you're creating are limited to your imagination and skill. Here we have lovely hanging wall art that also provides pouches where you can place your potted plants in.
Earthly Leaf Macrame Art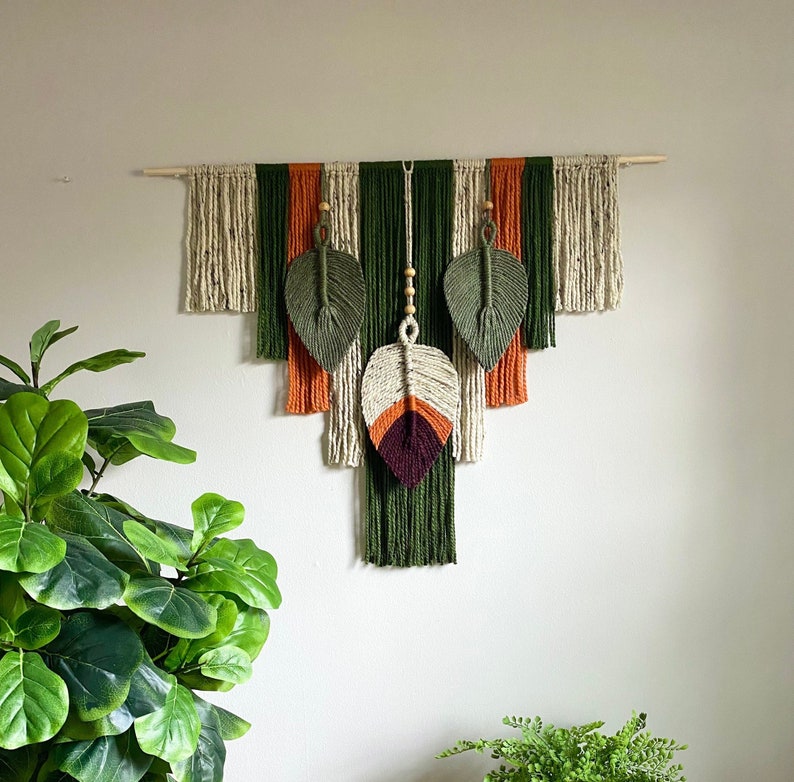 Most macrame wall art we see is monochromatic or has different colors, but simpler patterns. This piece is an example that you can make the type of wall art suited for any season or occasion, like this fall-themed macrame, which may look simple, yet features some pretty interesting design features in its accent pieces.
Macrame Bathroom Rug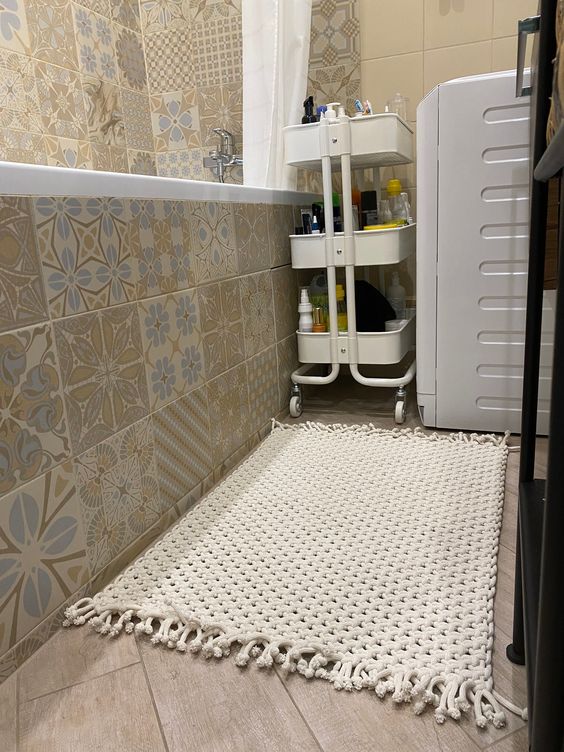 Different patterns in macrame may hold different values, but don't underestimate what you can make for your bathroom. Since macrame can be done with cotton cord and simple geometric shapes are not that difficult for macrame, making or getting a macrame square rug for the bathroom is a great idea. It's soft, water-absorbent, and will make your bathroom look ten times better.
Macrame Hanging Planters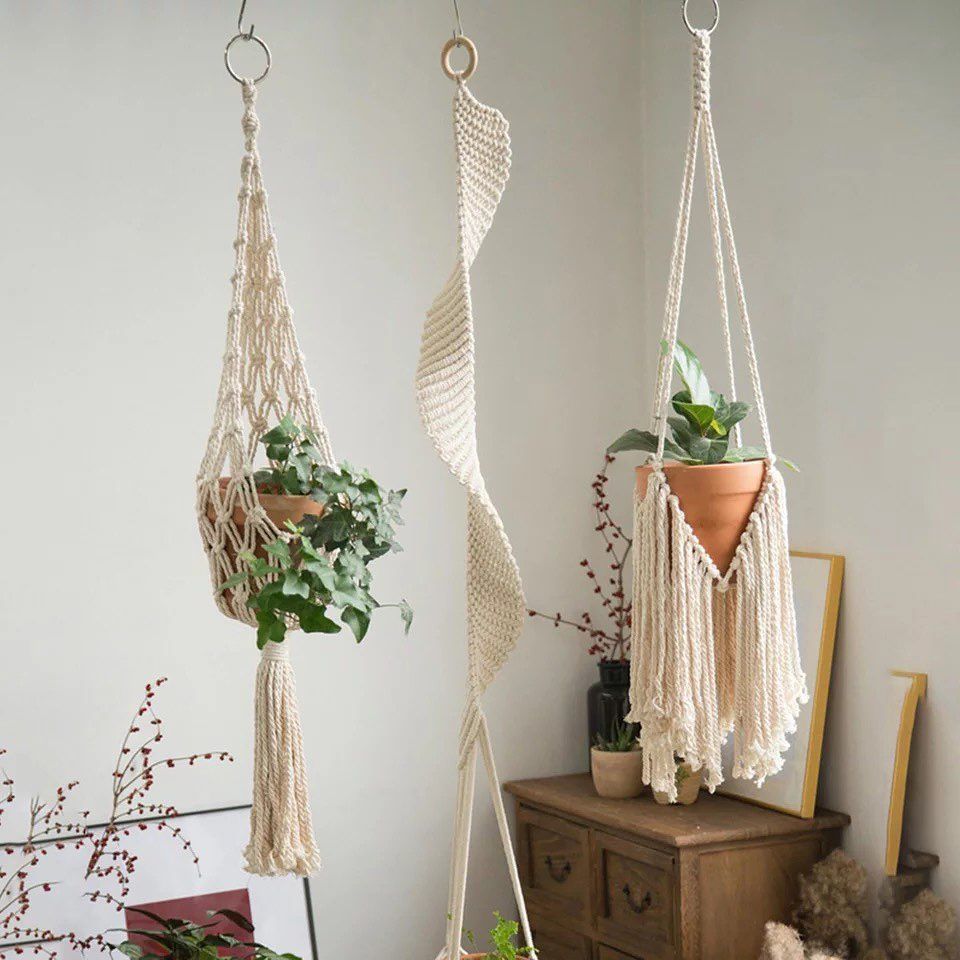 People who love plants can agree that part of the beauty of the potted plant is the planter it is in. Terracotta pots may be most suited for plants, as opposed to plastic, but they are quite dull. Macrame plant hangers truly transform the plant and you get the added whimsical look of the plant swinging in the air.
Macrame Hanging Shelf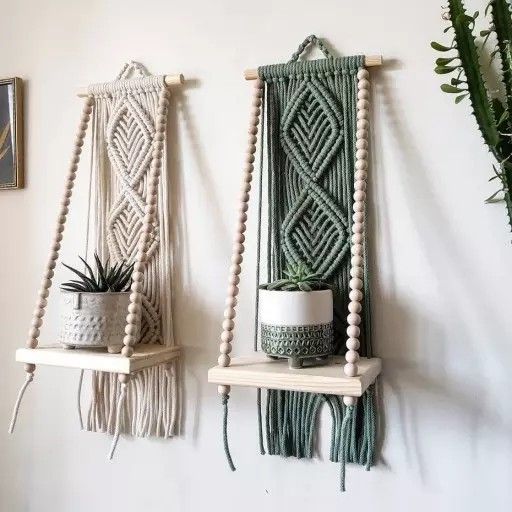 Renters are reluctant to drill holes in the wall to add shelves that they need, so a hanging shelf that can be mounted on one nail is certainly a better option, which is the case here. The bonus with this macrame shelf is that not only do you get to utilize some extra space, but those bare walls also get the needed beauty treatment.
Macrame Sun Mural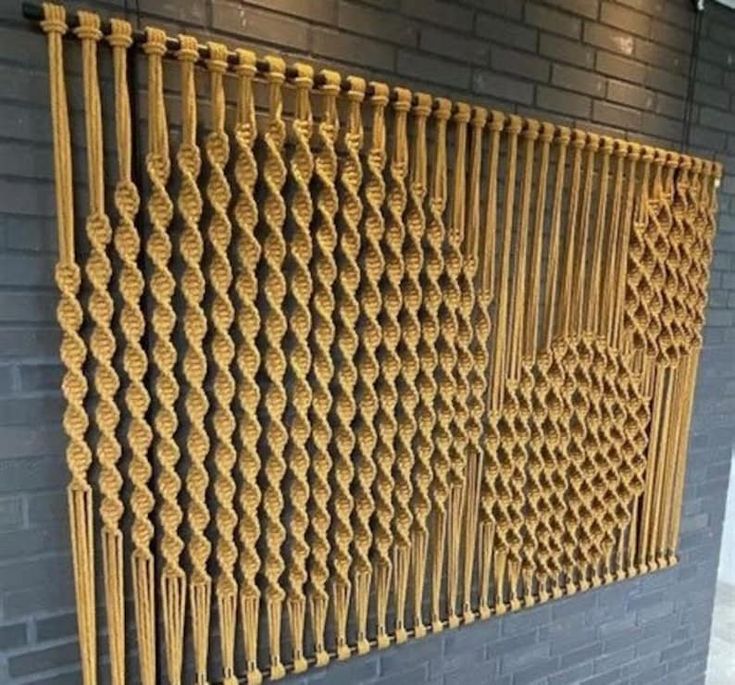 Unless you prefer the minimalist look, large wall surfaces can be an eyesore and problematic to fill out. Using the macrame technique you can create a large, modern tapestry of a splendid pattern that you can hang up and cover that empty wall.
Macrame Chandelier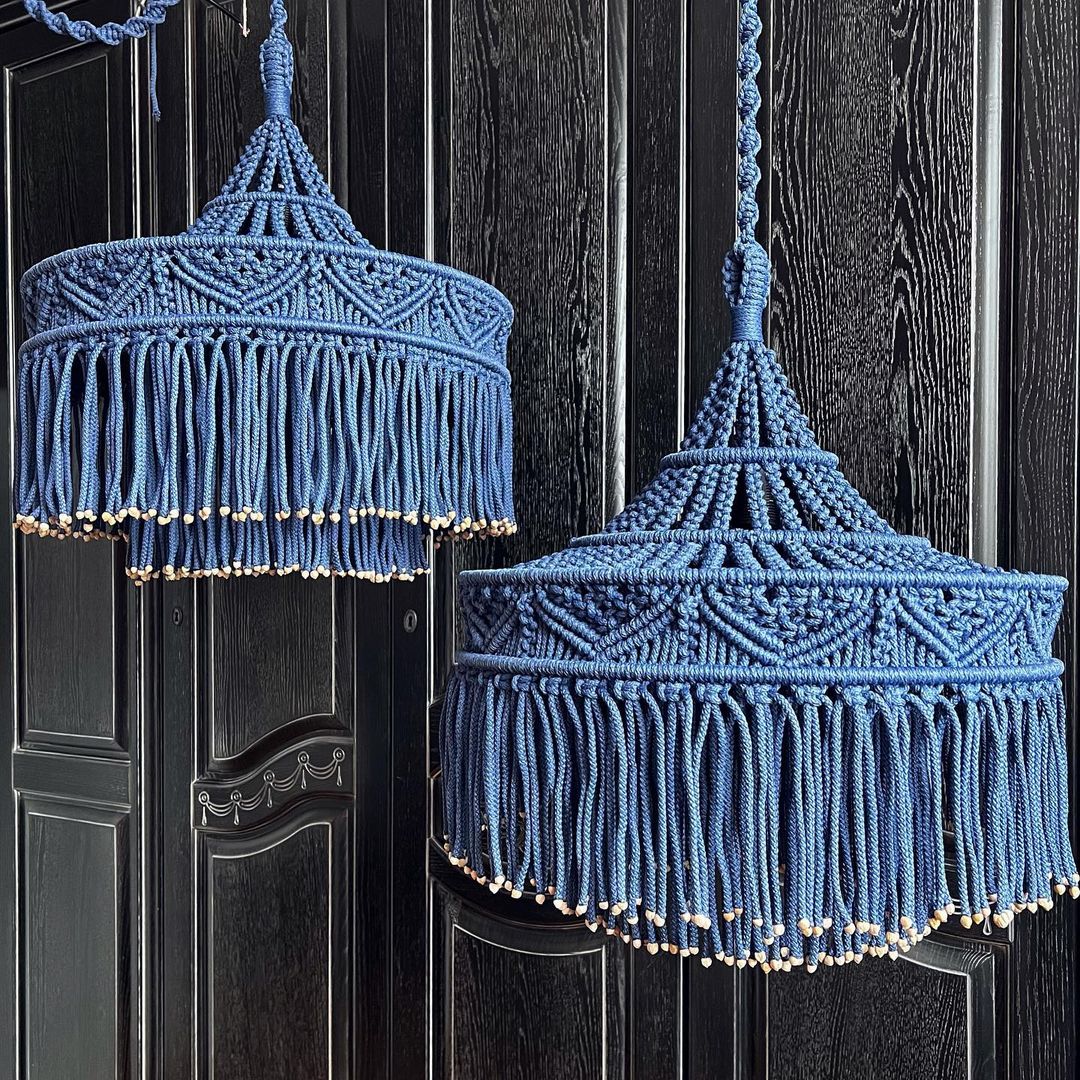 Big chandeliers have long been out of style, with people wanting a simple, modern light fixture that provides plenty of unrestricted illumination. Yet, you can't deny that these chandelier lamp shades would look quite regal in your home, even if the lamp becomes only a holding pole for this work of art.
Macrame Mirror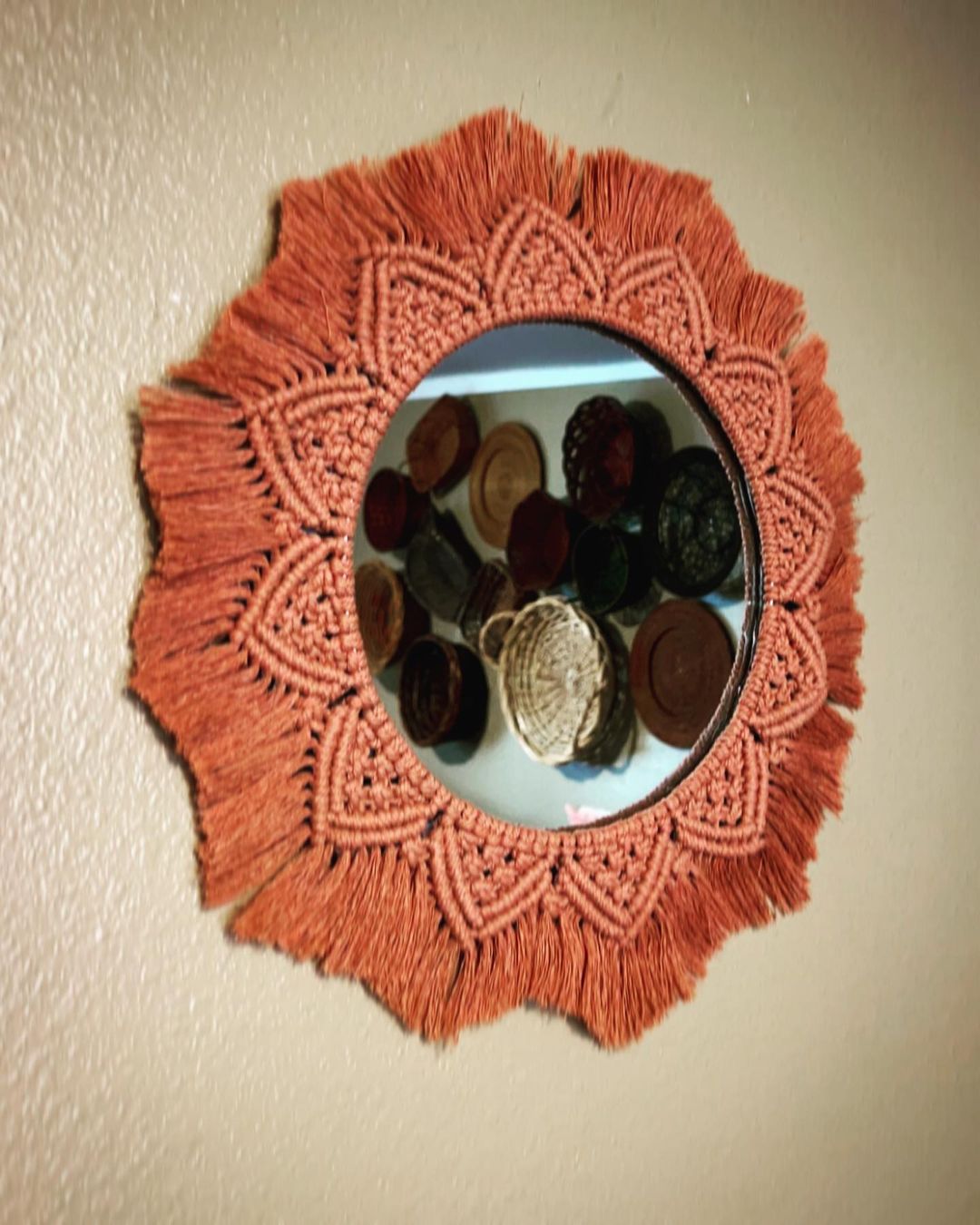 Aside from checking our look, mirrors are often used in interior decor as well. You can create certain shapes or patterns with some small mirrors, or you can frame one in a macrame frame and hang it to bring some shine to the room.
Macrame Cat Bed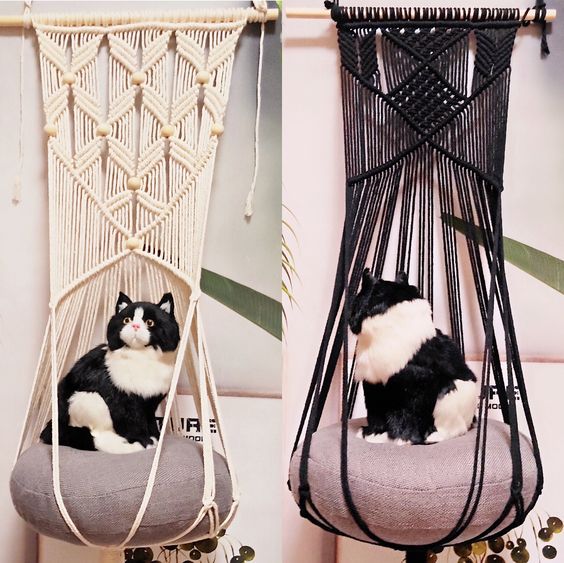 Pets are an important part of the family, so we should consider their needs as well. If you have the skill, you can make wonderful hanging chairs using macrame techniques, although you might need a lot of materials to do so, and you might not be confident in your skills. That can be resolved by practicing, like making a smaller version, a hanging bed for your feline friend. Or, if can get one because it looks gorgeous, and you can be sure that your cat will love sleeping surrounded by ropes.
Macrame Lamp Shade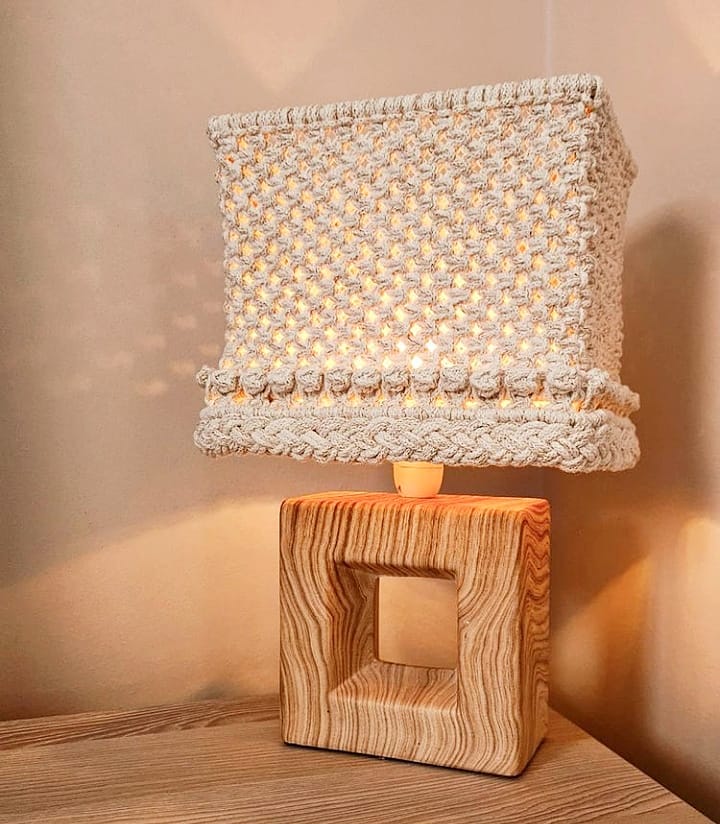 We mentioned that people today don't care much for something obstructing the light in the room, but sometimes you need a lamp that will create more of a tranquil atmosphere, To relax and have a good time. This small lamp has a very interesting design., with a hollowed-out square at the base of it and a bug macrame lampshade on top. It looks very cute.
Macrame Door Pouch And Small Ornaments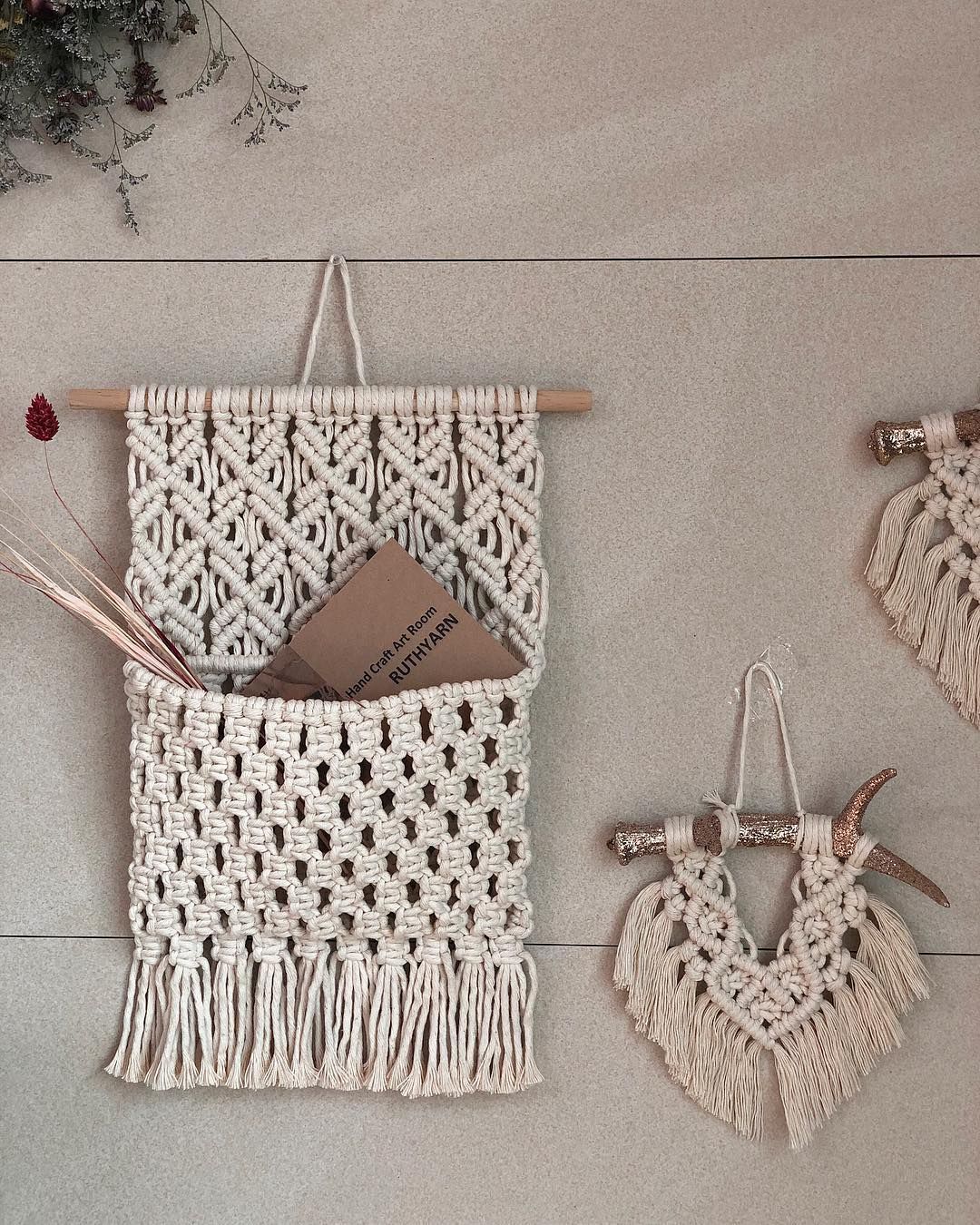 When we go inside our home, we usually leave the house keys, car keys, and other small items near the door, yet some entryways have enough room only for a hook, not an entryway table. Instead of a simple hook, you can get one of these macrame pouches, that looks wonderful and would hold more items than a regular hook.
Macrame Room Divider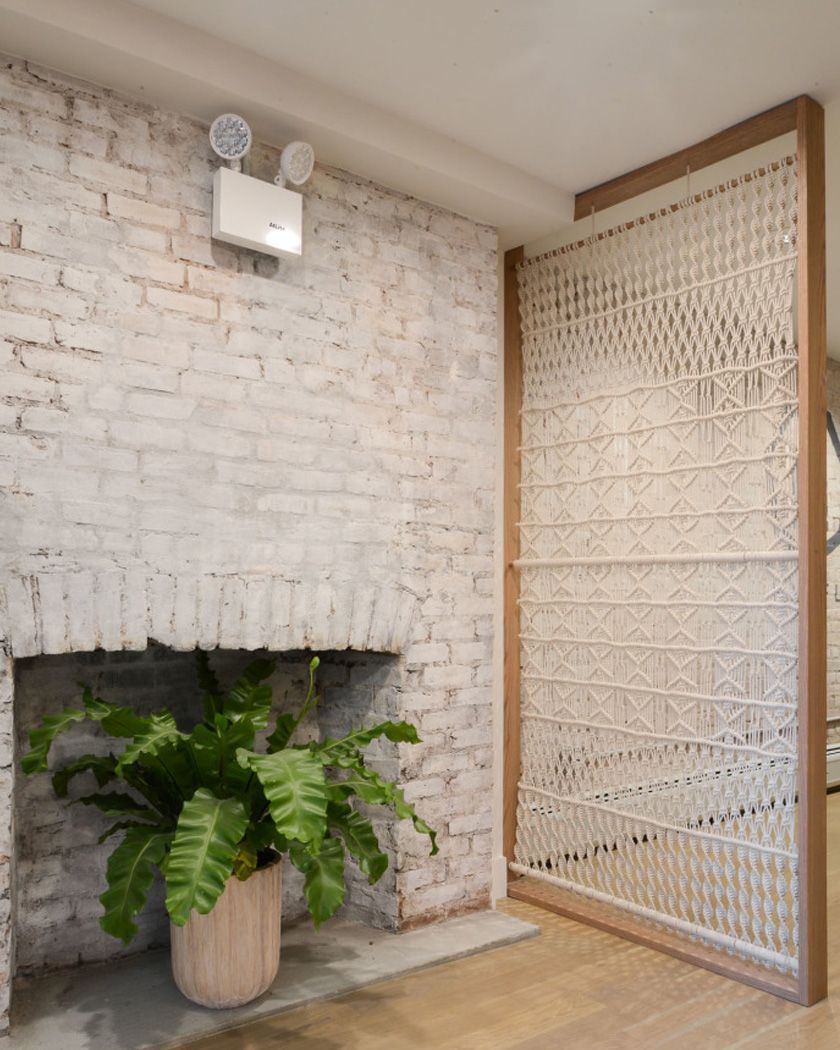 Small apartments sometimes need dividers to make a clear distinction between two areas of the flat, but you have to consider the lighting. A macrame room divider not only does provide enough light for both sections of the room, but its pattern will also add another layer of dimension space.
Macrame Curtains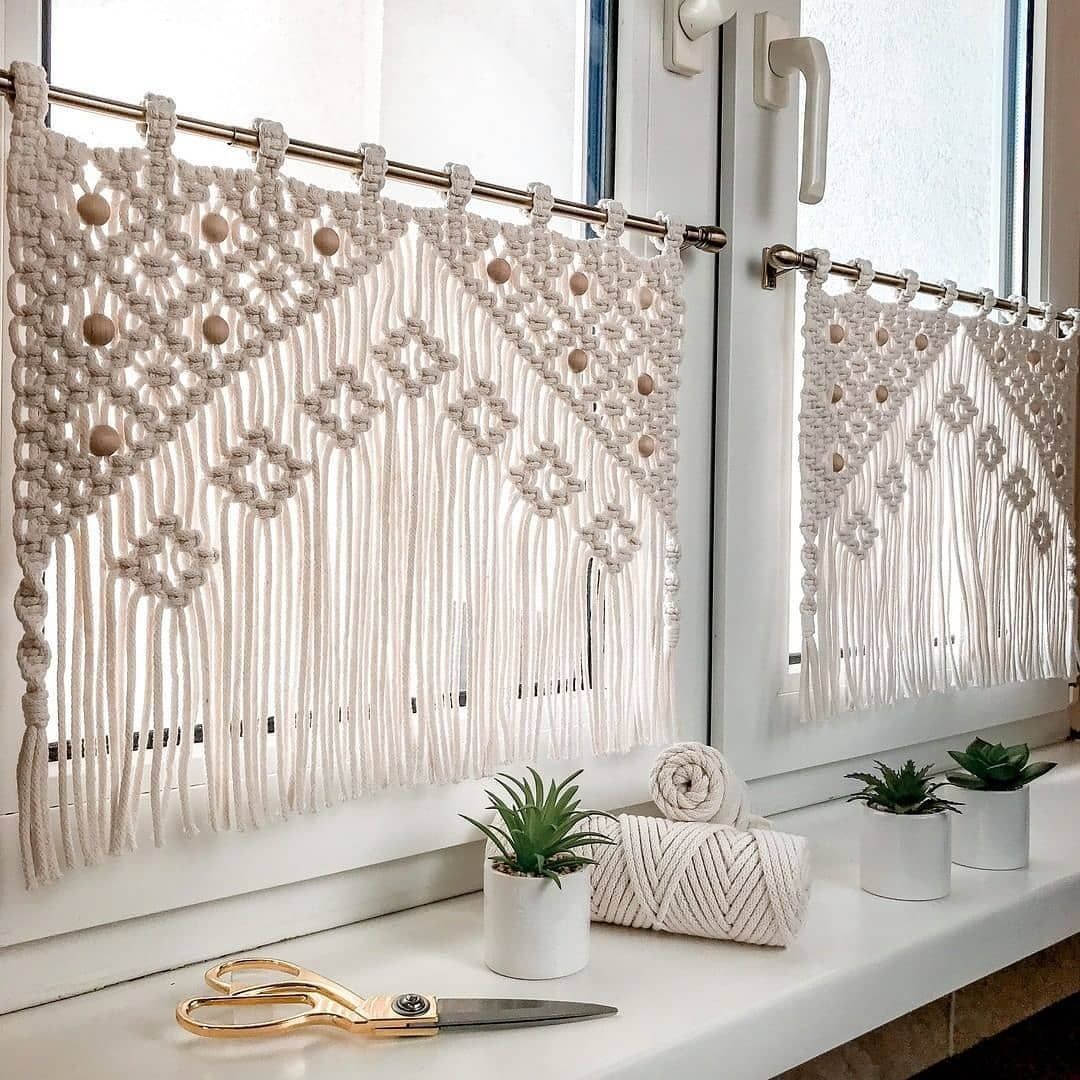 If you don't have blinds, hanging up curtains is the easiest way to keep noisy neighbors from peeking through your wind. Then again, these curtains are so lovely, they might stop and stare at them instead of who's inside.
Macrame Photoshoot Backdrop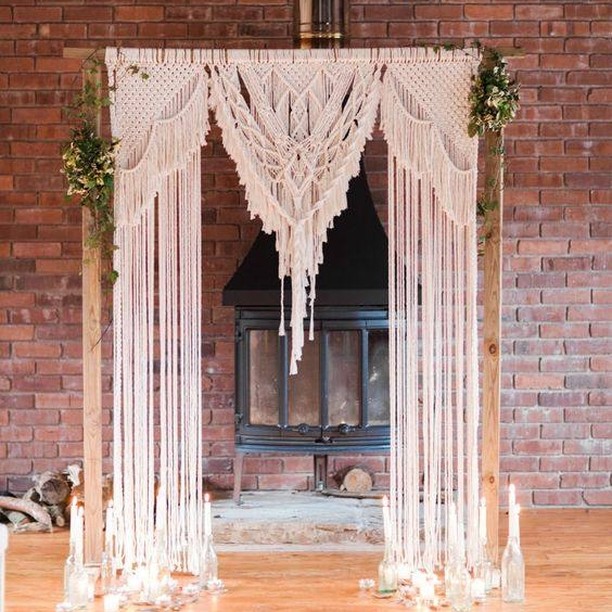 In every person's life there is a time when, like it or not, we have to take some special photos that we'll look back on with founded for years to come. The wedding is one such occasion. Since the macrame is so similar to the lace brides usually have on their dresses, you can be sure that a decked up macrame doorway will make a brilliant backdrop for the photos, and you can always leave it in the yard as a yard piece or for the kids to play with.
Macrame Table Setting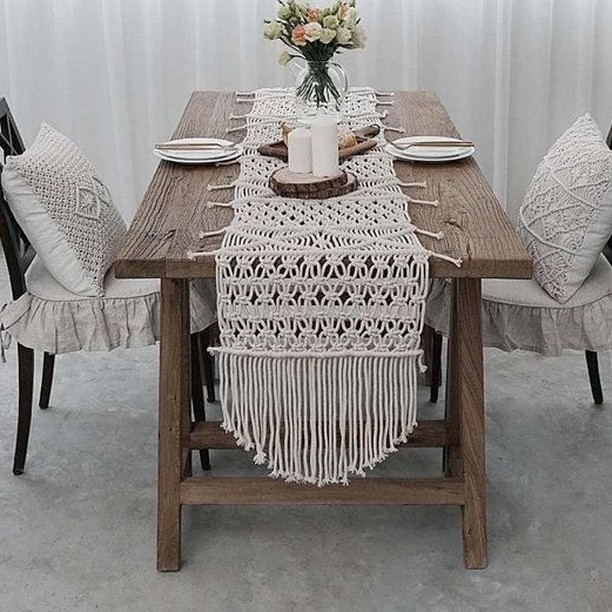 The macrame technique is great for creating an entire table setting, from napkin rings to coasters and table runners. It is nice when you can get out a matching set and present all the dishes you've prepared for your guests on this lovely table setting.
Macrame Banister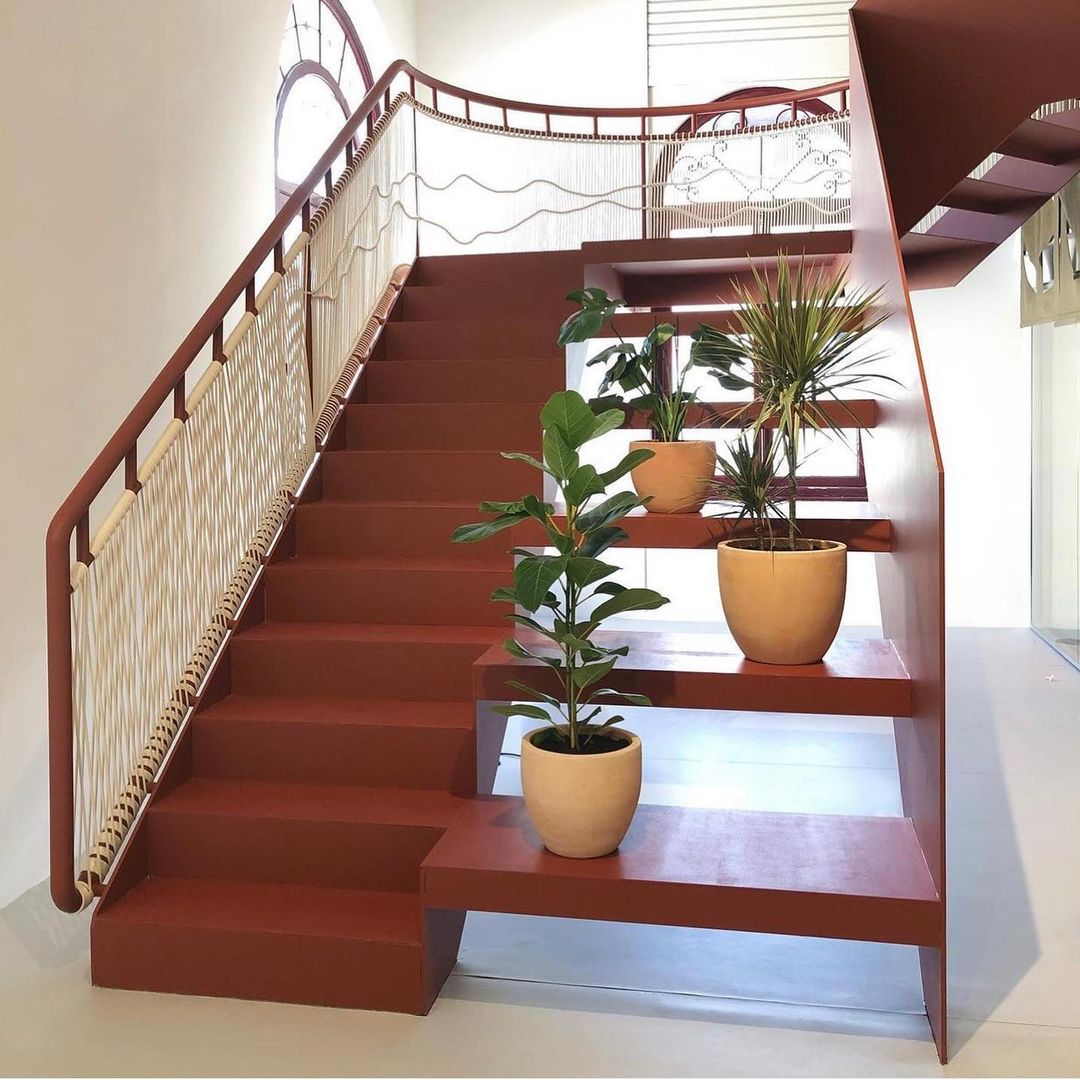 You'd be surprised at how much the banister can transform the appearance of the stairway and the surrounding space. If you're not satisfied with the dark, chunky, space-restricting banister at your home and think what to replace it with, here's an idea that is probably going to provide everything you want from the new look.
Macrame Teepee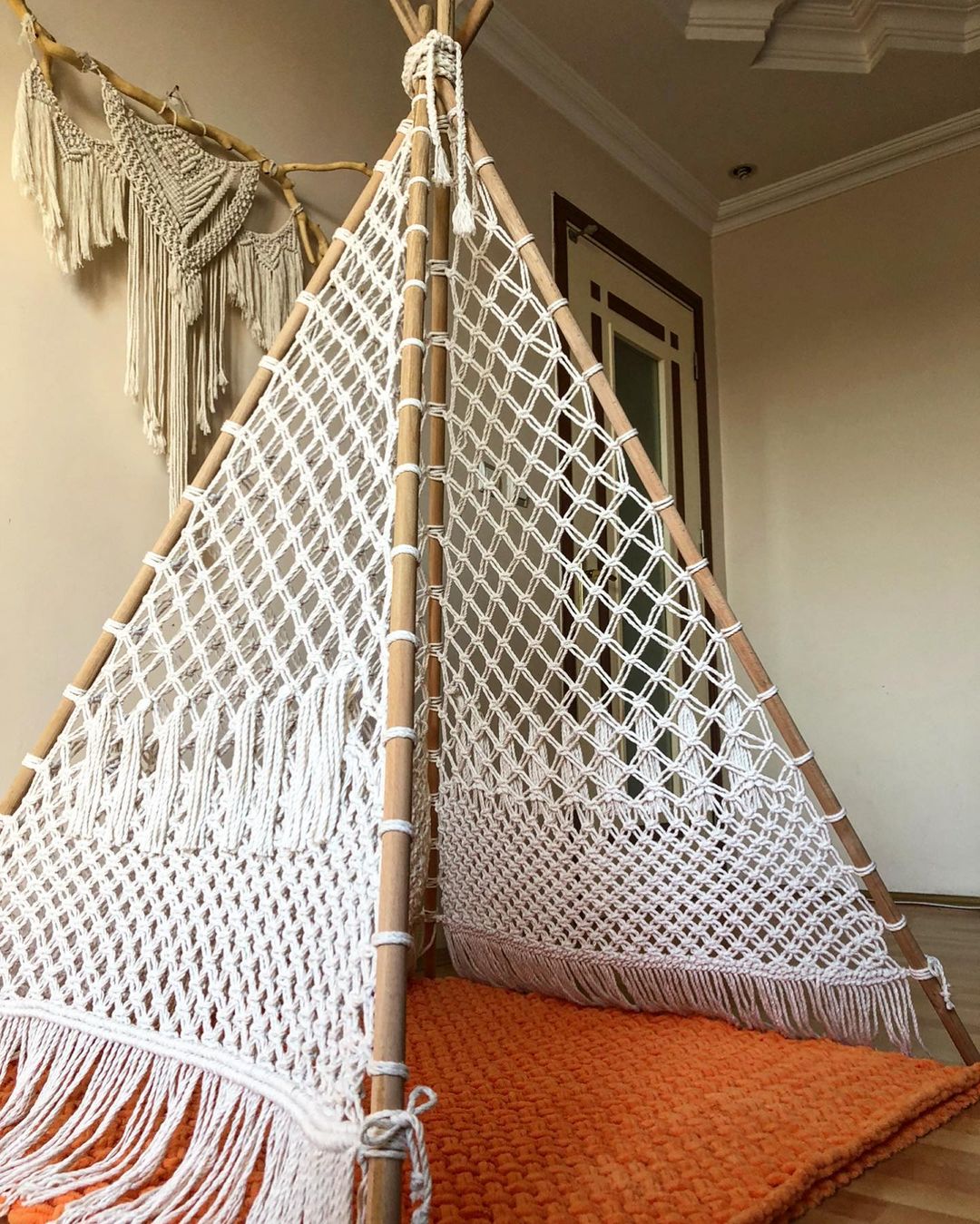 Get yourself a macrame teepee and watch it become your children's favorite place to spend their fun time. You can always check up on them, you'll enjoy the patterns of the teepee walls give them a cozy nook of their own, to play, read and have fun. Grown-ups wouldn't mind spending some time in there as well, don't you think?
Macrame Headboard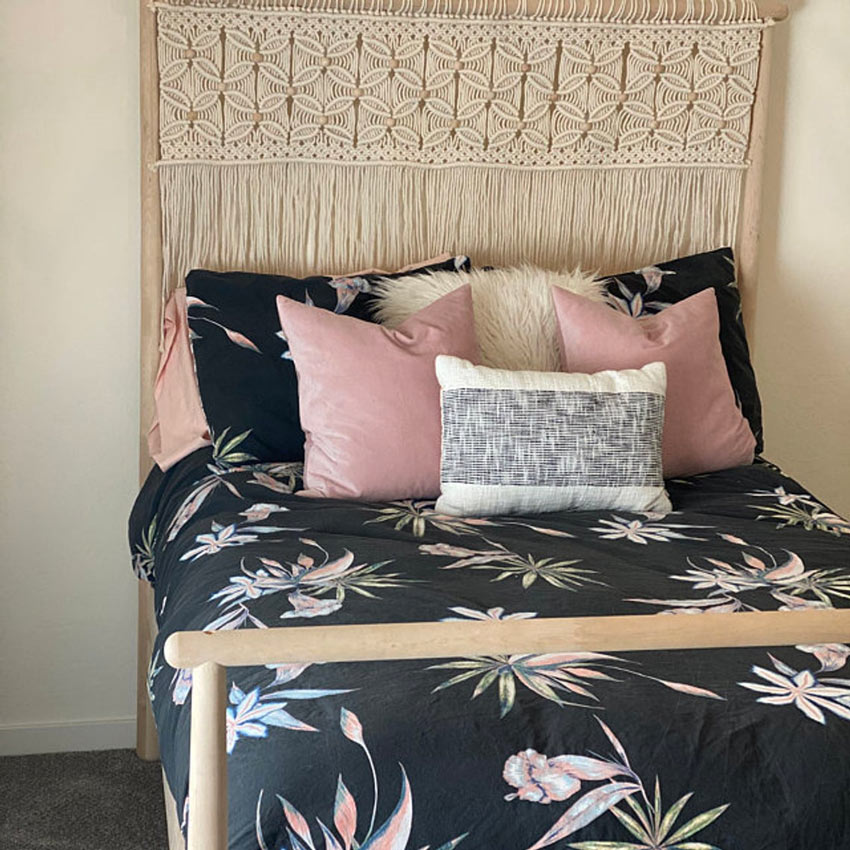 Headboards don't serve much of a purpose other than to add some decor to the bedroom, although most people tend to remove their bug chunky headboards altogether, still, if you're so inclined, you can make a light, woven macrame headband. And if you incorporate a certain pattern, it might work as a small dreamcatcher… If you like to believe those things.
Macrame Patio Parasol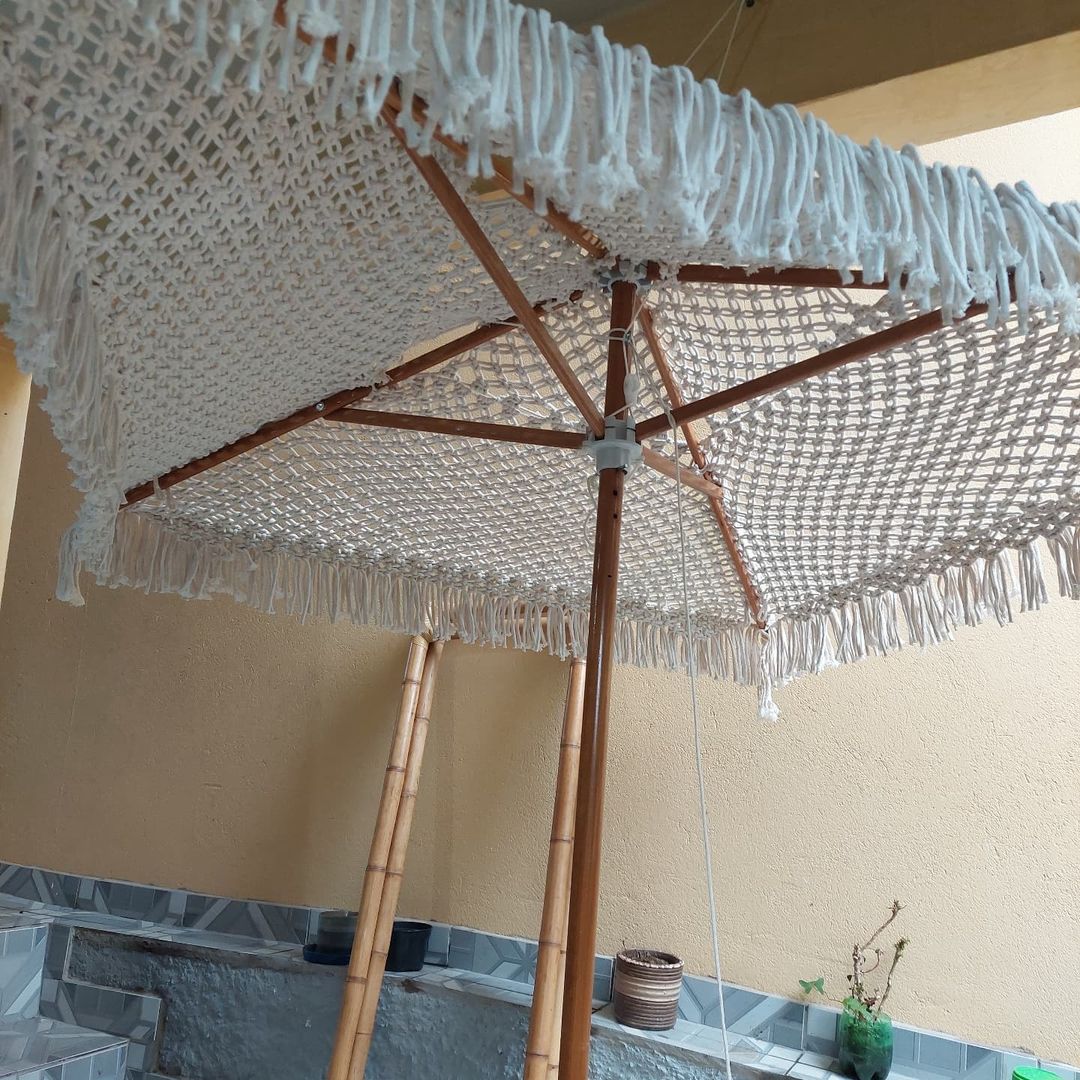 Umbrellas protect us from the rain, and parasols used to be used as a form of protection from the sun. While those elegant lace, linen parasols might not be commonly used today, we still have sun-protecting umbrellas, only much larger. Patio umbrellas do provide shade, yet can be very heavy to carry. You might lighten the weight by getting a macrame patio umbrella, which despite the hollowed-out pattern, will provide plenty of shade.
Macrame Cacoon Hanging Chair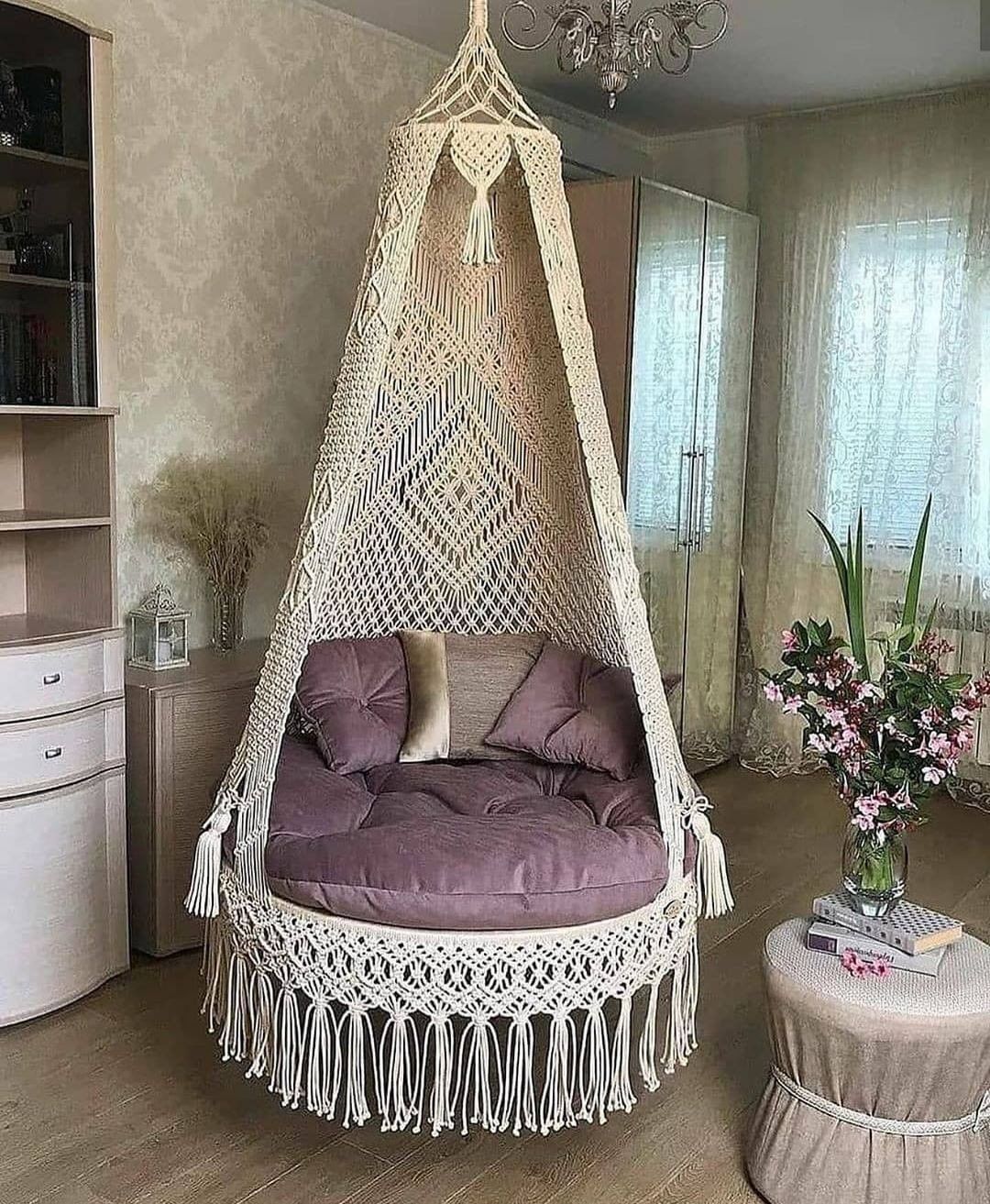 We finish our list with a chair most of us dream of having. A hanging rocking chair with plenty of sitting space, cocooned by lovely macrame design is something we deserve to have and relax in once the long, working day is over.
We've maxed out on the macrame ideas' What did you think about these ideas and how much of them would you love to have at your home. Share your thought and ideas in the comment section below.