Fans recognize her for the vibrant, playful aesthetic. But who is Shiro, the Japanese street artist that has painted murals all over New York City?
Born as Akiko Miyakami, Shiro One is one of the growing number of women in graffiti and street art shaking a claim that it is a male-dominated society. Her work speaks for itself.
Shiro is a nurse from Shizuoka. When she is not in the US painting graffiti, she actually works as a nurse back in Japan.
She lived in a harbor town in Japan, and recently got her artist visa for the US. Shiro morphed into a muralist.
Since her early days, Akiko is deaf in her right ear due to an early bout with mumps. But she says that her disability taught her to embrace her uniqueness.
Born in 1998, Miyakami got inspired by seeing a video with graffiti as the backdrop. Soon after, she saw the movie Wild Style, and the rest is history.
In the beginning, she had to create her own tools because she couldn't get hold of any spray paint in aerosol cans. She had to be inventive. Shiro prefers to paint on a wall than on a canvas, but when she works for galleries, she learns and perfects new techniques.
Most of her influence stems from hip hop culture and her Japanese roots. Shiro paints alone, but she has also worked with crews like TDS, SUG, FX, and UZNJ.
Over the years, her work has evolved to a more detailed painting. And it is not for everyone. Some people say she makes pretty pictures when compared to the edgy and sometimes dangerous performance art of graffiti writing. But other say her work effectively exhibits fundamental elements from hip hop.
1. Large Mural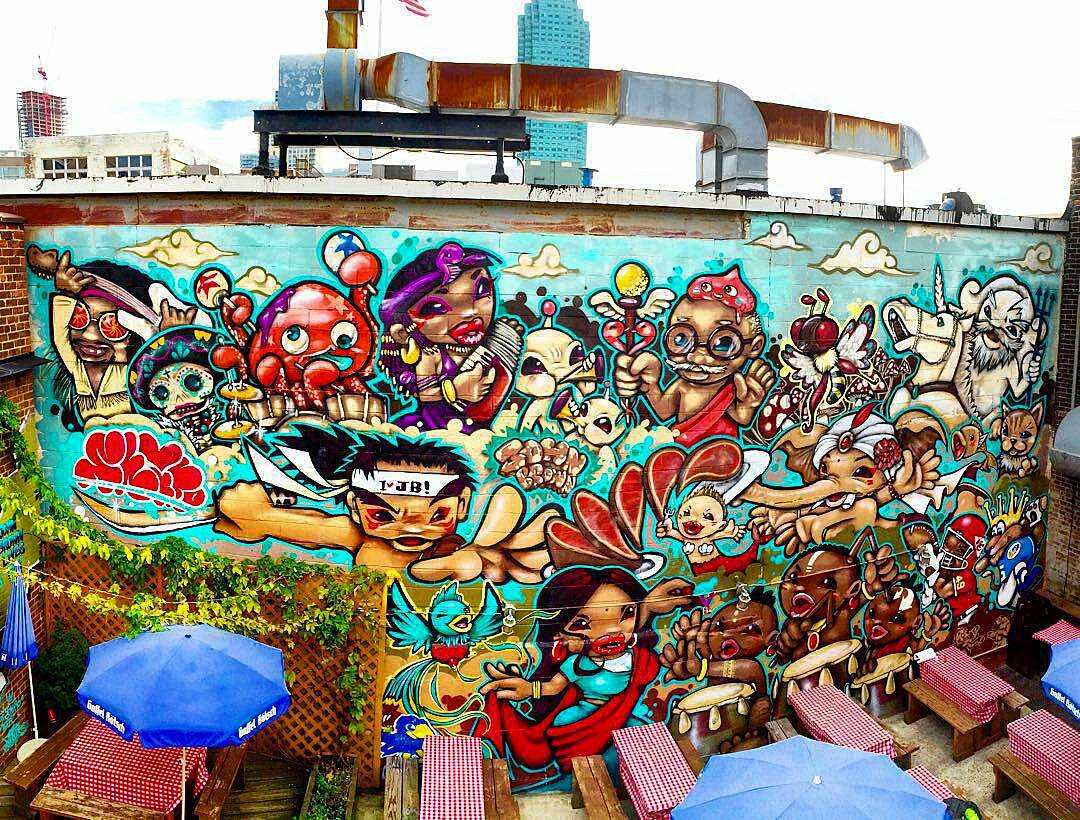 Let's start with a mural that is right out of her Japanese roots. But Shiro draws inspiration from a larger area. You can see references to the entire Asian continent on this mural.
2. Dragon Lady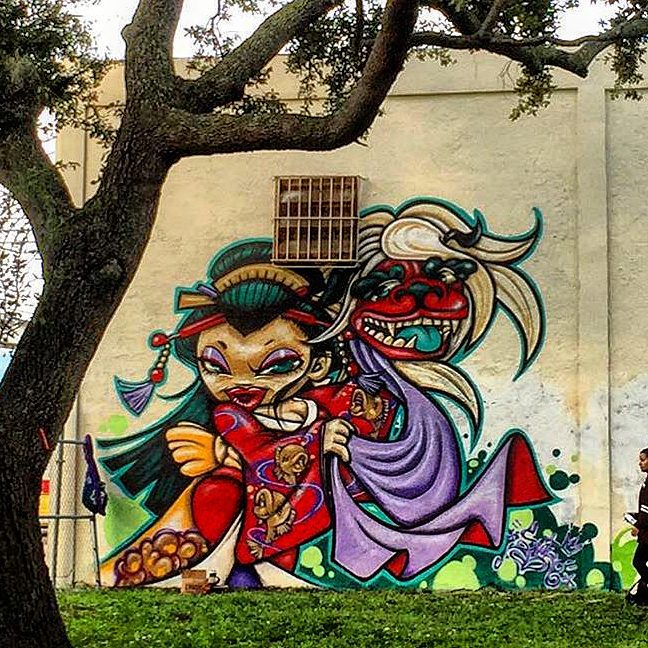 As a Japanese artist, Shiro draws a lot of inspiration from mythology. And in Japanese mythology, dragons are a big thing. The dragon lady is courageous, brave, independent, and strong woman.
3. Lower Garden District Mural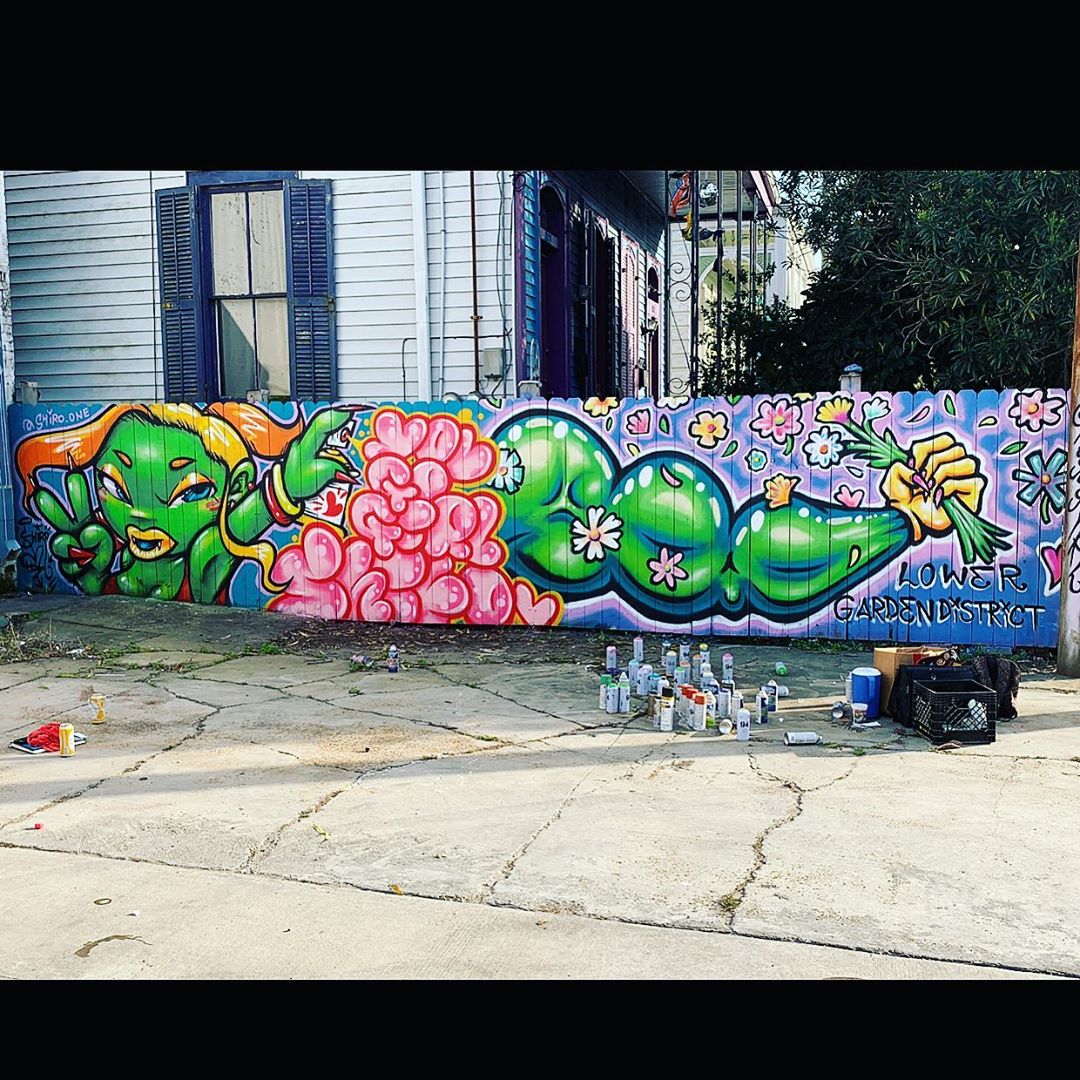 Just pay attention how her arm and muscles extend from the graffiti. It is another reference to strong women. And it is also a message that women can find their place in the graffiti world.
4. Peace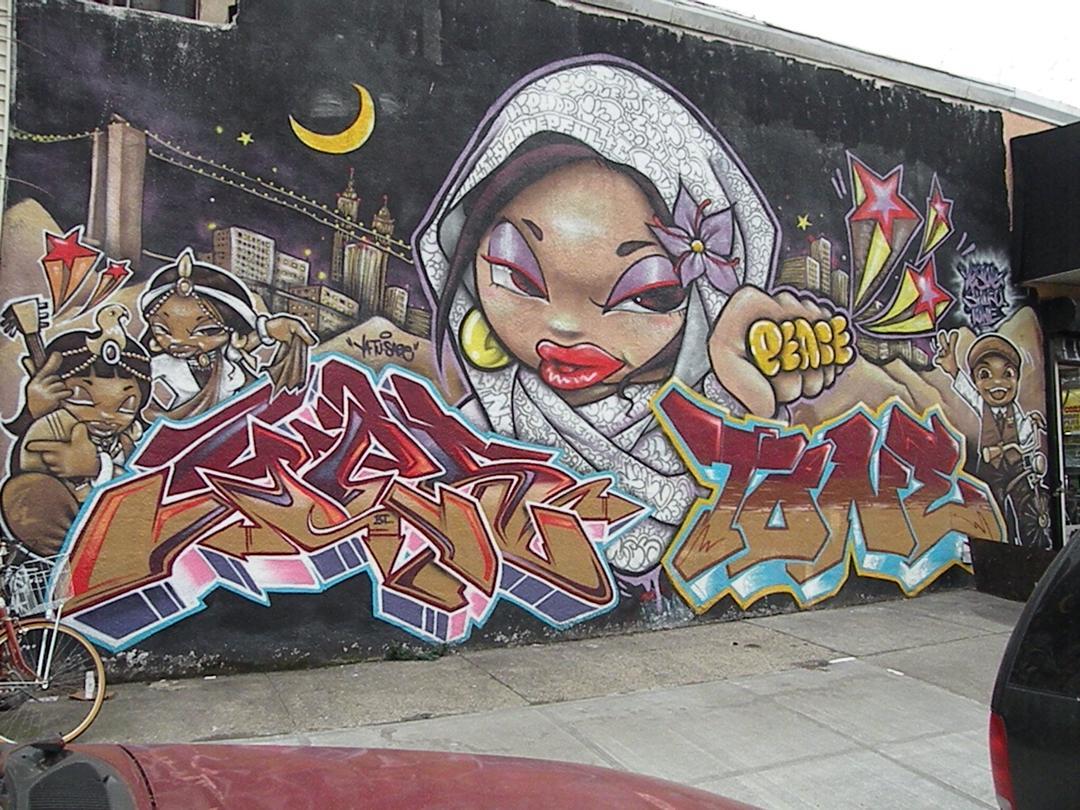 Shiro works as a nurse, so she definitely would welcome peace all over the world. And she has her idea how peace can come. Apparently, women are those who can bring peace to the world.
5. Liberty Shiro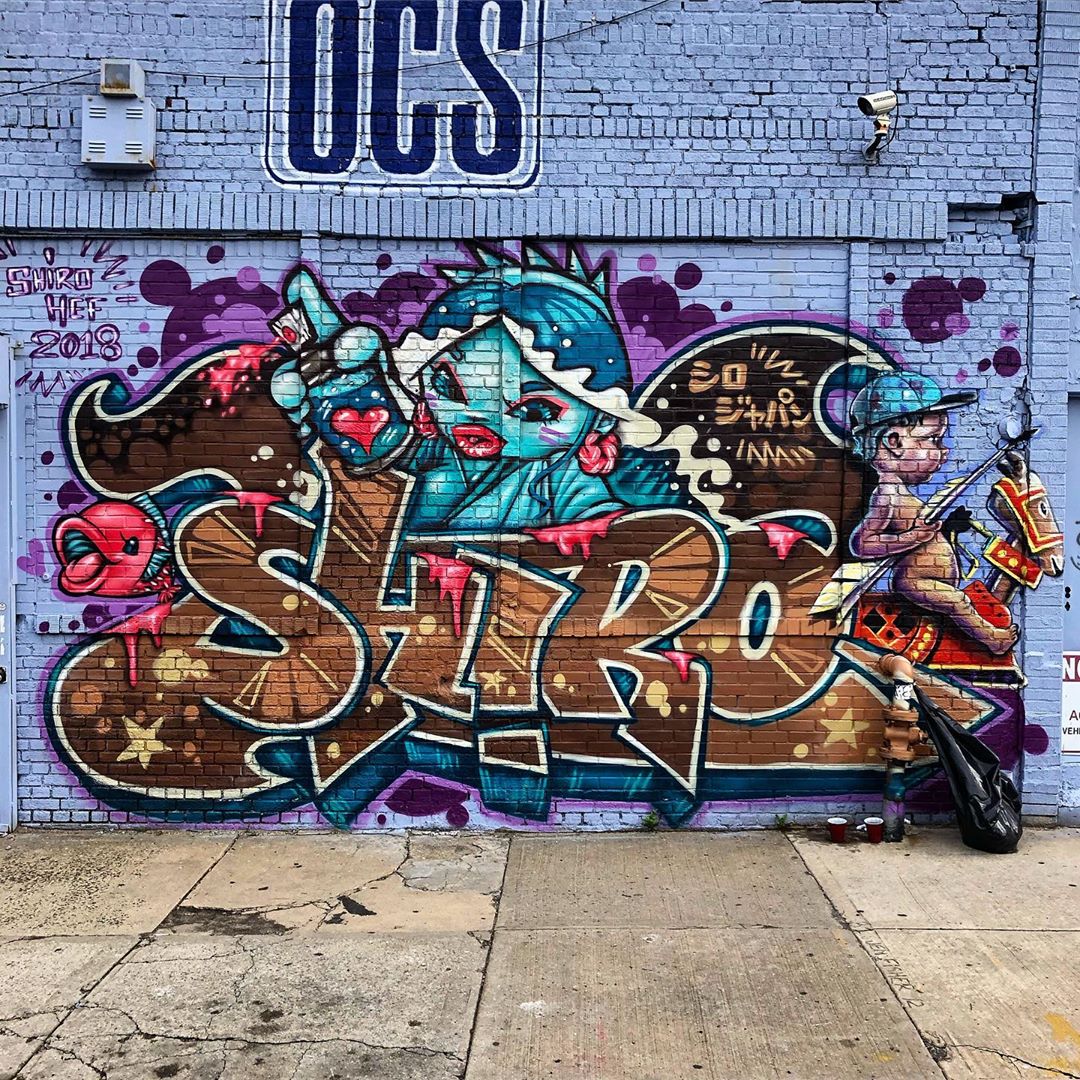 Like other famous graffiti artist, Shiro also writes her own name in different variations. In this case, she used her name as a symbol for liberty. Peace and liberty are two elusive terms we dream off.
6. Sushiro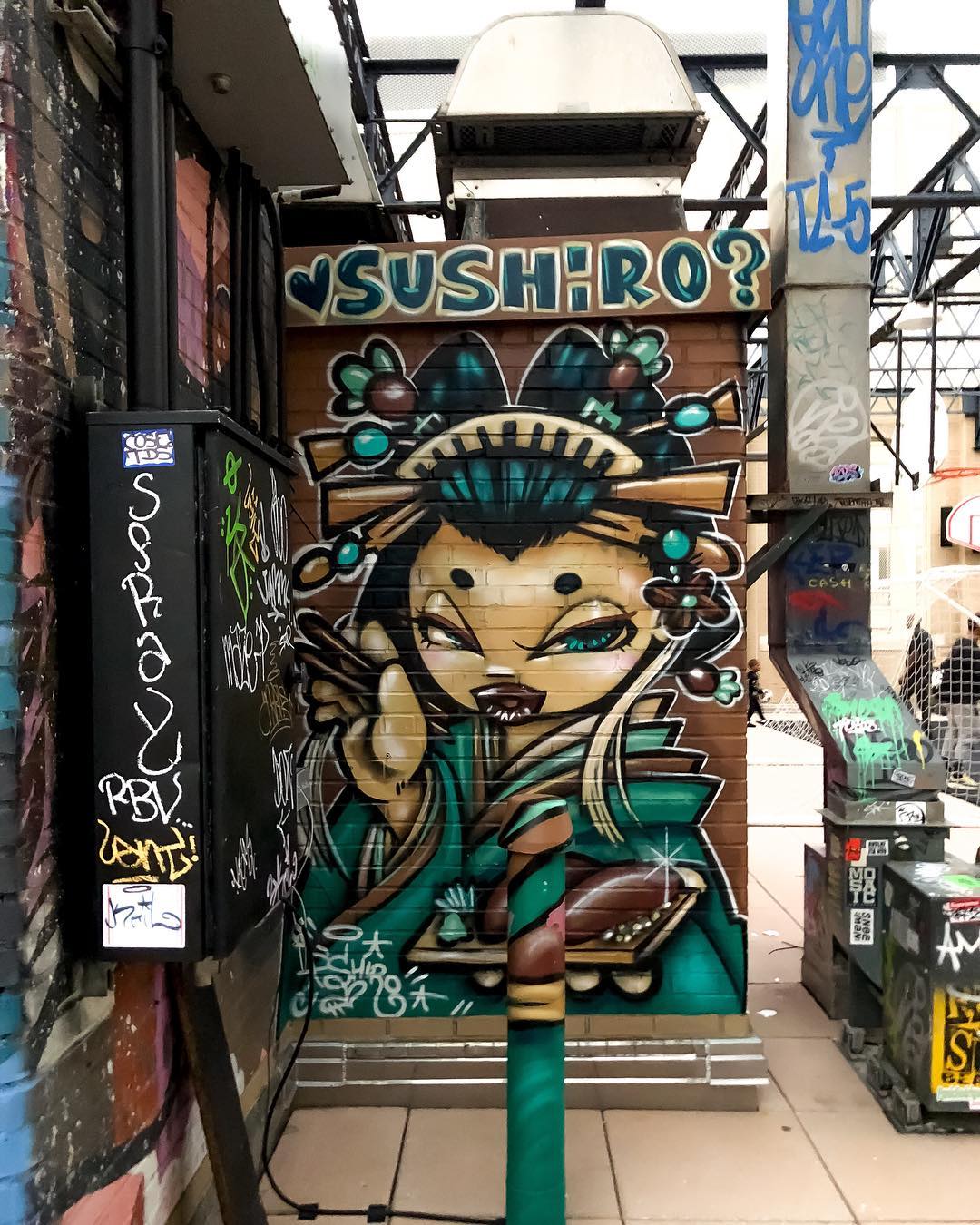 Probably this is how this Japanese nurse and graffiti artist views herself. The colors are just amazing, and fans love it that she includes other elements in the graffiti, not just the wall.
7. What's Good Brooklyn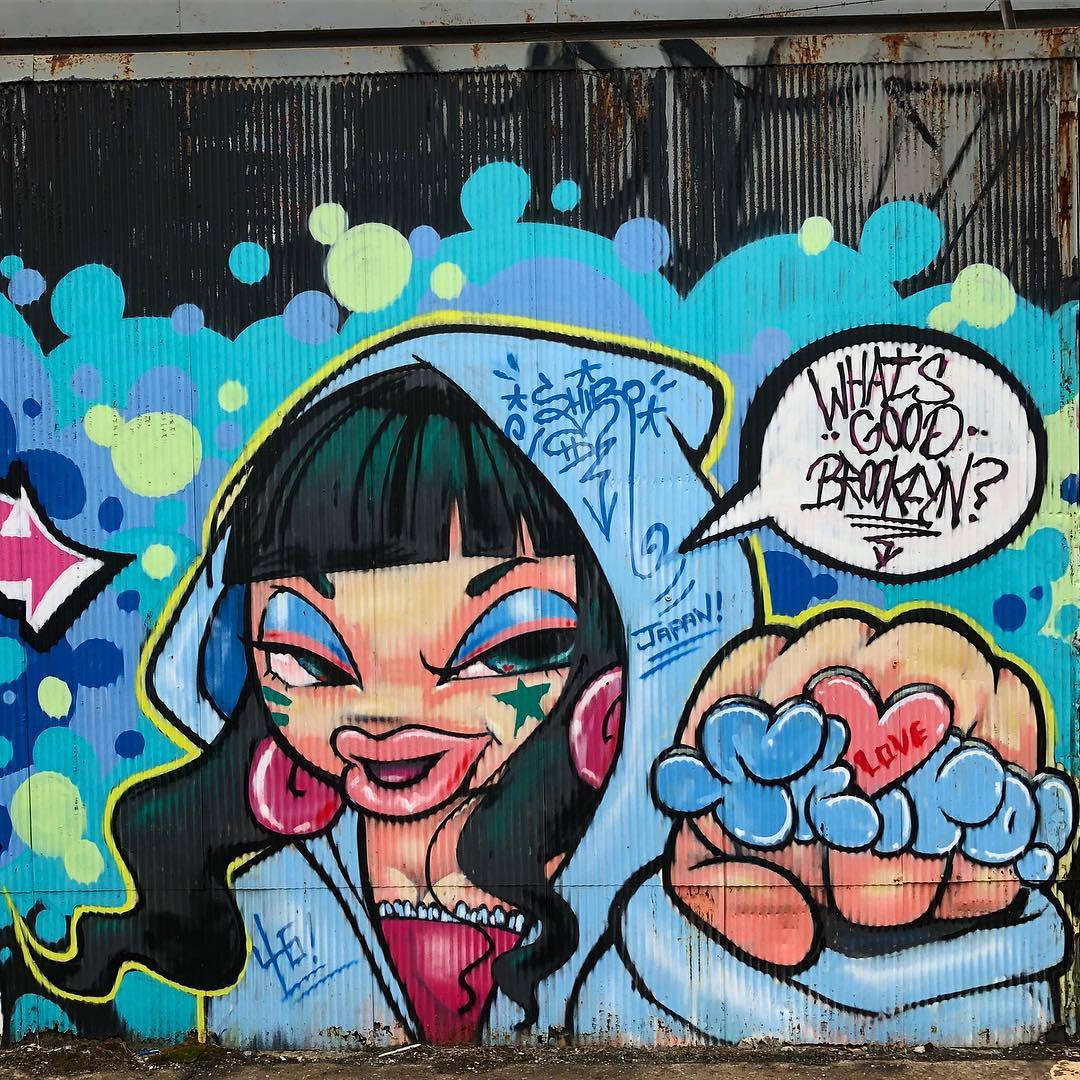 Shiro spends most of her time in the US in New York. And when she is there, she is 100% dedicated to her art. So, she asks the question, what is good in the city?
8. Peace Liberty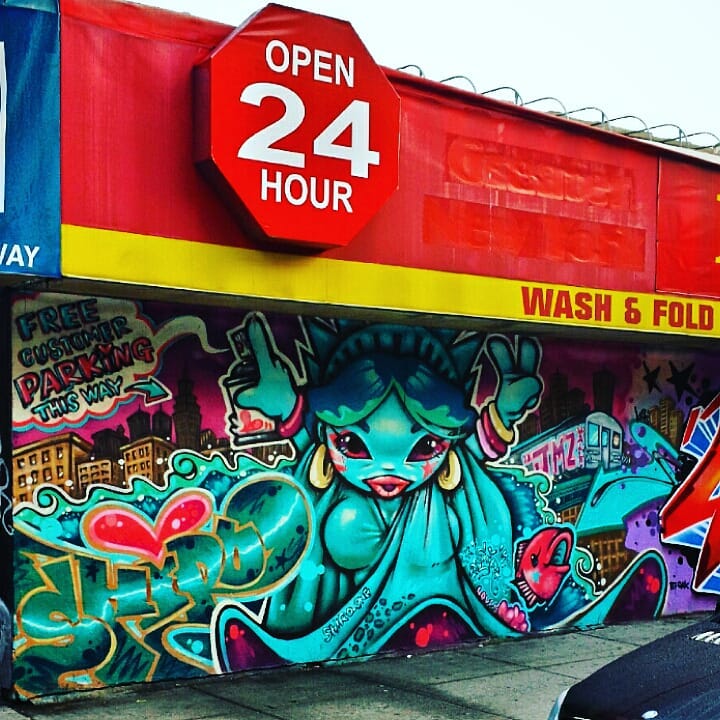 These two terms play a large part in Shiro's art. Like many of us, the Japanese artist dreams of peace and liberty in the world. She dreams of a world where everything is available to people that want it.
9. Los Taxistas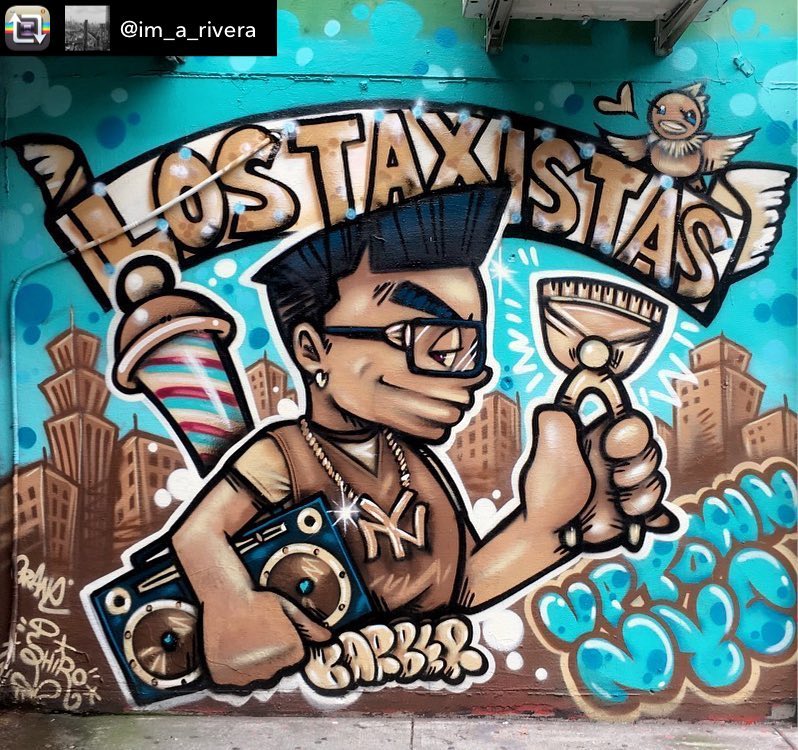 If there is one thing people remember about New York, it is the taxi drivers. It is just funny how Shiro plays with the Spanish language, even though she is from Japan. But that is a proof of her versatility, talent, and wider view of the world.
10. Boombox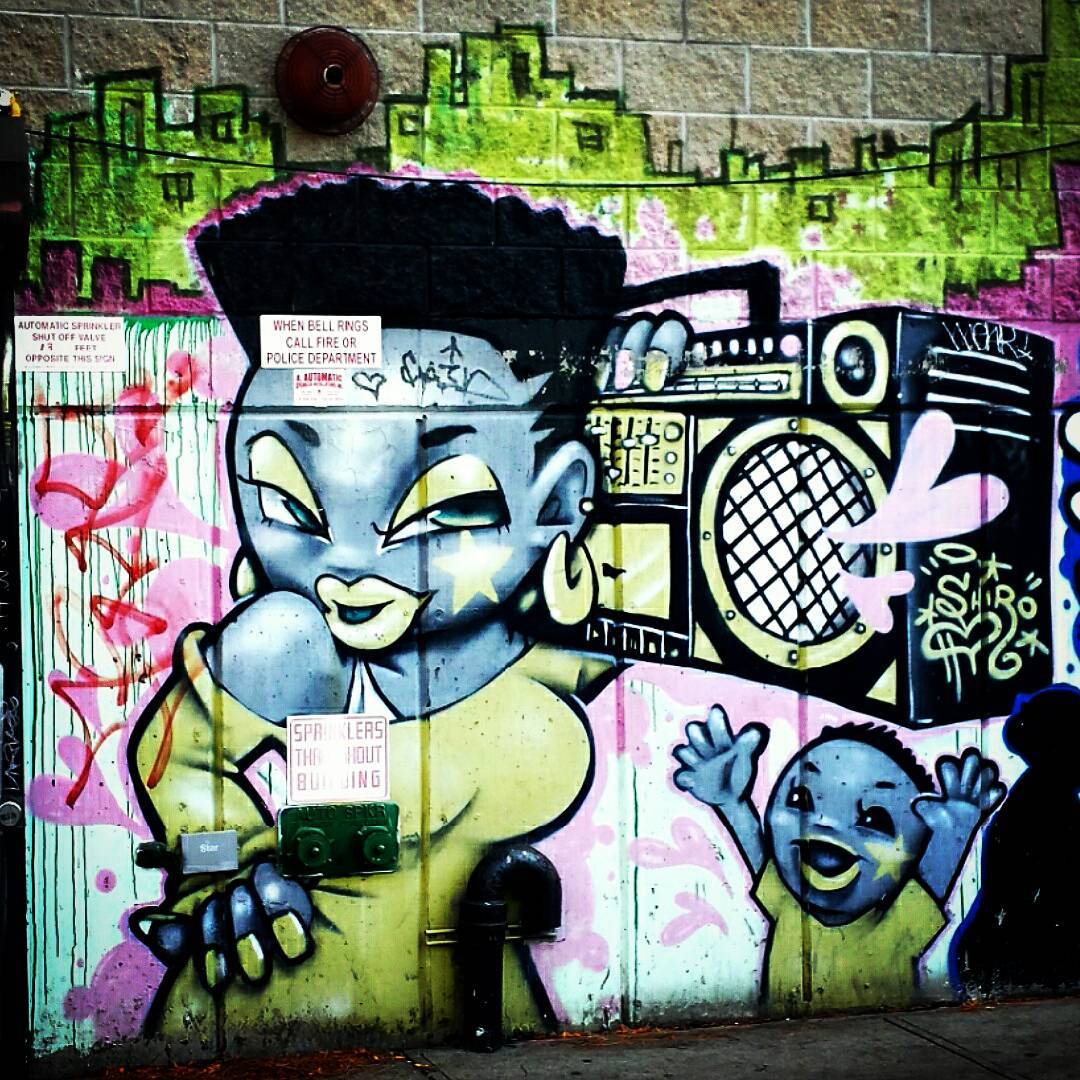 One thing about Shiro's graffiti art is the details. She is very detailed in her artwork. And you need to spend a couple of minutes to fully understand it. For example, small (in this case large) details like the New York skyline in the background make the painting that much better.
11. Uptown Grand Central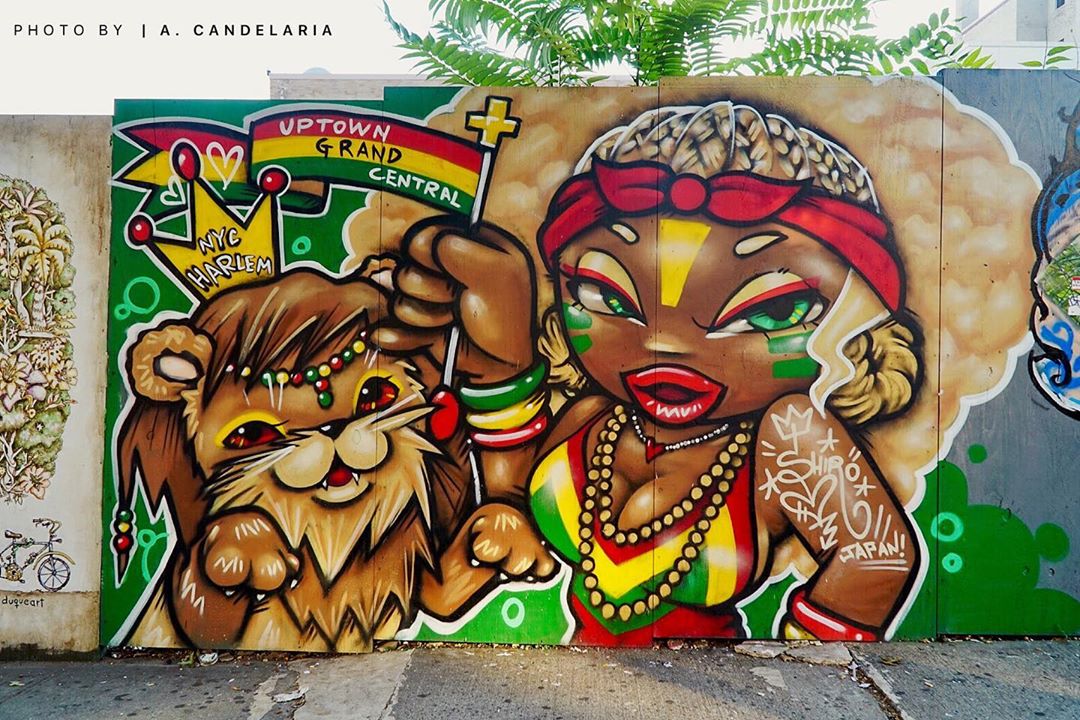 We said before that Shiro doesn't mind using other cultures in her paintings. This Japanese nurse is a cosmopolitan, and she appreciates all cultures. Here is a mural for the African citizens of New York.
12. Shorty Got Skillz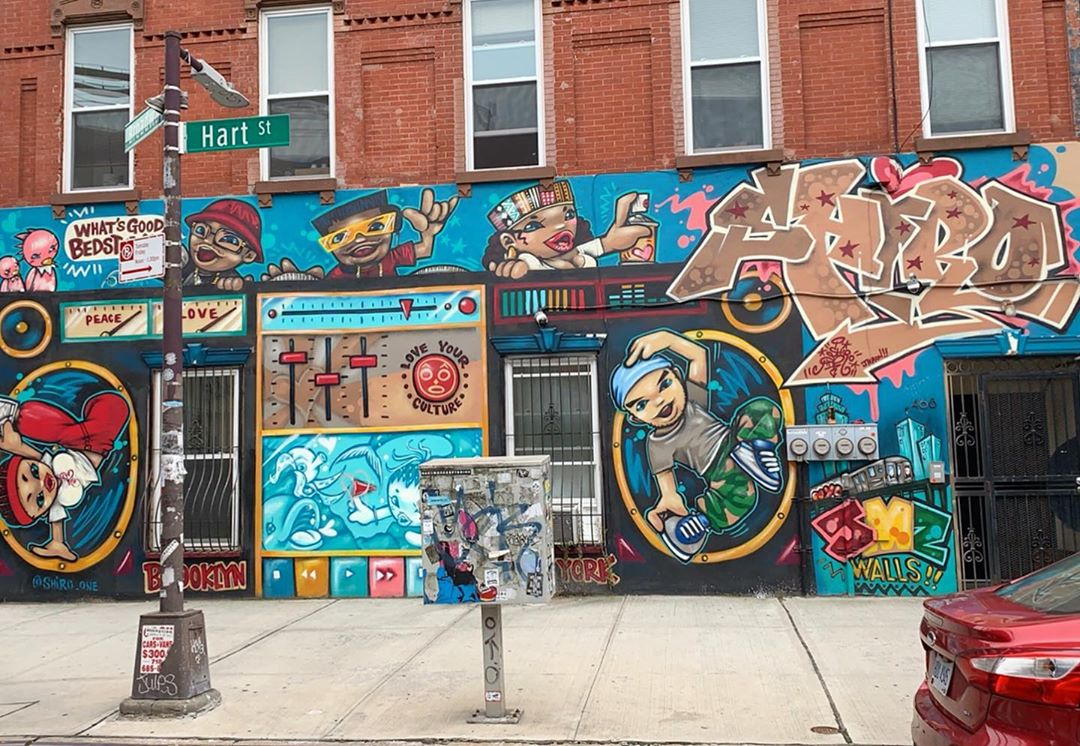 You will definitely need a couple of minutes to decipher all of the references in this mural. So many details, so many colors. Definitely more than just a pretty picture, right?
13. Kitten Caboodle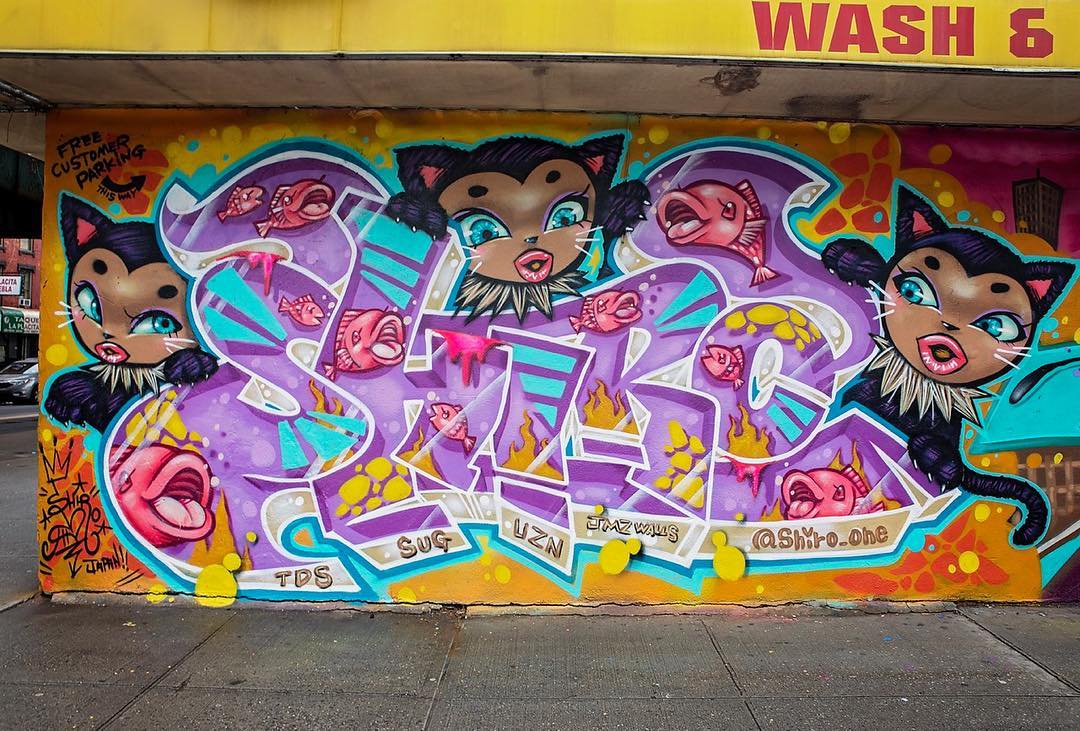 Kittens are a huge part of Japanese culture. Especially Japanese online culture. It is no surprise they make an appearance in one of Shiro's graffiti.
14. Blue At Wild Style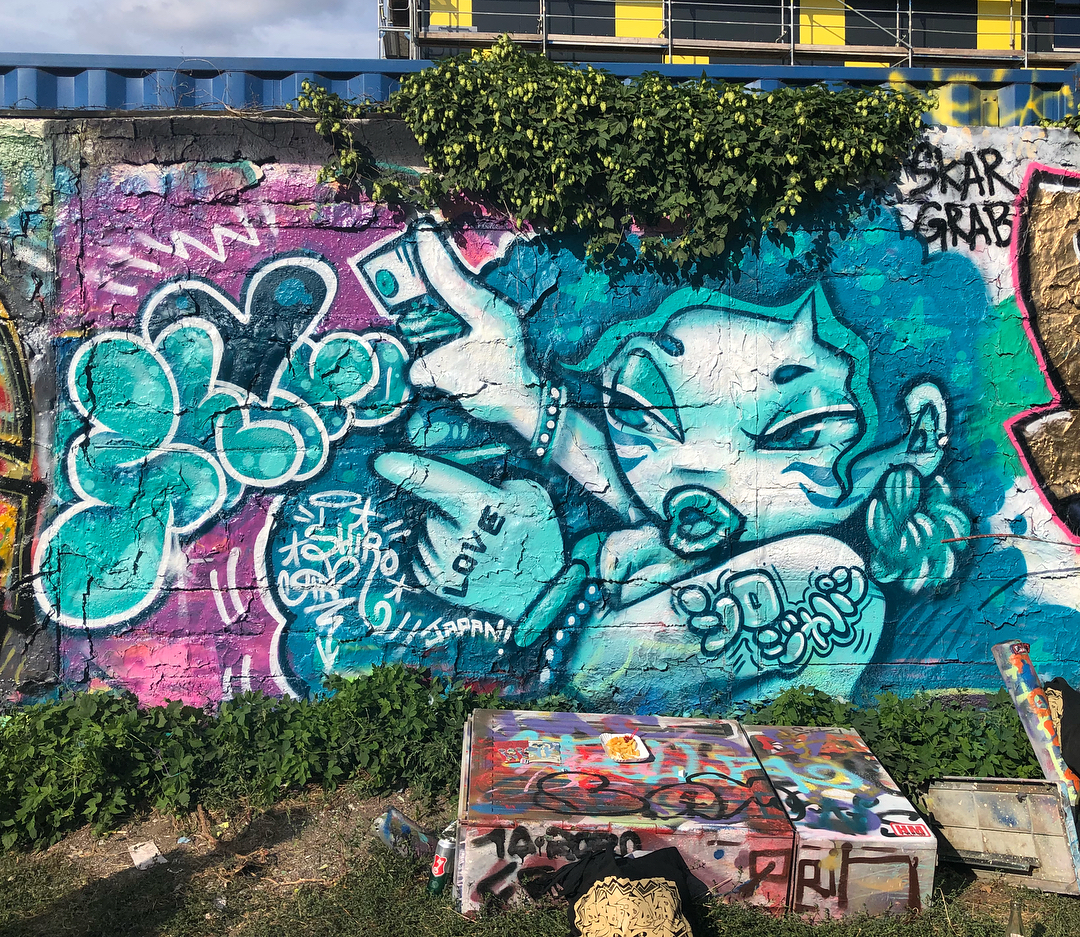 In a way, Shiro expresses her views and experiences through her graffiti. You can definitely feel her emotions when you look at her art. She paints herself in different variations, depending on her emotions and views at the time.
15. Up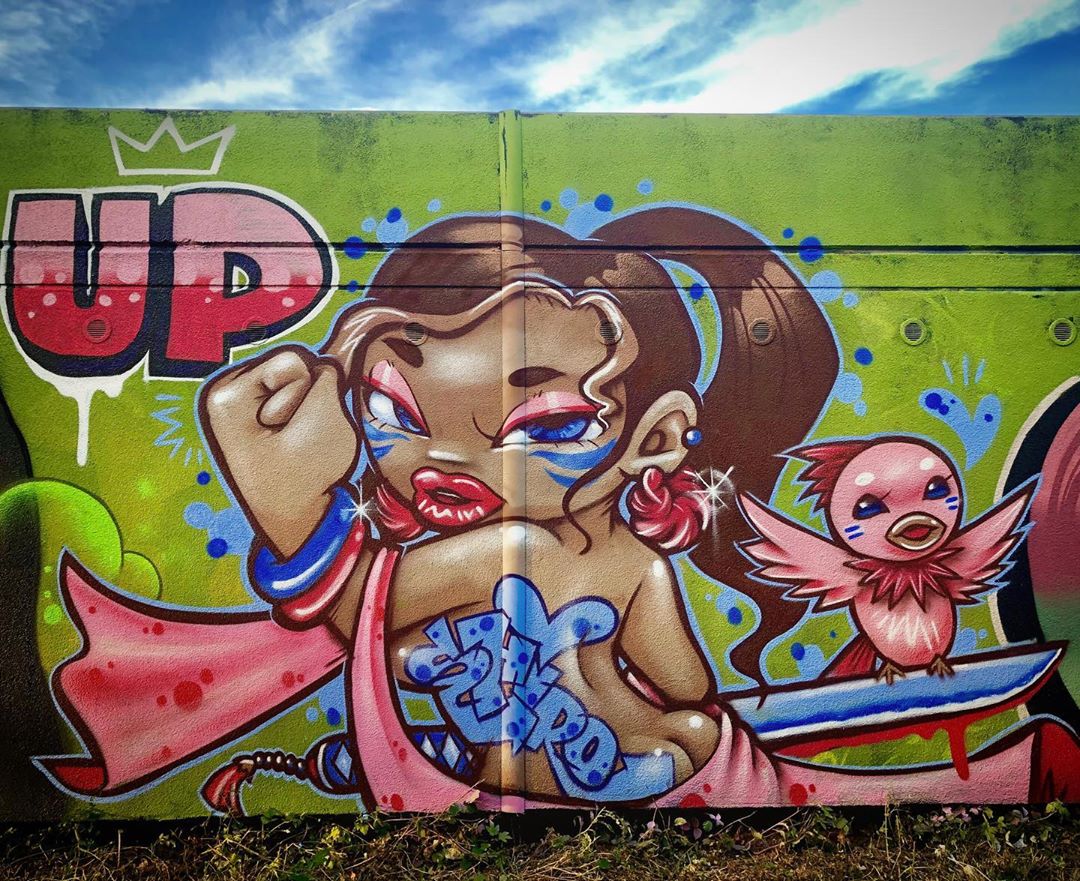 Here is a message and reminder from Shiro to always have a positive view and look up. Keep your head up, and you can survive in this world.
16. Red Japan
Red is one of the traditional colors in Japan. After all, the middle of the Japanese flag is red. We said Shiro loves to draw inspiration from her Japanese heritage, and this piece is exactly that.
17. Nauty Nautilus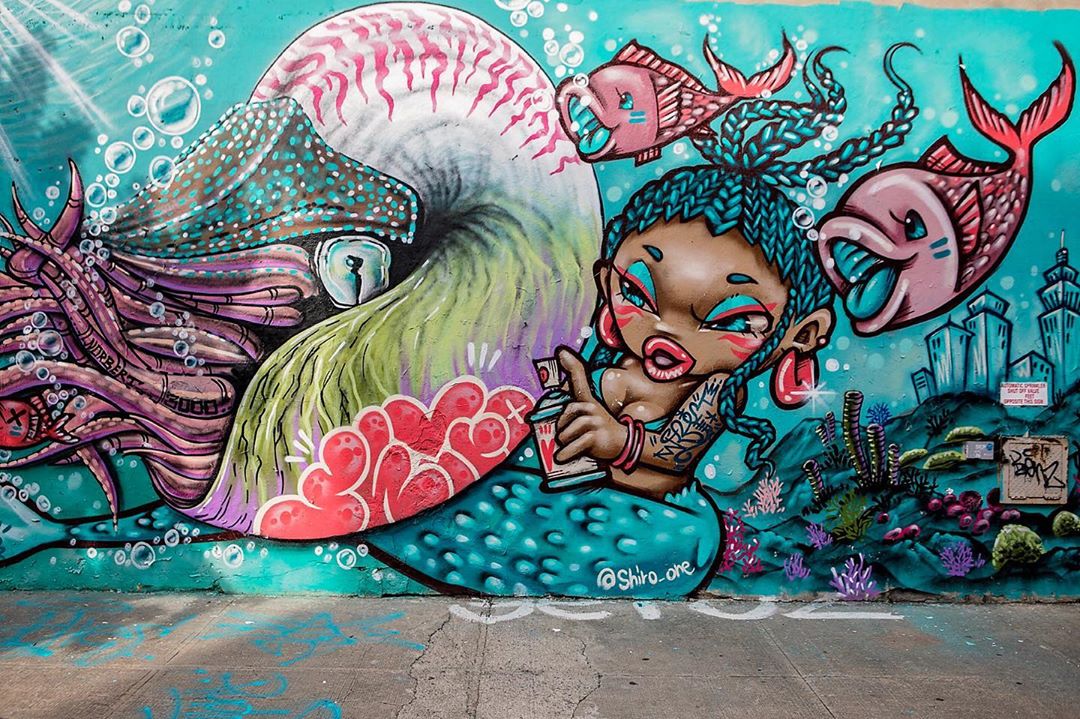 Nautilus is an animal that lived some 5,000 years ago. Today, only six species live. It would be nice if we can manage to keep them alive, right?
18. Hip-Hop Love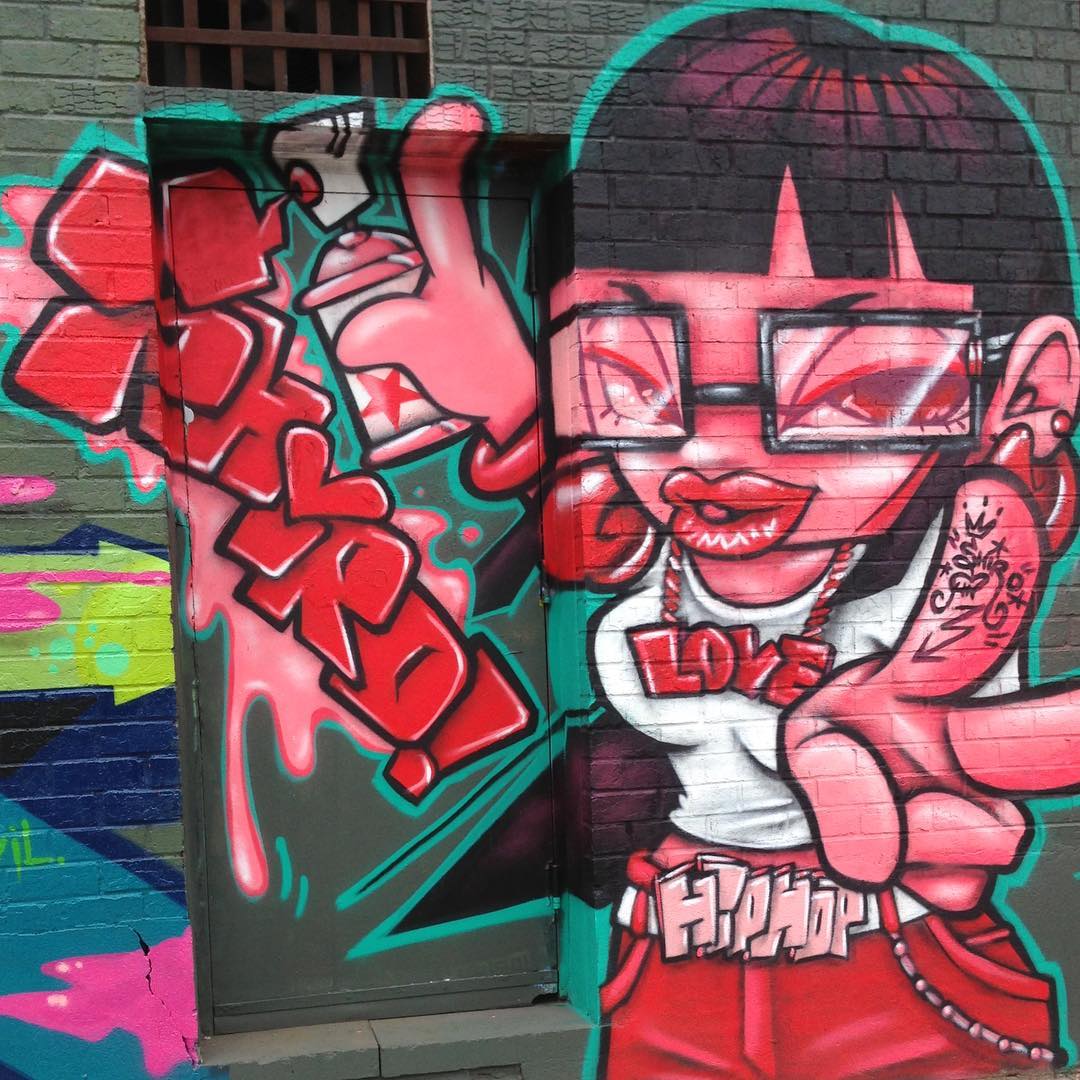 The Japanese artist is a huge fan of hip hop music. It is the central theme in her art, but with a Japanese twist. Have your heard any Japanese hip hop?
19. Angel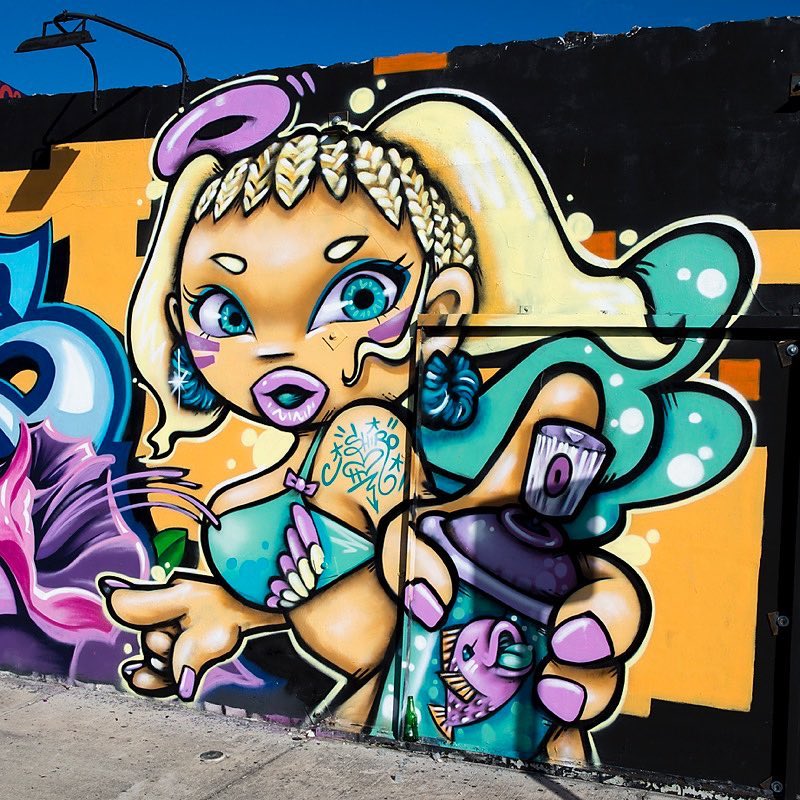 Shiro would love to tell us that even angels carry their spray paint and do graffiti art. Her depiction of angels definitely has some Japanese twist to it.
20. Trinity Hip-hop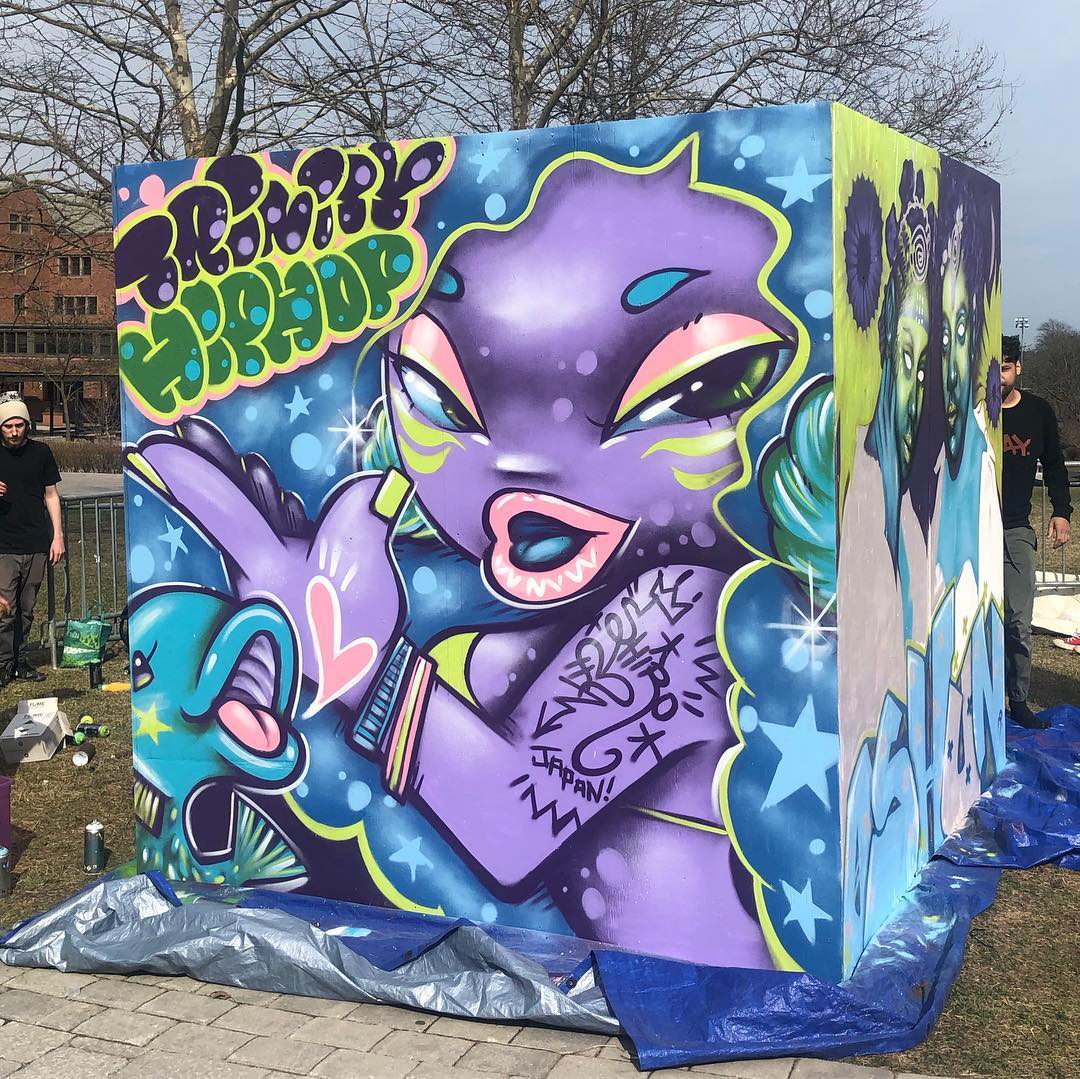 Is this a reference to the Trinity hip hop festival? Or to the holy trinity of hip hop music? We can only say Shiro has to put the word Japan or some reference to it in her art.
21. Reggae Party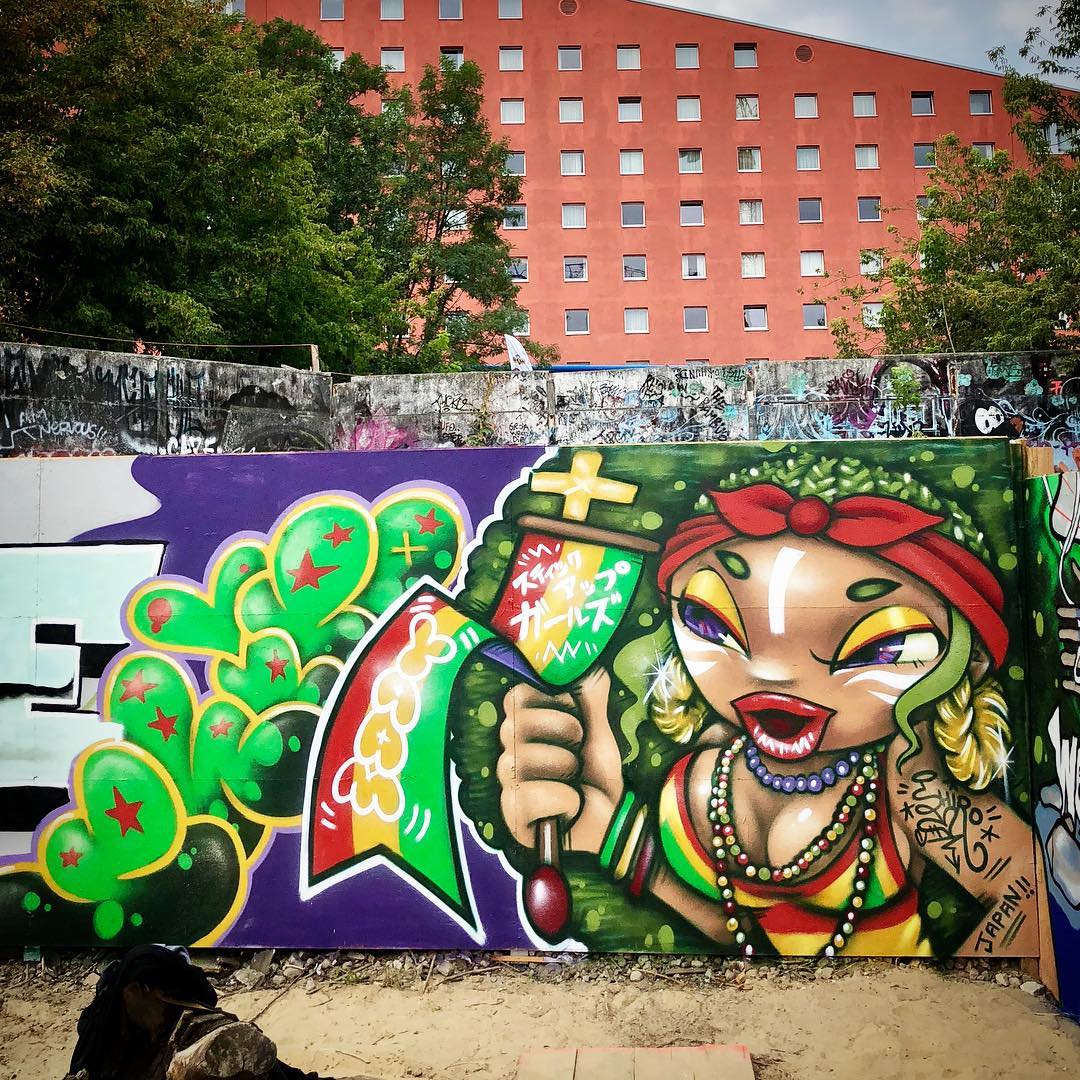 We had some African inspired murals before. Besides hip hop, Shiro supports reggae music. She is just well rounded and well informed in many areas. Fans love it for that.
22. Mermaids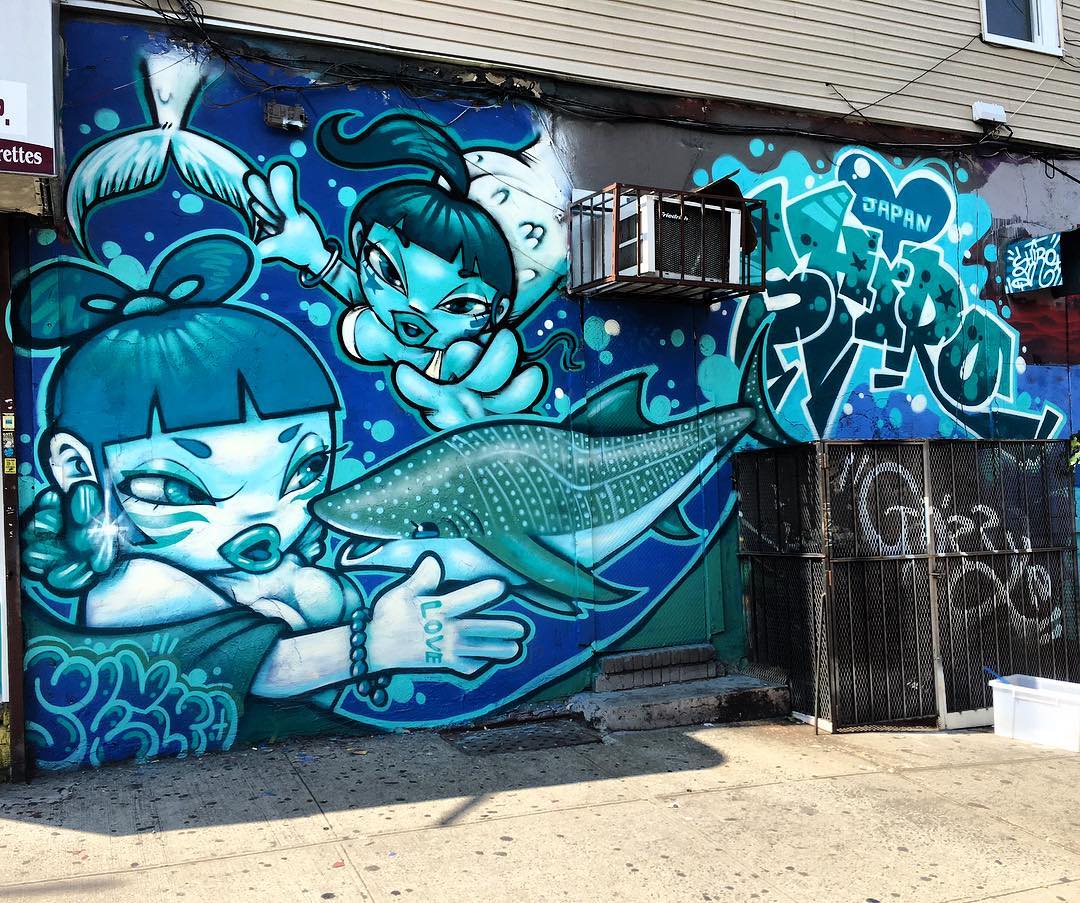 Mermaids are ancient Greece animals. They attracted sailors with their song. But as you can see, they can have a Japanese look as well.
23. Love Is All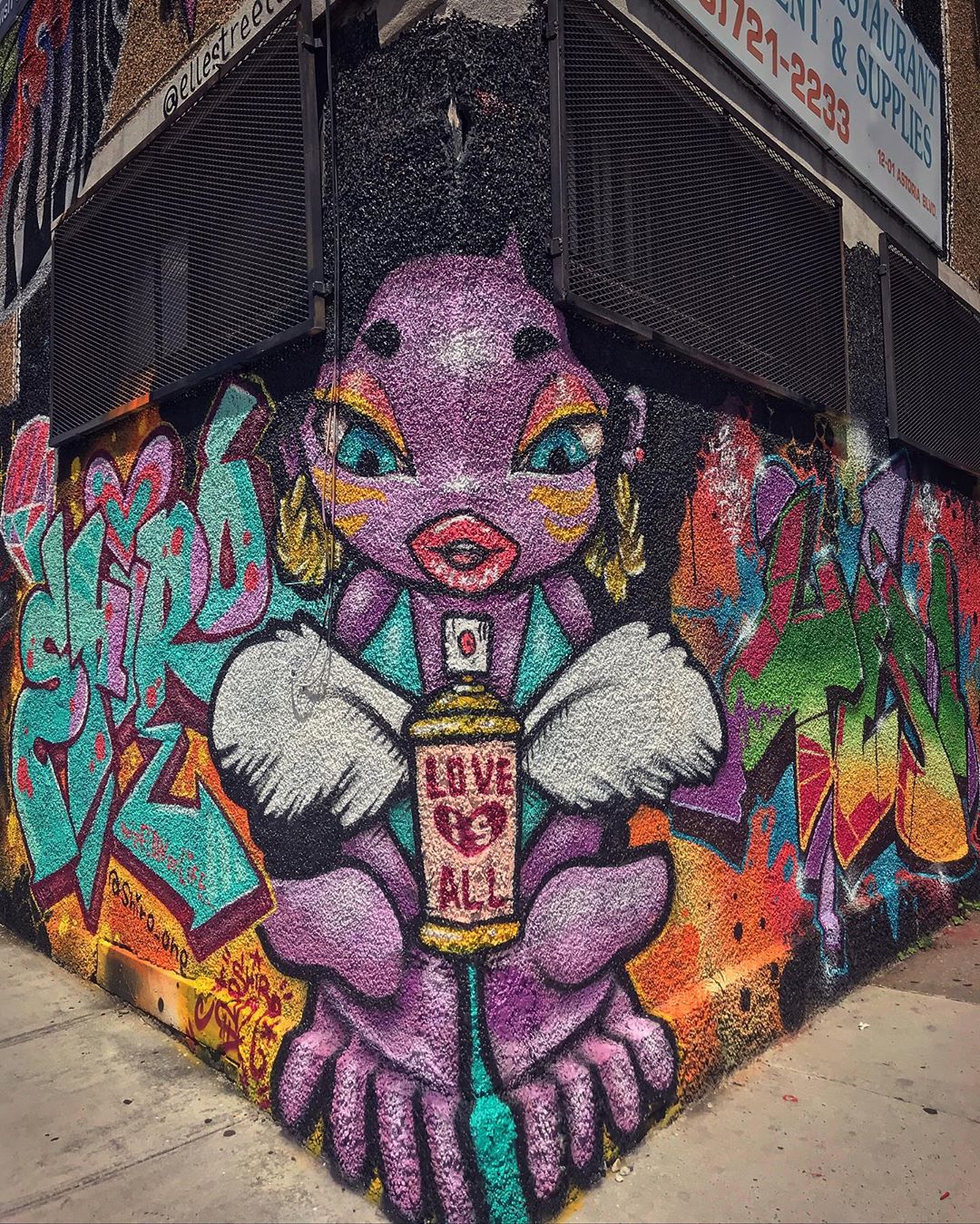 There are several topics that Shiro is fan of. Love is one of them. As we saw before, she uses the term love in many of her artwork. She loves to spread love around. Because when we have love, we can have peace and liberty.
24. Earthy Liberty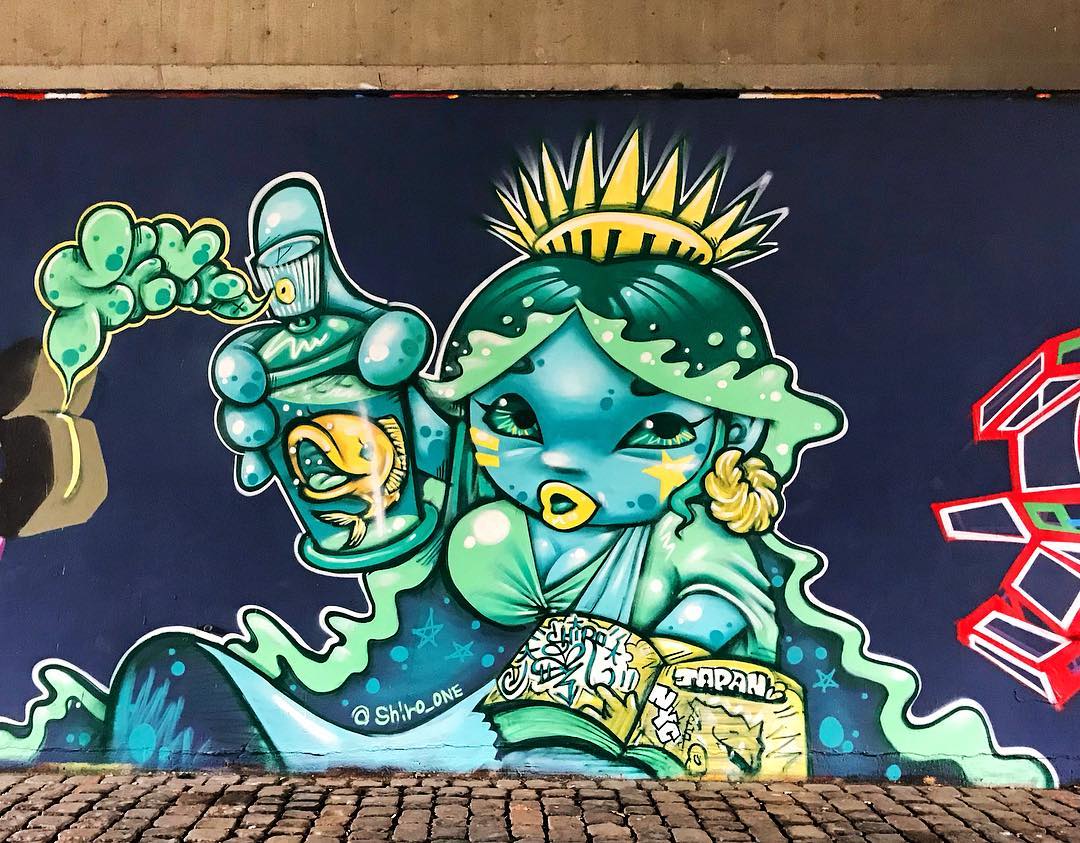 The Statue of Liberty definitely looks amazing in this depiction, wouldn't you say? Shiro One has a couple of ideas for one of the landmarks of New York City.
25. Afto Pufs And Star Dust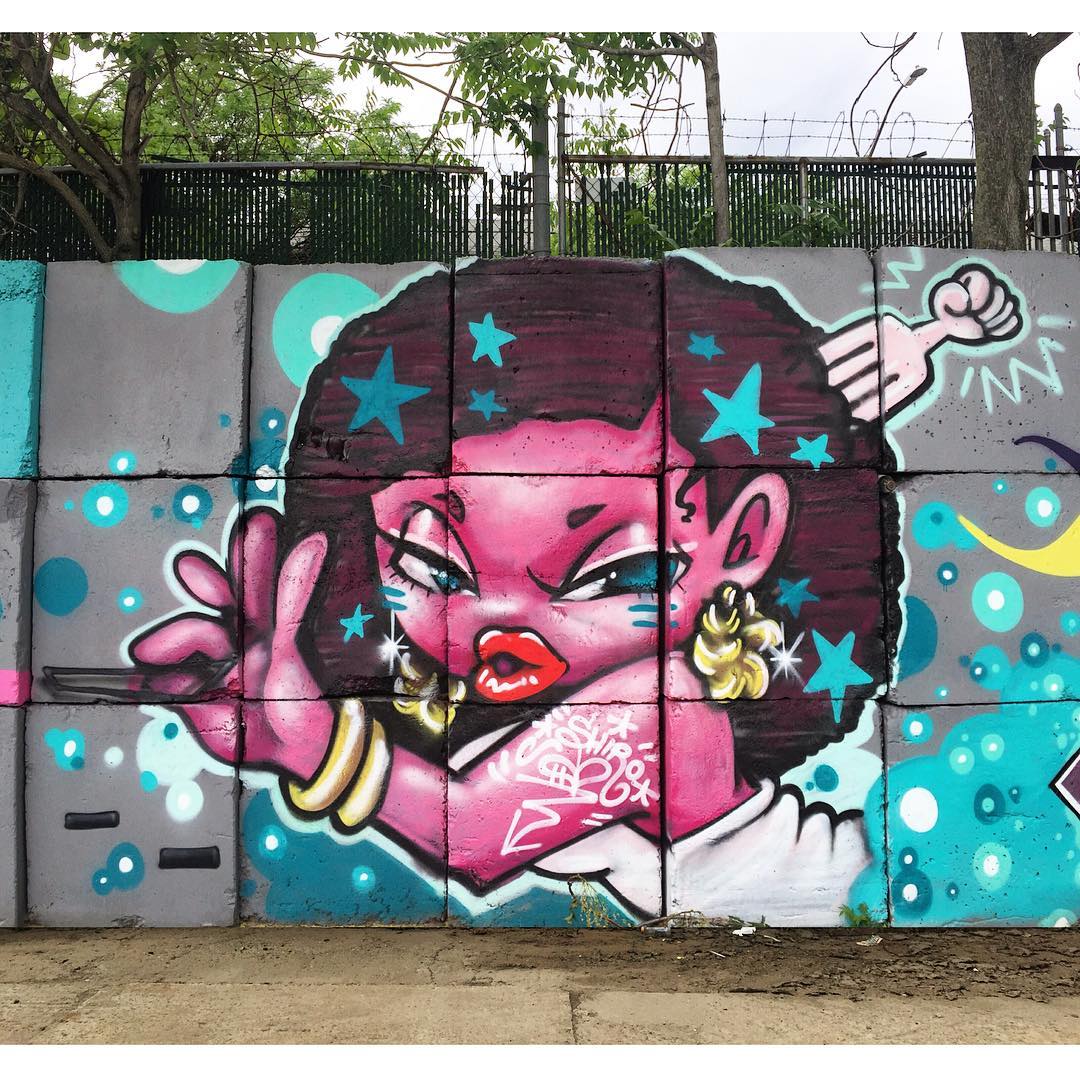 Do you know what is stardust? According to some, it is a feeling or impression of romance, magic, and eternity. As you can see, the topic of love makes an appearance here as well.
26. The Goddess Within
Shiro loves to play with ancient subjects and give them a modern look. Or a Japanese inspired look if you will. Is this how goddesses look in Japan?
27. Playground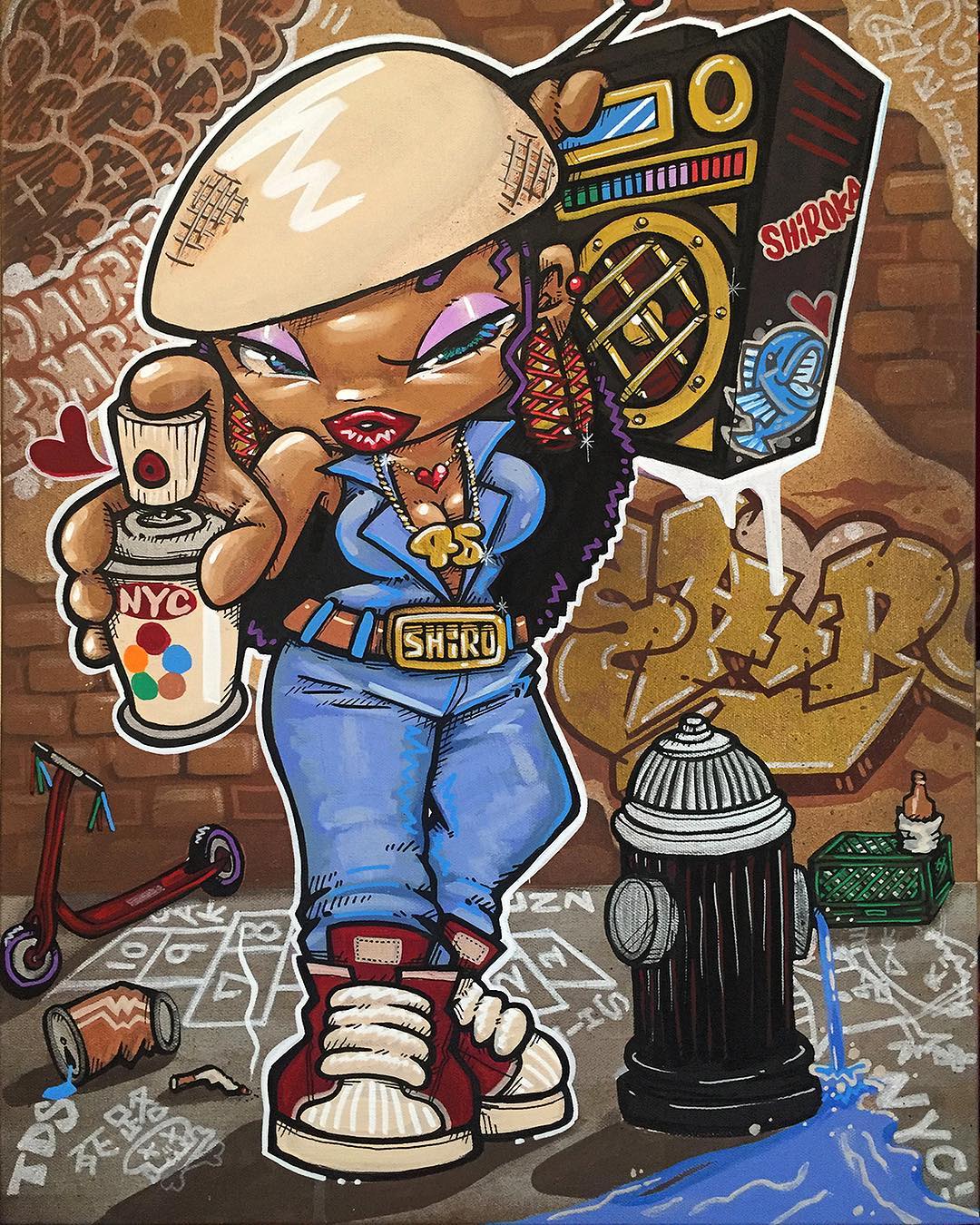 New York is famous for its playgrounds. They are a place for socialization. People play basketball there, listen to hip hop music, and draw graffiti. Basically, everything Shiro loves.
28. Gold Wish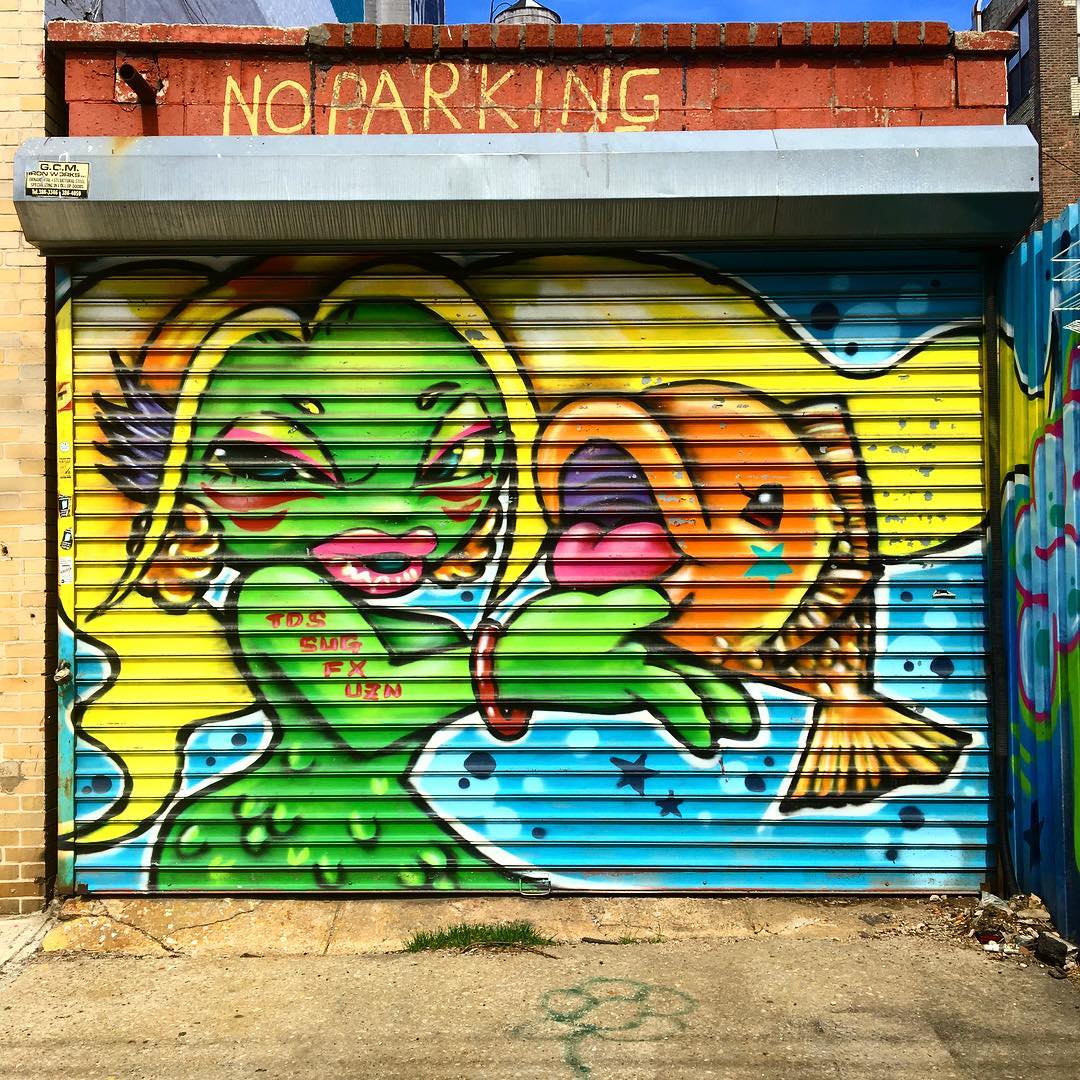 Here is another classic story that gets a Japanese depiction. The gold fish myth is that it grants you three wishes. Well, what would you wish for?
29. Daughters of the Diaspora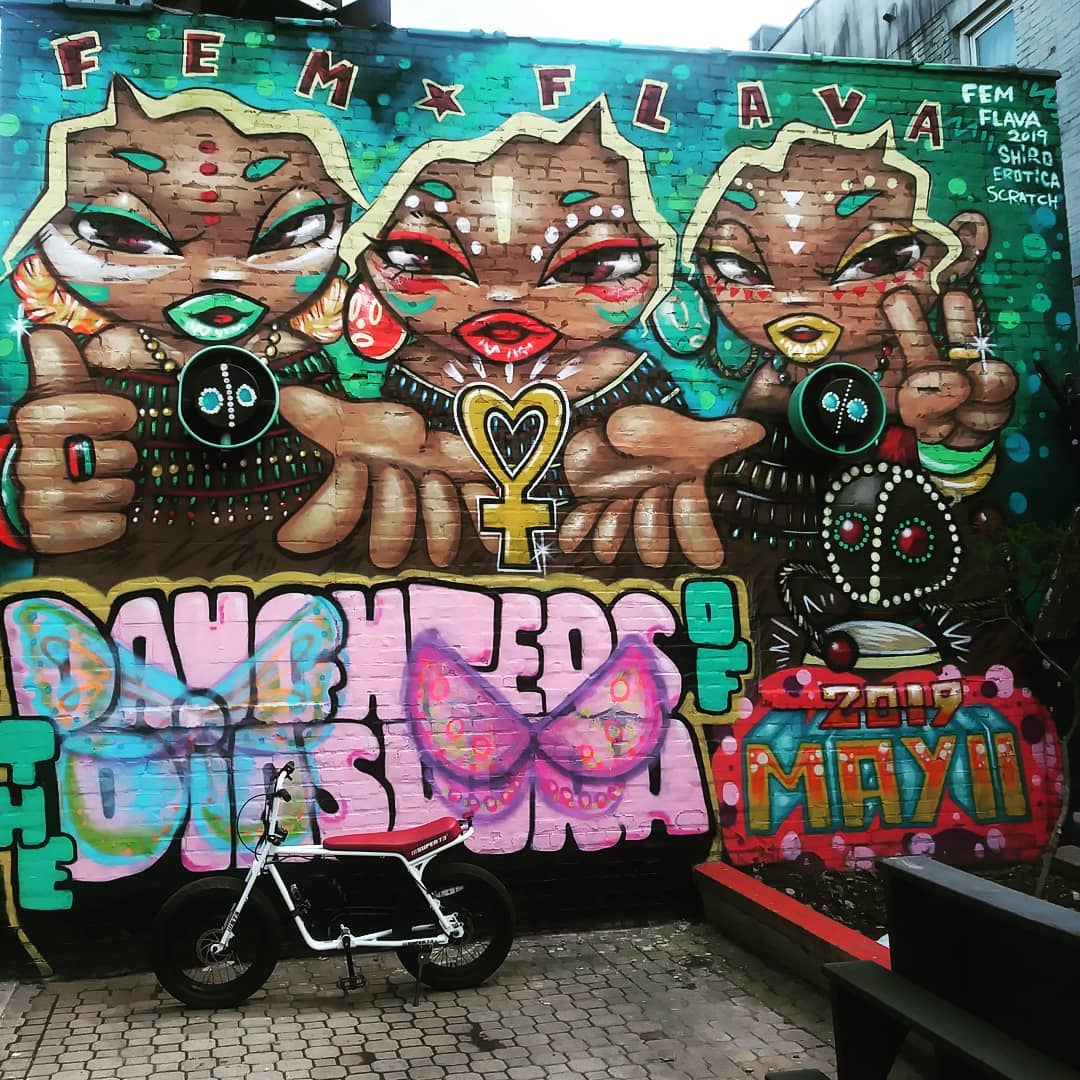 There is a huge social element in Shiro's graffiti. Daughters of the Diaspora is a non-profit organization that teaches self-esteem and reproductive health to adolescent women throughout the African diaspora.
30. Shiro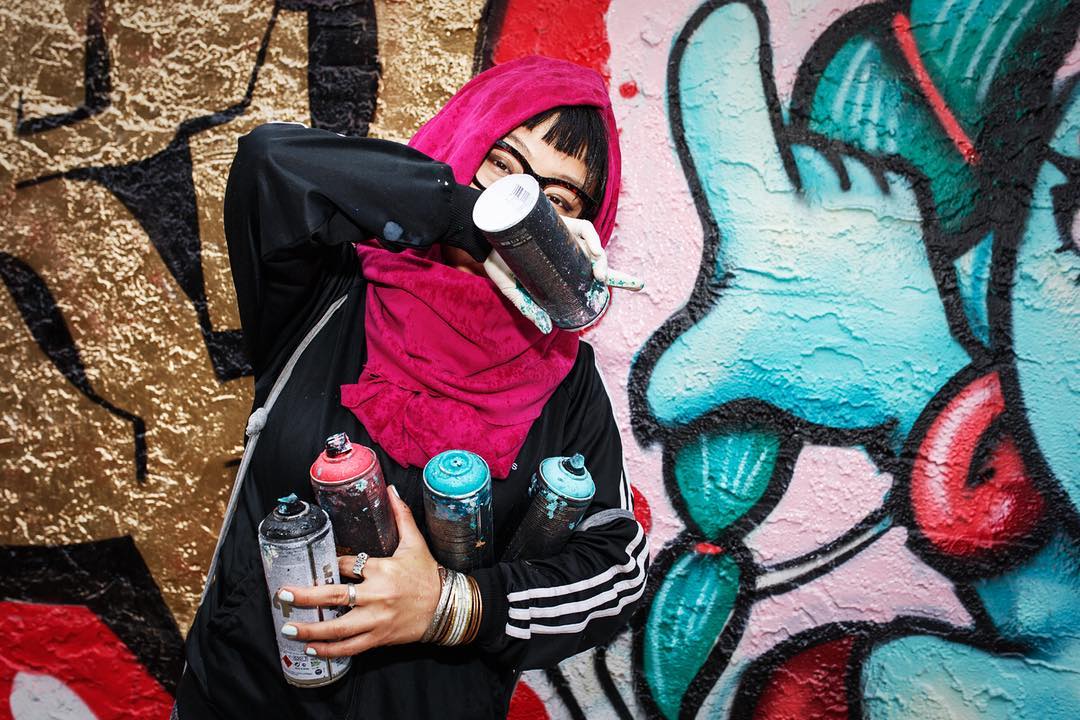 Here is the artist herself. How much does she look like the one depicted in her graffiti? Hopefully you enjoyed her art.