Born as Jason Lamar Hailey in 1979 in Oceanside, California, Chor Boogie started his artistic career at the age of five. A grade school teacher introduced him to art in general. After that, he decided he wanted to be an artist when he grows up.
At the age of 10 he used spray paint for the first time. One year later, he chose the name Chore, and later he dropped the "e" at the end.
He used the name to describe his enjoyment of art from a professional standpoint. Later in his life, Jason began volunteering as the director of mural projects for Writers Block, a San Diego group creating art with high school students.
In October 2010, he sold The Eyes of the Berlin Wall for 500,000e or $580,000 in today's value. That made history for the street art genre.
Chor speaks publicly about his spiritual transformation thanks to the sacred iboga medicine. He also studies the traditional ways of the Bwiti and applies them to contemporary Western urban culture.
He is primarily an autodidact and says he was influenced by the work of Da Vinci, Michelangelo, Rembrandt, Klimt, Van Gogh, and Salvador Dali.
He paints exclusively with spray paint and his artwork can range from miniature, for example 2 by 2 inch paintings, to building-sized murals. Speaking about his colorful style, he refers to it as color therapy for viewers.
1. Modern Hieroglyphics Timeless 2004
Chor finds a lot of inspiration in Ancient times. And hieroglyphics are a huge part of it. But like with other of his paintings, he gives ancient items a modern and contemporary look.
2. Starlet 2005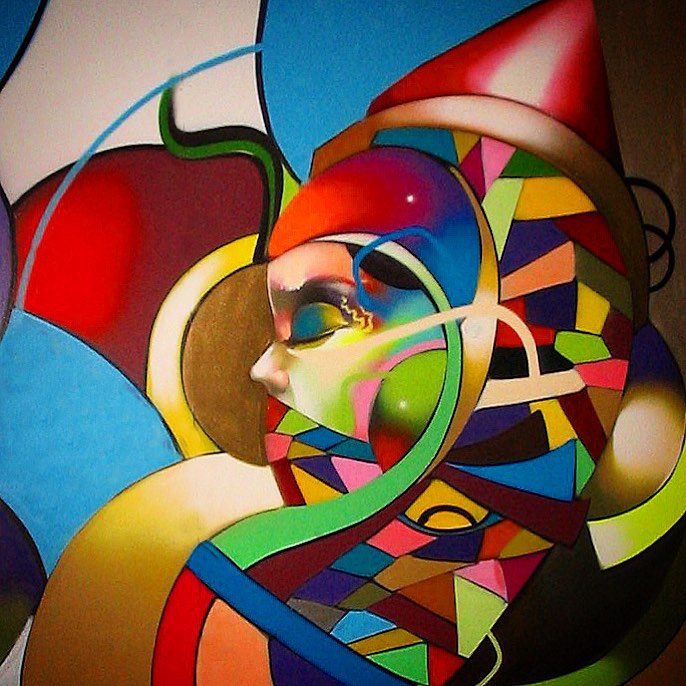 Colors are a huge part of his work. And he loves using colors to express emotions and expressions. In this painting, he uses colors to express the views of a woman starlet.
3. Redyellowgreen 2006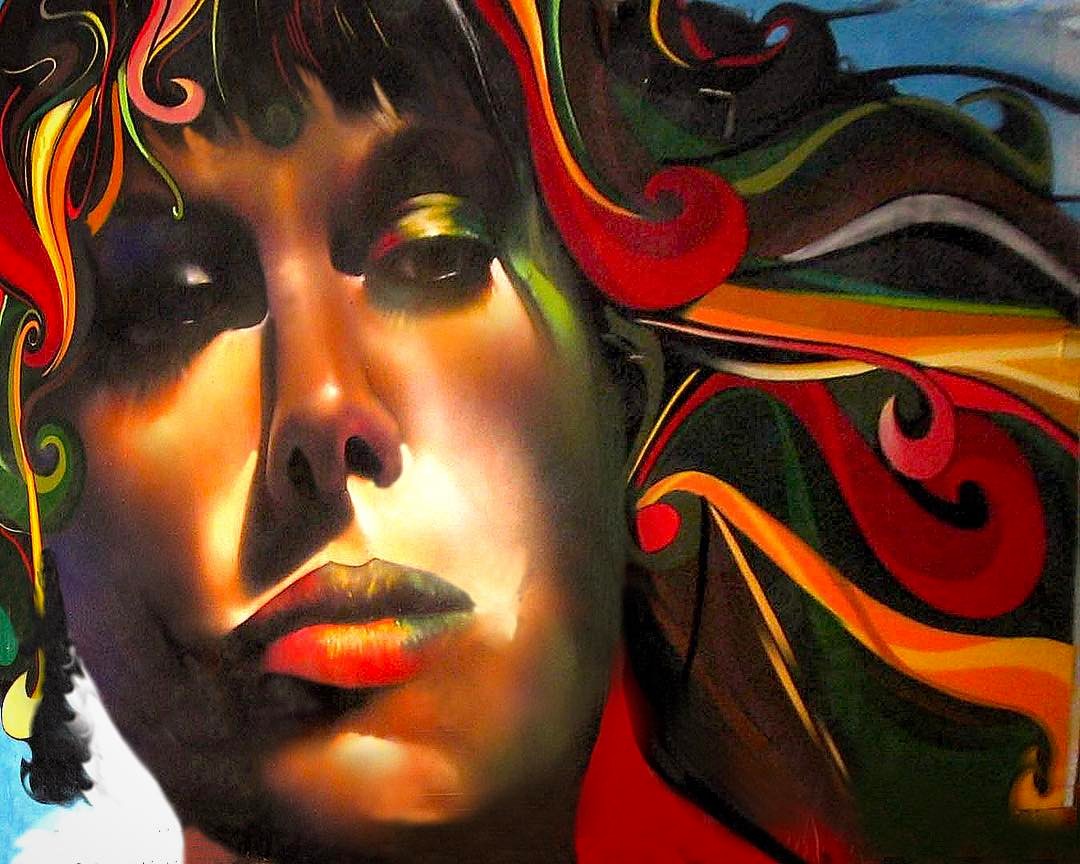 Boogie made this mural to take street art to a whole new level. Definitely one of his most amazing murals.
4. Color Of My Soul 2006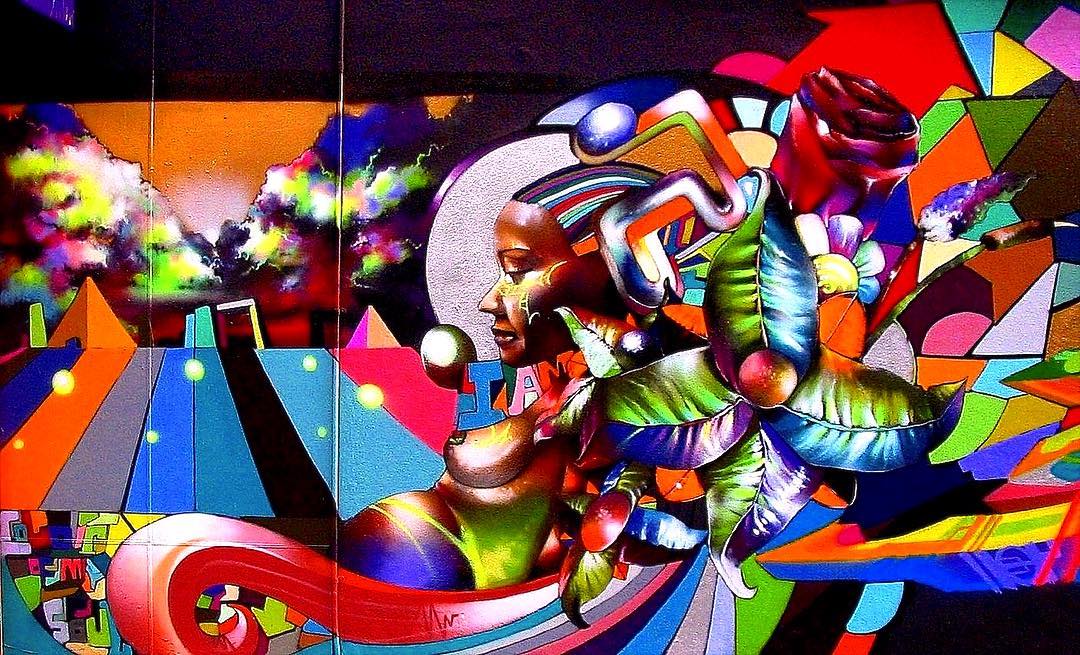 Chor is a master at combining colors and shaping objects and borders. And he also add so many pop culture references in his art.
5. Cellophane Symphonies 2006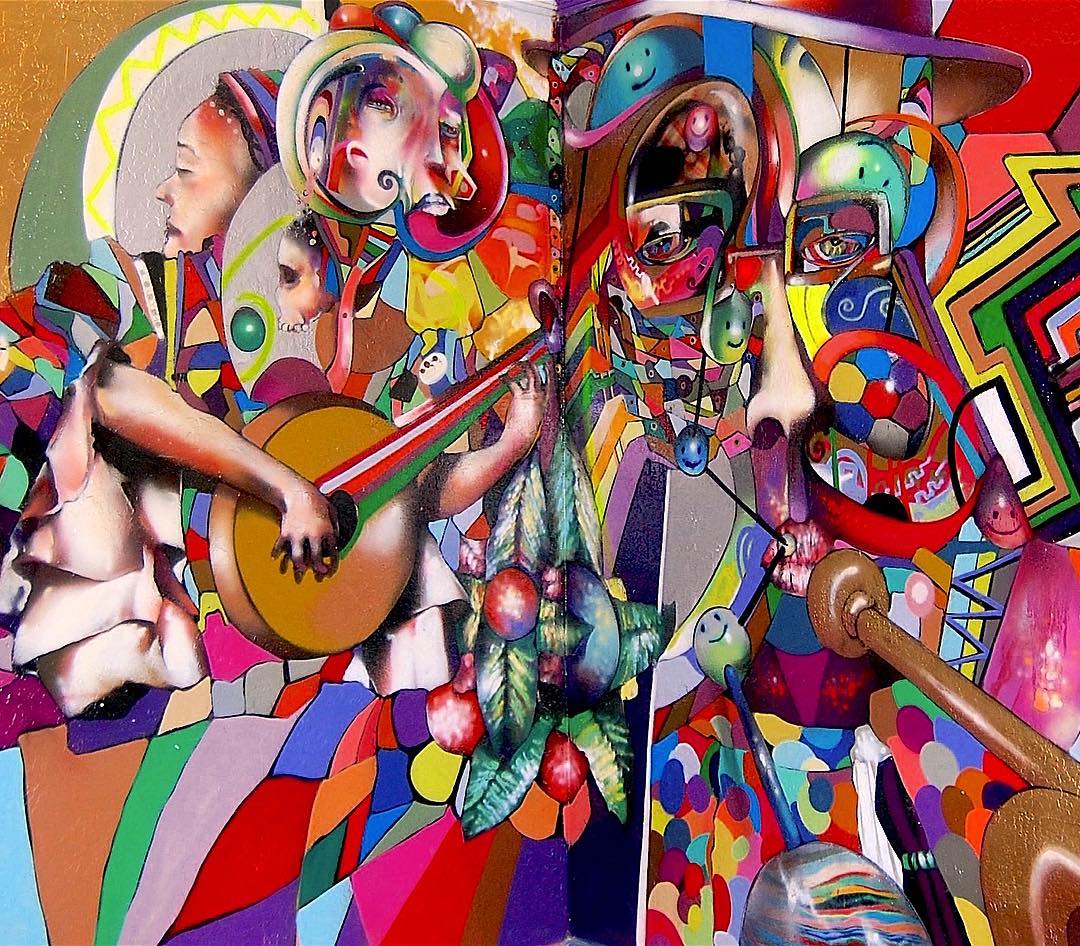 As we said before, Boogie can add so many pop culture references to his murals. This cellophane band looks amazing and colorful.
6. Modern Hieroglyphics Purgatory 2006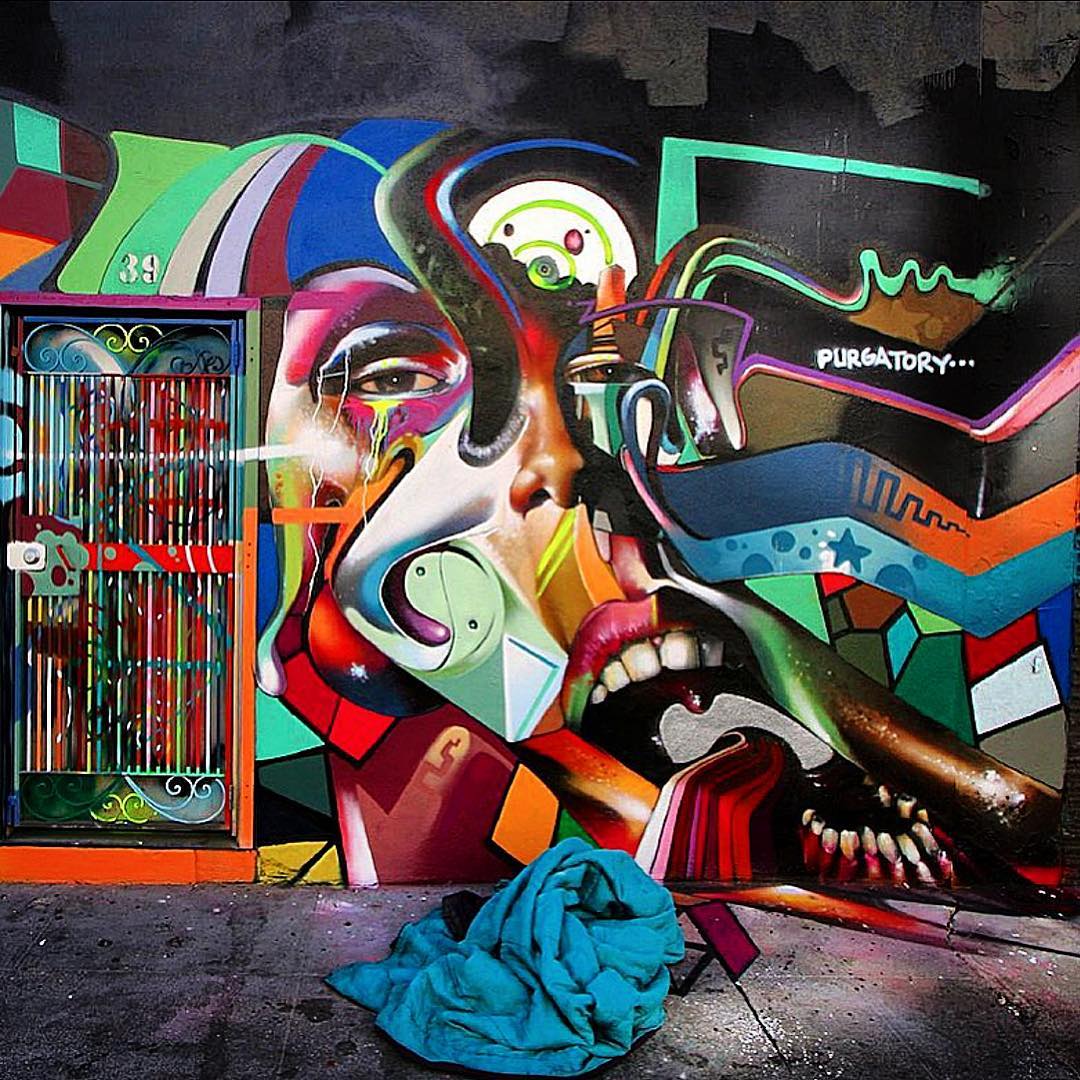 For one of the modern hieroglyphics series art, Chor said death is a major factor for it. He says people are scared of death. But once we embrace that we do not die and we just keep going, then we would be more at peace.
7. Modern Hieroglyphics 2Kings 2007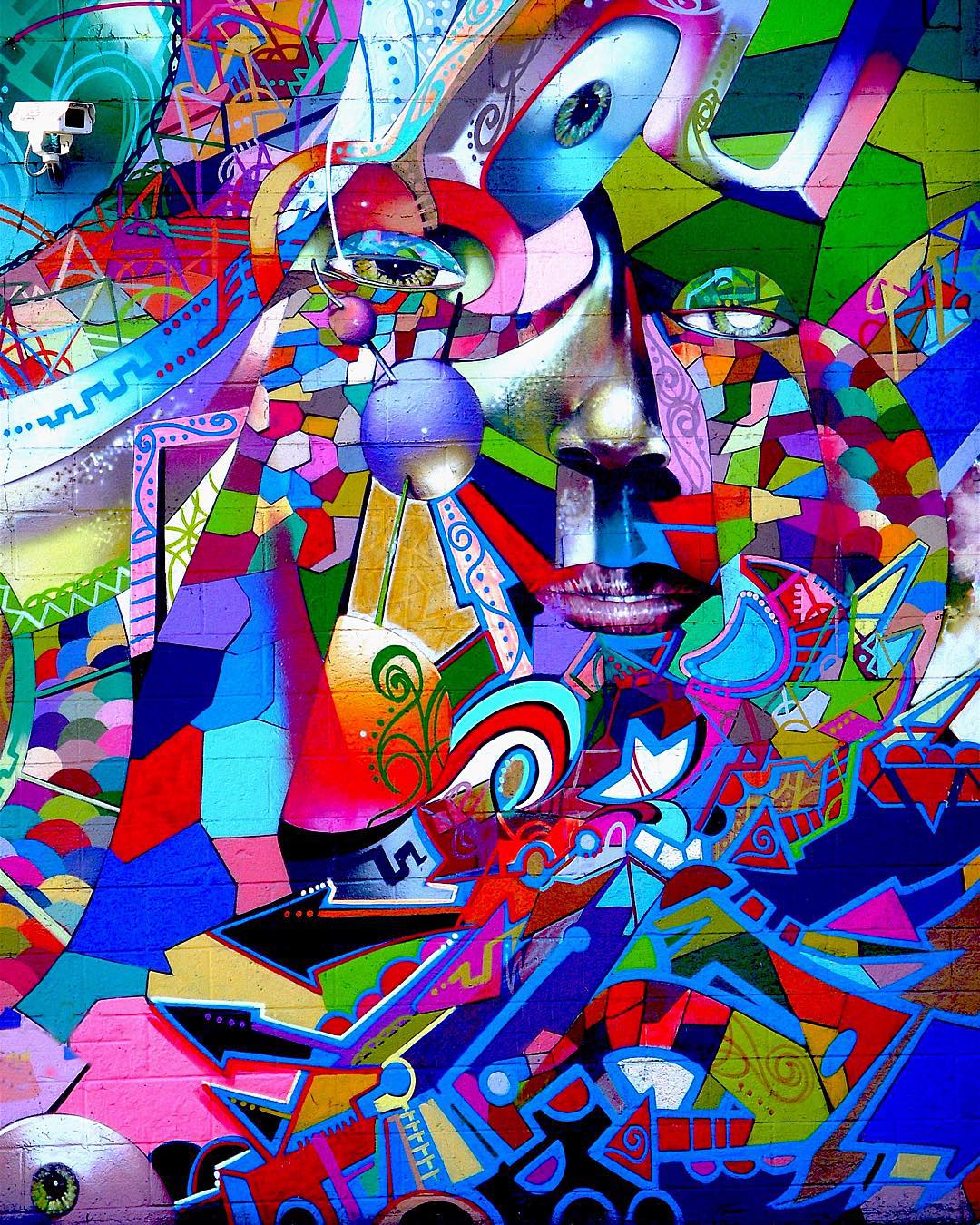 His modern hieroglyphics series incorporates stained glass motifs. It refers to the correlation between our senses and the four elements of life.
8. Modern Hieroglyphics Chrome Blue 2008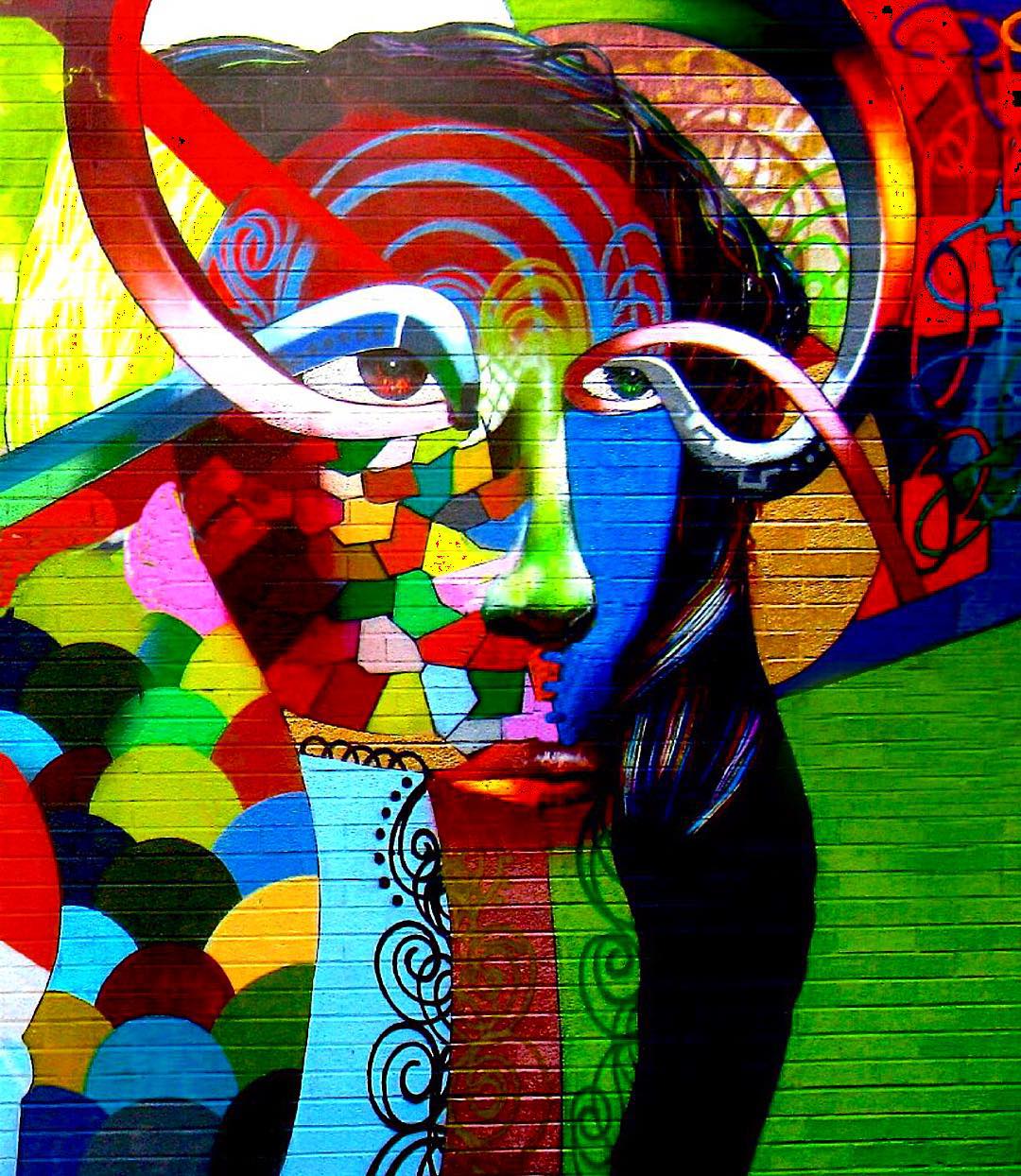 The main difference between some of his modern hieroglyphics paintings is in the color. Depending on the title and the emotion he wants to express, Chor changes his main color.
9. Modern Hieroglyphics The Sun 2009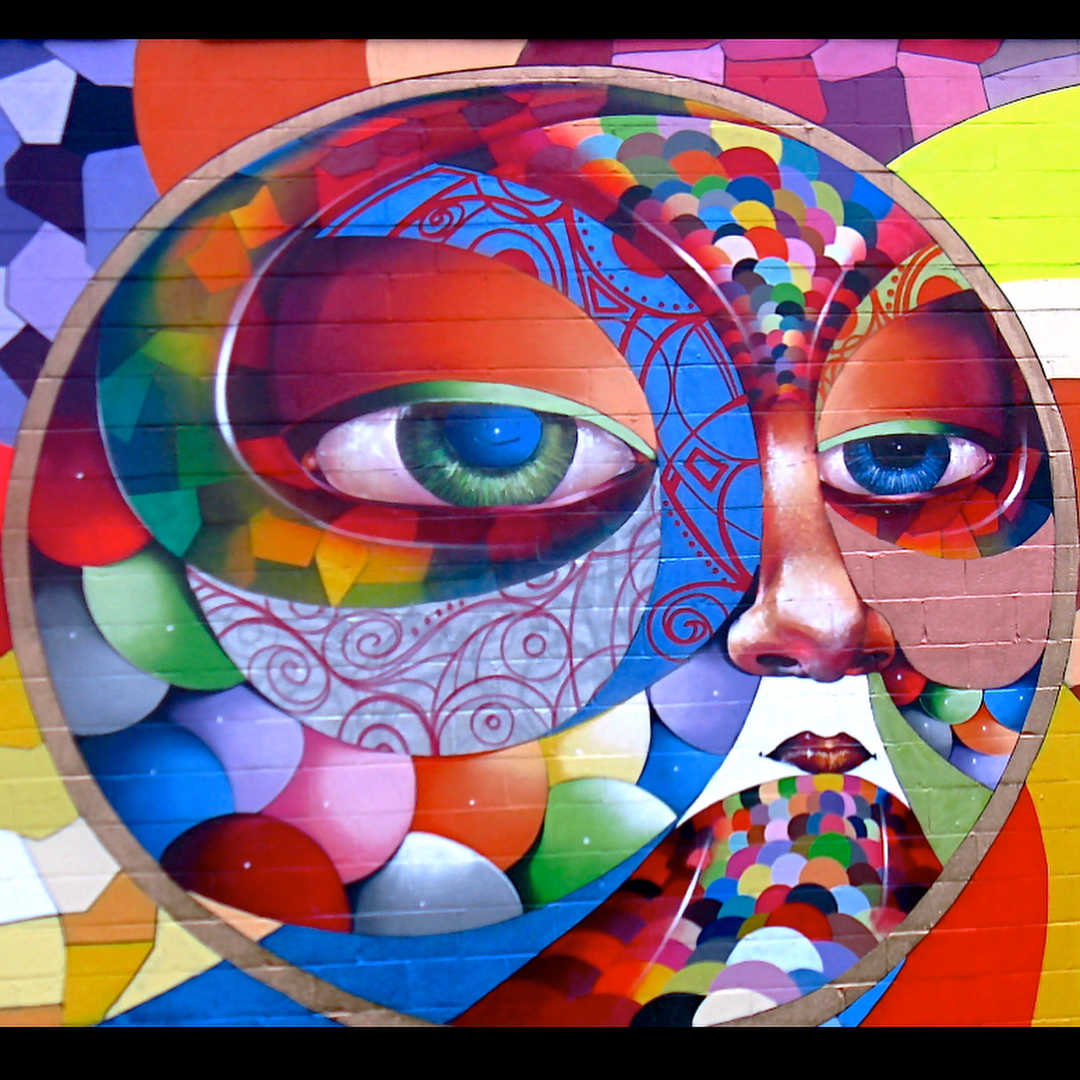 Speaking of color therapy and his modern hieroglyphics series, in this one, the sun is the major element. And because yellow is the color of the sun, it dominates the painting as well.
10. Modern Hieroglyphics Spells 2010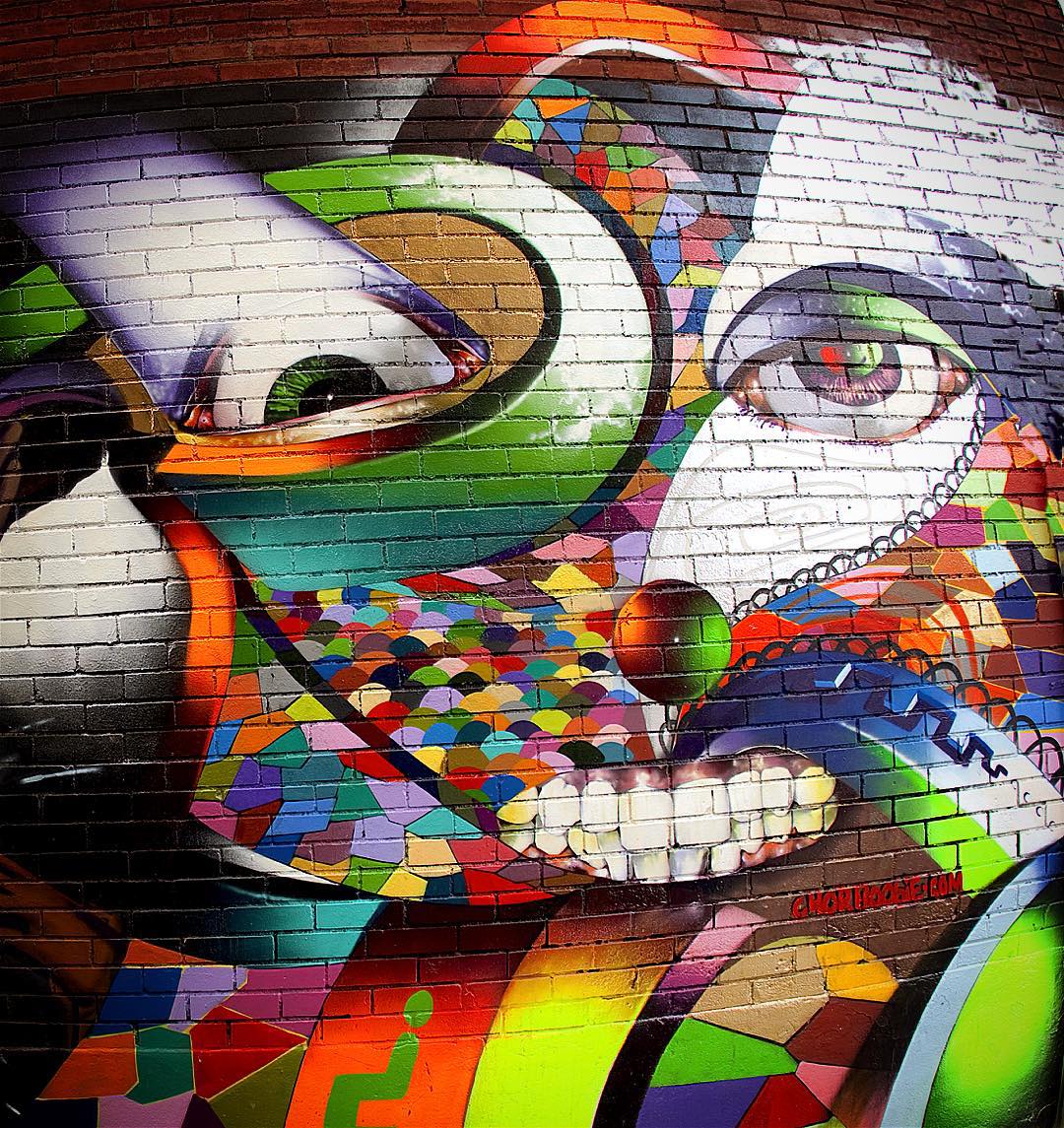 Fun fact: Boogie calls modern art modern hieroglyphics. That is where the name of his artwork comes. Instead of graffiti or street art, he calls his art modern hieroglyphics. Quite nice, right?
11. Opium Horizonts 2011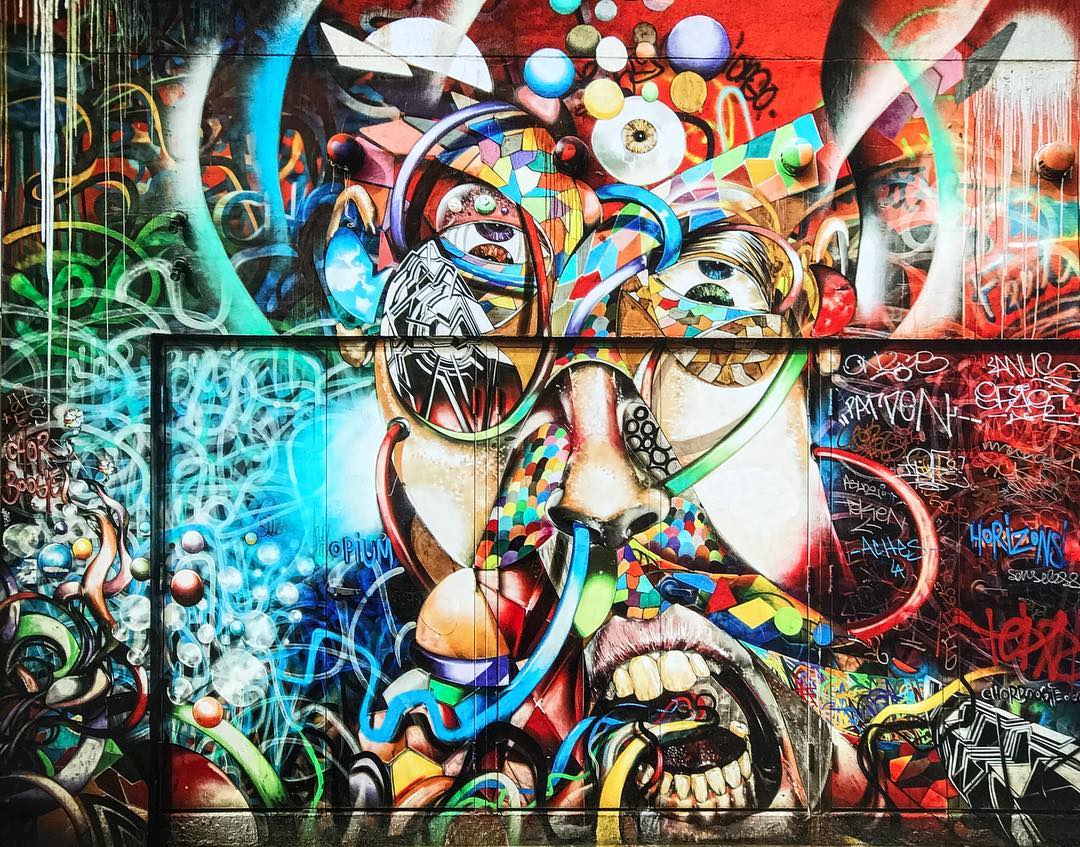 Looking at Chor's work, you can easily go into hallucination. After all, he is all in on psychedelic art. If you need an art piece for a trance and techno party, Chor is the guy to ask.
12. Steeple Chase 2 2011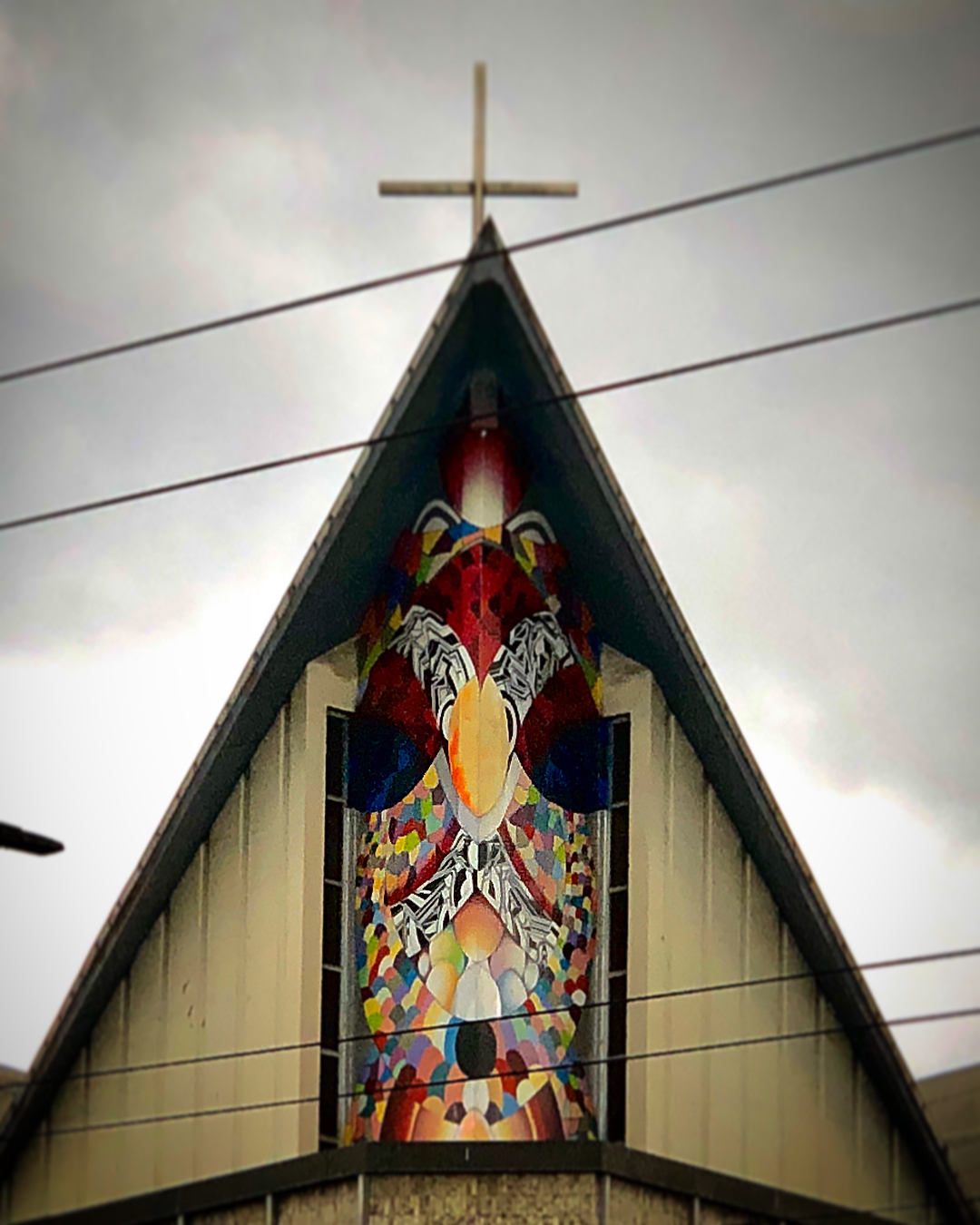 Boogie sometimes paints on outside objects, and looks for some unique places. For example, this church. Back in the medieval times, churches were famous for their use of stain glass. Now, Chor joins on the fun.
13. Modern Hieroglyphics Self-Portrait 2011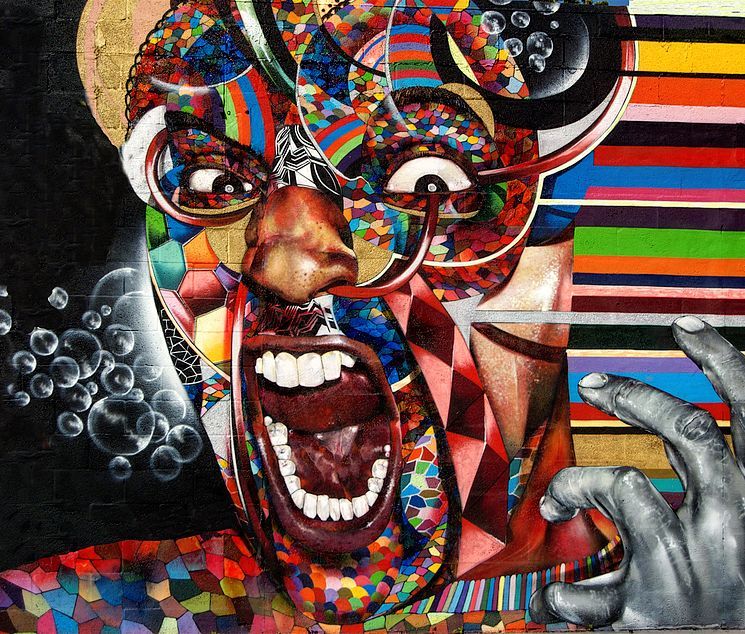 Self-portraits have remained a technique artists use to show their emotions, feelings, and skills. And we can see Boogie is definitely happy in this painting.
14. Modern Hieroglyphics Innocence 2012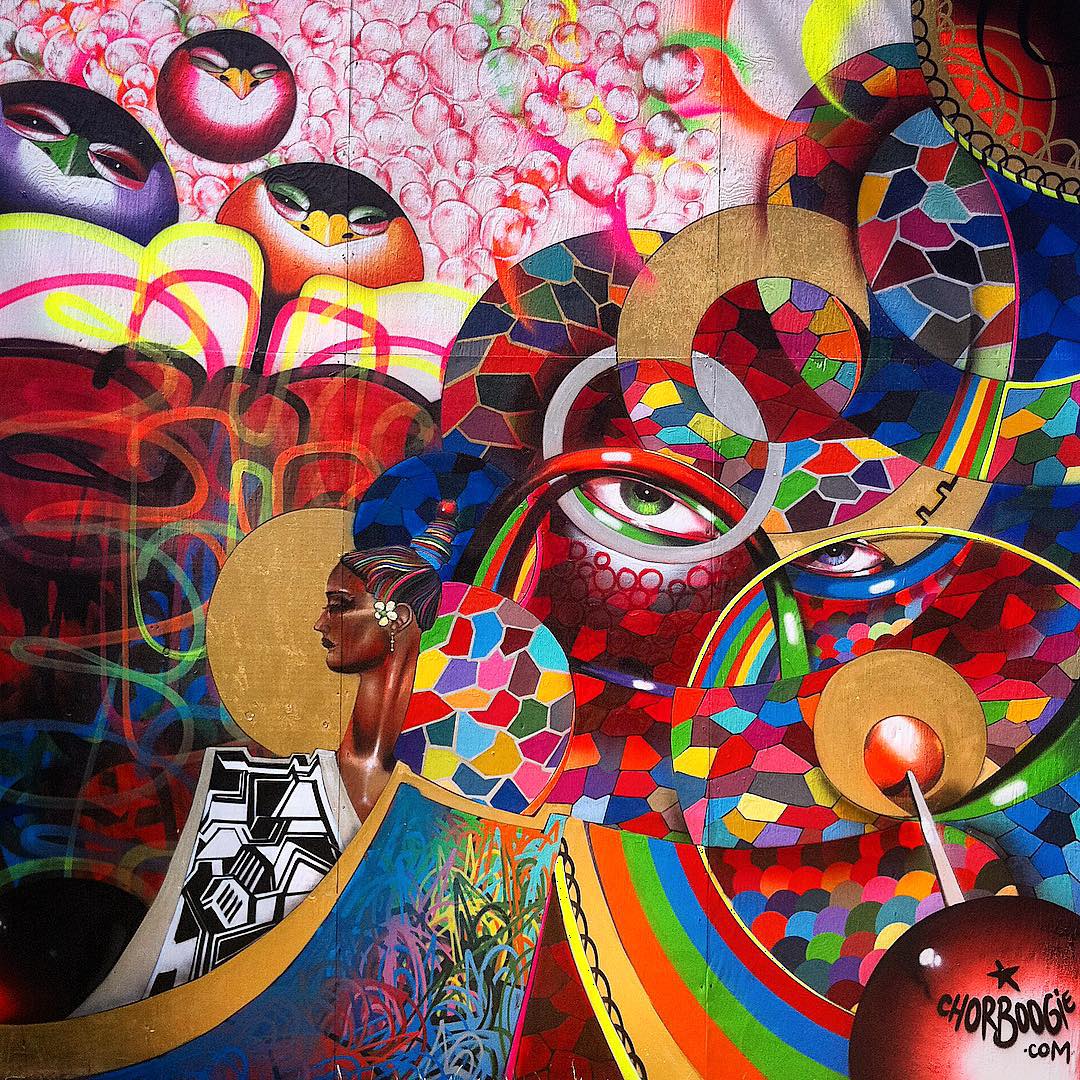 Not many people can understand Chor. After all, he is someone who practices the spiritual discipline Bwiti and applies it to his work. The discipline of the forest-dwelling people is the main reason his work looks so psychedelic.
15. Everlasting Bass (Trek Collaboration) 2012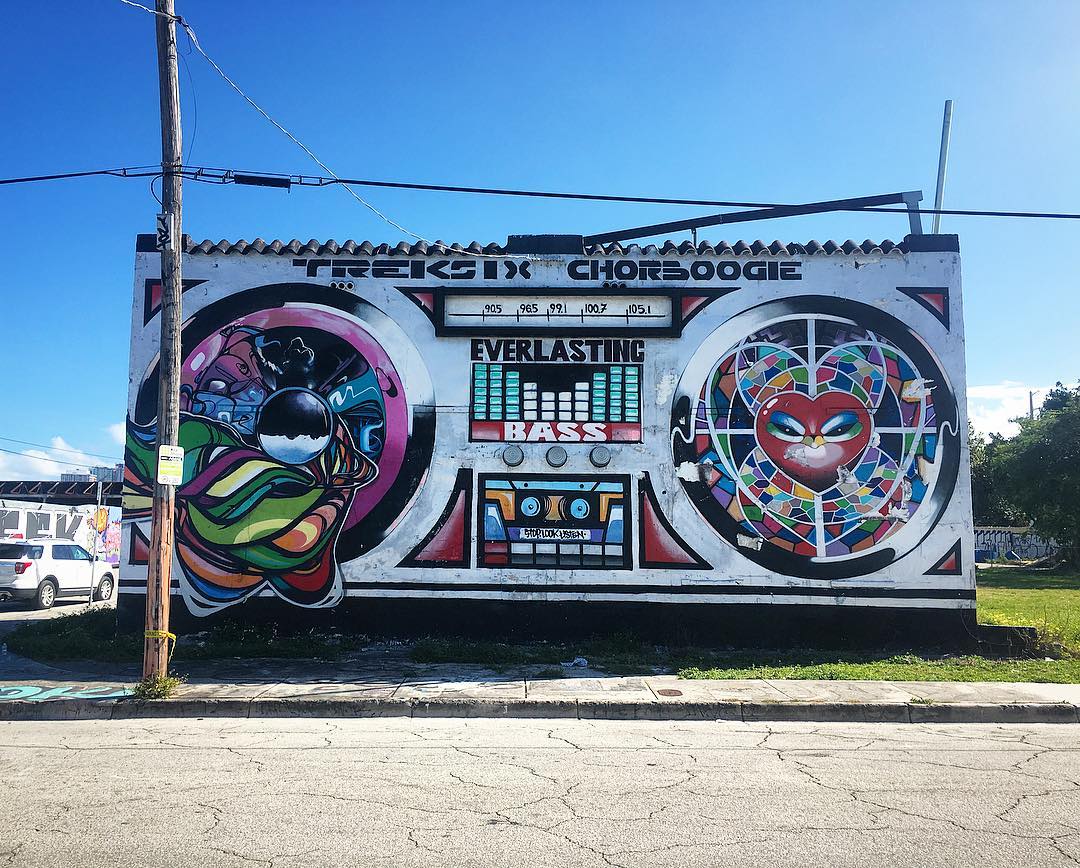 Every now and then, you can find a rather normal piece of work by Chor. For example, for this piece, he painted a colorful stereo system.
16. Modern Hieroglyphics 2013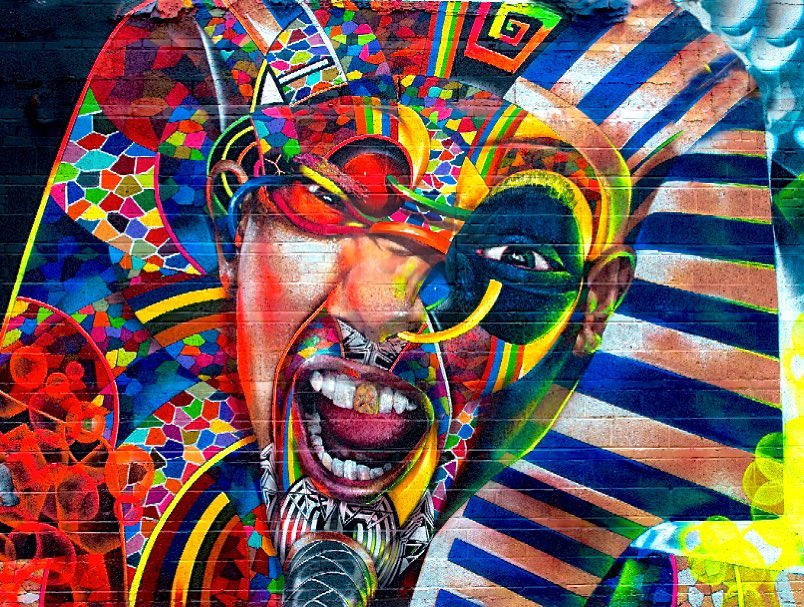 Just notice how he incorporates ancient elements into his work. That Egyptian pharaoh looks much different than what we think of Egyptians, right?
17. Light Blue 2014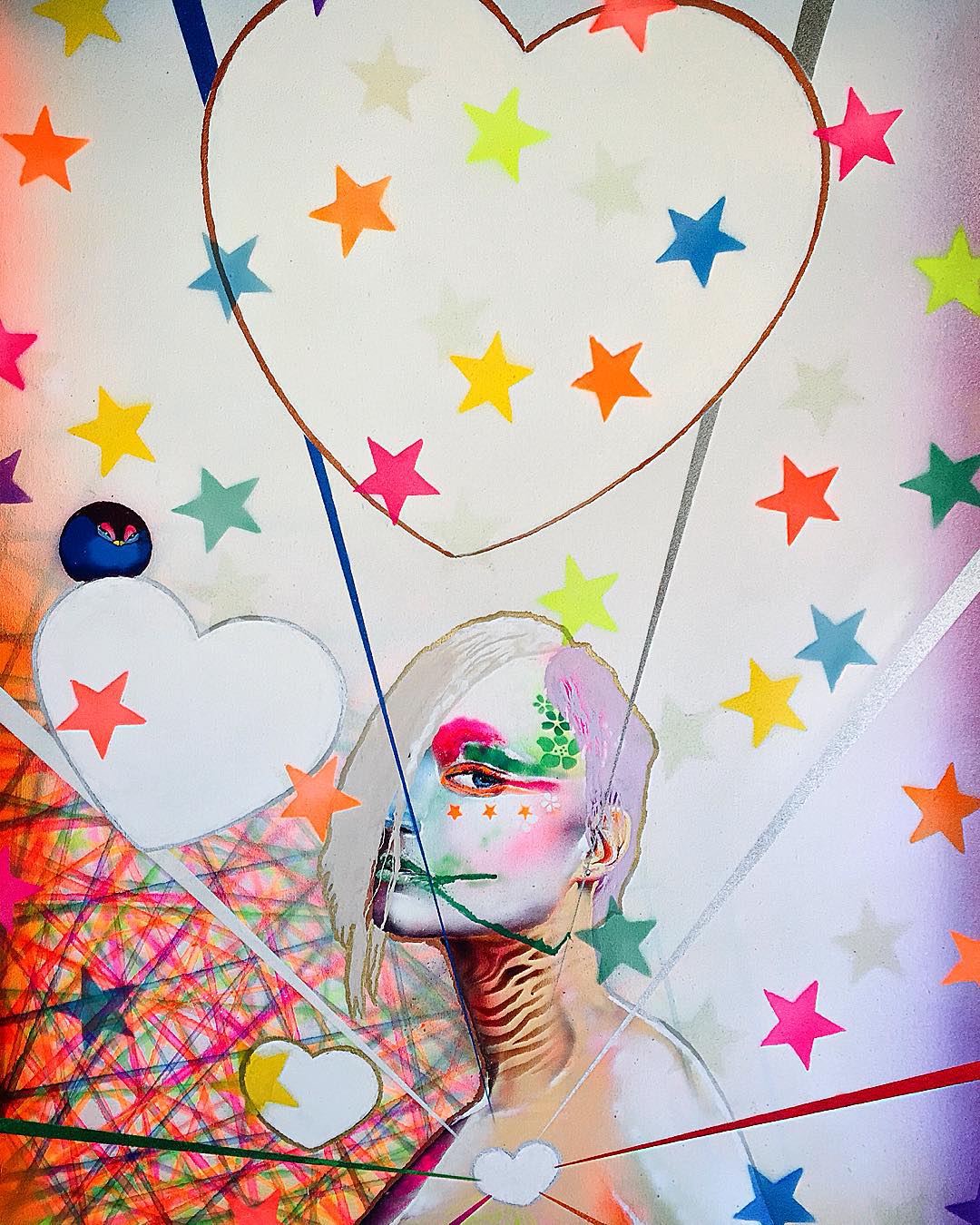 If you think Boogie is incapable of a normal painting, think again. Sometimes he can express emotions in a much simpler way. But the painting has to be colorful, that is his modus operandi.
18. Light Metallic 2014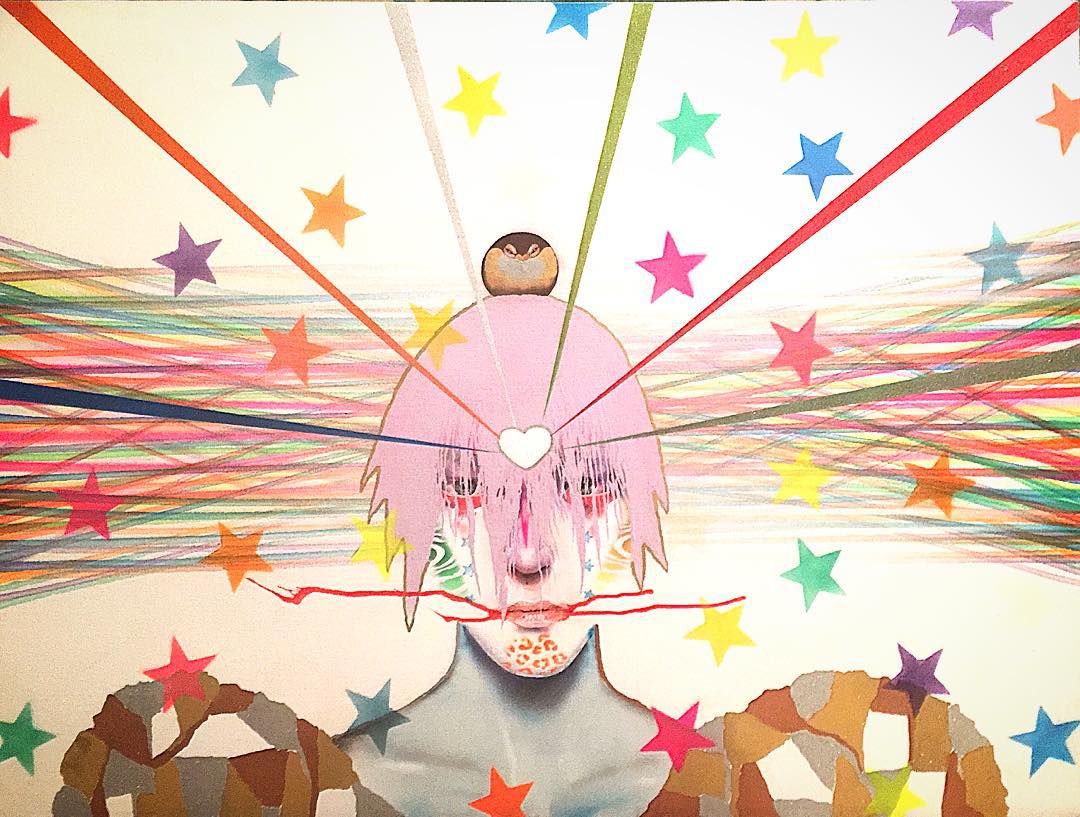 Here is another piece of art from his Light series. He depicts a woman colors all around her, showing the emotions in a unique way.
19. Keep Dope Alive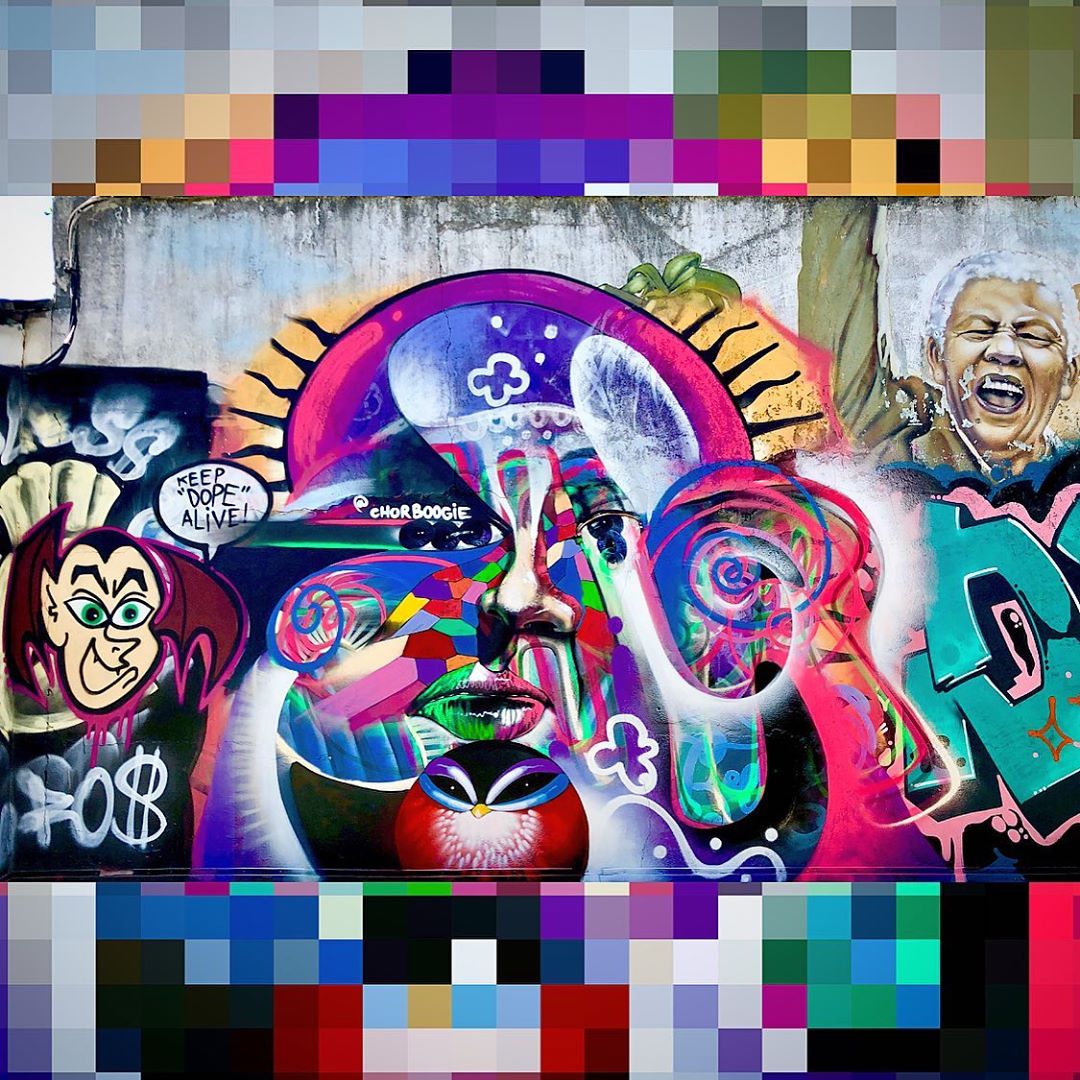 In the past few years, smoking pot has become a mainstream practice. Blunts have made smoking pot a fashionable thing. And that is where the saying "keep dope alive" comes from.
20. The Eyes of Las Vegas 2015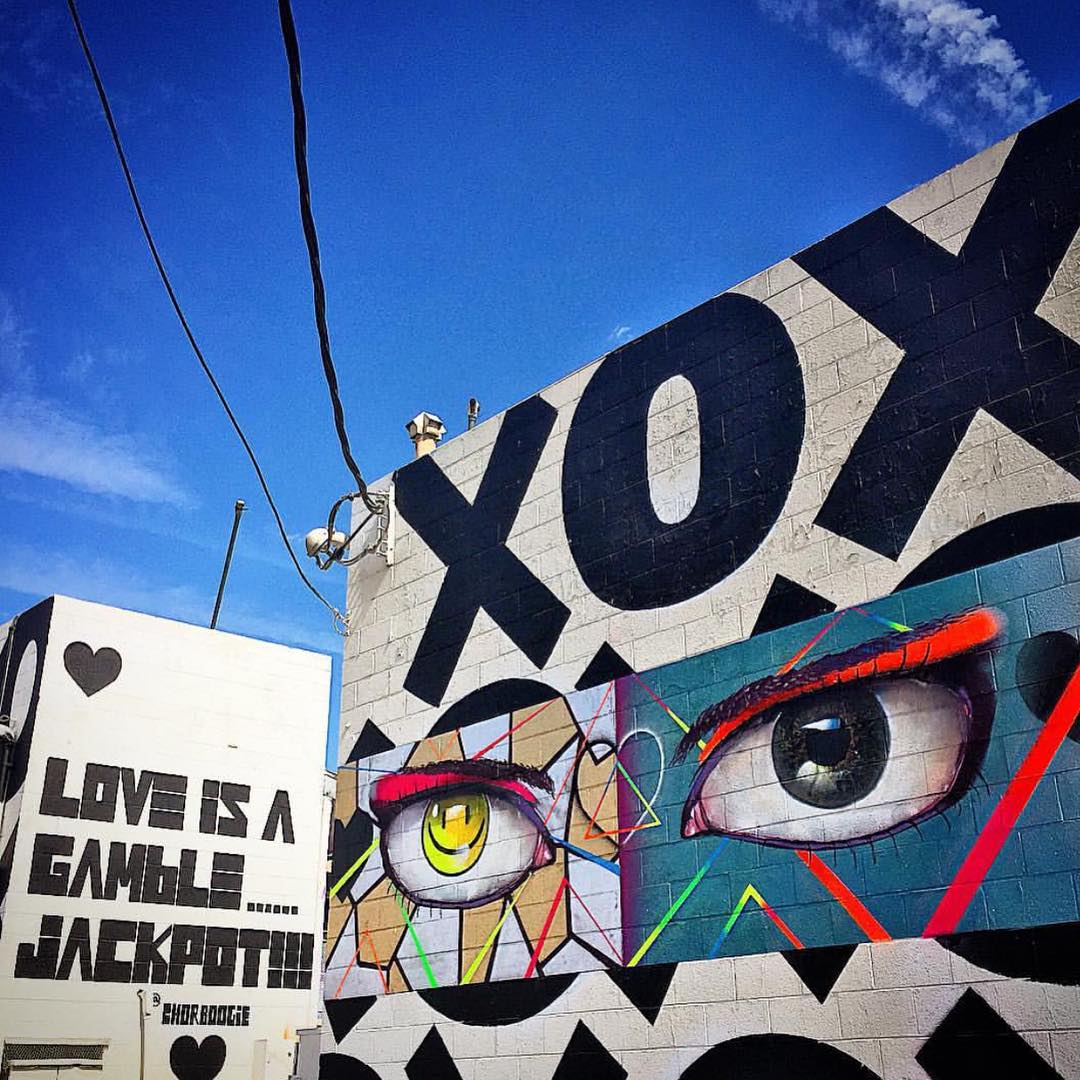 Las Vegas is all about party, fun, entertainment, and everything else. But somebody watches over you while you have fun, right? What happens in Vegas stays in Vegas, but somebody might notice your quirks.
21. Grandmother Loveland 2015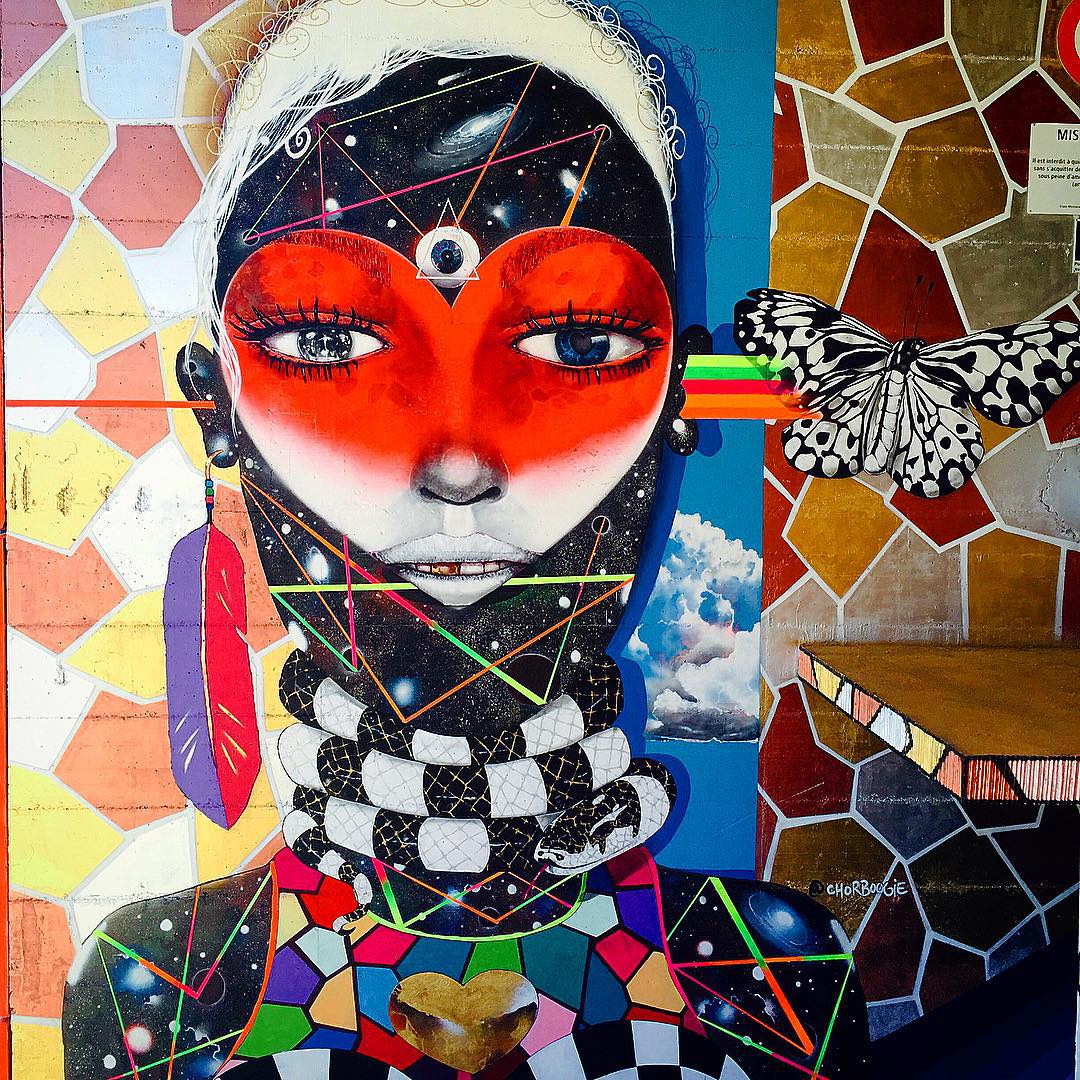 Chor painted this mural in the Alps for the Vision Art Festival in 2015. He is definitely the best when it comes to murals and posters for festivals.
22. These Walls Can Talk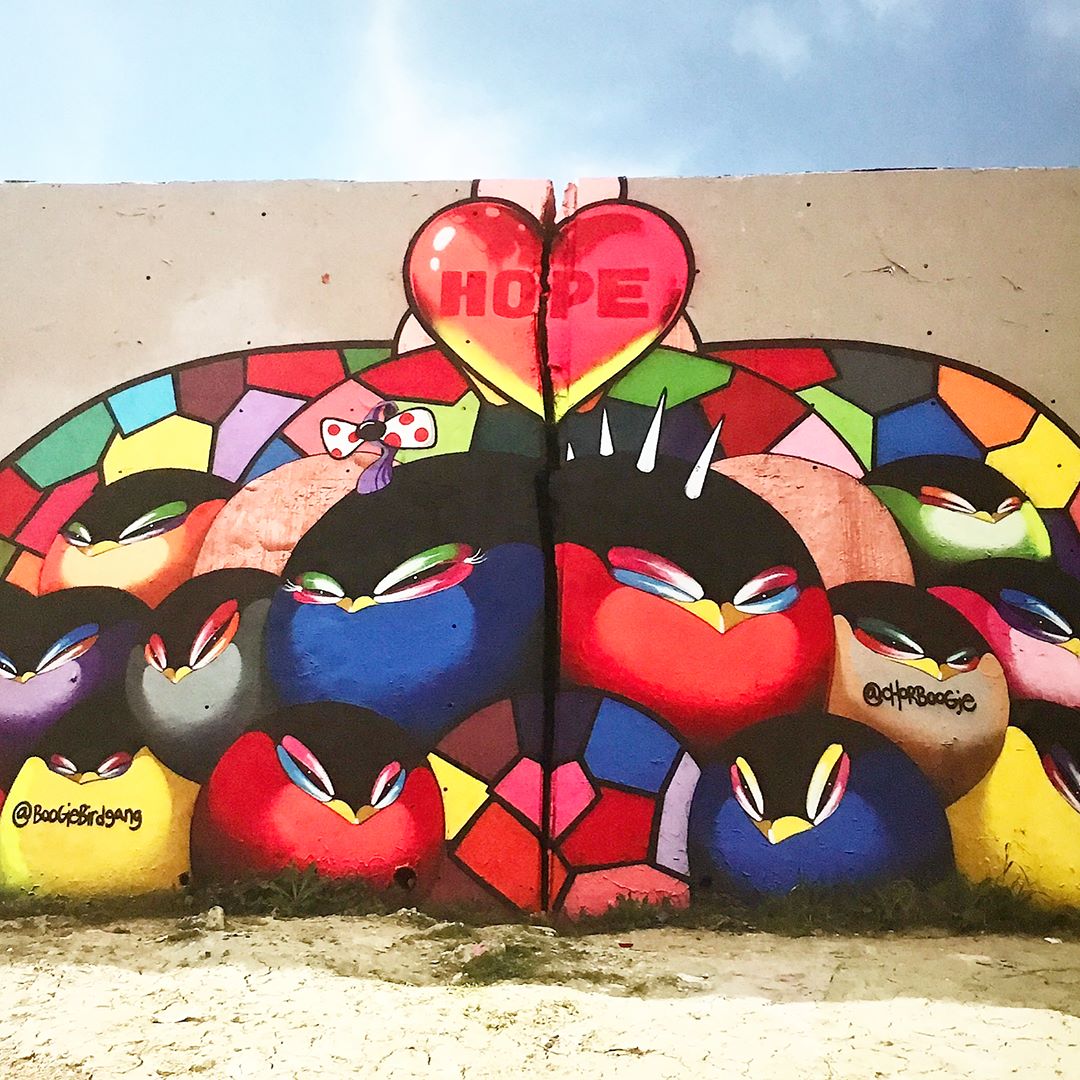 Boogie tries to make sure his paintings also give out hope. They might look psychedelic and weird, but hope is a big topic in his work.
23. Love Your Momma 2016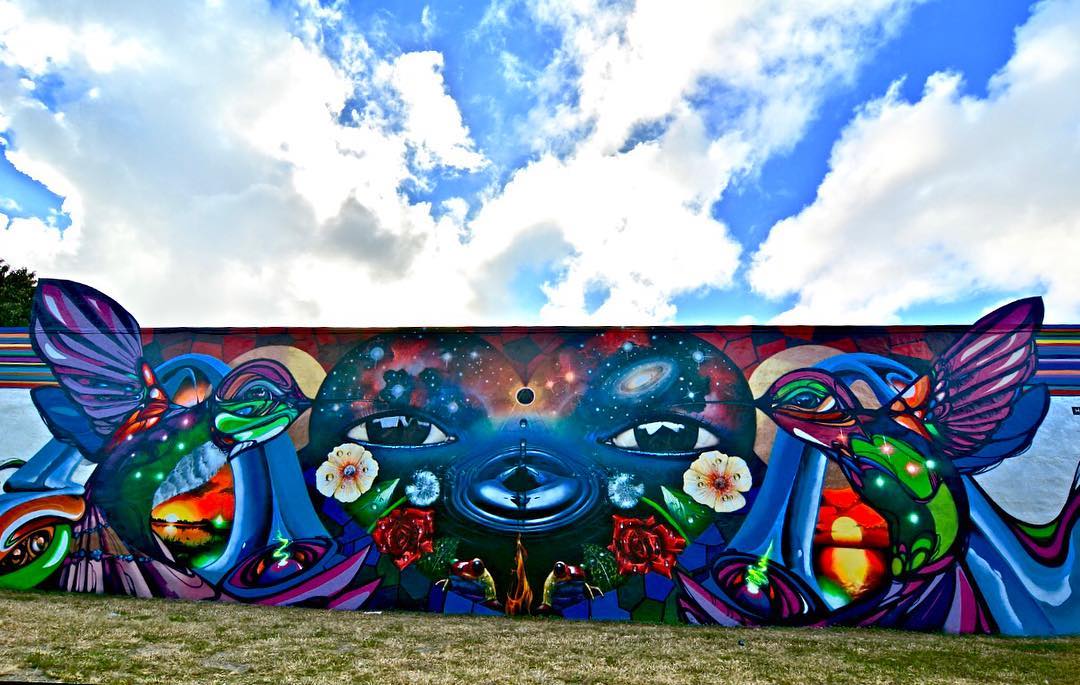 For this mural, Chor collaborated with Trek 6. They dedicated the mural to the women in their lives. For example, Boogie made the dedication to his late mother.
24. Birds And The Bees 2017-2018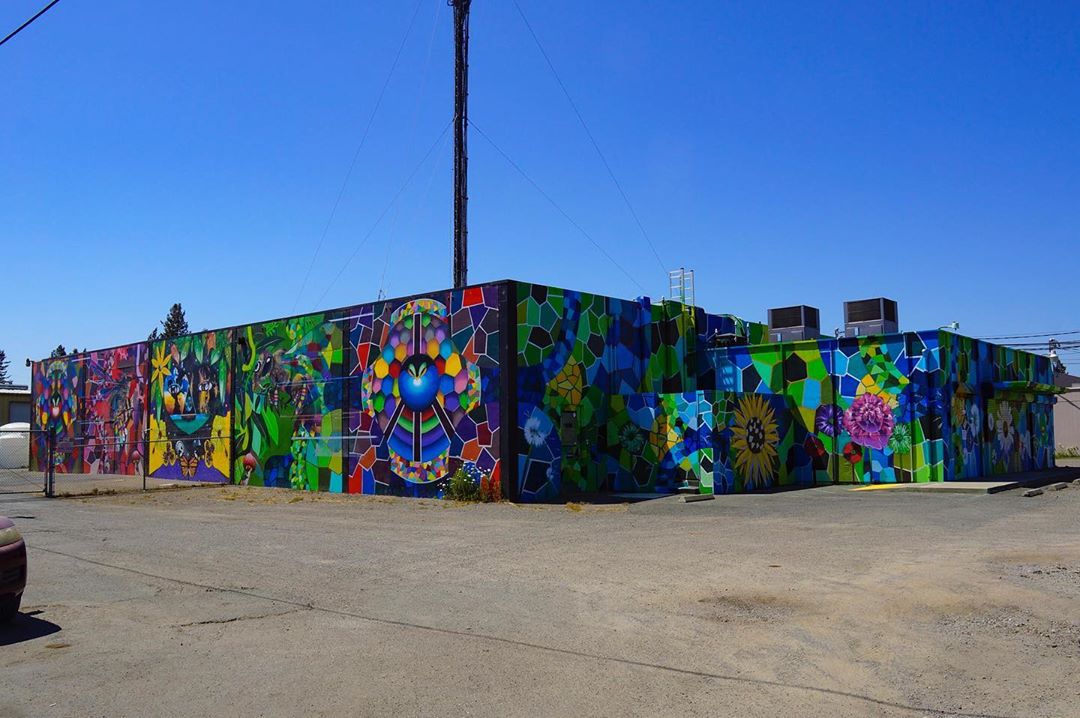 You know the talk about the birds and the bees right? Well, Chor has a nice way of showing how that talk would look like in his own vision. But the mural is for a different purpose, read next.
25. Birds And The Bees 2017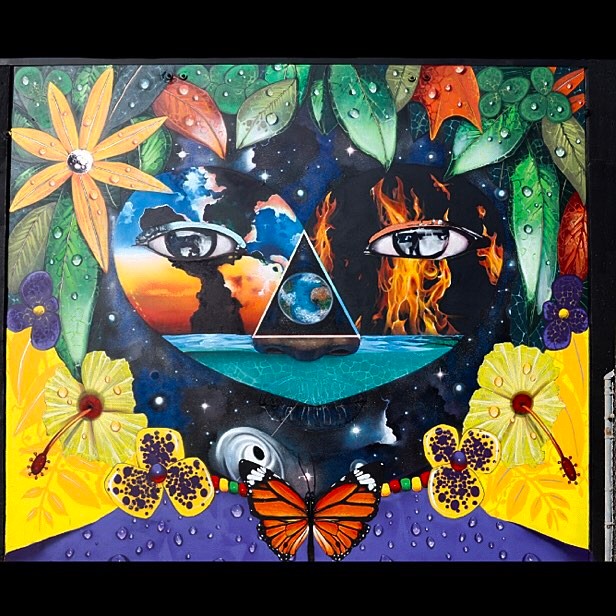 Chor got a commission for this mural. The internationally renowned artist adorns the factory with a 15-year anniversary commemorative piece. Doesn't it look amazing?
26. Modern Hieroglyphics VI Sins 2017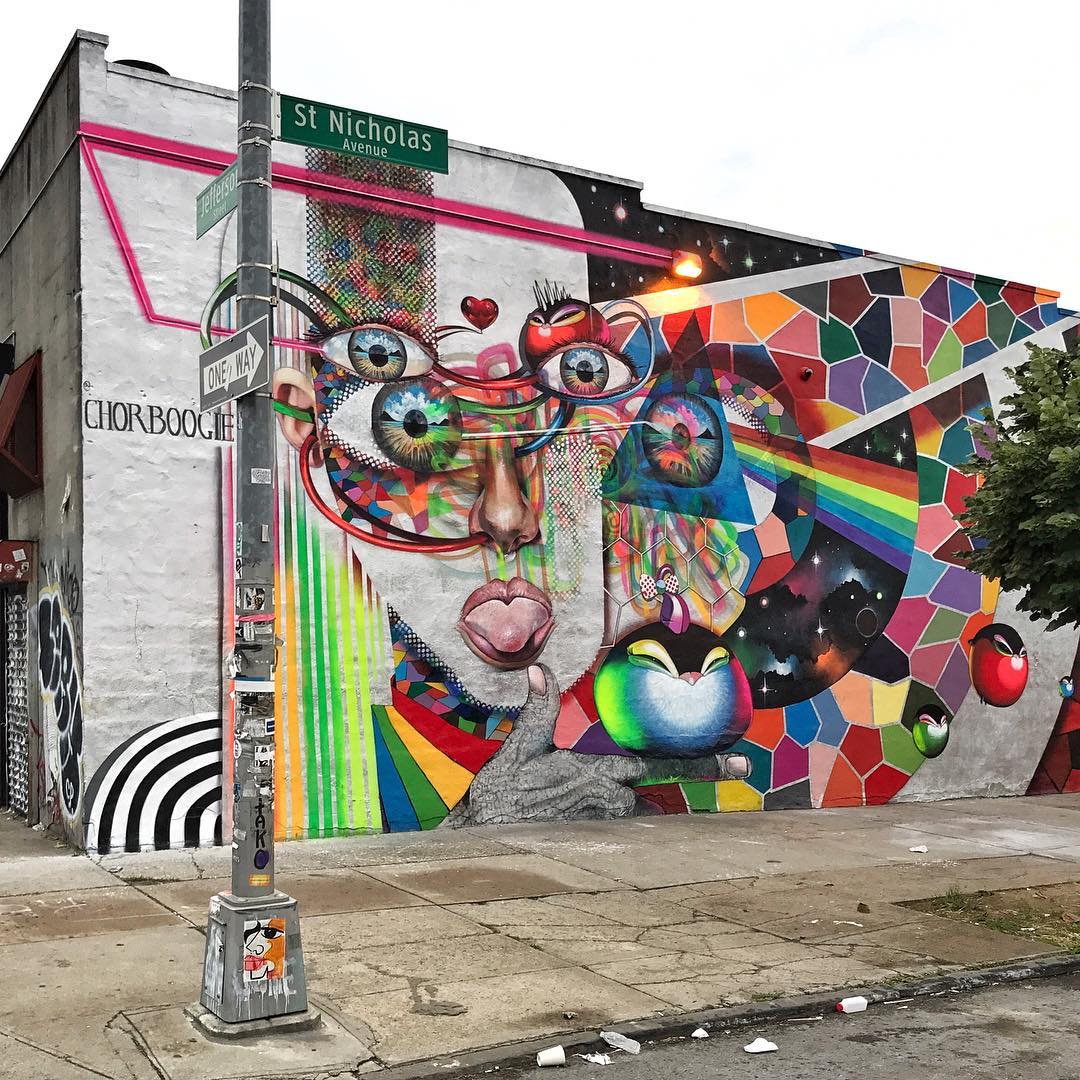 Modern Hieroglyphics was a name Chor got from a crew from North County, San Diego. They inspired him and he calls his style and the entire graffiti culture modern hieroglyphics. He doesn't want to use the G word.
Chor believes the culture is about images, symbolism, and letterforms on any surface.
27. Modern Hieroglyphics Within 2017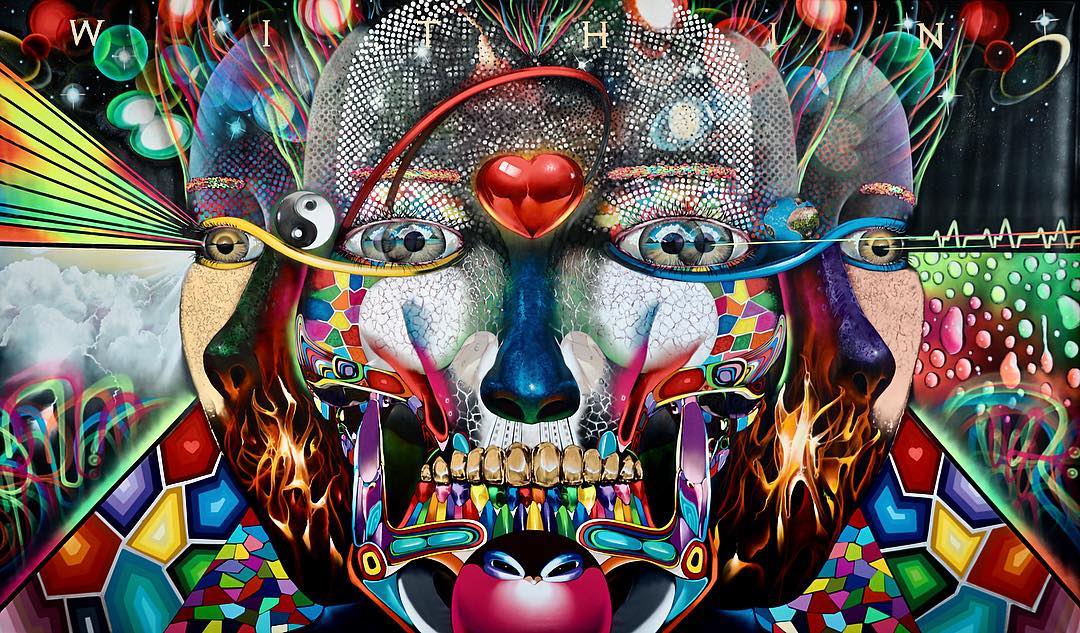 Definitely one of the most unique murals by the graffiti artist. This mural has so many elements and details, you will need a whole day to decipher them all.
28. The Lovechild 2017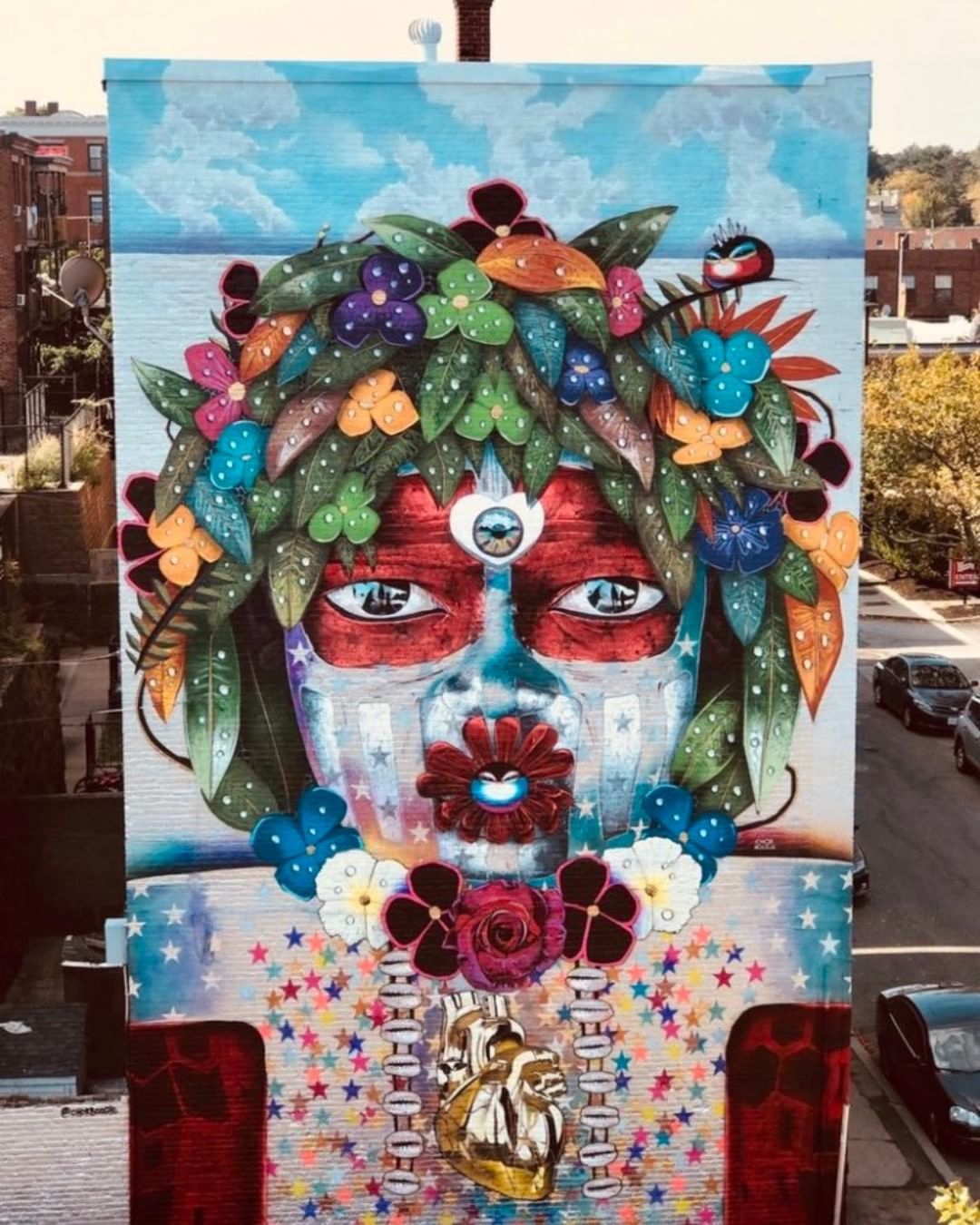 Jason did this mural for the Urban Art Museum. It is one of his most expressive works. How do you like it?
29. Psychedelic  Elephant  2017
By now you know Chor's style and vision. He can make any subject part of a psychedelic experience and journey. That is his superpower.
30. Sun's of Glitches 2018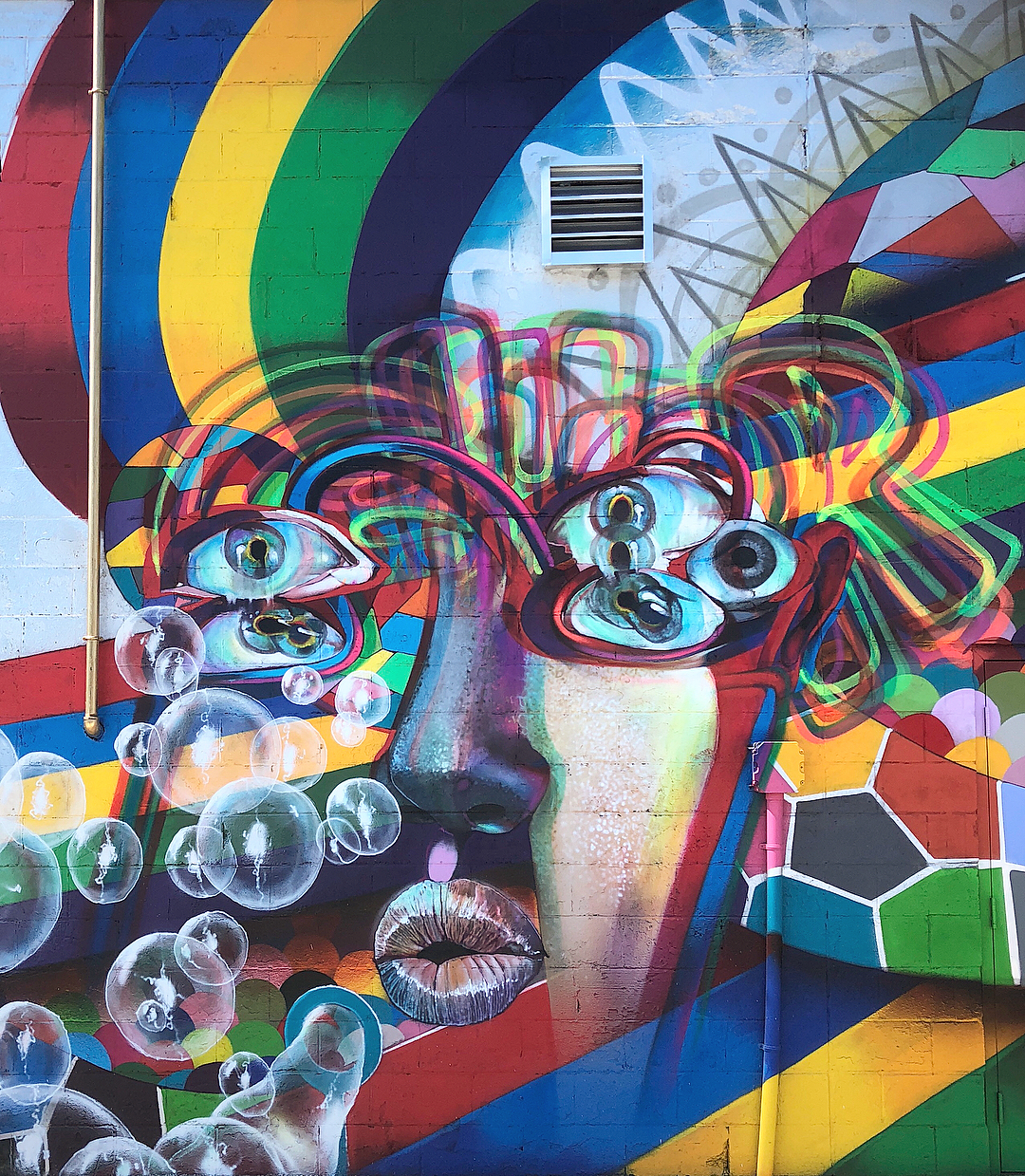 This is another piece Chor did for the Urban Art Museum. Along with his Lovechild, the two serve as color therapy for viewers and visitors of the museum.
31. Chor Boogie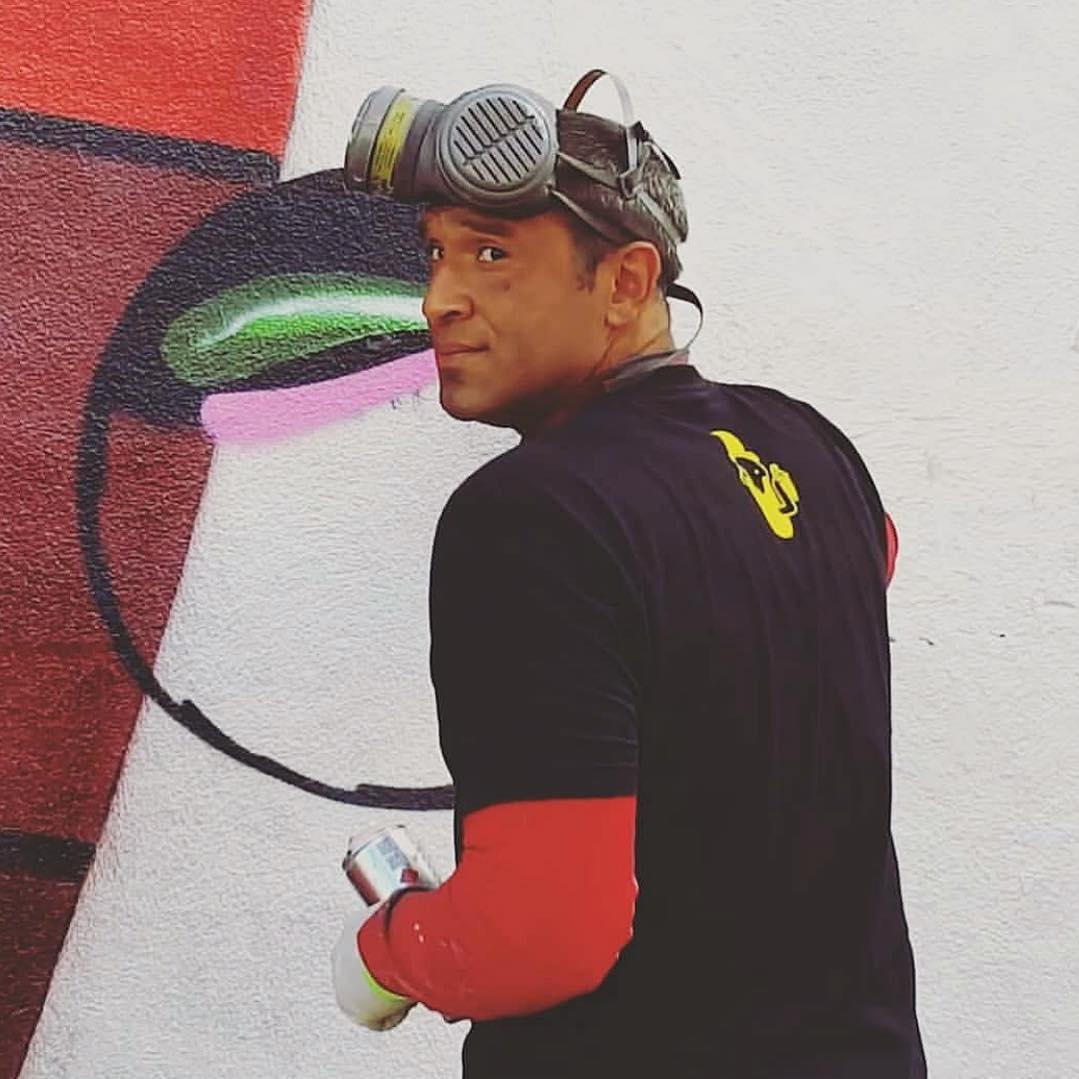 Let's finish off with the artist during his work. You can see him fully equipped and ready to bring colors to the world.