The humble candle used to be a staple in every home, providing light when the night comes. Since that historical-turning point of the invention of electricity and the light bulb, candles have long been forsaken as the main light source and today serve a more decorative or religious purpose. Candles are still appreciated today and they have evolved splendidly in their new role as a decor piece. Today instead of the usual stick-shaped candles you can find them in all shapes and sizes, with or without containers, in every color and most scents you can imagine. And let's not forget the different materials used in them.
Candles have truly come a long way since we used them daily once the sun has set, yet we still manage to find more and more ways to use them. Even if the candle has a pretty color, shape, or smells nice, we still try to make them even more special and incorporate them in decorations and centerpieces for special occasions. Honestly, there aren't a lot of things that can create a soothing, calming, and intimate ambiance like the flickering flame of a lit candle. It is probably the main reason why the candles are still loved and used, despite having electrical lights.
Regardless of whether you like candles or don't see the point in them, in our list, you'll be inspired by some beautiful ideas on using candles to create some magnificent decorations and centerpieces for every holiday from Easter to New Year and all the special occasions in between.
Cheerful Spring Candles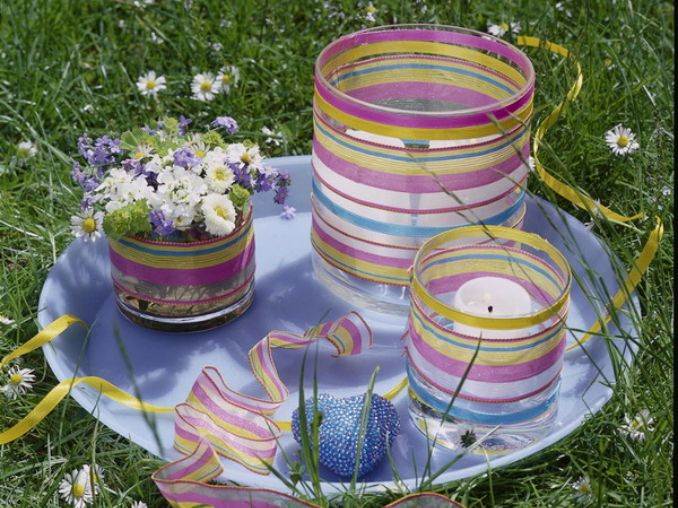 The coming of spring brightens up everyone's mood. No more cold weather, nature awakes and all its colors are back. If that is not enough reason for celebration, then remember that it is the season for Easter. Some small glasses wrapped in colorful ribbons, a small bouquet of wildflowers, and cup candles, put together will get you a nice centerpiece for celebrating both spring and Easter.
Lacy Votive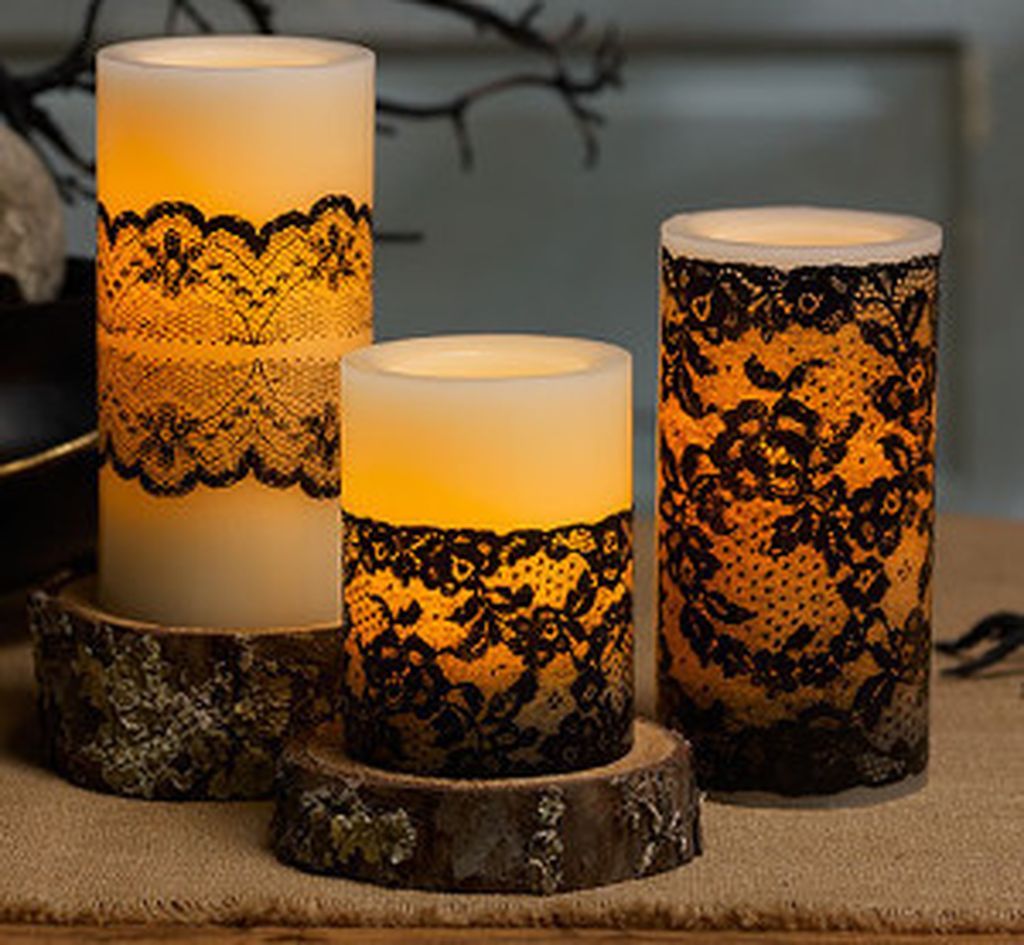 Large wide candles are a statement piece on their own, however as you will see from our list, the simplest way to incorporate them into the specific occasion or simply make them more interesting is by wrapping them in something. Like this black lace-wrapped candles will look good for Halloween, and even for a romantic dinner. A simple piece of material can make all the difference.
Bamboo Tray Floral Centerpiece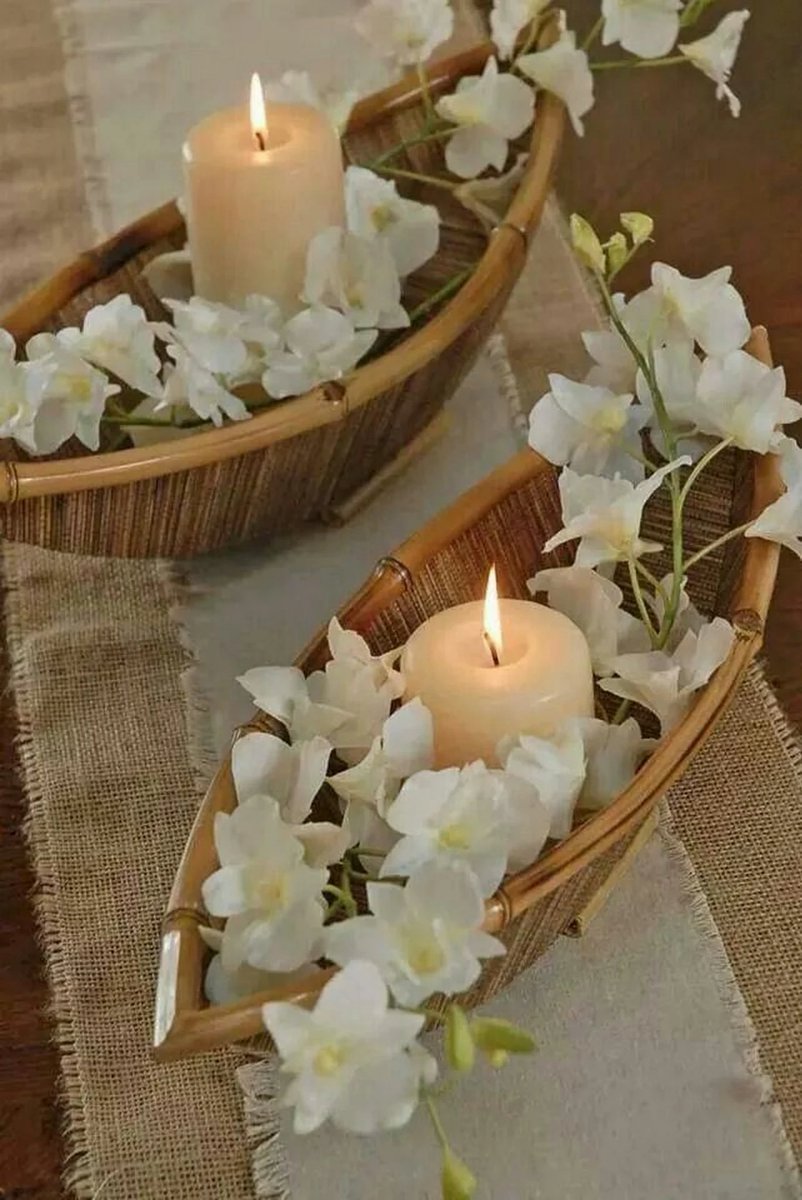 Ordinary narrow trays will do the job just fine for a candle decor like this one, but those bamboo trays truly give out that coastal, tropical feel to it. Great for a friendly gathering or even a beach-themed wedding.
Christmas Berry Wreath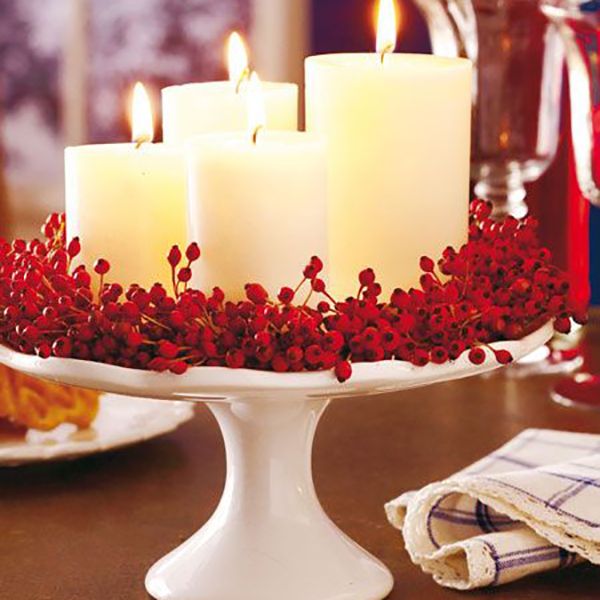 One of the reasons why most people choose to decorate with candles is because it is easy and they don't require much to make the end result look special. This Christmas decor piece is a nice example. A cake holder, a Christmas berry wreath with a few large candles in the middle is a perfect minimalistic, yet beautiful Christmas decor.
Pinecone Winter Centerpiece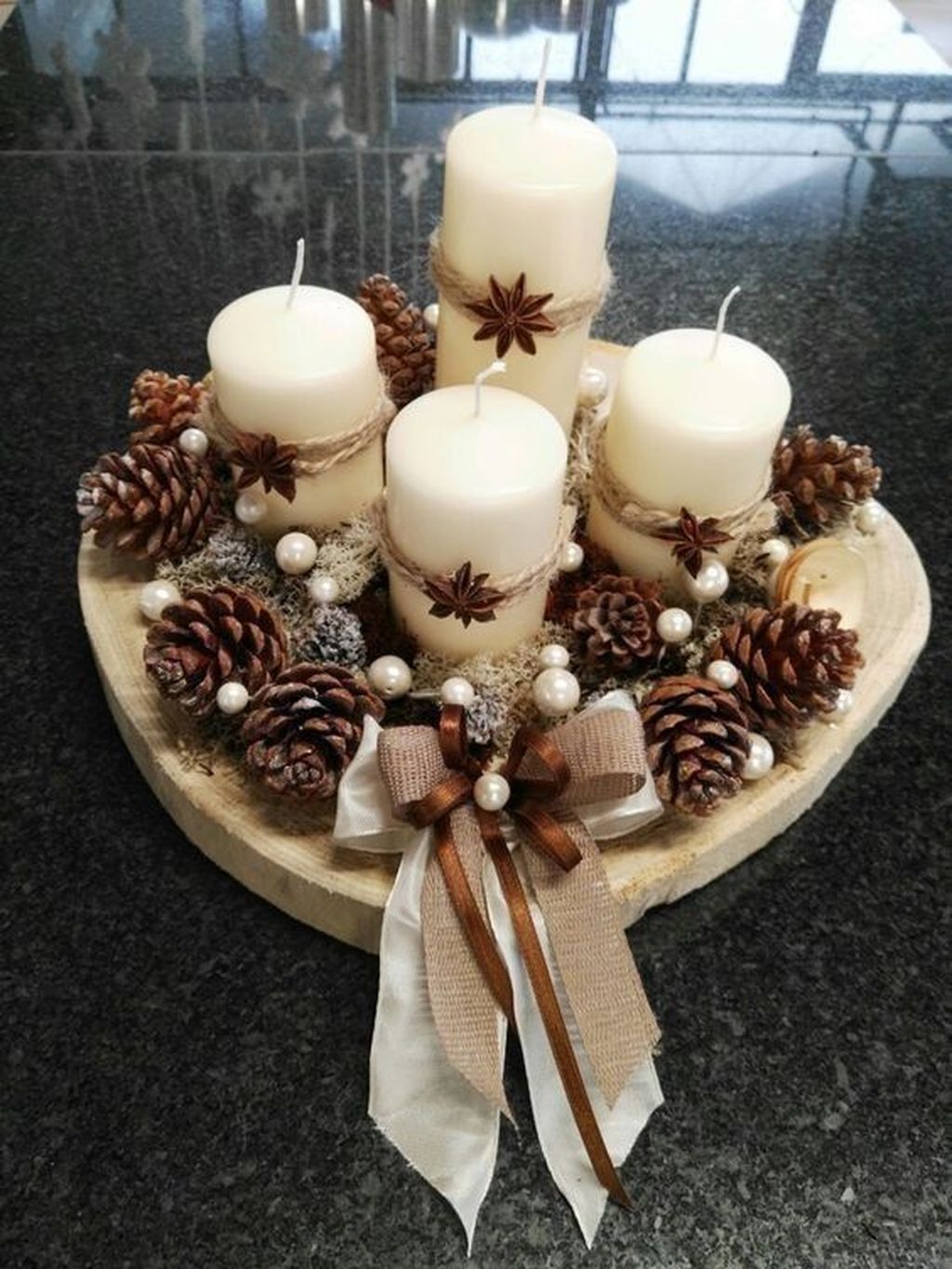 There is something really special in creating seasonal decor pieces using materials from Mother Nature. It brings in a special kind of warmth and authenticity to the home whenever you look at the decor. Burlap, jute rope, pinecones, some candles, and whatever else you fancy, with some time and love you can make this rustic winter centerpiece.
Dazzling Lights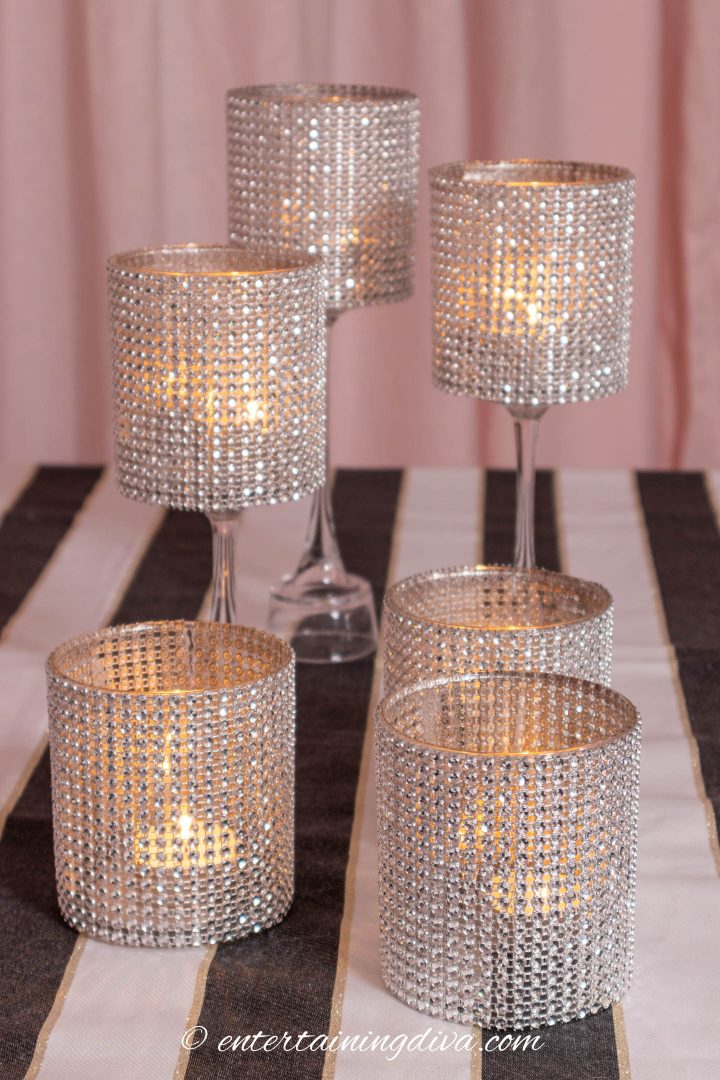 Sometimes you just want something shiny around you, that will bedazzle and bring a smile to the face. These fancy bling-tastic candle holders are actually glasses with some diamond rhinestone ribbons. It is a nice project you can do for yourself, just because you want to have something glamourous-looking around or for different special occasions that might be coming your way.
Floating Flower Candles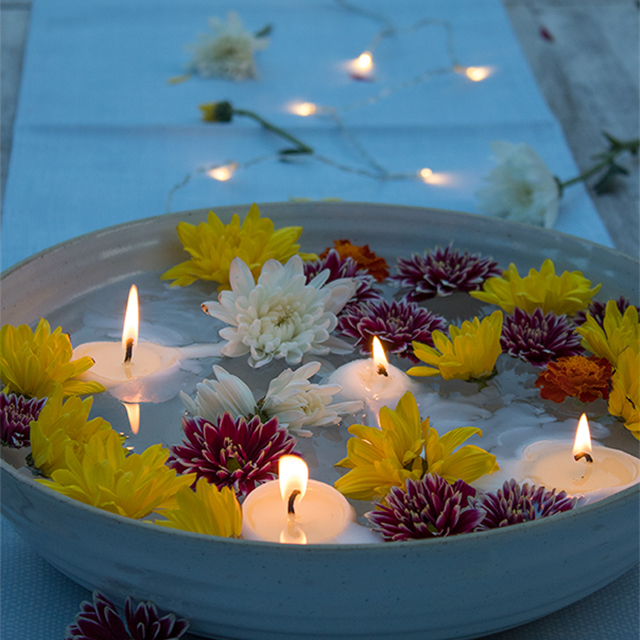 This piece of decor is supposed to envoke peace and calm, and you might have seen something similar in places where you suppose to meditate or at a spa treatment. Recreating one for your "me"-time at home is quite easy, as you can see, not much is needed. Some cup candles, flowers, and a bowl of water, or if you want to make it extra fancy, use citronella candles or candles with the scent you like the most.
Cinnamon Christmas Decor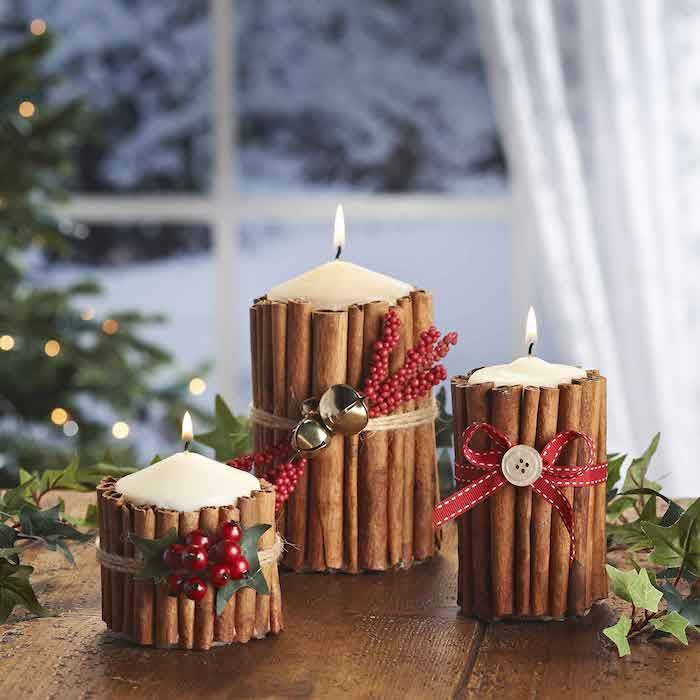 Believe it or not, the greatest, and often overlooked memory trigger is the scent. We associate different scents with different seasons and events, don't we? And cinnamon is one of the most common scents for Christmas, having that smell come over you every time you light a candle is simply divine. No need to go and buy cinnamon-scented candles, just wrap an ordinary one in cinnamon sticks. It will smell great and you'll get an extra winter decor piece.
Beach Candle Decor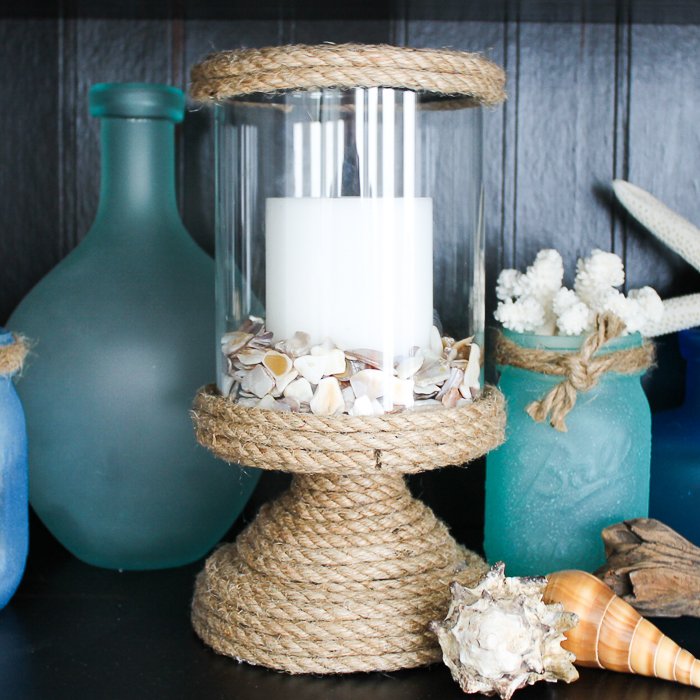 Summertime means fun time, and the greatest fun time is on the beach. Bring a part of that feeling into your home with some jute rope-wrapped glass, some shells, and a candle for simple beach decor. You can even use it for lighting on for a tropical tiki home party.
Fresh Mossy Centerpiece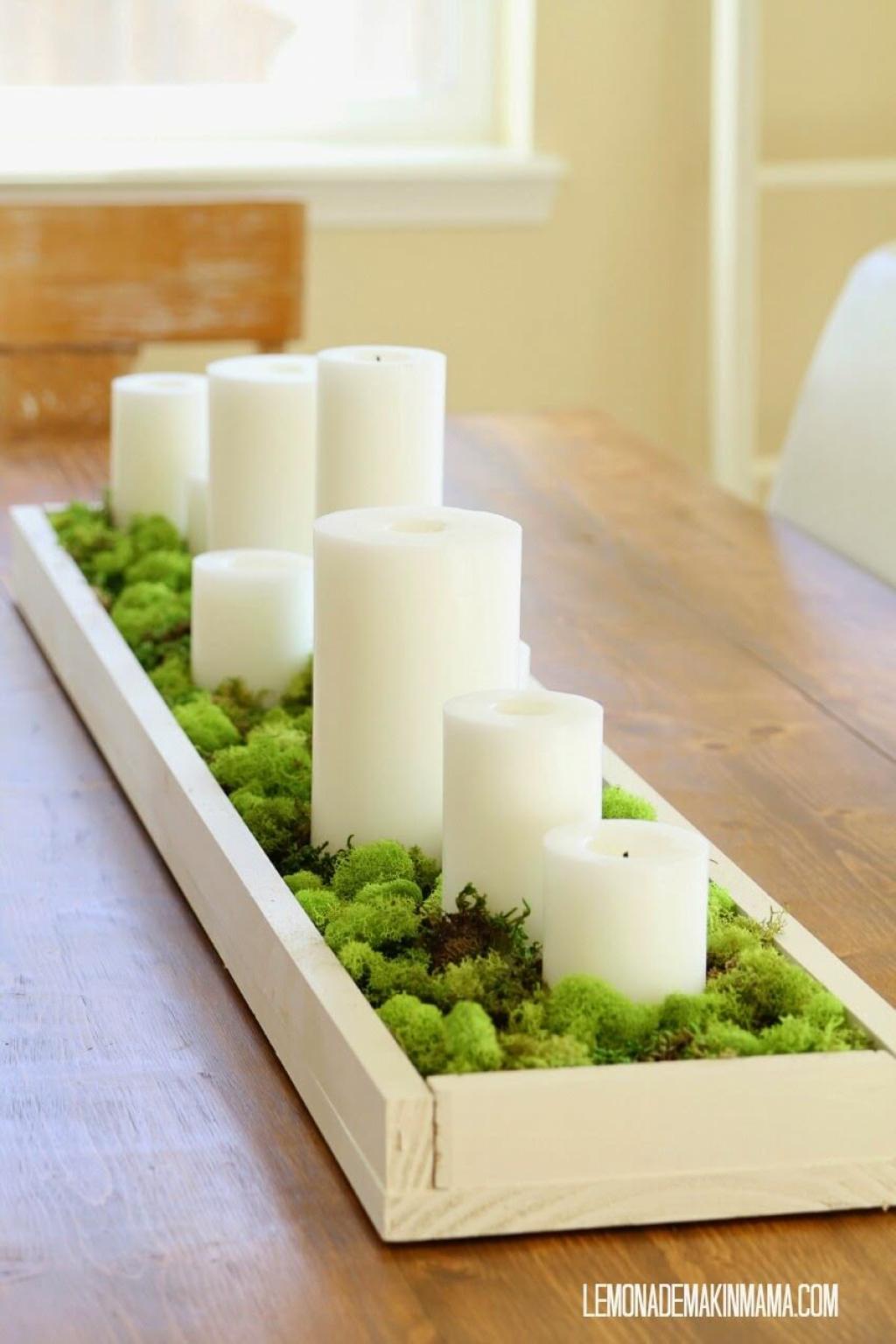 Moss is often used in decor for springtime-themed decor pieces or even for creating miniature landscapes since a nice green moss can look and serve as tiny grass. If you can get your hand on some fresh green moss, you can easily recreate this centerpiece or something similar for your Easter dinner table.
Lantern and Sunflowers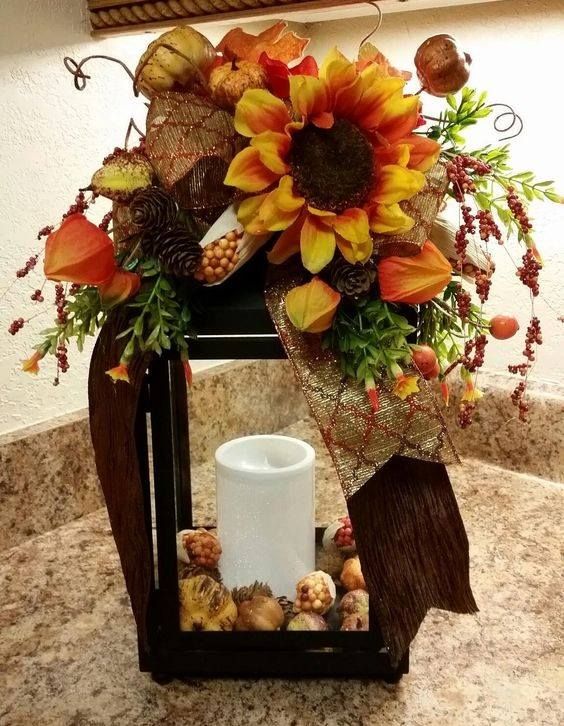 There's a certain charm in old lanterns which is why people who enjoy the vintage, rustic decor go nuts for these. And you can see why, They're easy to decorate for different events with a rustic touch, but are especially appropriate for fall-themed decor. So watch out for those lanterns around Thanksgiving and Halloween.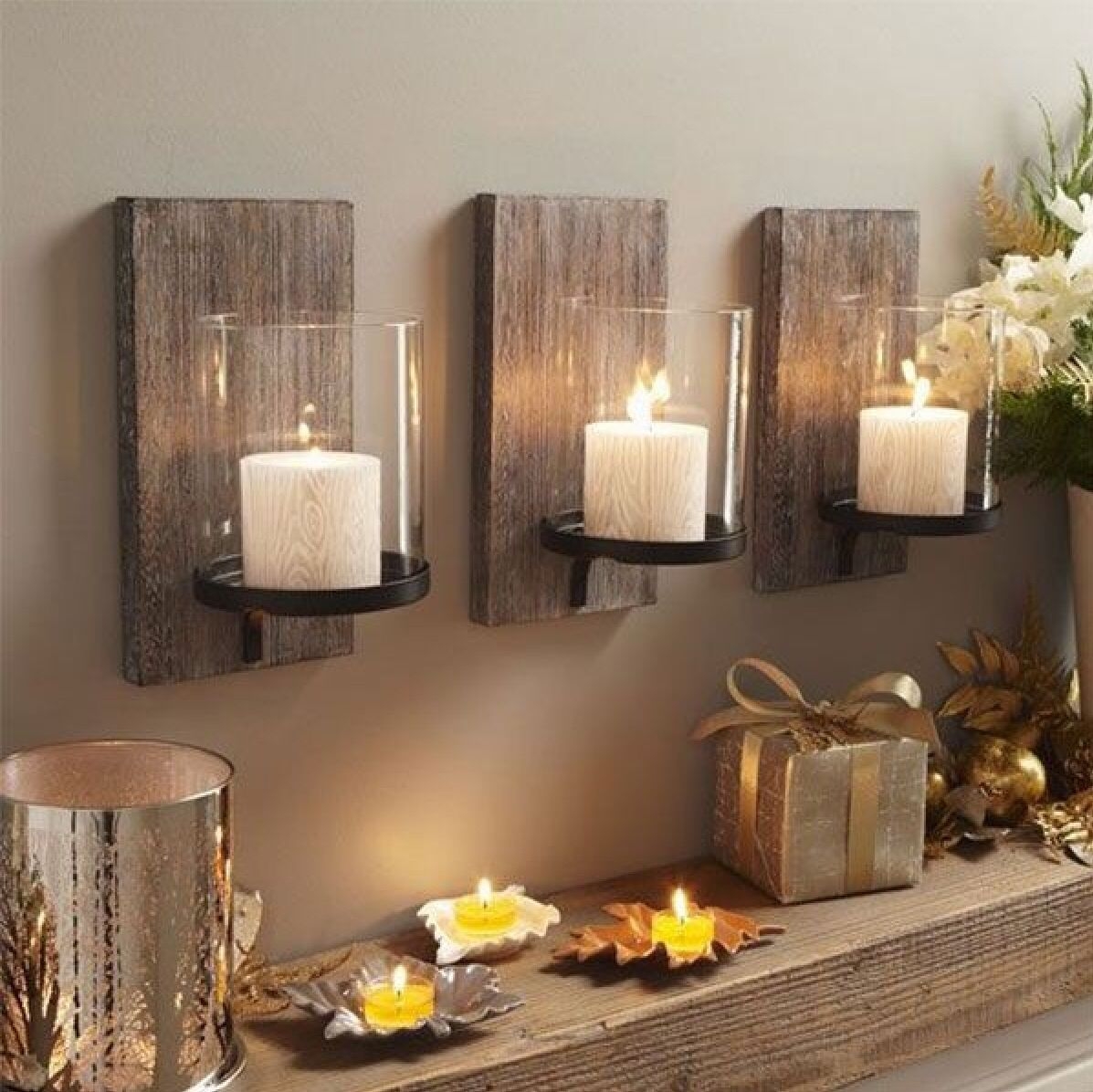 Candles are still doing their primary function, which is to provide light, which, as we mentioned is quite pleasant and soothing. While electrical lights give out much brighter illumination, we all still want that downtime, and nothing creates a calming ambiance better than a candle. Making some wall-mounted candle holders with pieces of rustic wood, help you get that calming feeling every time you want without having to search for where you've placed your candles. And it is a lovely wall art as well.
Natural Green And Pink Candle Decor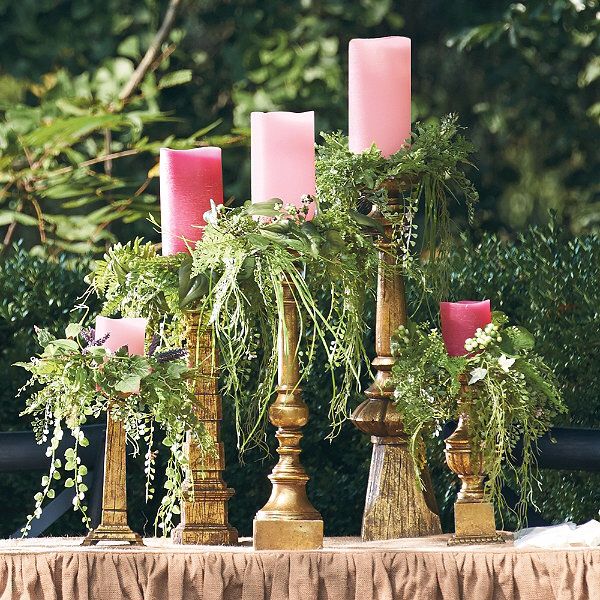 We mentioned that candles come in different colors now, which can add color to your decor piece. These old-fashined large candle holders despite their gold color do shine in a new light adorned with some lovely greenery and bright pink candles.
Whisked Away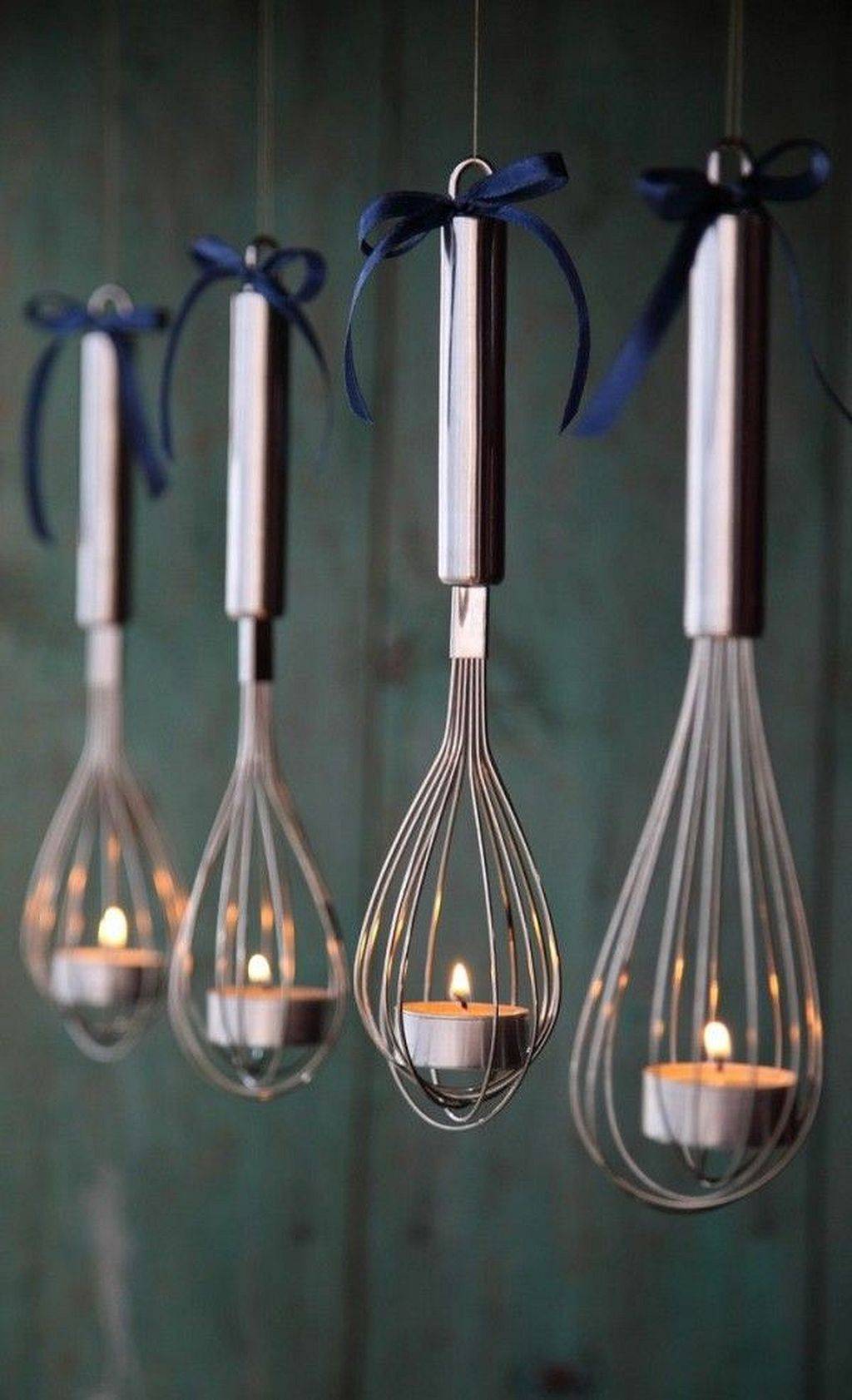 Sometimes inspiration can strike about the most unexpected way and you end up with something unique. These cup candles hanging from whisks are unexpected, yet simple and innovative. Who knows which kitchen utensil will be the next decor innovation?
Burning Pieces of Gilded Wood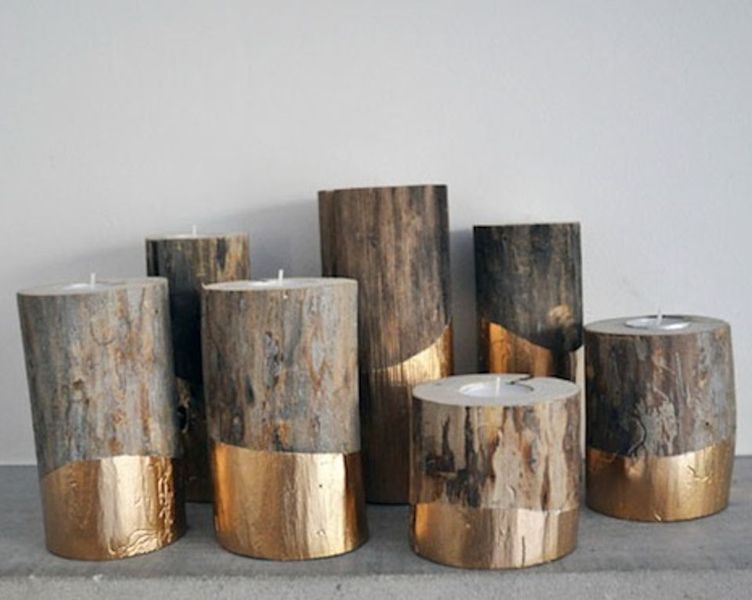 There are a lot of people who like to mix and match styles and add something new and modern to the old and rustic. These pieces of wood with gilded bottoms are a perfect example of such a blend of rich and modest, that can blend in any home.
Industrial Candles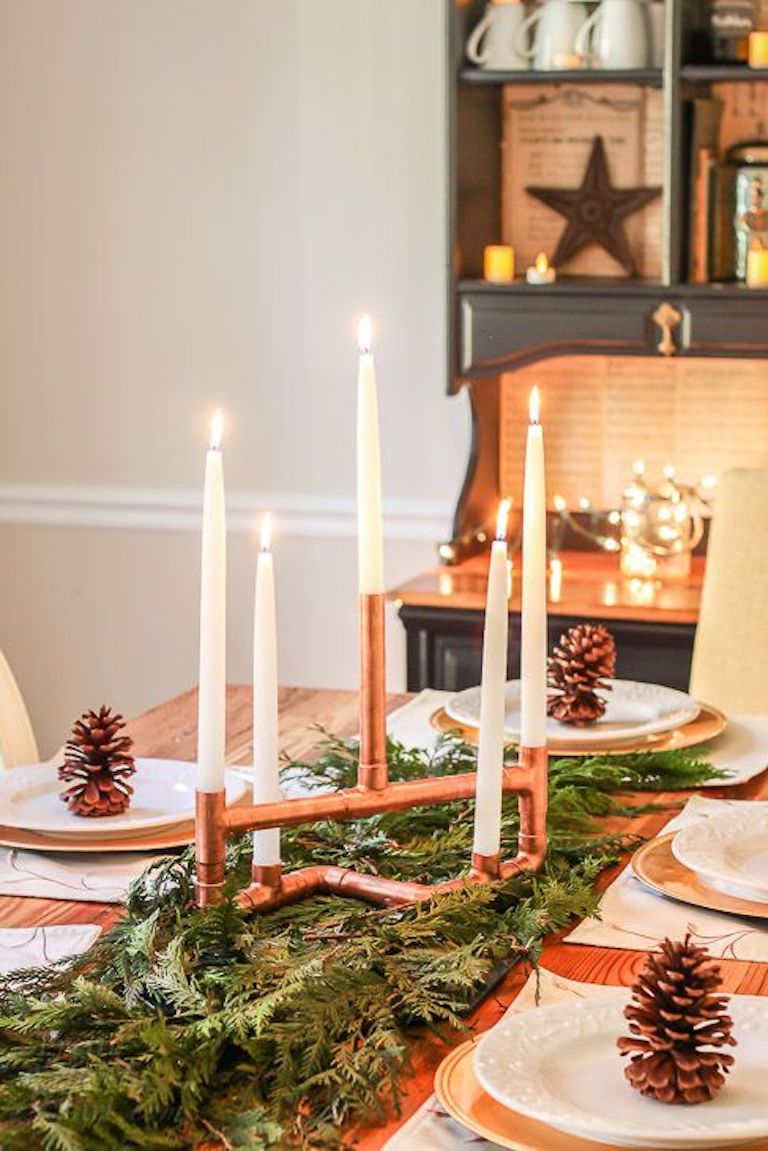 If you happen to have some small pieces of copper pipes or regular ones for that matter, you can make this lovely artistic candle holder that can be the main piece of your centerpiece for plenty of celebrations.
Macrame Candle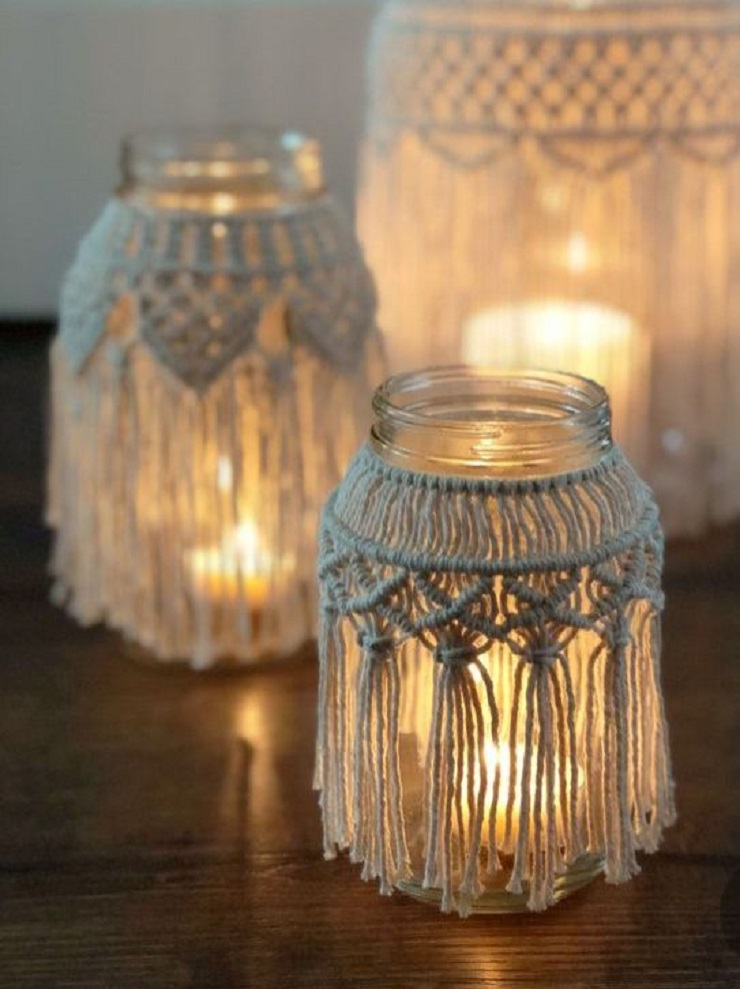 Mason jars and candles go hand in hand in countless DIY projects for home decor, kids' crafts, and even gift ideas. So we simply had to include at least one here. We choose the macrame candle votive since we don't see much boho-style decor lately, so we wanted to remind people just how gorgeous this decor can be.
Zen Stone Candleholders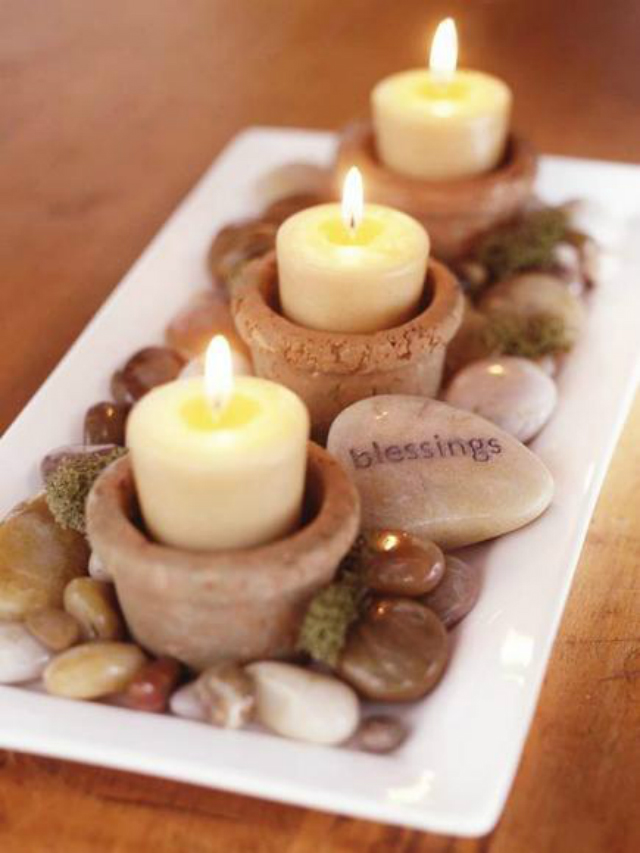 If you're planning on making a private meditation or yoga space at home, you must have one of these wooden candle holders. and even if you don't they will look quite good in your living room as everyday decor.
Plentiful Fall Centerpiece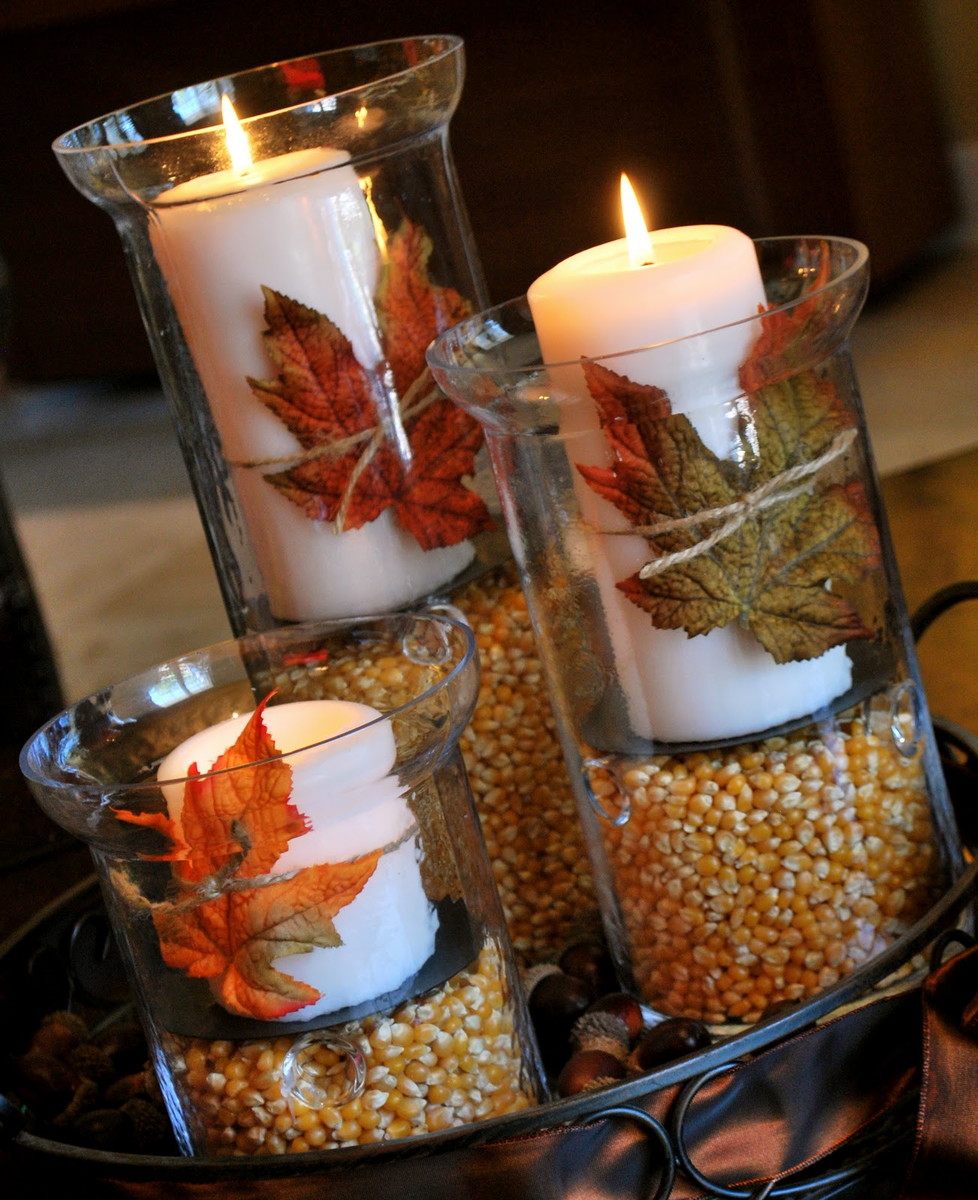 Fall is the season of plenty, the season for harvest, and the season when Nature is most colorful. It is a shame not to bring all that beauty into your home, even in a small way, by making a centerpiece like this one with kernels, fall leaves, and some acorns. Everything is there in one tiny piece of brightening decor.
Floral Floating Candle Centerpiecesating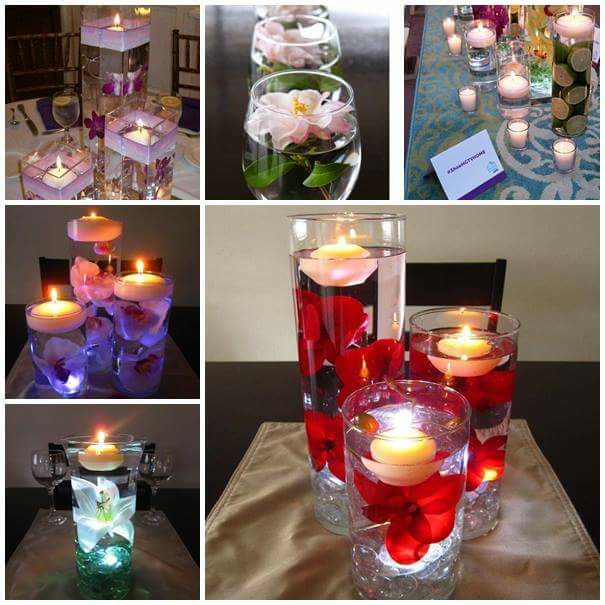 Doesn't this look magical? And all you need is some long glass vase, your favorite flower, water, and a small cup candle. It creates such a magical effect that will mesmerize all your guests.
Easter Egg Wreath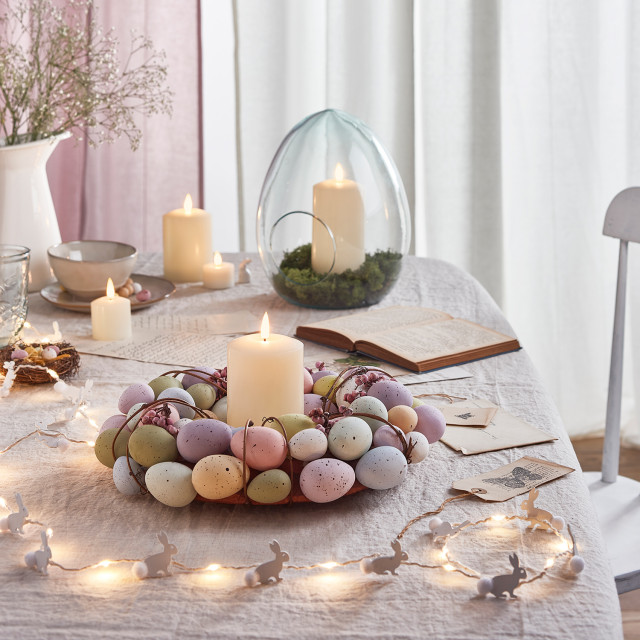 If there's one reason for seasonal decorations for spring, it is Easter. And while an egg wreath is quite impressive, being a religious holiday, the candle is pretty much needed to capture the true feel of the holiday.
Captured Rose Candle Holder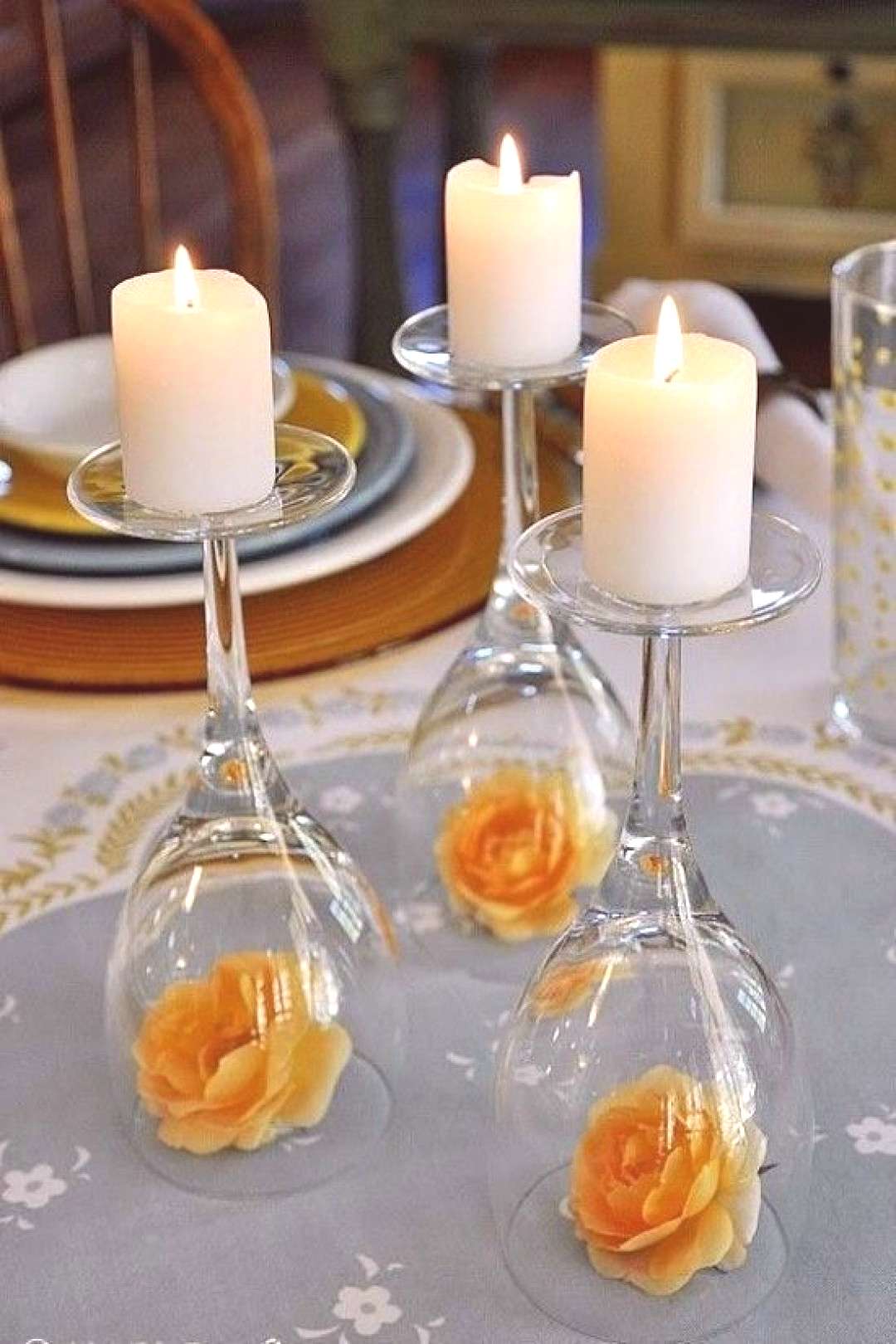 While wedding decorations are all about grandeur that will signify the most important day in your life, more and more to-be-married couples opt for a more modest wedding and reception.The floral decorations for a wedding can cost you a small fortune, but with the right ideas, you can still have beautiful decor without breaking your budget, like making some simple, yet lovely decor pieces like this one for each of your guests tables.
Winter Wonderland Centerpiece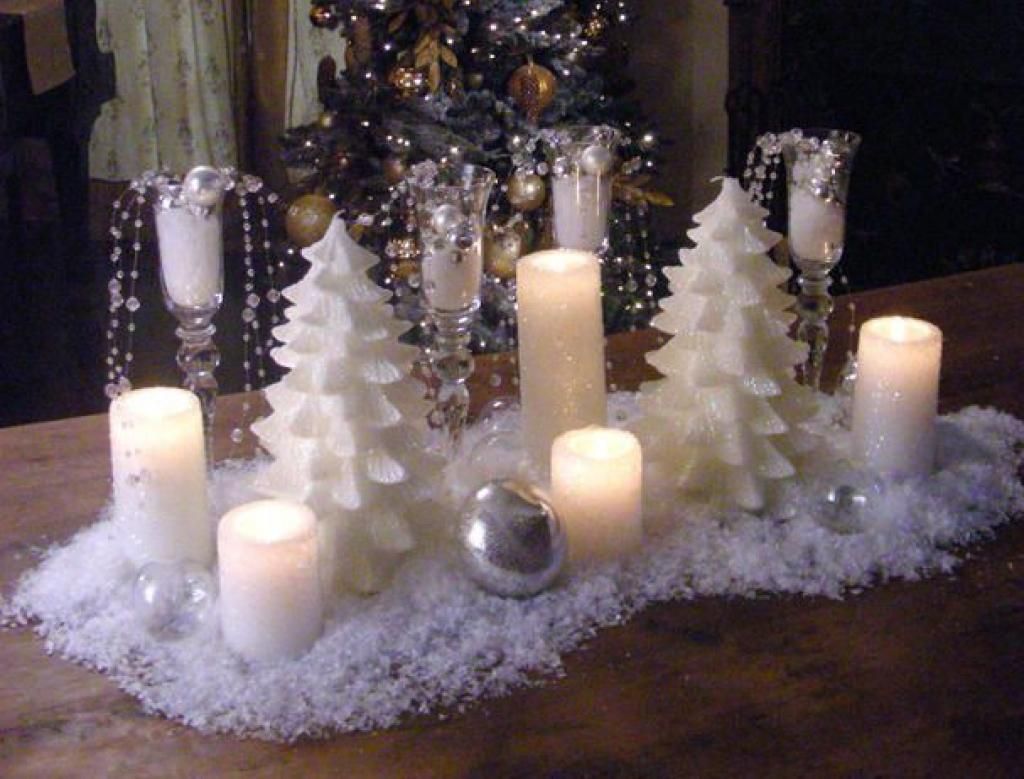 Lets' end our list with a truly wonderful winter centerpiece. It might look messy, but you can modify this idea and make it work for you and your holiday needs. It will absolutely add to that holiday cheer of the season.
What is your favorite way to decorate with candles, be it for a specific celebration or your everyday decor? Share your ideas and thought in the comments below and if you thinking about ways to spice up your decor, you should think about giving candle decor a chance.